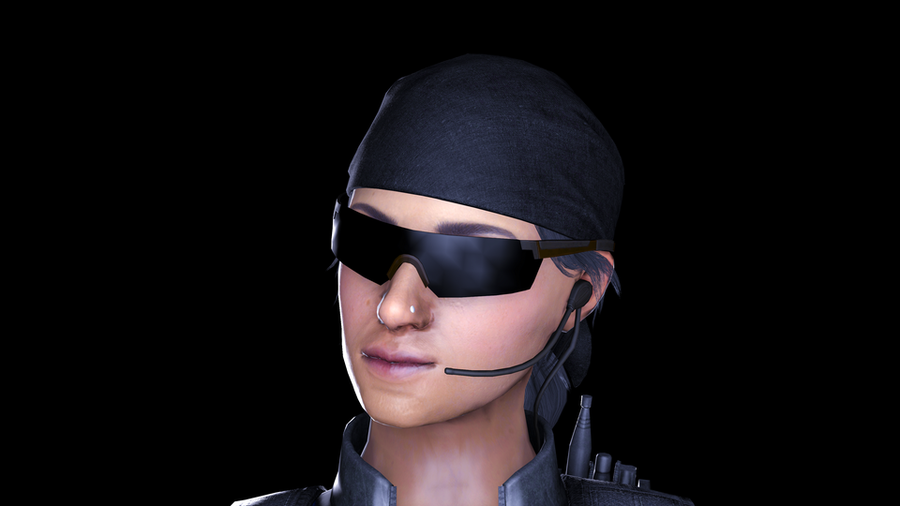 Show more
Description
Sniper Kali from the game Tom Clancy's Rainbow Six Siege.
Ported from GMOD Workshop.
Original GMOD port https://steamcommunity.com/sharedfiles/filedetails/?id=2807210144
Fixed lack of eyes flexes.
Compatible with rig_biped_simple, rig_biped_valve_3spine.
I couldn't rename face flexes so it can be difficult for the first time to use them :(
Here is the aproximate list flexes:
nuL - eyebrow_lower_left
nuR - eyebrow_lower_right
biyanL - eyelid_lower_left
biyanR - eyelid_lower_right
Lxiao - lip_corner_raise_left
Rxiao - lip_corner_raise_right
openzuiba - mouth_open
shetou1 - tongue_out
jinguaL - eyebrow_up_left
jinguaR - eyebrow_up_right
piezui - sad
bizi1 - wrinkle
yaoya - angry
Update:
-Added elite skin as bodygroup.
Includes: Models\r6kali\kalifexl66.mdl, csrxwuqfexl22.mdl, csrxmag22.mdl, emp2pohuaida11.mdl, spsmg9mag.mdl, spsmg9wuq33.mdl
SFMLab is a free service. However, it costs about $0.03 to deliver you a 1GB file. With over 20TB of traffic every month and growing, SFMLab needs your help. If only 1% of our users each gave us $5 for a single month, we could keep the site running for several years.
Filename
Downloads
Created
Filesize
Files
Rainbow_Six_Siege_-_Kali_V2_Elite.rar
376
2022-05-20 05:37:03
63.29 MB
File contents:

Rainbow Six Siege - Kali Elite/models/r6skali/csrxmag22.dx90.vtx
Rainbow Six Siege - Kali Elite/models/r6skali/emp2pohuaida11.dx80.vtx
Rainbow Six Siege - Kali Elite/models/r6skali/kalifexl66.phy
Rainbow Six Siege - Kali Elite/models/r6skali/spsmg9wuq33.mdl
Rainbow Six Siege - Kali Elite/models/r6skali/spsmg9wuq33.dx80.vtx
Rainbow Six Siege - Kali Elite/models/r6skali/emp2pohuaida11.mdl
Rainbow Six Siege - Kali Elite/models/r6skali/spsmg9mag.dx80.vtx
Rainbow Six Siege - Kali Elite/models/r6skali/emp2pohuaida11.dx90.vtx
Rainbow Six Siege - Kali Elite/models/r6skali/kalifexl66.dx90.vtx
Rainbow Six Siege - Kali Elite/models/r6skali/kalifexl66.sw.vtx
Rainbow Six Siege - Kali Elite/models/r6skali/spsmg9mag.mdl
Rainbow Six Siege - Kali Elite/models/r6skali/spsmg9mag.phy
Rainbow Six Siege - Kali Elite/models/r6skali/spsmg9wuq33.phy
Rainbow Six Siege - Kali Elite/models/r6skali/kalifexl66.dx80.vtx
Rainbow Six Siege - Kali Elite/models/r6skali/spsmg9mag.sw.vtx
Rainbow Six Siege - Kali Elite/models/r6skali/spsmg9mag.dx90.vtx
Rainbow Six Siege - Kali Elite/models/r6skali/spsmg9mag.vvd
Rainbow Six Siege - Kali Elite/models/r6skali/emp2pohuaida11.vvd
Rainbow Six Siege - Kali Elite/models/r6skali/csrxmag22.mdl
Rainbow Six Siege - Kali Elite/models/r6skali/csrxwuqfexl22.phy
Rainbow Six Siege - Kali Elite/models/r6skali/csrxwuqfexl22.dx80.vtx
Rainbow Six Siege - Kali Elite/models/r6skali/csrxwuqfexl22.vvd
Rainbow Six Siege - Kali Elite/models/r6skali/csrxmag22.dx80.vtx
Rainbow Six Siege - Kali Elite/models/r6skali/csrxwuqfexl22.mdl
Rainbow Six Siege - Kali Elite/models/r6skali/spsmg9wuq33.sw.vtx
Rainbow Six Siege - Kali Elite/models/r6skali/csrxmag22.phy
Rainbow Six Siege - Kali Elite/models/r6skali/emp2pohuaida11.sw.vtx
Rainbow Six Siege - Kali Elite/models/r6skali/emp2pohuaida11.phy
Rainbow Six Siege - Kali Elite/models/r6skali/csrxwuqfexl22.dx90.vtx
Rainbow Six Siege - Kali Elite/models/r6skali/spsmg9wuq33.vvd
Rainbow Six Siege - Kali Elite/models/r6skali/csrxmag22.vvd
Rainbow Six Siege - Kali Elite/models/r6skali/kalifexl66.vvd
Rainbow Six Siege - Kali Elite/models/r6skali/csrxwuqfexl22.sw.vtx
Rainbow Six Siege - Kali Elite/models/r6skali/spsmg9wuq33.dx90.vtx
Rainbow Six Siege - Kali Elite/models/r6skali/csrxmag22.sw.vtx
Rainbow Six Siege - Kali Elite/models/r6skali/kalifexl66.mdl
Rainbow Six Siege - Kali Elite/materials/models/r6kali/gun_spsmg9_bullets.vmt
Rainbow Six Siege - Kali Elite/materials/models/r6kali/kaliarms_nrm.vtf
Rainbow Six Siege - Kali Elite/materials/models/r6kali/headgear.vmt
Rainbow Six Siege - Kali Elite/materials/models/r6kali/jingyingleg.vmt
Rainbow Six Siege - Kali Elite/materials/models/r6kali/jingyingfoot.vmt
Rainbow Six Siege - Kali Elite/materials/models/r6kali/jingyingtien.vtf
Rainbow Six Siege - Kali Elite/materials/models/r6kali/ammo.vmt
Rainbow Six Siege - Kali Elite/materials/models/r6kali/kalistraps_diff.vtf
Rainbow Six Siege - Kali Elite/materials/models/r6kali/kaligear_diff.vtf
Rainbow Six Siege - Kali Elite/materials/models/r6kali/kalipouches_diff.vtf
Rainbow Six Siege - Kali Elite/materials/models/r6kali/kalistraps_nrm.vtf
Rainbow Six Siege - Kali Elite/materials/models/r6kali/spsmg9_nrm.vtf
Rainbow Six Siege - Kali Elite/materials/models/r6kali/kalivest_diff.vtf
Rainbow Six Siege - Kali Elite/materials/models/r6kali/kalipouches_nrm.vtf
Rainbow Six Siege - Kali Elite/materials/models/r6kali/spsmg9mag_nrm.vtf
Rainbow Six Siege - Kali Elite/materials/models/r6kali/hair.vmt
Rainbow Six Siege - Kali Elite/materials/models/r6kali/mag.vmt
Rainbow Six Siege - Kali Elite/materials/models/r6kali/galasi3n.vtf
Rainbow Six Siege - Kali Elite/materials/models/r6kali/red.vmt
Rainbow Six Siege - Kali Elite/materials/models/r6kali/jingyingarm.vtf
Rainbow Six Siege - Kali Elite/materials/models/r6kali/ret_share_red_lens_nml.vtf
Rainbow Six Siege - Kali Elite/materials/models/r6kali/eyeball_ao.vtf
Rainbow Six Siege - Kali Elite/materials/models/r6kali/eyeball_r.vtf
Rainbow Six Siege - Kali Elite/materials/models/r6kali/jingyinggear.vmt
Rainbow Six Siege - Kali Elite/materials/models/r6kali/jingyinggearn.vtf
Rainbow Six Siege - Kali Elite/materials/models/r6kali/accessories.vmt
Rainbow Six Siege - Kali Elite/materials/models/r6kali/jingyingupper.vtf
Rainbow Six Siege - Kali Elite/materials/models/r6kali/jingyinghead.vtf
Rainbow Six Siege - Kali Elite/materials/models/r6kali/jingyinglow.vtf
Rainbow Six Siege - Kali Elite/materials/models/r6kali/pants.vmt
Rainbow Six Siege - Kali Elite/materials/models/r6kali/glorious undercut hair.vmt
Rainbow Six Siege - Kali Elite/materials/models/r6kali/eyeball.vtf
Rainbow Six Siege - Kali Elite/materials/models/r6kali/carx2.vtf
Rainbow Six Siege - Kali Elite/materials/models/r6kali/hiarn.vtf
Rainbow Six Siege - Kali Elite/materials/models/r6kali/jingyingtie.vtf
Rainbow Six Siege - Kali Elite/materials/models/r6kali/spsmg9_diff.vtf
Rainbow Six Siege - Kali Elite/materials/models/r6kali/kaliteeth_diff.vtf
Rainbow Six Siege - Kali Elite/materials/models/r6kali/ret_share_red_lens_col2.vtf
Rainbow Six Siege - Kali Elite/materials/models/r6kali/hiar.vtf
Rainbow Six Siege - Kali Elite/materials/models/r6kali/gloves.vmt
Rainbow Six Siege - Kali Elite/materials/models/r6kali/jingyinguppern.vtf
Rainbow Six Siege - Kali Elite/materials/models/r6kali/jingyingshengzi.vmt
Rainbow Six Siege - Kali Elite/materials/models/r6kali/mag_a.vtf
Rainbow Six Siege - Kali Elite/materials/models/r6kali/galasi3.vtf
Rainbow Six Siege - Kali Elite/materials/models/r6kali/face2.vmt
Rainbow Six Siege - Kali Elite/materials/models/r6kali/kalieyes_q.vtf
Rainbow Six Siege - Kali Elite/materials/models/r6kali/mouth.vmt
Rainbow Six Siege - Kali Elite/materials/models/r6kali/mag_nm.vtf
Rainbow Six Siege - Kali Elite/materials/models/r6kali/jingyingarm.vmt
Rainbow Six Siege - Kali Elite/materials/models/r6kali/kaliteeth_nrm.vtf
Rainbow Six Siege - Kali Elite/materials/models/r6kali/jingyinggear.vtf
Rainbow Six Siege - Kali Elite/materials/models/r6kali/eyelash.vmt
Rainbow Six Siege - Kali Elite/materials/models/r6kali/galasi2.vmt
Rainbow Six Siege - Kali Elite/materials/models/r6kali/redse.vtf
Rainbow Six Siege - Kali Elite/materials/models/r6kali/spsmg9mag_diff.vtf
Rainbow Six Siege - Kali Elite/materials/models/r6kali/kalieyes_qn.vtf
Rainbow Six Siege - Kali Elite/materials/models/r6kali/spsmg9bullets_nrm.vtf
Rainbow Six Siege - Kali Elite/materials/models/r6kali/neijing1.vmt
Rainbow Six Siege - Kali Elite/materials/models/r6kali/eyeball_l.vtf
Rainbow Six Siege - Kali Elite/materials/models/r6kali/ret_share_red_lens_col.vtf
Rainbow Six Siege - Kali Elite/materials/models/r6kali/jingyingfoot.vtf
Rainbow Six Siege - Kali Elite/materials/models/r6kali/jingyingupper.vmt
Rainbow Six Siege - Kali Elite/materials/models/r6kali/jingyinglown.vtf
Rainbow Six Siege - Kali Elite/materials/models/r6kali/eye-cornea.vtf
Rainbow Six Siege - Kali Elite/materials/models/r6kali/gadget_nm.vtf
Rainbow Six Siege - Kali Elite/materials/models/r6kali/spsmg9bullets_diff.vtf
Rainbow Six Siege - Kali Elite/materials/models/r6kali/jingyinghead1.vmt
Rainbow Six Siege - Kali Elite/materials/models/r6kali/kalilegs_nrm.vtf
Rainbow Six Siege - Kali Elite/materials/models/r6kali/blackse.vmt
Rainbow Six Siege - Kali Elite/materials/models/r6kali/jingyinggear2.vmt
Rainbow Six Siege - Kali Elite/materials/models/r6kali/jingyingheadpian.vmt
Rainbow Six Siege - Kali Elite/materials/models/r6kali/arms.vmt
Rainbow Six Siege - Kali Elite/materials/models/r6kali/carx2n.vtf
Rainbow Six Siege - Kali Elite/materials/models/r6kali/lense.vmt
Rainbow Six Siege - Kali Elite/materials/models/r6kali/eyeball_l.vmt
Rainbow Six Siege - Kali Elite/materials/models/r6kali/kaliheadgear_diff.vtf
Rainbow Six Siege - Kali Elite/materials/models/r6kali/straps.vmt
Rainbow Six Siege - Kali Elite/materials/models/r6kali/torso.vmt
Rainbow Six Siege - Kali Elite/materials/models/r6kali/ammo_nm.vtf
Rainbow Six Siege - Kali Elite/materials/models/r6kali/headtoujinn.vtf
Rainbow Six Siege - Kali Elite/materials/models/r6kali/jingyingshengzi.vtf
Rainbow Six Siege - Kali Elite/materials/models/r6kali/jingyingarmn.vtf
Rainbow Six Siege - Kali Elite/materials/models/r6kali/face.vmt
Rainbow Six Siege - Kali Elite/materials/models/r6kali/base_m_caucasian_wrp.vtf
Rainbow Six Siege - Kali Elite/materials/models/r6kali/gunbase.vmt
Rainbow Six Siege - Kali Elite/materials/models/r6kali/ammo_a.vtf
Rainbow Six Siege - Kali Elite/materials/models/r6kali/gun_spsmg9_magazine.vmt
Rainbow Six Siege - Kali Elite/materials/models/r6kali/kalihead_nrm1.vtf
Rainbow Six Siege - Kali Elite/materials/models/r6kali/kaligear_nrm.vtf
Rainbow Six Siege - Kali Elite/materials/models/r6kali/upperbody_a_mask.vtf
Rainbow Six Siege - Kali Elite/materials/models/r6kali/eyeball_r.vmt
Rainbow Six Siege - Kali Elite/materials/models/r6kali/jingyingfootn.vtf
Rainbow Six Siege - Kali Elite/materials/models/r6kali/kaliarms_diff.vtf
Rainbow Six Siege - Kali Elite/materials/models/r6kali/jingyinghand.vmt
Rainbow Six Siege - Kali Elite/materials/models/r6kali/kalivest_nrm.vtf
Rainbow Six Siege - Kali Elite/materials/models/r6kali/blackse.vtf
Rainbow Six Siege - Kali Elite/materials/models/r6kali/kaliheaddj_diff.vtf
Rainbow Six Siege - Kali Elite/materials/models/r6kali/glasses_lens.vtf
Rainbow Six Siege - Kali Elite/materials/models/r6kali/gadget.vmt
Rainbow Six Siege - Kali Elite/materials/models/r6kali/jingyingheadn.vtf
Rainbow Six Siege - Kali Elite/materials/models/r6kali/gun_spsmg9.vmt
Rainbow Six Siege - Kali Elite/materials/models/r6kali/kalilegs_diff.vtf
Rainbow Six Siege - Kali Elite/materials/models/r6kali/kalihead_mult.vtf
Rainbow Six Siege - Kali Elite/materials/models/r6kali/gadget_a.vtf
Rainbow Six Siege - Kali Elite/materials/models/r6kali/pouch.vmt
Rainbow Six Siege - Kali Elite/materials/models/r6kali/jingyingshengzin.vtf
Rainbow Six Siege - Kali Elite/materials/models/r6kali/eye-reflection-cubemap-.vtf
Rainbow Six Siege - Kali Elite/materials/models/r6kali/kaliarms_mask.vtf
Rainbow Six Siege - Kali Elite/materials/models/r6kali/kalihead_diff.vtf
Rainbow Six Siege - Kali Elite/materials/models/r6kali/shared/albedo_tintdefine.vtf
Rainbow Six Siege - Kali Elite/materials/models/r6kali/shared/green3.vtf
Rainbow Six Siege - Kali Elite/materials/models/r6kali/shared/lightwarp_thor.vtf
Rainbow Six Siege - Kali Elite/materials/models/r6kali/shared/lw_alu_3.vtf
Rainbow Six Siege - Kali Elite/materials/models/r6kali/shared/detail_noise.vtf
Rainbow Six Siege - Kali Elite/materials/models/r6kali/shared/envmap.vtf
Rainbow Six Siege - Kali Elite/materials/models/r6kali/shared/phongwarp_metal2.vtf
Rainbow Six Siege - Kali Elite/materials/models/r6kali/shared/phongwarp_custom3.vtf
Rainbow Six Siege - Kali Elite/materials/models/r6kali/shared/detail_skin.vtf
Rainbow Six Siege - Kali Elite/materials/models/r6kali/shared/detail_leather2.vtf
Rainbow Six Siege - Kali Elite/materials/models/r6kali/shared/water_n.vtf
Rainbow Six Siege - Kali Elite/materials/models/r6kali/shared/killy.vtf
Rainbow Six Siege - Kali Elite/materials/models/r6kali/shared/skin_gradient.vtf
Rainbow Six Siege - Kali Elite/materials/models/r6kali/shared/lightwarp_metallic.vtf
Rainbow Six Siege - Kali Elite/materials/models/r6kali/shared/detail_cloth2.vtf
Rainbow Six Siege - Kali Elite/materials/models/r6kali/shared/lightwarp_soft_white.vtf
Rainbow Six Siege - Kali Elite/materials/models/r6kali/shared/phongwarp_hair2.vtf
Rainbow Six Siege - Kali Elite/materials/models/r6kali/shared/detail_leather.vtf
Rainbow Six Siege - Kali Elite/materials/models/r6kali/shared/hl2_hdr.vtf
Rainbow Six Siege - Kali Elite/materials/models/r6kali/shared/normal_shared.vtf
Rainbow Six Siege - Kali Elite/materials/models/r6kali/shared/phongwarp_flesh.vtf
Rainbow Six Siege - Kali Elite/materials/models/r6kali/shared/phong_exp_b_030_c_054.vtf
Rainbow Six Siege - Kali Elite/materials/models/r6kali/shared/detail_metal.vtf
Rainbow Six Siege - Kali Elite/materials/models/r6kali/shared/green4.vtf
Rainbow Six Siege - Kali Elite/materials/models/r6kali/shared/detail_plastic.vtf
Rainbow Six Siege - Kali Elite/materials/models/r6kali/shared/phongwarp_test.vtf
Rainbow Six Siege - Kali Elite/materials/models/r6kali/shared/green.vtf
Rainbow Six Siege - Kali Elite/materials/models/r6kali/shared/lightwarp_flesh.vtf
Rainbow Six Siege - Kali Elite/materials/models/r6kali/shared/coach_head_wrp.vtf
Rainbow Six Siege - Kali Elite/materials/models/r6kali/shared/detail_scratches.vtf
Rainbow Six Siege - Kali Elite/materials/models/r6kali/shared/lightwarp_wet.vtf
Rainbow Six Siege - Kali Elite/materials/models/r6kali/shared/generic_white.vtf
Rainbow Six Siege - Kali Elite/materials/models/r6kali/shared/albedo_tintdefinelight.vtf
Rainbow Six Siege - Kali Elite/materials/models/r6kali/shared/cartoon_shader.vtf
Rainbow Six Siege - Kali Elite/materials/models/r6kali/shared/exp.vtf
Rainbow Six Siege - Kali Elite/materials/models/r6kali/shared/green_b.vtf
Rainbow Six Siege - Kali Elite/materials/models/r6kali/shared/pw_chrome.vtf
Rainbow Six Siege - Kali Elite/materials/models/r6kali/shared/phongwarp_refract.vtf
Rainbow Six Siege - Kali Elite/materials/models/r6kali/shared/lightwarp_t.vtf
Rainbow Six Siege - Kali Elite/materials/models/r6kali/shared/lightwarp_flesh_dark.vtf
Rainbow Six Siege - Kali Elite/materials/models/r6kali/shared/phongwarp2.vtf
Rainbow Six Siege - Kali Elite/materials/models/r6kali/shared/masks1.vtf
Rainbow Six Siege - Kali Elite/materials/models/r6kali/shared/lightwarp_soft.vtf
Rainbow Six Siege - Kali Elite/materials/models/r6kali/shared/lightwarp_mask.vtf
Rainbow Six Siege - Kali Elite/materials/models/r6kali/shared/hair_phongwrp.vtf
Rainbow Six Siege - Kali Elite/materials/models/r6kali/shared/phongwarp_metal.vtf
Rainbow Six Siege - Kali Elite/materials/models/r6kali/shared/green2.vtf
Rainbow Six Siege - Kali Elite/materials/models/r6kali/shared/lightwarp_guardian.vtf
Rainbow Six Siege - Kali Elite/materials/models/r6kali/shared/lightwarp_cel.vtf
Rainbow Six Siege - Kali Elite/materials/models/r6kali/shared/phongwarp_sheen.vtf
Rainbow Six Siege - Kali Elite/materials/models/r6kali/shared/toon_hair.vtf
Rainbow Six Siege - Kali Elite/materials/models/r6kali/shared/pw_ceramic.vtf
Rainbow Six Siege - Kali Elite/materials/models/r6kali/shared/detail_skin2.vtf
Rainbow Six Siege - Kali Elite/materials/models/r6kali/shared/lightwarp_hair.vtf
Rainbow Six Siege - Kali Elite/materials/models/r6kali/shared/detail_scratches2.vtf
Rainbow Six Siege - Kali Elite/materials/models/r6kali/shared/lightwarp_elchulus.vtf
Rainbow Six Siege - Kali Elite/materials/models/r6kali/shared/lightwarp_cherry.vtf
Rainbow Six Siege - Kali Elite/materials/models/r6kali/shared/painted_silver2.vtf
Rainbow Six Siege - Kali Elite/materials/models/r6kali/shared/lightwarp_leather.vtf
Rainbow Six Siege - Kali Elite/materials/models/r6kali/shared/phongwarp.vtf
Rainbow Six Siege - Kali Elite/materials/models/r6kali/shared/ch_masks1_shared.vtf
Rainbow Six Siege - Kali Elite/materials/models/r6kali/shared/toon_generic.vtf
Rainbow Six Siege - Kali Elite/materials/models/r6kali/shared/lightwarp_flesh_stark.vtf




Rainbow_Six_Siege_-_Kali.rar
268
2022-05-15 09:00:12
61.46 MB
File contents:

R6 - KALI DEFAULT SKIN/models/r6skali/csrxmag22.dx90.vtx
R6 - KALI DEFAULT SKIN/models/r6skali/spsmg9wuq33.mdl
R6 - KALI DEFAULT SKIN/models/r6skali/emp2pohuaida11.mdl
R6 - KALI DEFAULT SKIN/models/r6skali/emp2pohuaida11.dx90.vtx
R6 - KALI DEFAULT SKIN/models/r6skali/kalifexl66.dx90.vtx
R6 - KALI DEFAULT SKIN/models/r6skali/spsmg9mag.mdl
R6 - KALI DEFAULT SKIN/models/r6skali/spsmg9mag.dx90.vtx
R6 - KALI DEFAULT SKIN/models/r6skali/spsmg9mag.vvd
R6 - KALI DEFAULT SKIN/models/r6skali/emp2pohuaida11.vvd
R6 - KALI DEFAULT SKIN/models/r6skali/csrxmag22.mdl
R6 - KALI DEFAULT SKIN/models/r6skali/csrxwuqfexl22.vvd
R6 - KALI DEFAULT SKIN/models/r6skali/csrxwuqfexl22.mdl
R6 - KALI DEFAULT SKIN/models/r6skali/csrxwuqfexl22.dx90.vtx
R6 - KALI DEFAULT SKIN/models/r6skali/spsmg9wuq33.vvd
R6 - KALI DEFAULT SKIN/models/r6skali/csrxmag22.vvd
R6 - KALI DEFAULT SKIN/models/r6skali/kalifexl66.vvd
R6 - KALI DEFAULT SKIN/models/r6skali/spsmg9wuq33.dx90.vtx
R6 - KALI DEFAULT SKIN/models/r6skali/kalifexl66.mdl
R6 - KALI DEFAULT SKIN/materials/models/r6kali/gun_spsmg9_bullets.vmt
R6 - KALI DEFAULT SKIN/materials/models/r6kali/kaliarms_nrm.vtf
R6 - KALI DEFAULT SKIN/materials/models/r6kali/headgear.vmt
R6 - KALI DEFAULT SKIN/materials/models/r6kali/jingyingleg.vmt
R6 - KALI DEFAULT SKIN/materials/models/r6kali/jingyingfoot.vmt
R6 - KALI DEFAULT SKIN/materials/models/r6kali/jingyingtien.vtf
R6 - KALI DEFAULT SKIN/materials/models/r6kali/ammo.vmt
R6 - KALI DEFAULT SKIN/materials/models/r6kali/kalistraps_diff.vtf
R6 - KALI DEFAULT SKIN/materials/models/r6kali/kaligear_diff.vtf
R6 - KALI DEFAULT SKIN/materials/models/r6kali/kalipouches_diff.vtf
R6 - KALI DEFAULT SKIN/materials/models/r6kali/kalistraps_nrm.vtf
R6 - KALI DEFAULT SKIN/materials/models/r6kali/spsmg9_nrm.vtf
R6 - KALI DEFAULT SKIN/materials/models/r6kali/kalivest_diff.vtf
R6 - KALI DEFAULT SKIN/materials/models/r6kali/kalipouches_nrm.vtf
R6 - KALI DEFAULT SKIN/materials/models/r6kali/spsmg9mag_nrm.vtf
R6 - KALI DEFAULT SKIN/materials/models/r6kali/hair.vmt
R6 - KALI DEFAULT SKIN/materials/models/r6kali/mag.vmt
R6 - KALI DEFAULT SKIN/materials/models/r6kali/galasi3n.vtf
R6 - KALI DEFAULT SKIN/materials/models/r6kali/red.vmt
R6 - KALI DEFAULT SKIN/materials/models/r6kali/jingyingarm.vtf
R6 - KALI DEFAULT SKIN/materials/models/r6kali/ret_share_red_lens_nml.vtf
R6 - KALI DEFAULT SKIN/materials/models/r6kali/eyeball_ao.vtf
R6 - KALI DEFAULT SKIN/materials/models/r6kali/eyeball_r.vtf
R6 - KALI DEFAULT SKIN/materials/models/r6kali/jingyinggear.vmt
R6 - KALI DEFAULT SKIN/materials/models/r6kali/jingyinggearn.vtf
R6 - KALI DEFAULT SKIN/materials/models/r6kali/accessories.vmt
R6 - KALI DEFAULT SKIN/materials/models/r6kali/jingyingupper.vtf
R6 - KALI DEFAULT SKIN/materials/models/r6kali/jingyinghead.vtf
R6 - KALI DEFAULT SKIN/materials/models/r6kali/jingyinglow.vtf
R6 - KALI DEFAULT SKIN/materials/models/r6kali/pants.vmt
R6 - KALI DEFAULT SKIN/materials/models/r6kali/glorious undercut hair.vmt
R6 - KALI DEFAULT SKIN/materials/models/r6kali/eyeball.vtf
R6 - KALI DEFAULT SKIN/materials/models/r6kali/carx2.vtf
R6 - KALI DEFAULT SKIN/materials/models/r6kali/hiarn.vtf
R6 - KALI DEFAULT SKIN/materials/models/r6kali/jingyingtie.vtf
R6 - KALI DEFAULT SKIN/materials/models/r6kali/spsmg9_diff.vtf
R6 - KALI DEFAULT SKIN/materials/models/r6kali/kaliteeth_diff.vtf
R6 - KALI DEFAULT SKIN/materials/models/r6kali/ret_share_red_lens_col2.vtf
R6 - KALI DEFAULT SKIN/materials/models/r6kali/hiar.vtf
R6 - KALI DEFAULT SKIN/materials/models/r6kali/gloves.vmt
R6 - KALI DEFAULT SKIN/materials/models/r6kali/jingyinguppern.vtf
R6 - KALI DEFAULT SKIN/materials/models/r6kali/jingyingshengzi.vmt
R6 - KALI DEFAULT SKIN/materials/models/r6kali/mag_a.vtf
R6 - KALI DEFAULT SKIN/materials/models/r6kali/galasi3.vtf
R6 - KALI DEFAULT SKIN/materials/models/r6kali/face2.vmt
R6 - KALI DEFAULT SKIN/materials/models/r6kali/kalieyes_q.vtf
R6 - KALI DEFAULT SKIN/materials/models/r6kali/mouth.vmt
R6 - KALI DEFAULT SKIN/materials/models/r6kali/mag_nm.vtf
R6 - KALI DEFAULT SKIN/materials/models/r6kali/jingyingarm.vmt
R6 - KALI DEFAULT SKIN/materials/models/r6kali/kaliteeth_nrm.vtf
R6 - KALI DEFAULT SKIN/materials/models/r6kali/jingyinggear.vtf
R6 - KALI DEFAULT SKIN/materials/models/r6kali/eyelash.vmt
R6 - KALI DEFAULT SKIN/materials/models/r6kali/galasi2.vmt
R6 - KALI DEFAULT SKIN/materials/models/r6kali/redse.vtf
R6 - KALI DEFAULT SKIN/materials/models/r6kali/spsmg9mag_diff.vtf
R6 - KALI DEFAULT SKIN/materials/models/r6kali/kalieyes_qn.vtf
R6 - KALI DEFAULT SKIN/materials/models/r6kali/spsmg9bullets_nrm.vtf
R6 - KALI DEFAULT SKIN/materials/models/r6kali/neijing1.vmt
R6 - KALI DEFAULT SKIN/materials/models/r6kali/eyeball_l.vtf
R6 - KALI DEFAULT SKIN/materials/models/r6kali/ret_share_red_lens_col.vtf
R6 - KALI DEFAULT SKIN/materials/models/r6kali/jingyingfoot.vtf
R6 - KALI DEFAULT SKIN/materials/models/r6kali/jingyingupper.vmt
R6 - KALI DEFAULT SKIN/materials/models/r6kali/jingyinglown.vtf
R6 - KALI DEFAULT SKIN/materials/models/r6kali/eye-cornea.vtf
R6 - KALI DEFAULT SKIN/materials/models/r6kali/gadget_nm.vtf
R6 - KALI DEFAULT SKIN/materials/models/r6kali/spsmg9bullets_diff.vtf
R6 - KALI DEFAULT SKIN/materials/models/r6kali/jingyinghead1.vmt
R6 - KALI DEFAULT SKIN/materials/models/r6kali/kalilegs_nrm.vtf
R6 - KALI DEFAULT SKIN/materials/models/r6kali/blackse.vmt
R6 - KALI DEFAULT SKIN/materials/models/r6kali/jingyinggear2.vmt
R6 - KALI DEFAULT SKIN/materials/models/r6kali/jingyingheadpian.vmt
R6 - KALI DEFAULT SKIN/materials/models/r6kali/arms.vmt
R6 - KALI DEFAULT SKIN/materials/models/r6kali/carx2n.vtf
R6 - KALI DEFAULT SKIN/materials/models/r6kali/lense.vmt
R6 - KALI DEFAULT SKIN/materials/models/r6kali/eyeball_l.vmt
R6 - KALI DEFAULT SKIN/materials/models/r6kali/kaliheadgear_diff.vtf
R6 - KALI DEFAULT SKIN/materials/models/r6kali/straps.vmt
R6 - KALI DEFAULT SKIN/materials/models/r6kali/torso.vmt
R6 - KALI DEFAULT SKIN/materials/models/r6kali/ammo_nm.vtf
R6 - KALI DEFAULT SKIN/materials/models/r6kali/headtoujinn.vtf
R6 - KALI DEFAULT SKIN/materials/models/r6kali/jingyingshengzi.vtf
R6 - KALI DEFAULT SKIN/materials/models/r6kali/jingyingarmn.vtf
R6 - KALI DEFAULT SKIN/materials/models/r6kali/face.vmt
R6 - KALI DEFAULT SKIN/materials/models/r6kali/base_m_caucasian_wrp.vtf
R6 - KALI DEFAULT SKIN/materials/models/r6kali/gunbase.vmt
R6 - KALI DEFAULT SKIN/materials/models/r6kali/ammo_a.vtf
R6 - KALI DEFAULT SKIN/materials/models/r6kali/gun_spsmg9_magazine.vmt
R6 - KALI DEFAULT SKIN/materials/models/r6kali/kalihead_nrm1.vtf
R6 - KALI DEFAULT SKIN/materials/models/r6kali/kaligear_nrm.vtf
R6 - KALI DEFAULT SKIN/materials/models/r6kali/upperbody_a_mask.vtf
R6 - KALI DEFAULT SKIN/materials/models/r6kali/eyeball_r.vmt
R6 - KALI DEFAULT SKIN/materials/models/r6kali/jingyingfootn.vtf
R6 - KALI DEFAULT SKIN/materials/models/r6kali/kaliarms_diff.vtf
R6 - KALI DEFAULT SKIN/materials/models/r6kali/jingyinghand.vmt
R6 - KALI DEFAULT SKIN/materials/models/r6kali/kalivest_nrm.vtf
R6 - KALI DEFAULT SKIN/materials/models/r6kali/blackse.vtf
R6 - KALI DEFAULT SKIN/materials/models/r6kali/kaliheaddj_diff.vtf
R6 - KALI DEFAULT SKIN/materials/models/r6kali/glasses_lens.vtf
R6 - KALI DEFAULT SKIN/materials/models/r6kali/gadget.vmt
R6 - KALI DEFAULT SKIN/materials/models/r6kali/jingyingheadn.vtf
R6 - KALI DEFAULT SKIN/materials/models/r6kali/gun_spsmg9.vmt
R6 - KALI DEFAULT SKIN/materials/models/r6kali/kalilegs_diff.vtf
R6 - KALI DEFAULT SKIN/materials/models/r6kali/kalihead_mult.vtf
R6 - KALI DEFAULT SKIN/materials/models/r6kali/gadget_a.vtf
R6 - KALI DEFAULT SKIN/materials/models/r6kali/pouch.vmt
R6 - KALI DEFAULT SKIN/materials/models/r6kali/jingyingshengzin.vtf
R6 - KALI DEFAULT SKIN/materials/models/r6kali/eye-reflection-cubemap-.vtf
R6 - KALI DEFAULT SKIN/materials/models/r6kali/kaliarms_mask.vtf
R6 - KALI DEFAULT SKIN/materials/models/r6kali/kalihead_diff.vtf
R6 - KALI DEFAULT SKIN/materials/models/r6kali/shared/albedo_tintdefine.vtf
R6 - KALI DEFAULT SKIN/materials/models/r6kali/shared/green3.vtf
R6 - KALI DEFAULT SKIN/materials/models/r6kali/shared/lightwarp_thor.vtf
R6 - KALI DEFAULT SKIN/materials/models/r6kali/shared/lw_alu_3.vtf
R6 - KALI DEFAULT SKIN/materials/models/r6kali/shared/detail_noise.vtf
R6 - KALI DEFAULT SKIN/materials/models/r6kali/shared/envmap.vtf
R6 - KALI DEFAULT SKIN/materials/models/r6kali/shared/phongwarp_metal2.vtf
R6 - KALI DEFAULT SKIN/materials/models/r6kali/shared/phongwarp_custom3.vtf
R6 - KALI DEFAULT SKIN/materials/models/r6kali/shared/detail_skin.vtf
R6 - KALI DEFAULT SKIN/materials/models/r6kali/shared/detail_leather2.vtf
R6 - KALI DEFAULT SKIN/materials/models/r6kali/shared/water_n.vtf
R6 - KALI DEFAULT SKIN/materials/models/r6kali/shared/killy.vtf
R6 - KALI DEFAULT SKIN/materials/models/r6kali/shared/skin_gradient.vtf
R6 - KALI DEFAULT SKIN/materials/models/r6kali/shared/lightwarp_metallic.vtf
R6 - KALI DEFAULT SKIN/materials/models/r6kali/shared/detail_cloth2.vtf
R6 - KALI DEFAULT SKIN/materials/models/r6kali/shared/lightwarp_soft_white.vtf
R6 - KALI DEFAULT SKIN/materials/models/r6kali/shared/phongwarp_hair2.vtf
R6 - KALI DEFAULT SKIN/materials/models/r6kali/shared/detail_leather.vtf
R6 - KALI DEFAULT SKIN/materials/models/r6kali/shared/hl2_hdr.vtf
R6 - KALI DEFAULT SKIN/materials/models/r6kali/shared/normal_shared.vtf
R6 - KALI DEFAULT SKIN/materials/models/r6kali/shared/phongwarp_flesh.vtf
R6 - KALI DEFAULT SKIN/materials/models/r6kali/shared/phong_exp_b_030_c_054.vtf
R6 - KALI DEFAULT SKIN/materials/models/r6kali/shared/detail_metal.vtf
R6 - KALI DEFAULT SKIN/materials/models/r6kali/shared/green4.vtf
R6 - KALI DEFAULT SKIN/materials/models/r6kali/shared/detail_plastic.vtf
R6 - KALI DEFAULT SKIN/materials/models/r6kali/shared/phongwarp_test.vtf
R6 - KALI DEFAULT SKIN/materials/models/r6kali/shared/green.vtf
R6 - KALI DEFAULT SKIN/materials/models/r6kali/shared/lightwarp_flesh.vtf
R6 - KALI DEFAULT SKIN/materials/models/r6kali/shared/coach_head_wrp.vtf
R6 - KALI DEFAULT SKIN/materials/models/r6kali/shared/detail_scratches.vtf
R6 - KALI DEFAULT SKIN/materials/models/r6kali/shared/lightwarp_wet.vtf
R6 - KALI DEFAULT SKIN/materials/models/r6kali/shared/generic_white.vtf
R6 - KALI DEFAULT SKIN/materials/models/r6kali/shared/albedo_tintdefinelight.vtf
R6 - KALI DEFAULT SKIN/materials/models/r6kali/shared/cartoon_shader.vtf
R6 - KALI DEFAULT SKIN/materials/models/r6kali/shared/exp.vtf
R6 - KALI DEFAULT SKIN/materials/models/r6kali/shared/green_b.vtf
R6 - KALI DEFAULT SKIN/materials/models/r6kali/shared/pw_chrome.vtf
R6 - KALI DEFAULT SKIN/materials/models/r6kali/shared/phongwarp_refract.vtf
R6 - KALI DEFAULT SKIN/materials/models/r6kali/shared/lightwarp_t.vtf
R6 - KALI DEFAULT SKIN/materials/models/r6kali/shared/lightwarp_flesh_dark.vtf
R6 - KALI DEFAULT SKIN/materials/models/r6kali/shared/phongwarp2.vtf
R6 - KALI DEFAULT SKIN/materials/models/r6kali/shared/masks1.vtf
R6 - KALI DEFAULT SKIN/materials/models/r6kali/shared/lightwarp_soft.vtf
R6 - KALI DEFAULT SKIN/materials/models/r6kali/shared/lightwarp_mask.vtf
R6 - KALI DEFAULT SKIN/materials/models/r6kali/shared/hair_phongwrp.vtf
R6 - KALI DEFAULT SKIN/materials/models/r6kali/shared/phongwarp_metal.vtf
R6 - KALI DEFAULT SKIN/materials/models/r6kali/shared/green2.vtf
R6 - KALI DEFAULT SKIN/materials/models/r6kali/shared/lightwarp_guardian.vtf
R6 - KALI DEFAULT SKIN/materials/models/r6kali/shared/lightwarp_cel.vtf
R6 - KALI DEFAULT SKIN/materials/models/r6kali/shared/phongwarp_sheen.vtf
R6 - KALI DEFAULT SKIN/materials/models/r6kali/shared/toon_hair.vtf
R6 - KALI DEFAULT SKIN/materials/models/r6kali/shared/pw_ceramic.vtf
R6 - KALI DEFAULT SKIN/materials/models/r6kali/shared/detail_skin2.vtf
R6 - KALI DEFAULT SKIN/materials/models/r6kali/shared/lightwarp_hair.vtf
R6 - KALI DEFAULT SKIN/materials/models/r6kali/shared/detail_scratches2.vtf
R6 - KALI DEFAULT SKIN/materials/models/r6kali/shared/lightwarp_elchulus.vtf
R6 - KALI DEFAULT SKIN/materials/models/r6kali/shared/lightwarp_cherry.vtf
R6 - KALI DEFAULT SKIN/materials/models/r6kali/shared/painted_silver2.vtf
R6 - KALI DEFAULT SKIN/materials/models/r6kali/shared/lightwarp_leather.vtf
R6 - KALI DEFAULT SKIN/materials/models/r6kali/shared/phongwarp.vtf
R6 - KALI DEFAULT SKIN/materials/models/r6kali/shared/ch_masks1_shared.vtf
R6 - KALI DEFAULT SKIN/materials/models/r6kali/shared/toon_generic.vtf
R6 - KALI DEFAULT SKIN/materials/models/r6kali/shared/lightwarp_flesh_stark.vtf