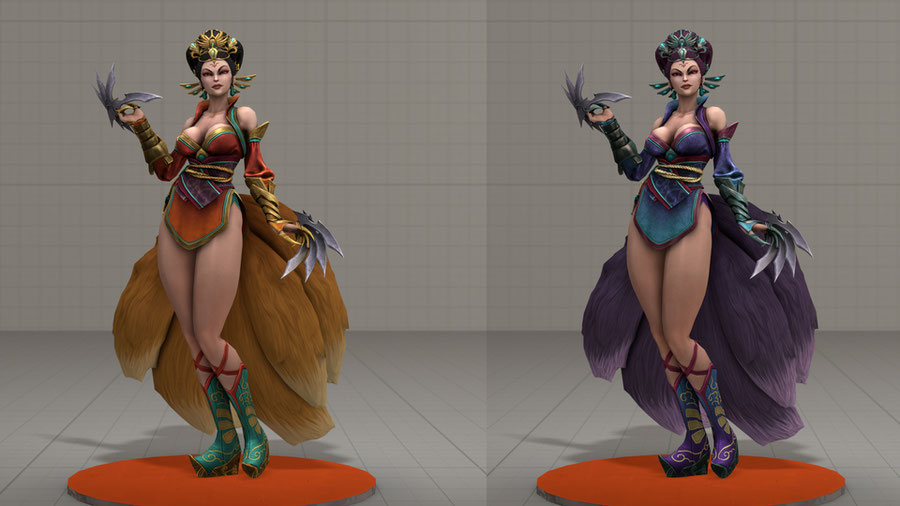 Show more
Description
Da Ji from SMITE
Animations
Body groups
Skins
Models and textures - Hi-Rez Studios / Titan Forge Games
Includes:
models\smite\gods\daji.mdl
models\smite\gods\daji_paolao.mdl
SFMLab is a free service. However, it costs about $0.03 to deliver you a 1GB file. With over 20TB of traffic every month and growing, SFMLab needs your help. If only 1% of our users each gave us $5 for a single month, we could keep the site running for several years.
Filename
Downloads
Created
Filesize
Files
sfm_smite_daji.7z
538
2022-05-24 15:58:06
196.73 MB
File contents:

models/smite/gods/daji_paolao.dx90.vtx
models/smite/gods/daji.vvd
models/smite/gods/daji.mdl
models/smite/gods/daji.dx90.vtx
models/smite/gods/daji_paolao.mdl
models/smite/gods/daji_paolao.vvd
materials/models/smite/gods/daji/god_daji_skin1_tr.vmt
materials/models/smite/gods/daji/god_daji_skin9_n.vtf
materials/models/smite/gods/daji/god_daji_skin8.vmt
materials/models/smite/gods/daji/god_daji_skin8_n.vtf
materials/models/smite/gods/daji/_iridescence2.vtf
materials/models/smite/gods/daji/god_daji_skin10_n.vtf
materials/models/smite/gods/daji/god_daji_skin1.vmt
materials/models/smite/gods/daji/god_daji_skin14_n.vtf
materials/models/smite/gods/daji/god_daji_skin3_d.vtf
materials/models/smite/gods/daji/god_daji_skin4_tr.vmt
materials/models/smite/gods/daji/god_daji_tr.vmt
materials/models/smite/gods/daji/god_daji_skin5_n.vtf
materials/models/smite/gods/daji/god_daji_skin6_d.vtf
materials/models/smite/gods/daji/god_daji_skin9_tr.vmt
materials/models/smite/gods/daji/god_daji_skin5.vmt
materials/models/smite/gods/daji/god_daji_msk.vtf
materials/models/smite/gods/daji/god_daji_skin12_n.vtf
materials/models/smite/gods/daji/god_daji_skin13_d.vtf
materials/models/smite/gods/daji/god_daji_skin2_tr.vmt
materials/models/smite/gods/daji/god_daji_skin6_n.vtf
materials/models/smite/gods/daji/god_daji_skin11_n.vtf
materials/models/smite/gods/daji/god_daji.vmt
materials/models/smite/gods/daji/god_daji_skin7_n.vtf
materials/models/smite/gods/daji/god_daji_n.vtf
materials/models/smite/gods/daji/god_daji_skin1_d.vtf
materials/models/smite/gods/daji/god_daji_skin3.vmt
materials/models/smite/gods/daji/god_daji_skin4_n.vtf
materials/models/smite/gods/daji/god_daji_skin11_d.vtf
materials/models/smite/gods/daji/god_daji_skin4_d.vtf
materials/models/smite/gods/daji/god_daji_skin5_d.vtf
materials/models/smite/gods/daji/god_daji_skin4.vmt
materials/models/smite/gods/daji/god_daji_skin13.vmt
materials/models/smite/gods/daji/god_daji_skin7_d.vtf
materials/models/smite/gods/daji/god_daji_skin10.vmt
materials/models/smite/gods/daji/god_daji_skin9_d.vtf
materials/models/smite/gods/daji/god_daji_skin12_d.vtf
materials/models/smite/gods/daji/god_daji_skin3_tr.vmt
materials/models/smite/gods/daji/god_daji_ao.vtf
materials/models/smite/gods/daji/god_daji_skin11.vmt
materials/models/smite/gods/daji/god_daji_skin2.vmt
materials/models/smite/gods/daji/god_daji_skin14.vmt
materials/models/smite/gods/daji/lightwarp.vtf
materials/models/smite/gods/daji/god_daji_skin3_n.vtf
materials/models/smite/gods/daji/god_daji_skin7.vmt
materials/models/smite/gods/daji/god_daji_skin2_n.vtf
materials/models/smite/gods/daji/_iridescence1.vtf
materials/models/smite/gods/daji/god_daji_skin9.vmt
materials/models/smite/gods/daji/god_daji_skin6_msk.vtf
materials/models/smite/gods/daji/god_daji_skin12.vmt
materials/models/smite/gods/daji/god_daji_skin14_d.vtf
materials/models/smite/gods/daji/god_daji_skin13_n.vtf
materials/models/smite/gods/daji/god_daji_skin8_d.vtf
materials/models/smite/gods/daji/god_daji_skin6.vmt
materials/models/smite/gods/daji/god_daji_d.vtf
materials/models/smite/gods/daji/god_daji_skin10_d.vtf
materials/models/smite/gods/daji/god_daji_skin2_d.vtf
materials/models/smite/gods/daji/paolao/god_daji_paolao_skin10_n.vtf
materials/models/smite/gods/daji/paolao/god_daji_paolao_skin4_msk.vtf
materials/models/smite/gods/daji/paolao/god_daji_paolao_skin13.vmt
materials/models/smite/gods/daji/paolao/god_daji_paolao_skin9_d.vtf
materials/models/smite/gods/daji/paolao/god_daji_paolao_skin14.vmt
materials/models/smite/gods/daji/paolao/god_daji_paolao_skin6.vmt
materials/models/smite/gods/daji/paolao/god_daji_paolao_skin6_tr.vmt
materials/models/smite/gods/daji/paolao/god_daji_paolao_skin11_d.vtf
materials/models/smite/gods/daji/paolao/god_daji_paolao_n.vtf
materials/models/smite/gods/daji/paolao/god_daji_paolao_skin7_msk.vtf
materials/models/smite/gods/daji/paolao/god_daji_paolao_skin3_d.vtf
materials/models/smite/gods/daji/paolao/god_daji_paolao_skin5_msk.vtf
materials/models/smite/gods/daji/paolao/god_daji_paolao_skin6_line.vmt
materials/models/smite/gods/daji/paolao/god_daji_paolao_skin8_tr.vmt
materials/models/smite/gods/daji/paolao/god_daji_paolao_skin13_n.vtf
materials/models/smite/gods/daji/paolao/god_daji_paolao_skin7_n.vtf
materials/models/smite/gods/daji/paolao/god_daji_paolao_skin12.vmt
materials/models/smite/gods/daji/paolao/god_daji_paolao_skin3_tr_d.vtf
materials/models/smite/gods/daji/paolao/god_daji_paolao_skin6_n.vtf
materials/models/smite/gods/daji/paolao/god_daji_paolao_skin8_d.vtf
materials/models/smite/gods/daji/paolao/god_daji_paolao_skin7.vmt
materials/models/smite/gods/daji/paolao/god_daji_paolao_skin5.vmt
materials/models/smite/gods/daji/paolao/god_daji_paolao_skin13_d.vtf
materials/models/smite/gods/daji/paolao/god_daji_paolao_skin14_d.vtf
materials/models/smite/gods/daji/paolao/god_daji_paolao_skin10_d.vtf
materials/models/smite/gods/daji/paolao/god_daji_paolao_d.vtf
materials/models/smite/gods/daji/paolao/god_daji_paolao_skin3_tr.vmt
materials/models/smite/gods/daji/paolao/god_daji_paolao_skin11.vmt
materials/models/smite/gods/daji/paolao/god_daji_paolao_skin8.vmt
materials/models/smite/gods/daji/paolao/god_daji_paolao_skin4.vmt
materials/models/smite/gods/daji/paolao/god_daji_paolao_skin6_msk.vtf
materials/models/smite/gods/daji/paolao/god_daji_paolao_skin3.vmt
materials/models/smite/gods/daji/paolao/god_daji_paolao_skin9.vmt
materials/models/smite/gods/daji/paolao/god_daji_paolao_skin10_tr.vmt
materials/models/smite/gods/daji/paolao/god_daji_paolao_skin4_n.vtf
materials/models/smite/gods/daji/paolao/god_daji_paolao_skin11_n.vtf
materials/models/smite/gods/daji/paolao/god_daji_paolao_skin6_d.vtf
materials/models/smite/gods/daji/paolao/god_daji_paolao_skin3_msk1.vtf
materials/models/smite/gods/daji/paolao/god_daji_paolao_skin7_d.vtf
materials/models/smite/gods/daji/paolao/god_daji_paolao_skin12_msk.vtf
materials/models/smite/gods/daji/paolao/god_daji_paolao_skin3_n.vtf
materials/models/smite/gods/daji/paolao/god_daji_paolao_skin14_n.vtf
materials/models/smite/gods/daji/paolao/god_daji_paolao_skin5_n.vtf
materials/models/smite/gods/daji/paolao/god_daji_paolao_msk.vtf
materials/models/smite/gods/daji/paolao/god_daji_paolao_skin10.vmt
materials/models/smite/gods/daji/paolao/god_daji_paolao.vmt
materials/models/smite/gods/daji/paolao/god_daji_paolao_skin5_d.vtf
materials/models/smite/gods/daji/paolao/god_daji_paolao_skin12_n.vtf
materials/models/smite/gods/daji/paolao/god_daji_paolao_skin9_n.vtf
materials/models/smite/gods/daji/paolao/god_daji_paolao_skin4_d.vtf
materials/models/smite/gods/daji/paolao/god_daji_paolao_skin8_line.vmt
materials/models/smite/gods/daji/paolao/god_daji_paolao_skin12_d.vtf