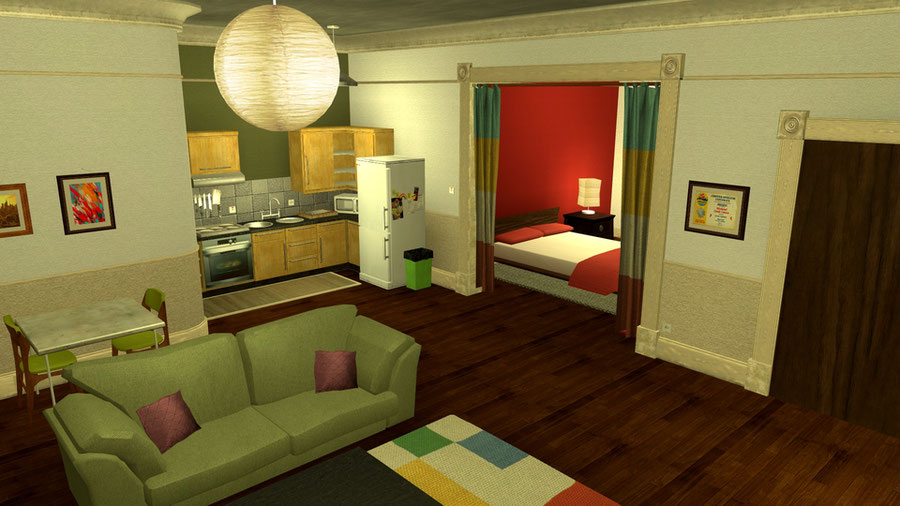 Show more
Description
This is Luis' Apartment.
Info: Luis' apartment is the apartment of GTA The Ballad of gay Tony's protagonist Luis Lopez. It's the only available safehouse to the player through the whole game.
Nothing much to say, i guess but the usual. It features the living room, kitchen and the bedroom. The kitchen fridge is usable and all the pictures but the helicopter certificate have been repleaced with different images, but if there's enough demand, i'll re-add the original images. Some stuff had to be omitted, some moved around, yadda yadda
Features: ⦁ luis_apartment.bsp and map thumbnail ⦁ 83 models, all ready for use outside of the map ⦁ 139 textures, all compressed ⦁ 200 FPS average on my rig, could differ on yours
Credits: Rockstar Games - Creating GTA IV and it's related assets ArcticOne - Porting and editing models and textures, map making, testing... Mark Wakefield-SFM port
Original gmod addon-https://steamcommunity.com/sharedfiles/filedetails/?id=2787933158
SFMLab is a free service. However, it costs about $0.03 to deliver you a 1GB file. With over 20TB of traffic every month and growing, SFMLab needs your help. If only 1% of our users each gave us $5 for a single month, we could keep the site running for several years.
Filename
Downloads
Created
Filesize
Files
GTA IV TBOGT Luis Apartment (fixed props).rar
1560
2022-06-16 10:20:04
23.49 MB
File contents:

[GTA IV TBOGT] Luis' Apartment/maps/luis_apartment.bsp
[GTA IV TBOGT] Luis' Apartment/maps/thumb/luis_apartment.png
[GTA IV TBOGT] Luis' Apartment/models/arctic0ne/gtaiv/doors/door_9.phy
[GTA IV TBOGT] Luis' Apartment/models/arctic0ne/gtaiv/doors/door_9.vvd
[GTA IV TBOGT] Luis' Apartment/models/arctic0ne/gtaiv/doors/door_9_fake.phy
[GTA IV TBOGT] Luis' Apartment/models/arctic0ne/gtaiv/doors/door_9_fake.dx80.vtx
[GTA IV TBOGT] Luis' Apartment/models/arctic0ne/gtaiv/doors/door_9.mdl
[GTA IV TBOGT] Luis' Apartment/models/arctic0ne/gtaiv/doors/door_9.dx80.vtx
[GTA IV TBOGT] Luis' Apartment/models/arctic0ne/gtaiv/doors/door_9_fake.dx90.vtx
[GTA IV TBOGT] Luis' Apartment/models/arctic0ne/gtaiv/doors/door_9_fake.vvd
[GTA IV TBOGT] Luis' Apartment/models/arctic0ne/gtaiv/doors/door_9_fake.sw.vtx
[GTA IV TBOGT] Luis' Apartment/models/arctic0ne/gtaiv/doors/door_9.dx90.vtx
[GTA IV TBOGT] Luis' Apartment/models/arctic0ne/gtaiv/doors/door_9.sw.vtx
[GTA IV TBOGT] Luis' Apartment/models/arctic0ne/gtaiv/doors/door_9_fake.mdl
[GTA IV TBOGT] Luis' Apartment/models/arctic0ne/gtaiv/seating/sofa_green.mdl
[GTA IV TBOGT] Luis' Apartment/models/arctic0ne/gtaiv/seating/sofa_green.phy
[GTA IV TBOGT] Luis' Apartment/models/arctic0ne/gtaiv/seating/sofa_green.sw.vtx
[GTA IV TBOGT] Luis' Apartment/models/arctic0ne/gtaiv/seating/dining_chair_2.dx90.vtx
[GTA IV TBOGT] Luis' Apartment/models/arctic0ne/gtaiv/seating/dining_chair_2.phy
[GTA IV TBOGT] Luis' Apartment/models/arctic0ne/gtaiv/seating/dining_chair_2.sw.vtx
[GTA IV TBOGT] Luis' Apartment/models/arctic0ne/gtaiv/seating/dining_chair_2.vvd
[GTA IV TBOGT] Luis' Apartment/models/arctic0ne/gtaiv/seating/dining_chair_2.dx80.vtx
[GTA IV TBOGT] Luis' Apartment/models/arctic0ne/gtaiv/seating/sofa_green.dx90.vtx
[GTA IV TBOGT] Luis' Apartment/models/arctic0ne/gtaiv/seating/sofa_green.dx80.vtx
[GTA IV TBOGT] Luis' Apartment/models/arctic0ne/gtaiv/seating/dining_chair_2.mdl
[GTA IV TBOGT] Luis' Apartment/models/arctic0ne/gtaiv/seating/sofa_green.vvd
[GTA IV TBOGT] Luis' Apartment/models/arctic0ne/gtaiv/electrical/tv_7.dx90.vtx
[GTA IV TBOGT] Luis' Apartment/models/arctic0ne/gtaiv/electrical/tv_remote_1.vvd
[GTA IV TBOGT] Luis' Apartment/models/arctic0ne/gtaiv/electrical/tv_7.vvd
[GTA IV TBOGT] Luis' Apartment/models/arctic0ne/gtaiv/electrical/outlet.sw.vtx
[GTA IV TBOGT] Luis' Apartment/models/arctic0ne/gtaiv/electrical/tv_remote_1.sw.vtx
[GTA IV TBOGT] Luis' Apartment/models/arctic0ne/gtaiv/electrical/radiator_4.mdl
[GTA IV TBOGT] Luis' Apartment/models/arctic0ne/gtaiv/electrical/hifi.vvd
[GTA IV TBOGT] Luis' Apartment/models/arctic0ne/gtaiv/electrical/tv_7.phy
[GTA IV TBOGT] Luis' Apartment/models/arctic0ne/gtaiv/electrical/hifi.sw.vtx
[GTA IV TBOGT] Luis' Apartment/models/arctic0ne/gtaiv/electrical/microwave_1.vvd
[GTA IV TBOGT] Luis' Apartment/models/arctic0ne/gtaiv/electrical/extension_cord.vvd
[GTA IV TBOGT] Luis' Apartment/models/arctic0ne/gtaiv/electrical/speaker_1.dx80.vtx
[GTA IV TBOGT] Luis' Apartment/models/arctic0ne/gtaiv/electrical/dvd_player_1.vvd
[GTA IV TBOGT] Luis' Apartment/models/arctic0ne/gtaiv/electrical/extension_cord.mdl
[GTA IV TBOGT] Luis' Apartment/models/arctic0ne/gtaiv/electrical/dvd_player_1.sw.vtx
[GTA IV TBOGT] Luis' Apartment/models/arctic0ne/gtaiv/electrical/outlet.phy
[GTA IV TBOGT] Luis' Apartment/models/arctic0ne/gtaiv/electrical/game_console.vvd
[GTA IV TBOGT] Luis' Apartment/models/arctic0ne/gtaiv/electrical/hifi.dx80.vtx
[GTA IV TBOGT] Luis' Apartment/models/arctic0ne/gtaiv/electrical/game_console.phy
[GTA IV TBOGT] Luis' Apartment/models/arctic0ne/gtaiv/electrical/tv_7.mdl
[GTA IV TBOGT] Luis' Apartment/models/arctic0ne/gtaiv/electrical/speaker_1.dx90.vtx
[GTA IV TBOGT] Luis' Apartment/models/arctic0ne/gtaiv/electrical/speaker_1.mdl
[GTA IV TBOGT] Luis' Apartment/models/arctic0ne/gtaiv/electrical/hifi.mdl
[GTA IV TBOGT] Luis' Apartment/models/arctic0ne/gtaiv/electrical/game_console.mdl
[GTA IV TBOGT] Luis' Apartment/models/arctic0ne/gtaiv/electrical/microwave_1.dx80.vtx
[GTA IV TBOGT] Luis' Apartment/models/arctic0ne/gtaiv/electrical/radiator_4.dx90.vtx
[GTA IV TBOGT] Luis' Apartment/models/arctic0ne/gtaiv/electrical/microwave_1.phy
[GTA IV TBOGT] Luis' Apartment/models/arctic0ne/gtaiv/electrical/outlet.dx80.vtx
[GTA IV TBOGT] Luis' Apartment/models/arctic0ne/gtaiv/electrical/light_switch.phy
[GTA IV TBOGT] Luis' Apartment/models/arctic0ne/gtaiv/electrical/radiator_4.dx80.vtx
[GTA IV TBOGT] Luis' Apartment/models/arctic0ne/gtaiv/electrical/tv_7.sw.vtx
[GTA IV TBOGT] Luis' Apartment/models/arctic0ne/gtaiv/electrical/light_switch.dx80.vtx
[GTA IV TBOGT] Luis' Apartment/models/arctic0ne/gtaiv/electrical/tv_remote_1.mdl
[GTA IV TBOGT] Luis' Apartment/models/arctic0ne/gtaiv/electrical/light_switch.dx90.vtx
[GTA IV TBOGT] Luis' Apartment/models/arctic0ne/gtaiv/electrical/microwave_1.mdl
[GTA IV TBOGT] Luis' Apartment/models/arctic0ne/gtaiv/electrical/tv_remote_1.phy
[GTA IV TBOGT] Luis' Apartment/models/arctic0ne/gtaiv/electrical/dvd_player_1.dx90.vtx
[GTA IV TBOGT] Luis' Apartment/models/arctic0ne/gtaiv/electrical/extension_cord.dx80.vtx
[GTA IV TBOGT] Luis' Apartment/models/arctic0ne/gtaiv/electrical/tv_remote_1.dx90.vtx
[GTA IV TBOGT] Luis' Apartment/models/arctic0ne/gtaiv/electrical/speaker_1.phy
[GTA IV TBOGT] Luis' Apartment/models/arctic0ne/gtaiv/electrical/radiator_4.vvd
[GTA IV TBOGT] Luis' Apartment/models/arctic0ne/gtaiv/electrical/light_switch.vvd
[GTA IV TBOGT] Luis' Apartment/models/arctic0ne/gtaiv/electrical/extension_cord.phy
[GTA IV TBOGT] Luis' Apartment/models/arctic0ne/gtaiv/electrical/tv_7.dx80.vtx
[GTA IV TBOGT] Luis' Apartment/models/arctic0ne/gtaiv/electrical/microwave_1.dx90.vtx
[GTA IV TBOGT] Luis' Apartment/models/arctic0ne/gtaiv/electrical/radiator_4.sw.vtx
[GTA IV TBOGT] Luis' Apartment/models/arctic0ne/gtaiv/electrical/speaker_1.sw.vtx
[GTA IV TBOGT] Luis' Apartment/models/arctic0ne/gtaiv/electrical/radiator_4.phy
[GTA IV TBOGT] Luis' Apartment/models/arctic0ne/gtaiv/electrical/outlet.vvd
[GTA IV TBOGT] Luis' Apartment/models/arctic0ne/gtaiv/electrical/game_console.sw.vtx
[GTA IV TBOGT] Luis' Apartment/models/arctic0ne/gtaiv/electrical/extension_cord.sw.vtx
[GTA IV TBOGT] Luis' Apartment/models/arctic0ne/gtaiv/electrical/tv_remote_1.dx80.vtx
[GTA IV TBOGT] Luis' Apartment/models/arctic0ne/gtaiv/electrical/game_console.dx80.vtx
[GTA IV TBOGT] Luis' Apartment/models/arctic0ne/gtaiv/electrical/outlet.mdl
[GTA IV TBOGT] Luis' Apartment/models/arctic0ne/gtaiv/electrical/microwave_1.sw.vtx
[GTA IV TBOGT] Luis' Apartment/models/arctic0ne/gtaiv/electrical/light_switch.sw.vtx
[GTA IV TBOGT] Luis' Apartment/models/arctic0ne/gtaiv/electrical/dvd_player_1.phy
[GTA IV TBOGT] Luis' Apartment/models/arctic0ne/gtaiv/electrical/speaker_1.vvd
[GTA IV TBOGT] Luis' Apartment/models/arctic0ne/gtaiv/electrical/light_switch.mdl
[GTA IV TBOGT] Luis' Apartment/models/arctic0ne/gtaiv/electrical/dvd_player_1.mdl
[GTA IV TBOGT] Luis' Apartment/models/arctic0ne/gtaiv/electrical/outlet.dx90.vtx
[GTA IV TBOGT] Luis' Apartment/models/arctic0ne/gtaiv/electrical/dvd_player_1.dx80.vtx
[GTA IV TBOGT] Luis' Apartment/models/arctic0ne/gtaiv/electrical/hifi.phy
[GTA IV TBOGT] Luis' Apartment/models/arctic0ne/gtaiv/electrical/game_console.dx90.vtx
[GTA IV TBOGT] Luis' Apartment/models/arctic0ne/gtaiv/electrical/hifi.dx90.vtx
[GTA IV TBOGT] Luis' Apartment/models/arctic0ne/gtaiv/electrical/extension_cord.dx90.vtx
[GTA IV TBOGT] Luis' Apartment/models/arctic0ne/gtaiv/bedroom/bed_luis_cloth.sw.vtx
[GTA IV TBOGT] Luis' Apartment/models/arctic0ne/gtaiv/bedroom/bed_luis_frame.dx80.vtx
[GTA IV TBOGT] Luis' Apartment/models/arctic0ne/gtaiv/bedroom/wardrobe_1.vvd
[GTA IV TBOGT] Luis' Apartment/models/arctic0ne/gtaiv/bedroom/bedside_table_1.mdl
[GTA IV TBOGT] Luis' Apartment/models/arctic0ne/gtaiv/bedroom/bedside_table_1.sw.vtx
[GTA IV TBOGT] Luis' Apartment/models/arctic0ne/gtaiv/bedroom/shoe_box_heat.phy
[GTA IV TBOGT] Luis' Apartment/models/arctic0ne/gtaiv/bedroom/bed_luis_cloth.dx80.vtx
[GTA IV TBOGT] Luis' Apartment/models/arctic0ne/gtaiv/bedroom/bed_luis_cloth.mdl
[GTA IV TBOGT] Luis' Apartment/models/arctic0ne/gtaiv/bedroom/bed_luis_frame.mdl
[GTA IV TBOGT] Luis' Apartment/models/arctic0ne/gtaiv/bedroom/bedside_table_1.dx80.vtx
[GTA IV TBOGT] Luis' Apartment/models/arctic0ne/gtaiv/bedroom/wardrobe_1.dx80.vtx
[GTA IV TBOGT] Luis' Apartment/models/arctic0ne/gtaiv/bedroom/shoe_boxes.dx80.vtx
[GTA IV TBOGT] Luis' Apartment/models/arctic0ne/gtaiv/bedroom/bedside_table_1.vvd
[GTA IV TBOGT] Luis' Apartment/models/arctic0ne/gtaiv/bedroom/bed_luis_cloth.vvd
[GTA IV TBOGT] Luis' Apartment/models/arctic0ne/gtaiv/bedroom/shoe_boxes.vvd
[GTA IV TBOGT] Luis' Apartment/models/arctic0ne/gtaiv/bedroom/shoe_box_heat.dx80.vtx
[GTA IV TBOGT] Luis' Apartment/models/arctic0ne/gtaiv/bedroom/bed_luis_frame.vvd
[GTA IV TBOGT] Luis' Apartment/models/arctic0ne/gtaiv/bedroom/shoe_boxes.mdl
[GTA IV TBOGT] Luis' Apartment/models/arctic0ne/gtaiv/bedroom/shoe_box_heat.sw.vtx
[GTA IV TBOGT] Luis' Apartment/models/arctic0ne/gtaiv/bedroom/shoe_boxes.phy
[GTA IV TBOGT] Luis' Apartment/models/arctic0ne/gtaiv/bedroom/shoe_boxes.dx90.vtx
[GTA IV TBOGT] Luis' Apartment/models/arctic0ne/gtaiv/bedroom/shoe_box_heat.mdl
[GTA IV TBOGT] Luis' Apartment/models/arctic0ne/gtaiv/bedroom/shoe_box_heat.vvd
[GTA IV TBOGT] Luis' Apartment/models/arctic0ne/gtaiv/bedroom/bed_luis_cloth.dx90.vtx
[GTA IV TBOGT] Luis' Apartment/models/arctic0ne/gtaiv/bedroom/wardrobe_1.dx90.vtx
[GTA IV TBOGT] Luis' Apartment/models/arctic0ne/gtaiv/bedroom/bed_luis_frame.phy
[GTA IV TBOGT] Luis' Apartment/models/arctic0ne/gtaiv/bedroom/shoe_boxes.sw.vtx
[GTA IV TBOGT] Luis' Apartment/models/arctic0ne/gtaiv/bedroom/bedside_table_1.phy
[GTA IV TBOGT] Luis' Apartment/models/arctic0ne/gtaiv/bedroom/bed_luis_frame.dx90.vtx
[GTA IV TBOGT] Luis' Apartment/models/arctic0ne/gtaiv/bedroom/bedside_table_1.dx90.vtx
[GTA IV TBOGT] Luis' Apartment/models/arctic0ne/gtaiv/bedroom/wardrobe_1.phy
[GTA IV TBOGT] Luis' Apartment/models/arctic0ne/gtaiv/bedroom/bed_luis_cloth.phy
[GTA IV TBOGT] Luis' Apartment/models/arctic0ne/gtaiv/bedroom/wardrobe_1.mdl
[GTA IV TBOGT] Luis' Apartment/models/arctic0ne/gtaiv/bedroom/shoe_box_heat.dx90.vtx
[GTA IV TBOGT] Luis' Apartment/models/arctic0ne/gtaiv/bedroom/wardrobe_1.sw.vtx
[GTA IV TBOGT] Luis' Apartment/models/arctic0ne/gtaiv/bedroom/bed_luis_frame.sw.vtx
[GTA IV TBOGT] Luis' Apartment/models/arctic0ne/gtaiv/lights/ceiling_light_papr.mdl
[GTA IV TBOGT] Luis' Apartment/models/arctic0ne/gtaiv/lights/ceiling_light_circ.dx90.vtx
[GTA IV TBOGT] Luis' Apartment/models/arctic0ne/gtaiv/lights/lamp_endtable_1.vvd
[GTA IV TBOGT] Luis' Apartment/models/arctic0ne/gtaiv/lights/ceiling_light_circ.vvd
[GTA IV TBOGT] Luis' Apartment/models/arctic0ne/gtaiv/lights/ceiling_light_papr.dx80.vtx
[GTA IV TBOGT] Luis' Apartment/models/arctic0ne/gtaiv/lights/ceiling_light_papr.phy
[GTA IV TBOGT] Luis' Apartment/models/arctic0ne/gtaiv/lights/ceiling_light_circ.phy
[GTA IV TBOGT] Luis' Apartment/models/arctic0ne/gtaiv/lights/ceiling_light_papr.dx90.vtx
[GTA IV TBOGT] Luis' Apartment/models/arctic0ne/gtaiv/lights/lamp_endtable_1.phy
[GTA IV TBOGT] Luis' Apartment/models/arctic0ne/gtaiv/lights/ceiling_light_circ.sw.vtx
[GTA IV TBOGT] Luis' Apartment/models/arctic0ne/gtaiv/lights/ceiling_light_papr.vvd
[GTA IV TBOGT] Luis' Apartment/models/arctic0ne/gtaiv/lights/ceiling_light_papr.sw.vtx
[GTA IV TBOGT] Luis' Apartment/models/arctic0ne/gtaiv/lights/ceiling_light_circ.dx80.vtx
[GTA IV TBOGT] Luis' Apartment/models/arctic0ne/gtaiv/lights/ceiling_light_circ.mdl
[GTA IV TBOGT] Luis' Apartment/models/arctic0ne/gtaiv/lights/lamp_endtable_1.dx80.vtx
[GTA IV TBOGT] Luis' Apartment/models/arctic0ne/gtaiv/lights/lamp_endtable_1.mdl
[GTA IV TBOGT] Luis' Apartment/models/arctic0ne/gtaiv/lights/lamp_endtable_1.dx90.vtx
[GTA IV TBOGT] Luis' Apartment/models/arctic0ne/gtaiv/lights/lamp_endtable_1.sw.vtx
[GTA IV TBOGT] Luis' Apartment/models/arctic0ne/gtaiv/decor/magazine_row_1.dx80.vtx
[GTA IV TBOGT] Luis' Apartment/models/arctic0ne/gtaiv/decor/cd_stack.dx80.vtx
[GTA IV TBOGT] Luis' Apartment/models/arctic0ne/gtaiv/decor/helicopter_certificate.phy
[GTA IV TBOGT] Luis' Apartment/models/arctic0ne/gtaiv/decor/magazine_row_2.sw.vtx
[GTA IV TBOGT] Luis' Apartment/models/arctic0ne/gtaiv/decor/picture_luis_1.phy
[GTA IV TBOGT] Luis' Apartment/models/arctic0ne/gtaiv/decor/picture_luis_2.dx90.vtx
[GTA IV TBOGT] Luis' Apartment/models/arctic0ne/gtaiv/decor/picture_luis_2.dx80.vtx
[GTA IV TBOGT] Luis' Apartment/models/arctic0ne/gtaiv/decor/dvd_stack.vvd
[GTA IV TBOGT] Luis' Apartment/models/arctic0ne/gtaiv/decor/picture_luis_1.dx90.vtx
[GTA IV TBOGT] Luis' Apartment/models/arctic0ne/gtaiv/decor/calendar.sw.vtx
[GTA IV TBOGT] Luis' Apartment/models/arctic0ne/gtaiv/decor/fridge_notes.mdl
[GTA IV TBOGT] Luis' Apartment/models/arctic0ne/gtaiv/decor/helicopter_certificate.mdl
[GTA IV TBOGT] Luis' Apartment/models/arctic0ne/gtaiv/decor/picture_luis_2.sw.vtx
[GTA IV TBOGT] Luis' Apartment/models/arctic0ne/gtaiv/decor/fridge_notes.dx90.vtx
[GTA IV TBOGT] Luis' Apartment/models/arctic0ne/gtaiv/decor/calendar.mdl
[GTA IV TBOGT] Luis' Apartment/models/arctic0ne/gtaiv/decor/magazine_1.dx90.vtx
[GTA IV TBOGT] Luis' Apartment/models/arctic0ne/gtaiv/decor/picture_luis_4.mdl
[GTA IV TBOGT] Luis' Apartment/models/arctic0ne/gtaiv/decor/magazine_row_2.phy
[GTA IV TBOGT] Luis' Apartment/models/arctic0ne/gtaiv/decor/dvd_stack.phy
[GTA IV TBOGT] Luis' Apartment/models/arctic0ne/gtaiv/decor/shelf_light_wood_cds.vvd
[GTA IV TBOGT] Luis' Apartment/models/arctic0ne/gtaiv/decor/dvd_stack.dx90.vtx
[GTA IV TBOGT] Luis' Apartment/models/arctic0ne/gtaiv/decor/magazine_row_1.dx90.vtx
[GTA IV TBOGT] Luis' Apartment/models/arctic0ne/gtaiv/decor/painting_sunset.mdl
[GTA IV TBOGT] Luis' Apartment/models/arctic0ne/gtaiv/decor/magazine_row_2.vvd
[GTA IV TBOGT] Luis' Apartment/models/arctic0ne/gtaiv/decor/shelf_light_wood_cds.dx80.vtx
[GTA IV TBOGT] Luis' Apartment/models/arctic0ne/gtaiv/decor/painting_sunset.dx80.vtx
[GTA IV TBOGT] Luis' Apartment/models/arctic0ne/gtaiv/decor/cd_stack.mdl
[GTA IV TBOGT] Luis' Apartment/models/arctic0ne/gtaiv/decor/picture_luis_4.dx90.vtx
[GTA IV TBOGT] Luis' Apartment/models/arctic0ne/gtaiv/decor/bs_figurine.sw.vtx
[GTA IV TBOGT] Luis' Apartment/models/arctic0ne/gtaiv/decor/bs_figurine.dx80.vtx
[GTA IV TBOGT] Luis' Apartment/models/arctic0ne/gtaiv/decor/picture_luis_2.mdl
[GTA IV TBOGT] Luis' Apartment/models/arctic0ne/gtaiv/decor/calendar.dx80.vtx
[GTA IV TBOGT] Luis' Apartment/models/arctic0ne/gtaiv/decor/bs_figurine.dx90.vtx
[GTA IV TBOGT] Luis' Apartment/models/arctic0ne/gtaiv/decor/picture_luis_3.dx80.vtx
[GTA IV TBOGT] Luis' Apartment/models/arctic0ne/gtaiv/decor/bs_figurine.mdl
[GTA IV TBOGT] Luis' Apartment/models/arctic0ne/gtaiv/decor/shelf_light_wood_cds.phy
[GTA IV TBOGT] Luis' Apartment/models/arctic0ne/gtaiv/decor/helicopter_certificate.sw.vtx
[GTA IV TBOGT] Luis' Apartment/models/arctic0ne/gtaiv/decor/picture_luis_1.mdl
[GTA IV TBOGT] Luis' Apartment/models/arctic0ne/gtaiv/decor/shelf_light_wood_cds.mdl
[GTA IV TBOGT] Luis' Apartment/models/arctic0ne/gtaiv/decor/fridge_notes.phy
[GTA IV TBOGT] Luis' Apartment/models/arctic0ne/gtaiv/decor/painting_sunset.phy
[GTA IV TBOGT] Luis' Apartment/models/arctic0ne/gtaiv/decor/calendar.vvd
[GTA IV TBOGT] Luis' Apartment/models/arctic0ne/gtaiv/decor/picture_luis_1.vvd
[GTA IV TBOGT] Luis' Apartment/models/arctic0ne/gtaiv/decor/helicopter_certificate.vvd
[GTA IV TBOGT] Luis' Apartment/models/arctic0ne/gtaiv/decor/picture_luis_4.vvd
[GTA IV TBOGT] Luis' Apartment/models/arctic0ne/gtaiv/decor/picture_luis_4.dx80.vtx
[GTA IV TBOGT] Luis' Apartment/models/arctic0ne/gtaiv/decor/picture_luis_3.dx90.vtx
[GTA IV TBOGT] Luis' Apartment/models/arctic0ne/gtaiv/decor/painting_sunset.sw.vtx
[GTA IV TBOGT] Luis' Apartment/models/arctic0ne/gtaiv/decor/picture_luis_1.sw.vtx
[GTA IV TBOGT] Luis' Apartment/models/arctic0ne/gtaiv/decor/calendar.dx90.vtx
[GTA IV TBOGT] Luis' Apartment/models/arctic0ne/gtaiv/decor/helicopter_certificate.dx80.vtx
[GTA IV TBOGT] Luis' Apartment/models/arctic0ne/gtaiv/decor/fridge_notes.vvd
[GTA IV TBOGT] Luis' Apartment/models/arctic0ne/gtaiv/decor/picture_luis_4.phy
[GTA IV TBOGT] Luis' Apartment/models/arctic0ne/gtaiv/decor/magazine_row_1.vvd
[GTA IV TBOGT] Luis' Apartment/models/arctic0ne/gtaiv/decor/shelf_light_wood_cds.sw.vtx
[GTA IV TBOGT] Luis' Apartment/models/arctic0ne/gtaiv/decor/magazine_row_1.sw.vtx
[GTA IV TBOGT] Luis' Apartment/models/arctic0ne/gtaiv/decor/cd_stack.vvd
[GTA IV TBOGT] Luis' Apartment/models/arctic0ne/gtaiv/decor/picture_luis_2.phy
[GTA IV TBOGT] Luis' Apartment/models/arctic0ne/gtaiv/decor/dvd_stack.dx80.vtx
[GTA IV TBOGT] Luis' Apartment/models/arctic0ne/gtaiv/decor/picture_luis_4.sw.vtx
[GTA IV TBOGT] Luis' Apartment/models/arctic0ne/gtaiv/decor/cd_stack.dx90.vtx
[GTA IV TBOGT] Luis' Apartment/models/arctic0ne/gtaiv/decor/helicopter_certificate.dx90.vtx
[GTA IV TBOGT] Luis' Apartment/models/arctic0ne/gtaiv/decor/dvd_stack.sw.vtx
[GTA IV TBOGT] Luis' Apartment/models/arctic0ne/gtaiv/decor/fridge_notes.dx80.vtx
[GTA IV TBOGT] Luis' Apartment/models/arctic0ne/gtaiv/decor/bs_figurine.vvd
[GTA IV TBOGT] Luis' Apartment/models/arctic0ne/gtaiv/decor/magazine_1.phy
[GTA IV TBOGT] Luis' Apartment/models/arctic0ne/gtaiv/decor/picture_luis_2.vvd
[GTA IV TBOGT] Luis' Apartment/models/arctic0ne/gtaiv/decor/shelf_light_wood_cds.dx90.vtx
[GTA IV TBOGT] Luis' Apartment/models/arctic0ne/gtaiv/decor/magazine_1.mdl
[GTA IV TBOGT] Luis' Apartment/models/arctic0ne/gtaiv/decor/cd_stack.phy
[GTA IV TBOGT] Luis' Apartment/models/arctic0ne/gtaiv/decor/picture_luis_3.sw.vtx
[GTA IV TBOGT] Luis' Apartment/models/arctic0ne/gtaiv/decor/magazine_1.dx80.vtx
[GTA IV TBOGT] Luis' Apartment/models/arctic0ne/gtaiv/decor/magazine_row_2.dx80.vtx
[GTA IV TBOGT] Luis' Apartment/models/arctic0ne/gtaiv/decor/painting_sunset.dx90.vtx
[GTA IV TBOGT] Luis' Apartment/models/arctic0ne/gtaiv/decor/dvd_stack.mdl
[GTA IV TBOGT] Luis' Apartment/models/arctic0ne/gtaiv/decor/magazine_1.sw.vtx
[GTA IV TBOGT] Luis' Apartment/models/arctic0ne/gtaiv/decor/cd_stack.sw.vtx
[GTA IV TBOGT] Luis' Apartment/models/arctic0ne/gtaiv/decor/picture_luis_3.vvd
[GTA IV TBOGT] Luis' Apartment/models/arctic0ne/gtaiv/decor/fridge_notes.sw.vtx
[GTA IV TBOGT] Luis' Apartment/models/arctic0ne/gtaiv/decor/magazine_row_1.mdl
[GTA IV TBOGT] Luis' Apartment/models/arctic0ne/gtaiv/decor/painting_sunset.vvd
[GTA IV TBOGT] Luis' Apartment/models/arctic0ne/gtaiv/decor/magazine_row_2.dx90.vtx
[GTA IV TBOGT] Luis' Apartment/models/arctic0ne/gtaiv/decor/picture_luis_3.mdl
[GTA IV TBOGT] Luis' Apartment/models/arctic0ne/gtaiv/decor/bs_figurine.phy
[GTA IV TBOGT] Luis' Apartment/models/arctic0ne/gtaiv/decor/magazine_1.vvd
[GTA IV TBOGT] Luis' Apartment/models/arctic0ne/gtaiv/decor/picture_luis_1.dx80.vtx
[GTA IV TBOGT] Luis' Apartment/models/arctic0ne/gtaiv/decor/magazine_row_2.mdl
[GTA IV TBOGT] Luis' Apartment/models/arctic0ne/gtaiv/decor/picture_luis_3.phy
[GTA IV TBOGT] Luis' Apartment/models/arctic0ne/gtaiv/decor/magazine_row_1.phy
[GTA IV TBOGT] Luis' Apartment/models/arctic0ne/gtaiv/sport/dumbbell_rack.mdl
[GTA IV TBOGT] Luis' Apartment/models/arctic0ne/gtaiv/sport/gym_mat.sw.vtx
[GTA IV TBOGT] Luis' Apartment/models/arctic0ne/gtaiv/sport/dumbbell_rack.vvd
[GTA IV TBOGT] Luis' Apartment/models/arctic0ne/gtaiv/sport/gym_mat.vvd
[GTA IV TBOGT] Luis' Apartment/models/arctic0ne/gtaiv/sport/gym_mat.dx80.vtx
[GTA IV TBOGT] Luis' Apartment/models/arctic0ne/gtaiv/sport/dumbbell_rack.dx80.vtx
[GTA IV TBOGT] Luis' Apartment/models/arctic0ne/gtaiv/sport/gym_mat.dx90.vtx
[GTA IV TBOGT] Luis' Apartment/models/arctic0ne/gtaiv/sport/dumbbell_rack.dx90.vtx
[GTA IV TBOGT] Luis' Apartment/models/arctic0ne/gtaiv/sport/gym_mat.mdl
[GTA IV TBOGT] Luis' Apartment/models/arctic0ne/gtaiv/sport/gym_mat.phy
[GTA IV TBOGT] Luis' Apartment/models/arctic0ne/gtaiv/sport/dumbbell_rack.phy
[GTA IV TBOGT] Luis' Apartment/models/arctic0ne/gtaiv/sport/dumbbell_rack.sw.vtx
[GTA IV TBOGT] Luis' Apartment/models/arctic0ne/gtaiv/storage/shelf_light_wood.vvd
[GTA IV TBOGT] Luis' Apartment/models/arctic0ne/gtaiv/storage/shelf_2_playboyx.sw.vtx
[GTA IV TBOGT] Luis' Apartment/models/arctic0ne/gtaiv/storage/shelf_light_wood.mdl
[GTA IV TBOGT] Luis' Apartment/models/arctic0ne/gtaiv/storage/shelf_wood_luisapt.dx90.vtx
[GTA IV TBOGT] Luis' Apartment/models/arctic0ne/gtaiv/storage/shelf_2_playboyx.vvd
[GTA IV TBOGT] Luis' Apartment/models/arctic0ne/gtaiv/storage/shelf_wood_luisapt.mdl
[GTA IV TBOGT] Luis' Apartment/models/arctic0ne/gtaiv/storage/shelf_wood_luisapt.phy
[GTA IV TBOGT] Luis' Apartment/models/arctic0ne/gtaiv/storage/shelf_light_wood.dx90.vtx
[GTA IV TBOGT] Luis' Apartment/models/arctic0ne/gtaiv/storage/shelf_wood_luisapt.sw.vtx
[GTA IV TBOGT] Luis' Apartment/models/arctic0ne/gtaiv/storage/shelf_wood_luisapt.dx80.vtx
[GTA IV TBOGT] Luis' Apartment/models/arctic0ne/gtaiv/storage/shelf_2_playboyx.mdl
[GTA IV TBOGT] Luis' Apartment/models/arctic0ne/gtaiv/storage/shelf_light_wood.phy
[GTA IV TBOGT] Luis' Apartment/models/arctic0ne/gtaiv/storage/shelf_light_wood.dx80.vtx
[GTA IV TBOGT] Luis' Apartment/models/arctic0ne/gtaiv/storage/shelf_2_playboyx.phy
[GTA IV TBOGT] Luis' Apartment/models/arctic0ne/gtaiv/storage/shelf_2_playboyx.dx80.vtx
[GTA IV TBOGT] Luis' Apartment/models/arctic0ne/gtaiv/storage/shelf_light_wood.sw.vtx
[GTA IV TBOGT] Luis' Apartment/models/arctic0ne/gtaiv/storage/shelf_2_playboyx.dx90.vtx
[GTA IV TBOGT] Luis' Apartment/models/arctic0ne/gtaiv/storage/shelf_wood_luisapt.vvd
[GTA IV TBOGT] Luis' Apartment/models/arctic0ne/gtaiv/kitchen/cupboard_small.dx80.vtx
[GTA IV TBOGT] Luis' Apartment/models/arctic0ne/gtaiv/kitchen/cupboard_range_hood.vvd
[GTA IV TBOGT] Luis' Apartment/models/arctic0ne/gtaiv/kitchen/cutting_board.mdl
[GTA IV TBOGT] Luis' Apartment/models/arctic0ne/gtaiv/kitchen/knife_rack.dx90.vtx
[GTA IV TBOGT] Luis' Apartment/models/arctic0ne/gtaiv/kitchen/cupboard_corner_2.phy
[GTA IV TBOGT] Luis' Apartment/models/arctic0ne/gtaiv/kitchen/cupboard_corner_stuff.dx80.vtx
[GTA IV TBOGT] Luis' Apartment/models/arctic0ne/gtaiv/kitchen/kitchen_counter_oven.phy
[GTA IV TBOGT] Luis' Apartment/models/arctic0ne/gtaiv/kitchen/kitchen_counter_2.dx90.vtx
[GTA IV TBOGT] Luis' Apartment/models/arctic0ne/gtaiv/kitchen/knife_block.dx80.vtx
[GTA IV TBOGT] Luis' Apartment/models/arctic0ne/gtaiv/kitchen/kitchen_counter_2.sw.vtx
[GTA IV TBOGT] Luis' Apartment/models/arctic0ne/gtaiv/kitchen/kitchen_counter_oven.dx90.vtx
[GTA IV TBOGT] Luis' Apartment/models/arctic0ne/gtaiv/kitchen/fridge_3_door_1.mdl
[GTA IV TBOGT] Luis' Apartment/models/arctic0ne/gtaiv/kitchen/cutting_board.vvd
[GTA IV TBOGT] Luis' Apartment/models/arctic0ne/gtaiv/kitchen/pan_2.phy
[GTA IV TBOGT] Luis' Apartment/models/arctic0ne/gtaiv/kitchen/cutting_board.phy
[GTA IV TBOGT] Luis' Apartment/models/arctic0ne/gtaiv/kitchen/fridge_3_door_1.dx80.vtx
[GTA IV TBOGT] Luis' Apartment/models/arctic0ne/gtaiv/kitchen/pan_2.sw.vtx
[GTA IV TBOGT] Luis' Apartment/models/arctic0ne/gtaiv/kitchen/fridge_3.vvd
[GTA IV TBOGT] Luis' Apartment/models/arctic0ne/gtaiv/kitchen/kitchen_counter_2.dx80.vtx
[GTA IV TBOGT] Luis' Apartment/models/arctic0ne/gtaiv/kitchen/cupboard_small.mdl
[GTA IV TBOGT] Luis' Apartment/models/arctic0ne/gtaiv/kitchen/fridge_3.mdl
[GTA IV TBOGT] Luis' Apartment/models/arctic0ne/gtaiv/kitchen/pan_2.vvd
[GTA IV TBOGT] Luis' Apartment/models/arctic0ne/gtaiv/kitchen/fridge_3_door_2.phy
[GTA IV TBOGT] Luis' Apartment/models/arctic0ne/gtaiv/kitchen/cupboard_range_hood.dx80.vtx
[GTA IV TBOGT] Luis' Apartment/models/arctic0ne/gtaiv/kitchen/knife_block.dx90.vtx
[GTA IV TBOGT] Luis' Apartment/models/arctic0ne/gtaiv/kitchen/cupboard_corner_1.phy
[GTA IV TBOGT] Luis' Apartment/models/arctic0ne/gtaiv/kitchen/bin_9.sw.vtx
[GTA IV TBOGT] Luis' Apartment/models/arctic0ne/gtaiv/kitchen/cupboard_corner_1.sw.vtx
[GTA IV TBOGT] Luis' Apartment/models/arctic0ne/gtaiv/kitchen/fridge_3_door_2.mdl
[GTA IV TBOGT] Luis' Apartment/models/arctic0ne/gtaiv/kitchen/fridge_3_door_1.sw.vtx
[GTA IV TBOGT] Luis' Apartment/models/arctic0ne/gtaiv/kitchen/knife_block.sw.vtx
[GTA IV TBOGT] Luis' Apartment/models/arctic0ne/gtaiv/kitchen/kitchen_counter_1.mdl
[GTA IV TBOGT] Luis' Apartment/models/arctic0ne/gtaiv/kitchen/cupboard_corner_2.vvd
[GTA IV TBOGT] Luis' Apartment/models/arctic0ne/gtaiv/kitchen/pan_1.phy
[GTA IV TBOGT] Luis' Apartment/models/arctic0ne/gtaiv/kitchen/sink_luisapt.phy
[GTA IV TBOGT] Luis' Apartment/models/arctic0ne/gtaiv/kitchen/kitchen_counter_1.dx80.vtx
[GTA IV TBOGT] Luis' Apartment/models/arctic0ne/gtaiv/kitchen/fridge_3_door_2.vvd
[GTA IV TBOGT] Luis' Apartment/models/arctic0ne/gtaiv/kitchen/knife_block.vvd
[GTA IV TBOGT] Luis' Apartment/models/arctic0ne/gtaiv/kitchen/fridge_3.sw.vtx
[GTA IV TBOGT] Luis' Apartment/models/arctic0ne/gtaiv/kitchen/fridge_3.dx90.vtx
[GTA IV TBOGT] Luis' Apartment/models/arctic0ne/gtaiv/kitchen/pan_1.sw.vtx
[GTA IV TBOGT] Luis' Apartment/models/arctic0ne/gtaiv/kitchen/cupboard_corner_2.sw.vtx
[GTA IV TBOGT] Luis' Apartment/models/arctic0ne/gtaiv/kitchen/fridge_3.dx80.vtx
[GTA IV TBOGT] Luis' Apartment/models/arctic0ne/gtaiv/kitchen/pan_1.dx90.vtx
[GTA IV TBOGT] Luis' Apartment/models/arctic0ne/gtaiv/kitchen/bin_9.dx90.vtx
[GTA IV TBOGT] Luis' Apartment/models/arctic0ne/gtaiv/kitchen/kitchen_counter_1.vvd
[GTA IV TBOGT] Luis' Apartment/models/arctic0ne/gtaiv/kitchen/cupboard_range_hood.dx90.vtx
[GTA IV TBOGT] Luis' Apartment/models/arctic0ne/gtaiv/kitchen/cupboard_corner_stuff.mdl
[GTA IV TBOGT] Luis' Apartment/models/arctic0ne/gtaiv/kitchen/pan_2.dx90.vtx
[GTA IV TBOGT] Luis' Apartment/models/arctic0ne/gtaiv/kitchen/knife_rack.sw.vtx
[GTA IV TBOGT] Luis' Apartment/models/arctic0ne/gtaiv/kitchen/cupboard_corner_stuff.dx90.vtx
[GTA IV TBOGT] Luis' Apartment/models/arctic0ne/gtaiv/kitchen/bin_9.mdl
[GTA IV TBOGT] Luis' Apartment/models/arctic0ne/gtaiv/kitchen/pan_2.mdl
[GTA IV TBOGT] Luis' Apartment/models/arctic0ne/gtaiv/kitchen/cupboard_small.sw.vtx
[GTA IV TBOGT] Luis' Apartment/models/arctic0ne/gtaiv/kitchen/cupboard_range_hood.mdl
[GTA IV TBOGT] Luis' Apartment/models/arctic0ne/gtaiv/kitchen/cutting_board.dx90.vtx
[GTA IV TBOGT] Luis' Apartment/models/arctic0ne/gtaiv/kitchen/sink_luisapt.sw.vtx
[GTA IV TBOGT] Luis' Apartment/models/arctic0ne/gtaiv/kitchen/bin_9.dx80.vtx
[GTA IV TBOGT] Luis' Apartment/models/arctic0ne/gtaiv/kitchen/kitchen_counter_oven.sw.vtx
[GTA IV TBOGT] Luis' Apartment/models/arctic0ne/gtaiv/kitchen/cupboard_corner_1.vvd
[GTA IV TBOGT] Luis' Apartment/models/arctic0ne/gtaiv/kitchen/pan_2.dx80.vtx
[GTA IV TBOGT] Luis' Apartment/models/arctic0ne/gtaiv/kitchen/cupboard_range_hood.phy
[GTA IV TBOGT] Luis' Apartment/models/arctic0ne/gtaiv/kitchen/fridge_3_door_2.dx90.vtx
[GTA IV TBOGT] Luis' Apartment/models/arctic0ne/gtaiv/kitchen/cupboard_small.vvd
[GTA IV TBOGT] Luis' Apartment/models/arctic0ne/gtaiv/kitchen/knife_rack.phy
[GTA IV TBOGT] Luis' Apartment/models/arctic0ne/gtaiv/kitchen/kitchen_counter_1.sw.vtx
[GTA IV TBOGT] Luis' Apartment/models/arctic0ne/gtaiv/kitchen/sink_luisapt.vvd
[GTA IV TBOGT] Luis' Apartment/models/arctic0ne/gtaiv/kitchen/pan_1.dx80.vtx
[GTA IV TBOGT] Luis' Apartment/models/arctic0ne/gtaiv/kitchen/cupboard_corner_2.mdl
[GTA IV TBOGT] Luis' Apartment/models/arctic0ne/gtaiv/kitchen/cupboard_corner_1.dx80.vtx
[GTA IV TBOGT] Luis' Apartment/models/arctic0ne/gtaiv/kitchen/bin_9.phy
[GTA IV TBOGT] Luis' Apartment/models/arctic0ne/gtaiv/kitchen/kitchen_counter_2.mdl
[GTA IV TBOGT] Luis' Apartment/models/arctic0ne/gtaiv/kitchen/sink_luisapt.mdl
[GTA IV TBOGT] Luis' Apartment/models/arctic0ne/gtaiv/kitchen/cupboard_small.phy
[GTA IV TBOGT] Luis' Apartment/models/arctic0ne/gtaiv/kitchen/knife_rack.mdl
[GTA IV TBOGT] Luis' Apartment/models/arctic0ne/gtaiv/kitchen/sink_luisapt.dx80.vtx
[GTA IV TBOGT] Luis' Apartment/models/arctic0ne/gtaiv/kitchen/cupboard_corner_2.dx90.vtx
[GTA IV TBOGT] Luis' Apartment/models/arctic0ne/gtaiv/kitchen/cupboard_corner_stuff.sw.vtx
[GTA IV TBOGT] Luis' Apartment/models/arctic0ne/gtaiv/kitchen/cupboard_corner_1.dx90.vtx
[GTA IV TBOGT] Luis' Apartment/models/arctic0ne/gtaiv/kitchen/fridge_3_door_1.dx90.vtx
[GTA IV TBOGT] Luis' Apartment/models/arctic0ne/gtaiv/kitchen/knife_block.mdl
[GTA IV TBOGT] Luis' Apartment/models/arctic0ne/gtaiv/kitchen/kitchen_counter_oven.dx80.vtx
[GTA IV TBOGT] Luis' Apartment/models/arctic0ne/gtaiv/kitchen/kitchen_counter_oven.vvd
[GTA IV TBOGT] Luis' Apartment/models/arctic0ne/gtaiv/kitchen/cupboard_small.dx90.vtx
[GTA IV TBOGT] Luis' Apartment/models/arctic0ne/gtaiv/kitchen/fridge_3.phy
[GTA IV TBOGT] Luis' Apartment/models/arctic0ne/gtaiv/kitchen/kitchen_counter_2.vvd
[GTA IV TBOGT] Luis' Apartment/models/arctic0ne/gtaiv/kitchen/cupboard_corner_stuff.phy
[GTA IV TBOGT] Luis' Apartment/models/arctic0ne/gtaiv/kitchen/knife_block.phy
[GTA IV TBOGT] Luis' Apartment/models/arctic0ne/gtaiv/kitchen/kitchen_counter_1.dx90.vtx
[GTA IV TBOGT] Luis' Apartment/models/arctic0ne/gtaiv/kitchen/fridge_3_door_2.sw.vtx
[GTA IV TBOGT] Luis' Apartment/models/arctic0ne/gtaiv/kitchen/knife_rack.vvd
[GTA IV TBOGT] Luis' Apartment/models/arctic0ne/gtaiv/kitchen/sink_luisapt.dx90.vtx
[GTA IV TBOGT] Luis' Apartment/models/arctic0ne/gtaiv/kitchen/cupboard_corner_1.mdl
[GTA IV TBOGT] Luis' Apartment/models/arctic0ne/gtaiv/kitchen/fridge_3_door_1.vvd
[GTA IV TBOGT] Luis' Apartment/models/arctic0ne/gtaiv/kitchen/pan_1.vvd
[GTA IV TBOGT] Luis' Apartment/models/arctic0ne/gtaiv/kitchen/kitchen_counter_oven.mdl
[GTA IV TBOGT] Luis' Apartment/models/arctic0ne/gtaiv/kitchen/bin_9.vvd
[GTA IV TBOGT] Luis' Apartment/models/arctic0ne/gtaiv/kitchen/knife_rack.dx80.vtx
[GTA IV TBOGT] Luis' Apartment/models/arctic0ne/gtaiv/kitchen/cutting_board.dx80.vtx
[GTA IV TBOGT] Luis' Apartment/models/arctic0ne/gtaiv/kitchen/fridge_3_door_2.dx80.vtx
[GTA IV TBOGT] Luis' Apartment/models/arctic0ne/gtaiv/kitchen/cupboard_range_hood.sw.vtx
[GTA IV TBOGT] Luis' Apartment/models/arctic0ne/gtaiv/kitchen/kitchen_counter_1.phy
[GTA IV TBOGT] Luis' Apartment/models/arctic0ne/gtaiv/kitchen/cutting_board.sw.vtx
[GTA IV TBOGT] Luis' Apartment/models/arctic0ne/gtaiv/kitchen/pan_1.mdl
[GTA IV TBOGT] Luis' Apartment/models/arctic0ne/gtaiv/kitchen/cupboard_corner_stuff.vvd
[GTA IV TBOGT] Luis' Apartment/models/arctic0ne/gtaiv/kitchen/fridge_3_door_1.phy
[GTA IV TBOGT] Luis' Apartment/models/arctic0ne/gtaiv/kitchen/kitchen_counter_2.phy
[GTA IV TBOGT] Luis' Apartment/models/arctic0ne/gtaiv/kitchen/cupboard_corner_2.dx80.vtx
[GTA IV TBOGT] Luis' Apartment/models/arctic0ne/gtaiv/tables/end_table_cubic.dx90.vtx
[GTA IV TBOGT] Luis' Apartment/models/arctic0ne/gtaiv/tables/hall_table_2.dx90.vtx
[GTA IV TBOGT] Luis' Apartment/models/arctic0ne/gtaiv/tables/tv_stand.mdl
[GTA IV TBOGT] Luis' Apartment/models/arctic0ne/gtaiv/tables/hall_table_2.dx80.vtx
[GTA IV TBOGT] Luis' Apartment/models/arctic0ne/gtaiv/tables/tv_stand.dx90.vtx
[GTA IV TBOGT] Luis' Apartment/models/arctic0ne/gtaiv/tables/end_table_cubic.sw.vtx
[GTA IV TBOGT] Luis' Apartment/models/arctic0ne/gtaiv/tables/hall_table_2.phy
[GTA IV TBOGT] Luis' Apartment/models/arctic0ne/gtaiv/tables/tv_stand.sw.vtx
[GTA IV TBOGT] Luis' Apartment/models/arctic0ne/gtaiv/tables/coffee_table_playboyx.phy
[GTA IV TBOGT] Luis' Apartment/models/arctic0ne/gtaiv/tables/hall_table_2.vvd
[GTA IV TBOGT] Luis' Apartment/models/arctic0ne/gtaiv/tables/tv_stand.phy
[GTA IV TBOGT] Luis' Apartment/models/arctic0ne/gtaiv/tables/coffee_table_playboyx.sw.vtx
[GTA IV TBOGT] Luis' Apartment/models/arctic0ne/gtaiv/tables/hall_table_2.mdl
[GTA IV TBOGT] Luis' Apartment/models/arctic0ne/gtaiv/tables/tv_stand.dx80.vtx
[GTA IV TBOGT] Luis' Apartment/models/arctic0ne/gtaiv/tables/coffee_table_playboyx.vvd
[GTA IV TBOGT] Luis' Apartment/models/arctic0ne/gtaiv/tables/coffee_table_playboyx.mdl
[GTA IV TBOGT] Luis' Apartment/models/arctic0ne/gtaiv/tables/hall_table_2.sw.vtx
[GTA IV TBOGT] Luis' Apartment/models/arctic0ne/gtaiv/tables/end_table_cubic.dx80.vtx
[GTA IV TBOGT] Luis' Apartment/models/arctic0ne/gtaiv/tables/tv_stand.vvd
[GTA IV TBOGT] Luis' Apartment/models/arctic0ne/gtaiv/tables/coffee_table_playboyx.dx80.vtx
[GTA IV TBOGT] Luis' Apartment/models/arctic0ne/gtaiv/tables/end_table_cubic.phy
[GTA IV TBOGT] Luis' Apartment/models/arctic0ne/gtaiv/tables/coffee_table_playboyx.dx90.vtx
[GTA IV TBOGT] Luis' Apartment/models/arctic0ne/gtaiv/tables/end_table_cubic.mdl
[GTA IV TBOGT] Luis' Apartment/models/arctic0ne/gtaiv/tables/end_table_cubic.vvd
[GTA IV TBOGT] Luis' Apartment/models/arctic0ne/gtaiv/shell/interior_luisapart_shell_walls.dx90.vtx
[GTA IV TBOGT] Luis' Apartment/models/arctic0ne/gtaiv/shell/lamp_test.phy
[GTA IV TBOGT] Luis' Apartment/models/arctic0ne/gtaiv/shell/fightclub_wall_placement_shell1.sw.vtx
[GTA IV TBOGT] Luis' Apartment/models/arctic0ne/gtaiv/shell/fightclub_wall_placement_shell1.dx90.vtx
[GTA IV TBOGT] Luis' Apartment/models/arctic0ne/gtaiv/shell/fightclub_wall_placement_shell1.mdl
[GTA IV TBOGT] Luis' Apartment/models/arctic0ne/gtaiv/shell/ceiling_light_circular.phy
[GTA IV TBOGT] Luis' Apartment/models/arctic0ne/gtaiv/shell/fightclub_prop_placement_shell1.dx90.vtx
[GTA IV TBOGT] Luis' Apartment/models/arctic0ne/gtaiv/shell/interior_luisapart_shell_walls.sw.vtx
[GTA IV TBOGT] Luis' Apartment/models/arctic0ne/gtaiv/shell/interior_luisapart_shell_decor.mdl
[GTA IV TBOGT] Luis' Apartment/models/arctic0ne/gtaiv/shell/interior_luisapart_shell_decor.sw.vtx
[GTA IV TBOGT] Luis' Apartment/models/arctic0ne/gtaiv/shell/interior_luisapart_shell_decor.vvd
[GTA IV TBOGT] Luis' Apartment/models/arctic0ne/gtaiv/shell/sm_struct_bl_wall_exitroom_01a.mo.sw.vtx
[GTA IV TBOGT] Luis' Apartment/models/arctic0ne/gtaiv/shell/interior_luisapart_shell_decor.dx90.vtx
[GTA IV TBOGT] Luis' Apartment/models/arctic0ne/gtaiv/shell/fightclub_prop_placement_shell1.dx80.vtx
[GTA IV TBOGT] Luis' Apartment/models/arctic0ne/gtaiv/shell/lamp_test.dx80.vtx
[GTA IV TBOGT] Luis' Apartment/models/arctic0ne/gtaiv/shell/fightclub_prop_placement_shell1.sw.vtx
[GTA IV TBOGT] Luis' Apartment/models/arctic0ne/gtaiv/shell/ceiling_light_circular.sw.vtx
[GTA IV TBOGT] Luis' Apartment/models/arctic0ne/gtaiv/shell/sm_struct_bl_wall_exitroom_01a.mo.vvd
[GTA IV TBOGT] Luis' Apartment/models/arctic0ne/gtaiv/shell/fightclub_wall_placement_shell1.vvd
[GTA IV TBOGT] Luis' Apartment/models/arctic0ne/gtaiv/shell/interior_luisapart_shell_walls.vvd
[GTA IV TBOGT] Luis' Apartment/models/arctic0ne/gtaiv/shell/fightclub_prop_placement_shell1.mdl
[GTA IV TBOGT] Luis' Apartment/models/arctic0ne/gtaiv/shell/interior_luisapart_shell_walls.mdl
[GTA IV TBOGT] Luis' Apartment/models/arctic0ne/gtaiv/shell/interior_luisapart_shell_walls.dx80.vtx
[GTA IV TBOGT] Luis' Apartment/models/arctic0ne/gtaiv/shell/sm_struct_bl_wall_exitroom_01a.mo.mdl
[GTA IV TBOGT] Luis' Apartment/models/arctic0ne/gtaiv/shell/fightclub_prop_placement_shell1.phy
[GTA IV TBOGT] Luis' Apartment/models/arctic0ne/gtaiv/shell/lamp_test.sw.vtx
[GTA IV TBOGT] Luis' Apartment/models/arctic0ne/gtaiv/shell/ceiling_light_circular.dx90.vtx
[GTA IV TBOGT] Luis' Apartment/models/arctic0ne/gtaiv/shell/fightclub_wall_placement_shell1.dx80.vtx
[GTA IV TBOGT] Luis' Apartment/models/arctic0ne/gtaiv/shell/fightclub_prop_placement_shell1.vvd
[GTA IV TBOGT] Luis' Apartment/models/arctic0ne/gtaiv/shell/lamp_test.dx90.vtx
[GTA IV TBOGT] Luis' Apartment/models/arctic0ne/gtaiv/shell/ceiling_light_circular.dx80.vtx
[GTA IV TBOGT] Luis' Apartment/models/arctic0ne/gtaiv/shell/ceiling_light_circular.vvd
[GTA IV TBOGT] Luis' Apartment/models/arctic0ne/gtaiv/shell/ceiling_light_circular.mdl
[GTA IV TBOGT] Luis' Apartment/models/arctic0ne/gtaiv/shell/interior_luisapart_shell_walls.phy
[GTA IV TBOGT] Luis' Apartment/models/arctic0ne/gtaiv/shell/interior_luisapart_shell_decor.dx80.vtx
[GTA IV TBOGT] Luis' Apartment/models/arctic0ne/gtaiv/shell/lamp_test.mdl
[GTA IV TBOGT] Luis' Apartment/models/arctic0ne/gtaiv/shell/sm_struct_bl_wall_exitroom_01a.mo.phy
[GTA IV TBOGT] Luis' Apartment/models/arctic0ne/gtaiv/shell/sm_struct_bl_wall_exitroom_01a.mo.dx90.vtx
[GTA IV TBOGT] Luis' Apartment/models/arctic0ne/gtaiv/shell/lamp_test.vvd
[GTA IV TBOGT] Luis' Apartment/models/arctic0ne/gtaiv/shell/sm_struct_bl_wall_exitroom_01a.mo.dx80.vtx
[GTA IV TBOGT] Luis' Apartment/models/arctic0ne/gtaiv/shell/fightclub_wall_placement_shell1.phy
[GTA IV TBOGT] Luis' Apartment/models/arctic0ne/gtaiv/shell/interior_luisapart_shell_decor.phy
[GTA IV TBOGT] Luis' Apartment/models/arctic0ne/gtaiv/fabric/carpet_kitchen_luisapt.dx80.vtx
[GTA IV TBOGT] Luis' Apartment/models/arctic0ne/gtaiv/fabric/curtain_green_1.sw.vtx
[GTA IV TBOGT] Luis' Apartment/models/arctic0ne/gtaiv/fabric/rug_geometric.mdl
[GTA IV TBOGT] Luis' Apartment/models/arctic0ne/gtaiv/fabric/curtain_green_1.mdl
[GTA IV TBOGT] Luis' Apartment/models/arctic0ne/gtaiv/fabric/carpet_kitchen_luisapt.dx90.vtx
[GTA IV TBOGT] Luis' Apartment/models/arctic0ne/gtaiv/fabric/curtain_green_2.sw.vtx
[GTA IV TBOGT] Luis' Apartment/models/arctic0ne/gtaiv/fabric/curtain_green_2.phy
[GTA IV TBOGT] Luis' Apartment/models/arctic0ne/gtaiv/fabric/rug_bedroom_luisapt.sw.vtx
[GTA IV TBOGT] Luis' Apartment/models/arctic0ne/gtaiv/fabric/curtain_green_1.vvd
[GTA IV TBOGT] Luis' Apartment/models/arctic0ne/gtaiv/fabric/rug_geometric.phy
[GTA IV TBOGT] Luis' Apartment/models/arctic0ne/gtaiv/fabric/curtain_green_1.dx80.vtx
[GTA IV TBOGT] Luis' Apartment/models/arctic0ne/gtaiv/fabric/carpet_kitchen_luisapt.mdl
[GTA IV TBOGT] Luis' Apartment/models/arctic0ne/gtaiv/fabric/carpet_kitchen_luisapt.vvd
[GTA IV TBOGT] Luis' Apartment/models/arctic0ne/gtaiv/fabric/curtain_green_2.mdl
[GTA IV TBOGT] Luis' Apartment/models/arctic0ne/gtaiv/fabric/carpet_kitchen_luisapt.sw.vtx
[GTA IV TBOGT] Luis' Apartment/models/arctic0ne/gtaiv/fabric/doorway_curtain.dx90.vtx
[GTA IV TBOGT] Luis' Apartment/models/arctic0ne/gtaiv/fabric/curtain_green_1.dx90.vtx
[GTA IV TBOGT] Luis' Apartment/models/arctic0ne/gtaiv/fabric/rug_bedroom_luisapt.vvd
[GTA IV TBOGT] Luis' Apartment/models/arctic0ne/gtaiv/fabric/carpet_kitchen_luisapt.phy
[GTA IV TBOGT] Luis' Apartment/models/arctic0ne/gtaiv/fabric/doorway_curtain.phy
[GTA IV TBOGT] Luis' Apartment/models/arctic0ne/gtaiv/fabric/doorway_curtain.sw.vtx
[GTA IV TBOGT] Luis' Apartment/models/arctic0ne/gtaiv/fabric/rug_bedroom_luisapt.mdl
[GTA IV TBOGT] Luis' Apartment/models/arctic0ne/gtaiv/fabric/doorway_curtain.dx80.vtx
[GTA IV TBOGT] Luis' Apartment/models/arctic0ne/gtaiv/fabric/rug_geometric.dx90.vtx
[GTA IV TBOGT] Luis' Apartment/models/arctic0ne/gtaiv/fabric/curtain_green_2.vvd
[GTA IV TBOGT] Luis' Apartment/models/arctic0ne/gtaiv/fabric/rug_bedroom_luisapt.phy
[GTA IV TBOGT] Luis' Apartment/models/arctic0ne/gtaiv/fabric/doorway_curtain.mdl
[GTA IV TBOGT] Luis' Apartment/models/arctic0ne/gtaiv/fabric/curtain_green_2.dx80.vtx
[GTA IV TBOGT] Luis' Apartment/models/arctic0ne/gtaiv/fabric/rug_geometric.dx80.vtx
[GTA IV TBOGT] Luis' Apartment/models/arctic0ne/gtaiv/fabric/rug_bedroom_luisapt.dx90.vtx
[GTA IV TBOGT] Luis' Apartment/models/arctic0ne/gtaiv/fabric/rug_geometric.vvd
[GTA IV TBOGT] Luis' Apartment/models/arctic0ne/gtaiv/fabric/rug_bedroom_luisapt.dx80.vtx
[GTA IV TBOGT] Luis' Apartment/models/arctic0ne/gtaiv/fabric/rug_geometric.sw.vtx
[GTA IV TBOGT] Luis' Apartment/models/arctic0ne/gtaiv/fabric/doorway_curtain.vvd
[GTA IV TBOGT] Luis' Apartment/models/arctic0ne/gtaiv/fabric/curtain_green_1.phy
[GTA IV TBOGT] Luis' Apartment/models/arctic0ne/gtaiv/fabric/curtain_green_2.dx90.vtx
[GTA IV TBOGT] Luis' Apartment/models/arctic0ne/gtaiv/trims/trim_bedroom_luisapt.dx80.vtx
[GTA IV TBOGT] Luis' Apartment/models/arctic0ne/gtaiv/trims/trim_bedroom_luisapt.dx90.vtx
[GTA IV TBOGT] Luis' Apartment/models/arctic0ne/gtaiv/trims/trim_edges_luisapt.dx80.vtx
[GTA IV TBOGT] Luis' Apartment/models/arctic0ne/gtaiv/trims/trim_ceiling_luisapt.mdl
[GTA IV TBOGT] Luis' Apartment/models/arctic0ne/gtaiv/trims/trim_edges_luisapt.mdl
[GTA IV TBOGT] Luis' Apartment/models/arctic0ne/gtaiv/trims/trim_edges_luisapt.vvd
[GTA IV TBOGT] Luis' Apartment/models/arctic0ne/gtaiv/trims/trim_ceiling_luisapt.vvd
[GTA IV TBOGT] Luis' Apartment/models/arctic0ne/gtaiv/trims/trim_edges_luisapt.sw.vtx
[GTA IV TBOGT] Luis' Apartment/models/arctic0ne/gtaiv/trims/trim_livingroom_luisapt.sw.vtx
[GTA IV TBOGT] Luis' Apartment/models/arctic0ne/gtaiv/trims/trim_livingroom_luisapt.dx90.vtx
[GTA IV TBOGT] Luis' Apartment/models/arctic0ne/gtaiv/trims/trim_bedroom_luisapt.vvd
[GTA IV TBOGT] Luis' Apartment/models/arctic0ne/gtaiv/trims/trim_livingroom_luisapt.mdl
[GTA IV TBOGT] Luis' Apartment/models/arctic0ne/gtaiv/trims/trim_ceiling_luisapt.dx90.vtx
[GTA IV TBOGT] Luis' Apartment/models/arctic0ne/gtaiv/trims/trim_livingroom_luisapt.dx80.vtx
[GTA IV TBOGT] Luis' Apartment/models/arctic0ne/gtaiv/trims/trim_bedroom_luisapt.sw.vtx
[GTA IV TBOGT] Luis' Apartment/models/arctic0ne/gtaiv/trims/trim_ceiling_luisapt.dx80.vtx
[GTA IV TBOGT] Luis' Apartment/models/arctic0ne/gtaiv/trims/trim_bedroom_luisapt.mdl
[GTA IV TBOGT] Luis' Apartment/models/arctic0ne/gtaiv/trims/trim_edges_luisapt.dx90.vtx
[GTA IV TBOGT] Luis' Apartment/models/arctic0ne/gtaiv/trims/trim_ceiling_luisapt.sw.vtx
[GTA IV TBOGT] Luis' Apartment/models/arctic0ne/gtaiv/trims/trim_livingroom_luisapt.vvd
[GTA IV TBOGT] Luis' Apartment/materials/arctic0ne/gtaiv/int_luisap/ah_bblivwalls.vtf
[GTA IV TBOGT] Luis' Apartment/materials/arctic0ne/gtaiv/int_luisap/gz_e2tile02_n.vtf
[GTA IV TBOGT] Luis' Apartment/materials/arctic0ne/gtaiv/int_luisap/gz_e2plaster01.vmt
[GTA IV TBOGT] Luis' Apartment/materials/arctic0ne/gtaiv/int_luisap/gz_e2tile02.vmt
[GTA IV TBOGT] Luis' Apartment/materials/arctic0ne/gtaiv/int_luisap/gz_e2wood05_n.vtf
[GTA IV TBOGT] Luis' Apartment/materials/arctic0ne/gtaiv/int_luisap/gz_e2plaster01.vtf
[GTA IV TBOGT] Luis' Apartment/materials/arctic0ne/gtaiv/int_luisap/gz_e2wood05.vtf
[GTA IV TBOGT] Luis' Apartment/materials/arctic0ne/gtaiv/int_luisap/gz_e2wood05.vmt
[GTA IV TBOGT] Luis' Apartment/materials/arctic0ne/gtaiv/int_luisap/gz_e2plaster04.vtf
[GTA IV TBOGT] Luis' Apartment/materials/arctic0ne/gtaiv/int_luisap/ah_bblivwall.vmt
[GTA IV TBOGT] Luis' Apartment/materials/arctic0ne/gtaiv/int_luisap/gz_e2plaster02.vtf
[GTA IV TBOGT] Luis' Apartment/materials/arctic0ne/gtaiv/int_luisap/gz_e2plaster02.vmt
[GTA IV TBOGT] Luis' Apartment/materials/arctic0ne/gtaiv/int_luisap/gz_e2plaster03.vtf
[GTA IV TBOGT] Luis' Apartment/materials/arctic0ne/gtaiv/int_luisap/gz_e2plaster04.vmt
[GTA IV TBOGT] Luis' Apartment/materials/arctic0ne/gtaiv/int_luisap/gz_e2fabric03_s.vtf
[GTA IV TBOGT] Luis' Apartment/materials/arctic0ne/gtaiv/int_luisap/gz_e2tile02.vtf
[GTA IV TBOGT] Luis' Apartment/materials/arctic0ne/gtaiv/int_luisap/ah_bblivwall.vtf
[GTA IV TBOGT] Luis' Apartment/materials/arctic0ne/gtaiv/int_luisap/gz_e2plaster03.vmt
[GTA IV TBOGT] Luis' Apartment/materials/arctic0ne/gtaiv/int_rscafe/ss_glassgreenss_glass4clean_a.vmt
[GTA IV TBOGT] Luis' Apartment/materials/arctic0ne/gtaiv/int_rscafe/ss_glassgreenss_glass4clean_a.vtf
[GTA IV TBOGT] Luis' Apartment/materials/models/arctic0ne/gtaiv/wood/gz_e2_frame05_n.vtf
[GTA IV TBOGT] Luis' Apartment/materials/models/arctic0ne/gtaiv/wood/km_e2luiskitch2_s.vtf
[GTA IV TBOGT] Luis' Apartment/materials/models/arctic0ne/gtaiv/wood/gz_e2_frame05.vtf
[GTA IV TBOGT] Luis' Apartment/materials/models/arctic0ne/gtaiv/wood/gz_e2_frame01.vmt
[GTA IV TBOGT] Luis' Apartment/materials/models/arctic0ne/gtaiv/wood/km_e2luiskitch1.vtf
[GTA IV TBOGT] Luis' Apartment/materials/models/arctic0ne/gtaiv/wood/bm_wood18.vtf
[GTA IV TBOGT] Luis' Apartment/materials/models/arctic0ne/gtaiv/wood/km_e2laminatgrey.vtf
[GTA IV TBOGT] Luis' Apartment/materials/models/arctic0ne/gtaiv/wood/km_e2luiskitch2.vtf
[GTA IV TBOGT] Luis' Apartment/materials/models/arctic0ne/gtaiv/wood/gb_coffeetable02.vtf
[GTA IV TBOGT] Luis' Apartment/materials/models/arctic0ne/gtaiv/wood/gz_e2_frame05.vmt
[GTA IV TBOGT] Luis' Apartment/materials/models/arctic0ne/gtaiv/wood/km_e2laminatwht.vtf
[GTA IV TBOGT] Luis' Apartment/materials/models/arctic0ne/gtaiv/wood/km_e2luiskitch1.vmt
[GTA IV TBOGT] Luis' Apartment/materials/models/arctic0ne/gtaiv/wood/km_e2luiskitch2.vmt
[GTA IV TBOGT] Luis' Apartment/materials/models/arctic0ne/gtaiv/wood/gz_e2_speakerwood.vtf
[GTA IV TBOGT] Luis' Apartment/materials/models/arctic0ne/gtaiv/wood/cj_wood_fake.vtf
[GTA IV TBOGT] Luis' Apartment/materials/models/arctic0ne/gtaiv/wood/gb_woodfurniture03.vmt
[GTA IV TBOGT] Luis' Apartment/materials/models/arctic0ne/gtaiv/wood/gz_e2_speakerwood.vmt
[GTA IV TBOGT] Luis' Apartment/materials/models/arctic0ne/gtaiv/wood/km_e2laminatwht.vmt
[GTA IV TBOGT] Luis' Apartment/materials/models/arctic0ne/gtaiv/wood/gb_playboycoff01.vmt
[GTA IV TBOGT] Luis' Apartment/materials/models/arctic0ne/gtaiv/wood/bm_wood12.vtf
[GTA IV TBOGT] Luis' Apartment/materials/models/arctic0ne/gtaiv/wood/gz_e2_frame04.vtf
[GTA IV TBOGT] Luis' Apartment/materials/models/arctic0ne/gtaiv/wood/bm_wood18.vmt
[GTA IV TBOGT] Luis' Apartment/materials/models/arctic0ne/gtaiv/wood/gb_coffeetable02.vmt
[GTA IV TBOGT] Luis' Apartment/materials/models/arctic0ne/gtaiv/wood/bm_wood12.vmt
[GTA IV TBOGT] Luis' Apartment/materials/models/arctic0ne/gtaiv/wood/gz_e2_frame01.vtf
[GTA IV TBOGT] Luis' Apartment/materials/models/arctic0ne/gtaiv/wood/km_e2luiskitch1_s.vtf
[GTA IV TBOGT] Luis' Apartment/materials/models/arctic0ne/gtaiv/wood/gz_e2_frame04.vmt
[GTA IV TBOGT] Luis' Apartment/materials/models/arctic0ne/gtaiv/wood/gb_playboycoff01.vtf
[GTA IV TBOGT] Luis' Apartment/materials/models/arctic0ne/gtaiv/wood/km_e2laminatgrey.vmt
[GTA IV TBOGT] Luis' Apartment/materials/models/arctic0ne/gtaiv/wood/gb_woodfurniture02_n.vtf
[GTA IV TBOGT] Luis' Apartment/materials/models/arctic0ne/gtaiv/wood/gb_woodfurniture01.vmt
[GTA IV TBOGT] Luis' Apartment/materials/models/arctic0ne/gtaiv/wood/gb_woodfurniture03.vtf
[GTA IV TBOGT] Luis' Apartment/materials/models/arctic0ne/gtaiv/wood/cj_wood_fake.vmt
[GTA IV TBOGT] Luis' Apartment/materials/models/arctic0ne/gtaiv/seating/km_sopbrnleathr1.vtf
[GTA IV TBOGT] Luis' Apartment/materials/models/arctic0ne/gtaiv/seating/gb_diningseat04.vmt
[GTA IV TBOGT] Luis' Apartment/materials/models/arctic0ne/gtaiv/seating/km_sopbrnleathr1_n.vtf
[GTA IV TBOGT] Luis' Apartment/materials/models/arctic0ne/gtaiv/seating/gb_diningseat04.vtf
[GTA IV TBOGT] Luis' Apartment/materials/models/arctic0ne/gtaiv/seating/km_sopbrnleathr1.vmt
[GTA IV TBOGT] Luis' Apartment/materials/models/arctic0ne/gtaiv/electrical/cj_micro3.vtf
[GTA IV TBOGT] Luis' Apartment/materials/models/arctic0ne/gtaiv/electrical/gb_dvd01.vmt
[GTA IV TBOGT] Luis' Apartment/materials/models/arctic0ne/gtaiv/electrical/gz_e2_multisocket.vmt
[GTA IV TBOGT] Luis' Apartment/materials/models/arctic0ne/gtaiv/electrical/km_e2wiring.vtf
[GTA IV TBOGT] Luis' Apartment/materials/models/arctic0ne/gtaiv/electrical/gz_e2_hififront.vtf
[GTA IV TBOGT] Luis' Apartment/materials/models/arctic0ne/gtaiv/electrical/bm_tv02.vmt
[GTA IV TBOGT] Luis' Apartment/materials/models/arctic0ne/gtaiv/electrical/km_e2wiring.vmt
[GTA IV TBOGT] Luis' Apartment/materials/models/arctic0ne/gtaiv/electrical/gb_dvd02.vmt
[GTA IV TBOGT] Luis' Apartment/materials/models/arctic0ne/gtaiv/electrical/gb_dvd03.vtf
[GTA IV TBOGT] Luis' Apartment/materials/models/arctic0ne/gtaiv/electrical/gb_dvd01.vtf
[GTA IV TBOGT] Luis' Apartment/materials/models/arctic0ne/gtaiv/electrical/gz_e2_woofer1.vtf
[GTA IV TBOGT] Luis' Apartment/materials/models/arctic0ne/gtaiv/electrical/gz_e2_switches.vmt
[GTA IV TBOGT] Luis' Apartment/materials/models/arctic0ne/gtaiv/electrical/cj_radiator.vmt
[GTA IV TBOGT] Luis' Apartment/materials/models/arctic0ne/gtaiv/electrical/bm_remote.vtf
[GTA IV TBOGT] Luis' Apartment/materials/models/arctic0ne/gtaiv/electrical/gz_e2_switches.vtf
[GTA IV TBOGT] Luis' Apartment/materials/models/arctic0ne/gtaiv/electrical/cj_radiator.vtf
[GTA IV TBOGT] Luis' Apartment/materials/models/arctic0ne/gtaiv/electrical/gz_e2_woofer3.vmt
[GTA IV TBOGT] Luis' Apartment/materials/models/arctic0ne/gtaiv/electrical/gz_e2_heatring01gz_e2_heatring01_a.vtf
[GTA IV TBOGT] Luis' Apartment/materials/models/arctic0ne/gtaiv/electrical/bm_tv02_n.vtf
[GTA IV TBOGT] Luis' Apartment/materials/models/arctic0ne/gtaiv/electrical/gz_e2_woofer3.vtf
[GTA IV TBOGT] Luis' Apartment/materials/models/arctic0ne/gtaiv/electrical/cj_radiator_n.vtf
[GTA IV TBOGT] Luis' Apartment/materials/models/arctic0ne/gtaiv/electrical/gz_e2_hififront.vmt
[GTA IV TBOGT] Luis' Apartment/materials/models/arctic0ne/gtaiv/electrical/gb_dvd03.vmt
[GTA IV TBOGT] Luis' Apartment/materials/models/arctic0ne/gtaiv/electrical/km_e2switch1.vmt
[GTA IV TBOGT] Luis' Apartment/materials/models/arctic0ne/gtaiv/electrical/bm_remote.vmt
[GTA IV TBOGT] Luis' Apartment/materials/models/arctic0ne/gtaiv/electrical/cj_micro3.vmt
[GTA IV TBOGT] Luis' Apartment/materials/models/arctic0ne/gtaiv/electrical/gz_e2_heatring01gz_e2_heatring01_a.vmt
[GTA IV TBOGT] Luis' Apartment/materials/models/arctic0ne/gtaiv/electrical/script_rt.vtf
[GTA IV TBOGT] Luis' Apartment/materials/models/arctic0ne/gtaiv/electrical/km_e2switch1.vtf
[GTA IV TBOGT] Luis' Apartment/materials/models/arctic0ne/gtaiv/electrical/gz_e2_hififront_s.vtf
[GTA IV TBOGT] Luis' Apartment/materials/models/arctic0ne/gtaiv/electrical/gz_e2_woofer1.vmt
[GTA IV TBOGT] Luis' Apartment/materials/models/arctic0ne/gtaiv/electrical/bm_tv02.vtf
[GTA IV TBOGT] Luis' Apartment/materials/models/arctic0ne/gtaiv/electrical/cj_micro_white.vmt
[GTA IV TBOGT] Luis' Apartment/materials/models/arctic0ne/gtaiv/electrical/gz_e2_multisocket.vtf
[GTA IV TBOGT] Luis' Apartment/materials/models/arctic0ne/gtaiv/electrical/script_rt.vmt
[GTA IV TBOGT] Luis' Apartment/materials/models/arctic0ne/gtaiv/electrical/cj_micro_white.vtf
[GTA IV TBOGT] Luis' Apartment/materials/models/arctic0ne/gtaiv/electrical/gb_dvd02.vtf
[GTA IV TBOGT] Luis' Apartment/materials/models/arctic0ne/gtaiv/plastic/gb_gymmat01.vmt
[GTA IV TBOGT] Luis' Apartment/materials/models/arctic0ne/gtaiv/plastic/gb_whiteplastic02.vmt
[GTA IV TBOGT] Luis' Apartment/materials/models/arctic0ne/gtaiv/plastic/cj_black.vmt
[GTA IV TBOGT] Luis' Apartment/materials/models/arctic0ne/gtaiv/plastic/gz_e2_binplastic.vmt
[GTA IV TBOGT] Luis' Apartment/materials/models/arctic0ne/gtaiv/plastic/gz_e2_binplastic_s.vtf
[GTA IV TBOGT] Luis' Apartment/materials/models/arctic0ne/gtaiv/plastic/gz_e2_binplastic.vtf
[GTA IV TBOGT] Luis' Apartment/materials/models/arctic0ne/gtaiv/plastic/cj_orange.vtf
[GTA IV TBOGT] Luis' Apartment/materials/models/arctic0ne/gtaiv/plastic/cj_orange.vmt
[GTA IV TBOGT] Luis' Apartment/materials/models/arctic0ne/gtaiv/plastic/gb_whiteplastic02.vtf
[GTA IV TBOGT] Luis' Apartment/materials/models/arctic0ne/gtaiv/plastic/cj_toshi.vtf
[GTA IV TBOGT] Luis' Apartment/materials/models/arctic0ne/gtaiv/plastic/cj_black.vtf
[GTA IV TBOGT] Luis' Apartment/materials/models/arctic0ne/gtaiv/plastic/gb_gymmat01.vtf
[GTA IV TBOGT] Luis' Apartment/materials/models/arctic0ne/gtaiv/plastic/bm_genplastic256_n.vtf
[GTA IV TBOGT] Luis' Apartment/materials/models/arctic0ne/gtaiv/wardrobe/tl_gb_e2_rayhouse_russtrain.vtf
[GTA IV TBOGT] Luis' Apartment/materials/models/arctic0ne/gtaiv/wardrobe/tl_gb_e2_rayhouse_russtrain.vmt
[GTA IV TBOGT] Luis' Apartment/materials/models/arctic0ne/gtaiv/lights/km_e2tlantern2.vtf
[GTA IV TBOGT] Luis' Apartment/materials/models/arctic0ne/gtaiv/lights/km_e2tlantern2.vmt
[GTA IV TBOGT] Luis' Apartment/materials/models/arctic0ne/gtaiv/lights/km_e2tlantern2_n.vtf
[GTA IV TBOGT] Luis' Apartment/materials/models/arctic0ne/gtaiv/lights/e2_tlantern.vtf
[GTA IV TBOGT] Luis' Apartment/materials/models/arctic0ne/gtaiv/lights/gz_e2_luismum_bulb.vtf
[GTA IV TBOGT] Luis' Apartment/materials/models/arctic0ne/gtaiv/lights/km_e2eleclite.vtf
[GTA IV TBOGT] Luis' Apartment/materials/models/arctic0ne/gtaiv/lights/e2_tlantern.vmt
[GTA IV TBOGT] Luis' Apartment/materials/models/arctic0ne/gtaiv/lights/gz_e2_luismum_bulb.vmt
[GTA IV TBOGT] Luis' Apartment/materials/models/arctic0ne/gtaiv/lights/km_e2eleclite.vmt
[GTA IV TBOGT] Luis' Apartment/materials/models/arctic0ne/gtaiv/decor/gb_dvdcover02.vmt
[GTA IV TBOGT] Luis' Apartment/materials/models/arctic0ne/gtaiv/decor/gb_playpaint03.vmt
[GTA IV TBOGT] Luis' Apartment/materials/models/arctic0ne/gtaiv/decor/gb_cdcollection02.vtf
[GTA IV TBOGT] Luis' Apartment/materials/models/arctic0ne/gtaiv/decor/gz_e2_brownstreak256.vmt
[GTA IV TBOGT] Luis' Apartment/materials/models/arctic0ne/gtaiv/decor/km_e2luismagbox1.vmt
[GTA IV TBOGT] Luis' Apartment/materials/models/arctic0ne/gtaiv/decor/gz_e2_brownstreak256.vtf
[GTA IV TBOGT] Luis' Apartment/materials/models/arctic0ne/gtaiv/decor/km_e2dvd1.vtf
[GTA IV TBOGT] Luis' Apartment/materials/models/arctic0ne/gtaiv/decor/gz_e2_luisnotes.vmt
[GTA IV TBOGT] Luis' Apartment/materials/models/arctic0ne/gtaiv/decor/gb_cdcollection02.vmt
[GTA IV TBOGT] Luis' Apartment/materials/models/arctic0ne/gtaiv/decor/km_e2luismags.vtf
[GTA IV TBOGT] Luis' Apartment/materials/models/arctic0ne/gtaiv/decor/gb_cdcover01.vmt
[GTA IV TBOGT] Luis' Apartment/materials/models/arctic0ne/gtaiv/decor/gb_cdcover06.vtf
[GTA IV TBOGT] Luis' Apartment/materials/models/arctic0ne/gtaiv/decor/gz_e2_luiscert.vmt
[GTA IV TBOGT] Luis' Apartment/materials/models/arctic0ne/gtaiv/decor/gb_cdcover01_s.vtf
[GTA IV TBOGT] Luis' Apartment/materials/models/arctic0ne/gtaiv/decor/gb_dvdcover03.vtf
[GTA IV TBOGT] Luis' Apartment/materials/models/arctic0ne/gtaiv/decor/gb_playpaint03.vtf
[GTA IV TBOGT] Luis' Apartment/materials/models/arctic0ne/gtaiv/decor/gb_dvdcover01.vtf
[GTA IV TBOGT] Luis' Apartment/materials/models/arctic0ne/gtaiv/decor/gz_e2_canvas.vtf
[GTA IV TBOGT] Luis' Apartment/materials/models/arctic0ne/gtaiv/decor/gb_cdcover01_n.vtf
[GTA IV TBOGT] Luis' Apartment/materials/models/arctic0ne/gtaiv/decor/gb_cdcollection01.vtf
[GTA IV TBOGT] Luis' Apartment/materials/models/arctic0ne/gtaiv/decor/gb_dvdcover02.vtf
[GTA IV TBOGT] Luis' Apartment/materials/models/arctic0ne/gtaiv/decor/km_e2luismagbox1.vtf
[GTA IV TBOGT] Luis' Apartment/materials/models/arctic0ne/gtaiv/decor/gz_e2_fridgemag01.vmt
[GTA IV TBOGT] Luis' Apartment/materials/models/arctic0ne/gtaiv/decor/gb_playpaint02.vmt
[GTA IV TBOGT] Luis' Apartment/materials/models/arctic0ne/gtaiv/decor/gb_cdcover05.vtf
[GTA IV TBOGT] Luis' Apartment/materials/models/arctic0ne/gtaiv/decor/gb_cdcover04.vtf
[GTA IV TBOGT] Luis' Apartment/materials/models/arctic0ne/gtaiv/decor/gb_cdcover04.vmt
[GTA IV TBOGT] Luis' Apartment/materials/models/arctic0ne/gtaiv/decor/gb_dvdcollection.vmt
[GTA IV TBOGT] Luis' Apartment/materials/models/arctic0ne/gtaiv/decor/gb_cdcover06.vmt
[GTA IV TBOGT] Luis' Apartment/materials/models/arctic0ne/gtaiv/decor/gb_dvdcover01_n.vtf
[GTA IV TBOGT] Luis' Apartment/materials/models/arctic0ne/gtaiv/decor/gz_e2_calendar.vtf
[GTA IV TBOGT] Luis' Apartment/materials/models/arctic0ne/gtaiv/decor/gb_cdcollection01.vmt
[GTA IV TBOGT] Luis' Apartment/materials/models/arctic0ne/gtaiv/decor/gz_e2_fridgemag02.vtf
[GTA IV TBOGT] Luis' Apartment/materials/models/arctic0ne/gtaiv/decor/gz_e2_luispics.vtf
[GTA IV TBOGT] Luis' Apartment/materials/models/arctic0ne/gtaiv/decor/gb_cdcover02.vmt
[GTA IV TBOGT] Luis' Apartment/materials/models/arctic0ne/gtaiv/decor/gz_e2_wirewhite.vtf
[GTA IV TBOGT] Luis' Apartment/materials/models/arctic0ne/gtaiv/decor/gz_e2_canvas.vmt
[GTA IV TBOGT] Luis' Apartment/materials/models/arctic0ne/gtaiv/decor/gb_cdcover05.vmt
[GTA IV TBOGT] Luis' Apartment/materials/models/arctic0ne/gtaiv/decor/gz_e2_calendar.vmt
[GTA IV TBOGT] Luis' Apartment/materials/models/arctic0ne/gtaiv/decor/km_e2luismags1.vtf
[GTA IV TBOGT] Luis' Apartment/materials/models/arctic0ne/gtaiv/decor/gb_cdcover07_n.vtf
[GTA IV TBOGT] Luis' Apartment/materials/models/arctic0ne/gtaiv/decor/gb_playpaint_n.vtf
[GTA IV TBOGT] Luis' Apartment/materials/models/arctic0ne/gtaiv/decor/gb_cdcover07.vtf
[GTA IV TBOGT] Luis' Apartment/materials/models/arctic0ne/gtaiv/decor/gb_playpaint01.vtf
[GTA IV TBOGT] Luis' Apartment/materials/models/arctic0ne/gtaiv/decor/gb_cdcover01.vtf
[GTA IV TBOGT] Luis' Apartment/materials/models/arctic0ne/gtaiv/decor/bm_genplastic256_n.vtf
[GTA IV TBOGT] Luis' Apartment/materials/models/arctic0ne/gtaiv/decor/gz_e2_fridgemag02.vmt
[GTA IV TBOGT] Luis' Apartment/materials/models/arctic0ne/gtaiv/decor/km_e2luismags.vmt
[GTA IV TBOGT] Luis' Apartment/materials/models/arctic0ne/gtaiv/decor/gz_e2_brownstreak256_n.vtf
[GTA IV TBOGT] Luis' Apartment/materials/models/arctic0ne/gtaiv/decor/gz_e2_fridgemag01.vtf
[GTA IV TBOGT] Luis' Apartment/materials/models/arctic0ne/gtaiv/decor/gb_playpaint02.vtf
[GTA IV TBOGT] Luis' Apartment/materials/models/arctic0ne/gtaiv/decor/gb_dvdcollection.vtf
[GTA IV TBOGT] Luis' Apartment/materials/models/arctic0ne/gtaiv/decor/gz_e2_calendar_n.vtf
[GTA IV TBOGT] Luis' Apartment/materials/models/arctic0ne/gtaiv/decor/gb_cdcover07.vmt
[GTA IV TBOGT] Luis' Apartment/materials/models/arctic0ne/gtaiv/decor/gb_cdcover02.vtf
[GTA IV TBOGT] Luis' Apartment/materials/models/arctic0ne/gtaiv/decor/gz_e2_luisnotes.vtf
[GTA IV TBOGT] Luis' Apartment/materials/models/arctic0ne/gtaiv/decor/km_e2luismags1.vmt
[GTA IV TBOGT] Luis' Apartment/materials/models/arctic0ne/gtaiv/decor/gz_e2_luispics.vmt
[GTA IV TBOGT] Luis' Apartment/materials/models/arctic0ne/gtaiv/decor/gb_playpaint01.vmt
[GTA IV TBOGT] Luis' Apartment/materials/models/arctic0ne/gtaiv/decor/km_e2dvd1.vmt
[GTA IV TBOGT] Luis' Apartment/materials/models/arctic0ne/gtaiv/decor/gz_e2_wirewhite.vmt
[GTA IV TBOGT] Luis' Apartment/materials/models/arctic0ne/gtaiv/decor/gb_dvdcover01.vmt
[GTA IV TBOGT] Luis' Apartment/materials/models/arctic0ne/gtaiv/decor/gb_dvdcover03.vmt
[GTA IV TBOGT] Luis' Apartment/materials/models/arctic0ne/gtaiv/decor/gz_e2_luiscert.vtf
[GTA IV TBOGT] Luis' Apartment/materials/models/arctic0ne/gtaiv/glass/km_e2smokeyglass.vtf
[GTA IV TBOGT] Luis' Apartment/materials/models/arctic0ne/gtaiv/glass/ab_glass_n.vtf
[GTA IV TBOGT] Luis' Apartment/materials/models/arctic0ne/gtaiv/glass/km_e2smokeyglass.vmt
[GTA IV TBOGT] Luis' Apartment/materials/models/arctic0ne/gtaiv/glass/cj_micro_win1cj_micro_win1_a.vtf
[GTA IV TBOGT] Luis' Apartment/materials/models/arctic0ne/gtaiv/glass/km_e1window_n.vtf
[GTA IV TBOGT] Luis' Apartment/materials/models/arctic0ne/gtaiv/glass/cj_micro_win1cj_micro_win1_a.vmt
[GTA IV TBOGT] Luis' Apartment/materials/models/arctic0ne/gtaiv/metal/gb_abductor1_s.vtf
[GTA IV TBOGT] Luis' Apartment/materials/models/arctic0ne/gtaiv/metal/gz_e2_chrome02.vmt
[GTA IV TBOGT] Luis' Apartment/materials/models/arctic0ne/gtaiv/metal/cj_grate3_flat.vmt
[GTA IV TBOGT] Luis' Apartment/materials/models/arctic0ne/gtaiv/metal/lde2_chrome_gen.vtf
[GTA IV TBOGT] Luis' Apartment/materials/models/arctic0ne/gtaiv/metal/lde2_chrome_gen.vmt
[GTA IV TBOGT] Luis' Apartment/materials/models/arctic0ne/gtaiv/metal/lde2_sinkholelde2_sinkhole_a.vmt
[GTA IV TBOGT] Luis' Apartment/materials/models/arctic0ne/gtaiv/metal/gb_abductor1.vmt
[GTA IV TBOGT] Luis' Apartment/materials/models/arctic0ne/gtaiv/metal/gz_e2_chrome01.vtf
[GTA IV TBOGT] Luis' Apartment/materials/models/arctic0ne/gtaiv/metal/km_metalshiny.vmt
[GTA IV TBOGT] Luis' Apartment/materials/models/arctic0ne/gtaiv/metal/km_metalshiny_n.vtf
[GTA IV TBOGT] Luis' Apartment/materials/models/arctic0ne/gtaiv/metal/gz_e2_chrome01.vmt
[GTA IV TBOGT] Luis' Apartment/materials/models/arctic0ne/gtaiv/metal/bm_chrome_small.vmt
[GTA IV TBOGT] Luis' Apartment/materials/models/arctic0ne/gtaiv/metal/mp_hallchair_legs.vtf
[GTA IV TBOGT] Luis' Apartment/materials/models/arctic0ne/gtaiv/metal/gb_metaldark02.vtf
[GTA IV TBOGT] Luis' Apartment/materials/models/arctic0ne/gtaiv/metal/tl_gb_e2_tony_kitchsink.vmt
[GTA IV TBOGT] Luis' Apartment/materials/models/arctic0ne/gtaiv/metal/km_metalshiny.vtf
[GTA IV TBOGT] Luis' Apartment/materials/models/arctic0ne/gtaiv/metal/gz_e2_chrome02.vtf
[GTA IV TBOGT] Luis' Apartment/materials/models/arctic0ne/gtaiv/metal/lde2_sinkholelde2_sinkhole_a.vtf
[GTA IV TBOGT] Luis' Apartment/materials/models/arctic0ne/gtaiv/metal/km_e2granittop.vmt
[GTA IV TBOGT] Luis' Apartment/materials/models/arctic0ne/gtaiv/metal/cj_chrome_128.vtf
[GTA IV TBOGT] Luis' Apartment/materials/models/arctic0ne/gtaiv/metal/km_metalshiny_s.vtf
[GTA IV TBOGT] Luis' Apartment/materials/models/arctic0ne/gtaiv/metal/bm_chrome_small.vtf
[GTA IV TBOGT] Luis' Apartment/materials/models/arctic0ne/gtaiv/metal/gb_metaldark01_n.vtf
[GTA IV TBOGT] Luis' Apartment/materials/models/arctic0ne/gtaiv/metal/gb_metaldark02.vmt
[GTA IV TBOGT] Luis' Apartment/materials/models/arctic0ne/gtaiv/metal/lde2_tonyoven.vtf
[GTA IV TBOGT] Luis' Apartment/materials/models/arctic0ne/gtaiv/metal/mp_hallchair_legs.vmt
[GTA IV TBOGT] Luis' Apartment/materials/models/arctic0ne/gtaiv/metal/gb_abductor1.vtf
[GTA IV TBOGT] Luis' Apartment/materials/models/arctic0ne/gtaiv/metal/cj_grate3_flat.vtf
[GTA IV TBOGT] Luis' Apartment/materials/models/arctic0ne/gtaiv/metal/cj_chrome_128.vmt
[GTA IV TBOGT] Luis' Apartment/materials/models/arctic0ne/gtaiv/metal/lde2_tonyoven.vmt
[GTA IV TBOGT] Luis' Apartment/materials/models/arctic0ne/gtaiv/metal/tl_gb_e2_tony_kitchsink.vtf
[GTA IV TBOGT] Luis' Apartment/materials/models/arctic0ne/gtaiv/metal/km_e2granittop.vtf
[GTA IV TBOGT] Luis' Apartment/materials/models/arctic0ne/gtaiv/kitchen/lde2_utensils.vmt
[GTA IV TBOGT] Luis' Apartment/materials/models/arctic0ne/gtaiv/kitchen/lde2_chopboard.vmt
[GTA IV TBOGT] Luis' Apartment/materials/models/arctic0ne/gtaiv/kitchen/km_e2chopblock.vtf
[GTA IV TBOGT] Luis' Apartment/materials/models/arctic0ne/gtaiv/kitchen/cj_fridge_shelfcj_fridge_shelf_a.vtf
[GTA IV TBOGT] Luis' Apartment/materials/models/arctic0ne/gtaiv/kitchen/lde2_kitchpan_s.vtf
[GTA IV TBOGT] Luis' Apartment/materials/models/arctic0ne/gtaiv/kitchen/lde2_utensils_s.vtf
[GTA IV TBOGT] Luis' Apartment/materials/models/arctic0ne/gtaiv/kitchen/tl_km_e2_tony_michcrock.vmt
[GTA IV TBOGT] Luis' Apartment/materials/models/arctic0ne/gtaiv/kitchen/lde2_utensils.vtf
[GTA IV TBOGT] Luis' Apartment/materials/models/arctic0ne/gtaiv/kitchen/cj_fridge_shelfcj_fridge_shelf_a.vmt
[GTA IV TBOGT] Luis' Apartment/materials/models/arctic0ne/gtaiv/kitchen/km_e1ashcookhood.vmt
[GTA IV TBOGT] Luis' Apartment/materials/models/arctic0ne/gtaiv/kitchen/lde2_kitchpanin.vmt
[GTA IV TBOGT] Luis' Apartment/materials/models/arctic0ne/gtaiv/kitchen/lde2_chopboard.vtf
[GTA IV TBOGT] Luis' Apartment/materials/models/arctic0ne/gtaiv/kitchen/km_e1ashcooklite.vtf
[GTA IV TBOGT] Luis' Apartment/materials/models/arctic0ne/gtaiv/kitchen/gb_fridgelge01.vtf
[GTA IV TBOGT] Luis' Apartment/materials/models/arctic0ne/gtaiv/kitchen/lde2_chopboard_s.vtf
[GTA IV TBOGT] Luis' Apartment/materials/models/arctic0ne/gtaiv/kitchen/tl_km_e2_tony_michcrock.vtf
[GTA IV TBOGT] Luis' Apartment/materials/models/arctic0ne/gtaiv/kitchen/gb_fridgelge01.vmt
[GTA IV TBOGT] Luis' Apartment/materials/models/arctic0ne/gtaiv/kitchen/km_e2chopblock.vmt
[GTA IV TBOGT] Luis' Apartment/materials/models/arctic0ne/gtaiv/kitchen/lde2_kitchpanin.vtf
[GTA IV TBOGT] Luis' Apartment/materials/models/arctic0ne/gtaiv/kitchen/km_e1ashcookhood.vtf
[GTA IV TBOGT] Luis' Apartment/materials/models/arctic0ne/gtaiv/kitchen/km_e1ashcooklite.vmt
[GTA IV TBOGT] Luis' Apartment/materials/models/arctic0ne/gtaiv/cardboard/gb_perseusbox01.vmt
[GTA IV TBOGT] Luis' Apartment/materials/models/arctic0ne/gtaiv/cardboard/gb_probox01.vmt
[GTA IV TBOGT] Luis' Apartment/materials/models/arctic0ne/gtaiv/cardboard/gb_perseusbox02.vmt
[GTA IV TBOGT] Luis' Apartment/materials/models/arctic0ne/gtaiv/cardboard/gb_heatbox02.vtf
[GTA IV TBOGT] Luis' Apartment/materials/models/arctic0ne/gtaiv/cardboard/gb_perseusbox01.vtf
[GTA IV TBOGT] Luis' Apartment/materials/models/arctic0ne/gtaiv/cardboard/gb_perseusbox02.vtf
[GTA IV TBOGT] Luis' Apartment/materials/models/arctic0ne/gtaiv/cardboard/gb_probox01.vtf
[GTA IV TBOGT] Luis' Apartment/materials/models/arctic0ne/gtaiv/cardboard/gb_heatbox02.vmt
[GTA IV TBOGT] Luis' Apartment/materials/models/arctic0ne/gtaiv/shell/tl_e1_lost_ceiling_bar.vtf
[GTA IV TBOGT] Luis' Apartment/materials/models/arctic0ne/gtaiv/shell/ah_concedgenewn.vtf
[GTA IV TBOGT] Luis' Apartment/materials/models/arctic0ne/gtaiv/shell/ah_concedgenewn.vmt
[GTA IV TBOGT] Luis' Apartment/materials/models/arctic0ne/gtaiv/shell/e2_fightwdflrsht_n.vtf
[GTA IV TBOGT] Luis' Apartment/materials/models/arctic0ne/gtaiv/shell/e2_fightdstep.vtf
[GTA IV TBOGT] Luis' Apartment/materials/models/arctic0ne/gtaiv/shell/ah_trconcedge1s.vtf
[GTA IV TBOGT] Luis' Apartment/materials/models/arctic0ne/gtaiv/shell/e2_figflkpnt2.vtf
[GTA IV TBOGT] Luis' Apartment/materials/models/arctic0ne/gtaiv/shell/e2_fightwdflrsht_s.vtf
[GTA IV TBOGT] Luis' Apartment/materials/models/arctic0ne/gtaiv/shell/e2_figflkpnt1_s.vtf
[GTA IV TBOGT] Luis' Apartment/materials/models/arctic0ne/gtaiv/shell/e2_fighplaswall1.vtf
[GTA IV TBOGT] Luis' Apartment/materials/models/arctic0ne/gtaiv/shell/e2_figflkpnt1.vmt
[GTA IV TBOGT] Luis' Apartment/materials/models/arctic0ne/gtaiv/shell/ah_trconcedge1.vtf
[GTA IV TBOGT] Luis' Apartment/materials/models/arctic0ne/gtaiv/shell/e2_fightcrackplas.vmt
[GTA IV TBOGT] Luis' Apartment/materials/models/arctic0ne/gtaiv/shell/e2_fighplasceil1_s.vtf
[GTA IV TBOGT] Luis' Apartment/materials/models/arctic0ne/gtaiv/shell/ah_trconcedge1.vmt
[GTA IV TBOGT] Luis' Apartment/materials/models/arctic0ne/gtaiv/shell/e2_fightwdflrsht.vmt
[GTA IV TBOGT] Luis' Apartment/materials/models/arctic0ne/gtaiv/shell/e2_fightdstep.vmt
[GTA IV TBOGT] Luis' Apartment/materials/models/arctic0ne/gtaiv/shell/e2_fighplaswall2.vtf
[GTA IV TBOGT] Luis' Apartment/materials/models/arctic0ne/gtaiv/shell/e2_fightcrackplas.vtf
[GTA IV TBOGT] Luis' Apartment/materials/models/arctic0ne/gtaiv/shell/e2_fighplasceil1.vtf
[GTA IV TBOGT] Luis' Apartment/materials/models/arctic0ne/gtaiv/shell/e2_fighplaswall1.vmt
[GTA IV TBOGT] Luis' Apartment/materials/models/arctic0ne/gtaiv/shell/e2_fighplasceil1.vmt
[GTA IV TBOGT] Luis' Apartment/materials/models/arctic0ne/gtaiv/shell/tl_e1_lost_ceiling_bar.vmt
[GTA IV TBOGT] Luis' Apartment/materials/models/arctic0ne/gtaiv/shell/e2_fighplaswall2.vmt
[GTA IV TBOGT] Luis' Apartment/materials/models/arctic0ne/gtaiv/shell/e2_figflkpnt2.vmt
[GTA IV TBOGT] Luis' Apartment/materials/models/arctic0ne/gtaiv/shell/e2_fightwdflrsht.vtf
[GTA IV TBOGT] Luis' Apartment/materials/models/arctic0ne/gtaiv/shell/e2_figflkpnt1.vtf
[GTA IV TBOGT] Luis' Apartment/materials/models/arctic0ne/gtaiv/fabric/gz_e2_luiscurts.vmt
[GTA IV TBOGT] Luis' Apartment/materials/models/arctic0ne/gtaiv/fabric/gb_duvet06_n.vtf
[GTA IV TBOGT] Luis' Apartment/materials/models/arctic0ne/gtaiv/fabric/gb_cushion09.vmt
[GTA IV TBOGT] Luis' Apartment/materials/models/arctic0ne/gtaiv/fabric/gz_e2_luiscurtain01.vmt
[GTA IV TBOGT] Luis' Apartment/materials/models/arctic0ne/gtaiv/fabric/gb_cushion07b_n.vtf
[GTA IV TBOGT] Luis' Apartment/materials/models/arctic0ne/gtaiv/fabric/gb_pillow02.vtf
[GTA IV TBOGT] Luis' Apartment/materials/models/arctic0ne/gtaiv/fabric/gb_pillow02.vmt
[GTA IV TBOGT] Luis' Apartment/materials/models/arctic0ne/gtaiv/fabric/gz_e2fabric08.vmt
[GTA IV TBOGT] Luis' Apartment/materials/models/arctic0ne/gtaiv/fabric/gb_cushion09.vtf
[GTA IV TBOGT] Luis' Apartment/materials/models/arctic0ne/gtaiv/fabric/gz_e2_luiscurts.vtf
[GTA IV TBOGT] Luis' Apartment/materials/models/arctic0ne/gtaiv/fabric/gz_e2_rug02.vtf
[GTA IV TBOGT] Luis' Apartment/materials/models/arctic0ne/gtaiv/fabric/gb_rug04.vtf
[GTA IV TBOGT] Luis' Apartment/materials/models/arctic0ne/gtaiv/fabric/gz_e2_rug02.vmt
[GTA IV TBOGT] Luis' Apartment/materials/models/arctic0ne/gtaiv/fabric/e2_luis_shade.vtf
[GTA IV TBOGT] Luis' Apartment/materials/models/arctic0ne/gtaiv/fabric/gb_duvet04_n.vtf
[GTA IV TBOGT] Luis' Apartment/materials/models/arctic0ne/gtaiv/fabric/gz_e2_luisduvet.vtf
[GTA IV TBOGT] Luis' Apartment/materials/models/arctic0ne/gtaiv/fabric/km_e2luisrug1.vmt
[GTA IV TBOGT] Luis' Apartment/materials/models/arctic0ne/gtaiv/fabric/gz_e2fabric08.vtf
[GTA IV TBOGT] Luis' Apartment/materials/models/arctic0ne/gtaiv/fabric/e2_luis_shade.vmt
[GTA IV TBOGT] Luis' Apartment/materials/models/arctic0ne/gtaiv/fabric/e2_luisskrtpaint.vmt
[GTA IV TBOGT] Luis' Apartment/materials/models/arctic0ne/gtaiv/fabric/km_e2luisrug1.vtf
[GTA IV TBOGT] Luis' Apartment/materials/models/arctic0ne/gtaiv/fabric/gb_rug04.vmt
[GTA IV TBOGT] Luis' Apartment/materials/models/arctic0ne/gtaiv/fabric/gz_e2_luiscurtain01.vtf
[GTA IV TBOGT] Luis' Apartment/materials/models/arctic0ne/gtaiv/fabric/gz_e2_luisduvet.vmt
[GTA IV TBOGT] Luis' Apartment/materials/models/arctic0ne/gtaiv/shared/lightfix.vtf
[GTA IV TBOGT] Luis' Apartment/materials/models/arctic0ne/gtaiv/shared/softgold.hdr.vtf
[GTA IV TBOGT] Luis' Apartment/materials/models/arctic0ne/gtaiv/shared/detail_leather_01.vtf
[GTA IV TBOGT] Luis' Apartment/materials/models/arctic0ne/gtaiv/shared/phongwarp_metal2.vtf
[GTA IV TBOGT] Luis' Apartment/materials/models/arctic0ne/gtaiv/shared/flat_normal_alt2.vtf
[GTA IV TBOGT] Luis' Apartment/materials/models/arctic0ne/gtaiv/shared/detail_leather9.vtf
[GTA IV TBOGT] Luis' Apartment/materials/models/arctic0ne/gtaiv/shared/clothdenim03_dd.vtf
[GTA IV TBOGT] Luis' Apartment/materials/models/arctic0ne/gtaiv/shared/detail_paper.vtf
[GTA IV TBOGT] Luis' Apartment/materials/models/arctic0ne/gtaiv/shared/cubemap_gold001.vtf
[GTA IV TBOGT] Luis' Apartment/materials/models/arctic0ne/gtaiv/shared/detail_wood3.vtf
[GTA IV TBOGT] Luis' Apartment/materials/models/arctic0ne/gtaiv/shared/detail_concrete_01.vtf
[GTA IV TBOGT] Luis' Apartment/materials/models/arctic0ne/gtaiv/shared/lightwarp_metallic.vtf
[GTA IV TBOGT] Luis' Apartment/materials/models/arctic0ne/gtaiv/shared/lightwarp_soft_white.vtf
[GTA IV TBOGT] Luis' Apartment/materials/models/arctic0ne/gtaiv/shared/detail_concrete_02.vtf
[GTA IV TBOGT] Luis' Apartment/materials/models/arctic0ne/gtaiv/shared/detail_carpet_01.vtf
[GTA IV TBOGT] Luis' Apartment/materials/models/arctic0ne/gtaiv/shared/detail_leather.vtf
[GTA IV TBOGT] Luis' Apartment/materials/models/arctic0ne/gtaiv/shared/env_noise_concrete.vtf
[GTA IV TBOGT] Luis' Apartment/materials/models/arctic0ne/gtaiv/shared/graynoisy.vtf
[GTA IV TBOGT] Luis' Apartment/materials/models/arctic0ne/gtaiv/shared/cubemap_specular001.hdr.vtf
[GTA IV TBOGT] Luis' Apartment/materials/models/arctic0ne/gtaiv/shared/detail_metal13.vtf
[GTA IV TBOGT] Luis' Apartment/materials/models/arctic0ne/gtaiv/shared/detail_metal3.vtf
[GTA IV TBOGT] Luis' Apartment/materials/models/arctic0ne/gtaiv/shared/detail_metal10.vtf
[GTA IV TBOGT] Luis' Apartment/materials/models/arctic0ne/gtaiv/shared/detail_metal12.vtf
[GTA IV TBOGT] Luis' Apartment/materials/models/arctic0ne/gtaiv/shared/env_woodgrain.vtf
[GTA IV TBOGT] Luis' Apartment/materials/models/arctic0ne/gtaiv/shared/cubemap_sheen002.hdr.vtf
[GTA IV TBOGT] Luis' Apartment/materials/models/arctic0ne/gtaiv/shared/detail_metal.vtf
[GTA IV TBOGT] Luis' Apartment/materials/models/arctic0ne/gtaiv/shared/detail_plastic.vtf
[GTA IV TBOGT] Luis' Apartment/materials/models/arctic0ne/gtaiv/shared/plasterwall01b_n4.vtf
[GTA IV TBOGT] Luis' Apartment/materials/models/arctic0ne/gtaiv/shared/detail_concrete_04.vtf
[GTA IV TBOGT] Luis' Apartment/materials/models/arctic0ne/gtaiv/shared/detail_metal8.vtf
[GTA IV TBOGT] Luis' Apartment/materials/models/arctic0ne/gtaiv/shared/detail_metal4.vtf
[GTA IV TBOGT] Luis' Apartment/materials/models/arctic0ne/gtaiv/shared/null.vtf
[GTA IV TBOGT] Luis' Apartment/materials/models/arctic0ne/gtaiv/shared/detail_metal9.vtf
[GTA IV TBOGT] Luis' Apartment/materials/models/arctic0ne/gtaiv/shared/detail_cloth_02.vtf
[GTA IV TBOGT] Luis' Apartment/materials/models/arctic0ne/gtaiv/shared/hr_concrete_floor_05_detail.vtf
[GTA IV TBOGT] Luis' Apartment/materials/models/arctic0ne/gtaiv/shared/skin_nm.vtf
[GTA IV TBOGT] Luis' Apartment/materials/models/arctic0ne/gtaiv/shared/green.vtf
[GTA IV TBOGT] Luis' Apartment/materials/models/arctic0ne/gtaiv/shared/detail_metal_01.vtf
[GTA IV TBOGT] Luis' Apartment/materials/models/arctic0ne/gtaiv/shared/detail_metal2.vtf
[GTA IV TBOGT] Luis' Apartment/materials/models/arctic0ne/gtaiv/shared/leather_detail.vtf
[GTA IV TBOGT] Luis' Apartment/materials/models/arctic0ne/gtaiv/shared/concrete_detail_04.vtf
[GTA IV TBOGT] Luis' Apartment/materials/models/arctic0ne/gtaiv/shared/detail_cloth6.vtf
[GTA IV TBOGT] Luis' Apartment/materials/models/arctic0ne/gtaiv/shared/cubemap_gold001.hdr.vtf
[GTA IV TBOGT] Luis' Apartment/materials/models/arctic0ne/gtaiv/shared/detail_scratches.vtf
[GTA IV TBOGT] Luis' Apartment/materials/models/arctic0ne/gtaiv/shared/bs_wallswht.vtf
[GTA IV TBOGT] Luis' Apartment/materials/models/arctic0ne/gtaiv/shared/albedo_tintdefinelight.vtf
[GTA IV TBOGT] Luis' Apartment/materials/models/arctic0ne/gtaiv/shared/detail_wood4.vtf
[GTA IV TBOGT] Luis' Apartment/materials/models/arctic0ne/gtaiv/shared/detail_wood.vtf
[GTA IV TBOGT] Luis' Apartment/materials/models/arctic0ne/gtaiv/shared/cubemap_sheen002.vtf
[GTA IV TBOGT] Luis' Apartment/materials/models/arctic0ne/gtaiv/shared/env_bark.vtf
[GTA IV TBOGT] Luis' Apartment/materials/models/arctic0ne/gtaiv/shared/detail_metal5.vtf
[GTA IV TBOGT] Luis' Apartment/materials/models/arctic0ne/gtaiv/shared/detail_cloth_002.vtf
[GTA IV TBOGT] Luis' Apartment/materials/models/arctic0ne/gtaiv/shared/detail_wood_horizontal.vtf
[GTA IV TBOGT] Luis' Apartment/materials/models/arctic0ne/gtaiv/shared/detail_metal7.vtf
[GTA IV TBOGT] Luis' Apartment/materials/models/arctic0ne/gtaiv/shared/detail_skin18.vtf
[GTA IV TBOGT] Luis' Apartment/materials/models/arctic0ne/gtaiv/shared/softsilver.hdr.vtf
[GTA IV TBOGT] Luis' Apartment/materials/models/arctic0ne/gtaiv/shared/env_noise_heavy.vtf
[GTA IV TBOGT] Luis' Apartment/materials/models/arctic0ne/gtaiv/shared/detail_rock8.vtf
[GTA IV TBOGT] Luis' Apartment/materials/models/arctic0ne/gtaiv/shared/detail_metal15.vtf
[GTA IV TBOGT] Luis' Apartment/materials/models/arctic0ne/gtaiv/shared/env_cloth.vtf
[GTA IV TBOGT] Luis' Apartment/materials/models/arctic0ne/gtaiv/shared/lightwarp_soft.vtf
[GTA IV TBOGT] Luis' Apartment/materials/models/arctic0ne/gtaiv/shared/bm_concrete_detail_05.vtf
[GTA IV TBOGT] Luis' Apartment/materials/models/arctic0ne/gtaiv/shared/flat_normal_alt4.vtf
[GTA IV TBOGT] Luis' Apartment/materials/models/arctic0ne/gtaiv/shared/lightwarp_mask.vtf
[GTA IV TBOGT] Luis' Apartment/materials/models/arctic0ne/gtaiv/shared/phongwarp_metal.vtf
[GTA IV TBOGT] Luis' Apartment/materials/models/arctic0ne/gtaiv/shared/detail_metal11.vtf
[GTA IV TBOGT] Luis' Apartment/materials/models/arctic0ne/gtaiv/shared/detail_cloth_01.vtf
[GTA IV TBOGT] Luis' Apartment/materials/models/arctic0ne/gtaiv/shared/detail_cloth_b2s.vtf
[GTA IV TBOGT] Luis' Apartment/materials/models/arctic0ne/gtaiv/shared/detail_leather_02.vtf
[GTA IV TBOGT] Luis' Apartment/materials/models/arctic0ne/gtaiv/shared/flat_normal_alt3.vtf
[GTA IV TBOGT] Luis' Apartment/materials/models/arctic0ne/gtaiv/shared/phongwarp_sheen.vtf
[GTA IV TBOGT] Luis' Apartment/materials/models/arctic0ne/gtaiv/shared/detail_metal_001.vtf
[GTA IV TBOGT] Luis' Apartment/materials/models/arctic0ne/gtaiv/shared/detail_wood_vertical.vtf
[GTA IV TBOGT] Luis' Apartment/materials/models/arctic0ne/gtaiv/shared/turtleneck_detail.vtf
[GTA IV TBOGT] Luis' Apartment/materials/models/arctic0ne/gtaiv/shared/green_noisy2.vtf
[GTA IV TBOGT] Luis' Apartment/materials/models/arctic0ne/gtaiv/shared/detail_metal6.vtf
[GTA IV TBOGT] Luis' Apartment/materials/models/arctic0ne/gtaiv/shared/softsilver.vtf
[GTA IV TBOGT] Luis' Apartment/materials/models/arctic0ne/gtaiv/shared/detail_fur.vtf
[GTA IV TBOGT] Luis' Apartment/materials/models/arctic0ne/gtaiv/shared/env_smooth_concrete2.vtf
[GTA IV TBOGT] Luis' Apartment/materials/models/arctic0ne/gtaiv/shared/phongwarp_water.vtf
[GTA IV TBOGT] Luis' Apartment/materials/models/arctic0ne/gtaiv/shared/micronormal.vtf
[GTA IV TBOGT] Luis' Apartment/materials/models/arctic0ne/gtaiv/shared/chrome.vtf
[GTA IV TBOGT] Luis' Apartment/materials/models/arctic0ne/gtaiv/shared/detail_wood_1_1.vtf
[GTA IV TBOGT] Luis' Apartment/materials/models/arctic0ne/gtaiv/shared/extra_carpet_detail_v2.vtf
[GTA IV TBOGT] Luis' Apartment/materials/models/arctic0ne/gtaiv/shared/flat_normal_alt.vtf
[GTA IV TBOGT] Luis' Apartment/materials/models/arctic0ne/gtaiv/shared/detail_paper_01.vtf
[GTA IV TBOGT] Luis' Apartment/materials/models/arctic0ne/gtaiv/shared/detail_wood_01.vtf
[GTA IV TBOGT] Luis' Apartment/materials/models/arctic0ne/gtaiv/shared/detail_scratches2.vtf
[GTA IV TBOGT] Luis' Apartment/materials/models/arctic0ne/gtaiv/shared/detail_cloth.vtf
[GTA IV TBOGT] Luis' Apartment/materials/models/arctic0ne/gtaiv/shared/detail_metal14.vtf
[GTA IV TBOGT] Luis' Apartment/materials/models/arctic0ne/gtaiv/shared/detail_fur3.vtf
[GTA IV TBOGT] Luis' Apartment/materials/models/arctic0ne/gtaiv/shared/env_stucco.vtf
[GTA IV TBOGT] Luis' Apartment/materials/models/arctic0ne/gtaiv/shared/env_crusty.vtf
[GTA IV TBOGT] Luis' Apartment/materials/models/arctic0ne/gtaiv/shared/env_woodgrain_2.vtf
[GTA IV TBOGT] Luis' Apartment/materials/models/arctic0ne/gtaiv/shared/lightwarp_leather.vtf
[GTA IV TBOGT] Luis' Apartment/materials/models/arctic0ne/gtaiv/shared/cubemap_specular001.vtf
[GTA IV TBOGT] Luis' Apartment/materials/models/arctic0ne/gtaiv/shared/detail_dirt4.vtf
[GTA IV TBOGT] Luis' Apartment/materials/models/arctic0ne/gtaiv/shared/phongexponent.vtf
[GTA IV TBOGT] Luis' Apartment/materials/models/arctic0ne/gtaiv/shared/detail_stone_01.vtf
[GTA IV TBOGT] Luis' Apartment/materials/models/arctic0ne/gtaiv/shared/detail_concrete6.vtf
[GTA IV TBOGT] Luis' Apartment/materials/models/arctic0ne/gtaiv/shared/detail_wood_01_1.vtf
[GTA IV TBOGT] Luis' Apartment/materials/models/arctic0ne/gtaiv/shared/rug_normal.vtf
[GTA IV TBOGT] Luis' Apartment/materials/models/arctic0ne/gtaiv/shared/detail_leather6.vtf
[GTA IV TBOGT] Luis' Apartment/materials/models/arctic0ne/gtaiv/paper/gb_perseus_paper01.vmt
[GTA IV TBOGT] Luis' Apartment/materials/models/arctic0ne/gtaiv/paper/gb_perseus_paper01.vtf
[GTA IV TBOGT] Luis' Apartment/materials/models/arctic0ne/gtaiv/paper/gz_e2_binbag.vmt
[GTA IV TBOGT] Luis' Apartment/materials/models/arctic0ne/gtaiv/paper/gz_e2_binbag_n.vtf
[GTA IV TBOGT] Luis' Apartment/materials/models/arctic0ne/gtaiv/paper/gz_e2_binbag.vtf
[GTA IV TBOGT] Luis' Apartment/materials/models/arctic0ne/gtaiv/trims/ah_bronxcorn.vtf
[GTA IV TBOGT] Luis' Apartment/materials/models/arctic0ne/gtaiv/trims/ah_brownerarchbots.vtf
[GTA IV TBOGT] Luis' Apartment/materials/models/arctic0ne/gtaiv/trims/e2_luisarchdet.vmt
[GTA IV TBOGT] Luis' Apartment/materials/models/arctic0ne/gtaiv/trims/e2_luiskarch.vtf
[GTA IV TBOGT] Luis' Apartment/materials/models/arctic0ne/gtaiv/trims/e2_luiskarch_nrm.vtf
[GTA IV TBOGT] Luis' Apartment/materials/models/arctic0ne/gtaiv/trims/e2_luisskrtpaint.vtf
[GTA IV TBOGT] Luis' Apartment/materials/models/arctic0ne/gtaiv/trims/e2_luiskarch.vmt
[GTA IV TBOGT] Luis' Apartment/materials/models/arctic0ne/gtaiv/trims/ah_brownerdetail_nrm.vtf
[GTA IV TBOGT] Luis' Apartment/materials/models/arctic0ne/gtaiv/trims/e2_luisskrtpaint.vmt
[GTA IV TBOGT] Luis' Apartment/materials/models/arctic0ne/gtaiv/trims/e2_luiskirtblue.vtf
[GTA IV TBOGT] Luis' Apartment/materials/models/arctic0ne/gtaiv/trims/e2_luiskirtblue_nrm.vtf
[GTA IV TBOGT] Luis' Apartment/materials/models/arctic0ne/gtaiv/trims/e2_luisarchdet.vtf
[GTA IV TBOGT] Luis' Apartment/materials/models/arctic0ne/gtaiv/trims/e2_luiskirtblue.vmt
[GTA IV TBOGT] Luis' Apartment/materials/models/arctic0ne/gtaiv/trims/ah_bronxcorn.vmt
[GTA IV TBOGT] Luis' Apartment/materials/models/arctic0ne/gtaiv/decals/gb_cupstaindecalgb_cupstaindecalo.vmt
[GTA IV TBOGT] Luis' Apartment/materials/models/arctic0ne/gtaiv/decals/gb_cupstaindecalgb_cupstaindecalo.vtf