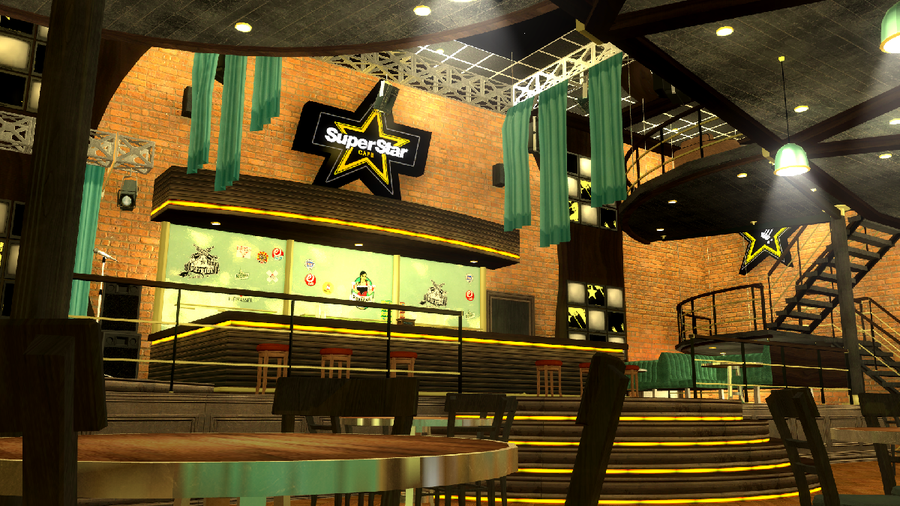 Show more
Description
A winning bar-restaurant formula combining the Brits' love of bad food and the Americans' love of themed merchandise.
GTA IV Manual Description
Info: The Superstar Café is a high-end venue restaurant in Grand Theft Auto IV based on the Hard Rock Café and the All Star Café. The Superstar Café has two locations, one situated in The Triangle and one by Lancaster, now opening a third joint in Garry's Mod!
This map is my second attempt on porting a location to Garry's Mod (with the first attempt being a faulty version of SSBUlt's Spiral Mountain, which never saw a release) with my own personal touch to the place. Youll notice that a handful of things have been altered from the original and that is to hopefully make the place more lively-looking unlike it's GTA IV counterparts and the outdoor innacuracies are a result of GTA IV not having it's own Codewalker, having to rely on IPLs. This map is for SCENEBUILD ONLY!
Please do leave some feedback, as i'm still a novice with Hammer and this map was made in 5 days. Hopefully with the constructive feedback, i'll get enough experience to port more GTA IV locations, who knows!
Side note: If you're going to modify any of the materials, models or map itself, please do ask me for permission first. It doesn't hurt to ask depending on the things you have in mind. Thank you!
Features: ⦁ superstar_cafe.bsp and map thumbnail ⦁ 94 models, ranging from tables, seats and even buildings, ready for use outside of the map ⦁ 477 textures, majority fine-tuned, some animated by me and some animated by my friend ⦁ Hopefully optimized as much as i could (200+ fps on the upper and lower floors, 135 on the stairs)
Credits: Rockstar Games - Creating GTA IV and it's related assets Timburr472 - Converting a few tiled textures for me Massive Legend 11 - General feedback and ideas ArcticOne - Porting and editing models and textures, map making testing and losing some sleep learning Hammer MARK2580 - Inspiration for porting GTA related stuff and file structs Mark Wakefield-SFM port
Original gmod addon-https://steamcommunity.com/sharedfiles/filedetails/?id=2721034923
SFMLab is a free service. However, it costs about $0.03 to deliver you a 1GB file. With over 20TB of traffic every month and growing, SFMLab needs your help. If only 1% of our users each gave us $5 for a single month, we could keep the site running for several years.
Filename
Downloads
Created
Filesize
Files
GTA IV Superstar Cafe.rar
993
2022-06-19 15:08:16
44.42 MB
File contents:

[GTA IV] Superstar Cafe/maps/superstar_cafe.bsp
[GTA IV] Superstar Cafe/maps/thumb/superstar_cafe.png
[GTA IV] Superstar Cafe/models/arctic0ne/gtaiv/doors/door_retail.mdl
[GTA IV] Superstar Cafe/models/arctic0ne/gtaiv/doors/door_retail.dx80.vtx
[GTA IV] Superstar Cafe/models/arctic0ne/gtaiv/doors/door_fire.phy
[GTA IV] Superstar Cafe/models/arctic0ne/gtaiv/doors/door_cia.mdl
[GTA IV] Superstar Cafe/models/arctic0ne/gtaiv/doors/door_cia.phy
[GTA IV] Superstar Cafe/models/arctic0ne/gtaiv/doors/door_fire.dx90.vtx
[GTA IV] Superstar Cafe/models/arctic0ne/gtaiv/doors/door_retail.vvd
[GTA IV] Superstar Cafe/models/arctic0ne/gtaiv/doors/door_cia.sw.vtx
[GTA IV] Superstar Cafe/models/arctic0ne/gtaiv/doors/door_fire.sw.vtx
[GTA IV] Superstar Cafe/models/arctic0ne/gtaiv/doors/door_fire.vvd
[GTA IV] Superstar Cafe/models/arctic0ne/gtaiv/doors/door_retail.dx90.vtx
[GTA IV] Superstar Cafe/models/arctic0ne/gtaiv/doors/door_retail.phy
[GTA IV] Superstar Cafe/models/arctic0ne/gtaiv/doors/door_cia.dx90.vtx
[GTA IV] Superstar Cafe/models/arctic0ne/gtaiv/doors/door_fire.mdl
[GTA IV] Superstar Cafe/models/arctic0ne/gtaiv/doors/door_retail.sw.vtx
[GTA IV] Superstar Cafe/models/arctic0ne/gtaiv/doors/door_fire.dx80.vtx
[GTA IV] Superstar Cafe/models/arctic0ne/gtaiv/doors/door_cia.vvd
[GTA IV] Superstar Cafe/models/arctic0ne/gtaiv/doors/door_cia.dx80.vtx
[GTA IV] Superstar Cafe/models/arctic0ne/gtaiv/seating/booth_2.vvd
[GTA IV] Superstar Cafe/models/arctic0ne/gtaiv/seating/booth_2.sw.vtx
[GTA IV] Superstar Cafe/models/arctic0ne/gtaiv/seating/booth_1.sw.vtx
[GTA IV] Superstar Cafe/models/arctic0ne/gtaiv/seating/booth_2.mdl
[GTA IV] Superstar Cafe/models/arctic0ne/gtaiv/seating/bar_stool_2.sw.vtx
[GTA IV] Superstar Cafe/models/arctic0ne/gtaiv/seating/bar_stool_2.dx90.vtx
[GTA IV] Superstar Cafe/models/arctic0ne/gtaiv/seating/chair_6.dx90.vtx
[GTA IV] Superstar Cafe/models/arctic0ne/gtaiv/seating/club_chair.dx80.vtx
[GTA IV] Superstar Cafe/models/arctic0ne/gtaiv/seating/club_chair.mdl
[GTA IV] Superstar Cafe/models/arctic0ne/gtaiv/seating/booth_1.mdl
[GTA IV] Superstar Cafe/models/arctic0ne/gtaiv/seating/booth_1.vvd
[GTA IV] Superstar Cafe/models/arctic0ne/gtaiv/seating/bar_stool_2.vvd
[GTA IV] Superstar Cafe/models/arctic0ne/gtaiv/seating/club_chair.vvd
[GTA IV] Superstar Cafe/models/arctic0ne/gtaiv/seating/booth_1.dx80.vtx
[GTA IV] Superstar Cafe/models/arctic0ne/gtaiv/seating/chair_6.sw.vtx
[GTA IV] Superstar Cafe/models/arctic0ne/gtaiv/seating/booth_1.dx90.vtx
[GTA IV] Superstar Cafe/models/arctic0ne/gtaiv/seating/club_chair.phy
[GTA IV] Superstar Cafe/models/arctic0ne/gtaiv/seating/club_chair.sw.vtx
[GTA IV] Superstar Cafe/models/arctic0ne/gtaiv/seating/chair_6.vvd
[GTA IV] Superstar Cafe/models/arctic0ne/gtaiv/seating/bar_stool_2.phy
[GTA IV] Superstar Cafe/models/arctic0ne/gtaiv/seating/chair_6.dx80.vtx
[GTA IV] Superstar Cafe/models/arctic0ne/gtaiv/seating/chair_6.phy
[GTA IV] Superstar Cafe/models/arctic0ne/gtaiv/seating/booth_2.dx80.vtx
[GTA IV] Superstar Cafe/models/arctic0ne/gtaiv/seating/bar_stool_2.mdl
[GTA IV] Superstar Cafe/models/arctic0ne/gtaiv/seating/bar_stool_2.dx80.vtx
[GTA IV] Superstar Cafe/models/arctic0ne/gtaiv/seating/booth_1.phy
[GTA IV] Superstar Cafe/models/arctic0ne/gtaiv/seating/chair_6.mdl
[GTA IV] Superstar Cafe/models/arctic0ne/gtaiv/seating/club_chair.dx90.vtx
[GTA IV] Superstar Cafe/models/arctic0ne/gtaiv/seating/booth_2.phy
[GTA IV] Superstar Cafe/models/arctic0ne/gtaiv/seating/booth_2.dx90.vtx
[GTA IV] Superstar Cafe/models/arctic0ne/gtaiv/retail/plastic_cups.sw.vtx
[GTA IV] Superstar Cafe/models/arctic0ne/gtaiv/retail/flappy_bin.mdl
[GTA IV] Superstar Cafe/models/arctic0ne/gtaiv/retail/flappy_bin.vvd
[GTA IV] Superstar Cafe/models/arctic0ne/gtaiv/retail/spicy_chips.vvd
[GTA IV] Superstar Cafe/models/arctic0ne/gtaiv/retail/flappy_bin.phy
[GTA IV] Superstar Cafe/models/arctic0ne/gtaiv/retail/soda_dispenser.vvd
[GTA IV] Superstar Cafe/models/arctic0ne/gtaiv/retail/soda_dispenser.phy
[GTA IV] Superstar Cafe/models/arctic0ne/gtaiv/retail/old_register.dx90.vtx
[GTA IV] Superstar Cafe/models/arctic0ne/gtaiv/retail/chips.mdl
[GTA IV] Superstar Cafe/models/arctic0ne/gtaiv/retail/soda_dispenser.dx80.vtx
[GTA IV] Superstar Cafe/models/arctic0ne/gtaiv/retail/chips.dx80.vtx
[GTA IV] Superstar Cafe/models/arctic0ne/gtaiv/retail/chips.sw.vtx
[GTA IV] Superstar Cafe/models/arctic0ne/gtaiv/retail/soda_dispenser.dx90.vtx
[GTA IV] Superstar Cafe/models/arctic0ne/gtaiv/retail/spicy_chips.dx90.vtx
[GTA IV] Superstar Cafe/models/arctic0ne/gtaiv/retail/plastic_cups.mdl
[GTA IV] Superstar Cafe/models/arctic0ne/gtaiv/retail/flappy_bin.sw.vtx
[GTA IV] Superstar Cafe/models/arctic0ne/gtaiv/retail/flappy_bin.dx90.vtx
[GTA IV] Superstar Cafe/models/arctic0ne/gtaiv/retail/old_register.vvd
[GTA IV] Superstar Cafe/models/arctic0ne/gtaiv/retail/plastic_cups.dx80.vtx
[GTA IV] Superstar Cafe/models/arctic0ne/gtaiv/retail/spicy_chips.mdl
[GTA IV] Superstar Cafe/models/arctic0ne/gtaiv/retail/spicy_chips.dx80.vtx
[GTA IV] Superstar Cafe/models/arctic0ne/gtaiv/retail/flappy_bin.dx80.vtx
[GTA IV] Superstar Cafe/models/arctic0ne/gtaiv/retail/old_register.dx80.vtx
[GTA IV] Superstar Cafe/models/arctic0ne/gtaiv/retail/soda_dispenser.sw.vtx
[GTA IV] Superstar Cafe/models/arctic0ne/gtaiv/retail/chips.dx90.vtx
[GTA IV] Superstar Cafe/models/arctic0ne/gtaiv/retail/plastic_cups.phy
[GTA IV] Superstar Cafe/models/arctic0ne/gtaiv/retail/soda_dispenser.mdl
[GTA IV] Superstar Cafe/models/arctic0ne/gtaiv/retail/spicy_chips.phy
[GTA IV] Superstar Cafe/models/arctic0ne/gtaiv/retail/chips.vvd
[GTA IV] Superstar Cafe/models/arctic0ne/gtaiv/retail/spicy_chips.sw.vtx
[GTA IV] Superstar Cafe/models/arctic0ne/gtaiv/retail/old_register.phy
[GTA IV] Superstar Cafe/models/arctic0ne/gtaiv/retail/plastic_cups.vvd
[GTA IV] Superstar Cafe/models/arctic0ne/gtaiv/retail/old_register.mdl
[GTA IV] Superstar Cafe/models/arctic0ne/gtaiv/retail/old_register.sw.vtx
[GTA IV] Superstar Cafe/models/arctic0ne/gtaiv/retail/chips.phy
[GTA IV] Superstar Cafe/models/arctic0ne/gtaiv/retail/plastic_cups.dx90.vtx
[GTA IV] Superstar Cafe/models/arctic0ne/gtaiv/wall/rscafe_pillar_med.dx90.vtx
[GTA IV] Superstar Cafe/models/arctic0ne/gtaiv/wall/rscafe_wall_deco.vvd
[GTA IV] Superstar Cafe/models/arctic0ne/gtaiv/wall/rscafe_pillar.phy
[GTA IV] Superstar Cafe/models/arctic0ne/gtaiv/wall/rscafe_pillar_med.phy
[GTA IV] Superstar Cafe/models/arctic0ne/gtaiv/wall/rscafe_pillar.dx90.vtx
[GTA IV] Superstar Cafe/models/arctic0ne/gtaiv/wall/rscafe_pillar_med.vvd
[GTA IV] Superstar Cafe/models/arctic0ne/gtaiv/wall/rscafe_pillar.dx80.vtx
[GTA IV] Superstar Cafe/models/arctic0ne/gtaiv/wall/rscafe_pillar.vvd
[GTA IV] Superstar Cafe/models/arctic0ne/gtaiv/wall/rscafe_wall_deco.dx90.vtx
[GTA IV] Superstar Cafe/models/arctic0ne/gtaiv/wall/rscafe_pillar_med.sw.vtx
[GTA IV] Superstar Cafe/models/arctic0ne/gtaiv/wall/rscafe_pillar.sw.vtx
[GTA IV] Superstar Cafe/models/arctic0ne/gtaiv/wall/rscafe_pillar_med.dx80.vtx
[GTA IV] Superstar Cafe/models/arctic0ne/gtaiv/wall/rscafe_wall_deco.mdl
[GTA IV] Superstar Cafe/models/arctic0ne/gtaiv/wall/rscafe_pillar_short.dx90.vtx
[GTA IV] Superstar Cafe/models/arctic0ne/gtaiv/wall/rscafe_pillar_short.vvd
[GTA IV] Superstar Cafe/models/arctic0ne/gtaiv/wall/rscafe_wall_deco.sw.vtx
[GTA IV] Superstar Cafe/models/arctic0ne/gtaiv/wall/rscafe_wall_deco.dx80.vtx
[GTA IV] Superstar Cafe/models/arctic0ne/gtaiv/wall/rscafe_pillar_med.mdl
[GTA IV] Superstar Cafe/models/arctic0ne/gtaiv/wall/rscafe_pillar_short.phy
[GTA IV] Superstar Cafe/models/arctic0ne/gtaiv/wall/rscafe_pillar_short.sw.vtx
[GTA IV] Superstar Cafe/models/arctic0ne/gtaiv/wall/rscafe_pillar.mdl
[GTA IV] Superstar Cafe/models/arctic0ne/gtaiv/wall/rscafe_pillar_short.dx80.vtx
[GTA IV] Superstar Cafe/models/arctic0ne/gtaiv/wall/rscafe_pillar_short.mdl
[GTA IV] Superstar Cafe/models/arctic0ne/gtaiv/electrical/exit_sign_1.phy
[GTA IV] Superstar Cafe/models/arctic0ne/gtaiv/electrical/speaker_wall.mdl
[GTA IV] Superstar Cafe/models/arctic0ne/gtaiv/electrical/ceiling_tv.sw.vtx
[GTA IV] Superstar Cafe/models/arctic0ne/gtaiv/electrical/rscafe_tv_1.dx80.vtx
[GTA IV] Superstar Cafe/models/arctic0ne/gtaiv/electrical/microphone.dx80.vtx
[GTA IV] Superstar Cafe/models/arctic0ne/gtaiv/electrical/rscafe_tv_2.mdl
[GTA IV] Superstar Cafe/models/arctic0ne/gtaiv/electrical/ceiling_tv.dx80.vtx
[GTA IV] Superstar Cafe/models/arctic0ne/gtaiv/electrical/rscafe_tv_2.vvd
[GTA IV] Superstar Cafe/models/arctic0ne/gtaiv/electrical/espresso_machine.vvd
[GTA IV] Superstar Cafe/models/arctic0ne/gtaiv/electrical/ceiling_tv.phy
[GTA IV] Superstar Cafe/models/arctic0ne/gtaiv/electrical/exit_sign_1.sw.vtx
[GTA IV] Superstar Cafe/models/arctic0ne/gtaiv/electrical/speaker_club.dx90.vtx
[GTA IV] Superstar Cafe/models/arctic0ne/gtaiv/electrical/rscafe_tv_2.sw.vtx
[GTA IV] Superstar Cafe/models/arctic0ne/gtaiv/electrical/espresso_machine.dx90.vtx
[GTA IV] Superstar Cafe/models/arctic0ne/gtaiv/electrical/espresso_machine.sw.vtx
[GTA IV] Superstar Cafe/models/arctic0ne/gtaiv/electrical/speaker_club.phy
[GTA IV] Superstar Cafe/models/arctic0ne/gtaiv/electrical/exit_sign_1.mdl
[GTA IV] Superstar Cafe/models/arctic0ne/gtaiv/electrical/microphone.mdl
[GTA IV] Superstar Cafe/models/arctic0ne/gtaiv/electrical/microphone.phy
[GTA IV] Superstar Cafe/models/arctic0ne/gtaiv/electrical/exit_sign_1.dx80.vtx
[GTA IV] Superstar Cafe/models/arctic0ne/gtaiv/electrical/speaker_wall.dx80.vtx
[GTA IV] Superstar Cafe/models/arctic0ne/gtaiv/electrical/speaker_wall.phy
[GTA IV] Superstar Cafe/models/arctic0ne/gtaiv/electrical/rscafe_tv_1.dx90.vtx
[GTA IV] Superstar Cafe/models/arctic0ne/gtaiv/electrical/rscafe_tv_1.mdl
[GTA IV] Superstar Cafe/models/arctic0ne/gtaiv/electrical/rscafe_tv_2.phy
[GTA IV] Superstar Cafe/models/arctic0ne/gtaiv/electrical/espresso_machine.dx80.vtx
[GTA IV] Superstar Cafe/models/arctic0ne/gtaiv/electrical/espresso_machine.phy
[GTA IV] Superstar Cafe/models/arctic0ne/gtaiv/electrical/rscafe_tv_1.vvd
[GTA IV] Superstar Cafe/models/arctic0ne/gtaiv/electrical/speaker_club.mdl
[GTA IV] Superstar Cafe/models/arctic0ne/gtaiv/electrical/speaker_club.vvd
[GTA IV] Superstar Cafe/models/arctic0ne/gtaiv/electrical/espresso_machine.mdl
[GTA IV] Superstar Cafe/models/arctic0ne/gtaiv/electrical/microphone.sw.vtx
[GTA IV] Superstar Cafe/models/arctic0ne/gtaiv/electrical/ceiling_tv.vvd
[GTA IV] Superstar Cafe/models/arctic0ne/gtaiv/electrical/speaker_wall.dx90.vtx
[GTA IV] Superstar Cafe/models/arctic0ne/gtaiv/electrical/rscafe_tv_1.phy
[GTA IV] Superstar Cafe/models/arctic0ne/gtaiv/electrical/microphone.dx90.vtx
[GTA IV] Superstar Cafe/models/arctic0ne/gtaiv/electrical/speaker_wall.sw.vtx
[GTA IV] Superstar Cafe/models/arctic0ne/gtaiv/electrical/speaker_club.dx80.vtx
[GTA IV] Superstar Cafe/models/arctic0ne/gtaiv/electrical/ceiling_tv.mdl
[GTA IV] Superstar Cafe/models/arctic0ne/gtaiv/electrical/rscafe_tv_2.dx90.vtx
[GTA IV] Superstar Cafe/models/arctic0ne/gtaiv/electrical/exit_sign_1.vvd
[GTA IV] Superstar Cafe/models/arctic0ne/gtaiv/electrical/rscafe_tv_2.dx80.vtx
[GTA IV] Superstar Cafe/models/arctic0ne/gtaiv/electrical/ceiling_tv.dx90.vtx
[GTA IV] Superstar Cafe/models/arctic0ne/gtaiv/electrical/microphone.vvd
[GTA IV] Superstar Cafe/models/arctic0ne/gtaiv/electrical/exit_sign_1.dx90.vtx
[GTA IV] Superstar Cafe/models/arctic0ne/gtaiv/electrical/speaker_wall.vvd
[GTA IV] Superstar Cafe/models/arctic0ne/gtaiv/electrical/speaker_club.sw.vtx
[GTA IV] Superstar Cafe/models/arctic0ne/gtaiv/electrical/rscafe_tv_1.sw.vtx
[GTA IV] Superstar Cafe/models/arctic0ne/gtaiv/exterior/canopy_superstar.phy
[GTA IV] Superstar Cafe/models/arctic0ne/gtaiv/exterior/concrete_bollard.mdl
[GTA IV] Superstar Cafe/models/arctic0ne/gtaiv/exterior/magazine_kiosk.dx80.vtx
[GTA IV] Superstar Cafe/models/arctic0ne/gtaiv/exterior/concrete_bollard.sw.vtx
[GTA IV] Superstar Cafe/models/arctic0ne/gtaiv/exterior/bin_6.dx90.vtx
[GTA IV] Superstar Cafe/models/arctic0ne/gtaiv/exterior/canopy_superstar.dx90.vtx
[GTA IV] Superstar Cafe/models/arctic0ne/gtaiv/exterior/lamp_ny_5.dx90.vtx
[GTA IV] Superstar Cafe/models/arctic0ne/gtaiv/exterior/lamp_ny_6.vvd
[GTA IV] Superstar Cafe/models/arctic0ne/gtaiv/exterior/lamp_ny_6.dx80.vtx
[GTA IV] Superstar Cafe/models/arctic0ne/gtaiv/exterior/magazine_kiosk.phy
[GTA IV] Superstar Cafe/models/arctic0ne/gtaiv/exterior/lamp_ny_6.sw.vtx
[GTA IV] Superstar Cafe/models/arctic0ne/gtaiv/exterior/magazine_kiosk.sw.vtx
[GTA IV] Superstar Cafe/models/arctic0ne/gtaiv/exterior/bin_6.vvd
[GTA IV] Superstar Cafe/models/arctic0ne/gtaiv/exterior/lamp_ny_5.dx80.vtx
[GTA IV] Superstar Cafe/models/arctic0ne/gtaiv/exterior/concrete_bollard.dx80.vtx
[GTA IV] Superstar Cafe/models/arctic0ne/gtaiv/exterior/bin_6.sw.vtx
[GTA IV] Superstar Cafe/models/arctic0ne/gtaiv/exterior/canopy_superstar.vvd
[GTA IV] Superstar Cafe/models/arctic0ne/gtaiv/exterior/magazine_kiosk.dx90.vtx
[GTA IV] Superstar Cafe/models/arctic0ne/gtaiv/exterior/bin_6.phy
[GTA IV] Superstar Cafe/models/arctic0ne/gtaiv/exterior/concrete_bollard.vvd
[GTA IV] Superstar Cafe/models/arctic0ne/gtaiv/exterior/lamp_ny_5.sw.vtx
[GTA IV] Superstar Cafe/models/arctic0ne/gtaiv/exterior/magazine_kiosk.mdl
[GTA IV] Superstar Cafe/models/arctic0ne/gtaiv/exterior/lamp_ny_6.mdl
[GTA IV] Superstar Cafe/models/arctic0ne/gtaiv/exterior/magazine_kiosk.vvd
[GTA IV] Superstar Cafe/models/arctic0ne/gtaiv/exterior/lamp_ny_5.phy
[GTA IV] Superstar Cafe/models/arctic0ne/gtaiv/exterior/lamp_ny_5.mdl
[GTA IV] Superstar Cafe/models/arctic0ne/gtaiv/exterior/canopy_superstar.dx80.vtx
[GTA IV] Superstar Cafe/models/arctic0ne/gtaiv/exterior/lamp_ny_6.dx90.vtx
[GTA IV] Superstar Cafe/models/arctic0ne/gtaiv/exterior/canopy_superstar.sw.vtx
[GTA IV] Superstar Cafe/models/arctic0ne/gtaiv/exterior/bin_6.dx80.vtx
[GTA IV] Superstar Cafe/models/arctic0ne/gtaiv/exterior/concrete_bollard.dx90.vtx
[GTA IV] Superstar Cafe/models/arctic0ne/gtaiv/exterior/canopy_superstar.mdl
[GTA IV] Superstar Cafe/models/arctic0ne/gtaiv/exterior/bin_6.mdl
[GTA IV] Superstar Cafe/models/arctic0ne/gtaiv/exterior/lamp_ny_6.phy
[GTA IV] Superstar Cafe/models/arctic0ne/gtaiv/exterior/lamp_ny_5.vvd
[GTA IV] Superstar Cafe/models/arctic0ne/gtaiv/exterior/concrete_bollard.phy
[GTA IV] Superstar Cafe/models/arctic0ne/gtaiv/floor/rscafe_tile.vvd
[GTA IV] Superstar Cafe/models/arctic0ne/gtaiv/floor/rscafe_tile.dx80.vtx
[GTA IV] Superstar Cafe/models/arctic0ne/gtaiv/floor/rscafe_tile.sw.vtx
[GTA IV] Superstar Cafe/models/arctic0ne/gtaiv/floor/rscafe_tile.dx90.vtx
[GTA IV] Superstar Cafe/models/arctic0ne/gtaiv/floor/rscafe_tile.mdl
[GTA IV] Superstar Cafe/models/arctic0ne/gtaiv/lights/rscafe_constellation.dx80.vtx
[GTA IV] Superstar Cafe/models/arctic0ne/gtaiv/lights/rscafe_inset_light.dx80.vtx
[GTA IV] Superstar Cafe/models/arctic0ne/gtaiv/lights/hanging_light_1.vvd
[GTA IV] Superstar Cafe/models/arctic0ne/gtaiv/lights/rscafe_inset_light.vvd
[GTA IV] Superstar Cafe/models/arctic0ne/gtaiv/lights/spotlight.sw.vtx
[GTA IV] Superstar Cafe/models/arctic0ne/gtaiv/lights/lightbulbs_square.dx90.vtx
[GTA IV] Superstar Cafe/models/arctic0ne/gtaiv/lights/rscafe_constellation.dx90.vtx
[GTA IV] Superstar Cafe/models/arctic0ne/gtaiv/lights/lightbulbs_line.mdl
[GTA IV] Superstar Cafe/models/arctic0ne/gtaiv/lights/lightbulbs_line.dx80.vtx
[GTA IV] Superstar Cafe/models/arctic0ne/gtaiv/lights/lightbulbs_square.vvd
[GTA IV] Superstar Cafe/models/arctic0ne/gtaiv/lights/spotlight.dx80.vtx
[GTA IV] Superstar Cafe/models/arctic0ne/gtaiv/lights/lightbulbs_square.phy
[GTA IV] Superstar Cafe/models/arctic0ne/gtaiv/lights/hanging_light_1.dx90.vtx
[GTA IV] Superstar Cafe/models/arctic0ne/gtaiv/lights/lightbulbs_square.dx80.vtx
[GTA IV] Superstar Cafe/models/arctic0ne/gtaiv/lights/lightbulbs_line.vvd
[GTA IV] Superstar Cafe/models/arctic0ne/gtaiv/lights/spotlight.vvd
[GTA IV] Superstar Cafe/models/arctic0ne/gtaiv/lights/rscafe_constellation.sw.vtx
[GTA IV] Superstar Cafe/models/arctic0ne/gtaiv/lights/lightbulbs_square.mdl
[GTA IV] Superstar Cafe/models/arctic0ne/gtaiv/lights/rscafe_inset_light.dx90.vtx
[GTA IV] Superstar Cafe/models/arctic0ne/gtaiv/lights/hanging_light_1.phy
[GTA IV] Superstar Cafe/models/arctic0ne/gtaiv/lights/rscafe_constellation.vvd
[GTA IV] Superstar Cafe/models/arctic0ne/gtaiv/lights/lightbulbs_line.sw.vtx
[GTA IV] Superstar Cafe/models/arctic0ne/gtaiv/lights/spotlight.phy
[GTA IV] Superstar Cafe/models/arctic0ne/gtaiv/lights/lightbulbs_square.sw.vtx
[GTA IV] Superstar Cafe/models/arctic0ne/gtaiv/lights/rscafe_inset_light.mdl
[GTA IV] Superstar Cafe/models/arctic0ne/gtaiv/lights/hanging_light_1.dx80.vtx
[GTA IV] Superstar Cafe/models/arctic0ne/gtaiv/lights/lightbulbs_line.dx90.vtx
[GTA IV] Superstar Cafe/models/arctic0ne/gtaiv/lights/rscafe_constellation.mdl
[GTA IV] Superstar Cafe/models/arctic0ne/gtaiv/lights/spotlight.dx90.vtx
[GTA IV] Superstar Cafe/models/arctic0ne/gtaiv/lights/hanging_light_1.sw.vtx
[GTA IV] Superstar Cafe/models/arctic0ne/gtaiv/lights/rscafe_inset_light.sw.vtx
[GTA IV] Superstar Cafe/models/arctic0ne/gtaiv/lights/lightbulbs_line.phy
[GTA IV] Superstar Cafe/models/arctic0ne/gtaiv/lights/hanging_light_1.mdl
[GTA IV] Superstar Cafe/models/arctic0ne/gtaiv/lights/rscafe_inset_light.phy
[GTA IV] Superstar Cafe/models/arctic0ne/gtaiv/lights/spotlight.mdl
[GTA IV] Superstar Cafe/models/arctic0ne/gtaiv/handrails/rscafe_handrail_curve.vvd
[GTA IV] Superstar Cafe/models/arctic0ne/gtaiv/handrails/rscafe_handrail_short.mdl
[GTA IV] Superstar Cafe/models/arctic0ne/gtaiv/handrails/rscafe_handrail_short.dx80.vtx
[GTA IV] Superstar Cafe/models/arctic0ne/gtaiv/handrails/rscafe_handrail_curve.dx80.vtx
[GTA IV] Superstar Cafe/models/arctic0ne/gtaiv/handrails/rscafe_handrail_slanted_med_1.phy
[GTA IV] Superstar Cafe/models/arctic0ne/gtaiv/handrails/rscafe_handrail_4step.vvd
[GTA IV] Superstar Cafe/models/arctic0ne/gtaiv/handrails/rscafe_handrail_short.phy
[GTA IV] Superstar Cafe/models/arctic0ne/gtaiv/handrails/rscafe_handrail_4step.mdl
[GTA IV] Superstar Cafe/models/arctic0ne/gtaiv/handrails/rscafe_handrail_curve.phy
[GTA IV] Superstar Cafe/models/arctic0ne/gtaiv/handrails/rscafe_handrail_slanted_short.dx90.vtx
[GTA IV] Superstar Cafe/models/arctic0ne/gtaiv/handrails/rscafe_handrail_slanted_med_2.mdl
[GTA IV] Superstar Cafe/models/arctic0ne/gtaiv/handrails/rscafe_handrail_slanted_med_2.sw.vtx
[GTA IV] Superstar Cafe/models/arctic0ne/gtaiv/handrails/rscafe_handrail_slanted_short.phy
[GTA IV] Superstar Cafe/models/arctic0ne/gtaiv/handrails/rscafe_handrail_str.vvd
[GTA IV] Superstar Cafe/models/arctic0ne/gtaiv/handrails/rscafe_handrail_slanted_med_1.dx90.vtx
[GTA IV] Superstar Cafe/models/arctic0ne/gtaiv/handrails/rscafe_handrail_short.dx90.vtx
[GTA IV] Superstar Cafe/models/arctic0ne/gtaiv/handrails/rscafe_handrail_4step.dx90.vtx
[GTA IV] Superstar Cafe/models/arctic0ne/gtaiv/handrails/rscafe_handrail_curve.mdl
[GTA IV] Superstar Cafe/models/arctic0ne/gtaiv/handrails/rscafe_handrail_slanted_short.mdl
[GTA IV] Superstar Cafe/models/arctic0ne/gtaiv/handrails/rscafe_handrail_slanted_short.dx80.vtx
[GTA IV] Superstar Cafe/models/arctic0ne/gtaiv/handrails/rscafe_handrail_4step.sw.vtx
[GTA IV] Superstar Cafe/models/arctic0ne/gtaiv/handrails/rscafe_handrail_str.mdl
[GTA IV] Superstar Cafe/models/arctic0ne/gtaiv/handrails/rscafe_handrail_short.sw.vtx
[GTA IV] Superstar Cafe/models/arctic0ne/gtaiv/handrails/rscafe_handrail_slanted_med_2.vvd
[GTA IV] Superstar Cafe/models/arctic0ne/gtaiv/handrails/rscafe_handrail_str.phy
[GTA IV] Superstar Cafe/models/arctic0ne/gtaiv/handrails/rscafe_handrail_slanted_med_2.dx90.vtx
[GTA IV] Superstar Cafe/models/arctic0ne/gtaiv/handrails/rscafe_handrail_slanted_med_1.mdl
[GTA IV] Superstar Cafe/models/arctic0ne/gtaiv/handrails/rscafe_handrail_curve.dx90.vtx
[GTA IV] Superstar Cafe/models/arctic0ne/gtaiv/handrails/rscafe_handrail_4step.dx80.vtx
[GTA IV] Superstar Cafe/models/arctic0ne/gtaiv/handrails/rscafe_handrail_slanted_med_2.phy
[GTA IV] Superstar Cafe/models/arctic0ne/gtaiv/handrails/rscafe_handrail_curve.sw.vtx
[GTA IV] Superstar Cafe/models/arctic0ne/gtaiv/handrails/rscafe_handrail_str.sw.vtx
[GTA IV] Superstar Cafe/models/arctic0ne/gtaiv/handrails/rscafe_handrail_short.vvd
[GTA IV] Superstar Cafe/models/arctic0ne/gtaiv/handrails/rscafe_handrail_slanted_short.sw.vtx
[GTA IV] Superstar Cafe/models/arctic0ne/gtaiv/handrails/rscafe_handrail_slanted_med_2.dx80.vtx
[GTA IV] Superstar Cafe/models/arctic0ne/gtaiv/handrails/rscafe_handrail_slanted_med_1.dx80.vtx
[GTA IV] Superstar Cafe/models/arctic0ne/gtaiv/handrails/rscafe_handrail_str.dx80.vtx
[GTA IV] Superstar Cafe/models/arctic0ne/gtaiv/handrails/rscafe_handrail_str.dx90.vtx
[GTA IV] Superstar Cafe/models/arctic0ne/gtaiv/handrails/rscafe_handrail_slanted_med_1.vvd
[GTA IV] Superstar Cafe/models/arctic0ne/gtaiv/handrails/rscafe_handrail_slanted_med_1.sw.vtx
[GTA IV] Superstar Cafe/models/arctic0ne/gtaiv/handrails/rscafe_handrail_4step.phy
[GTA IV] Superstar Cafe/models/arctic0ne/gtaiv/handrails/rscafe_handrail_slanted_short.vvd
[GTA IV] Superstar Cafe/models/arctic0ne/gtaiv/stairs/rscafe_steps.dx90.vtx
[GTA IV] Superstar Cafe/models/arctic0ne/gtaiv/stairs/rscafe_stairs_support.dx80.vtx
[GTA IV] Superstar Cafe/models/arctic0ne/gtaiv/stairs/rscafe_stairs_support.sw.vtx
[GTA IV] Superstar Cafe/models/arctic0ne/gtaiv/stairs/rscafe_stairs_support.dx90.vtx
[GTA IV] Superstar Cafe/models/arctic0ne/gtaiv/stairs/rscafe_steps.sw.vtx
[GTA IV] Superstar Cafe/models/arctic0ne/gtaiv/stairs/rscafe_steps.vvd
[GTA IV] Superstar Cafe/models/arctic0ne/gtaiv/stairs/rscafe_steps.dx80.vtx
[GTA IV] Superstar Cafe/models/arctic0ne/gtaiv/stairs/rscafe_stairs_support.mdl
[GTA IV] Superstar Cafe/models/arctic0ne/gtaiv/stairs/rscafe_steps.mdl
[GTA IV] Superstar Cafe/models/arctic0ne/gtaiv/stairs/rscafe_stairs_support.vvd
[GTA IV] Superstar Cafe/models/arctic0ne/gtaiv/stairs/rscafe_steps.phy
[GTA IV] Superstar Cafe/models/arctic0ne/gtaiv/stairs/rscafe_stairs_support.phy
[GTA IV] Superstar Cafe/models/arctic0ne/gtaiv/barprops/industrial_sink.dx90.vtx
[GTA IV] Superstar Cafe/models/arctic0ne/gtaiv/barprops/bar_fridge_slide.mdl
[GTA IV] Superstar Cafe/models/arctic0ne/gtaiv/barprops/cup_crate.mdl
[GTA IV] Superstar Cafe/models/arctic0ne/gtaiv/barprops/cup_crate_cups.phy
[GTA IV] Superstar Cafe/models/arctic0ne/gtaiv/barprops/cup_crate.vvd
[GTA IV] Superstar Cafe/models/arctic0ne/gtaiv/barprops/cup_crate.dx80.vtx
[GTA IV] Superstar Cafe/models/arctic0ne/gtaiv/barprops/cup_crate_cups.sw.vtx
[GTA IV] Superstar Cafe/models/arctic0ne/gtaiv/barprops/bar_fridge_slide.phy
[GTA IV] Superstar Cafe/models/arctic0ne/gtaiv/barprops/rscafe_bar_glass.dx90.vtx
[GTA IV] Superstar Cafe/models/arctic0ne/gtaiv/barprops/rscafe_bar_wood.mdl
[GTA IV] Superstar Cafe/models/arctic0ne/gtaiv/barprops/rscafe_bar_wood.dx80.vtx
[GTA IV] Superstar Cafe/models/arctic0ne/gtaiv/barprops/rscafe_bar_wood.phy
[GTA IV] Superstar Cafe/models/arctic0ne/gtaiv/barprops/rscafe_bar_metal.mdl
[GTA IV] Superstar Cafe/models/arctic0ne/gtaiv/barprops/bar_fridge_slide.vvd
[GTA IV] Superstar Cafe/models/arctic0ne/gtaiv/barprops/rscafe_bar_wood.vvd
[GTA IV] Superstar Cafe/models/arctic0ne/gtaiv/barprops/industrial_sink.phy
[GTA IV] Superstar Cafe/models/arctic0ne/gtaiv/barprops/rscafe_bar_metal.sw.vtx
[GTA IV] Superstar Cafe/models/arctic0ne/gtaiv/barprops/rscafe_bar_wood.sw.vtx
[GTA IV] Superstar Cafe/models/arctic0ne/gtaiv/barprops/cup_crate_cups.dx90.vtx
[GTA IV] Superstar Cafe/models/arctic0ne/gtaiv/barprops/rscafe_bar_wood.dx90.vtx
[GTA IV] Superstar Cafe/models/arctic0ne/gtaiv/barprops/industrial_sink.mdl
[GTA IV] Superstar Cafe/models/arctic0ne/gtaiv/barprops/cup_crate.dx90.vtx
[GTA IV] Superstar Cafe/models/arctic0ne/gtaiv/barprops/rscafe_bar_glass.sw.vtx
[GTA IV] Superstar Cafe/models/arctic0ne/gtaiv/barprops/industrial_sink.sw.vtx
[GTA IV] Superstar Cafe/models/arctic0ne/gtaiv/barprops/cup_crate_cups.dx80.vtx
[GTA IV] Superstar Cafe/models/arctic0ne/gtaiv/barprops/rscafe_bar_glass.phy
[GTA IV] Superstar Cafe/models/arctic0ne/gtaiv/barprops/cup_crate_cups.vvd
[GTA IV] Superstar Cafe/models/arctic0ne/gtaiv/barprops/cup_crate.sw.vtx
[GTA IV] Superstar Cafe/models/arctic0ne/gtaiv/barprops/rscafe_bar_glass.dx80.vtx
[GTA IV] Superstar Cafe/models/arctic0ne/gtaiv/barprops/bar_fridge_slide.dx90.vtx
[GTA IV] Superstar Cafe/models/arctic0ne/gtaiv/barprops/industrial_sink.vvd
[GTA IV] Superstar Cafe/models/arctic0ne/gtaiv/barprops/industrial_sink.dx80.vtx
[GTA IV] Superstar Cafe/models/arctic0ne/gtaiv/barprops/bar_fridge_slide.sw.vtx
[GTA IV] Superstar Cafe/models/arctic0ne/gtaiv/barprops/rscafe_bar_metal.dx90.vtx
[GTA IV] Superstar Cafe/models/arctic0ne/gtaiv/barprops/rscafe_bar_glass.vvd
[GTA IV] Superstar Cafe/models/arctic0ne/gtaiv/barprops/bar_fridge_slide.dx80.vtx
[GTA IV] Superstar Cafe/models/arctic0ne/gtaiv/barprops/rscafe_bar_glass.mdl
[GTA IV] Superstar Cafe/models/arctic0ne/gtaiv/barprops/rscafe_bar_metal.vvd
[GTA IV] Superstar Cafe/models/arctic0ne/gtaiv/barprops/cup_crate.phy
[GTA IV] Superstar Cafe/models/arctic0ne/gtaiv/barprops/rscafe_bar_metal.dx80.vtx
[GTA IV] Superstar Cafe/models/arctic0ne/gtaiv/barprops/rscafe_bar_metal.phy
[GTA IV] Superstar Cafe/models/arctic0ne/gtaiv/barprops/cup_crate_cups.mdl
[GTA IV] Superstar Cafe/models/arctic0ne/gtaiv/decor/rscafe_logo_superstar.vvd
[GTA IV] Superstar Cafe/models/arctic0ne/gtaiv/decor/gold_record_case_2.sw.vtx
[GTA IV] Superstar Cafe/models/arctic0ne/gtaiv/decor/gold_record_frame_1.phy
[GTA IV] Superstar Cafe/models/arctic0ne/gtaiv/decor/gold_record_frame_1.dx90.vtx
[GTA IV] Superstar Cafe/models/arctic0ne/gtaiv/decor/rscafe_scaffolding_curtain.sw.vtx
[GTA IV] Superstar Cafe/models/arctic0ne/gtaiv/decor/gold_record_frame_1.dx80.vtx
[GTA IV] Superstar Cafe/models/arctic0ne/gtaiv/decor/rscafe_scaffolding.phy
[GTA IV] Superstar Cafe/models/arctic0ne/gtaiv/decor/gold_record_case_1.dx80.vtx
[GTA IV] Superstar Cafe/models/arctic0ne/gtaiv/decor/rscafe_logo_guitar.mdl
[GTA IV] Superstar Cafe/models/arctic0ne/gtaiv/decor/rscafe_scaffolding.dx80.vtx
[GTA IV] Superstar Cafe/models/arctic0ne/gtaiv/decor/gold_record_case_2.mdl
[GTA IV] Superstar Cafe/models/arctic0ne/gtaiv/decor/rscafe_logo_guitar.sw.vtx
[GTA IV] Superstar Cafe/models/arctic0ne/gtaiv/decor/gold_record_frame_1.sw.vtx
[GTA IV] Superstar Cafe/models/arctic0ne/gtaiv/decor/gold_record_frame_1.vvd
[GTA IV] Superstar Cafe/models/arctic0ne/gtaiv/decor/rscafe_logo_superstar.dx90.vtx
[GTA IV] Superstar Cafe/models/arctic0ne/gtaiv/decor/rscafe_logo_superstar.dx80.vtx
[GTA IV] Superstar Cafe/models/arctic0ne/gtaiv/decor/gold_record_frame_2.mdl
[GTA IV] Superstar Cafe/models/arctic0ne/gtaiv/decor/gold_record_frame_2.phy
[GTA IV] Superstar Cafe/models/arctic0ne/gtaiv/decor/rscafe_logo_superstar.sw.vtx
[GTA IV] Superstar Cafe/models/arctic0ne/gtaiv/decor/gold_record_frame_2.dx80.vtx
[GTA IV] Superstar Cafe/models/arctic0ne/gtaiv/decor/rscafe_logo_guitar.vvd
[GTA IV] Superstar Cafe/models/arctic0ne/gtaiv/decor/gold_record_case_2.vvd
[GTA IV] Superstar Cafe/models/arctic0ne/gtaiv/decor/rscafe_logo_guitar.dx80.vtx
[GTA IV] Superstar Cafe/models/arctic0ne/gtaiv/decor/rscafe_logo_guitar.phy
[GTA IV] Superstar Cafe/models/arctic0ne/gtaiv/decor/gold_record_case_1.phy
[GTA IV] Superstar Cafe/models/arctic0ne/gtaiv/decor/gold_record_case_2.dx80.vtx
[GTA IV] Superstar Cafe/models/arctic0ne/gtaiv/decor/gold_record_case_2.phy
[GTA IV] Superstar Cafe/models/arctic0ne/gtaiv/decor/rscafe_scaffolding_curtain.dx80.vtx
[GTA IV] Superstar Cafe/models/arctic0ne/gtaiv/decor/gold_record_case_2.dx90.vtx
[GTA IV] Superstar Cafe/models/arctic0ne/gtaiv/decor/rscafe_logo_superstar.mdl
[GTA IV] Superstar Cafe/models/arctic0ne/gtaiv/decor/rscafe_scaffolding.vvd
[GTA IV] Superstar Cafe/models/arctic0ne/gtaiv/decor/gold_record_frame_2.dx90.vtx
[GTA IV] Superstar Cafe/models/arctic0ne/gtaiv/decor/rscafe_scaffolding.sw.vtx
[GTA IV] Superstar Cafe/models/arctic0ne/gtaiv/decor/gold_record_frame_1.mdl
[GTA IV] Superstar Cafe/models/arctic0ne/gtaiv/decor/rscafe_scaffolding_curtain.vvd
[GTA IV] Superstar Cafe/models/arctic0ne/gtaiv/decor/rscafe_scaffolding_curtain.mdl
[GTA IV] Superstar Cafe/models/arctic0ne/gtaiv/decor/rscafe_scaffolding.mdl
[GTA IV] Superstar Cafe/models/arctic0ne/gtaiv/decor/gold_record_case_1.vvd
[GTA IV] Superstar Cafe/models/arctic0ne/gtaiv/decor/gold_record_frame_2.vvd
[GTA IV] Superstar Cafe/models/arctic0ne/gtaiv/decor/rscafe_scaffolding_curtain.dx90.vtx
[GTA IV] Superstar Cafe/models/arctic0ne/gtaiv/decor/gold_record_case_1.mdl
[GTA IV] Superstar Cafe/models/arctic0ne/gtaiv/decor/gold_record_case_1.sw.vtx
[GTA IV] Superstar Cafe/models/arctic0ne/gtaiv/decor/gold_record_case_1.dx90.vtx
[GTA IV] Superstar Cafe/models/arctic0ne/gtaiv/decor/rscafe_logo_guitar.dx90.vtx
[GTA IV] Superstar Cafe/models/arctic0ne/gtaiv/decor/gold_record_frame_2.sw.vtx
[GTA IV] Superstar Cafe/models/arctic0ne/gtaiv/decor/rscafe_scaffolding.dx90.vtx
[GTA IV] Superstar Cafe/models/arctic0ne/gtaiv/decor/rscafe_logo_superstar.phy
[GTA IV] Superstar Cafe/models/arctic0ne/gtaiv/household/industrial_detergent.dx80.vtx
[GTA IV] Superstar Cafe/models/arctic0ne/gtaiv/household/industrial_detergent.vvd
[GTA IV] Superstar Cafe/models/arctic0ne/gtaiv/household/industrial_detergent.mdl
[GTA IV] Superstar Cafe/models/arctic0ne/gtaiv/household/industrial_detergent.sw.vtx
[GTA IV] Superstar Cafe/models/arctic0ne/gtaiv/household/industrial_detergent.dx90.vtx
[GTA IV] Superstar Cafe/models/arctic0ne/gtaiv/household/industrial_detergent.phy
[GTA IV] Superstar Cafe/models/arctic0ne/gtaiv/roads/road_01.dx90.vtx
[GTA IV] Superstar Cafe/models/arctic0ne/gtaiv/roads/road_02.mdl
[GTA IV] Superstar Cafe/models/arctic0ne/gtaiv/roads/road_02.sw.vtx
[GTA IV] Superstar Cafe/models/arctic0ne/gtaiv/roads/road_01.sw.vtx
[GTA IV] Superstar Cafe/models/arctic0ne/gtaiv/roads/road_01.mdl
[GTA IV] Superstar Cafe/models/arctic0ne/gtaiv/roads/road_02.dx90.vtx
[GTA IV] Superstar Cafe/models/arctic0ne/gtaiv/roads/road_01.vvd
[GTA IV] Superstar Cafe/models/arctic0ne/gtaiv/roads/road_01.dx80.vtx
[GTA IV] Superstar Cafe/models/arctic0ne/gtaiv/roads/road_02.vvd
[GTA IV] Superstar Cafe/models/arctic0ne/gtaiv/roads/road_02.dx80.vtx
[GTA IV] Superstar Cafe/models/arctic0ne/gtaiv/buildings/billboard_pirate.vvd
[GTA IV] Superstar Cafe/models/arctic0ne/gtaiv/buildings/billboard_bankofliberty.sw.vtx
[GTA IV] Superstar Cafe/models/arctic0ne/gtaiv/buildings/building_flatiron.vvd
[GTA IV] Superstar Cafe/models/arctic0ne/gtaiv/buildings/manhat_lod.vvd
[GTA IV] Superstar Cafe/models/arctic0ne/gtaiv/buildings/building_spenders_half.dx80.vtx
[GTA IV] Superstar Cafe/models/arctic0ne/gtaiv/buildings/billboard_pirate.sw.vtx
[GTA IV] Superstar Cafe/models/arctic0ne/gtaiv/buildings/building_seagull.mdl
[GTA IV] Superstar Cafe/models/arctic0ne/gtaiv/buildings/timburr_graf.dx90.vtx
[GTA IV] Superstar Cafe/models/arctic0ne/gtaiv/buildings/billboard_cluster_1.dx80.vtx
[GTA IV] Superstar Cafe/models/arctic0ne/gtaiv/buildings/manhat_lod.mdl
[GTA IV] Superstar Cafe/models/arctic0ne/gtaiv/buildings/billboard_pirate.phy
[GTA IV] Superstar Cafe/models/arctic0ne/gtaiv/buildings/billboard_bankofliberty.dx80.vtx
[GTA IV] Superstar Cafe/models/arctic0ne/gtaiv/buildings/timburr_graf.mdl
[GTA IV] Superstar Cafe/models/arctic0ne/gtaiv/buildings/building_dailyglobe.phy
[GTA IV] Superstar Cafe/models/arctic0ne/gtaiv/buildings/building_spenders_half.sw.vtx
[GTA IV] Superstar Cafe/models/arctic0ne/gtaiv/buildings/building_flatiron.phy
[GTA IV] Superstar Cafe/models/arctic0ne/gtaiv/buildings/building_dailyglobe.dx90.vtx
[GTA IV] Superstar Cafe/models/arctic0ne/gtaiv/buildings/building_spenders_half.phy
[GTA IV] Superstar Cafe/models/arctic0ne/gtaiv/buildings/building_seagull.dx90.vtx
[GTA IV] Superstar Cafe/models/arctic0ne/gtaiv/buildings/building_sachs.mdl
[GTA IV] Superstar Cafe/models/arctic0ne/gtaiv/buildings/timburr_graf.phy
[GTA IV] Superstar Cafe/models/arctic0ne/gtaiv/buildings/building_sachs_billboards.mdl
[GTA IV] Superstar Cafe/models/arctic0ne/gtaiv/buildings/building_sachs_billboards.phy
[GTA IV] Superstar Cafe/models/arctic0ne/gtaiv/buildings/building_spenders_half.mdl
[GTA IV] Superstar Cafe/models/arctic0ne/gtaiv/buildings/timburr_graf.dx80.vtx
[GTA IV] Superstar Cafe/models/arctic0ne/gtaiv/buildings/billboard_bankofliberty.vvd
[GTA IV] Superstar Cafe/models/arctic0ne/gtaiv/buildings/billboard_cluster_1.dx90.vtx
[GTA IV] Superstar Cafe/models/arctic0ne/gtaiv/buildings/billboard_bankofliberty.mdl
[GTA IV] Superstar Cafe/models/arctic0ne/gtaiv/buildings/building_sachs.dx80.vtx
[GTA IV] Superstar Cafe/models/arctic0ne/gtaiv/buildings/building_seagull.dx80.vtx
[GTA IV] Superstar Cafe/models/arctic0ne/gtaiv/buildings/building_dailyglobe.vvd
[GTA IV] Superstar Cafe/models/arctic0ne/gtaiv/buildings/building_sachs_billboards.sw.vtx
[GTA IV] Superstar Cafe/models/arctic0ne/gtaiv/buildings/sj_one.dx90.vtx
[GTA IV] Superstar Cafe/models/arctic0ne/gtaiv/buildings/building_broadway_2.phy
[GTA IV] Superstar Cafe/models/arctic0ne/gtaiv/buildings/building_flatiron.mdl
[GTA IV] Superstar Cafe/models/arctic0ne/gtaiv/buildings/building_one_billboards.dx90.vtx
[GTA IV] Superstar Cafe/models/arctic0ne/gtaiv/buildings/sj_one.dx80.vtx
[GTA IV] Superstar Cafe/models/arctic0ne/gtaiv/buildings/building_dailyglobe.mdl
[GTA IV] Superstar Cafe/models/arctic0ne/gtaiv/buildings/billboard_frame_10.dx80.vtx
[GTA IV] Superstar Cafe/models/arctic0ne/gtaiv/buildings/building_flatiron.dx80.vtx
[GTA IV] Superstar Cafe/models/arctic0ne/gtaiv/buildings/building_one_billboards.dx80.vtx
[GTA IV] Superstar Cafe/models/arctic0ne/gtaiv/buildings/billboard_frame_10.phy
[GTA IV] Superstar Cafe/models/arctic0ne/gtaiv/buildings/billboard_cluster_1.phy
[GTA IV] Superstar Cafe/models/arctic0ne/gtaiv/buildings/building_spenders_half.dx90.vtx
[GTA IV] Superstar Cafe/models/arctic0ne/gtaiv/buildings/building_flatiron.sw.vtx
[GTA IV] Superstar Cafe/models/arctic0ne/gtaiv/buildings/building_one_billboards.phy
[GTA IV] Superstar Cafe/models/arctic0ne/gtaiv/buildings/sj_one.vvd
[GTA IV] Superstar Cafe/models/arctic0ne/gtaiv/buildings/building_broadway_2.dx90.vtx
[GTA IV] Superstar Cafe/models/arctic0ne/gtaiv/buildings/building_sachs.dx90.vtx
[GTA IV] Superstar Cafe/models/arctic0ne/gtaiv/buildings/billboard_frame_10.mdl
[GTA IV] Superstar Cafe/models/arctic0ne/gtaiv/buildings/sj_one.mdl
[GTA IV] Superstar Cafe/models/arctic0ne/gtaiv/buildings/sj_one.sw.vtx
[GTA IV] Superstar Cafe/models/arctic0ne/gtaiv/buildings/building_broadway_2.dx80.vtx
[GTA IV] Superstar Cafe/models/arctic0ne/gtaiv/buildings/building_broadway_2.sw.vtx
[GTA IV] Superstar Cafe/models/arctic0ne/gtaiv/buildings/manhat_lod.sw.vtx
[GTA IV] Superstar Cafe/models/arctic0ne/gtaiv/buildings/billboard_frame_10.sw.vtx
[GTA IV] Superstar Cafe/models/arctic0ne/gtaiv/buildings/building_sachs_billboards.dx80.vtx
[GTA IV] Superstar Cafe/models/arctic0ne/gtaiv/buildings/building_sachs.sw.vtx
[GTA IV] Superstar Cafe/models/arctic0ne/gtaiv/buildings/building_dailyglobe.sw.vtx
[GTA IV] Superstar Cafe/models/arctic0ne/gtaiv/buildings/billboard_frame_10.vvd
[GTA IV] Superstar Cafe/models/arctic0ne/gtaiv/buildings/building_seagull.sw.vtx
[GTA IV] Superstar Cafe/models/arctic0ne/gtaiv/buildings/building_broadway_2.vvd
[GTA IV] Superstar Cafe/models/arctic0ne/gtaiv/buildings/billboard_cluster_1.vvd
[GTA IV] Superstar Cafe/models/arctic0ne/gtaiv/buildings/building_flatiron.dx90.vtx
[GTA IV] Superstar Cafe/models/arctic0ne/gtaiv/buildings/sj_one.phy
[GTA IV] Superstar Cafe/models/arctic0ne/gtaiv/buildings/building_sachs.phy
[GTA IV] Superstar Cafe/models/arctic0ne/gtaiv/buildings/building_one_billboards.sw.vtx
[GTA IV] Superstar Cafe/models/arctic0ne/gtaiv/buildings/billboard_pirate.mdl
[GTA IV] Superstar Cafe/models/arctic0ne/gtaiv/buildings/billboard_bankofliberty.phy
[GTA IV] Superstar Cafe/models/arctic0ne/gtaiv/buildings/billboard_frame_10.dx90.vtx
[GTA IV] Superstar Cafe/models/arctic0ne/gtaiv/buildings/building_sachs_billboards.vvd
[GTA IV] Superstar Cafe/models/arctic0ne/gtaiv/buildings/building_sachs.vvd
[GTA IV] Superstar Cafe/models/arctic0ne/gtaiv/buildings/building_sachs_billboards.dx90.vtx
[GTA IV] Superstar Cafe/models/arctic0ne/gtaiv/buildings/billboard_pirate.dx90.vtx
[GTA IV] Superstar Cafe/models/arctic0ne/gtaiv/buildings/billboard_cluster_1.mdl
[GTA IV] Superstar Cafe/models/arctic0ne/gtaiv/buildings/manhat_lod.dx90.vtx
[GTA IV] Superstar Cafe/models/arctic0ne/gtaiv/buildings/billboard_cluster_1.sw.vtx
[GTA IV] Superstar Cafe/models/arctic0ne/gtaiv/buildings/building_seagull.vvd
[GTA IV] Superstar Cafe/models/arctic0ne/gtaiv/buildings/timburr_graf.sw.vtx
[GTA IV] Superstar Cafe/models/arctic0ne/gtaiv/buildings/building_broadway_2.mdl
[GTA IV] Superstar Cafe/models/arctic0ne/gtaiv/buildings/billboard_bankofliberty.dx90.vtx
[GTA IV] Superstar Cafe/models/arctic0ne/gtaiv/buildings/building_spenders_half.vvd
[GTA IV] Superstar Cafe/models/arctic0ne/gtaiv/buildings/building_dailyglobe.dx80.vtx
[GTA IV] Superstar Cafe/models/arctic0ne/gtaiv/buildings/billboard_pirate.dx80.vtx
[GTA IV] Superstar Cafe/models/arctic0ne/gtaiv/buildings/timburr_graf.vvd
[GTA IV] Superstar Cafe/models/arctic0ne/gtaiv/buildings/building_seagull.phy
[GTA IV] Superstar Cafe/models/arctic0ne/gtaiv/buildings/building_one_billboards.vvd
[GTA IV] Superstar Cafe/models/arctic0ne/gtaiv/buildings/building_one_billboards.mdl
[GTA IV] Superstar Cafe/models/arctic0ne/gtaiv/buildings/manhat_lod.dx80.vtx
[GTA IV] Superstar Cafe/models/arctic0ne/gtaiv/tables/rscafe_table.vvd
[GTA IV] Superstar Cafe/models/arctic0ne/gtaiv/tables/rscafe_table_cust.sw.vtx
[GTA IV] Superstar Cafe/models/arctic0ne/gtaiv/tables/rscafe_table.dx90.vtx
[GTA IV] Superstar Cafe/models/arctic0ne/gtaiv/tables/rscafe_table.phy
[GTA IV] Superstar Cafe/models/arctic0ne/gtaiv/tables/rscafe_table.mdl
[GTA IV] Superstar Cafe/models/arctic0ne/gtaiv/tables/rscafe_table_cust.dx80.vtx
[GTA IV] Superstar Cafe/models/arctic0ne/gtaiv/tables/rscafe_table_cust.phy
[GTA IV] Superstar Cafe/models/arctic0ne/gtaiv/tables/rscafe_table_cust.vvd
[GTA IV] Superstar Cafe/models/arctic0ne/gtaiv/tables/rscafe_table.sw.vtx
[GTA IV] Superstar Cafe/models/arctic0ne/gtaiv/tables/rscafe_table_cust.mdl
[GTA IV] Superstar Cafe/models/arctic0ne/gtaiv/tables/rscafe_table.dx80.vtx
[GTA IV] Superstar Cafe/models/arctic0ne/gtaiv/tables/rscafe_table_cust.dx90.vtx
[GTA IV] Superstar Cafe/models/arctic0ne/gtaiv/shell/rscafe_upper.dx90.vtx
[GTA IV] Superstar Cafe/models/arctic0ne/gtaiv/shell/rscafe_upper.mdl
[GTA IV] Superstar Cafe/models/arctic0ne/gtaiv/shell/rscafe_structure_cable.mdl
[GTA IV] Superstar Cafe/models/arctic0ne/gtaiv/shell/rscafe_structure_cable.dx90.vtx
[GTA IV] Superstar Cafe/models/arctic0ne/gtaiv/shell/rscafe_structure_cable.sw.vtx
[GTA IV] Superstar Cafe/models/arctic0ne/gtaiv/shell/rscafe_upper.vvd
[GTA IV] Superstar Cafe/models/arctic0ne/gtaiv/shell/rscafe_upper.sw.vtx
[GTA IV] Superstar Cafe/models/arctic0ne/gtaiv/shell/rscafe_structure_cable.phy
[GTA IV] Superstar Cafe/models/arctic0ne/gtaiv/shell/rscafe_upper.dx80.vtx
[GTA IV] Superstar Cafe/models/arctic0ne/gtaiv/shell/rscafe_structure_cable.dx80.vtx
[GTA IV] Superstar Cafe/models/arctic0ne/gtaiv/shell/rscafe_upper.phy
[GTA IV] Superstar Cafe/models/arctic0ne/gtaiv/shell/rscafe_structure_cable.vvd
[GTA IV] Superstar Cafe/models/arctic0ne/gtaiv/fabric/rscafe_blinds_2.mdl
[GTA IV] Superstar Cafe/models/arctic0ne/gtaiv/fabric/rscafe_blinds_1.dx90.vtx
[GTA IV] Superstar Cafe/models/arctic0ne/gtaiv/fabric/rscafe_blinds_1.sw.vtx
[GTA IV] Superstar Cafe/models/arctic0ne/gtaiv/fabric/rscafe_blinds_1.phy
[GTA IV] Superstar Cafe/models/arctic0ne/gtaiv/fabric/rscafe_blinds_2.phy
[GTA IV] Superstar Cafe/models/arctic0ne/gtaiv/fabric/rscafe_blinds_2.dx90.vtx
[GTA IV] Superstar Cafe/models/arctic0ne/gtaiv/fabric/rscafe_blinds_2.vvd
[GTA IV] Superstar Cafe/models/arctic0ne/gtaiv/fabric/rscafe_blinds_2.sw.vtx
[GTA IV] Superstar Cafe/models/arctic0ne/gtaiv/fabric/rscafe_blinds_2.dx80.vtx
[GTA IV] Superstar Cafe/models/arctic0ne/gtaiv/fabric/rscafe_blinds_1.dx80.vtx
[GTA IV] Superstar Cafe/models/arctic0ne/gtaiv/fabric/rscafe_blinds_1.vvd
[GTA IV] Superstar Cafe/models/arctic0ne/gtaiv/fabric/rscafe_blinds_1.mdl
[GTA IV] Superstar Cafe/models/arctic0ne/gtaiv/trims/rscafe_trim_curve.sw.vtx
[GTA IV] Superstar Cafe/models/arctic0ne/gtaiv/trims/rscafe_trims.dx90.vtx
[GTA IV] Superstar Cafe/models/arctic0ne/gtaiv/trims/rscafe_doorframe.mdl
[GTA IV] Superstar Cafe/models/arctic0ne/gtaiv/trims/rscafe_trim_curve.vvd
[GTA IV] Superstar Cafe/models/arctic0ne/gtaiv/trims/rscafe_doorframe.dx90.vtx
[GTA IV] Superstar Cafe/models/arctic0ne/gtaiv/trims/rscafe_trim_curve.dx90.vtx
[GTA IV] Superstar Cafe/models/arctic0ne/gtaiv/trims/rscafe_trims.vvd
[GTA IV] Superstar Cafe/models/arctic0ne/gtaiv/trims/rscafe_doorframe.sw.vtx
[GTA IV] Superstar Cafe/models/arctic0ne/gtaiv/trims/rscafe_trim_curve.mdl
[GTA IV] Superstar Cafe/models/arctic0ne/gtaiv/trims/rscafe_trims.dx80.vtx
[GTA IV] Superstar Cafe/models/arctic0ne/gtaiv/trims/rscafe_trims.sw.vtx
[GTA IV] Superstar Cafe/models/arctic0ne/gtaiv/trims/rscafe_trims.mdl
[GTA IV] Superstar Cafe/models/arctic0ne/gtaiv/trims/rscafe_trim_curve.dx80.vtx
[GTA IV] Superstar Cafe/models/arctic0ne/gtaiv/trims/rscafe_doorframe.dx80.vtx
[GTA IV] Superstar Cafe/models/arctic0ne/gtaiv/trims/rscafe_doorframe.vvd
[GTA IV] Superstar Cafe/models/arctic0ne/gtaiv/decals/rscafe_superstar_decal.dx90.vtx
[GTA IV] Superstar Cafe/models/arctic0ne/gtaiv/decals/rscafe_superstar_decal.sw.vtx
[GTA IV] Superstar Cafe/models/arctic0ne/gtaiv/decals/rscafe_superstar_decal.dx80.vtx
[GTA IV] Superstar Cafe/models/arctic0ne/gtaiv/decals/rscafe_superstar_decal.vvd
[GTA IV] Superstar Cafe/models/arctic0ne/gtaiv/decals/rscafe_superstar_decal.mdl
[GTA IV] Superstar Cafe/models/arctic0ne/gtaiv/signs/sign_superstar_cafe_big.dx90.vtx
[GTA IV] Superstar Cafe/models/arctic0ne/gtaiv/signs/sign_superstar_cafe.vvd
[GTA IV] Superstar Cafe/models/arctic0ne/gtaiv/signs/sign_superstar_cafe.dx90.vtx
[GTA IV] Superstar Cafe/models/arctic0ne/gtaiv/signs/sign_superstar_cafe.phy
[GTA IV] Superstar Cafe/models/arctic0ne/gtaiv/signs/sign_superstar_diamond.phy
[GTA IV] Superstar Cafe/models/arctic0ne/gtaiv/signs/sign_carpark.phy
[GTA IV] Superstar Cafe/models/arctic0ne/gtaiv/signs/sign_superstar_diamond.vvd
[GTA IV] Superstar Cafe/models/arctic0ne/gtaiv/signs/sign_carpark.dx90.vtx
[GTA IV] Superstar Cafe/models/arctic0ne/gtaiv/signs/sign_carpark.vvd
[GTA IV] Superstar Cafe/models/arctic0ne/gtaiv/signs/sign_superstar_cafe.mdl
[GTA IV] Superstar Cafe/models/arctic0ne/gtaiv/signs/sign_superstar_cafe.dx80.vtx
[GTA IV] Superstar Cafe/models/arctic0ne/gtaiv/signs/sign_superstar_cafe_big.sw.vtx
[GTA IV] Superstar Cafe/models/arctic0ne/gtaiv/signs/sign_carpark.sw.vtx
[GTA IV] Superstar Cafe/models/arctic0ne/gtaiv/signs/sign_superstar_cafe_big.vvd
[GTA IV] Superstar Cafe/models/arctic0ne/gtaiv/signs/sign_carpark.dx80.vtx
[GTA IV] Superstar Cafe/models/arctic0ne/gtaiv/signs/sign_superstar_diamond.sw.vtx
[GTA IV] Superstar Cafe/models/arctic0ne/gtaiv/signs/sign_superstar_cafe.sw.vtx
[GTA IV] Superstar Cafe/models/arctic0ne/gtaiv/signs/sign_superstar_cafe_big.mdl
[GTA IV] Superstar Cafe/models/arctic0ne/gtaiv/signs/sign_superstar_cafe_big.dx80.vtx
[GTA IV] Superstar Cafe/models/arctic0ne/gtaiv/signs/sign_superstar_diamond.dx80.vtx
[GTA IV] Superstar Cafe/models/arctic0ne/gtaiv/signs/sign_superstar_diamond.mdl
[GTA IV] Superstar Cafe/models/arctic0ne/gtaiv/signs/sign_carpark.mdl
[GTA IV] Superstar Cafe/models/arctic0ne/gtaiv/signs/sign_superstar_diamond.dx90.vtx
[GTA IV] Superstar Cafe/models/arctic0ne/gtaiv/signs/sign_superstar_cafe_big.phy
[GTA IV] Superstar Cafe/materials/arctic0ne/gtaiv/int_rscafe/ab_wall05.vmt
[GTA IV] Superstar Cafe/materials/arctic0ne/gtaiv/int_rscafe/mp_club_brickwall.vmt
[GTA IV] Superstar Cafe/materials/arctic0ne/gtaiv/int_rscafe/ab_metal_black.vtf
[GTA IV] Superstar Cafe/materials/arctic0ne/gtaiv/int_rscafe/ab_wood_wallpanel_n.vtf
[GTA IV] Superstar Cafe/materials/arctic0ne/gtaiv/int_rscafe/ab_rscafe_blackwood.vtf
[GTA IV] Superstar Cafe/materials/arctic0ne/gtaiv/int_rscafe/km_njswparquet1.vmt
[GTA IV] Superstar Cafe/materials/arctic0ne/gtaiv/int_rscafe/ab_wood_wallpanel2.vtf
[GTA IV] Superstar Cafe/materials/arctic0ne/gtaiv/int_rscafe/ab_wood_black.vmt
[GTA IV] Superstar Cafe/materials/arctic0ne/gtaiv/int_rscafe/ab_rscafe_ceiling_n.vtf
[GTA IV] Superstar Cafe/materials/arctic0ne/gtaiv/int_rscafe/ab_rscafe_blackwood.vmt
[GTA IV] Superstar Cafe/materials/arctic0ne/gtaiv/int_rscafe/ab_metal_black.vmt
[GTA IV] Superstar Cafe/materials/arctic0ne/gtaiv/int_rscafe/ab_rscafe_ceilingab_white.vmt
[GTA IV] Superstar Cafe/materials/arctic0ne/gtaiv/int_rscafe/mp_club_brickwall.vtf
[GTA IV] Superstar Cafe/materials/arctic0ne/gtaiv/int_rscafe/ab_wood_darkveneerdirt.vmt
[GTA IV] Superstar Cafe/materials/arctic0ne/gtaiv/int_rscafe/ss_glassgreenss_glass4clean_a.vmt
[GTA IV] Superstar Cafe/materials/arctic0ne/gtaiv/int_rscafe/km_njswparquet1.vtf
[GTA IV] Superstar Cafe/materials/arctic0ne/gtaiv/int_rscafe/ab_wood_darkveneerdirt.vtf
[GTA IV] Superstar Cafe/materials/arctic0ne/gtaiv/int_rscafe/ab_wood_black.vtf
[GTA IV] Superstar Cafe/materials/arctic0ne/gtaiv/int_rscafe/ss_glassgreenss_glass4clean_a.vtf
[GTA IV] Superstar Cafe/materials/arctic0ne/gtaiv/int_rscafe/ab_rscafe_ceilingab_white.vtf
[GTA IV] Superstar Cafe/materials/arctic0ne/gtaiv/int_rscafe/mp_club_brickwall_n.vtf
[GTA IV] Superstar Cafe/materials/arctic0ne/gtaiv/int_rscafe/ab_wall05.vtf
[GTA IV] Superstar Cafe/materials/arctic0ne/gtaiv/int_rscafe/ab_wall1_n.vtf
[GTA IV] Superstar Cafe/materials/arctic0ne/gtaiv/int_rscafe/ab_wood_wallpanel2.vmt
[GTA IV] Superstar Cafe/materials/arctic0ne/gtaiv/int_rscafe/bm_concrete1_n.vtf
[GTA IV] Superstar Cafe/materials/models/arctic0ne/gtaiv/wood/ab_wood_maplealt.vmt
[GTA IV] Superstar Cafe/materials/models/arctic0ne/gtaiv/wood/bm_fastfood_bin.vmt
[GTA IV] Superstar Cafe/materials/models/arctic0ne/gtaiv/wood/ah_wdflr7.vmt
[GTA IV] Superstar Cafe/materials/models/arctic0ne/gtaiv/wood/ab_wood_wallpanel_n.vtf
[GTA IV] Superstar Cafe/materials/models/arctic0ne/gtaiv/wood/ab_rscafe_blackwood.vtf
[GTA IV] Superstar Cafe/materials/models/arctic0ne/gtaiv/wood/ab_wood_wallpanel2.vtf
[GTA IV] Superstar Cafe/materials/models/arctic0ne/gtaiv/wood/bm_wood2.vtf
[GTA IV] Superstar Cafe/materials/models/arctic0ne/gtaiv/wood/ah_tabletop1.vmt
[GTA IV] Superstar Cafe/materials/models/arctic0ne/gtaiv/wood/ab_wood_black.vmt
[GTA IV] Superstar Cafe/materials/models/arctic0ne/gtaiv/wood/ab_rscafe_blackwood.vmt
[GTA IV] Superstar Cafe/materials/models/arctic0ne/gtaiv/wood/cj_wood_fake.vtf
[GTA IV] Superstar Cafe/materials/models/arctic0ne/gtaiv/wood/ab_wood_maplealt.vtf
[GTA IV] Superstar Cafe/materials/models/arctic0ne/gtaiv/wood/cj_blackwood.vtf
[GTA IV] Superstar Cafe/materials/models/arctic0ne/gtaiv/wood/ab_wood_darkveneerdirt.vmt
[GTA IV] Superstar Cafe/materials/models/arctic0ne/gtaiv/wood/ab_rscafe_barpanel_n.vtf
[GTA IV] Superstar Cafe/materials/models/arctic0ne/gtaiv/wood/ab_rscafe_barpanel.vtf
[GTA IV] Superstar Cafe/materials/models/arctic0ne/gtaiv/wood/cj_grey_wood.vmt
[GTA IV] Superstar Cafe/materials/models/arctic0ne/gtaiv/wood/ab_wood_darkveneerdirt_s.vtf
[GTA IV] Superstar Cafe/materials/models/arctic0ne/gtaiv/wood/ah_wdflr7.vtf
[GTA IV] Superstar Cafe/materials/models/arctic0ne/gtaiv/wood/ab_rscafe_barpanel.vmt
[GTA IV] Superstar Cafe/materials/models/arctic0ne/gtaiv/wood/ab_wood_darkveneerdirt.vtf
[GTA IV] Superstar Cafe/materials/models/arctic0ne/gtaiv/wood/ab_wood_darkveneer.vmt
[GTA IV] Superstar Cafe/materials/models/arctic0ne/gtaiv/wood/ab_wood_black.vtf
[GTA IV] Superstar Cafe/materials/models/arctic0ne/gtaiv/wood/ah_tabletop1alp.vtf
[GTA IV] Superstar Cafe/materials/models/arctic0ne/gtaiv/wood/bm_wood2.vmt
[GTA IV] Superstar Cafe/materials/models/arctic0ne/gtaiv/wood/cj_grey_wood.vtf
[GTA IV] Superstar Cafe/materials/models/arctic0ne/gtaiv/wood/bm_fastfood_bin_n.vtf
[GTA IV] Superstar Cafe/materials/models/arctic0ne/gtaiv/wood/bm_fastfood_bin.vtf
[GTA IV] Superstar Cafe/materials/models/arctic0ne/gtaiv/wood/ah_tabletop1.vtf
[GTA IV] Superstar Cafe/materials/models/arctic0ne/gtaiv/wood/cj_blackwood.vmt
[GTA IV] Superstar Cafe/materials/models/arctic0ne/gtaiv/wood/ab_wood_darkveneer.vtf
[GTA IV] Superstar Cafe/materials/models/arctic0ne/gtaiv/wood/ab_wood_wallpanel2.vmt
[GTA IV] Superstar Cafe/materials/models/arctic0ne/gtaiv/wood/cj_wood_fake.vmt
[GTA IV] Superstar Cafe/materials/models/arctic0ne/gtaiv/seating/ab_rscafe_greenleather.vmt
[GTA IV] Superstar Cafe/materials/models/arctic0ne/gtaiv/seating/cj_black_rubber.vtf
[GTA IV] Superstar Cafe/materials/models/arctic0ne/gtaiv/seating/ab_burger_bench_s.vtf
[GTA IV] Superstar Cafe/materials/models/arctic0ne/gtaiv/seating/ab_leather_tan.vtf
[GTA IV] Superstar Cafe/materials/models/arctic0ne/gtaiv/seating/cj_black_rubber.vmt
[GTA IV] Superstar Cafe/materials/models/arctic0ne/gtaiv/seating/ab_burger_bench_nbump.vtf
[GTA IV] Superstar Cafe/materials/models/arctic0ne/gtaiv/seating/ab_leather_tan.vmt
[GTA IV] Superstar Cafe/materials/models/arctic0ne/gtaiv/seating/bm_barstoolseat.vmt
[GTA IV] Superstar Cafe/materials/models/arctic0ne/gtaiv/seating/ab_rscafe_greenleather.vtf
[GTA IV] Superstar Cafe/materials/models/arctic0ne/gtaiv/seating/bm_barstoolseat.vtf
[GTA IV] Superstar Cafe/materials/models/arctic0ne/gtaiv/electrical/km_e2floortape_n.vtf
[GTA IV] Superstar Cafe/materials/models/arctic0ne/gtaiv/electrical/bm_exitsign_n.vtf
[GTA IV] Superstar Cafe/materials/models/arctic0ne/gtaiv/electrical/rscafe_anim.vtf
[GTA IV] Superstar Cafe/materials/models/arctic0ne/gtaiv/electrical/km_e2hrcewiring.vmt
[GTA IV] Superstar Cafe/materials/models/arctic0ne/gtaiv/electrical/bm_smallscreen.vtf
[GTA IV] Superstar Cafe/materials/models/arctic0ne/gtaiv/electrical/km_e2wiring.vtf
[GTA IV] Superstar Cafe/materials/models/arctic0ne/gtaiv/electrical/bm_speakertex_s.vtf
[GTA IV] Superstar Cafe/materials/models/arctic0ne/gtaiv/electrical/km_e2hrcewiring.vtf
[GTA IV] Superstar Cafe/materials/models/arctic0ne/gtaiv/electrical/rscafe_anim_2.vmt
[GTA IV] Superstar Cafe/materials/models/arctic0ne/gtaiv/electrical/km_e2wiring.vmt
[GTA IV] Superstar Cafe/materials/models/arctic0ne/gtaiv/electrical/bm_megatvbuttons.vmt
[GTA IV] Superstar Cafe/materials/models/arctic0ne/gtaiv/electrical/bm_exitsign.vmt
[GTA IV] Superstar Cafe/materials/models/arctic0ne/gtaiv/electrical/rscafe_anim_4.vmt
[GTA IV] Superstar Cafe/materials/models/arctic0ne/gtaiv/electrical/gb_kitchteaurn01_s.vtf
[GTA IV] Superstar Cafe/materials/models/arctic0ne/gtaiv/electrical/km_njswfusebox1.vtf
[GTA IV] Superstar Cafe/materials/models/arctic0ne/gtaiv/electrical/gb_kitchteaurn01.vmt
[GTA IV] Superstar Cafe/materials/models/arctic0ne/gtaiv/electrical/km_harlprjelec.vtf
[GTA IV] Superstar Cafe/materials/models/arctic0ne/gtaiv/electrical/gb_microphone.vtf
[GTA IV] Superstar Cafe/materials/models/arctic0ne/gtaiv/electrical/bm_megatvbuttons.vtf
[GTA IV] Superstar Cafe/materials/models/arctic0ne/gtaiv/electrical/km_harlprjelec.vmt
[GTA IV] Superstar Cafe/materials/models/arctic0ne/gtaiv/electrical/bm_speakertex_n.vtf
[GTA IV] Superstar Cafe/materials/models/arctic0ne/gtaiv/electrical/gb_kitchteaurn01.vtf
[GTA IV] Superstar Cafe/materials/models/arctic0ne/gtaiv/electrical/bm_smallscreen.vmt
[GTA IV] Superstar Cafe/materials/models/arctic0ne/gtaiv/electrical/gb_black.vtf
[GTA IV] Superstar Cafe/materials/models/arctic0ne/gtaiv/electrical/bm_exitsign.vtf
[GTA IV] Superstar Cafe/materials/models/arctic0ne/gtaiv/electrical/bm_juicemachine.vmt
[GTA IV] Superstar Cafe/materials/models/arctic0ne/gtaiv/electrical/bm_brackettv_d.vtf
[GTA IV] Superstar Cafe/materials/models/arctic0ne/gtaiv/electrical/rscafe_anim_3.vmt
[GTA IV] Superstar Cafe/materials/models/arctic0ne/gtaiv/electrical/gb_microphone.vmt
[GTA IV] Superstar Cafe/materials/models/arctic0ne/gtaiv/electrical/bm_speakertex.vmt
[GTA IV] Superstar Cafe/materials/models/arctic0ne/gtaiv/electrical/bm_juicemachine.vtf
[GTA IV] Superstar Cafe/materials/models/arctic0ne/gtaiv/electrical/gb_black.vmt
[GTA IV] Superstar Cafe/materials/models/arctic0ne/gtaiv/electrical/cj_speaker_cover.vtf
[GTA IV] Superstar Cafe/materials/models/arctic0ne/gtaiv/electrical/bm_speakertex.vtf
[GTA IV] Superstar Cafe/materials/models/arctic0ne/gtaiv/electrical/gb_microphone_n.vtf
[GTA IV] Superstar Cafe/materials/models/arctic0ne/gtaiv/electrical/km_njswfusebox1.vmt
[GTA IV] Superstar Cafe/materials/models/arctic0ne/gtaiv/electrical/bm_widetvback_d.vtf
[GTA IV] Superstar Cafe/materials/models/arctic0ne/gtaiv/electrical/bm_brackettv_d.vmt
[GTA IV] Superstar Cafe/materials/models/arctic0ne/gtaiv/electrical/cj_speaker_cover.vmt
[GTA IV] Superstar Cafe/materials/models/arctic0ne/gtaiv/electrical/bm_smalltv_d.vtf
[GTA IV] Superstar Cafe/materials/models/arctic0ne/gtaiv/electrical/rscafe_anim_1.vmt
[GTA IV] Superstar Cafe/materials/models/arctic0ne/gtaiv/electrical/km_floortape1.vtf
[GTA IV] Superstar Cafe/materials/models/arctic0ne/gtaiv/electrical/km_floortape1.vmt
[GTA IV] Superstar Cafe/materials/models/arctic0ne/gtaiv/electrical/bm_smalltv_d.vmt
[GTA IV] Superstar Cafe/materials/models/arctic0ne/gtaiv/plastic/bm_speaker_gen.vmt
[GTA IV] Superstar Cafe/materials/models/arctic0ne/gtaiv/plastic/bm_cheesemunch.vmt
[GTA IV] Superstar Cafe/materials/models/arctic0ne/gtaiv/plastic/bm_cheesemunch.vtf
[GTA IV] Superstar Cafe/materials/models/arctic0ne/gtaiv/plastic/bm_spicemunch.vmt
[GTA IV] Superstar Cafe/materials/models/arctic0ne/gtaiv/plastic/cj_plastic_cup.vtf
[GTA IV] Superstar Cafe/materials/models/arctic0ne/gtaiv/plastic/gb_recyclebin12.vmt
[GTA IV] Superstar Cafe/materials/models/arctic0ne/gtaiv/plastic/bm_roughplastic.vmt
[GTA IV] Superstar Cafe/materials/models/arctic0ne/gtaiv/plastic/bm_detergent.vtf
[GTA IV] Superstar Cafe/materials/models/arctic0ne/gtaiv/plastic/bm_spicemunch.vtf
[GTA IV] Superstar Cafe/materials/models/arctic0ne/gtaiv/plastic/bm_detergent.vmt
[GTA IV] Superstar Cafe/materials/models/arctic0ne/gtaiv/plastic/bm_whiteplastic.vmt
[GTA IV] Superstar Cafe/materials/models/arctic0ne/gtaiv/plastic/bm_cratebottle3bm_cratebottle_a.vmt
[GTA IV] Superstar Cafe/materials/models/arctic0ne/gtaiv/plastic/bm_whiteplastic.vtf
[GTA IV] Superstar Cafe/materials/models/arctic0ne/gtaiv/plastic/bm_genplastic256_n.vtf
[GTA IV] Superstar Cafe/materials/models/arctic0ne/gtaiv/plastic/bm_cratebottle3bm_cratebottle_a.vtf
[GTA IV] Superstar Cafe/materials/models/arctic0ne/gtaiv/plastic/bm_phone_greydark.vmt
[GTA IV] Superstar Cafe/materials/models/arctic0ne/gtaiv/plastic/bm_cratebottle3.vmt
[GTA IV] Superstar Cafe/materials/models/arctic0ne/gtaiv/plastic/bm_roughplastic.vtf
[GTA IV] Superstar Cafe/materials/models/arctic0ne/gtaiv/plastic/gb_recyclebin12.vtf
[GTA IV] Superstar Cafe/materials/models/arctic0ne/gtaiv/plastic/cj_plastic_cup.vmt
[GTA IV] Superstar Cafe/materials/models/arctic0ne/gtaiv/plastic/bm_speaker_gen.vtf
[GTA IV] Superstar Cafe/materials/models/arctic0ne/gtaiv/plastic/bm_phone_greydark.vtf
[GTA IV] Superstar Cafe/materials/models/arctic0ne/gtaiv/plastic/cj_plastic_cup_n.vtf
[GTA IV] Superstar Cafe/materials/models/arctic0ne/gtaiv/plastic/bm_cratebottle3.vtf
[GTA IV] Superstar Cafe/materials/models/arctic0ne/gtaiv/exterior/mc_mh1-3_016.vmt
[GTA IV] Superstar Cafe/materials/models/arctic0ne/gtaiv/exterior/bm_nylampgreen_1.vmt
[GTA IV] Superstar Cafe/materials/models/arctic0ne/gtaiv/exterior/bm_magkiosk_treats.vmt
[GTA IV] Superstar Cafe/materials/models/arctic0ne/gtaiv/exterior/bm_wood_magkiosk_n.vtf
[GTA IV] Superstar Cafe/materials/models/arctic0ne/gtaiv/exterior/bm_nylamp_green.vmt
[GTA IV] Superstar Cafe/materials/models/arctic0ne/gtaiv/exterior/cj_rub_1_256.vmt
[GTA IV] Superstar Cafe/materials/models/arctic0ne/gtaiv/exterior/bm_nylamp_bulb_a.vmt
[GTA IV] Superstar Cafe/materials/models/arctic0ne/gtaiv/exterior/cj_rub_1_256.vtf
[GTA IV] Superstar Cafe/materials/models/arctic0ne/gtaiv/exterior/bm_nylampgreen_1.vtf
[GTA IV] Superstar Cafe/materials/models/arctic0ne/gtaiv/exterior/bm_nylamp_green.vtf
[GTA IV] Superstar Cafe/materials/models/arctic0ne/gtaiv/exterior/cj_fish_net2.vtf
[GTA IV] Superstar Cafe/materials/models/arctic0ne/gtaiv/exterior/bm_wood_magkiosk.vmt
[GTA IV] Superstar Cafe/materials/models/arctic0ne/gtaiv/exterior/bm_magkiosk_outer.vtf
[GTA IV] Superstar Cafe/materials/models/arctic0ne/gtaiv/exterior/bm_nylamp_bulb_a.vtf
[GTA IV] Superstar Cafe/materials/models/arctic0ne/gtaiv/exterior/mc_mh1-3_016.vtf
[GTA IV] Superstar Cafe/materials/models/arctic0ne/gtaiv/exterior/bm_nylamppost_base.vtf
[GTA IV] Superstar Cafe/materials/models/arctic0ne/gtaiv/exterior/bm_magkiosk_outer.vmt
[GTA IV] Superstar Cafe/materials/models/arctic0ne/gtaiv/exterior/cj_meshfencingcj_meshfencing_a.vtf
[GTA IV] Superstar Cafe/materials/models/arctic0ne/gtaiv/exterior/bm_magkiosk_treats.vtf
[GTA IV] Superstar Cafe/materials/models/arctic0ne/gtaiv/exterior/bm_wood_magkiosk.vtf
[GTA IV] Superstar Cafe/materials/models/arctic0ne/gtaiv/exterior/cj_fish_net2.vmt
[GTA IV] Superstar Cafe/materials/models/arctic0ne/gtaiv/exterior/bm_nylamppost_base.vmt
[GTA IV] Superstar Cafe/materials/models/arctic0ne/gtaiv/exterior/cj_meshfencingcj_meshfencing_a.vmt
[GTA IV] Superstar Cafe/materials/models/arctic0ne/gtaiv/lights/dc_bulbs_pulse_01dc_bulbs_pulse_01_a.vtf
[GTA IV] Superstar Cafe/materials/models/arctic0ne/gtaiv/lights/ab_rscafe_barlite.vtf
[GTA IV] Superstar Cafe/materials/models/arctic0ne/gtaiv/lights/mp_lightmp_light_a.vmt
[GTA IV] Superstar Cafe/materials/models/arctic0ne/gtaiv/lights/ab_white.vmt
[GTA IV] Superstar Cafe/materials/models/arctic0ne/gtaiv/lights/dc_bulbs_pulse_01dc_bulbs_pulse_01_a.vmt
[GTA IV] Superstar Cafe/materials/models/arctic0ne/gtaiv/lights/dc_neonstrips01dc_neonstrips01_a.vmt
[GTA IV] Superstar Cafe/materials/models/arctic0ne/gtaiv/lights/ab_white.vtf
[GTA IV] Superstar Cafe/materials/models/arctic0ne/gtaiv/lights/ab_rscafe_barlite.vmt
[GTA IV] Superstar Cafe/materials/models/arctic0ne/gtaiv/lights/dc_neonstrips01dc_neonstrips01_a.vtf
[GTA IV] Superstar Cafe/materials/models/arctic0ne/gtaiv/lights/mp_lightmp_light_a.vtf
[GTA IV] Superstar Cafe/materials/models/arctic0ne/gtaiv/decor/ab_rscafe2logo.vmt
[GTA IV] Superstar Cafe/materials/models/arctic0ne/gtaiv/decor/ab_rscafe_guitarlogo.vmt
[GTA IV] Superstar Cafe/materials/models/arctic0ne/gtaiv/decor/ab_rscafe2logo.vtf
[GTA IV] Superstar Cafe/materials/models/arctic0ne/gtaiv/decor/ab_rscafe_guitarlogo.vtf
[GTA IV] Superstar Cafe/materials/models/arctic0ne/gtaiv/glass/ec_glass_01n.vtf
[GTA IV] Superstar Cafe/materials/models/arctic0ne/gtaiv/glass/ab_eliza_tabglass.vmt
[GTA IV] Superstar Cafe/materials/models/arctic0ne/gtaiv/glass/ec_lowbarbots.vtf
[GTA IV] Superstar Cafe/materials/models/arctic0ne/gtaiv/glass/bm_glass_dirty_n.vtf
[GTA IV] Superstar Cafe/materials/models/arctic0ne/gtaiv/glass/cj_24_7_win1cj_24_7_win1_a.vtf
[GTA IV] Superstar Cafe/materials/models/arctic0ne/gtaiv/glass/ab_glass_n.vtf
[GTA IV] Superstar Cafe/materials/models/arctic0ne/gtaiv/glass/bm_glass_dirty.vmt
[GTA IV] Superstar Cafe/materials/models/arctic0ne/gtaiv/glass/bm_juiceglass.vtf
[GTA IV] Superstar Cafe/materials/models/arctic0ne/gtaiv/glass/cj_24_7_win1cj_24_7_win1_a.vmt
[GTA IV] Superstar Cafe/materials/models/arctic0ne/gtaiv/glass/bm_glass_dirty.vtf
[GTA IV] Superstar Cafe/materials/models/arctic0ne/gtaiv/glass/bm_juiceglass.vmt
[GTA IV] Superstar Cafe/materials/models/arctic0ne/gtaiv/glass/ec_glass_01ec_glass_01o.vtf
[GTA IV] Superstar Cafe/materials/models/arctic0ne/gtaiv/glass/ab_eliza_tabglassab_eliza_tabglass_a.vtf
[GTA IV] Superstar Cafe/materials/models/arctic0ne/gtaiv/glass/ab_eliza_tabglassab_eliza_tabglass_a.vmt
[GTA IV] Superstar Cafe/materials/models/arctic0ne/gtaiv/glass/ec_glass_01ec_glass_01o.vmt
[GTA IV] Superstar Cafe/materials/models/arctic0ne/gtaiv/glass/ec_lowbarbots.vmt
[GTA IV] Superstar Cafe/materials/models/arctic0ne/gtaiv/metal/ab_rscafe_disc1.vtf
[GTA IV] Superstar Cafe/materials/models/arctic0ne/gtaiv/metal/ab_metal_silver.vmt
[GTA IV] Superstar Cafe/materials/models/arctic0ne/gtaiv/metal/bm_chrome_dirty2.vtf
[GTA IV] Superstar Cafe/materials/models/arctic0ne/gtaiv/metal/cj_door_metal_2.vmt
[GTA IV] Superstar Cafe/materials/models/arctic0ne/gtaiv/metal/ab_metalsheet.vmt
[GTA IV] Superstar Cafe/materials/models/arctic0ne/gtaiv/metal/ab_metal_black.vtf
[GTA IV] Superstar Cafe/materials/models/arctic0ne/gtaiv/metal/bm_fridge2.vtf
[GTA IV] Superstar Cafe/materials/models/arctic0ne/gtaiv/metal/cj_chrome_256.vmt
[GTA IV] Superstar Cafe/materials/models/arctic0ne/gtaiv/metal/km_njswdoorwnd.vtf
[GTA IV] Superstar Cafe/materials/models/arctic0ne/gtaiv/metal/mp_spotcagemp_spotcage_a.vmt
[GTA IV] Superstar Cafe/materials/models/arctic0ne/gtaiv/metal/gunshop_cashregister.vmt
[GTA IV] Superstar Cafe/materials/models/arctic0ne/gtaiv/metal/bm_ariel.vtf
[GTA IV] Superstar Cafe/materials/models/arctic0ne/gtaiv/metal/bm_chrome_scratch.vmt
[GTA IV] Superstar Cafe/materials/models/arctic0ne/gtaiv/metal/km_swdoorbar.vtf
[GTA IV] Superstar Cafe/materials/models/arctic0ne/gtaiv/metal/mp_spotcagemp_spotcage_a.vtf
[GTA IV] Superstar Cafe/materials/models/arctic0ne/gtaiv/metal/bm_fridge_door.vmt
[GTA IV] Superstar Cafe/materials/models/arctic0ne/gtaiv/metal/km_njswdoorm.vmt
[GTA IV] Superstar Cafe/materials/models/arctic0ne/gtaiv/metal/cj_frame_glass.vtf
[GTA IV] Superstar Cafe/materials/models/arctic0ne/gtaiv/metal/bm_ariel.vmt
[GTA IV] Superstar Cafe/materials/models/arctic0ne/gtaiv/metal/cj_door_metal_2.vtf
[GTA IV] Superstar Cafe/materials/models/arctic0ne/gtaiv/metal/ab_metal_black.vmt
[GTA IV] Superstar Cafe/materials/models/arctic0ne/gtaiv/metal/bm_chrome_scratch.vtf
[GTA IV] Superstar Cafe/materials/models/arctic0ne/gtaiv/metal/bm_chrome_clean.vtf
[GTA IV] Superstar Cafe/materials/models/arctic0ne/gtaiv/metal/ab_rscafe_xplateab_rscafe_xplate2_a.vmt
[GTA IV] Superstar Cafe/materials/models/arctic0ne/gtaiv/metal/ab_metalsheet.vtf
[GTA IV] Superstar Cafe/materials/models/arctic0ne/gtaiv/metal/bm_chrome_dirty2_s.vtf
[GTA IV] Superstar Cafe/materials/models/arctic0ne/gtaiv/metal/ab_metal_gold.vtf
[GTA IV] Superstar Cafe/materials/models/arctic0ne/gtaiv/metal/cj_chrome_128_s.vtf
[GTA IV] Superstar Cafe/materials/models/arctic0ne/gtaiv/metal/mp_spotlight.vmt
[GTA IV] Superstar Cafe/materials/models/arctic0ne/gtaiv/metal/bm_fridgeshelf.vmt
[GTA IV] Superstar Cafe/materials/models/arctic0ne/gtaiv/metal/dc_ts_paracanopyopt1dc_ts_paracanopyopt1_a.vtf
[GTA IV] Superstar Cafe/materials/models/arctic0ne/gtaiv/metal/mp_spotlight.vtf
[GTA IV] Superstar Cafe/materials/models/arctic0ne/gtaiv/metal/ab_rscafe_disc1.vmt
[GTA IV] Superstar Cafe/materials/models/arctic0ne/gtaiv/metal/ab_black.vmt
[GTA IV] Superstar Cafe/materials/models/arctic0ne/gtaiv/metal/bm_chrome_dirty2.vmt
[GTA IV] Superstar Cafe/materials/models/arctic0ne/gtaiv/metal/ab_metal_brass.vtf
[GTA IV] Superstar Cafe/materials/models/arctic0ne/gtaiv/metal/ab_metal_silver.vtf
[GTA IV] Superstar Cafe/materials/models/arctic0ne/gtaiv/metal/cj_frame_glass.vmt
[GTA IV] Superstar Cafe/materials/models/arctic0ne/gtaiv/metal/bm_fridge2.vmt
[GTA IV] Superstar Cafe/materials/models/arctic0ne/gtaiv/metal/cj_chrome_128.vtf
[GTA IV] Superstar Cafe/materials/models/arctic0ne/gtaiv/metal/dc_ts_paracanopyopt1dc_ts_paracanopyopt1_a.vmt
[GTA IV] Superstar Cafe/materials/models/arctic0ne/gtaiv/metal/km_njswdoorwnd.vmt
[GTA IV] Superstar Cafe/materials/models/arctic0ne/gtaiv/metal/ab_rscafe_xplateab_rscafe_xplate2_a.vtf
[GTA IV] Superstar Cafe/materials/models/arctic0ne/gtaiv/metal/km_njswdoorm_s.vtf
[GTA IV] Superstar Cafe/materials/models/arctic0ne/gtaiv/metal/km_njswdoorwnd_s.vtf
[GTA IV] Superstar Cafe/materials/models/arctic0ne/gtaiv/metal/ab_metal_gold.vmt
[GTA IV] Superstar Cafe/materials/models/arctic0ne/gtaiv/metal/ab_metal_brass.vmt
[GTA IV] Superstar Cafe/materials/models/arctic0ne/gtaiv/metal/dc_rockstarcafesgn_01.vmt
[GTA IV] Superstar Cafe/materials/models/arctic0ne/gtaiv/metal/km_swdoorbar.vmt
[GTA IV] Superstar Cafe/materials/models/arctic0ne/gtaiv/metal/ab_rscafe_lite.vtf
[GTA IV] Superstar Cafe/materials/models/arctic0ne/gtaiv/metal/cj_chrome_128.vmt
[GTA IV] Superstar Cafe/materials/models/arctic0ne/gtaiv/metal/bm_chrome_gen1.vmt
[GTA IV] Superstar Cafe/materials/models/arctic0ne/gtaiv/metal/gunshop_cashregister.vtf
[GTA IV] Superstar Cafe/materials/models/arctic0ne/gtaiv/metal/bm_chrome_clean.vmt
[GTA IV] Superstar Cafe/materials/models/arctic0ne/gtaiv/metal/km_njswdoorm.vtf
[GTA IV] Superstar Cafe/materials/models/arctic0ne/gtaiv/metal/dc_rockstarcafesgn_01.vtf
[GTA IV] Superstar Cafe/materials/models/arctic0ne/gtaiv/metal/mc_ct_metal06.vtf
[GTA IV] Superstar Cafe/materials/models/arctic0ne/gtaiv/metal/bm_fridgeshelf.vtf
[GTA IV] Superstar Cafe/materials/models/arctic0ne/gtaiv/metal/ab_rscafe_lite.vmt
[GTA IV] Superstar Cafe/materials/models/arctic0ne/gtaiv/metal/bm_fridge_door.vtf
[GTA IV] Superstar Cafe/materials/models/arctic0ne/gtaiv/metal/mc_ct_metal06.vmt
[GTA IV] Superstar Cafe/materials/models/arctic0ne/gtaiv/metal/cj_chrome_256.vtf
[GTA IV] Superstar Cafe/materials/models/arctic0ne/gtaiv/marble/ab_marble1_s.vtf
[GTA IV] Superstar Cafe/materials/models/arctic0ne/gtaiv/marble/ab_marble2.vmt
[GTA IV] Superstar Cafe/materials/models/arctic0ne/gtaiv/marble/ab_marble2.vtf
[GTA IV] Superstar Cafe/materials/models/arctic0ne/gtaiv/roads/dc_re_surface_base_01.vmt
[GTA IV] Superstar Cafe/materials/models/arctic0ne/gtaiv/roads/dc_curb_concsmall01.vmt
[GTA IV] Superstar Cafe/materials/models/arctic0ne/gtaiv/roads/dc_pedcross_concroad01.vtf
[GTA IV] Superstar Cafe/materials/models/arctic0ne/gtaiv/roads/dc_pedcrossplain1.vtf
[GTA IV] Superstar Cafe/materials/models/arctic0ne/gtaiv/roads/dc_pedcross_rough01.vtf
[GTA IV] Superstar Cafe/materials/models/arctic0ne/gtaiv/roads/dc_curb_metalsmall01_n.vtf
[GTA IV] Superstar Cafe/materials/models/arctic0ne/gtaiv/roads/mo_dc_road_markings_01mo_dc_road_markings_01_a.vtf
[GTA IV] Superstar Cafe/materials/models/arctic0ne/gtaiv/roads/dc_roadsmooth07.vtf
[GTA IV] Superstar Cafe/materials/models/arctic0ne/gtaiv/roads/dc_pedcross_rough01.vmt
[GTA IV] Superstar Cafe/materials/models/arctic0ne/gtaiv/roads/dc_pavement_plainsmall03.vmt
[GTA IV] Superstar Cafe/materials/models/arctic0ne/gtaiv/roads/dc_curb_metaldam01_n.vtf
[GTA IV] Superstar Cafe/materials/models/arctic0ne/gtaiv/roads/dc_re_surface_base_01.vtf
[GTA IV] Superstar Cafe/materials/models/arctic0ne/gtaiv/roads/dc_pavement_plaincorner02.vmt
[GTA IV] Superstar Cafe/materials/models/arctic0ne/gtaiv/roads/dc_curb_metaldam01.vtf
[GTA IV] Superstar Cafe/materials/models/arctic0ne/gtaiv/roads/dc_roadsmooth06_n.vtf
[GTA IV] Superstar Cafe/materials/models/arctic0ne/gtaiv/roads/dc_juncsmooth02.vtf
[GTA IV] Superstar Cafe/materials/models/arctic0ne/gtaiv/roads/dc_roadsmooth05.vmt
[GTA IV] Superstar Cafe/materials/models/arctic0ne/gtaiv/roads/dc_pedcross_rough01_n.vtf
[GTA IV] Superstar Cafe/materials/models/arctic0ne/gtaiv/roads/dc_road_markings_01_n.vtf
[GTA IV] Superstar Cafe/materials/models/arctic0ne/gtaiv/roads/dc_roadsmooth08.vmt
[GTA IV] Superstar Cafe/materials/models/arctic0ne/gtaiv/roads/dc_road_markings_01dc_road_markings_01_a.vtf
[GTA IV] Superstar Cafe/materials/models/arctic0ne/gtaiv/roads/dc_pavement_plainsmall02.vtf
[GTA IV] Superstar Cafe/materials/models/arctic0ne/gtaiv/roads/dc_pedcrossplain1_n.vtf
[GTA IV] Superstar Cafe/materials/models/arctic0ne/gtaiv/roads/mo_dc_road_markings_01mo_dc_road_markings_01_a.vmt
[GTA IV] Superstar Cafe/materials/models/arctic0ne/gtaiv/roads/dc_roadsmooth05.vtf
[GTA IV] Superstar Cafe/materials/models/arctic0ne/gtaiv/roads/dc_pavement_plainvent01.vtf
[GTA IV] Superstar Cafe/materials/models/arctic0ne/gtaiv/roads/dc_pavement_plainsmall01.vmt
[GTA IV] Superstar Cafe/materials/models/arctic0ne/gtaiv/roads/dc_pavement_plainsmall02_n.vtf
[GTA IV] Superstar Cafe/materials/models/arctic0ne/gtaiv/roads/dc_roadsmooth07.vmt
[GTA IV] Superstar Cafe/materials/models/arctic0ne/gtaiv/roads/dc_re_surface_base_01_n.vtf
[GTA IV] Superstar Cafe/materials/models/arctic0ne/gtaiv/roads/dc_curb_metalsmall03.vmt
[GTA IV] Superstar Cafe/materials/models/arctic0ne/gtaiv/roads/bxrd_dirt2bxrd_dirt2_a.vmt
[GTA IV] Superstar Cafe/materials/models/arctic0ne/gtaiv/roads/dc_curb_concsmall01.vtf
[GTA IV] Superstar Cafe/materials/models/arctic0ne/gtaiv/roads/dc_pavement_01.vtf
[GTA IV] Superstar Cafe/materials/models/arctic0ne/gtaiv/roads/dc_roadsmooth08_n.vtf
[GTA IV] Superstar Cafe/materials/models/arctic0ne/gtaiv/roads/dc_roadsmooth08.vtf
[GTA IV] Superstar Cafe/materials/models/arctic0ne/gtaiv/roads/dc_pavement_plainsmall03.vtf
[GTA IV] Superstar Cafe/materials/models/arctic0ne/gtaiv/roads/dc_pedcross_concroad01.vmt
[GTA IV] Superstar Cafe/materials/models/arctic0ne/gtaiv/roads/dc_roaddrain01.vmt
[GTA IV] Superstar Cafe/materials/models/arctic0ne/gtaiv/roads/dc_pavement_plainvent01_n.vtf
[GTA IV] Superstar Cafe/materials/models/arctic0ne/gtaiv/roads/dc_curb_metalsmall02.vmt
[GTA IV] Superstar Cafe/materials/models/arctic0ne/gtaiv/roads/dc_roadsmooth06.vmt
[GTA IV] Superstar Cafe/materials/models/arctic0ne/gtaiv/roads/dc_roaddrain01_n.vtf
[GTA IV] Superstar Cafe/materials/models/arctic0ne/gtaiv/roads/dc_pedcrossconcplain01.vmt
[GTA IV] Superstar Cafe/materials/models/arctic0ne/gtaiv/roads/mo_dc_road_markings_01_n.vtf
[GTA IV] Superstar Cafe/materials/models/arctic0ne/gtaiv/roads/dc_pavement_01_n.vtf
[GTA IV] Superstar Cafe/materials/models/arctic0ne/gtaiv/roads/dc_pavement_plainsmall01_n.vtf
[GTA IV] Superstar Cafe/materials/models/arctic0ne/gtaiv/roads/dc_roadsmooth02.vmt
[GTA IV] Superstar Cafe/materials/models/arctic0ne/gtaiv/roads/dc_curb_metalsmall02_n.vtf
[GTA IV] Superstar Cafe/materials/models/arctic0ne/gtaiv/roads/dc_curb_metalsmall01.vmt
[GTA IV] Superstar Cafe/materials/models/arctic0ne/gtaiv/roads/dc_curb_metal2metalw01.vtf
[GTA IV] Superstar Cafe/materials/models/arctic0ne/gtaiv/roads/dc_pedcross_concroad01_n.vtf
[GTA IV] Superstar Cafe/materials/models/arctic0ne/gtaiv/roads/dc_curb_metaldam01.vmt
[GTA IV] Superstar Cafe/materials/models/arctic0ne/gtaiv/roads/dc_roadsmooth05_n.vtf
[GTA IV] Superstar Cafe/materials/models/arctic0ne/gtaiv/roads/dc_pavement_plaincorner02_n.vtf
[GTA IV] Superstar Cafe/materials/models/arctic0ne/gtaiv/roads/dc_curb_metalsmall03.vtf
[GTA IV] Superstar Cafe/materials/models/arctic0ne/gtaiv/roads/dc_pavement_plainsmall03_n.vtf
[GTA IV] Superstar Cafe/materials/models/arctic0ne/gtaiv/roads/dc_pavement_01.vmt
[GTA IV] Superstar Cafe/materials/models/arctic0ne/gtaiv/roads/dc_pedcrossconcplain01_n.vtf
[GTA IV] Superstar Cafe/materials/models/arctic0ne/gtaiv/roads/dc_curb_metal2metalw01_n.vtf
[GTA IV] Superstar Cafe/materials/models/arctic0ne/gtaiv/roads/dc_pedcrossconcplain01.vtf
[GTA IV] Superstar Cafe/materials/models/arctic0ne/gtaiv/roads/dc_roadsmooth07_n.vtf
[GTA IV] Superstar Cafe/materials/models/arctic0ne/gtaiv/roads/dc_pavement_plaincorner01.vmt
[GTA IV] Superstar Cafe/materials/models/arctic0ne/gtaiv/roads/dc_roadsmooth06.vtf
[GTA IV] Superstar Cafe/materials/models/arctic0ne/gtaiv/roads/dc_re_surface_base_01_s.vtf
[GTA IV] Superstar Cafe/materials/models/arctic0ne/gtaiv/roads/dc_road_markings_01dc_road_markings_01_a.vmt
[GTA IV] Superstar Cafe/materials/models/arctic0ne/gtaiv/roads/dc_pavement_plaincorner01.vtf
[GTA IV] Superstar Cafe/materials/models/arctic0ne/gtaiv/roads/dc_pedcrossplain1.vmt
[GTA IV] Superstar Cafe/materials/models/arctic0ne/gtaiv/roads/dc_curb_metalsmall01.vtf
[GTA IV] Superstar Cafe/materials/models/arctic0ne/gtaiv/roads/dc_juncsmooth01.vmt
[GTA IV] Superstar Cafe/materials/models/arctic0ne/gtaiv/roads/dc_pavement_plainvent01.vmt
[GTA IV] Superstar Cafe/materials/models/arctic0ne/gtaiv/roads/dc_juncsmooth01.vtf
[GTA IV] Superstar Cafe/materials/models/arctic0ne/gtaiv/roads/bxrd_dirt2bxrd_dirt2_a.vtf
[GTA IV] Superstar Cafe/materials/models/arctic0ne/gtaiv/roads/dc_curb_metalsmall02.vtf
[GTA IV] Superstar Cafe/materials/models/arctic0ne/gtaiv/roads/dc_pavement_plainsmall01.vtf
[GTA IV] Superstar Cafe/materials/models/arctic0ne/gtaiv/roads/dc_roadsmooth02_n.vtf
[GTA IV] Superstar Cafe/materials/models/arctic0ne/gtaiv/roads/dc_curb_metal2metalw01.vmt
[GTA IV] Superstar Cafe/materials/models/arctic0ne/gtaiv/roads/dc_pavement_plaincorner01_n.vtf
[GTA IV] Superstar Cafe/materials/models/arctic0ne/gtaiv/roads/dc_juncsmooth01_n.vtf
[GTA IV] Superstar Cafe/materials/models/arctic0ne/gtaiv/roads/dc_pavement_plaincorner02.vtf
[GTA IV] Superstar Cafe/materials/models/arctic0ne/gtaiv/roads/dc_roaddrain01.vtf
[GTA IV] Superstar Cafe/materials/models/arctic0ne/gtaiv/roads/dc_pavement_plainsmall02.vmt
[GTA IV] Superstar Cafe/materials/models/arctic0ne/gtaiv/roads/dc_roadsmooth02.vtf
[GTA IV] Superstar Cafe/materials/models/arctic0ne/gtaiv/roads/dc_juncsmooth02.vmt
[GTA IV] Superstar Cafe/materials/models/arctic0ne/gtaiv/roads/dc_juncsmooth02_n.vtf
[GTA IV] Superstar Cafe/materials/models/arctic0ne/gtaiv/buildings/timburr_my_beloved.vmt
[GTA IV] Superstar Cafe/materials/models/arctic0ne/gtaiv/buildings/dc_maxrenda03_side.vtf
[GTA IV] Superstar Cafe/materials/models/arctic0ne/gtaiv/buildings/dc_dhotel_01dc_dhotel_01_a.vmt
[GTA IV] Superstar Cafe/materials/models/arctic0ne/gtaiv/buildings/dc_rc_steps_01.vmt
[GTA IV] Superstar Cafe/materials/models/arctic0ne/gtaiv/buildings/sl_grystonechip01_512.vmt
[GTA IV] Superstar Cafe/materials/models/arctic0ne/gtaiv/buildings/dc_seagull_sign_01.vmt
[GTA IV] Superstar Cafe/materials/models/arctic0ne/gtaiv/buildings/ws_flatiron5.vtf
[GTA IV] Superstar Cafe/materials/models/arctic0ne/gtaiv/buildings/mc_mh1-12_009.vtf
[GTA IV] Superstar Cafe/materials/models/arctic0ne/gtaiv/buildings/dc_metal_panel1.vmt
[GTA IV] Superstar Cafe/materials/models/arctic0ne/gtaiv/buildings/dc_dailyglobe_04.vmt
[GTA IV] Superstar Cafe/materials/models/arctic0ne/gtaiv/buildings/ws_macysentrance.vtf
[GTA IV] Superstar Cafe/materials/models/arctic0ne/gtaiv/buildings/dc_libertybankcorner_video_03.vmt
[GTA IV] Superstar Cafe/materials/models/arctic0ne/gtaiv/buildings/ws_macystop.vtf
[GTA IV] Superstar Cafe/materials/models/arctic0ne/gtaiv/buildings/dc_bawsaq_03.vtf
[GTA IV] Superstar Cafe/materials/models/arctic0ne/gtaiv/buildings/dc_beanmachinesgn2.vtf
[GTA IV] Superstar Cafe/materials/models/arctic0ne/gtaiv/buildings/dc_rc_door08.vmt
[GTA IV] Superstar Cafe/materials/models/arctic0ne/gtaiv/buildings/dc_libertybankcorner_video_02dc_libertybankcorner_video_02_a.vtf
[GTA IV] Superstar Cafe/materials/models/arctic0ne/gtaiv/buildings/dc_piratevideobackground.vtf
[GTA IV] Superstar Cafe/materials/models/arctic0ne/gtaiv/buildings/dc_rc_steps_01.vtf
[GTA IV] Superstar Cafe/materials/models/arctic0ne/gtaiv/buildings/dc_dhotel_base_01.vtf
[GTA IV] Superstar Cafe/materials/models/arctic0ne/gtaiv/buildings/dc_darkmetdoor3.vtf
[GTA IV] Superstar Cafe/materials/models/arctic0ne/gtaiv/buildings/dc_libertybankcorner_video_04dc_libertybankcorner_video_04_a.vtf
[GTA IV] Superstar Cafe/materials/models/arctic0ne/gtaiv/buildings/dc_ts_neonframe02.vtf
[GTA IV] Superstar Cafe/materials/models/arctic0ne/gtaiv/buildings/dc_slsachs_07.vmt
[GTA IV] Superstar Cafe/materials/models/arctic0ne/gtaiv/buildings/dc_schlonbergsachs_videobg_02dc_schlonbergsachs_videobg_02_a.vmt
[GTA IV] Superstar Cafe/materials/models/arctic0ne/gtaiv/buildings/dc_hawaiian_snow_01.vmt
[GTA IV] Superstar Cafe/materials/models/arctic0ne/gtaiv/buildings/dc_seagull_sign_01.vtf
[GTA IV] Superstar Cafe/materials/models/arctic0ne/gtaiv/buildings/edc_cola_straplineedc_cola_strapline_a.vtf
[GTA IV] Superstar Cafe/materials/models/arctic0ne/gtaiv/buildings/ws_flatiron1.vmt
[GTA IV] Superstar Cafe/materials/models/arctic0ne/gtaiv/buildings/dc_ts_neonframeoff01.vmt
[GTA IV] Superstar Cafe/materials/models/arctic0ne/gtaiv/buildings/dc_libertybankcorner_video_01.vmt
[GTA IV] Superstar Cafe/materials/models/arctic0ne/gtaiv/buildings/dc_spenders_03dc_spenders_03_a.vmt
[GTA IV] Superstar Cafe/materials/models/arctic0ne/gtaiv/buildings/dc_spenders_04dc_spenders_04_a.vtf
[GTA IV] Superstar Cafe/materials/models/arctic0ne/gtaiv/buildings/dc_prolapsshop_01.vmt
[GTA IV] Superstar Cafe/materials/models/arctic0ne/gtaiv/buildings/dc_slsachs_10_n.vtf
[GTA IV] Superstar Cafe/materials/models/arctic0ne/gtaiv/buildings/dc_beanmachine01.vmt
[GTA IV] Superstar Cafe/materials/models/arctic0ne/gtaiv/buildings/dc_spenders_04dc_spenders_04_a.vmt
[GTA IV] Superstar Cafe/materials/models/arctic0ne/gtaiv/buildings/dc_tsone01.vtf
[GTA IV] Superstar Cafe/materials/models/arctic0ne/gtaiv/buildings/dc_dhotel_border_01.vmt
[GTA IV] Superstar Cafe/materials/models/arctic0ne/gtaiv/buildings/dc_hawaiian_snow_01.vtf
[GTA IV] Superstar Cafe/materials/models/arctic0ne/gtaiv/buildings/mh_grey02.vmt
[GTA IV] Superstar Cafe/materials/models/arctic0ne/gtaiv/buildings/pirate_typemblurswitch_02pirate_typemblurswitch_02_a.vtf
[GTA IV] Superstar Cafe/materials/models/arctic0ne/gtaiv/buildings/dc_beanmachinesgn.vmt
[GTA IV] Superstar Cafe/materials/models/arctic0ne/gtaiv/buildings/dc_alupanel01_n.vtf
[GTA IV] Superstar Cafe/materials/models/arctic0ne/gtaiv/buildings/dc_billboardback_01.vmt
[GTA IV] Superstar Cafe/materials/models/arctic0ne/gtaiv/buildings/ts_vidwaledg_08.vmt
[GTA IV] Superstar Cafe/materials/models/arctic0ne/gtaiv/buildings/mh_grey02.vtf
[GTA IV] Superstar Cafe/materials/models/arctic0ne/gtaiv/buildings/dc_slsachs_07.vtf
[GTA IV] Superstar Cafe/materials/models/arctic0ne/gtaiv/buildings/ws_flatiron6.vtf
[GTA IV] Superstar Cafe/materials/models/arctic0ne/gtaiv/buildings/dc_dailyglobe_02_n.vtf
[GTA IV] Superstar Cafe/materials/models/arctic0ne/gtaiv/buildings/ws_flatiron6.vmt
[GTA IV] Superstar Cafe/materials/models/arctic0ne/gtaiv/buildings/whiz01.vmt
[GTA IV] Superstar Cafe/materials/models/arctic0ne/gtaiv/buildings/mc_mh1-12_009.vmt
[GTA IV] Superstar Cafe/materials/models/arctic0ne/gtaiv/buildings/dc_neon_pulse01dc_neon_pulse01_a.vtf
[GTA IV] Superstar Cafe/materials/models/arctic0ne/gtaiv/buildings/dc_slsachs_05.vmt
[GTA IV] Superstar Cafe/materials/models/arctic0ne/gtaiv/buildings/dc_viendemortediner.vmt
[GTA IV] Superstar Cafe/materials/models/arctic0ne/gtaiv/buildings/dc_shopdoors_01.vmt
[GTA IV] Superstar Cafe/materials/models/arctic0ne/gtaiv/buildings/dc_dailyglobe_02.vmt
[GTA IV] Superstar Cafe/materials/models/arctic0ne/gtaiv/buildings/dc_250bbway_entrance01.vmt
[GTA IV] Superstar Cafe/materials/models/arctic0ne/gtaiv/buildings/dc_spenderssalesigns_01.vtf
[GTA IV] Superstar Cafe/materials/models/arctic0ne/gtaiv/buildings/dc_whiteceilpanel01.vtf
[GTA IV] Superstar Cafe/materials/models/arctic0ne/gtaiv/buildings/dc_ts_neonframe02.vmt
[GTA IV] Superstar Cafe/materials/models/arctic0ne/gtaiv/buildings/dc_raincoat_expose_floating.vtf
[GTA IV] Superstar Cafe/materials/models/arctic0ne/gtaiv/buildings/dc_dhotel_upperwall_02.vmt
[GTA IV] Superstar Cafe/materials/models/arctic0ne/gtaiv/buildings/dc_spenders_02dc_spenders_02_a.vmt
[GTA IV] Superstar Cafe/materials/models/arctic0ne/gtaiv/buildings/dc_aldentes_01.vtf
[GTA IV] Superstar Cafe/materials/models/arctic0ne/gtaiv/buildings/pirate_backgroundtypepirate_backgroundtype_a.vtf
[GTA IV] Superstar Cafe/materials/models/arctic0ne/gtaiv/buildings/dc_slsachs_10.vmt
[GTA IV] Superstar Cafe/materials/models/arctic0ne/gtaiv/buildings/dc_darkmetdoor3.vmt
[GTA IV] Superstar Cafe/materials/models/arctic0ne/gtaiv/buildings/abandonshit.vmt
[GTA IV] Superstar Cafe/materials/models/arctic0ne/gtaiv/buildings/dc_mslogos01dc_mslogos01_a.vtf
[GTA IV] Superstar Cafe/materials/models/arctic0ne/gtaiv/buildings/dc_dhotel_canopy02dc_dhotel_canopy02_a.vtf
[GTA IV] Superstar Cafe/materials/models/arctic0ne/gtaiv/buildings/dc_rc_wallsgn01.vmt
[GTA IV] Superstar Cafe/materials/models/arctic0ne/gtaiv/buildings/ws_flatiron3.vmt
[GTA IV] Superstar Cafe/materials/models/arctic0ne/gtaiv/buildings/dc_dhotel_base_01.vmt
[GTA IV] Superstar Cafe/materials/models/arctic0ne/gtaiv/buildings/dc_neon_pulsesachs01dc_neon_pulsesachs01_a.vmt
[GTA IV] Superstar Cafe/materials/models/arctic0ne/gtaiv/buildings/sl_grystonechip01_n.vtf
[GTA IV] Superstar Cafe/materials/models/arctic0ne/gtaiv/buildings/dc_whananimad01dc_whananimad01_a.vtf
[GTA IV] Superstar Cafe/materials/models/arctic0ne/gtaiv/buildings/slod_branding_01.vtf
[GTA IV] Superstar Cafe/materials/models/arctic0ne/gtaiv/buildings/dc_rc_wallwin01.vmt
[GTA IV] Superstar Cafe/materials/models/arctic0ne/gtaiv/buildings/ws_macystop.vmt
[GTA IV] Superstar Cafe/materials/models/arctic0ne/gtaiv/buildings/dc_slsachs_04.vtf
[GTA IV] Superstar Cafe/materials/models/arctic0ne/gtaiv/buildings/ws_flatiron4.vmt
[GTA IV] Superstar Cafe/materials/models/arctic0ne/gtaiv/buildings/ws_macysbott.vmt
[GTA IV] Superstar Cafe/materials/models/arctic0ne/gtaiv/buildings/dc_viendemortediner.vtf
[GTA IV] Superstar Cafe/materials/models/arctic0ne/gtaiv/buildings/dc_dailyglobesgnon_01.vtf
[GTA IV] Superstar Cafe/materials/models/arctic0ne/gtaiv/buildings/dc_bbuildingglass03.vtf
[GTA IV] Superstar Cafe/materials/models/arctic0ne/gtaiv/buildings/slod_branding_02slod_branding_02_a.vtf
[GTA IV] Superstar Cafe/materials/models/arctic0ne/gtaiv/buildings/dc_totalbankers_01.vmt
[GTA IV] Superstar Cafe/materials/models/arctic0ne/gtaiv/buildings/dc_schlonbergsachs_videobg_01.vtf
[GTA IV] Superstar Cafe/materials/models/arctic0ne/gtaiv/buildings/dc_whananimad02dc_whananimad02_a.vtf
[GTA IV] Superstar Cafe/materials/models/arctic0ne/gtaiv/buildings/dc_rooftar03_e.vtf
[GTA IV] Superstar Cafe/materials/models/arctic0ne/gtaiv/buildings/dc_vwall_test_01dc_vwall_test_01_a.vmt
[GTA IV] Superstar Cafe/materials/models/arctic0ne/gtaiv/buildings/dc_raincoat_expose_floating.vmt
[GTA IV] Superstar Cafe/materials/models/arctic0ne/gtaiv/buildings/dc_dhotel_tower_03.vmt
[GTA IV] Superstar Cafe/materials/models/arctic0ne/gtaiv/buildings/dc_spenders_01.vtf
[GTA IV] Superstar Cafe/materials/models/arctic0ne/gtaiv/buildings/dc_slsachs_02.vmt
[GTA IV] Superstar Cafe/materials/models/arctic0ne/gtaiv/buildings/dc_tsone03.vmt
[GTA IV] Superstar Cafe/materials/models/arctic0ne/gtaiv/buildings/ws_macysmid1.vtf
[GTA IV] Superstar Cafe/materials/models/arctic0ne/gtaiv/buildings/dc_pirate_flag_8frameseqdc_pirate_flag_8frameseq_a.vtf
[GTA IV] Superstar Cafe/materials/models/arctic0ne/gtaiv/buildings/dc_neon_pulse01dc_neon_pulse01_a.vmt
[GTA IV] Superstar Cafe/materials/models/arctic0ne/gtaiv/buildings/dc_adbordstructure01.vtf
[GTA IV] Superstar Cafe/materials/models/arctic0ne/gtaiv/buildings/dc_dhotel_tower_01_n.vtf
[GTA IV] Superstar Cafe/materials/models/arctic0ne/gtaiv/buildings/dc_beanmachine01.vtf
[GTA IV] Superstar Cafe/materials/models/arctic0ne/gtaiv/buildings/dc_slsachs_02.vtf
[GTA IV] Superstar Cafe/materials/models/arctic0ne/gtaiv/buildings/dc_spenders_02dc_spenders_02_a.vtf
[GTA IV] Superstar Cafe/materials/models/arctic0ne/gtaiv/buildings/dc_dhotel_upperwall_01.vtf
[GTA IV] Superstar Cafe/materials/models/arctic0ne/gtaiv/buildings/dc_aldentes_nightdc_aldentes_night_a.vmt
[GTA IV] Superstar Cafe/materials/models/arctic0ne/gtaiv/buildings/dc_tsone04.vtf
[GTA IV] Superstar Cafe/materials/models/arctic0ne/gtaiv/buildings/dc_adbordstructure01_a.vmt
[GTA IV] Superstar Cafe/materials/models/arctic0ne/gtaiv/buildings/dc_bbuildingglass01.vtf
[GTA IV] Superstar Cafe/materials/models/arctic0ne/gtaiv/buildings/e2_newbb15.vtf
[GTA IV] Superstar Cafe/materials/models/arctic0ne/gtaiv/buildings/dc_hlwarerails2dc_hlwarerails_a.vmt
[GTA IV] Superstar Cafe/materials/models/arctic0ne/gtaiv/buildings/dc_slsachs_13_n.vtf
[GTA IV] Superstar Cafe/materials/models/arctic0ne/gtaiv/buildings/dc_slsachs_08.vtf
[GTA IV] Superstar Cafe/materials/models/arctic0ne/gtaiv/buildings/dc_floodlight02.vmt
[GTA IV] Superstar Cafe/materials/models/arctic0ne/gtaiv/buildings/dc_whitemetal43dtype.vtf
[GTA IV] Superstar Cafe/materials/models/arctic0ne/gtaiv/buildings/ts_vidwaledg_08.vtf
[GTA IV] Superstar Cafe/materials/models/arctic0ne/gtaiv/buildings/dc_neon_pulsesachs01dc_neon_pulsesachs01_a.vtf
[GTA IV] Superstar Cafe/materials/models/arctic0ne/gtaiv/buildings/dc_raincoat_expose_backlitposter.vmt
[GTA IV] Superstar Cafe/materials/models/arctic0ne/gtaiv/buildings/ts_vidwaledg_03.vtf
[GTA IV] Superstar Cafe/materials/models/arctic0ne/gtaiv/buildings/dc_dhotel_tower_01.vtf
[GTA IV] Superstar Cafe/materials/models/arctic0ne/gtaiv/buildings/dc_vwall_test_01dc_vwall_test_01_a.vtf
[GTA IV] Superstar Cafe/materials/models/arctic0ne/gtaiv/buildings/dc_slsachs_13.vmt
[GTA IV] Superstar Cafe/materials/models/arctic0ne/gtaiv/buildings/ws_macysawningred.vmt
[GTA IV] Superstar Cafe/materials/models/arctic0ne/gtaiv/buildings/dc_dailyglobe_02.vtf
[GTA IV] Superstar Cafe/materials/models/arctic0ne/gtaiv/buildings/vinewood_billboard.vtf
[GTA IV] Superstar Cafe/materials/models/arctic0ne/gtaiv/buildings/ws_macysbott.vtf
[GTA IV] Superstar Cafe/materials/models/arctic0ne/gtaiv/buildings/dc_dhotel_border_01.vtf
[GTA IV] Superstar Cafe/materials/models/arctic0ne/gtaiv/buildings/dc_wigwam_01.vmt
[GTA IV] Superstar Cafe/materials/models/arctic0ne/gtaiv/buildings/ws_macystopcorner.vtf
[GTA IV] Superstar Cafe/materials/models/arctic0ne/gtaiv/buildings/dc_slsachs_11.vmt
[GTA IV] Superstar Cafe/materials/models/arctic0ne/gtaiv/buildings/e2_newbb02.vmt
[GTA IV] Superstar Cafe/materials/models/arctic0ne/gtaiv/buildings/dc_bbuildingstruct01dc_bbuildingstruct01_a.vmt
[GTA IV] Superstar Cafe/materials/models/arctic0ne/gtaiv/buildings/pirate_typemblurswitch_02pirate_typemblurswitch_02_a.vmt
[GTA IV] Superstar Cafe/materials/models/arctic0ne/gtaiv/buildings/dc_mslogos01dc_mslogos01_a.vmt
[GTA IV] Superstar Cafe/materials/models/arctic0ne/gtaiv/buildings/dc_slsachs_01.vmt
[GTA IV] Superstar Cafe/materials/models/arctic0ne/gtaiv/buildings/dc_spenders_03dc_spenders_03_a.vtf
[GTA IV] Superstar Cafe/materials/models/arctic0ne/gtaiv/buildings/ws_pierdeck1_lorez.vtf
[GTA IV] Superstar Cafe/materials/models/arctic0ne/gtaiv/buildings/dc_ts_neonframeoff01.vtf
[GTA IV] Superstar Cafe/materials/models/arctic0ne/gtaiv/buildings/dc_raincoat_expose_background.vmt
[GTA IV] Superstar Cafe/materials/models/arctic0ne/gtaiv/buildings/dc_dhotel_tower_03.vtf
[GTA IV] Superstar Cafe/materials/models/arctic0ne/gtaiv/buildings/dc_globe_01_sdc_addpannels_s.vtf
[GTA IV] Superstar Cafe/materials/models/arctic0ne/gtaiv/buildings/ws_flatiron2.vtf
[GTA IV] Superstar Cafe/materials/models/arctic0ne/gtaiv/buildings/dc_netingstruct01dc_netingstruct01_a.vtf
[GTA IV] Superstar Cafe/materials/models/arctic0ne/gtaiv/buildings/dc_alupanel02.vtf
[GTA IV] Superstar Cafe/materials/models/arctic0ne/gtaiv/buildings/dc_ecola_videowallbackground01.vtf
[GTA IV] Superstar Cafe/materials/models/arctic0ne/gtaiv/buildings/dc_pirate_flag_8frameseqdc_pirate_flag_8frameseq_a.vmt
[GTA IV] Superstar Cafe/materials/models/arctic0ne/gtaiv/buildings/dc_alupanel02.vmt
[GTA IV] Superstar Cafe/materials/models/arctic0ne/gtaiv/buildings/abandonshit.vtf
[GTA IV] Superstar Cafe/materials/models/arctic0ne/gtaiv/buildings/dc_apartntwall05b.vmt
[GTA IV] Superstar Cafe/materials/models/arctic0ne/gtaiv/buildings/dc_beanmachinesgn.vtf
[GTA IV] Superstar Cafe/materials/models/arctic0ne/gtaiv/buildings/ws_macystopcorner.vmt
[GTA IV] Superstar Cafe/materials/models/arctic0ne/gtaiv/buildings/logger_c_vert.vtf
[GTA IV] Superstar Cafe/materials/models/arctic0ne/gtaiv/buildings/dc_brassrovdoor02.vtf
[GTA IV] Superstar Cafe/materials/models/arctic0ne/gtaiv/buildings/dc_slsachs_01_n.vtf
[GTA IV] Superstar Cafe/materials/models/arctic0ne/gtaiv/buildings/dc_dhotel_tower_01.vmt
[GTA IV] Superstar Cafe/materials/models/arctic0ne/gtaiv/buildings/dc_slsachs_11.vtf
[GTA IV] Superstar Cafe/materials/models/arctic0ne/gtaiv/buildings/dc_slsachs_05bdc_slsachs_05b_a.vtf
[GTA IV] Superstar Cafe/materials/models/arctic0ne/gtaiv/buildings/dc_bulbs01_patern_1dc_bulbs01_patern_1_a.vmt
[GTA IV] Superstar Cafe/materials/models/arctic0ne/gtaiv/buildings/dc_addpannels_s.vtf
[GTA IV] Superstar Cafe/materials/models/arctic0ne/gtaiv/buildings/dc_slodmh10mh12_dc9.vtf
[GTA IV] Superstar Cafe/materials/models/arctic0ne/gtaiv/buildings/dc_sharkadbackdrop.vmt
[GTA IV] Superstar Cafe/materials/models/arctic0ne/gtaiv/buildings/dc_rustyvien_nightdc_rustyvien_night_a.vmt
[GTA IV] Superstar Cafe/materials/models/arctic0ne/gtaiv/buildings/ws_macysbottcorner.vtf
[GTA IV] Superstar Cafe/materials/models/arctic0ne/gtaiv/buildings/dc_totalbankers_02dc_totalbankers_02_a.vtf
[GTA IV] Superstar Cafe/materials/models/arctic0ne/gtaiv/buildings/dc_ecolaanim_neon_fizzdc_ecolaanim_neon_fizz_a.vmt
[GTA IV] Superstar Cafe/materials/models/arctic0ne/gtaiv/buildings/dc_vinewood_02.vmt
[GTA IV] Superstar Cafe/materials/models/arctic0ne/gtaiv/buildings/dc_ecola_glowbutton_03.vmt
[GTA IV] Superstar Cafe/materials/models/arctic0ne/gtaiv/buildings/dc_twinkle_lights_01dc_twinkle_lights_01_a.vtf
[GTA IV] Superstar Cafe/materials/models/arctic0ne/gtaiv/buildings/dc_libbank_01.vtf
[GTA IV] Superstar Cafe/materials/models/arctic0ne/gtaiv/buildings/dc_dailyglobesgnon_01.vmt
[GTA IV] Superstar Cafe/materials/models/arctic0ne/gtaiv/buildings/ts_vidwaledg_07.vtf
[GTA IV] Superstar Cafe/materials/models/arctic0ne/gtaiv/buildings/dc_neonpulse03dc_neonpulse02_a.vmt
[GTA IV] Superstar Cafe/materials/models/arctic0ne/gtaiv/buildings/dc_brassrovdoor02.vmt
[GTA IV] Superstar Cafe/materials/models/arctic0ne/gtaiv/buildings/ns_253bway_entrance.vmt
[GTA IV] Superstar Cafe/materials/models/arctic0ne/gtaiv/buildings/dc_bbuildingglass02.vmt
[GTA IV] Superstar Cafe/materials/models/arctic0ne/gtaiv/buildings/dc_dhotel_canopy01.vtf
[GTA IV] Superstar Cafe/materials/models/arctic0ne/gtaiv/buildings/ts_vidwaledg_01.vtf
[GTA IV] Superstar Cafe/materials/models/arctic0ne/gtaiv/buildings/dc_bawsaq_01.vtf
[GTA IV] Superstar Cafe/materials/models/arctic0ne/gtaiv/buildings/dc_billboardback_01.vtf
[GTA IV] Superstar Cafe/materials/models/arctic0ne/gtaiv/buildings/ns_250bway_ground01.vtf
[GTA IV] Superstar Cafe/materials/models/arctic0ne/gtaiv/buildings/dc_tickertape_off.vmt
[GTA IV] Superstar Cafe/materials/models/arctic0ne/gtaiv/buildings/dc_atowerglass_01.vmt
[GTA IV] Superstar Cafe/materials/models/arctic0ne/gtaiv/buildings/dc_libertybankcorner_video_04dc_libertybankcorner_video_04_a.vmt
[GTA IV] Superstar Cafe/materials/models/arctic0ne/gtaiv/buildings/dc_hlwarerails2dc_hlwarerails_a.vtf
[GTA IV] Superstar Cafe/materials/models/arctic0ne/gtaiv/buildings/dc_rc_door05.vmt
[GTA IV] Superstar Cafe/materials/models/arctic0ne/gtaiv/buildings/dc_dailyglobe_04.vtf
[GTA IV] Superstar Cafe/materials/models/arctic0ne/gtaiv/buildings/dc_rooftar03_e.vmt
[GTA IV] Superstar Cafe/materials/models/arctic0ne/gtaiv/buildings/dc_externalliftdoors01.vmt
[GTA IV] Superstar Cafe/materials/models/arctic0ne/gtaiv/buildings/dc_msgenent01.vmt
[GTA IV] Superstar Cafe/materials/models/arctic0ne/gtaiv/buildings/dc_sharkadtypedc_sharkadtype_a.vtf
[GTA IV] Superstar Cafe/materials/models/arctic0ne/gtaiv/buildings/dc_metal_panel1.vtf
[GTA IV] Superstar Cafe/materials/models/arctic0ne/gtaiv/buildings/ts_vidwaledg_01.vmt
[GTA IV] Superstar Cafe/materials/models/arctic0ne/gtaiv/buildings/ts_vidwaledg_07.vmt
[GTA IV] Superstar Cafe/materials/models/arctic0ne/gtaiv/buildings/dc_dhotel_theatdoor_01.vtf
[GTA IV] Superstar Cafe/materials/models/arctic0ne/gtaiv/buildings/dc_neonpulse03dc_neonpulse02_a.vtf
[GTA IV] Superstar Cafe/materials/models/arctic0ne/gtaiv/buildings/ts_vidwaledg_03.vmt
[GTA IV] Superstar Cafe/materials/models/arctic0ne/gtaiv/buildings/logger_c_vert.vmt
[GTA IV] Superstar Cafe/materials/models/arctic0ne/gtaiv/buildings/dc_bawsaq_01_n.vtf
[GTA IV] Superstar Cafe/materials/models/arctic0ne/gtaiv/buildings/dc_rc_door08.vtf
[GTA IV] Superstar Cafe/materials/models/arctic0ne/gtaiv/buildings/dc_apartntwall05b.vtf
[GTA IV] Superstar Cafe/materials/models/arctic0ne/gtaiv/buildings/e2_newbb15.vmt
[GTA IV] Superstar Cafe/materials/models/arctic0ne/gtaiv/buildings/ws_macysbottcorner.vmt
[GTA IV] Superstar Cafe/materials/models/arctic0ne/gtaiv/buildings/dc_alugrate01.vmt
[GTA IV] Superstar Cafe/materials/models/arctic0ne/gtaiv/buildings/ws_macysmid1.vmt
[GTA IV] Superstar Cafe/materials/models/arctic0ne/gtaiv/buildings/dc_dailyglobe_03.vtf
[GTA IV] Superstar Cafe/materials/models/arctic0ne/gtaiv/buildings/dc_250bbway_entrance01.vtf
[GTA IV] Superstar Cafe/materials/models/arctic0ne/gtaiv/buildings/dc_bolsgn01.vtf
[GTA IV] Superstar Cafe/materials/models/arctic0ne/gtaiv/buildings/dc_dhotel_base_02dc_dhotel_base_02_a.vtf
[GTA IV] Superstar Cafe/materials/models/arctic0ne/gtaiv/buildings/dc_slsachs_01.vtf
[GTA IV] Superstar Cafe/materials/models/arctic0ne/gtaiv/buildings/excelsiorshaver01.vtf
[GTA IV] Superstar Cafe/materials/models/arctic0ne/gtaiv/buildings/dc_piratevideobackground.vmt
[GTA IV] Superstar Cafe/materials/models/arctic0ne/gtaiv/buildings/dc_whitemetal43dtype.vmt
[GTA IV] Superstar Cafe/materials/models/arctic0ne/gtaiv/buildings/dc_raincoat_expose_neondc_raincoat_expose_neon_a.vmt
[GTA IV] Superstar Cafe/materials/models/arctic0ne/gtaiv/buildings/dc_slsachs_13.vtf
[GTA IV] Superstar Cafe/materials/models/arctic0ne/gtaiv/buildings/dc_dhotel_lowall_01.vmt
[GTA IV] Superstar Cafe/materials/models/arctic0ne/gtaiv/buildings/dc_msgenent01.vtf
[GTA IV] Superstar Cafe/materials/models/arctic0ne/gtaiv/buildings/pirate_typemblurswitch_01pirate_typemblurswitch_01_a.vtf
[GTA IV] Superstar Cafe/materials/models/arctic0ne/gtaiv/buildings/dc_dhotel_tower_02.vtf
[GTA IV] Superstar Cafe/materials/models/arctic0ne/gtaiv/buildings/dc_ts_tile_wall_02.vmt
[GTA IV] Superstar Cafe/materials/models/arctic0ne/gtaiv/buildings/isleptwithyourmum_c_vert.vmt
[GTA IV] Superstar Cafe/materials/models/arctic0ne/gtaiv/buildings/dc_wanqbank_background_01.vtf
[GTA IV] Superstar Cafe/materials/models/arctic0ne/gtaiv/buildings/dc_perfume01.vmt
[GTA IV] Superstar Cafe/materials/models/arctic0ne/gtaiv/buildings/excelsiorshaver01.vmt
[GTA IV] Superstar Cafe/materials/models/arctic0ne/gtaiv/buildings/dc_tsone03_n.vtf
[GTA IV] Superstar Cafe/materials/models/arctic0ne/gtaiv/buildings/dc_ecola_videowallbackground01.vmt
[GTA IV] Superstar Cafe/materials/models/arctic0ne/gtaiv/buildings/timburr_my_beloved.vtf
[GTA IV] Superstar Cafe/materials/models/arctic0ne/gtaiv/buildings/dc_dhotel_canopy02dc_dhotel_canopy02_a.vmt
[GTA IV] Superstar Cafe/materials/models/arctic0ne/gtaiv/buildings/dc_dhotel_base_02dc_dhotel_base_02_a.vmt
[GTA IV] Superstar Cafe/materials/models/arctic0ne/gtaiv/buildings/dc_slsachs_03_n.vtf
[GTA IV] Superstar Cafe/materials/models/arctic0ne/gtaiv/buildings/dc_bbuildingstruct01dc_bbuildingstruct01_a.vtf
[GTA IV] Superstar Cafe/materials/models/arctic0ne/gtaiv/buildings/dc_dhotel_canopy01.vmt
[GTA IV] Superstar Cafe/materials/models/arctic0ne/gtaiv/buildings/rooftar03_e.vtf
[GTA IV] Superstar Cafe/materials/models/arctic0ne/gtaiv/buildings/dc_slsachs_04.vmt
[GTA IV] Superstar Cafe/materials/models/arctic0ne/gtaiv/buildings/dc_aldentes_nightdc_aldentes_night_a.vtf
[GTA IV] Superstar Cafe/materials/models/arctic0ne/gtaiv/buildings/dc_floodlight02.vtf
[GTA IV] Superstar Cafe/materials/models/arctic0ne/gtaiv/buildings/ns_253bway_entrance.vtf
[GTA IV] Superstar Cafe/materials/models/arctic0ne/gtaiv/buildings/dc_dhotel_01dc_dhotel_01_a.vtf
[GTA IV] Superstar Cafe/materials/models/arctic0ne/gtaiv/buildings/dc_globe_01.vmt
[GTA IV] Superstar Cafe/materials/models/arctic0ne/gtaiv/buildings/dc_rc_door07.vtf
[GTA IV] Superstar Cafe/materials/models/arctic0ne/gtaiv/buildings/dc_hawaiiansnowneon01dc_hawaiiansnowneon01_a.vmt
[GTA IV] Superstar Cafe/materials/models/arctic0ne/gtaiv/buildings/dc_slsachs_05.vtf
[GTA IV] Superstar Cafe/materials/models/arctic0ne/gtaiv/buildings/ws_pierdeck1_lorez.vmt
[GTA IV] Superstar Cafe/materials/models/arctic0ne/gtaiv/buildings/dc_ecolaanim_neon_fizzdc_ecolaanim_neon_fizz_a.vtf
[GTA IV] Superstar Cafe/materials/models/arctic0ne/gtaiv/buildings/dc_atowerglass_01_n.vtf
[GTA IV] Superstar Cafe/materials/models/arctic0ne/gtaiv/buildings/ws_macysawningred.vtf
[GTA IV] Superstar Cafe/materials/models/arctic0ne/gtaiv/buildings/dc_tsone02.vmt
[GTA IV] Superstar Cafe/materials/models/arctic0ne/gtaiv/buildings/ws_macysground.vtf
[GTA IV] Superstar Cafe/materials/models/arctic0ne/gtaiv/buildings/dc_bbuildingglass03.vmt
[GTA IV] Superstar Cafe/materials/models/arctic0ne/gtaiv/buildings/ws_flatiron5.vmt
[GTA IV] Superstar Cafe/materials/models/arctic0ne/gtaiv/buildings/dc_schlonbergsachs_videobg_02dc_schlonbergsachs_videobg_02_a.vtf
[GTA IV] Superstar Cafe/materials/models/arctic0ne/gtaiv/buildings/ws_flatiron2.vmt
[GTA IV] Superstar Cafe/materials/models/arctic0ne/gtaiv/buildings/dc_slsachs_12.vtf
[GTA IV] Superstar Cafe/materials/models/arctic0ne/gtaiv/buildings/dc_slodmh10mh12_dc9.vmt
[GTA IV] Superstar Cafe/materials/models/arctic0ne/gtaiv/buildings/pirate_backgroundtypepirate_backgroundtype_a.vmt
[GTA IV] Superstar Cafe/materials/models/arctic0ne/gtaiv/buildings/dc_tsone02.vtf
[GTA IV] Superstar Cafe/materials/models/arctic0ne/gtaiv/buildings/dc_dhotel_tower_02.vmt
[GTA IV] Superstar Cafe/materials/models/arctic0ne/gtaiv/buildings/dc_slsachs_06_n.vtf
[GTA IV] Superstar Cafe/materials/models/arctic0ne/gtaiv/buildings/dc_raincoat_expose_background.vtf
[GTA IV] Superstar Cafe/materials/models/arctic0ne/gtaiv/buildings/dc_tickertape_off.vtf
[GTA IV] Superstar Cafe/materials/models/arctic0ne/gtaiv/buildings/dc_slsachs_12.vmt
[GTA IV] Superstar Cafe/materials/models/arctic0ne/gtaiv/buildings/dc_globe_01.vtf
[GTA IV] Superstar Cafe/materials/models/arctic0ne/gtaiv/buildings/dc_libertybankcorner_video_01.vtf
[GTA IV] Superstar Cafe/materials/models/arctic0ne/gtaiv/buildings/dc_slsachs_02_n.vtf
[GTA IV] Superstar Cafe/materials/models/arctic0ne/gtaiv/buildings/e2_newbb02.vtf
[GTA IV] Superstar Cafe/materials/models/arctic0ne/gtaiv/buildings/dc_slsachs_08.vmt
[GTA IV] Superstar Cafe/materials/models/arctic0ne/gtaiv/buildings/dc_bawsaq_04.vtf
[GTA IV] Superstar Cafe/materials/models/arctic0ne/gtaiv/buildings/dc_dhotel_tower_02_n.vtf
[GTA IV] Superstar Cafe/materials/models/arctic0ne/gtaiv/buildings/dc_ts_tile_wall_01.vmt
[GTA IV] Superstar Cafe/materials/models/arctic0ne/gtaiv/buildings/dc_rc_wallwin01.vtf
[GTA IV] Superstar Cafe/materials/models/arctic0ne/gtaiv/buildings/dc_vinewood_02.vtf
[GTA IV] Superstar Cafe/materials/models/arctic0ne/gtaiv/buildings/dc_bawsaq_03.vmt
[GTA IV] Superstar Cafe/materials/models/arctic0ne/gtaiv/buildings/dc_slsachs_10.vtf
[GTA IV] Superstar Cafe/materials/models/arctic0ne/gtaiv/buildings/ws_mh_commonroof4_big.vmt
[GTA IV] Superstar Cafe/materials/models/arctic0ne/gtaiv/buildings/edc_cola_straplineedc_cola_strapline_a.vmt
[GTA IV] Superstar Cafe/materials/models/arctic0ne/gtaiv/buildings/dc_dailyglobe_03.vmt
[GTA IV] Superstar Cafe/materials/models/arctic0ne/gtaiv/buildings/vinewood_billboard.vmt
[GTA IV] Superstar Cafe/materials/models/arctic0ne/gtaiv/buildings/dc_slsachs_05bdc_slsachs_05b_a.vmt
[GTA IV] Superstar Cafe/materials/models/arctic0ne/gtaiv/buildings/dc_aldentes_01.vmt
[GTA IV] Superstar Cafe/materials/models/arctic0ne/gtaiv/buildings/dc_rustyvien_nightdc_rustyvien_night_a.vtf
[GTA IV] Superstar Cafe/materials/models/arctic0ne/gtaiv/buildings/dc_shopdoors_01.vtf
[GTA IV] Superstar Cafe/materials/models/arctic0ne/gtaiv/buildings/e2_newbb19.vtf
[GTA IV] Superstar Cafe/materials/models/arctic0ne/gtaiv/buildings/dc_libbank_01.vmt
[GTA IV] Superstar Cafe/materials/models/arctic0ne/gtaiv/buildings/dc_rc_wallsgn01.vtf
[GTA IV] Superstar Cafe/materials/models/arctic0ne/gtaiv/buildings/dc_dhotel_theatdoor_01.vmt
[GTA IV] Superstar Cafe/materials/models/arctic0ne/gtaiv/buildings/dc_whananimad02dc_whananimad02_a.vmt
[GTA IV] Superstar Cafe/materials/models/arctic0ne/gtaiv/buildings/dc_matsilverrevdoor01.vtf
[GTA IV] Superstar Cafe/materials/models/arctic0ne/gtaiv/buildings/dc_wanqbank_background_01.vmt
[GTA IV] Superstar Cafe/materials/models/arctic0ne/gtaiv/buildings/dc_spenders_01.vmt
[GTA IV] Superstar Cafe/materials/models/arctic0ne/gtaiv/buildings/dc_dhotel_upperwall_02.vtf
[GTA IV] Superstar Cafe/materials/models/arctic0ne/gtaiv/buildings/dc_bawsaq_04_n.vtf
[GTA IV] Superstar Cafe/materials/models/arctic0ne/gtaiv/buildings/whiz01.vtf
[GTA IV] Superstar Cafe/materials/models/arctic0ne/gtaiv/buildings/dc_slsachs_03.vtf
[GTA IV] Superstar Cafe/materials/models/arctic0ne/gtaiv/buildings/dc_alupanel01.vtf
[GTA IV] Superstar Cafe/materials/models/arctic0ne/gtaiv/buildings/ts_vidwaledg_09.vmt
[GTA IV] Superstar Cafe/materials/models/arctic0ne/gtaiv/buildings/dc_prolapsshop_01.vtf
[GTA IV] Superstar Cafe/materials/models/arctic0ne/gtaiv/buildings/dc_tsone04.vmt
[GTA IV] Superstar Cafe/materials/models/arctic0ne/gtaiv/buildings/dc_rc_door07.vmt
[GTA IV] Superstar Cafe/materials/models/arctic0ne/gtaiv/buildings/dc_ts_tile_wall_01.vtf
[GTA IV] Superstar Cafe/materials/models/arctic0ne/gtaiv/buildings/dc_sharkadbackdrop.vtf
[GTA IV] Superstar Cafe/materials/models/arctic0ne/gtaiv/buildings/dc_dailyglobe_04_n.vtf
[GTA IV] Superstar Cafe/materials/models/arctic0ne/gtaiv/buildings/dc_spenderssalesigns_01.vmt
[GTA IV] Superstar Cafe/materials/models/arctic0ne/gtaiv/buildings/dc_dailyglobe_03_n.vtf
[GTA IV] Superstar Cafe/materials/models/arctic0ne/gtaiv/buildings/isleptwithyourmum_c_vert.vtf
[GTA IV] Superstar Cafe/materials/models/arctic0ne/gtaiv/buildings/dc_bawsaq_04.vmt
[GTA IV] Superstar Cafe/materials/models/arctic0ne/gtaiv/buildings/ns_250bway_ground01.vmt
[GTA IV] Superstar Cafe/materials/models/arctic0ne/gtaiv/buildings/dc_maxrenda03_side.vmt
[GTA IV] Superstar Cafe/materials/models/arctic0ne/gtaiv/buildings/dc_bulbs01_patern_1dc_bulbs01_patern_1_a.vtf
[GTA IV] Superstar Cafe/materials/models/arctic0ne/gtaiv/buildings/dc_hawaiiansnowneon01dc_hawaiiansnowneon01_a.vtf
[GTA IV] Superstar Cafe/materials/models/arctic0ne/gtaiv/buildings/dc_bbuildingglass01.vmt
[GTA IV] Superstar Cafe/materials/models/arctic0ne/gtaiv/buildings/dc_netingstruct01dc_netingstruct01_a.vmt
[GTA IV] Superstar Cafe/materials/models/arctic0ne/gtaiv/buildings/dc_rustydognuts.vtf
[GTA IV] Superstar Cafe/materials/models/arctic0ne/gtaiv/buildings/ws_flatiron3.vtf
[GTA IV] Superstar Cafe/materials/models/arctic0ne/gtaiv/buildings/dc_externalliftdoors01.vtf
[GTA IV] Superstar Cafe/materials/models/arctic0ne/gtaiv/buildings/dc_schlonbergsachs_videobg_01.vmt
[GTA IV] Superstar Cafe/materials/models/arctic0ne/gtaiv/buildings/dc_slsachs_06.vmt
[GTA IV] Superstar Cafe/materials/models/arctic0ne/gtaiv/buildings/sl_grystonechip01_512.vtf
[GTA IV] Superstar Cafe/materials/models/arctic0ne/gtaiv/buildings/dc_alugrate01.vtf
[GTA IV] Superstar Cafe/materials/models/arctic0ne/gtaiv/buildings/dc_whiteceilpanel01.vmt
[GTA IV] Superstar Cafe/materials/models/arctic0ne/gtaiv/buildings/dc_perfume01.vtf
[GTA IV] Superstar Cafe/materials/models/arctic0ne/gtaiv/buildings/ws_macysground.vmt
[GTA IV] Superstar Cafe/materials/models/arctic0ne/gtaiv/buildings/slod_branding_02slod_branding_02_a.vmt
[GTA IV] Superstar Cafe/materials/models/arctic0ne/gtaiv/buildings/dc_dhotel_upperwall_01.vmt
[GTA IV] Superstar Cafe/materials/models/arctic0ne/gtaiv/buildings/dc_slsachs_03.vmt
[GTA IV] Superstar Cafe/materials/models/arctic0ne/gtaiv/buildings/dc_sharkadtypedc_sharkadtype_a.vmt
[GTA IV] Superstar Cafe/materials/models/arctic0ne/gtaiv/buildings/ts_vidwaledg_09.vtf
[GTA IV] Superstar Cafe/materials/models/arctic0ne/gtaiv/buildings/ws_flatiron1.vtf
[GTA IV] Superstar Cafe/materials/models/arctic0ne/gtaiv/buildings/dc_libertybankcorner_video_02dc_libertybankcorner_video_02_a.vmt
[GTA IV] Superstar Cafe/materials/models/arctic0ne/gtaiv/buildings/dc_twinkle_lights_01dc_twinkle_lights_01_a.vmt
[GTA IV] Superstar Cafe/materials/models/arctic0ne/gtaiv/buildings/dc_globe_01_n.vtf
[GTA IV] Superstar Cafe/materials/models/arctic0ne/gtaiv/buildings/dc_tsone03_b.vtf
[GTA IV] Superstar Cafe/materials/models/arctic0ne/gtaiv/buildings/dc_raincoat_expose_neondc_raincoat_expose_neon_a.vtf
[GTA IV] Superstar Cafe/materials/models/arctic0ne/gtaiv/buildings/dc_dailyglobe_05.vmt
[GTA IV] Superstar Cafe/materials/models/arctic0ne/gtaiv/buildings/dc_bbuildingglass02.vtf
[GTA IV] Superstar Cafe/materials/models/arctic0ne/gtaiv/buildings/e2_newbb19.vmt
[GTA IV] Superstar Cafe/materials/models/arctic0ne/gtaiv/buildings/pirate_typemblurswitch_01pirate_typemblurswitch_01_a.vmt
[GTA IV] Superstar Cafe/materials/models/arctic0ne/gtaiv/buildings/ws_flatiron4.vtf
[GTA IV] Superstar Cafe/materials/models/arctic0ne/gtaiv/buildings/dc_dhotel_lowall_01.vtf
[GTA IV] Superstar Cafe/materials/models/arctic0ne/gtaiv/buildings/dc_atowerglass_01.vtf
[GTA IV] Superstar Cafe/materials/models/arctic0ne/gtaiv/buildings/dc_libertybankcorner_video_03.vtf
[GTA IV] Superstar Cafe/materials/models/arctic0ne/gtaiv/buildings/dc_ecola_glowbutton_03.vtf
[GTA IV] Superstar Cafe/materials/models/arctic0ne/gtaiv/buildings/dc_alupanel01.vmt
[GTA IV] Superstar Cafe/materials/models/arctic0ne/gtaiv/buildings/dc_rc_door05.vtf
[GTA IV] Superstar Cafe/materials/models/arctic0ne/gtaiv/buildings/ws_macysentrance.vmt
[GTA IV] Superstar Cafe/materials/models/arctic0ne/gtaiv/buildings/dc_slsachs_06.vtf
[GTA IV] Superstar Cafe/materials/models/arctic0ne/gtaiv/buildings/rooftar03_e.vmt
[GTA IV] Superstar Cafe/materials/models/arctic0ne/gtaiv/buildings/dc_beanmachinesgn2.vmt
[GTA IV] Superstar Cafe/materials/models/arctic0ne/gtaiv/buildings/dc_adbordstructure01.vmt
[GTA IV] Superstar Cafe/materials/models/arctic0ne/gtaiv/buildings/dc_rustydognuts.vmt
[GTA IV] Superstar Cafe/materials/models/arctic0ne/gtaiv/buildings/dc_wigwam_01.vtf
[GTA IV] Superstar Cafe/materials/models/arctic0ne/gtaiv/buildings/dc_bolsgn01.vmt
[GTA IV] Superstar Cafe/materials/models/arctic0ne/gtaiv/buildings/dc_tsone01.vmt
[GTA IV] Superstar Cafe/materials/models/arctic0ne/gtaiv/buildings/dc_bawsaq_01.vmt
[GTA IV] Superstar Cafe/materials/models/arctic0ne/gtaiv/buildings/dc_raincoat_expose_backlitposter.vtf
[GTA IV] Superstar Cafe/materials/models/arctic0ne/gtaiv/buildings/dc_ts_tile_wall_02.vtf
[GTA IV] Superstar Cafe/materials/models/arctic0ne/gtaiv/buildings/dc_alugrate01_n.vtf
[GTA IV] Superstar Cafe/materials/models/arctic0ne/gtaiv/buildings/dc_totalbankers_01.vtf
[GTA IV] Superstar Cafe/materials/models/arctic0ne/gtaiv/buildings/dc_whananimad01dc_whananimad01_a.vmt
[GTA IV] Superstar Cafe/materials/models/arctic0ne/gtaiv/buildings/dc_tsone03.vtf
[GTA IV] Superstar Cafe/materials/models/arctic0ne/gtaiv/buildings/dc_matsilverrevdoor01.vmt
[GTA IV] Superstar Cafe/materials/models/arctic0ne/gtaiv/buildings/dc_dailyglobe_05.vtf
[GTA IV] Superstar Cafe/materials/models/arctic0ne/gtaiv/buildings/slod_branding_01.vmt
[GTA IV] Superstar Cafe/materials/models/arctic0ne/gtaiv/buildings/dc_totalbankers_02dc_totalbankers_02_a.vmt
[GTA IV] Superstar Cafe/materials/models/arctic0ne/gtaiv/fabric/dc_rockstarcafecanopy_01.vmt
[GTA IV] Superstar Cafe/materials/models/arctic0ne/gtaiv/fabric/dc_rockstarcafecanopy_01.vtf
[GTA IV] Superstar Cafe/materials/models/arctic0ne/gtaiv/fabric/ab_projcurtaintrim2.vmt
[GTA IV] Superstar Cafe/materials/models/arctic0ne/gtaiv/fabric/ab_projcurtaintrim2.vtf
[GTA IV] Superstar Cafe/materials/models/arctic0ne/gtaiv/fabric/ab_projcurtaintrim2_n.vtf
[GTA IV] Superstar Cafe/materials/models/arctic0ne/gtaiv/shared/lightfix.vtf
[GTA IV] Superstar Cafe/materials/models/arctic0ne/gtaiv/shared/softgold.hdr.vtf
[GTA IV] Superstar Cafe/materials/models/arctic0ne/gtaiv/shared/detail_leather_01.vtf
[GTA IV] Superstar Cafe/materials/models/arctic0ne/gtaiv/shared/detail_leather9.vtf
[GTA IV] Superstar Cafe/materials/models/arctic0ne/gtaiv/shared/clothdenim03_dd.vtf
[GTA IV] Superstar Cafe/materials/models/arctic0ne/gtaiv/shared/cubemap_gold001.vtf
[GTA IV] Superstar Cafe/materials/models/arctic0ne/gtaiv/shared/detail_wood3.vtf
[GTA IV] Superstar Cafe/materials/models/arctic0ne/gtaiv/shared/detail_concrete_01.vtf
[GTA IV] Superstar Cafe/materials/models/arctic0ne/gtaiv/shared/lightwarp_metallic.vtf
[GTA IV] Superstar Cafe/materials/models/arctic0ne/gtaiv/shared/detail_concrete_02.vtf
[GTA IV] Superstar Cafe/materials/models/arctic0ne/gtaiv/shared/detail_carpet_01.vtf
[GTA IV] Superstar Cafe/materials/models/arctic0ne/gtaiv/shared/detail_leather.vtf
[GTA IV] Superstar Cafe/materials/models/arctic0ne/gtaiv/shared/env_noise_concrete.vtf
[GTA IV] Superstar Cafe/materials/models/arctic0ne/gtaiv/shared/graynoisy.vtf
[GTA IV] Superstar Cafe/materials/models/arctic0ne/gtaiv/shared/cubemap_specular001.hdr.vtf
[GTA IV] Superstar Cafe/materials/models/arctic0ne/gtaiv/shared/env_woodgrain.vtf
[GTA IV] Superstar Cafe/materials/models/arctic0ne/gtaiv/shared/cubemap_sheen002.hdr.vtf
[GTA IV] Superstar Cafe/materials/models/arctic0ne/gtaiv/shared/detail_plastic.vtf
[GTA IV] Superstar Cafe/materials/models/arctic0ne/gtaiv/shared/plasterwall01b_n4.vtf
[GTA IV] Superstar Cafe/materials/models/arctic0ne/gtaiv/shared/detail_concrete_04.vtf
[GTA IV] Superstar Cafe/materials/models/arctic0ne/gtaiv/shared/null.vtf
[GTA IV] Superstar Cafe/materials/models/arctic0ne/gtaiv/shared/detail_cloth_02.vtf
[GTA IV] Superstar Cafe/materials/models/arctic0ne/gtaiv/shared/hr_concrete_floor_05_detail.vtf
[GTA IV] Superstar Cafe/materials/models/arctic0ne/gtaiv/shared/skin_nm.vtf
[GTA IV] Superstar Cafe/materials/models/arctic0ne/gtaiv/shared/green.vtf
[GTA IV] Superstar Cafe/materials/models/arctic0ne/gtaiv/shared/detail_metal_01.vtf
[GTA IV] Superstar Cafe/materials/models/arctic0ne/gtaiv/shared/leather_detail.vtf
[GTA IV] Superstar Cafe/materials/models/arctic0ne/gtaiv/shared/concrete_detail_04.vtf
[GTA IV] Superstar Cafe/materials/models/arctic0ne/gtaiv/shared/detail_cloth6.vtf
[GTA IV] Superstar Cafe/materials/models/arctic0ne/gtaiv/shared/cubemap_gold001.hdr.vtf
[GTA IV] Superstar Cafe/materials/models/arctic0ne/gtaiv/shared/bs_wallswht.vtf
[GTA IV] Superstar Cafe/materials/models/arctic0ne/gtaiv/shared/albedo_tintdefinelight.vtf
[GTA IV] Superstar Cafe/materials/models/arctic0ne/gtaiv/shared/detail_wood4.vtf
[GTA IV] Superstar Cafe/materials/models/arctic0ne/gtaiv/shared/detail_wood.vtf
[GTA IV] Superstar Cafe/materials/models/arctic0ne/gtaiv/shared/cubemap_sheen002.vtf
[GTA IV] Superstar Cafe/materials/models/arctic0ne/gtaiv/shared/env_bark.vtf
[GTA IV] Superstar Cafe/materials/models/arctic0ne/gtaiv/shared/detail_cloth_002.vtf
[GTA IV] Superstar Cafe/materials/models/arctic0ne/gtaiv/shared/detail_wood_horizontal.vtf
[GTA IV] Superstar Cafe/materials/models/arctic0ne/gtaiv/shared/detail_metal7.vtf
[GTA IV] Superstar Cafe/materials/models/arctic0ne/gtaiv/shared/detail_skin18.vtf
[GTA IV] Superstar Cafe/materials/models/arctic0ne/gtaiv/shared/softsilver.hdr.vtf
[GTA IV] Superstar Cafe/materials/models/arctic0ne/gtaiv/shared/env_noise_heavy.vtf
[GTA IV] Superstar Cafe/materials/models/arctic0ne/gtaiv/shared/detail_rock8.vtf
[GTA IV] Superstar Cafe/materials/models/arctic0ne/gtaiv/shared/env_cloth.vtf
[GTA IV] Superstar Cafe/materials/models/arctic0ne/gtaiv/shared/bm_concrete_detail_05.vtf
[GTA IV] Superstar Cafe/materials/models/arctic0ne/gtaiv/shared/detail_cloth_01.vtf
[GTA IV] Superstar Cafe/materials/models/arctic0ne/gtaiv/shared/detail_cloth_b2s.vtf
[GTA IV] Superstar Cafe/materials/models/arctic0ne/gtaiv/shared/detail_leather_02.vtf
[GTA IV] Superstar Cafe/materials/models/arctic0ne/gtaiv/shared/detail_metal_001.vtf
[GTA IV] Superstar Cafe/materials/models/arctic0ne/gtaiv/shared/detail_wood_vertical.vtf
[GTA IV] Superstar Cafe/materials/models/arctic0ne/gtaiv/shared/turtleneck_detail.vtf
[GTA IV] Superstar Cafe/materials/models/arctic0ne/gtaiv/shared/green_noisy2.vtf
[GTA IV] Superstar Cafe/materials/models/arctic0ne/gtaiv/shared/softsilver.vtf
[GTA IV] Superstar Cafe/materials/models/arctic0ne/gtaiv/shared/detail_fur.vtf
[GTA IV] Superstar Cafe/materials/models/arctic0ne/gtaiv/shared/env_smooth_concrete2.vtf
[GTA IV] Superstar Cafe/materials/models/arctic0ne/gtaiv/shared/micronormal.vtf
[GTA IV] Superstar Cafe/materials/models/arctic0ne/gtaiv/shared/chrome.vtf
[GTA IV] Superstar Cafe/materials/models/arctic0ne/gtaiv/shared/detail_wood_1_1.vtf
[GTA IV] Superstar Cafe/materials/models/arctic0ne/gtaiv/shared/extra_carpet_detail_v2.vtf
[GTA IV] Superstar Cafe/materials/models/arctic0ne/gtaiv/shared/detail_paper_01.vtf
[GTA IV] Superstar Cafe/materials/models/arctic0ne/gtaiv/shared/detail_wood_01.vtf
[GTA IV] Superstar Cafe/materials/models/arctic0ne/gtaiv/shared/detail_cloth.vtf
[GTA IV] Superstar Cafe/materials/models/arctic0ne/gtaiv/shared/detail_fur3.vtf
[GTA IV] Superstar Cafe/materials/models/arctic0ne/gtaiv/shared/env_stucco.vtf
[GTA IV] Superstar Cafe/materials/models/arctic0ne/gtaiv/shared/env_crusty.vtf
[GTA IV] Superstar Cafe/materials/models/arctic0ne/gtaiv/shared/env_woodgrain_2.vtf
[GTA IV] Superstar Cafe/materials/models/arctic0ne/gtaiv/shared/lightwarp_leather.vtf
[GTA IV] Superstar Cafe/materials/models/arctic0ne/gtaiv/shared/cubemap_specular001.vtf
[GTA IV] Superstar Cafe/materials/models/arctic0ne/gtaiv/shared/detail_dirt4.vtf
[GTA IV] Superstar Cafe/materials/models/arctic0ne/gtaiv/shared/phongexponent.vtf
[GTA IV] Superstar Cafe/materials/models/arctic0ne/gtaiv/shared/detail_stone_01.vtf
[GTA IV] Superstar Cafe/materials/models/arctic0ne/gtaiv/shared/detail_concrete6.vtf
[GTA IV] Superstar Cafe/materials/models/arctic0ne/gtaiv/shared/detail_wood_01_1.vtf
[GTA IV] Superstar Cafe/materials/models/arctic0ne/gtaiv/shared/rug_normal.vtf
[GTA IV] Superstar Cafe/materials/models/arctic0ne/gtaiv/shared/detail_leather6.vtf
[GTA IV] Superstar Cafe/materials/models/arctic0ne/gtaiv/paper/cj_cardbrd_spk_2.vmt
[GTA IV] Superstar Cafe/materials/models/arctic0ne/gtaiv/paper/cj_card_box1_n.vtf
[GTA IV] Superstar Cafe/materials/models/arctic0ne/gtaiv/paper/cj_cardbrd_spk_2.vtf
[GTA IV] Superstar Cafe/materials/models/arctic0ne/gtaiv/paper/cj_cardbrd_spk_3.vmt
[GTA IV] Superstar Cafe/materials/models/arctic0ne/gtaiv/paper/cj_box_comp.vmt
[GTA IV] Superstar Cafe/materials/models/arctic0ne/gtaiv/paper/cj_box_comp.vtf
[GTA IV] Superstar Cafe/materials/models/arctic0ne/gtaiv/paper/cj_cardbrd_spk_3.vtf
[GTA IV] Superstar Cafe/materials/models/arctic0ne/gtaiv/decals/cj_credit_card.vtf
[GTA IV] Superstar Cafe/materials/models/arctic0ne/gtaiv/decals/cj_24_7_signs1.vtf
[GTA IV] Superstar Cafe/materials/models/arctic0ne/gtaiv/decals/ab_drinksab_drinks2_a.vmt
[GTA IV] Superstar Cafe/materials/models/arctic0ne/gtaiv/decals/cj_credit_card.vmt
[GTA IV] Superstar Cafe/materials/models/arctic0ne/gtaiv/decals/ab_drinksab_drinks2_a.vtf
[GTA IV] Superstar Cafe/materials/models/arctic0ne/gtaiv/decals/ab_rscafe2logoab_rscafe2logoscratch_a.vmt
[GTA IV] Superstar Cafe/materials/models/arctic0ne/gtaiv/decals/cj_24_7_signs1.vmt
[GTA IV] Superstar Cafe/materials/models/arctic0ne/gtaiv/decals/ab_rscafe2logoab_rscafe2logoscratch_a.vtf
[GTA IV] Superstar Cafe/materials/models/arctic0ne/gtaiv/signs/dc_carpark_extsign.vmt
[GTA IV] Superstar Cafe/materials/models/arctic0ne/gtaiv/signs/dc_rockstar_video_04dc_rockstar_video_04_a.vmt
[GTA IV] Superstar Cafe/materials/models/arctic0ne/gtaiv/signs/dc_rockstar_video_03.vtf
[GTA IV] Superstar Cafe/materials/models/arctic0ne/gtaiv/signs/dc_rockstar_video_01dc_rockstar_video_01_a.vmt
[GTA IV] Superstar Cafe/materials/models/arctic0ne/gtaiv/signs/dc_rockstar_video_04dc_rockstar_video_04_a.vtf
[GTA IV] Superstar Cafe/materials/models/arctic0ne/gtaiv/signs/dc_carpark_extsign.vtf
[GTA IV] Superstar Cafe/materials/models/arctic0ne/gtaiv/signs/dc_rockstar_video_01dc_rockstar_video_01_a.vtf
[GTA IV] Superstar Cafe/materials/models/arctic0ne/gtaiv/signs/dc_rockstar_video_03.vmt