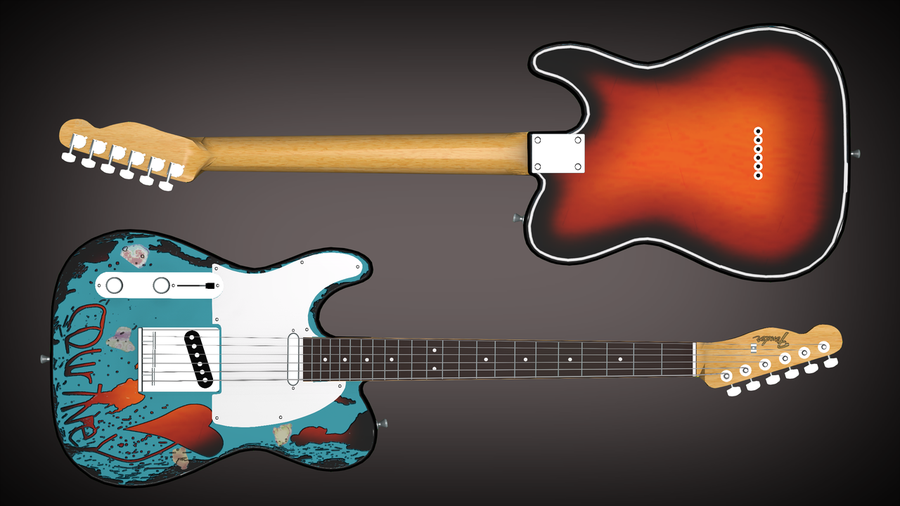 Show more
Description
"This guitar first appeared live at the Hordern Pavilion gig in Sydney, Australia on January 25, 1992, and it was seen during the Come as You Are music video, which was filmed around that same time – January 1992.
The Telecaster originally styled a 3-tone sunburst finish, but Kurt sprayed the whole body with blue latex paint and carved out a heart and Courtney's name on it... It appears that he didn't mush at all until the infamous gig in Rio on January 16th, 1993 (considered by some to be one of the band's worst), when he broke the guitar's neck and threw it into the audience."
-taken from the https://www.groundguitar.com article
Envmaps enabled for metal textures
Bodygroups to the pickup position switch
You can credit me as David ii if you want to use this model. It's not 100% obligatory, but I'd really appreciate it. Enjoy!
SFMLab is a free service. However, it costs about $0.03 to deliver you a 1GB file. With over 20TB of traffic every month and growing, SFMLab needs your help. If only 1% of our users each gave us $5 for a single month, we could keep the site running for several years.
Filename
Downloads
Created
Filesize
Files
SFM_-_Kurt_Cobains_Fender_Telecaster_1Zmp1fA.zip
320
2022-07-07 15:49:21
3.65 MB
File contents:

SFM - Kurt Cobain's Fender Telecaster/models/davidiicustom/kurt_cobain_telecaster.phy
SFM - Kurt Cobain's Fender Telecaster/models/davidiicustom/kurt_cobain_telecaster.mdl
SFM - Kurt Cobain's Fender Telecaster/models/davidiicustom/kurt_cobain_telecaster.vvd
SFM - Kurt Cobain's Fender Telecaster/models/davidiicustom/kurt_cobain_telecaster.dx90.vtx
SFM - Kurt Cobain's Fender Telecaster/materials/models/davidiicustom/allblank_bmp.vtf
SFM - Kurt Cobain's Fender Telecaster/materials/models/davidiicustom/allblank.vtf
SFM - Kurt Cobain's Fender Telecaster/materials/models/davidiicustom/Kurtelecaster/Frets.vmt
SFM - Kurt Cobain's Fender Telecaster/materials/models/davidiicustom/Kurtelecaster/neck.vmt
SFM - Kurt Cobain's Fender Telecaster/materials/models/davidiicustom/Kurtelecaster/body.vmt
SFM - Kurt Cobain's Fender Telecaster/materials/models/davidiicustom/Kurtelecaster/backplate.vtf
SFM - Kurt Cobain's Fender Telecaster/materials/models/davidiicustom/Kurtelecaster/nut.vmt
SFM - Kurt Cobain's Fender Telecaster/materials/models/davidiicustom/Kurtelecaster/pickguard.vmt
SFM - Kurt Cobain's Fender Telecaster/materials/models/davidiicustom/Kurtelecaster/Metal.vmt
SFM - Kurt Cobain's Fender Telecaster/materials/models/davidiicustom/Kurtelecaster/Fretmarkers.vmt
SFM - Kurt Cobain's Fender Telecaster/materials/models/davidiicustom/Kurtelecaster/body.vtf
SFM - Kurt Cobain's Fender Telecaster/materials/models/davidiicustom/Kurtelecaster/Fingerboard.vmt
SFM - Kurt Cobain's Fender Telecaster/materials/models/davidiicustom/Kurtelecaster/backplate.vmt
SFM - Kurt Cobain's Fender Telecaster/materials/models/davidiicustom/Kurtelecaster/body_bmp.vtf
SFM - Kurt Cobain's Fender Telecaster/materials/models/davidiicustom/Kurtelecaster/neck.vtf
SFM - Kurt Cobain's Fender Telecaster/materials/models/davidiicustom/Kurtelecaster/black.vmt
SFM - Kurt Cobain's Fender Telecaster/materials/models/davidiicustom/Kurtelecaster/Strings.vmt
SFM - Kurt Cobain's Fender Telecaster/materials/models/davidiicustom/Kurtelecaster/screw.vmt