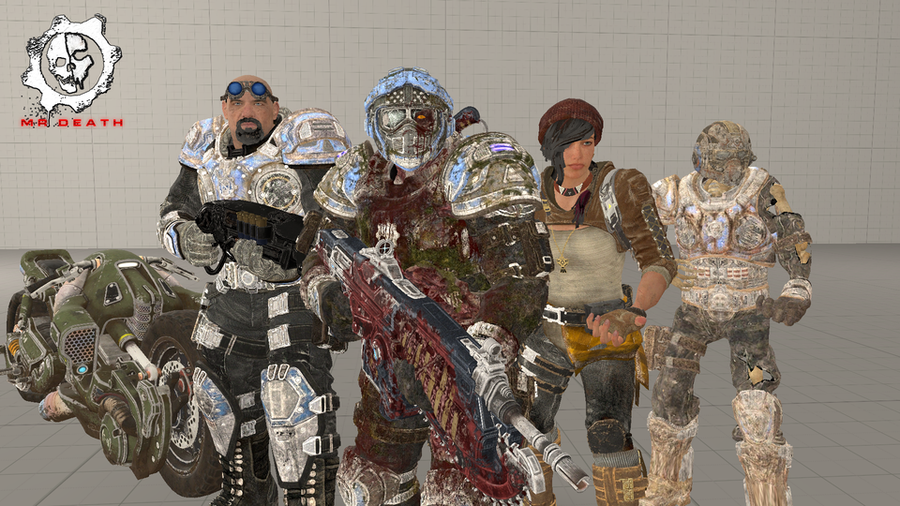 Show more
Description
I share with you a small pack of Gears of War 4 characters, this pack includes
Anthony Carmine Black Steel
Anthony Carmine Zombie
Benjamin Carmine Zombie
Old Man Damon Baird
kait outsider
DeeBee DR1
Marcus motorcycle
Extra:
Marcus Santa's model is from JoeClazon from Open3dLab, I just ported it to SFM
Weapons are not included in this package
SFMLab is a free service. However, it costs about $0.03 to deliver you a 1GB file. With over 20TB of traffic every month and growing, SFMLab needs your help. If only 1% of our users each gave us $5 for a single month, we could keep the site running for several years.
Filename
Downloads
Created
Filesize
Files
Gears_ModelPack.rar
408
2022-07-10 18:27:12
187.91 MB
File contents:

Gears_ModelPack/models/Gears_of_War/COG/COG_Soldier/Corpse/corpse_gear.vvd
Gears_ModelPack/models/Gears_of_War/COG/COG_Soldier/Corpse/Corpse_Gear.dx90.vtx
Gears_ModelPack/models/Gears_of_War/COG/COG_Soldier/Corpse/Corpse_Gear.phy
Gears_ModelPack/models/Gears_of_War/COG/COG_Soldier/Corpse/corpse_gear.mdl
Gears_ModelPack/models/Gears_of_War/COG/Baird/OldMan.dx90.vtx
Gears_ModelPack/models/Gears_of_War/COG/Baird/OldMan.phy
Gears_ModelPack/models/Gears_of_War/COG/Baird/oldman.mdl
Gears_ModelPack/models/Gears_of_War/COG/Baird/oldman.vvd
Gears_ModelPack/models/Gears_of_War/COG/Motorcycle/Marcus_Motorcycle.dx90.vtx
Gears_ModelPack/models/Gears_of_War/COG/Motorcycle/marcus_motorcycle.vvd
Gears_ModelPack/models/Gears_of_War/COG/Motorcycle/Marcus_Motorcycle.phy
Gears_ModelPack/models/Gears_of_War/COG/Motorcycle/marcus_motorcycle.mdl
Gears_ModelPack/models/Gears_of_War/COG/Ben_Carmine/Zombie/Zombie_Ben_Carmine.dx90.vtx
Gears_ModelPack/models/Gears_of_War/COG/Ben_Carmine/Zombie/zombie_ben_carmine.mdl
Gears_ModelPack/models/Gears_of_War/COG/Ben_Carmine/Zombie/zombie_ben_carmine.vvd
Gears_ModelPack/models/Gears_of_War/COG/Ben_Carmine/Zombie/Zombie_Ben_Carmine.phy
Gears_ModelPack/models/Gears_of_War/COG/Marcus_Fenix/Santa/santa.vvd
Gears_ModelPack/models/Gears_of_War/COG/Marcus_Fenix/Santa/santa.mdl
Gears_ModelPack/models/Gears_of_War/COG/Marcus_Fenix/Santa/Santa.dx90.vtx
Gears_ModelPack/models/Gears_of_War/COG/Marcus_Fenix/Santa/Santa.phy
Gears_ModelPack/models/Gears_of_War/COG/Anthony_Carmine/Black_Steel/black_steel.vvd
Gears_ModelPack/models/Gears_of_War/COG/Anthony_Carmine/Black_Steel/Black_Steel.dx90.vtx
Gears_ModelPack/models/Gears_of_War/COG/Anthony_Carmine/Black_Steel/black_steel.mdl
Gears_ModelPack/models/Gears_of_War/COG/Anthony_Carmine/Black_Steel/Black_Steel.phy
Gears_ModelPack/models/Gears_of_War/COG/Anthony_Carmine/Zombie/zombie.mdl
Gears_ModelPack/models/Gears_of_War/COG/Anthony_Carmine/Zombie/zombie.vvd
Gears_ModelPack/models/Gears_of_War/COG/Anthony_Carmine/Zombie/Zombie.phy
Gears_ModelPack/models/Gears_of_War/COG/Anthony_Carmine/Zombie/Zombie.dx90.vtx
Gears_ModelPack/models/Gears_of_War/COG/Kait/Outsider.dx90.vtx
Gears_ModelPack/models/Gears_of_War/COG/Kait/outsider.mdl
Gears_ModelPack/models/Gears_of_War/COG/Kait/Outsider.phy
Gears_ModelPack/models/Gears_of_War/COG/Kait/outsider.vvd
Gears_ModelPack/models/Gears_of_War/DeeBee/DR1/dr1.mdl
Gears_ModelPack/models/Gears_of_War/DeeBee/DR1/dr1.vvd
Gears_ModelPack/models/Gears_of_War/DeeBee/DR1/DR1.phy
Gears_ModelPack/models/Gears_of_War/DeeBee/DR1/DR1.dx90.vtx
Gears_ModelPack/materials/models/Gears_of_War/lightwarp.vtf
Gears_ModelPack/materials/models/Gears_of_War/COG/COG_Soldier/Corpse/Armor 2.vtf
Gears_ModelPack/materials/models/Gears_of_War/COG/COG_Soldier/Corpse/Armor 1.vtf
Gears_ModelPack/materials/models/Gears_of_War/COG/COG_Soldier/Corpse/Helmet_Corp 1.vtf
Gears_ModelPack/materials/models/Gears_of_War/COG/COG_Soldier/Corpse/Helmet_Corp 1.vmt
Gears_ModelPack/materials/models/Gears_of_War/COG/COG_Soldier/Corpse/Armor 2.vmt
Gears_ModelPack/materials/models/Gears_of_War/COG/COG_Soldier/Corpse/Skeleton 1.vtf
Gears_ModelPack/materials/models/Gears_of_War/COG/COG_Soldier/Corpse/Armor 1.vmt
Gears_ModelPack/materials/models/Gears_of_War/COG/COG_Soldier/Corpse/Skeleton 1.vmt
Gears_ModelPack/materials/models/Gears_of_War/COG/COG_Soldier/Corpse/Helmet_Corp 2.vtf
Gears_ModelPack/materials/models/Gears_of_War/COG/COG_Soldier/Corpse/Skeleton 2.vmt
Gears_ModelPack/materials/models/Gears_of_War/COG/COG_Soldier/Corpse/Helmet_Corp 2.vmt
Gears_ModelPack/materials/models/Gears_of_War/COG/COG_Soldier/Corpse/Skeleton 2.vtf
Gears_ModelPack/materials/models/Gears_of_War/COG/Baird/OldMan/Barb 2.vmt
Gears_ModelPack/materials/models/Gears_of_War/COG/Baird/OldMan/Body 2.vmt
Gears_ModelPack/materials/models/Gears_of_War/COG/Baird/OldMan/Head 2.vtf
Gears_ModelPack/materials/models/Gears_of_War/COG/Baird/OldMan/Barb 1.vtf
Gears_ModelPack/materials/models/Gears_of_War/COG/Baird/OldMan/Barb 2.vtf
Gears_ModelPack/materials/models/Gears_of_War/COG/Baird/OldMan/Googles 1.vmt
Gears_ModelPack/materials/models/Gears_of_War/COG/Baird/OldMan/Googles 1.vtf
Gears_ModelPack/materials/models/Gears_of_War/COG/Baird/OldMan/Pants 1.vmt
Gears_ModelPack/materials/models/Gears_of_War/COG/Baird/OldMan/Head 1.vtf
Gears_ModelPack/materials/models/Gears_of_War/COG/Baird/OldMan/Pants 2.vmt
Gears_ModelPack/materials/models/Gears_of_War/COG/Baird/OldMan/Googles 2.vtf
Gears_ModelPack/materials/models/Gears_of_War/COG/Baird/OldMan/Body 1.vtf
Gears_ModelPack/materials/models/Gears_of_War/COG/Baird/OldMan/Body 1.vmt
Gears_ModelPack/materials/models/Gears_of_War/COG/Baird/OldMan/Body 2.vtf
Gears_ModelPack/materials/models/Gears_of_War/COG/Baird/OldMan/Head 2.vmt
Gears_ModelPack/materials/models/Gears_of_War/COG/Baird/OldMan/Head 1.vmt
Gears_ModelPack/materials/models/Gears_of_War/COG/Baird/OldMan/Pants 2.vtf
Gears_ModelPack/materials/models/Gears_of_War/COG/Baird/OldMan/Googles 2.vmt
Gears_ModelPack/materials/models/Gears_of_War/COG/Baird/OldMan/Barb 1.vmt
Gears_ModelPack/materials/models/Gears_of_War/COG/Baird/OldMan/Pants 1.vtf
Gears_ModelPack/materials/models/Gears_of_War/COG/Motorcycle/MBody 2.vtf
Gears_ModelPack/materials/models/Gears_of_War/COG/Motorcycle/Weel 1.vtf
Gears_ModelPack/materials/models/Gears_of_War/COG/Motorcycle/Chain 2.vtf
Gears_ModelPack/materials/models/Gears_of_War/COG/Motorcycle/Chain 1.vtf
Gears_ModelPack/materials/models/Gears_of_War/COG/Motorcycle/Weel 1.vmt
Gears_ModelPack/materials/models/Gears_of_War/COG/Motorcycle/Weel 2.vtf
Gears_ModelPack/materials/models/Gears_of_War/COG/Motorcycle/Weel 2.vmt
Gears_ModelPack/materials/models/Gears_of_War/COG/Motorcycle/Chain 2.vmt
Gears_ModelPack/materials/models/Gears_of_War/COG/Motorcycle/Chain 1.vmt
Gears_ModelPack/materials/models/Gears_of_War/COG/Motorcycle/MBody 1.vmt
Gears_ModelPack/materials/models/Gears_of_War/COG/Motorcycle/MBody 2.vmt
Gears_ModelPack/materials/models/Gears_of_War/COG/Motorcycle/MBody 1.vtf
Gears_ModelPack/materials/models/Gears_of_War/COG/Ben_Carmine/Zombie/body_upper_illum.vtf
Gears_ModelPack/materials/models/Gears_of_War/COG/Ben_Carmine/Zombie/Zomb 2.vtf
Gears_ModelPack/materials/models/Gears_of_War/COG/Ben_Carmine/Zombie/BodyZ 2.vmt
Gears_ModelPack/materials/models/Gears_of_War/COG/Ben_Carmine/Zombie/BodyZ 2.vtf
Gears_ModelPack/materials/models/Gears_of_War/COG/Ben_Carmine/Zombie/body_lower_spec.vtf
Gears_ModelPack/materials/models/Gears_of_War/COG/Ben_Carmine/Zombie/BodyZ 1.vtf
Gears_ModelPack/materials/models/Gears_of_War/COG/Ben_Carmine/Zombie/Zomb 2.vmt
Gears_ModelPack/materials/models/Gears_of_War/COG/Ben_Carmine/Zombie/Zomb 1.vtf
Gears_ModelPack/materials/models/Gears_of_War/COG/Ben_Carmine/Zombie/body_upper_spec.vtf
Gears_ModelPack/materials/models/Gears_of_War/COG/Ben_Carmine/Zombie/Zomb 1.vmt
Gears_ModelPack/materials/models/Gears_of_War/COG/Ben_Carmine/Zombie/body_helmet_illum.vtf
Gears_ModelPack/materials/models/Gears_of_War/COG/Ben_Carmine/Zombie/BodyZ 1.vmt
Gears_ModelPack/materials/models/Gears_of_War/COG/Ben_Carmine/Zombie/Helmet 1.vtf
Gears_ModelPack/materials/models/Gears_of_War/COG/Ben_Carmine/Zombie/Helmet 2.vtf
Gears_ModelPack/materials/models/Gears_of_War/COG/Ben_Carmine/Zombie/Helmet 1.vmt
Gears_ModelPack/materials/models/Gears_of_War/COG/Ben_Carmine/Zombie/Helmet 2.vmt
Gears_ModelPack/materials/models/Gears_of_War/COG/Marcus_Fenix/Santa/Hair 1.vtf
Gears_ModelPack/materials/models/Gears_of_War/COG/Marcus_Fenix/Santa/Legs 2.vmt
Gears_ModelPack/materials/models/Gears_of_War/COG/Marcus_Fenix/Santa/Hat 1.vmt
Gears_ModelPack/materials/models/Gears_of_War/COG/Marcus_Fenix/Santa/Body 2.vmt
Gears_ModelPack/materials/models/Gears_of_War/COG/Marcus_Fenix/Santa/Head 2.vtf
Gears_ModelPack/materials/models/Gears_of_War/COG/Marcus_Fenix/Santa/Hair 2.vmt
Gears_ModelPack/materials/models/Gears_of_War/COG/Marcus_Fenix/Santa/Hair 1.vmt
Gears_ModelPack/materials/models/Gears_of_War/COG/Marcus_Fenix/Santa/Legs 1.vtf
Gears_ModelPack/materials/models/Gears_of_War/COG/Marcus_Fenix/Santa/Head 1.vtf
Gears_ModelPack/materials/models/Gears_of_War/COG/Marcus_Fenix/Santa/Hat 2.vtf
Gears_ModelPack/materials/models/Gears_of_War/COG/Marcus_Fenix/Santa/Hat 1.vtf
Gears_ModelPack/materials/models/Gears_of_War/COG/Marcus_Fenix/Santa/Body 1.vtf
Gears_ModelPack/materials/models/Gears_of_War/COG/Marcus_Fenix/Santa/Hair 2.vtf
Gears_ModelPack/materials/models/Gears_of_War/COG/Marcus_Fenix/Santa/Body 1.vmt
Gears_ModelPack/materials/models/Gears_of_War/COG/Marcus_Fenix/Santa/Legs 1.vmt
Gears_ModelPack/materials/models/Gears_of_War/COG/Marcus_Fenix/Santa/Legs 2.vtf
Gears_ModelPack/materials/models/Gears_of_War/COG/Marcus_Fenix/Santa/Body 2.vtf
Gears_ModelPack/materials/models/Gears_of_War/COG/Marcus_Fenix/Santa/Head 2.vmt
Gears_ModelPack/materials/models/Gears_of_War/COG/Marcus_Fenix/Santa/Head 1.vmt
Gears_ModelPack/materials/models/Gears_of_War/COG/Marcus_Fenix/Santa/Hat 2.vmt
Gears_ModelPack/materials/models/Gears_of_War/COG/Anthony_Carmine/Black_Steel/body_upper_illum.vtf
Gears_ModelPack/materials/models/Gears_of_War/COG/Anthony_Carmine/Black_Steel/Black_Helmet 2.vmt
Gears_ModelPack/materials/models/Gears_of_War/COG/Anthony_Carmine/Black_Steel/Black_Helmet 2.vtf
Gears_ModelPack/materials/models/Gears_of_War/COG/Anthony_Carmine/Black_Steel/body_lower_spec.vtf
Gears_ModelPack/materials/models/Gears_of_War/COG/Anthony_Carmine/Black_Steel/helmet_illum.vtf
Gears_ModelPack/materials/models/Gears_of_War/COG/Anthony_Carmine/Black_Steel/Black_Helmet 1.vmt
Gears_ModelPack/materials/models/Gears_of_War/COG/Anthony_Carmine/Black_Steel/Black_Armor 1.vtf
Gears_ModelPack/materials/models/Gears_of_War/COG/Anthony_Carmine/Black_Steel/helmet_spec.vtf
Gears_ModelPack/materials/models/Gears_of_War/COG/Anthony_Carmine/Black_Steel/body_upper_spec.vtf
Gears_ModelPack/materials/models/Gears_of_War/COG/Anthony_Carmine/Black_Steel/helmet_norm.vtf
Gears_ModelPack/materials/models/Gears_of_War/COG/Anthony_Carmine/Black_Steel/Black_Armor 2.vtf
Gears_ModelPack/materials/models/Gears_of_War/COG/Anthony_Carmine/Black_Steel/Black_Helmet 1.vtf
Gears_ModelPack/materials/models/Gears_of_War/COG/Anthony_Carmine/Black_Steel/body_helmet_illum.vtf
Gears_ModelPack/materials/models/Gears_of_War/COG/Anthony_Carmine/Black_Steel/Black_Armor 1.vmt
Gears_ModelPack/materials/models/Gears_of_War/COG/Anthony_Carmine/Black_Steel/Black_Armor 2.vmt
Gears_ModelPack/materials/models/Gears_of_War/COG/Anthony_Carmine/Black_Steel/helmet_diff.vtf
Gears_ModelPack/materials/models/Gears_of_War/COG/Anthony_Carmine/Zombie/body_upper_illum.vtf
Gears_ModelPack/materials/models/Gears_of_War/COG/Anthony_Carmine/Zombie/Zomb_Bod 2.vmt
Gears_ModelPack/materials/models/Gears_of_War/COG/Anthony_Carmine/Zombie/Zomb_Bod 1.vtf
Gears_ModelPack/materials/models/Gears_of_War/COG/Anthony_Carmine/Zombie/Armor 2.vtf
Gears_ModelPack/materials/models/Gears_of_War/COG/Anthony_Carmine/Zombie/Armor 1.vtf
Gears_ModelPack/materials/models/Gears_of_War/COG/Anthony_Carmine/Zombie/body_lower_spec.vtf
Gears_ModelPack/materials/models/Gears_of_War/COG/Anthony_Carmine/Zombie/Pants 1.vmt
Gears_ModelPack/materials/models/Gears_of_War/COG/Anthony_Carmine/Zombie/Pants 2.vmt
Gears_ModelPack/materials/models/Gears_of_War/COG/Anthony_Carmine/Zombie/Zomb_Bod 2.vtf
Gears_ModelPack/materials/models/Gears_of_War/COG/Anthony_Carmine/Zombie/Armor 2.vmt
Gears_ModelPack/materials/models/Gears_of_War/COG/Anthony_Carmine/Zombie/Zomb_Bod 1.vmt
Gears_ModelPack/materials/models/Gears_of_War/COG/Anthony_Carmine/Zombie/body_upper_spec.vtf
Gears_ModelPack/materials/models/Gears_of_War/COG/Anthony_Carmine/Zombie/Armor 1.vmt
Gears_ModelPack/materials/models/Gears_of_War/COG/Anthony_Carmine/Zombie/body_helmet_illum.vtf
Gears_ModelPack/materials/models/Gears_of_War/COG/Anthony_Carmine/Zombie/Helmet 1.vtf
Gears_ModelPack/materials/models/Gears_of_War/COG/Anthony_Carmine/Zombie/Pants 2.vtf
Gears_ModelPack/materials/models/Gears_of_War/COG/Anthony_Carmine/Zombie/Helmet 2.vtf
Gears_ModelPack/materials/models/Gears_of_War/COG/Anthony_Carmine/Zombie/Helmet 1.vmt
Gears_ModelPack/materials/models/Gears_of_War/COG/Anthony_Carmine/Zombie/Helmet 2.vmt
Gears_ModelPack/materials/models/Gears_of_War/COG/Anthony_Carmine/Zombie/Pants 1.vtf
Gears_ModelPack/materials/models/Gears_of_War/COG/Kait/Hair 1.vtf
Gears_ModelPack/materials/models/Gears_of_War/COG/Kait/Arms 2.vmt
Gears_ModelPack/materials/models/Gears_of_War/COG/Kait/Body 2.vmt
Gears_ModelPack/materials/models/Gears_of_War/COG/Kait/Head 2.vtf
Gears_ModelPack/materials/models/Gears_of_War/COG/Kait/Hair 2.vmt
Gears_ModelPack/materials/models/Gears_of_War/COG/Kait/Hair 1.vmt
Gears_ModelPack/materials/models/Gears_of_War/COG/Kait/Pants 1.vmt
Gears_ModelPack/materials/models/Gears_of_War/COG/Kait/Arms 1.vtf
Gears_ModelPack/materials/models/Gears_of_War/COG/Kait/Head 1.vtf
Gears_ModelPack/materials/models/Gears_of_War/COG/Kait/Pants 2.vmt
Gears_ModelPack/materials/models/Gears_of_War/COG/Kait/Body 1.vtf
Gears_ModelPack/materials/models/Gears_of_War/COG/Kait/Hair 2.vtf
Gears_ModelPack/materials/models/Gears_of_War/COG/Kait/Body 1.vmt
Gears_ModelPack/materials/models/Gears_of_War/COG/Kait/Arms 1.vmt
Gears_ModelPack/materials/models/Gears_of_War/COG/Kait/Body 2.vtf
Gears_ModelPack/materials/models/Gears_of_War/COG/Kait/Head 2.vmt
Gears_ModelPack/materials/models/Gears_of_War/COG/Kait/Arms 2.vtf
Gears_ModelPack/materials/models/Gears_of_War/COG/Kait/Head 1.vmt
Gears_ModelPack/materials/models/Gears_of_War/COG/Kait/Pants 2.vtf
Gears_ModelPack/materials/models/Gears_of_War/COG/Kait/Pants 1.vtf
Gears_ModelPack/materials/models/Gears_of_War/DeeBee/DR1/Legs 2.vmt
Gears_ModelPack/materials/models/Gears_of_War/DeeBee/DR1/Body 2.vmt
Gears_ModelPack/materials/models/Gears_of_War/DeeBee/DR1/Head 2.vtf
Gears_ModelPack/materials/models/Gears_of_War/DeeBee/DR1/Legs 1.vtf
Gears_ModelPack/materials/models/Gears_of_War/DeeBee/DR1/Head 1.vtf
Gears_ModelPack/materials/models/Gears_of_War/DeeBee/DR1/cog_lancer_deebee.vtf
Gears_ModelPack/materials/models/Gears_of_War/DeeBee/DR1/Body 1.vtf
Gears_ModelPack/materials/models/Gears_of_War/DeeBee/DR1/Body 1.vmt
Gears_ModelPack/materials/models/Gears_of_War/DeeBee/DR1/DRAracno_Legs.vtf
Gears_ModelPack/materials/models/Gears_of_War/DeeBee/DR1/Legs 1.vmt
Gears_ModelPack/materials/models/Gears_of_War/DeeBee/DR1/Legs 2.vtf
Gears_ModelPack/materials/models/Gears_of_War/DeeBee/DR1/DRAracno_Body.vtf
Gears_ModelPack/materials/models/Gears_of_War/DeeBee/DR1/Body 2.vtf
Gears_ModelPack/materials/models/Gears_of_War/DeeBee/DR1/Head 2.vmt
Gears_ModelPack/materials/models/Gears_of_War/DeeBee/DR1/Head 1.vmt
Gears_ModelPack/materials/models/Gears_of_War/DeeBee/DR1/DRAracno_Head.vtf