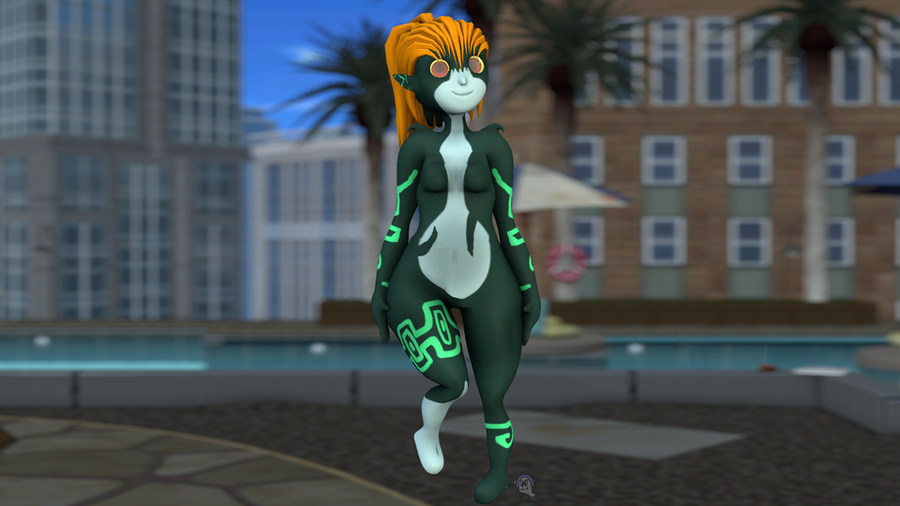 Show more
Description
NOTE
I already know this will get alot of hate due to the model's looks. however, I noticed that my Inkling models were getting a bit of positive feedback so yeah. anyways, if you want to get more ports, you can go to my Gumroad since I won't post here alot due to hate. thanks for understanding.
---
Here's Midna!
I wanted to make this for a while, so I made this model. You can use it for whatever you want, just please give me credit by tagging me @CappyAdams or @YuriMayori
---
Yes. This works in gmod. however, to move the eyes, hair, facial bones, etc, you have to get The Advanced bone tool.
---
I'll set this as Adult content if I'm asked to due to the Breast flexes.
---
SFMLab is a free service. However, it costs about $0.03 to deliver you a 1GB file. With over 20TB of traffic every month and growing, SFMLab needs your help. If only 1% of our users each gave us $5 for a single month, we could keep the site running for several years.
Filename
Downloads
Created
Filesize
Files
Midna.zip
196
2022-07-11 06:56:29
3.9 MB
File contents:

Midna/Usermod/models/cappyadams/loz/midna.sw.vtx
Midna/Usermod/models/cappyadams/loz/midna.vvd
Midna/Usermod/models/cappyadams/loz/midna.dx90.vtx
Midna/Usermod/models/cappyadams/loz/midna.phy
Midna/Usermod/models/cappyadams/loz/midna.dx80.vtx
Midna/Usermod/models/cappyadams/loz/midna.mdl
Midna/Usermod/scripts/sfm/animset/rig_midna_CA.py
Midna/Usermod/materials/Models/CappyAdams/LOZ/Midna/skin.vtf
Midna/Usermod/materials/Models/CappyAdams/LOZ/Midna/hair.vmt
Midna/Usermod/materials/Models/CappyAdams/LOZ/Midna/eyeglass.vmt
Midna/Usermod/materials/Models/CappyAdams/LOZ/Midna/helmet_rgh.vtf
Midna/Usermod/materials/Models/CappyAdams/LOZ/Midna/skin.vmt
Midna/Usermod/materials/Models/CappyAdams/LOZ/Midna/teeth.vmt
Midna/Usermod/materials/Models/CappyAdams/LOZ/Midna/helmet_nml.vtf
Midna/Usermod/materials/Models/CappyAdams/LOZ/Midna/helmet.vmt
Midna/Usermod/materials/Models/CappyAdams/LOZ/Midna/inmouth.vmt
Midna/Usermod/materials/Models/CappyAdams/LOZ/Midna/skin_nml.vtf
Midna/Usermod/materials/Models/CappyAdams/LOZ/Midna/skin_rgh.vtf
Midna/Usermod/materials/Models/CappyAdams/LOZ/Midna/eye.vtf
Midna/Usermod/materials/Models/CappyAdams/LOZ/Midna/eyes.vmt
Midna/Usermod/materials/Models/CappyAdams/LOZ/Midna/hair.vtf
Midna/Usermod/materials/Models/CappyAdams/LOZ/Midna/helmet.vtf
Midna/Usermod/materials/Models/CappyAdams/LOZ/Midna/teeth.vtf
Midna/Usermod/materials/Models/CappyAdams/LOZ/Midna/hair_band.vmt
Midna/Usermod/materials/Models/CappyAdams/LOZ/Midna/inmouth.vtf
Midna/Usermod/materials/Models/CappyAdams/LOZ/Midna/band.vtf