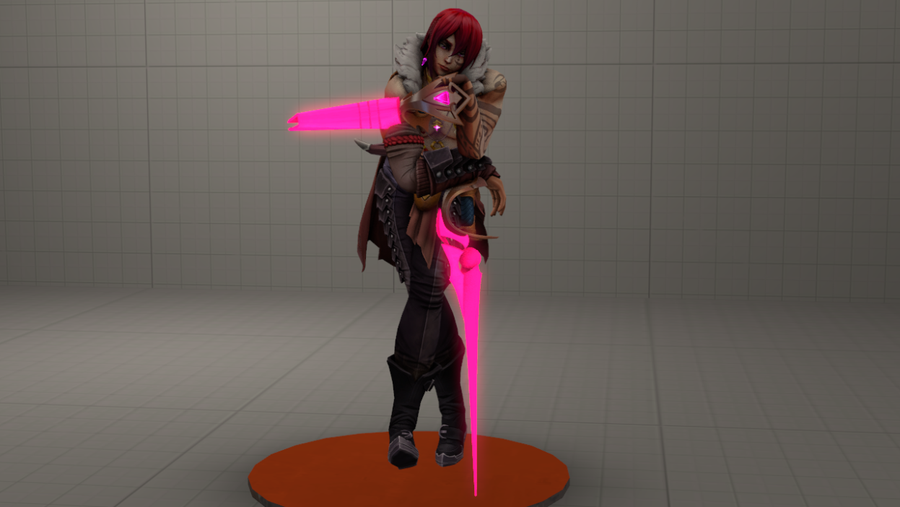 Show more
Description
Hello guys, my name is Medjidek and I am newbie porter.
I did Caspian with all skins and recolors, enjoy them!
Follow me on my Twitter for more content: https://twitter.com/medjidek
Check my other models on steam:
https://steamcommunity.com/sharedfiles/filedetails/?id=2763526041
If you want support me, here is PayPal:
PayPal: https://www.paypal.com/paypalme/medjidek
★ Caspian all skins (Default, Change Of Heart, Skull And Bones, Long Live The King)
★ Caspian all weapons (Default, Change Of Heart, Long Live The King)
★ Caspian all recolors (Free Spirit, Golden, Pride of the Realm)
★ Animations (All)
★ Better skeleton (Fix rigs)
★ Support RGB Textures (Glowing things)
---
Models and texture = Hi-Rez Studios
Porting : Medjidek ©
---
Files:
☛ Caspian_normal.mdl
☛ Caspian_normal.vtx
☛ Caspian_normal.vvd
☛ Caspian_special.mdl
☛ Caspian_special.dx90.vtx
☛ Caspian_special.vvd
SFMLab is a free service. However, it costs about $0.03 to deliver you a 1GB file. With over 20TB of traffic every month and growing, SFMLab needs your help. If only 1% of our users each gave us $5 for a single month, we could keep the site running for several years.
Filename
Downloads
Created
Filesize
Files
Caspian_New_Skin_-_Long_Live_the_King_UPDATE_-_28.5.2023.zip
14
2023-05-28 15:56:35
65.6 MB
File contents:

models/paladins/caspian/caspian_special.vvd
models/paladins/caspian/caspian_normal.mdl
models/paladins/caspian/caspian_special.mdl
models/paladins/caspian/caspian_normal.vvd
models/paladins/caspian/Caspian_Normal.dx90.vtx
models/paladins/caspian/Caspian_Special.dx90.vtx
materials/models/Paladins/Caspian/Caspian_Wep_Long_Live_The_King.vmt
materials/models/Paladins/Caspian/Caspian_S_Wep_Long_Live_The_King.vtf
materials/models/Paladins/Caspian/Caspian_D_Wep_Golden.vtf
materials/models/Paladins/Caspian/Caspian_N_Body2_Skull_And_Bones.vtf
materials/models/Paladins/Caspian/Caspian_S_Body1_Free_Spirit.vtf
materials/models/Paladins/Caspian/Caspian_Body1_Skull_And_Bones.vmt
materials/models/Paladins/Caspian/Caspian_D_Wep_Default.vtf
materials/models/Paladins/Caspian/Caspian_Self_Body2_Default.vtf
materials/models/Paladins/Caspian/Caspian_D_Body1_Free_Spirit.vtf
materials/models/Paladins/Caspian/Caspian_D_Wep_Pride_Of_The_Realm.vtf
materials/models/Paladins/Caspian/Caspian_S_Body1_Change_Of_Heart.vtf
materials/models/Paladins/Caspian/Caspian_S_Body2_Change_Of_Heart.vtf
materials/models/Paladins/Caspian/Caspian_D_Body2_Golden.vtf
materials/models/Paladins/Caspian/Caspian_Self_Wep_Free_Spirit.vtf
materials/models/Paladins/Caspian/Caspian_N_Body2_Change_Of_Heart.vtf
materials/models/Paladins/Caspian/Caspian_N_Body2_Default.vtf
materials/models/Paladins/Caspian/Caspian_S_Wep_Default.vtf
materials/models/Paladins/Caspian/Caspian_S_Body2_Pride_Of_The_Realm.vtf
materials/models/Paladins/Caspian/Caspian_S_Body2_Golden.vtf
materials/models/Paladins/Caspian/Caspian_S_Body2_Skull_And_Bones.vtf
materials/models/Paladins/Caspian/Caspian_Body1_Change_Of_Heart.vmt
materials/models/Paladins/Caspian/Caspian_Self_Body2_Free_Spirit.vtf
materials/models/Paladins/Caspian/Caspian_Self_Wep_Default.vtf
materials/models/Paladins/Caspian/Caspian_Body1_Free_Spirit.vmt
materials/models/Paladins/Caspian/Caspian_Body1_Golden.vmt
materials/models/Paladins/Caspian/Caspian_N_Body1_Default.vtf
materials/models/Paladins/Caspian/Caspian_Self_Body1_Golden.vtf
materials/models/Paladins/Caspian/Caspian_S_Wep_Change_Of_Heart.vtf
materials/models/Paladins/Caspian/Caspian_Self_Wep_Skull_And_Bones.vtf
materials/models/Paladins/Caspian/Caspian_S_Wep_Pride_Of_The_Realm.vtf
materials/models/Paladins/Caspian/Caspian_S_Body1_Pride_Of_The_Realm.vtf
materials/models/Paladins/Caspian/Caspian_D_Body1_Skull_And_Bones.vtf
materials/models/Paladins/Caspian/Caspian_Self_Wep_Pride_Of_The_Realm.vtf
materials/models/Paladins/Caspian/Caspian_N_Wep_Default.vtf
materials/models/Paladins/Caspian/Caspian_Wep_Skull_And_Bones.vmt
materials/models/Paladins/Caspian/Caspian_Wep_Golden.vmt
materials/models/Paladins/Caspian/Caspian_Body1_Default.vmt
materials/models/Paladins/Caspian/Caspian_Self_Body1_Default.vtf
materials/models/Paladins/Caspian/Caspian_S_Body1_Skull_And_Bones.vtf
materials/models/Paladins/Caspian/Caspian_N_Body1_Pride_Of_The_Realm.vtf
materials/models/Paladins/Caspian/Caspian_Wep_Free_Spirit.vmt
materials/models/Paladins/Caspian/Caspian_Body2_Pride_Of_The_Realm.vmt
materials/models/Paladins/Caspian/Caspian_D_Body1_Golden.vtf
materials/models/Paladins/Caspian/Caspian_Self_Body1_Free_Spirit.vtf
materials/models/Paladins/Caspian/Caspian_D_Wep_Skull_And_Bones.vtf
materials/models/Paladins/Caspian/Caspian_D_Wep_Free_Spirit.vtf
materials/models/Paladins/Caspian/Caspian_D_Body1_Pride_Of_The_Realm.vtf
materials/models/Paladins/Caspian/Caspian_Body2_Default.vmt
materials/models/Paladins/Caspian/Caspian_D_Body1_Long_Live_The_King.vtf
materials/models/Paladins/Caspian/Caspian_N_Body1_Skull_And_Bones.vtf
materials/models/Paladins/Caspian/Caspian_S_Body1_Golden.vtf
materials/models/Paladins/Caspian/Caspian_S_Wep_Skull_And_Bones.vtf
materials/models/Paladins/Caspian/Caspian_D_Body2_Skull_And_Bones.vtf
materials/models/Paladins/Caspian/Caspian_Self_Wep_Golden.vtf
materials/models/Paladins/Caspian/Caspian_Self_Wep_Long_Live_The_King.vtf
materials/models/Paladins/Caspian/Caspian_Body2_Free_Spirit.vmt
materials/models/Paladins/Caspian/Caspian_D_Body2_Long_Live_The_King.vtf
materials/models/Paladins/Caspian/Caspian_S_Body2_Free_Spirit.vtf
materials/models/Paladins/Caspian/Caspian_S_Wep_Golden.vtf
materials/models/Paladins/Caspian/Caspian_N_Body2_Pride_Of_The_Realm.vtf
materials/models/Paladins/Caspian/Caspian_D_Body1_Default.vtf
materials/models/Paladins/Caspian/Caspian_Body1_Long_Live_The_King.vmt
materials/models/Paladins/Caspian/Caspian_D_Body2_Pride_Of_The_Realm.vtf
materials/models/Paladins/Caspian/Caspian_Wep_Default.vmt
materials/models/Paladins/Caspian/Caspian_S_Body2_Long_Live_The_King.vtf
materials/models/Paladins/Caspian/Caspian_D_Wep_Change_Of_Heart.vtf
materials/models/Paladins/Caspian/Caspian_N_Wep_Pride_Of_The_Realm.vtf
materials/models/Paladins/Caspian/Caspian_S_Body1_Long_Live_The_King.vtf
materials/models/Paladins/Caspian/Caspian_D_Wep_Long_Live_The_King.vtf
materials/models/Paladins/Caspian/Caspian_D_Body2_Change_Of_Heart.vtf
materials/models/Paladins/Caspian/Caspian_D_Body2_Free_Spirit.vtf
materials/models/Paladins/Caspian/Caspian_S_Body1_Default.vtf
materials/models/Paladins/Caspian/Cave.vtf
materials/models/Paladins/Caspian/Caspian_S_Wep_Free_Spirit.vtf
materials/models/Paladins/Caspian/Caspian_D_Body1_Change_Of_Heart.vtf
materials/models/Paladins/Caspian/Caspian_N_Body1_Change_Of_Heart.vtf
materials/models/Paladins/Caspian/Caspian_Body1_Pride_Of_The_Realm.vmt
materials/models/Paladins/Caspian/Caspian_Body2_Change_Of_Heart.vmt
materials/models/Paladins/Caspian/Caspian_Body2_Skull_And_Bones.vmt
materials/models/Paladins/Caspian/Caspian_Wep_Change_Of_Heart.vmt
materials/models/Paladins/Caspian/Caspian_Wep_Pride_Of_The_Realm.vmt
materials/models/Paladins/Caspian/Caspian_Self_Body1_Change_Of_Heart.vtf
materials/models/Paladins/Caspian/Caspian_D_Body2_Default.vtf
materials/models/Paladins/Caspian/Caspian_Body2_Golden.vmt
materials/models/Paladins/Caspian/lightwarp.vtf
materials/models/Paladins/Caspian/Caspian_Self_Body2_Change_Of_Heart.vtf
materials/models/Paladins/Caspian/Caspian_S_Body2_Default.vtf
materials/models/Paladins/Caspian/Caspian_Self_Body2_Golden.vtf
materials/models/Paladins/Caspian/Caspian_Body2_Long_Live_The_King.vmt