Furry content
This content is marked as Furry/Anthro content. You can toggle your preferences regarding this content type in your account settings.
Adult content
This content is marked as Adult/NSFW content. You can toggle your preferences regarding this content type in your account settings.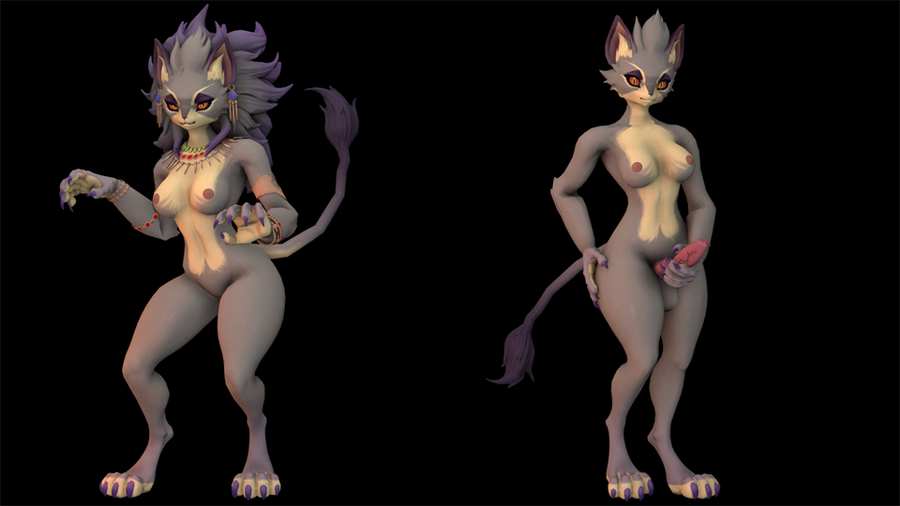 Description
Finally! You have no idea for how long i've been trying to get this working for SFM (well, since 2 years ago, for sure xD).
Huge THANK YOU to Zekium for helping me fixing some issues. It wouldn't have been possible without his help. Thanks! ><
This is an improved version of the original model available on SFMLab (which i don't find right now), ported from the Blender model uploaded by ValidHeretic. As you can see, this model includes NSFW parts :3
Features:
Several flexes to animate her face (also several bones to adjust the lips, included a "bulge neck" bone. Vagina and anus bones).
Bodygroups to remove/show her accesories and hair. There is also a bodygroup to show a "futa" penis.
While the penis has a bodygroup by itself, there is also included a second model called "belladonna penis", in case you want to attach this penis to a different model.
Finger bones.
Eye bones (EyeLeft and EyeRight in the Unknown group).
Tongue bones.
Supports Ambient Occlusion.
Body, jewelry and hair allow $phongboost and $phongexponent attributes to make them look "wet".
Breasts, hair, ears, earrings and butt jigglebones.
Includes a rig called "rig belladonna trials of mana", so you don't need to create one.
Caution:
While i set the ears and earrings as jigglebones, depending on the movement of the head there might be clipping, so keep it in mind. Probably you'll need to "bake procedural bones" to adjust that part manually once your animation is done.
Hope you like it! :3
SFMLab is a free service. However, it costs about $0.03 to deliver you a 1GB file. With over 20TB of traffic every month and growing, SFMLab needs your help. If only 1% of our users each gave us $5 for a single month, we could keep the site running for several years.
Filename
Downloads
Created
Filesize
Files
SFM-Belladonna.rar
2558
2022-08-02 00:03:34
5.76 MB
File contents:

models/DevilsCry/trials_of_mana/belladonna.mdl
models/DevilsCry/trials_of_mana/belladonna.vvd
models/DevilsCry/trials_of_mana/belladonna_penis.vvd
models/DevilsCry/trials_of_mana/belladonna_penis.dx90.vtx
models/DevilsCry/trials_of_mana/belladonna.dx90.vtx
models/DevilsCry/trials_of_mana/belladonna_penis.mdl
scripts/sfm/animset/rig_belladonna_trials_of_mana.py
materials/models/DevilsCry/trials_of_mana/belladonna/jewelry_n.vtf
materials/models/DevilsCry/trials_of_mana/belladonna/map.vtf
materials/models/DevilsCry/trials_of_mana/belladonna/hair_n.vtf
materials/models/DevilsCry/trials_of_mana/belladonna/hair.vmt
materials/models/DevilsCry/trials_of_mana/belladonna/jewelry.vtf
materials/models/DevilsCry/trials_of_mana/belladonna/body_nsfw_n.vtf
materials/models/DevilsCry/trials_of_mana/belladonna/body.vmt
materials/models/DevilsCry/trials_of_mana/belladonna/body_nsfw.vmt
materials/models/DevilsCry/trials_of_mana/belladonna/body_nsfw.vtf
materials/models/DevilsCry/trials_of_mana/belladonna/body_n.vtf
materials/models/DevilsCry/trials_of_mana/belladonna/face.vtf
materials/models/DevilsCry/trials_of_mana/belladonna/body.vtf
materials/models/DevilsCry/trials_of_mana/belladonna/eyes.vmt
materials/models/DevilsCry/trials_of_mana/belladonna/jewelry.vmt
materials/models/DevilsCry/trials_of_mana/belladonna/face_n.vtf
materials/models/DevilsCry/trials_of_mana/belladonna/eyes.vtf
materials/models/DevilsCry/trials_of_mana/belladonna/hair.vtf
materials/models/DevilsCry/trials_of_mana/belladonna/face.vmt