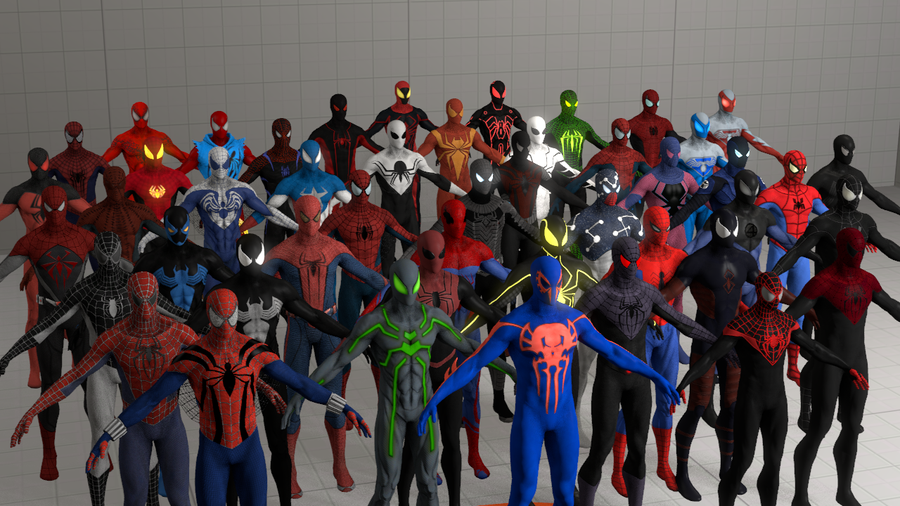 Show more
Description
Originally Made by Hollywood SN and Sgt Shotup on the Garry's Mod Workshop, this pack became unavaliable for download due to an error in the workshop which made the download frozen. Hollywood SN Later uploaded a MEGA Link which also is unavaliable. i was able to find these models fully on a Russian Garry's Mod Site and decided to Re-upload here for Ease of Access and Archival Purposes.
AGAIN i must state "I DID NOT MAKE THESE!" all credits go to HollywoodSN And SgtShotup for working on this, if the Original authors come across this feel free to contact me and i will take it down.
Contains 48 Spider Man Models, they have been tested and fully work in SFM and Gmod with Ambient Occlusion, some of the models also have bodygroups for alternate skins.
Link to the Original Addon https://steamcommunity.com/sharedfiles/filedetails/?id=178197611
SFMLab is a free service. However, it costs about $0.03 to deliver you a 1GB file. With over 20TB of traffic every month and growing, SFMLab needs your help. If only 1% of our users each gave us $5 for a single month, we could keep the site running for several years.
Filename
Downloads
Created
Filesize
Files
Spider-Man_Super_Pack.rar
553
2022-08-14 05:18:19
532.82 MB
File contents:

www.GMod-Fan.ru - Всё для Garry's Mod.url
Spider-Man Super Pack/addon.txt
Spider-Man Super Pack/models/Spiderman/BlueIronSpider.dx90.vtx
Spider-Man Super Pack/models/Spiderman/ScarletSpider.dx80.vtx
Spider-Man Super Pack/models/Spiderman/AssassinSpider.sw.vtx
Spider-Man Super Pack/models/Spiderman/MaxRSpider.dx90.vtx
Spider-Man Super Pack/models/Spiderman/ThespiderSpider.sw.vtx
Spider-Man Super Pack/models/Spiderman/alienSpider.phy
Spider-Man Super Pack/models/Spiderman/2099spider.vvd
Spider-Man Super Pack/models/Spiderman/2099Spider.phy
Spider-Man Super Pack/models/Spiderman/dev3xspider.vvd
Spider-Man Super Pack/models/Spiderman/maxrspider.mdl
Spider-Man Super Pack/models/Spiderman/spectacularSpider.dx80.vtx
Spider-Man Super Pack/models/Spiderman/ironSpider.dx80.vtx
Spider-Man Super Pack/models/Spiderman/superredspider.vvd
Spider-Man Super Pack/models/Spiderman/captainspidershield.mdl
Spider-Man Super Pack/models/Spiderman/FutureSpider.phy
Spider-Man Super Pack/models/Spiderman/superredSpider.dx80.vtx
Spider-Man Super Pack/models/Spiderman/flipsideSpider.dx90.vtx
Spider-Man Super Pack/models/Spiderman/deviantcap2Spider.phy
Spider-Man Super Pack/models/Spiderman/rossspider.mdl
Spider-Man Super Pack/models/Spiderman/FutureSpider.dx80.vtx
Spider-Man Super Pack/models/Spiderman/ScarlettoSpider.dx80.vtx
Spider-Man Super Pack/models/Spiderman/Fantastic4Spider.sw.vtx
Spider-Man Super Pack/models/Spiderman/classicspider.mdl
Spider-Man Super Pack/models/Spiderman/ThespiderSpider.dx90.vtx
Spider-Man Super Pack/models/Spiderman/2099Spider.sw.vtx
Spider-Man Super Pack/models/Spiderman/houseofmspider.mdl
Spider-Man Super Pack/models/Spiderman/armorSpider.dx80.vtx
Spider-Man Super Pack/models/Spiderman/RaimiSpider.dx80.vtx
Spider-Man Super Pack/models/Spiderman/scarlettospider.vvd
Spider-Man Super Pack/models/Spiderman/reillyspider.mdl
Spider-Man Super Pack/models/Spiderman/armorSpider.sw.vtx
Spider-Man Super Pack/models/Spiderman/Dev3xSpider.sw.vtx
Spider-Man Super Pack/models/Spiderman/AceSpiderman.dx80.vtx
Spider-Man Super Pack/models/Spiderman/AceSpiderman.phy
Spider-Man Super Pack/models/Spiderman/BigTimeSpider.dx90.vtx
Spider-Man Super Pack/models/Spiderman/symbiotespider.mdl
Spider-Man Super Pack/models/Spiderman/futurespider.mdl
Spider-Man Super Pack/models/Spiderman/dev3xspider.mdl
Spider-Man Super Pack/models/Spiderman/alienSpider.dx90.vtx
Spider-Man Super Pack/models/Spiderman/noirspider.mdl
Spider-Man Super Pack/models/Spiderman/blueironspider.vvd
Spider-Man Super Pack/models/Spiderman/thespiderspider.vvd
Spider-Man Super Pack/models/Spiderman/thespiderspider.mdl
Spider-Man Super Pack/models/Spiderman/spectacularSpider.sw.vtx
Spider-Man Super Pack/models/Spiderman/moralesSpider.sw.vtx
Spider-Man Super Pack/models/Spiderman/BannerSpider.sw.vtx
Spider-Man Super Pack/models/Spiderman/2099Spider.dx80.vtx
Spider-Man Super Pack/models/Spiderman/flipsideSpider.phy
Spider-Man Super Pack/models/Spiderman/bigtimespider.mdl
Spider-Man Super Pack/models/Spiderman/ironSpider.sw.vtx
Spider-Man Super Pack/models/Spiderman/unlimitedspider.mdl
Spider-Man Super Pack/models/Spiderman/PRSpider.dx90.vtx
Spider-Man Super Pack/models/Spiderman/futurespider.vvd
Spider-Man Super Pack/models/Spiderman/specblackspider.mdl
Spider-Man Super Pack/models/Spiderman/SuperiorSpider.phy
Spider-Man Super Pack/models/Spiderman/ShieldSpider.dx80.vtx
Spider-Man Super Pack/models/Spiderman/blacksuitSpider.sw.vtx
Spider-Man Super Pack/models/Spiderman/tronspider.vvd
Spider-Man Super Pack/models/Spiderman/specblackSpider.dx80.vtx
Spider-Man Super Pack/models/Spiderman/specblackSpider.dx90.vtx
Spider-Man Super Pack/models/Spiderman/raimispider.vvd
Spider-Man Super Pack/models/Spiderman/PhoenixSpider.dx80.vtx
Spider-Man Super Pack/models/Spiderman/rossSpider.phy
Spider-Man Super Pack/models/Spiderman/Fantastic4Spider.dx90.vtx
Spider-Man Super Pack/models/Spiderman/BannerSpider.dx80.vtx
Spider-Man Super Pack/models/Spiderman/imperfectspider.vvd
Spider-Man Super Pack/models/Spiderman/unlimitedspider.vvd
Spider-Man Super Pack/models/Spiderman/BigTimeSpider.sw.vtx
Spider-Man Super Pack/models/Spiderman/scarletspider.vvd
Spider-Man Super Pack/models/Spiderman/TASM2Spider.sw.vtx
Spider-Man Super Pack/models/Spiderman/deviantdesign5spider.mdl
Spider-Man Super Pack/models/Spiderman/symbioteSpider.dx80.vtx
Spider-Man Super Pack/models/Spiderman/blacksuitspider.mdl
Spider-Man Super Pack/models/Spiderman/houseofMSpider.phy
Spider-Man Super Pack/models/Spiderman/Dev3xSpider.dx90.vtx
Spider-Man Super Pack/models/Spiderman/DeadSpaceSpider.dx90.vtx
Spider-Man Super Pack/models/Spiderman/specblackSpider.phy
Spider-Man Super Pack/models/Spiderman/classicSpider.dx80.vtx
Spider-Man Super Pack/models/Spiderman/60Spider.dx90.vtx
Spider-Man Super Pack/models/Spiderman/ironSpider.dx90.vtx
Spider-Man Super Pack/models/Spiderman/acespiderman.mdl
Spider-Man Super Pack/models/Spiderman/armorSpider.dx90.vtx
Spider-Man Super Pack/models/Spiderman/classicSpider.dx90.vtx
Spider-Man Super Pack/models/Spiderman/scarlettospider.mdl
Spider-Man Super Pack/models/Spiderman/SuperiorSpider.dx90.vtx
Spider-Man Super Pack/models/Spiderman/superbluespider.mdl
Spider-Man Super Pack/models/Spiderman/BigTimeSpider.phy
Spider-Man Super Pack/models/Spiderman/deviantcap2spider.mdl
Spider-Man Super Pack/models/Spiderman/DeadSpaceSpider.phy
Spider-Man Super Pack/models/Spiderman/houseofMSpider.dx80.vtx
Spider-Man Super Pack/models/Spiderman/electroSpider.dx90.vtx
Spider-Man Super Pack/models/Spiderman/prspider.mdl
Spider-Man Super Pack/models/Spiderman/capuniversespider.vvd
Spider-Man Super Pack/models/Spiderman/imperfectspider.mdl
Spider-Man Super Pack/models/Spiderman/DevDes1Spider.sw.vtx
Spider-Man Super Pack/models/Spiderman/secretwarspider.vvd
Spider-Man Super Pack/models/Spiderman/symbioteSpider.dx90.vtx
Spider-Man Super Pack/models/Spiderman/classicSpider.sw.vtx
Spider-Man Super Pack/models/Spiderman/CapuniverseSpider.dx90.vtx
Spider-Man Super Pack/models/Spiderman/moralesSpider.dx80.vtx
Spider-Man Super Pack/models/Spiderman/BlueIronSpider.dx80.vtx
Spider-Man Super Pack/models/Spiderman/MaxRSpider.sw.vtx
Spider-Man Super Pack/models/Spiderman/unlimitedSpider.phy
Spider-Man Super Pack/models/Spiderman/NegativeSpider.dx90.vtx
Spider-Man Super Pack/models/Spiderman/AssassinSpider.phy
Spider-Man Super Pack/models/Spiderman/spectacularspider.mdl
Spider-Man Super Pack/models/Spiderman/reillySpider.phy
Spider-Man Super Pack/models/Spiderman/spectacularSpider.dx90.vtx
Spider-Man Super Pack/models/Spiderman/reillySpider.sw.vtx
Spider-Man Super Pack/models/Spiderman/armorSpider.phy
Spider-Man Super Pack/models/Spiderman/electrospider.mdl
Spider-Man Super Pack/models/Spiderman/fantastic4spider.mdl
Spider-Man Super Pack/models/Spiderman/flipsidespider.vvd
Spider-Man Super Pack/models/Spiderman/bigtimespider.vvd
Spider-Man Super Pack/models/Spiderman/ShieldSpider.sw.vtx
Spider-Man Super Pack/models/Spiderman/SuperBlueSpider.dx90.vtx
Spider-Man Super Pack/models/Spiderman/PRSpider.phy
Spider-Man Super Pack/models/Spiderman/CaptainSpiderShield.sw.vtx
Spider-Man Super Pack/models/Spiderman/armorspider.vvd
Spider-Man Super Pack/models/Spiderman/ironspider.mdl
Spider-Man Super Pack/models/Spiderman/negativespider.mdl
Spider-Man Super Pack/models/Spiderman/60spider.mdl
Spider-Man Super Pack/models/Spiderman/TASM2Spider.phy
Spider-Man Super Pack/models/Spiderman/CapuniverseSpider.phy
Spider-Man Super Pack/models/Spiderman/NoirSpider.phy
Spider-Man Super Pack/models/Spiderman/alienSpider.dx80.vtx
Spider-Man Super Pack/models/Spiderman/ironSpider.phy
Spider-Man Super Pack/models/Spiderman/superbluespider.vvd
Spider-Man Super Pack/models/Spiderman/TASM2Spider.dx90.vtx
Spider-Man Super Pack/models/Spiderman/BigTimeSpider.dx80.vtx
Spider-Man Super Pack/models/Spiderman/moralesspider.mdl
Spider-Man Super Pack/models/Spiderman/60Spider.dx80.vtx
Spider-Man Super Pack/models/Spiderman/ShieldSpider.dx90.vtx
Spider-Man Super Pack/models/Spiderman/rossspider.vvd
Spider-Man Super Pack/models/Spiderman/ScarlettoSpider.sw.vtx
Spider-Man Super Pack/models/Spiderman/maxrspider.vvd
Spider-Man Super Pack/models/Spiderman/flipsidespider.mdl
Spider-Man Super Pack/models/Spiderman/superiorspider.vvd
Spider-Man Super Pack/models/Spiderman/NegativeSpider.sw.vtx
Spider-Man Super Pack/models/Spiderman/deadspacespider.vvd
Spider-Man Super Pack/models/Spiderman/flipsideSpider.sw.vtx
Spider-Man Super Pack/models/Spiderman/symbiotespider.vvd
Spider-Man Super Pack/models/Spiderman/specblackspider.vvd
Spider-Man Super Pack/models/Spiderman/AceSpiderman.sw.vtx
Spider-Man Super Pack/models/Spiderman/DevDes1Spider.dx90.vtx
Spider-Man Super Pack/models/Spiderman/NoirSpider.sw.vtx
Spider-Man Super Pack/models/Spiderman/superspider.vvd
Spider-Man Super Pack/models/Spiderman/negativespider.vvd
Spider-Man Super Pack/models/Spiderman/electroSpider.phy
Spider-Man Super Pack/models/Spiderman/alienSpider.sw.vtx
Spider-Man Super Pack/models/Spiderman/BlueIronSpider.phy
Spider-Man Super Pack/models/Spiderman/houseofmspider.vvd
Spider-Man Super Pack/models/Spiderman/RaimiSpider.dx90.vtx
Spider-Man Super Pack/models/Spiderman/reillySpider.dx90.vtx
Spider-Man Super Pack/models/Spiderman/symbioteSpider.sw.vtx
Spider-Man Super Pack/models/Spiderman/CaptainSpiderShield.dx80.vtx
Spider-Man Super Pack/models/Spiderman/MaxRSpider.phy
Spider-Man Super Pack/models/Spiderman/NegativeSpider.phy
Spider-Man Super Pack/models/Spiderman/ShieldSpider.phy
Spider-Man Super Pack/models/Spiderman/ImperfectSpider.dx80.vtx
Spider-Man Super Pack/models/Spiderman/superredspider.mdl
Spider-Man Super Pack/models/Spiderman/SuperiorSpider.dx80.vtx
Spider-Man Super Pack/models/Spiderman/60spider.vvd
Spider-Man Super Pack/models/Spiderman/SecretWarSpider.sw.vtx
Spider-Man Super Pack/models/Spiderman/blacksuitspider.vvd
Spider-Man Super Pack/models/Spiderman/blacksuitSpider.dx90.vtx
Spider-Man Super Pack/models/Spiderman/alienspider.mdl
Spider-Man Super Pack/models/Spiderman/tronSpider.sw.vtx
Spider-Man Super Pack/models/Spiderman/superredSpider.phy
Spider-Man Super Pack/models/Spiderman/reillySpider.dx80.vtx
Spider-Man Super Pack/models/Spiderman/ScarlettoSpider.dx90.vtx
Spider-Man Super Pack/models/Spiderman/bannerspider.vvd
Spider-Man Super Pack/models/Spiderman/ThespiderSpider.phy
Spider-Man Super Pack/models/Spiderman/MaxRSpider.dx80.vtx
Spider-Man Super Pack/models/Spiderman/PRSpider.dx80.vtx
Spider-Man Super Pack/models/Spiderman/raimispider.mdl
Spider-Man Super Pack/models/Spiderman/ScarletSpider.dx90.vtx
Spider-Man Super Pack/models/Spiderman/phoenixspider.mdl
Spider-Man Super Pack/models/Spiderman/Fantastic4Spider.dx80.vtx
Spider-Man Super Pack/models/Spiderman/PhoenixSpider.phy
Spider-Man Super Pack/models/Spiderman/TASM2Spider.dx80.vtx
Spider-Man Super Pack/models/Spiderman/deviantcap2Spider.sw.vtx
Spider-Man Super Pack/models/Spiderman/CapuniverseSpider.dx80.vtx
Spider-Man Super Pack/models/Spiderman/RaimiSpider.phy
Spider-Man Super Pack/models/Spiderman/DevDes1Spider.phy
Spider-Man Super Pack/models/Spiderman/ScarletSpider.phy
Spider-Man Super Pack/models/Spiderman/flipsideSpider.dx80.vtx
Spider-Man Super Pack/models/Spiderman/NegativeSpider.dx80.vtx
Spider-Man Super Pack/models/Spiderman/SuperSpider.phy
Spider-Man Super Pack/models/Spiderman/electroSpider.sw.vtx
Spider-Man Super Pack/models/Spiderman/ImperfectSpider.sw.vtx
Spider-Man Super Pack/models/Spiderman/classicspider.vvd
Spider-Man Super Pack/models/Spiderman/deviantdesign5spider.vvd
Spider-Man Super Pack/models/Spiderman/specblackSpider.sw.vtx
Spider-Man Super Pack/models/Spiderman/RaimiSpider.sw.vtx
Spider-Man Super Pack/models/Spiderman/devdes1spider.mdl
Spider-Man Super Pack/models/Spiderman/shieldspider.mdl
Spider-Man Super Pack/models/Spiderman/ImperfectSpider.phy
Spider-Man Super Pack/models/Spiderman/DeadSpaceSpider.dx80.vtx
Spider-Man Super Pack/models/Spiderman/tronSpider.dx80.vtx
Spider-Man Super Pack/models/Spiderman/tronSpider.phy
Spider-Man Super Pack/models/Spiderman/unlimitedSpider.dx90.vtx
Spider-Man Super Pack/models/Spiderman/tronspider.mdl
Spider-Man Super Pack/models/Spiderman/capuniversespider.mdl
Spider-Man Super Pack/models/Spiderman/deviantcap2Spider.dx80.vtx
Spider-Man Super Pack/models/Spiderman/classicSpider.phy
Spider-Man Super Pack/models/Spiderman/BlueIronSpider.sw.vtx
Spider-Man Super Pack/models/Spiderman/shieldspider.vvd
Spider-Man Super Pack/models/Spiderman/tronSpider.dx90.vtx
Spider-Man Super Pack/models/Spiderman/60Spider.sw.vtx
Spider-Man Super Pack/models/Spiderman/alienspider.vvd
Spider-Man Super Pack/models/Spiderman/moralesSpider.phy
Spider-Man Super Pack/models/Spiderman/PhoenixSpider.sw.vtx
Spider-Man Super Pack/models/Spiderman/FutureSpider.sw.vtx
Spider-Man Super Pack/models/Spiderman/Deviantdesign5spider.sw.vtx
Spider-Man Super Pack/models/Spiderman/2099spider.mdl
Spider-Man Super Pack/models/Spiderman/prspider.vvd
Spider-Man Super Pack/models/Spiderman/fantastic4spider.vvd
Spider-Man Super Pack/models/Spiderman/SuperBlueSpider.dx80.vtx
Spider-Man Super Pack/models/Spiderman/ScarletSpider.sw.vtx
Spider-Man Super Pack/models/Spiderman/NoirSpider.dx90.vtx
Spider-Man Super Pack/models/Spiderman/BannerSpider.phy
Spider-Man Super Pack/models/Spiderman/bannerspider.mdl
Spider-Man Super Pack/models/Spiderman/FutureSpider.dx90.vtx
Spider-Man Super Pack/models/Spiderman/assassinspider.vvd
Spider-Man Super Pack/models/Spiderman/symbioteSpider.phy
Spider-Man Super Pack/models/Spiderman/armorspider.mdl
Spider-Man Super Pack/models/Spiderman/PRSpider.sw.vtx
Spider-Man Super Pack/models/Spiderman/2099Spider.dx90.vtx
Spider-Man Super Pack/models/Spiderman/blacksuitSpider.phy
Spider-Man Super Pack/models/Spiderman/noirspider.vvd
Spider-Man Super Pack/models/Spiderman/SuperBlueSpider.phy
Spider-Man Super Pack/models/Spiderman/rossSpider.dx80.vtx
Spider-Man Super Pack/models/Spiderman/phoenixspider.vvd
Spider-Man Super Pack/models/Spiderman/moralesspider.vvd
Spider-Man Super Pack/models/Spiderman/spectacularspider.vvd
Spider-Man Super Pack/models/Spiderman/superredSpider.sw.vtx
Spider-Man Super Pack/models/Spiderman/BannerSpider.dx90.vtx
Spider-Man Super Pack/models/Spiderman/Dev3xSpider.dx80.vtx
Spider-Man Super Pack/models/Spiderman/SuperSpider.dx90.vtx
Spider-Man Super Pack/models/Spiderman/SecretWarSpider.phy
Spider-Man Super Pack/models/Spiderman/SecretWarSpider.dx80.vtx
Spider-Man Super Pack/models/Spiderman/SuperBlueSpider.sw.vtx
Spider-Man Super Pack/models/Spiderman/CapuniverseSpider.sw.vtx
Spider-Man Super Pack/models/Spiderman/60Spider.phy
Spider-Man Super Pack/models/Spiderman/blueironspider.mdl
Spider-Man Super Pack/models/Spiderman/electroSpider.dx80.vtx
Spider-Man Super Pack/models/Spiderman/reillyspider.vvd
Spider-Man Super Pack/models/Spiderman/deviantcap2Spider.dx90.vtx
Spider-Man Super Pack/models/Spiderman/DevDes1Spider.dx80.vtx
Spider-Man Super Pack/models/Spiderman/assassinspider.mdl
Spider-Man Super Pack/models/Spiderman/CaptainSpiderShield.phy
Spider-Man Super Pack/models/Spiderman/deadspacespider.mdl
Spider-Man Super Pack/models/Spiderman/acespiderman.vvd
Spider-Man Super Pack/models/Spiderman/rossSpider.dx90.vtx
Spider-Man Super Pack/models/Spiderman/ImperfectSpider.dx90.vtx
Spider-Man Super Pack/models/Spiderman/Dev3xSpider.phy
Spider-Man Super Pack/models/Spiderman/AssassinSpider.dx90.vtx
Spider-Man Super Pack/models/Spiderman/ThespiderSpider.dx80.vtx
Spider-Man Super Pack/models/Spiderman/Deviantdesign5spider.dx90.vtx
Spider-Man Super Pack/models/Spiderman/deviantcap2spider.vvd
Spider-Man Super Pack/models/Spiderman/AssassinSpider.dx80.vtx
Spider-Man Super Pack/models/Spiderman/superredSpider.dx90.vtx
Spider-Man Super Pack/models/Spiderman/spectacularSpider.phy
Spider-Man Super Pack/models/Spiderman/devdes1spider.vvd
Spider-Man Super Pack/models/Spiderman/tasm2spider.mdl
Spider-Man Super Pack/models/Spiderman/ScarlettoSpider.phy
Spider-Man Super Pack/models/Spiderman/moralesSpider.dx90.vtx
Spider-Man Super Pack/models/Spiderman/unlimitedSpider.sw.vtx
Spider-Man Super Pack/models/Spiderman/SuperiorSpider.sw.vtx
Spider-Man Super Pack/models/Spiderman/Fantastic4Spider.phy
Spider-Man Super Pack/models/Spiderman/SuperSpider.dx80.vtx
Spider-Man Super Pack/models/Spiderman/SuperSpider.sw.vtx
Spider-Man Super Pack/models/Spiderman/superiorspider.mdl
Spider-Man Super Pack/models/Spiderman/Deviantdesign5spider.phy
Spider-Man Super Pack/models/Spiderman/rossSpider.sw.vtx
Spider-Man Super Pack/models/Spiderman/scarletspider.mdl
Spider-Man Super Pack/models/Spiderman/DeadSpaceSpider.sw.vtx
Spider-Man Super Pack/models/Spiderman/AceSpiderman.dx90.vtx
Spider-Man Super Pack/models/Spiderman/NoirSpider.dx80.vtx
Spider-Man Super Pack/models/Spiderman/electrospider.vvd
Spider-Man Super Pack/models/Spiderman/tasm2spider.vvd
Spider-Man Super Pack/models/Spiderman/PhoenixSpider.dx90.vtx
Spider-Man Super Pack/models/Spiderman/captainspidershield.vvd
Spider-Man Super Pack/models/Spiderman/secretwarspider.mdl
Spider-Man Super Pack/models/Spiderman/superspider.mdl
Spider-Man Super Pack/models/Spiderman/unlimitedSpider.dx80.vtx
Spider-Man Super Pack/models/Spiderman/ironspider.vvd
Spider-Man Super Pack/models/Spiderman/blacksuitSpider.dx80.vtx
Spider-Man Super Pack/models/Spiderman/SecretWarSpider.dx90.vtx
Spider-Man Super Pack/models/Spiderman/CaptainSpiderShield.dx90.vtx
Spider-Man Super Pack/models/Spiderman/houseofMSpider.sw.vtx
Spider-Man Super Pack/models/Spiderman/houseofMSpider.dx90.vtx
Spider-Man Super Pack/models/Spiderman/Deviantdesign5spider.dx80.vtx
Spider-Man Super Pack/materials/Models/Spiderman/TASM2Spider/Tasm2_lens.vmt
Spider-Man Super Pack/materials/Models/Spiderman/TASM2Spider/TASM2_d.vmt
Spider-Man Super Pack/materials/Models/Spiderman/TASM2Spider/TASM2_N.vtf
Spider-Man Super Pack/materials/Models/Spiderman/TASM2Spider/TASM2_D.vtf
Spider-Man Super Pack/materials/Models/Spiderman/NegativeSpider/Negative_D.vtf
Spider-Man Super Pack/materials/Models/Spiderman/NegativeSpider/Negative_lens.vmt
Spider-Man Super Pack/materials/Models/Spiderman/NegativeSpider/Negative_d.vmt
Spider-Man Super Pack/materials/Models/Spiderman/NegativeSpider/Negative_N.vtf
Spider-Man Super Pack/materials/Models/Spiderman/SpecBlackSpider/Specblack_Stage_1_N.vtf
Spider-Man Super Pack/materials/Models/Spiderman/SpecBlackSpider/Specblack_Stage_2_N.vtf
Spider-Man Super Pack/materials/Models/Spiderman/SpecBlackSpider/Specblack_Stage_3_D.vtf
Spider-Man Super Pack/materials/Models/Spiderman/SpecBlackSpider/Specblack_Stage_2_D.vtf
Spider-Man Super Pack/materials/Models/Spiderman/SpecBlackSpider/Specblack_lens.vmt
Spider-Man Super Pack/materials/Models/Spiderman/SpecBlackSpider/Specblack_stage_1_d.vmt
Spider-Man Super Pack/materials/Models/Spiderman/SpecBlackSpider/Specblack_lens2.vmt
Spider-Man Super Pack/materials/Models/Spiderman/SpecBlackSpider/Specblack_Stage_3_N.vtf
Spider-Man Super Pack/materials/Models/Spiderman/SpecBlackSpider/Specblack_stage_3_d.vmt
Spider-Man Super Pack/materials/Models/Spiderman/SpecBlackSpider/Specblack_lens3.vmt
Spider-Man Super Pack/materials/Models/Spiderman/SpecBlackSpider/Specblack_Stage_1_D.vtf
Spider-Man Super Pack/materials/Models/Spiderman/SpecBlackSpider/Specblack_stage_2_d.vmt
Spider-Man Super Pack/materials/Models/Spiderman/SpecBlackSpider/Spectacular_Lightwarp_Black.vtf
Spider-Man Super Pack/materials/Models/Spiderman/SpectacularSpider/Spectacular_Injured_N.vtf
Spider-Man Super Pack/materials/Models/Spiderman/SpectacularSpider/Spectacular_Injured_D.vtf
Spider-Man Super Pack/materials/Models/Spiderman/SpectacularSpider/Spectacular_N.vtf
Spider-Man Super Pack/materials/Models/Spiderman/SpectacularSpider/Spectacular_lens.vmt
Spider-Man Super Pack/materials/Models/Spiderman/SpectacularSpider/Spectacular_injured_d.vmt
Spider-Man Super Pack/materials/Models/Spiderman/SpectacularSpider/Spectacular_d.vmt
Spider-Man Super Pack/materials/Models/Spiderman/SpectacularSpider/Spectacular_lens2.vmt
Spider-Man Super Pack/materials/Models/Spiderman/SpectacularSpider/Spectacular_D.vtf
Spider-Man Super Pack/materials/Models/Spiderman/PRSpider/PRSM_Body_D_Injured.vtf
Spider-Man Super Pack/materials/Models/Spiderman/PRSpider/Rooftop_belt_d.vmt
Spider-Man Super Pack/materials/Models/Spiderman/PRSpider/PRSM_Body_N_Injured.vtf
Spider-Man Super Pack/materials/Models/Spiderman/PRSpider/PRSM_Body_N.vtf
Spider-Man Super Pack/materials/Models/Spiderman/PRSpider/PRSM_Body_d_injured.vmt
Spider-Man Super Pack/materials/Models/Spiderman/PRSpider/PRSM_Body_d.vmt
Spider-Man Super Pack/materials/Models/Spiderman/PRSpider/PRSM_lens2.vmt
Spider-Man Super Pack/materials/Models/Spiderman/PRSpider/Rooftop_Belt_N.vtf
Spider-Man Super Pack/materials/Models/Spiderman/PRSpider/PRSM_lens.vmt
Spider-Man Super Pack/materials/Models/Spiderman/PRSpider/Rooftop_Belt_D.vtf
Spider-Man Super Pack/materials/Models/Spiderman/PRSpider/PRSM_Body_D.vtf
Spider-Man Super Pack/materials/Models/Spiderman/PRSpider/PRSM_WebShooter_Glowy_Red.vtf
Spider-Man Super Pack/materials/Models/Spiderman/ScarlettoSpider/Classic_Scarlet_d.vmt
Spider-Man Super Pack/materials/Models/Spiderman/ScarlettoSpider/Classic_Scarlet_N.vtf
Spider-Man Super Pack/materials/Models/Spiderman/ScarlettoSpider/Scarlet_equipment_d.vmt
Spider-Man Super Pack/materials/Models/Spiderman/ScarlettoSpider/Scarlet_Equipment_D.vtf
Spider-Man Super Pack/materials/Models/Spiderman/ScarlettoSpider/Classic_Scarlet_lens.vmt
Spider-Man Super Pack/materials/Models/Spiderman/ScarlettoSpider/Scarlet_Sweater_D.vtf
Spider-Man Super Pack/materials/Models/Spiderman/ScarlettoSpider/Scarlet_Sweater_N.vtf
Spider-Man Super Pack/materials/Models/Spiderman/ScarlettoSpider/Scarlet_sweater_d.vmt
Spider-Man Super Pack/materials/Models/Spiderman/ScarlettoSpider/Classic_Scarlet_D.vtf
Spider-Man Super Pack/materials/Models/Spiderman/ScarlettoSpider/Scarlet_Equipment_N.vtf
Spider-Man Super Pack/materials/Models/Spiderman/ShieldSpider/Armor_d_oscorp.vmt
Spider-Man Super Pack/materials/Models/Spiderman/ShieldSpider/SHIELD_Belt_D.vtf
Spider-Man Super Pack/materials/Models/Spiderman/ShieldSpider/SHIELD_belt_d.vmt
Spider-Man Super Pack/materials/Models/Spiderman/ShieldSpider/SHIELD_lens.vmt
Spider-Man Super Pack/materials/Models/Spiderman/ShieldSpider/Oscorp_Belt_D.vtf
Spider-Man Super Pack/materials/Models/Spiderman/ShieldSpider/Armor_D_Oscorp.vtf
Spider-Man Super Pack/materials/Models/Spiderman/ShieldSpider/Oscorp_belt_d.vmt
Spider-Man Super Pack/materials/Models/Spiderman/ShieldSpider/Belt_N.vtf
Spider-Man Super Pack/materials/Models/Spiderman/ShieldSpider/Armor_d_SHIELD.vmt
Spider-Man Super Pack/materials/Models/Spiderman/ShieldSpider/Armor_D_SHIELD.vtf
Spider-Man Super Pack/materials/Models/Spiderman/ShieldSpider/Armor_Glow_Oscorp.vtf
Spider-Man Super Pack/materials/Models/Spiderman/ShieldSpider/Armor_N.vtf
Spider-Man Super Pack/materials/Models/Spiderman/ShieldSpider/Armor_Glow_SHIELD.vtf
Spider-Man Super Pack/materials/Models/Spiderman/ShieldSpider/Oscorp_lens.vmt
Spider-Man Super Pack/materials/Models/Spiderman/MaxRSpider/MaxR_default_red_damaged_d.vmt
Spider-Man Super Pack/materials/Models/Spiderman/MaxRSpider/MaxR_Default_Red_Damaged_D.vtf
Spider-Man Super Pack/materials/Models/Spiderman/MaxRSpider/MaxR_WebShooter_Glowy_Red.vtf
Spider-Man Super Pack/materials/Models/Spiderman/MaxRSpider/MaxR_Blue_D.vtf
Spider-Man Super Pack/materials/Models/Spiderman/MaxRSpider/MaxR_blue_damaged_d.vmt
Spider-Man Super Pack/materials/Models/Spiderman/MaxRSpider/MaxR_Default_Red_D.vtf
Spider-Man Super Pack/materials/Models/Spiderman/MaxRSpider/MaxR_blue_d.vmt
Spider-Man Super Pack/materials/Models/Spiderman/MaxRSpider/MaxR_default_red_d.vmt
Spider-Man Super Pack/materials/Models/Spiderman/MaxRSpider/MaxR_lens3.vmt
Spider-Man Super Pack/materials/Models/Spiderman/MaxRSpider/MaxR_N_Damaged.vtf
Spider-Man Super Pack/materials/Models/Spiderman/MaxRSpider/MaxR_lens4.vmt
Spider-Man Super Pack/materials/Models/Spiderman/MaxRSpider/MaxR_Blue_Damaged_D.vtf
Spider-Man Super Pack/materials/Models/Spiderman/MaxRSpider/MaxR_lens2.vmt
Spider-Man Super Pack/materials/Models/Spiderman/MaxRSpider/MaxR_N.vtf
Spider-Man Super Pack/materials/Models/Spiderman/MaxRSpider/MaxR_lens.vmt
Spider-Man Super Pack/materials/Models/Spiderman/IronSpider/Iron_D.vtf
Spider-Man Super Pack/materials/Models/Spiderman/IronSpider/Iron_N.vtf
Spider-Man Super Pack/materials/Models/Spiderman/IronSpider/Iron_d.vmt
Spider-Man Super Pack/materials/Models/Spiderman/IronSpider/Iron_lens.vmt
Spider-Man Super Pack/materials/Models/Spiderman/ThompsonSpider/Thompson_lens.vmt
Spider-Man Super Pack/materials/Models/Spiderman/ThompsonSpider/Flash_Venom_belt_d.vmt
Spider-Man Super Pack/materials/Models/Spiderman/ThompsonSpider/Thompson_N.vtf
Spider-Man Super Pack/materials/Models/Spiderman/ThompsonSpider/Thompson_d.vmt
Spider-Man Super Pack/materials/Models/Spiderman/ThompsonSpider/Flash_Venom_Belt_D.vtf
Spider-Man Super Pack/materials/Models/Spiderman/ThompsonSpider/Thompson_Lightwarp_Black.vtf
Spider-Man Super Pack/materials/Models/Spiderman/ThompsonSpider/Belt_N.vtf
Spider-Man Super Pack/materials/Models/Spiderman/ThompsonSpider/Thompson_D.vtf
Spider-Man Super Pack/materials/Models/Spiderman/CaptainSpiderShield/Spider_america_shield_d.vmt
Spider-Man Super Pack/materials/Models/Spiderman/CaptainSpiderShield/Spider_America_Shield_N.vtf
Spider-Man Super Pack/materials/Models/Spiderman/CaptainSpiderShield/Spider_America_Shield_D.vtf
Spider-Man Super Pack/materials/Models/Spiderman/BlacksuitSpider/Black_Suit_D_Purple.vtf
Spider-Man Super Pack/materials/Models/Spiderman/BlacksuitSpider/Black_suit_d_purple.vmt
Spider-Man Super Pack/materials/Models/Spiderman/BlacksuitSpider/Blacksuit_lens3.vmt
Spider-Man Super Pack/materials/Models/Spiderman/BlacksuitSpider/Black_Suit_Lightwarp_Purple.vtf
Spider-Man Super Pack/materials/Models/Spiderman/BlacksuitSpider/Black_Suit_D_Blue.vtf
Spider-Man Super Pack/materials/Models/Spiderman/BlacksuitSpider/Black_Suit_N.vtf
Spider-Man Super Pack/materials/Models/Spiderman/BlacksuitSpider/Black_suit_d.vmt
Spider-Man Super Pack/materials/Models/Spiderman/BlacksuitSpider/Black_Suit_Lightwarp_Blue.vtf
Spider-Man Super Pack/materials/Models/Spiderman/BlacksuitSpider/Black_Suit_Lightwarp_Black.vtf
Spider-Man Super Pack/materials/Models/Spiderman/BlacksuitSpider/Black_suit_d_blue.vmt
Spider-Man Super Pack/materials/Models/Spiderman/BlacksuitSpider/Black_Suit_D.vtf
Spider-Man Super Pack/materials/Models/Spiderman/BlacksuitSpider/Blacksuit_lens.vmt
Spider-Man Super Pack/materials/Models/Spiderman/BlacksuitSpider/Blacksuit_lens2.vmt
Spider-Man Super Pack/materials/Models/Spiderman/SymbioteSpider/Symbiote_Prototype_D.vtf
Spider-Man Super Pack/materials/Models/Spiderman/SymbioteSpider/Symbiote_lens.vmt
Spider-Man Super Pack/materials/Models/Spiderman/SymbioteSpider/Symbiote_Lightwarp_Black.vtf
Spider-Man Super Pack/materials/Models/Spiderman/SymbioteSpider/Symbiote_Venom_N.vtf
Spider-Man Super Pack/materials/Models/Spiderman/SymbioteSpider/Symbiote_lens2.vmt
Spider-Man Super Pack/materials/Models/Spiderman/SymbioteSpider/Symbiote_prototype_d.vmt
Spider-Man Super Pack/materials/Models/Spiderman/SymbioteSpider/Symbiote_Prototype_N.vtf
Spider-Man Super Pack/materials/Models/Spiderman/SymbioteSpider/Symbiote_venom_d.vmt
Spider-Man Super Pack/materials/Models/Spiderman/SymbioteSpider/Symbiote_Venom_D.vtf
Spider-Man Super Pack/materials/Models/Spiderman/TheSpiderSpider/Spider_N.vtf
Spider-Man Super Pack/materials/Models/Spiderman/TheSpiderSpider/Spider_lens.vmt
Spider-Man Super Pack/materials/Models/Spiderman/TheSpiderSpider/Spider_Lightwarp_Red.vtf
Spider-Man Super Pack/materials/Models/Spiderman/TheSpiderSpider/Spider_D.vtf
Spider-Man Super Pack/materials/Models/Spiderman/TheSpiderSpider/Spider_d.vmt
Spider-Man Super Pack/materials/Models/Spiderman/ArmorSpider/NSA_Glow_Green.vtf
Spider-Man Super Pack/materials/Models/Spiderman/ArmorSpider/NSA_red.vmt
Spider-Man Super Pack/materials/Models/Spiderman/ArmorSpider/NSA_D_Green.vtf
Spider-Man Super Pack/materials/Models/Spiderman/ArmorSpider/NSA_Glow_Red.vtf
Spider-Man Super Pack/materials/Models/Spiderman/ArmorSpider/NSA_d.vmt
Spider-Man Super Pack/materials/Models/Spiderman/ArmorSpider/nsa_lensred.vmt
Spider-Man Super Pack/materials/Models/Spiderman/ArmorSpider/NSA_D_Yellow.vtf
Spider-Man Super Pack/materials/Models/Spiderman/ArmorSpider/NSA_N.vtf
Spider-Man Super Pack/materials/Models/Spiderman/ArmorSpider/nsa_lensblue.vmt
Spider-Man Super Pack/materials/Models/Spiderman/ArmorSpider/NSA_green.vmt
Spider-Man Super Pack/materials/Models/Spiderman/ArmorSpider/NSA_D_Blue.vtf
Spider-Man Super Pack/materials/Models/Spiderman/ArmorSpider/NSA_D_Red.vtf
Spider-Man Super Pack/materials/Models/Spiderman/ArmorSpider/nsa_lensgreen.vmt
Spider-Man Super Pack/materials/Models/Spiderman/ArmorSpider/NSA_Glow_Yellow.vtf
Spider-Man Super Pack/materials/Models/Spiderman/ArmorSpider/nsa_lens.vmt
Spider-Man Super Pack/materials/Models/Spiderman/ArmorSpider/NSA_blue.vmt
Spider-Man Super Pack/materials/Models/Spiderman/ArmorSpider/NSA_Glow_Blue.vtf
Spider-Man Super Pack/materials/Models/Spiderman/ScarletSpider/Scarlet_N.vtf
Spider-Man Super Pack/materials/Models/Spiderman/ScarletSpider/Scarlet_D.vtf
Spider-Man Super Pack/materials/Models/Spiderman/ScarletSpider/Scarlet_lens.vmt
Spider-Man Super Pack/materials/Models/Spiderman/ScarletSpider/Scarlet_d.vmt
Spider-Man Super Pack/materials/Models/Spiderman/DevDes1Spider/Deviant_1_D_RED.vtf
Spider-Man Super Pack/materials/Models/Spiderman/DevDes1Spider/Deviant_1_D_Armor.vtf
Spider-Man Super Pack/materials/Models/Spiderman/DevDes1Spider/Deviant_1_N.vtf
Spider-Man Super Pack/materials/Models/Spiderman/DevDes1Spider/Deviant1_lens.vmt
Spider-Man Super Pack/materials/Models/Spiderman/DevDes1Spider/Deviant_1_d_red.vmt
Spider-Man Super Pack/materials/Models/Spiderman/DevDes1Spider/Deviant_1_d_armor.vmt
Spider-Man Super Pack/materials/Models/Spiderman/DevDes1Spider/Deviant1_lens2.vmt
Spider-Man Super Pack/materials/Models/Spiderman/DevDes1Spider/poster.vmt
Spider-Man Super Pack/materials/Models/Spiderman/CapuniverseSpider/Universe_lens.vmt
Spider-Man Super Pack/materials/Models/Spiderman/CapuniverseSpider/Universe_Glow.vtf
Spider-Man Super Pack/materials/Models/Spiderman/CapuniverseSpider/Universe_D.vtf
Spider-Man Super Pack/materials/Models/Spiderman/CapuniverseSpider/Universe_N.vtf
Spider-Man Super Pack/materials/Models/Spiderman/CapuniverseSpider/Universe_d.vmt
Spider-Man Super Pack/materials/Models/Spiderman/SuperRedSpider/Super_red_lens.vmt
Spider-Man Super Pack/materials/Models/Spiderman/SuperRedSpider/Super_Red_D.vtf
Spider-Man Super Pack/materials/Models/Spiderman/SuperRedSpider/Super_Red_Glow.vtf
Spider-Man Super Pack/materials/Models/Spiderman/SuperRedSpider/Super_red_d.vmt
Spider-Man Super Pack/materials/Models/Spiderman/SuperRedSpider/Super_Red_N.vtf
Spider-Man Super Pack/materials/Models/Spiderman/BlueIronSPider/Bluesteel_d_red.vmt
Spider-Man Super Pack/materials/Models/Spiderman/BlueIronSPider/BlueSteel_D.vtf
Spider-Man Super Pack/materials/Models/Spiderman/BlueIronSPider/Bluesteel_lens.vmt
Spider-Man Super Pack/materials/Models/Spiderman/BlueIronSPider/Bluesteel_lens3.vmt
Spider-Man Super Pack/materials/Models/Spiderman/BlueIronSPider/BlueSteel_N.vtf
Spider-Man Super Pack/materials/Models/Spiderman/BlueIronSPider/BlueSteel_D_PS1.vtf
Spider-Man Super Pack/materials/Models/Spiderman/BlueIronSPider/Bluesteel_d_Ps1.vmt
Spider-Man Super Pack/materials/Models/Spiderman/BlueIronSPider/Bluesteel_lens2.vmt
Spider-Man Super Pack/materials/Models/Spiderman/BlueIronSPider/BlueSteel_D_Red.vtf
Spider-Man Super Pack/materials/Models/Spiderman/BlueIronSPider/Bluesteel_d.vmt
Spider-Man Super Pack/materials/Models/Spiderman/TronSpider/Tron_d.vmt
Spider-Man Super Pack/materials/Models/Spiderman/TronSpider/Tron_Glow_Yellow.vtf
Spider-Man Super Pack/materials/Models/Spiderman/TronSpider/Tron_D_Red.vtf
Spider-Man Super Pack/materials/Models/Spiderman/TronSpider/Tron_N.vtf
Spider-Man Super Pack/materials/Models/Spiderman/TronSpider/Tron_green.vmt
Spider-Man Super Pack/materials/Models/Spiderman/TronSpider/Tron_Glow_Blue.vtf
Spider-Man Super Pack/materials/Models/Spiderman/TronSpider/Tron_Glow_Red.vtf
Spider-Man Super Pack/materials/Models/Spiderman/TronSpider/Tron_D_Green.vtf
Spider-Man Super Pack/materials/Models/Spiderman/TronSpider/Tron_D_Blue.vtf
Spider-Man Super Pack/materials/Models/Spiderman/TronSpider/tron_lens_blue.vmt
Spider-Man Super Pack/materials/Models/Spiderman/TronSpider/tron_lens_green.vmt
Spider-Man Super Pack/materials/Models/Spiderman/TronSpider/Tron_yellow.vmt
Spider-Man Super Pack/materials/Models/Spiderman/TronSpider/tron_lens_yellow.vmt
Spider-Man Super Pack/materials/Models/Spiderman/TronSpider/Tron_blue.vmt
Spider-Man Super Pack/materials/Models/Spiderman/TronSpider/Tron_D_Yellow.vtf
Spider-Man Super Pack/materials/Models/Spiderman/TronSpider/Tron_Glow_Green.vtf
Spider-Man Super Pack/materials/Models/Spiderman/TronSpider/tron_lens.vmt
Spider-Man Super Pack/materials/Models/Spiderman/ElectroSpider/Electro_d.vmt
Spider-Man Super Pack/materials/Models/Spiderman/ElectroSpider/Electro_lens.vmt
Spider-Man Super Pack/materials/Models/Spiderman/ElectroSpider/Electro_D.vtf
Spider-Man Super Pack/materials/Models/Spiderman/ElectroSpider/Electro_N.vtf
Spider-Man Super Pack/materials/Models/Spiderman/SuperiorSpider/Superior_D.vtf
Spider-Man Super Pack/materials/Models/Spiderman/SuperiorSpider/Superior_d.vmt
Spider-Man Super Pack/materials/Models/Spiderman/SuperiorSpider/Superior_N.vtf
Spider-Man Super Pack/materials/Models/Spiderman/SuperiorSpider/Superior_lens.vmt
Spider-Man Super Pack/materials/Models/Spiderman/UnlimitedSpider/Unlimited_D.vtf
Spider-Man Super Pack/materials/Models/Spiderman/UnlimitedSpider/Unlimited_lens2.vmt
Spider-Man Super Pack/materials/Models/Spiderman/UnlimitedSpider/Unlimited_D_PS1.vtf
Spider-Man Super Pack/materials/Models/Spiderman/UnlimitedSpider/Unlimited_N.vtf
Spider-Man Super Pack/materials/Models/Spiderman/UnlimitedSpider/Unlimited_d.vmt
Spider-Man Super Pack/materials/Models/Spiderman/UnlimitedSpider/Unlimited_lens.vmt
Spider-Man Super Pack/materials/Models/Spiderman/UnlimitedSpider/Unlimited_d_ps1.vmt
Spider-Man Super Pack/materials/Models/Spiderman/RossSpider/Ross_D_Black_and_White.vtf
Spider-Man Super Pack/materials/Models/Spiderman/RossSpider/ross_lens2.vmt
Spider-Man Super Pack/materials/Models/Spiderman/RossSpider/Ross_D.vtf
Spider-Man Super Pack/materials/Models/Spiderman/RossSpider/ross_lens.vmt
Spider-Man Super Pack/materials/Models/Spiderman/RossSpider/ross_d_black_and_white.vmt
Spider-Man Super Pack/materials/Models/Spiderman/RossSpider/ross_d.vmt
Spider-Man Super Pack/materials/Models/Spiderman/RossSpider/Ross_N.vtf
Spider-Man Super Pack/materials/Models/Spiderman/SuperSpider/Super_d.vmt
Spider-Man Super Pack/materials/Models/Spiderman/SuperSpider/Super_D.vtf
Spider-Man Super Pack/materials/Models/Spiderman/SuperSpider/Super_lens.vmt
Spider-Man Super Pack/materials/Models/Spiderman/SuperSpider/Super_N.vtf
Spider-Man Super Pack/materials/Models/Spiderman/SuperSpider/poster.vmt
Spider-Man Super Pack/materials/Models/Spiderman/PhoenixSpider/Phoenix_Suit2_N.vtf
Spider-Man Super Pack/materials/Models/Spiderman/PhoenixSpider/phoenix_suit1_d.vmt
Spider-Man Super Pack/materials/Models/Spiderman/PhoenixSpider/phoenix_lens3.vmt
Spider-Man Super Pack/materials/Models/Spiderman/PhoenixSpider/phoenix_lens.vmt
Spider-Man Super Pack/materials/Models/Spiderman/PhoenixSpider/Phoenix_Suit2_Glow.vtf
Spider-Man Super Pack/materials/Models/Spiderman/PhoenixSpider/Phoenix_Suit2_D.vtf
Spider-Man Super Pack/materials/Models/Spiderman/PhoenixSpider/phoenix_suit2_d.vmt
Spider-Man Super Pack/materials/Models/Spiderman/PhoenixSpider/phoenix_suit2_d_dark_spider-phoenix.vmt
Spider-Man Super Pack/materials/Models/Spiderman/PhoenixSpider/Phoenix_Suit1_D.vtf
Spider-Man Super Pack/materials/Models/Spiderman/PhoenixSpider/Phoenix_Suit1_N.vtf
Spider-Man Super Pack/materials/Models/Spiderman/PhoenixSpider/Phoenix_Suit2_D_Dark_Spider-Phoenix.vtf
Spider-Man Super Pack/materials/Models/Spiderman/PhoenixSpider/phoenix_lens2.vmt
Spider-Man Super Pack/materials/Models/Spiderman/PhoenixSpider/Phoenix_Suit1_Glow.vtf
Spider-Man Super Pack/materials/Models/Spiderman/MoralesSpider/Morales_D.vtf
Spider-Man Super Pack/materials/Models/Spiderman/MoralesSpider/Morales_N_Injured.vtf
Spider-Man Super Pack/materials/Models/Spiderman/MoralesSpider/Morales_d.vmt
Spider-Man Super Pack/materials/Models/Spiderman/MoralesSpider/Morales_lens2.vmt
Spider-Man Super Pack/materials/Models/Spiderman/MoralesSpider/Morales_lens.vmt
Spider-Man Super Pack/materials/Models/Spiderman/MoralesSpider/Morales_D_Injured.vtf
Spider-Man Super Pack/materials/Models/Spiderman/MoralesSpider/Morales_N.vtf
Spider-Man Super Pack/materials/Models/Spiderman/MoralesSpider/Morales_injured_d.vmt
Spider-Man Super Pack/materials/Models/Spiderman/FutureSpider/Future_Foundation_D_Negative.vtf
Spider-Man Super Pack/materials/Models/Spiderman/FutureSpider/future_lens_negative.vmt
Spider-Man Super Pack/materials/Models/Spiderman/FutureSpider/Future_Foundation_D.vtf
Spider-Man Super Pack/materials/Models/Spiderman/FutureSpider/future_foundation_d_negative.vmt
Spider-Man Super Pack/materials/Models/Spiderman/FutureSpider/Future_Foundation_N.vtf
Spider-Man Super Pack/materials/Models/Spiderman/FutureSpider/future_lens.vmt
Spider-Man Super Pack/materials/Models/Spiderman/FutureSpider/future_foundation_d.vmt
Spider-Man Super Pack/materials/Models/Spiderman/2099Spider/2099_N.vtf
Spider-Man Super Pack/materials/Models/Spiderman/2099Spider/2099_d.vmt
Spider-Man Super Pack/materials/Models/Spiderman/2099Spider/2099_Blade_D.vtf
Spider-Man Super Pack/materials/Models/Spiderman/2099Spider/2099_D_Original.vtf
Spider-Man Super Pack/materials/Models/Spiderman/2099Spider/2099_Blade_D_Original.vtf
Spider-Man Super Pack/materials/Models/Spiderman/2099Spider/2099_D.vtf
Spider-Man Super Pack/materials/Models/Spiderman/2099Spider/2099_blade_d.vmt
Spider-Man Super Pack/materials/Models/Spiderman/2099Spider/2099_Blade_d_original.vmt
Spider-Man Super Pack/materials/Models/Spiderman/2099Spider/2099_Blade_N.vtf
Spider-Man Super Pack/materials/Models/Spiderman/2099Spider/2099_d_original.vmt
Spider-Man Super Pack/materials/Models/Spiderman/AlienSpider/Alien_Era_N.vtf
Spider-Man Super Pack/materials/Models/Spiderman/AlienSpider/Alien_Era_D.vtf
Spider-Man Super Pack/materials/Models/Spiderman/AlienSpider/Alien_era_d.vmt
Spider-Man Super Pack/materials/Models/Spiderman/DeviantCap2Spider/America_D_2.vtf
Spider-Man Super Pack/materials/Models/Spiderman/DeviantCap2Spider/America_d_1.vmt
Spider-Man Super Pack/materials/Models/Spiderman/DeviantCap2Spider/America_N_1.vtf
Spider-Man Super Pack/materials/Models/Spiderman/DeviantCap2Spider/America_lens2.vmt
Spider-Man Super Pack/materials/Models/Spiderman/DeviantCap2Spider/America_d_2.vmt
Spider-Man Super Pack/materials/Models/Spiderman/DeviantCap2Spider/America_N_2.vtf
Spider-Man Super Pack/materials/Models/Spiderman/DeviantCap2Spider/America_D_1.vtf
Spider-Man Super Pack/materials/Models/Spiderman/DeviantCap2Spider/America_lens.vmt
Spider-Man Super Pack/materials/Models/Spiderman/NoirSpider/Noir_lens2.vmt
Spider-Man Super Pack/materials/Models/Spiderman/NoirSpider/Noir_D2.vtf
Spider-Man Super Pack/materials/Models/Spiderman/NoirSpider/Noir_D.vtf
Spider-Man Super Pack/materials/Models/Spiderman/NoirSpider/Noir_N.vtf
Spider-Man Super Pack/materials/Models/Spiderman/NoirSpider/Noir_lens.vmt
Spider-Man Super Pack/materials/Models/Spiderman/NoirSpider/Noir_d.vmt
Spider-Man Super Pack/materials/Models/Spiderman/NoirSpider/Noir_d2.vmt
Spider-Man Super Pack/materials/Models/Spiderman/FlipsideSpider/Flipside_d_2.vmt
Spider-Man Super Pack/materials/Models/Spiderman/FlipsideSpider/Flipside_D_2.vtf
Spider-Man Super Pack/materials/Models/Spiderman/FlipsideSpider/Flipside_N.vtf
Spider-Man Super Pack/materials/Models/Spiderman/FlipsideSpider/Flipside_lens.vmt
Spider-Man Super Pack/materials/Models/Spiderman/FlipsideSpider/Flipside_lens2.vmt
Spider-Man Super Pack/materials/Models/Spiderman/FlipsideSpider/Flipside_D.vtf
Spider-Man Super Pack/materials/Models/Spiderman/FlipsideSpider/Flipside_d.vmt
Spider-Man Super Pack/materials/Models/Spiderman/ImperfectSpider/Imperfects_d.vmt
Spider-Man Super Pack/materials/Models/Spiderman/ImperfectSpider/Imperfects_Glow_Area.vtf
Spider-Man Super Pack/materials/Models/Spiderman/ImperfectSpider/Imperfects_N.vtf
Spider-Man Super Pack/materials/Models/Spiderman/ImperfectSpider/Imperfects_D.vtf
Spider-Man Super Pack/materials/Models/Spiderman/ImperfectSpider/Imperfects_lens.vmt
Spider-Man Super Pack/materials/Models/Spiderman/SecretWarSpider/Secret_wars_d_injured.vmt
Spider-Man Super Pack/materials/Models/Spiderman/SecretWarSpider/Secret_wars_lens2.vmt
Spider-Man Super Pack/materials/Models/Spiderman/SecretWarSpider/Secret_Wars_N.vtf
Spider-Man Super Pack/materials/Models/Spiderman/SecretWarSpider/Secret_Wars_N_Injured.vtf
Spider-Man Super Pack/materials/Models/Spiderman/SecretWarSpider/Secret_Wars_D.vtf
Spider-Man Super Pack/materials/Models/Spiderman/SecretWarSpider/Secret_wars_d.vmt
Spider-Man Super Pack/materials/Models/Spiderman/SecretWarSpider/Secret_Wars_D_Injured.vtf
Spider-Man Super Pack/materials/Models/Spiderman/SecretWarSpider/Secret_wars_lens.vmt
Spider-Man Super Pack/materials/Models/Spiderman/SecretWarSpider/Secret_Wars_WebShooter_Glowy_Red.vtf
Spider-Man Super Pack/materials/Models/Spiderman/60Spider/60s_d.vmt
Spider-Man Super Pack/materials/Models/Spiderman/60Spider/60s_N.vtf
Spider-Man Super Pack/materials/Models/Spiderman/60Spider/Poster.vtf
Spider-Man Super Pack/materials/Models/Spiderman/60Spider/60s_D.vtf
Spider-Man Super Pack/materials/Models/Spiderman/60Spider/poster.vmt
Spider-Man Super Pack/materials/Models/Spiderman/60Spider/Poster_N.vtf
Spider-Man Super Pack/materials/Models/Spiderman/Fantastic4Spider/Fantastic_wgh_d.vmt
Spider-Man Super Pack/materials/Models/Spiderman/Fantastic4Spider/Fantastic_Classic_N.vtf
Spider-Man Super Pack/materials/Models/Spiderman/Fantastic4Spider/fantastic_lens_3.vmt
Spider-Man Super Pack/materials/Models/Spiderman/Fantastic4Spider/Fantastic_WGH_N.vtf
Spider-Man Super Pack/materials/Models/Spiderman/Fantastic4Spider/Fantastic_WGH_D.vtf
Spider-Man Super Pack/materials/Models/Spiderman/Fantastic4Spider/Fantastic_emblem_wgh_d.vmt
Spider-Man Super Pack/materials/Models/Spiderman/Fantastic4Spider/Fantastic_Emblem_N.vtf
Spider-Man Super Pack/materials/Models/Spiderman/Fantastic4Spider/Fantastic_Emblem_WGH_D.vtf
Spider-Man Super Pack/materials/Models/Spiderman/Fantastic4Spider/Fantastic_Classic_D_White.vtf
Spider-Man Super Pack/materials/Models/Spiderman/Fantastic4Spider/Fantastic_emblem_classic_d.vmt
Spider-Man Super Pack/materials/Models/Spiderman/Fantastic4Spider/Fantastic_Emblem_Classic_D.vtf
Spider-Man Super Pack/materials/Models/Spiderman/Fantastic4Spider/Fantastic_Classic_D_Black.vtf
Spider-Man Super Pack/materials/Models/Spiderman/Fantastic4Spider/fantastic_lens_2.vmt
Spider-Man Super Pack/materials/Models/Spiderman/Fantastic4Spider/Fantastic_classic_d_white.vmt
Spider-Man Super Pack/materials/Models/Spiderman/Fantastic4Spider/Fantastic_classic_d_black.vmt
Spider-Man Super Pack/materials/Models/Spiderman/Fantastic4Spider/fantastic_lens.vmt
Spider-Man Super Pack/materials/Models/Spiderman/DeviantDesign5Spider/Dev5_cloth_d.vmt
Spider-Man Super Pack/materials/Models/Spiderman/DeviantDesign5Spider/Dev5_Cloth_D.vtf
Spider-Man Super Pack/materials/Models/Spiderman/DeviantDesign5Spider/Dev5_Armor_N.vtf
Spider-Man Super Pack/materials/Models/Spiderman/DeviantDesign5Spider/Dev5_armor_lens.vmt
Spider-Man Super Pack/materials/Models/Spiderman/DeviantDesign5Spider/Dev5_cloth_d_black.vmt
Spider-Man Super Pack/materials/Models/Spiderman/DeviantDesign5Spider/Dev5_Cloth_N.vtf
Spider-Man Super Pack/materials/Models/Spiderman/DeviantDesign5Spider/Dev5_armor_d.vmt
Spider-Man Super Pack/materials/Models/Spiderman/DeviantDesign5Spider/Dev5_cloth_lens.vmt
Spider-Man Super Pack/materials/Models/Spiderman/DeviantDesign5Spider/Dev5_Armor_D.vtf
Spider-Man Super Pack/materials/Models/Spiderman/DeviantDesign5Spider/Dev5_Cloth_D_Black.vtf
Spider-Man Super Pack/materials/Models/Spiderman/DeviantDesign5Spider/Dev5_cloth_lens2.vmt
Spider-Man Super Pack/materials/Models/Spiderman/SuperBlueSpider/Super_Blue_D.vtf
Spider-Man Super Pack/materials/Models/Spiderman/SuperBlueSpider/Super_blue_lens.vmt
Spider-Man Super Pack/materials/Models/Spiderman/SuperBlueSpider/Super_blue_d.vmt
Spider-Man Super Pack/materials/Models/Spiderman/SuperBlueSpider/Super_Blue_Glow.vtf
Spider-Man Super Pack/materials/Models/Spiderman/SuperBlueSpider/Super_Blue_N.vtf
Spider-Man Super Pack/materials/Models/Spiderman/AceSpiderman/TASM_Glow.vtf
Spider-Man Super Pack/materials/Models/Spiderman/AceSpiderman/TASM_Default_lens.vmt
Spider-Man Super Pack/materials/Models/Spiderman/AceSpiderman/TASM_Default_D_Black_Suit.vtf
Spider-Man Super Pack/materials/Models/Spiderman/AceSpiderman/BELT_BLACK.vtf
Spider-Man Super Pack/materials/Models/Spiderman/AceSpiderman/TASM_Default_N.vtf
Spider-Man Super Pack/materials/Models/Spiderman/AceSpiderman/TASM_Default_D.vtf
Spider-Man Super Pack/materials/Models/Spiderman/AceSpiderman/BELT.vtf
Spider-Man Super Pack/materials/Models/Spiderman/AceSpiderman/TASM_Default_lens2.vmt
Spider-Man Super Pack/materials/Models/Spiderman/AceSpiderman/TASM_Default_d_black_suit.vmt
Spider-Man Super Pack/materials/Models/Spiderman/AceSpiderman/BELT_Normal.vtf
Spider-Man Super Pack/materials/Models/Spiderman/AceSpiderman/BELT_BLACK.vmt
Spider-Man Super Pack/materials/Models/Spiderman/AceSpiderman/TASM_Default_d.vmt
Spider-Man Super Pack/materials/Models/Spiderman/AceSpiderman/BELT.vmt
Spider-Man Super Pack/materials/Models/Spiderman/DeadSpaceSpider/DeadSpace_Belt_D.vtf
Spider-Man Super Pack/materials/Models/Spiderman/DeadSpaceSpider/Space_lens.vmt
Spider-Man Super Pack/materials/Models/Spiderman/DeadSpaceSpider/Space_D.vtf
Spider-Man Super Pack/materials/Models/Spiderman/DeadSpaceSpider/Space_d.vmt
Spider-Man Super Pack/materials/Models/Spiderman/DeadSpaceSpider/Belt_N.vtf
Spider-Man Super Pack/materials/Models/Spiderman/DeadSpaceSpider/Space_N.vtf
Spider-Man Super Pack/materials/Models/Spiderman/DeadSpaceSpider/DeadSpace_belt_d.vmt
Spider-Man Super Pack/materials/Models/Spiderman/DeadSpaceSpider/Space_Glow.vtf
Spider-Man Super Pack/materials/Models/Spiderman/AssassinSpider/assassin_2.vmt
Spider-Man Super Pack/materials/Models/Spiderman/AssassinSpider/assassin_lens2.vmt
Spider-Man Super Pack/materials/Models/Spiderman/AssassinSpider/Assassin_2.vtf
Spider-Man Super Pack/materials/Models/Spiderman/AssassinSpider/Assassin_N.vtf
Spider-Man Super Pack/materials/Models/Spiderman/AssassinSpider/assassin_d.vmt
Spider-Man Super Pack/materials/Models/Spiderman/AssassinSpider/Assassin_D.vtf
Spider-Man Super Pack/materials/Models/Spiderman/AssassinSpider/assassin_lens.vmt
Spider-Man Super Pack/materials/Models/Spiderman/BannerSpider/Banner_D.vtf
Spider-Man Super Pack/materials/Models/Spiderman/BannerSpider/Banner_N.vtf
Spider-Man Super Pack/materials/Models/Spiderman/BannerSpider/Banner_Glow.vtf
Spider-Man Super Pack/materials/Models/Spiderman/BannerSpider/banner_lens.vmt
Spider-Man Super Pack/materials/Models/Spiderman/BannerSpider/banner_d.vmt
Spider-Man Super Pack/materials/Models/Spiderman/ClassicSpider/classic_lens1st.vmt
Spider-Man Super Pack/materials/Models/Spiderman/ClassicSpider/classic_d.vmt
Spider-Man Super Pack/materials/Models/Spiderman/ClassicSpider/classic_d_1st_app.vmt
Spider-Man Super Pack/materials/Models/Spiderman/ClassicSpider/Classic_D_1st_app.vtf
Spider-Man Super Pack/materials/Models/Spiderman/ClassicSpider/classic_lens.vmt
Spider-Man Super Pack/materials/Models/Spiderman/ClassicSpider/Classic_D.vtf
Spider-Man Super Pack/materials/Models/Spiderman/ClassicSpider/Classic_N.vtf
Spider-Man Super Pack/materials/Models/Spiderman/ClassicSpider/poster.vmt
Spider-Man Super Pack/materials/Models/Spiderman/Dev3XSpider/X_d.vmt
Spider-Man Super Pack/materials/Models/Spiderman/Dev3XSpider/X_lens.vmt
Spider-Man Super Pack/materials/Models/Spiderman/Dev3XSpider/X_N.vtf
Spider-Man Super Pack/materials/Models/Spiderman/Dev3XSpider/X_D.vtf
Spider-Man Super Pack/materials/Models/Spiderman/BigtimeSpider/big_time_blue.vmt
Spider-Man Super Pack/materials/Models/Spiderman/BigtimeSpider/big_time_lens_blue.vmt
Spider-Man Super Pack/materials/Models/Spiderman/BigtimeSpider/Big_Time_Default_Green.vtf
Spider-Man Super Pack/materials/Models/Spiderman/BigtimeSpider/big_time_lens.vmt
Spider-Man Super Pack/materials/Models/Spiderman/BigtimeSpider/big_time_yellow.vmt
Spider-Man Super Pack/materials/Models/Spiderman/BigtimeSpider/Big_Time_Glow_Default_Green.vtf
Spider-Man Super Pack/materials/Models/Spiderman/BigtimeSpider/Big_Time_Glow_Red.vtf
Spider-Man Super Pack/materials/Models/Spiderman/BigtimeSpider/big_time_lens_red.vmt
Spider-Man Super Pack/materials/Models/Spiderman/BigtimeSpider/big_time_lens_yellow.vmt
Spider-Man Super Pack/materials/Models/Spiderman/BigtimeSpider/Big_Time_Glow_Blue.vtf
Spider-Man Super Pack/materials/Models/Spiderman/BigtimeSpider/Big_Time_Red.vtf
Spider-Man Super Pack/materials/Models/Spiderman/BigtimeSpider/Big_Time_Yellow.vtf
Spider-Man Super Pack/materials/Models/Spiderman/BigtimeSpider/Big_Time_Glow_Yellow.vtf
Spider-Man Super Pack/materials/Models/Spiderman/BigtimeSpider/Big_Time_Blue.vtf
Spider-Man Super Pack/materials/Models/Spiderman/BigtimeSpider/big_time_red.vmt
Spider-Man Super Pack/materials/Models/Spiderman/BigtimeSpider/Big_Time_N.vtf
Spider-Man Super Pack/materials/Models/Spiderman/BigtimeSpider/big_time_default_green.vmt
Spider-Man Super Pack/materials/Models/Spiderman/ReillySpider/Scarlet_equipment_d.vmt
Spider-Man Super Pack/materials/Models/Spiderman/ReillySpider/Reilly_N.vtf
Spider-Man Super Pack/materials/Models/Spiderman/ReillySpider/Reilly_D.vtf
Spider-Man Super Pack/materials/Models/Spiderman/ReillySpider/Reilly_d.vmt
Spider-Man Super Pack/materials/Models/Spiderman/ReillySpider/Reilly_lens.vmt
Spider-Man Super Pack/materials/Models/Spiderman/ReillySpider/poster.vmt
Spider-Man Super Pack/materials/Models/Spiderman/RaimiSpider/Raimi_suit_black_D.vtf
Spider-Man Super Pack/materials/Models/Spiderman/RaimiSpider/Raimi_suit_black_N.vtf
Spider-Man Super Pack/materials/Models/Spiderman/RaimiSpider/Raimi_suit_black_d.vmt
Spider-Man Super Pack/materials/Models/Spiderman/RaimiSpider/Raimi_lens.vmt
Spider-Man Super Pack/materials/Models/Spiderman/RaimiSpider/Raimi_lens_black.vmt
Spider-Man Super Pack/materials/Models/Spiderman/RaimiSpider/Raimi_suit_red_d.vmt
Spider-Man Super Pack/materials/Models/Spiderman/RaimiSpider/Raimi_suit_red_D.vtf
Spider-Man Super Pack/materials/Models/Spiderman/RaimiSpider/Raimi_suit_red_N.vtf
Spider-Man Super Pack/materials/Models/Spiderman/HouseofMSpider/HouseofM_d.vmt
Spider-Man Super Pack/materials/Models/Spiderman/HouseofMSpider/HouseofM_lens2.vmt
Spider-Man Super Pack/materials/Models/Spiderman/HouseofMSpider/HouseofM_damage_d.vmt
Spider-Man Super Pack/materials/Models/Spiderman/HouseofMSpider/HouseOfM_Damage_N.vtf
Spider-Man Super Pack/materials/Models/Spiderman/HouseofMSpider/HouseOfM_N.vtf
Spider-Man Super Pack/materials/Models/Spiderman/HouseofMSpider/HouseOfM_Damage_D.vtf
Spider-Man Super Pack/materials/Models/Spiderman/HouseofMSpider/HouseOfM_D.vtf
Spider-Man Super Pack/materials/Models/Spiderman/HouseofMSpider/HouseofM_lens.vmt