Adult content
This content is marked as Adult/NSFW content. You can toggle your preferences regarding this content type in your account settings.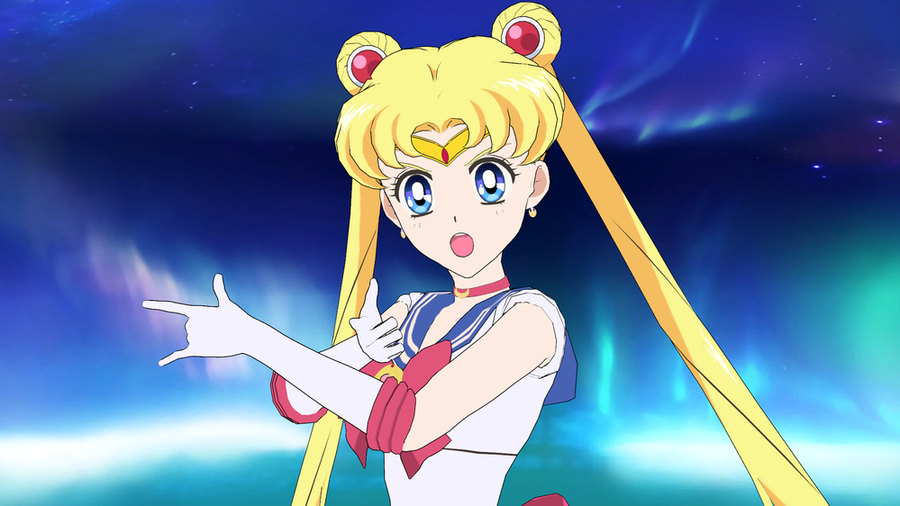 Show more
Description
In the Name of the Moon, I'll Punish You!
I finally got to do one of the classics. This model comes with 9 outfits. Sailor Moon, Sailor Moon Super, Saban Moon, School uniform, Gym uniform, swimsuit, 2 casual outfits, and based on アリオンキャンバス 's artwork Taimanin Sailor Moon outfit!
For each model there is an unlit outline version.
Ik rig is rig_Sailor Moon_Sailor Scouts.py
This also comes with accessories like the Moon Stick, Moon Staff and Disguises Pen.
Specal thanks to Marcovee4, uknowncoolguy, VolaVolaBoi, and Nyahs_smut for testing out the model and for the preview pics
credit to
mimicosss for the original Sailor Moon model
AnmeGirl and lopieloo for the accessories
Skysims and MijumaruNr1 for Victoria's hair
XelandisD for the long hair version
I got a Patreon if you want to send some support, see wips or vote on which model I'll do next.
https://www.patreon.com/Yinyama3D
or at subscribestar to see wips and vote on which model will be next
https://subscribestar.adult/yinyama3d
Have fun~
Update: edited some textures
SFMLab is a free service. However, it costs about $0.03 to deliver you a 1GB file. With over 20TB of traffic every month and growing, SFMLab needs your help. If only 1% of our users each gave us $5 for a single month, we could keep the site running for several years.
Filename
Downloads
Created
Filesize
Files
Sailor_Moon_v1.6.zip
860
2022-12-09 05:04:41
79.61 MB
File contents:

usermod/models/Sailor Moon/Sailor Moon/school usagi tsukino.mdl
usermod/models/Sailor Moon/Sailor Moon/casual 1 usagi tsukino.mdl
usermod/models/Sailor Moon/Sailor Moon/sailor moon accessories 3.mdl
usermod/models/Sailor Moon/Sailor Moon/casual 2 usagi tsukino.vvd
usermod/models/Sailor Moon/Sailor Moon/Sailor Moon Super Usagi Tsukino.dx90.vtx
usermod/models/Sailor Moon/Sailor Moon/sailor moon usagi tsukino.mdl
usermod/models/Sailor Moon/Sailor Moon/casual 1 usagi tsukino.vvd
usermod/models/Sailor Moon/Sailor Moon/Sailor Moon Victoria.dx90.vtx
usermod/models/Sailor Moon/Sailor Moon/sailor moon accessories 2.mdl
usermod/models/Sailor Moon/Sailor Moon/Taimanin Usagi.dx90.vtx
usermod/models/Sailor Moon/Sailor Moon/Sailor Moon Usagi Tsukino.dx90.vtx
usermod/models/Sailor Moon/Sailor Moon/sailor moon accessories 1.vvd
usermod/models/Sailor Moon/Sailor Moon/Gym Usagi Tsukino.dx90.vtx
usermod/models/Sailor Moon/Sailor Moon/sailor moon accessories 2.vvd
usermod/models/Sailor Moon/Sailor Moon/sailor moon victoria.mdl
usermod/models/Sailor Moon/Sailor Moon/sailor moon accessories 3.vvd
usermod/models/Sailor Moon/Sailor Moon/sailor moon accessories 1.mdl
usermod/models/Sailor Moon/Sailor Moon/casual 2 usagi tsukino.mdl
usermod/models/Sailor Moon/Sailor Moon/sailor moon super usagi tsukino.mdl
usermod/models/Sailor Moon/Sailor Moon/gym usagi tsukino.mdl
usermod/models/Sailor Moon/Sailor Moon/Sailor Moon Accessories 1.dx90.vtx
usermod/models/Sailor Moon/Sailor Moon/Casual 2 Usagi Tsukino.dx90.vtx
usermod/models/Sailor Moon/Sailor Moon/gym usagi tsukino.vvd
usermod/models/Sailor Moon/Sailor Moon/school usagi tsukino.vvd
usermod/models/Sailor Moon/Sailor Moon/taimanin usagi.mdl
usermod/models/Sailor Moon/Sailor Moon/sailor moon super usagi tsukino.vvd
usermod/models/Sailor Moon/Sailor Moon/Sailor Moon Accessories 2.dx90.vtx
usermod/models/Sailor Moon/Sailor Moon/taimanin usagi.vvd
usermod/models/Sailor Moon/Sailor Moon/sailor moon victoria.vvd
usermod/models/Sailor Moon/Sailor Moon/School Usagi Tsukino.dx90.vtx
usermod/models/Sailor Moon/Sailor Moon/sailor moon usagi tsukino.vvd
usermod/models/Sailor Moon/Sailor Moon/Sailor Moon Accessories 3.dx90.vtx
usermod/models/Sailor Moon/Sailor Moon/Casual 1 Usagi Tsukino.dx90.vtx
usermod/models/Sailor Moon/Sailor Moon/unlit/school usagi tsukino.mdl
usermod/models/Sailor Moon/Sailor Moon/unlit/casual 1 usagi tsukino.mdl
usermod/models/Sailor Moon/Sailor Moon/unlit/sailor moon accessories 3.mdl
usermod/models/Sailor Moon/Sailor Moon/unlit/casual 2 usagi tsukino.vvd
usermod/models/Sailor Moon/Sailor Moon/unlit/Sailor Moon Super Usagi Tsukino.dx90.vtx
usermod/models/Sailor Moon/Sailor Moon/unlit/sailor moon usagi tsukino.mdl
usermod/models/Sailor Moon/Sailor Moon/unlit/casual 1 usagi tsukino.vvd
usermod/models/Sailor Moon/Sailor Moon/unlit/Sailor Moon Victoria.dx90.vtx
usermod/models/Sailor Moon/Sailor Moon/unlit/sailor moon accessories 2.mdl
usermod/models/Sailor Moon/Sailor Moon/unlit/Taimanin Usagi.dx90.vtx
usermod/models/Sailor Moon/Sailor Moon/unlit/Sailor Moon Usagi Tsukino.dx90.vtx
usermod/models/Sailor Moon/Sailor Moon/unlit/sailor moon accessories 1.vvd
usermod/models/Sailor Moon/Sailor Moon/unlit/Gym Usagi Tsukino.dx90.vtx
usermod/models/Sailor Moon/Sailor Moon/unlit/sailor moon accessories 2.vvd
usermod/models/Sailor Moon/Sailor Moon/unlit/sailor moon victoria.mdl
usermod/models/Sailor Moon/Sailor Moon/unlit/sailor moon accessories 3.vvd
usermod/models/Sailor Moon/Sailor Moon/unlit/sailor moon accessories 1.mdl
usermod/models/Sailor Moon/Sailor Moon/unlit/casual 2 usagi tsukino.mdl
usermod/models/Sailor Moon/Sailor Moon/unlit/sailor moon super usagi tsukino.mdl
usermod/models/Sailor Moon/Sailor Moon/unlit/gym usagi tsukino.mdl
usermod/models/Sailor Moon/Sailor Moon/unlit/Sailor Moon Accessories 1.dx90.vtx
usermod/models/Sailor Moon/Sailor Moon/unlit/Casual 2 Usagi Tsukino.dx90.vtx
usermod/models/Sailor Moon/Sailor Moon/unlit/gym usagi tsukino.vvd
usermod/models/Sailor Moon/Sailor Moon/unlit/school usagi tsukino.vvd
usermod/models/Sailor Moon/Sailor Moon/unlit/taimanin usagi.mdl
usermod/models/Sailor Moon/Sailor Moon/unlit/sailor moon super usagi tsukino.vvd
usermod/models/Sailor Moon/Sailor Moon/unlit/Sailor Moon Accessories 2.dx90.vtx
usermod/models/Sailor Moon/Sailor Moon/unlit/taimanin usagi.vvd
usermod/models/Sailor Moon/Sailor Moon/unlit/sailor moon victoria.vvd
usermod/models/Sailor Moon/Sailor Moon/unlit/School Usagi Tsukino.dx90.vtx
usermod/models/Sailor Moon/Sailor Moon/unlit/sailor moon usagi tsukino.vvd
usermod/models/Sailor Moon/Sailor Moon/unlit/Sailor Moon Accessories 3.dx90.vtx
usermod/models/Sailor Moon/Sailor Moon/unlit/Casual 1 Usagi Tsukino.dx90.vtx
usermod/scripts/sfm/animset/rig_Sailor Moon_Sailor Scouts.py
usermod/materials/models/Sailor Moon/Sailor Moon/Fingernails.vtf
usermod/materials/models/Sailor Moon/Sailor Moon/yellow.vmt
usermod/materials/models/Sailor Moon/Sailor Moon/map.vtf
usermod/materials/models/Sailor Moon/Sailor Moon/school.vmt
usermod/materials/models/Sailor Moon/Sailor Moon/gems.vtf
usermod/materials/models/Sailor Moon/Sailor Moon/outline.vmt
usermod/materials/models/Sailor Moon/Sailor Moon/lightwarp 2.vtf
usermod/materials/models/Sailor Moon/Sailor Moon/gold.vmt
usermod/materials/models/Sailor Moon/Sailor Moon/hair.vmt
usermod/materials/models/Sailor Moon/Sailor Moon/bikini 2.vmt
usermod/materials/models/Sailor Moon/Sailor Moon/torso.vtf
usermod/materials/models/Sailor Moon/Sailor Moon/face_shader3.vtf
usermod/materials/models/Sailor Moon/Sailor Moon/bikini 2.vtf
usermod/materials/models/Sailor Moon/Sailor Moon/bikini.vmt
usermod/materials/models/Sailor Moon/Sailor Moon/ribbonsleeve.vtf
usermod/materials/models/Sailor Moon/Sailor Moon/legs.vtf
usermod/materials/models/Sailor Moon/Sailor Moon/bra.vtf
usermod/materials/models/Sailor Moon/Sailor Moon/Gems.vmt
usermod/materials/models/Sailor Moon/Sailor Moon/red.vtf
usermod/materials/models/Sailor Moon/Sailor Moon/gold.vtf
usermod/materials/models/Sailor Moon/Sailor Moon/green.vtf
usermod/materials/models/Sailor Moon/Sailor Moon/Taimanin.vtf
usermod/materials/models/Sailor Moon/Sailor Moon/Shorts.vmt
usermod/materials/models/Sailor Moon/Sailor Moon/exp.vtf
usermod/materials/models/Sailor Moon/Sailor Moon/White.vmt
usermod/materials/models/Sailor Moon/Sailor Moon/animeskinphong.vtf
usermod/materials/models/Sailor Moon/Sailor Moon/green.vmt
usermod/materials/models/Sailor Moon/Sailor Moon/bikini.vtf
usermod/materials/models/Sailor Moon/Sailor Moon/light blue.vmt
usermod/materials/models/Sailor Moon/Sailor Moon/pink.vmt
usermod/materials/models/Sailor Moon/Sailor Moon/generic_lightwarp.vtf
usermod/materials/models/Sailor Moon/Sailor Moon/map bra.vtf
usermod/materials/models/Sailor Moon/Sailor Moon/Bra.vmt
usermod/materials/models/Sailor Moon/Sailor Moon/toenails.vmt
usermod/materials/models/Sailor Moon/Sailor Moon/super.vtf
usermod/materials/models/Sailor Moon/Sailor Moon/Eyes.vmt
usermod/materials/models/Sailor Moon/Sailor Moon/white.vtf
usermod/materials/models/Sailor Moon/Sailor Moon/head.vmt
usermod/materials/models/Sailor Moon/Sailor Moon/suit.vtf
usermod/materials/models/Sailor Moon/Sailor Moon/lightwarp.vtf
usermod/materials/models/Sailor Moon/Sailor Moon/cheer.vtf
usermod/materials/models/Sailor Moon/Sailor Moon/Shirt.vmt
usermod/materials/models/Sailor Moon/Sailor Moon/legs.vmt
usermod/materials/models/Sailor Moon/Sailor Moon/blush.vmt
usermod/materials/models/Sailor Moon/Sailor Moon/super.vmt
usermod/materials/models/Sailor Moon/Sailor Moon/Genitalia.vtf
usermod/materials/models/Sailor Moon/Sailor Moon/arms.vmt
usermod/materials/models/Sailor Moon/Sailor Moon/suit.vmt
usermod/materials/models/Sailor Moon/Sailor Moon/Red.vmt
usermod/materials/models/Sailor Moon/Sailor Moon/blue.vtf
usermod/materials/models/Sailor Moon/Sailor Moon/school.vtf
usermod/materials/models/Sailor Moon/Sailor Moon/torso.vmt
usermod/materials/models/Sailor Moon/Sailor Moon/Shorts.vtf
usermod/materials/models/Sailor Moon/Sailor Moon/Cheer.vmt
usermod/materials/models/Sailor Moon/Sailor Moon/ribbon.vmt
usermod/materials/models/Sailor Moon/Sailor Moon/arms.vtf
usermod/materials/models/Sailor Moon/Sailor Moon/eyes2.vtf
usermod/materials/models/Sailor Moon/Sailor Moon/Vagina&Rectum.vmt
usermod/materials/models/Sailor Moon/Sailor Moon/Fingernails.vmt
usermod/materials/models/Sailor Moon/Sailor Moon/toenails.vtf
usermod/materials/models/Sailor Moon/Sailor Moon/sleeves.vmt
usermod/materials/models/Sailor Moon/Sailor Moon/Genitalia.vmt
usermod/materials/models/Sailor Moon/Sailor Moon/blue.vmt
usermod/materials/models/Sailor Moon/Sailor Moon/Panties.vmt
usermod/materials/models/Sailor Moon/Sailor Moon/Vagina&Rectum.vtf
usermod/materials/models/Sailor Moon/Sailor Moon/pink.vtf
usermod/materials/models/Sailor Moon/Sailor Moon/Black.vtf
usermod/materials/models/Sailor Moon/Sailor Moon/yellow.vtf
usermod/materials/models/Sailor Moon/Sailor Moon/Taimanin.vmt
usermod/materials/models/Sailor Moon/Sailor Moon/light blue.vtf
usermod/materials/models/Sailor Moon/Sailor Moon/White 2.vmt
usermod/materials/models/Sailor Moon/Sailor Moon/unlit/yellow.vmt
usermod/materials/models/Sailor Moon/Sailor Moon/unlit/RedA.vmt
usermod/materials/models/Sailor Moon/Sailor Moon/unlit/SUPER.vmt
usermod/materials/models/Sailor Moon/Sailor Moon/unlit/school.vmt
usermod/materials/models/Sailor Moon/Sailor Moon/unlit/goldA.vmt
usermod/materials/models/Sailor Moon/Sailor Moon/unlit/ShortsA.vmt
usermod/materials/models/Sailor Moon/Sailor Moon/unlit/outline.vmt
usermod/materials/models/Sailor Moon/Sailor Moon/unlit/gold.vmt
usermod/materials/models/Sailor Moon/Sailor Moon/unlit/hair.vmt
usermod/materials/models/Sailor Moon/Sailor Moon/unlit/bikini 2.vmt
usermod/materials/models/Sailor Moon/Sailor Moon/unlit/suitA.vmt
usermod/materials/models/Sailor Moon/Sailor Moon/unlit/ShirtA.vmt
usermod/materials/models/Sailor Moon/Sailor Moon/unlit/SUPERA.vmt
usermod/materials/models/Sailor Moon/Sailor Moon/unlit/TaimaninA.vmt
usermod/materials/models/Sailor Moon/Sailor Moon/unlit/bikini.vmt
usermod/materials/models/Sailor Moon/Sailor Moon/unlit/greenA.vmt
usermod/materials/models/Sailor Moon/Sailor Moon/unlit/PantiesA.vmt
usermod/materials/models/Sailor Moon/Sailor Moon/unlit/BraA.vmt
usermod/materials/models/Sailor Moon/Sailor Moon/unlit/Gems.vmt
usermod/materials/models/Sailor Moon/Sailor Moon/unlit/Blush.vmt
usermod/materials/models/Sailor Moon/Sailor Moon/unlit/yellowA.vmt
usermod/materials/models/Sailor Moon/Sailor Moon/unlit/Shorts.vmt
usermod/materials/models/Sailor Moon/Sailor Moon/unlit/White.vmt
usermod/materials/models/Sailor Moon/Sailor Moon/unlit/green.vmt
usermod/materials/models/Sailor Moon/Sailor Moon/unlit/light blue.vmt
usermod/materials/models/Sailor Moon/Sailor Moon/unlit/GenitaliaA.vmt
usermod/materials/models/Sailor Moon/Sailor Moon/unlit/pink.vmt
usermod/materials/models/Sailor Moon/Sailor Moon/unlit/ribbonA.vmt
usermod/materials/models/Sailor Moon/Sailor Moon/unlit/Bra.vmt
usermod/materials/models/Sailor Moon/Sailor Moon/unlit/hairA.vmt
usermod/materials/models/Sailor Moon/Sailor Moon/unlit/toenails.vmt
usermod/materials/models/Sailor Moon/Sailor Moon/unlit/legsA.vmt
usermod/materials/models/Sailor Moon/Sailor Moon/unlit/Eyes.vmt
usermod/materials/models/Sailor Moon/Sailor Moon/unlit/head.vmt
usermod/materials/models/Sailor Moon/Sailor Moon/unlit/pinkA.vmt
usermod/materials/models/Sailor Moon/Sailor Moon/unlit/toenailsA.vmt
usermod/materials/models/Sailor Moon/Sailor Moon/unlit/torsoA.vmt
usermod/materials/models/Sailor Moon/Sailor Moon/unlit/light blueA.vmt
usermod/materials/models/Sailor Moon/Sailor Moon/unlit/Shirt.vmt
usermod/materials/models/Sailor Moon/Sailor Moon/unlit/bikiniA.vmt
usermod/materials/models/Sailor Moon/Sailor Moon/unlit/legs.vmt
usermod/materials/models/Sailor Moon/Sailor Moon/unlit/bikini 2a.vmt
usermod/materials/models/Sailor Moon/Sailor Moon/unlit/arms.vmt
usermod/materials/models/Sailor Moon/Sailor Moon/unlit/suit.vmt
usermod/materials/models/Sailor Moon/Sailor Moon/unlit/Red.vmt
usermod/materials/models/Sailor Moon/Sailor Moon/unlit/torso.vmt
usermod/materials/models/Sailor Moon/Sailor Moon/unlit/Cheer.vmt
usermod/materials/models/Sailor Moon/Sailor Moon/unlit/FingernailsA.vmt
usermod/materials/models/Sailor Moon/Sailor Moon/unlit/ribbon.vmt
usermod/materials/models/Sailor Moon/Sailor Moon/unlit/Vagina&Rectum.vmt
usermod/materials/models/Sailor Moon/Sailor Moon/unlit/Fingernails.vmt
usermod/materials/models/Sailor Moon/Sailor Moon/unlit/sleeves.vmt
usermod/materials/models/Sailor Moon/Sailor Moon/unlit/CheerA.vmt
usermod/materials/models/Sailor Moon/Sailor Moon/unlit/Genitalia.vmt
usermod/materials/models/Sailor Moon/Sailor Moon/unlit/schoolA.vmt
usermod/materials/models/Sailor Moon/Sailor Moon/unlit/Vagina&RectumA.vmt
usermod/materials/models/Sailor Moon/Sailor Moon/unlit/blue.vmt
usermod/materials/models/Sailor Moon/Sailor Moon/unlit/White 2A.vmt
usermod/materials/models/Sailor Moon/Sailor Moon/unlit/bluea.vmt
usermod/materials/models/Sailor Moon/Sailor Moon/unlit/headA.vmt
usermod/materials/models/Sailor Moon/Sailor Moon/unlit/EyesA.vmt
usermod/materials/models/Sailor Moon/Sailor Moon/unlit/Panties.vmt
usermod/materials/models/Sailor Moon/Sailor Moon/unlit/armsa.vmt
usermod/materials/models/Sailor Moon/Sailor Moon/unlit/WhiteA.vmt
usermod/materials/models/Sailor Moon/Sailor Moon/unlit/Taimanin.vmt
usermod/materials/models/Sailor Moon/Sailor Moon/unlit/sleevesA.vmt
usermod/materials/models/Sailor Moon/Sailor Moon/unlit/White 2.vmt




Sailor_Moon_pack_v1.5.zip
635
2022-10-25 10:36:48
79.61 MB
File contents:

usermod/models/Sailor Moon/Sailor Moon/school usagi tsukino.mdl
usermod/models/Sailor Moon/Sailor Moon/casual 1 usagi tsukino.mdl
usermod/models/Sailor Moon/Sailor Moon/sailor moon accessories 3.mdl
usermod/models/Sailor Moon/Sailor Moon/casual 2 usagi tsukino.vvd
usermod/models/Sailor Moon/Sailor Moon/Sailor Moon Super Usagi Tsukino.dx90.vtx
usermod/models/Sailor Moon/Sailor Moon/sailor moon usagi tsukino.mdl
usermod/models/Sailor Moon/Sailor Moon/casual 1 usagi tsukino.vvd
usermod/models/Sailor Moon/Sailor Moon/Sailor Moon Victoria.dx90.vtx
usermod/models/Sailor Moon/Sailor Moon/sailor moon accessories 2.mdl
usermod/models/Sailor Moon/Sailor Moon/Taimanin Usagi.dx90.vtx
usermod/models/Sailor Moon/Sailor Moon/Sailor Moon Usagi Tsukino.dx90.vtx
usermod/models/Sailor Moon/Sailor Moon/sailor moon accessories 1.vvd
usermod/models/Sailor Moon/Sailor Moon/Gym Usagi Tsukino.dx90.vtx
usermod/models/Sailor Moon/Sailor Moon/sailor moon accessories 2.vvd
usermod/models/Sailor Moon/Sailor Moon/sailor moon victoria.mdl
usermod/models/Sailor Moon/Sailor Moon/sailor moon accessories 3.vvd
usermod/models/Sailor Moon/Sailor Moon/sailor moon accessories 1.mdl
usermod/models/Sailor Moon/Sailor Moon/casual 2 usagi tsukino.mdl
usermod/models/Sailor Moon/Sailor Moon/sailor moon super usagi tsukino.mdl
usermod/models/Sailor Moon/Sailor Moon/gym usagi tsukino.mdl
usermod/models/Sailor Moon/Sailor Moon/Sailor Moon Accessories 1.dx90.vtx
usermod/models/Sailor Moon/Sailor Moon/Casual 2 Usagi Tsukino.dx90.vtx
usermod/models/Sailor Moon/Sailor Moon/gym usagi tsukino.vvd
usermod/models/Sailor Moon/Sailor Moon/school usagi tsukino.vvd
usermod/models/Sailor Moon/Sailor Moon/taimanin usagi.mdl
usermod/models/Sailor Moon/Sailor Moon/sailor moon super usagi tsukino.vvd
usermod/models/Sailor Moon/Sailor Moon/Sailor Moon Accessories 2.dx90.vtx
usermod/models/Sailor Moon/Sailor Moon/taimanin usagi.vvd
usermod/models/Sailor Moon/Sailor Moon/sailor moon victoria.vvd
usermod/models/Sailor Moon/Sailor Moon/School Usagi Tsukino.dx90.vtx
usermod/models/Sailor Moon/Sailor Moon/sailor moon usagi tsukino.vvd
usermod/models/Sailor Moon/Sailor Moon/Sailor Moon Accessories 3.dx90.vtx
usermod/models/Sailor Moon/Sailor Moon/Casual 1 Usagi Tsukino.dx90.vtx
usermod/models/Sailor Moon/Sailor Moon/unlit/school usagi tsukino.mdl
usermod/models/Sailor Moon/Sailor Moon/unlit/casual 1 usagi tsukino.mdl
usermod/models/Sailor Moon/Sailor Moon/unlit/sailor moon accessories 3.mdl
usermod/models/Sailor Moon/Sailor Moon/unlit/casual 2 usagi tsukino.vvd
usermod/models/Sailor Moon/Sailor Moon/unlit/Sailor Moon Super Usagi Tsukino.dx90.vtx
usermod/models/Sailor Moon/Sailor Moon/unlit/sailor moon usagi tsukino.mdl
usermod/models/Sailor Moon/Sailor Moon/unlit/casual 1 usagi tsukino.vvd
usermod/models/Sailor Moon/Sailor Moon/unlit/Sailor Moon Victoria.dx90.vtx
usermod/models/Sailor Moon/Sailor Moon/unlit/sailor moon accessories 2.mdl
usermod/models/Sailor Moon/Sailor Moon/unlit/Taimanin Usagi.dx90.vtx
usermod/models/Sailor Moon/Sailor Moon/unlit/Sailor Moon Usagi Tsukino.dx90.vtx
usermod/models/Sailor Moon/Sailor Moon/unlit/sailor moon accessories 1.vvd
usermod/models/Sailor Moon/Sailor Moon/unlit/Gym Usagi Tsukino.dx90.vtx
usermod/models/Sailor Moon/Sailor Moon/unlit/sailor moon accessories 2.vvd
usermod/models/Sailor Moon/Sailor Moon/unlit/sailor moon victoria.mdl
usermod/models/Sailor Moon/Sailor Moon/unlit/sailor moon accessories 3.vvd
usermod/models/Sailor Moon/Sailor Moon/unlit/sailor moon accessories 1.mdl
usermod/models/Sailor Moon/Sailor Moon/unlit/casual 2 usagi tsukino.mdl
usermod/models/Sailor Moon/Sailor Moon/unlit/sailor moon super usagi tsukino.mdl
usermod/models/Sailor Moon/Sailor Moon/unlit/gym usagi tsukino.mdl
usermod/models/Sailor Moon/Sailor Moon/unlit/Sailor Moon Accessories 1.dx90.vtx
usermod/models/Sailor Moon/Sailor Moon/unlit/Casual 2 Usagi Tsukino.dx90.vtx
usermod/models/Sailor Moon/Sailor Moon/unlit/gym usagi tsukino.vvd
usermod/models/Sailor Moon/Sailor Moon/unlit/school usagi tsukino.vvd
usermod/models/Sailor Moon/Sailor Moon/unlit/taimanin usagi.mdl
usermod/models/Sailor Moon/Sailor Moon/unlit/sailor moon super usagi tsukino.vvd
usermod/models/Sailor Moon/Sailor Moon/unlit/Sailor Moon Accessories 2.dx90.vtx
usermod/models/Sailor Moon/Sailor Moon/unlit/taimanin usagi.vvd
usermod/models/Sailor Moon/Sailor Moon/unlit/sailor moon victoria.vvd
usermod/models/Sailor Moon/Sailor Moon/unlit/School Usagi Tsukino.dx90.vtx
usermod/models/Sailor Moon/Sailor Moon/unlit/sailor moon usagi tsukino.vvd
usermod/models/Sailor Moon/Sailor Moon/unlit/Sailor Moon Accessories 3.dx90.vtx
usermod/models/Sailor Moon/Sailor Moon/unlit/Casual 1 Usagi Tsukino.dx90.vtx
usermod/scripts/sfm/animset/rig_Sailor Moon_Sailor Scouts.py
usermod/materials/models/Sailor Moon/Sailor Moon/Fingernails.vtf
usermod/materials/models/Sailor Moon/Sailor Moon/yellow.vmt
usermod/materials/models/Sailor Moon/Sailor Moon/map.vtf
usermod/materials/models/Sailor Moon/Sailor Moon/school.vmt
usermod/materials/models/Sailor Moon/Sailor Moon/gems.vtf
usermod/materials/models/Sailor Moon/Sailor Moon/outline.vmt
usermod/materials/models/Sailor Moon/Sailor Moon/lightwarp 2.vtf
usermod/materials/models/Sailor Moon/Sailor Moon/gold.vmt
usermod/materials/models/Sailor Moon/Sailor Moon/hair.vmt
usermod/materials/models/Sailor Moon/Sailor Moon/bikini 2.vmt
usermod/materials/models/Sailor Moon/Sailor Moon/torso.vtf
usermod/materials/models/Sailor Moon/Sailor Moon/face_shader3.vtf
usermod/materials/models/Sailor Moon/Sailor Moon/bikini 2.vtf
usermod/materials/models/Sailor Moon/Sailor Moon/bikini.vmt
usermod/materials/models/Sailor Moon/Sailor Moon/ribbonsleeve.vtf
usermod/materials/models/Sailor Moon/Sailor Moon/legs.vtf
usermod/materials/models/Sailor Moon/Sailor Moon/bra.vtf
usermod/materials/models/Sailor Moon/Sailor Moon/Gems.vmt
usermod/materials/models/Sailor Moon/Sailor Moon/red.vtf
usermod/materials/models/Sailor Moon/Sailor Moon/gold.vtf
usermod/materials/models/Sailor Moon/Sailor Moon/green.vtf
usermod/materials/models/Sailor Moon/Sailor Moon/Taimanin.vtf
usermod/materials/models/Sailor Moon/Sailor Moon/Shorts.vmt
usermod/materials/models/Sailor Moon/Sailor Moon/exp.vtf
usermod/materials/models/Sailor Moon/Sailor Moon/White.vmt
usermod/materials/models/Sailor Moon/Sailor Moon/animeskinphong.vtf
usermod/materials/models/Sailor Moon/Sailor Moon/green.vmt
usermod/materials/models/Sailor Moon/Sailor Moon/bikini.vtf
usermod/materials/models/Sailor Moon/Sailor Moon/light blue.vmt
usermod/materials/models/Sailor Moon/Sailor Moon/pink.vmt
usermod/materials/models/Sailor Moon/Sailor Moon/generic_lightwarp.vtf
usermod/materials/models/Sailor Moon/Sailor Moon/map bra.vtf
usermod/materials/models/Sailor Moon/Sailor Moon/Bra.vmt
usermod/materials/models/Sailor Moon/Sailor Moon/toenails.vmt
usermod/materials/models/Sailor Moon/Sailor Moon/super.vtf
usermod/materials/models/Sailor Moon/Sailor Moon/Eyes.vmt
usermod/materials/models/Sailor Moon/Sailor Moon/white.vtf
usermod/materials/models/Sailor Moon/Sailor Moon/head.vmt
usermod/materials/models/Sailor Moon/Sailor Moon/suit.vtf
usermod/materials/models/Sailor Moon/Sailor Moon/lightwarp.vtf
usermod/materials/models/Sailor Moon/Sailor Moon/cheer.vtf
usermod/materials/models/Sailor Moon/Sailor Moon/Shirt.vmt
usermod/materials/models/Sailor Moon/Sailor Moon/legs.vmt
usermod/materials/models/Sailor Moon/Sailor Moon/blush.vmt
usermod/materials/models/Sailor Moon/Sailor Moon/super.vmt
usermod/materials/models/Sailor Moon/Sailor Moon/Genitalia.vtf
usermod/materials/models/Sailor Moon/Sailor Moon/arms.vmt
usermod/materials/models/Sailor Moon/Sailor Moon/suit.vmt
usermod/materials/models/Sailor Moon/Sailor Moon/Red.vmt
usermod/materials/models/Sailor Moon/Sailor Moon/blue.vtf
usermod/materials/models/Sailor Moon/Sailor Moon/school.vtf
usermod/materials/models/Sailor Moon/Sailor Moon/torso.vmt
usermod/materials/models/Sailor Moon/Sailor Moon/Shorts.vtf
usermod/materials/models/Sailor Moon/Sailor Moon/Cheer.vmt
usermod/materials/models/Sailor Moon/Sailor Moon/ribbon.vmt
usermod/materials/models/Sailor Moon/Sailor Moon/arms.vtf
usermod/materials/models/Sailor Moon/Sailor Moon/eyes2.vtf
usermod/materials/models/Sailor Moon/Sailor Moon/Vagina&Rectum.vmt
usermod/materials/models/Sailor Moon/Sailor Moon/Fingernails.vmt
usermod/materials/models/Sailor Moon/Sailor Moon/toenails.vtf
usermod/materials/models/Sailor Moon/Sailor Moon/sleeves.vmt
usermod/materials/models/Sailor Moon/Sailor Moon/Genitalia.vmt
usermod/materials/models/Sailor Moon/Sailor Moon/blue.vmt
usermod/materials/models/Sailor Moon/Sailor Moon/Panties.vmt
usermod/materials/models/Sailor Moon/Sailor Moon/Vagina&Rectum.vtf
usermod/materials/models/Sailor Moon/Sailor Moon/pink.vtf
usermod/materials/models/Sailor Moon/Sailor Moon/Black.vtf
usermod/materials/models/Sailor Moon/Sailor Moon/yellow.vtf
usermod/materials/models/Sailor Moon/Sailor Moon/Taimanin.vmt
usermod/materials/models/Sailor Moon/Sailor Moon/light blue.vtf
usermod/materials/models/Sailor Moon/Sailor Moon/White 2.vmt
usermod/materials/models/Sailor Moon/Sailor Moon/unlit/yellow.vmt
usermod/materials/models/Sailor Moon/Sailor Moon/unlit/RedA.vmt
usermod/materials/models/Sailor Moon/Sailor Moon/unlit/SUPER.vmt
usermod/materials/models/Sailor Moon/Sailor Moon/unlit/school.vmt
usermod/materials/models/Sailor Moon/Sailor Moon/unlit/goldA.vmt
usermod/materials/models/Sailor Moon/Sailor Moon/unlit/ShortsA.vmt
usermod/materials/models/Sailor Moon/Sailor Moon/unlit/outline.vmt
usermod/materials/models/Sailor Moon/Sailor Moon/unlit/gold.vmt
usermod/materials/models/Sailor Moon/Sailor Moon/unlit/hair.vmt
usermod/materials/models/Sailor Moon/Sailor Moon/unlit/bikini 2.vmt
usermod/materials/models/Sailor Moon/Sailor Moon/unlit/suitA.vmt
usermod/materials/models/Sailor Moon/Sailor Moon/unlit/ShirtA.vmt
usermod/materials/models/Sailor Moon/Sailor Moon/unlit/SUPERA.vmt
usermod/materials/models/Sailor Moon/Sailor Moon/unlit/TaimaninA.vmt
usermod/materials/models/Sailor Moon/Sailor Moon/unlit/bikini.vmt
usermod/materials/models/Sailor Moon/Sailor Moon/unlit/greenA.vmt
usermod/materials/models/Sailor Moon/Sailor Moon/unlit/PantiesA.vmt
usermod/materials/models/Sailor Moon/Sailor Moon/unlit/BraA.vmt
usermod/materials/models/Sailor Moon/Sailor Moon/unlit/Gems.vmt
usermod/materials/models/Sailor Moon/Sailor Moon/unlit/Blush.vmt
usermod/materials/models/Sailor Moon/Sailor Moon/unlit/yellowA.vmt
usermod/materials/models/Sailor Moon/Sailor Moon/unlit/Shorts.vmt
usermod/materials/models/Sailor Moon/Sailor Moon/unlit/White.vmt
usermod/materials/models/Sailor Moon/Sailor Moon/unlit/green.vmt
usermod/materials/models/Sailor Moon/Sailor Moon/unlit/light blue.vmt
usermod/materials/models/Sailor Moon/Sailor Moon/unlit/GenitaliaA.vmt
usermod/materials/models/Sailor Moon/Sailor Moon/unlit/pink.vmt
usermod/materials/models/Sailor Moon/Sailor Moon/unlit/ribbonA.vmt
usermod/materials/models/Sailor Moon/Sailor Moon/unlit/Bra.vmt
usermod/materials/models/Sailor Moon/Sailor Moon/unlit/hairA.vmt
usermod/materials/models/Sailor Moon/Sailor Moon/unlit/toenails.vmt
usermod/materials/models/Sailor Moon/Sailor Moon/unlit/legsA.vmt
usermod/materials/models/Sailor Moon/Sailor Moon/unlit/Eyes.vmt
usermod/materials/models/Sailor Moon/Sailor Moon/unlit/head.vmt
usermod/materials/models/Sailor Moon/Sailor Moon/unlit/pinkA.vmt
usermod/materials/models/Sailor Moon/Sailor Moon/unlit/toenailsA.vmt
usermod/materials/models/Sailor Moon/Sailor Moon/unlit/torsoA.vmt
usermod/materials/models/Sailor Moon/Sailor Moon/unlit/light blueA.vmt
usermod/materials/models/Sailor Moon/Sailor Moon/unlit/Shirt.vmt
usermod/materials/models/Sailor Moon/Sailor Moon/unlit/bikiniA.vmt
usermod/materials/models/Sailor Moon/Sailor Moon/unlit/legs.vmt
usermod/materials/models/Sailor Moon/Sailor Moon/unlit/bikini 2a.vmt
usermod/materials/models/Sailor Moon/Sailor Moon/unlit/arms.vmt
usermod/materials/models/Sailor Moon/Sailor Moon/unlit/suit.vmt
usermod/materials/models/Sailor Moon/Sailor Moon/unlit/Red.vmt
usermod/materials/models/Sailor Moon/Sailor Moon/unlit/torso.vmt
usermod/materials/models/Sailor Moon/Sailor Moon/unlit/Cheer.vmt
usermod/materials/models/Sailor Moon/Sailor Moon/unlit/FingernailsA.vmt
usermod/materials/models/Sailor Moon/Sailor Moon/unlit/ribbon.vmt
usermod/materials/models/Sailor Moon/Sailor Moon/unlit/Vagina&Rectum.vmt
usermod/materials/models/Sailor Moon/Sailor Moon/unlit/Fingernails.vmt
usermod/materials/models/Sailor Moon/Sailor Moon/unlit/sleeves.vmt
usermod/materials/models/Sailor Moon/Sailor Moon/unlit/CheerA.vmt
usermod/materials/models/Sailor Moon/Sailor Moon/unlit/Genitalia.vmt
usermod/materials/models/Sailor Moon/Sailor Moon/unlit/schoolA.vmt
usermod/materials/models/Sailor Moon/Sailor Moon/unlit/Vagina&RectumA.vmt
usermod/materials/models/Sailor Moon/Sailor Moon/unlit/blue.vmt
usermod/materials/models/Sailor Moon/Sailor Moon/unlit/White 2A.vmt
usermod/materials/models/Sailor Moon/Sailor Moon/unlit/bluea.vmt
usermod/materials/models/Sailor Moon/Sailor Moon/unlit/headA.vmt
usermod/materials/models/Sailor Moon/Sailor Moon/unlit/EyesA.vmt
usermod/materials/models/Sailor Moon/Sailor Moon/unlit/Panties.vmt
usermod/materials/models/Sailor Moon/Sailor Moon/unlit/armsa.vmt
usermod/materials/models/Sailor Moon/Sailor Moon/unlit/WhiteA.vmt
usermod/materials/models/Sailor Moon/Sailor Moon/unlit/Taimanin.vmt
usermod/materials/models/Sailor Moon/Sailor Moon/unlit/sleevesA.vmt
usermod/materials/models/Sailor Moon/Sailor Moon/unlit/White 2.vmt