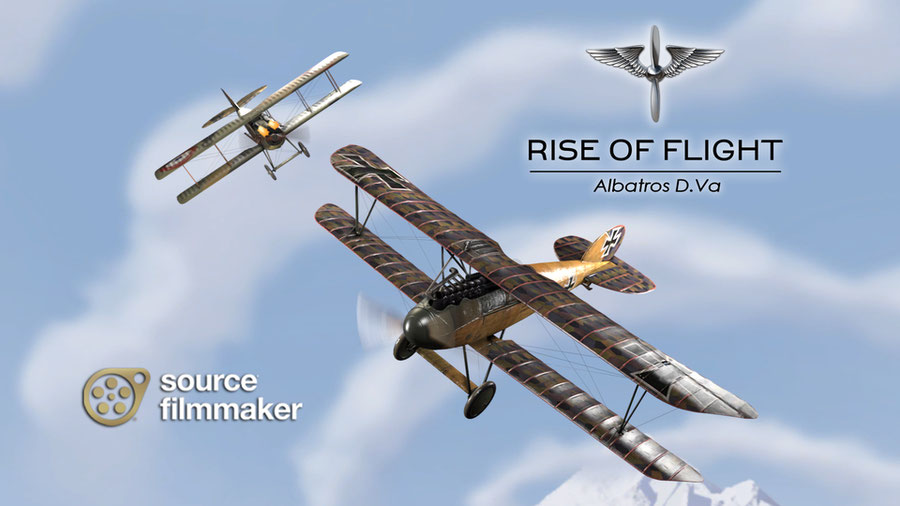 Show more
Description
With the SPAD S.XIII on Workshop, I thought it would be best to release another type of WWI warplane for more choice on SFM Lab, so here it is an Albatros D. Va of Deutsche Luftstreitkräfte (German Air Force).
---
About this Model:
As ripped from a World War I combat flight simulator game, Rise of Flight - United. The model is almost original, but due to a few technical issues while ripping, I have to make a bit more modifications to the plane, such as duplicating and recreating missing parts etc…
Like the SPAD, the Albatros can be taken into pieces around the wings and body, to recreate the plane being destroyed / crashed or shot down during a dogfight! But unlike the SPAD, the wings and tail parts are body group hideable, so you can create the plane missing one part shortly after it loses it, this same goes with the wires around the wings and landing-gear.
Also, unlike the SPAD, the rudder and elevators are not flex animation, they are adjustable body groups!
I hope it won't give you any errors when you download it for use on SFM.
---
(Future) Updates/Fixes:
Workshop link (still fixing)
Model now available on SFM Lab (08/12/2022)
---
Download link for this model:
-Due to an error while publishing to SFM Workshop, a zip folder of this model can also be found on deviantART: https://www.deviantart.com/yanpictures/art/SFM-DL-Albatros-D-Va-865044922
---
Credits:
Original game model goes to the rightful game developer
james_ae86 / YanPictures: Porting and modifications
Rise of Flight (C) 777 Studios
SFMLab is a free service. However, it costs about $0.03 to deliver you a 1GB file. With over 20TB of traffic every month and growing, SFMLab needs your help. If only 1% of our users each gave us $5 for a single month, we could keep the site running for several years.
Filename
Downloads
Created
Filesize
Files
albatros_d_va.zip
127
2022-12-08 14:21:26
5.87 MB
File contents:

albatros_d_va/models/RoF/planes/albatros_d_va.mdl
albatros_d_va/models/RoF/planes/albatros_d_va.vvd
albatros_d_va/models/RoF/planes/albatros_d_va.dx90.vtx
albatros_d_va/materials/models/RoF/planes/common/glass.vtf
albatros_d_va/materials/models/RoF/planes/common/machine_guns.vtf
albatros_d_va/materials/models/RoF/planes/common/glass.vmt
albatros_d_va/materials/models/RoF/planes/common/machine_guns.vmt
albatros_d_va/materials/models/RoF/planes/albatros_d_va/albatros_d_va_damaged.vtf
albatros_d_va/materials/models/RoF/planes/albatros_d_va/albatros_d_va_nrm.vtf
albatros_d_va/materials/models/RoF/planes/albatros_d_va/albatros_d_va_int.vtf
albatros_d_va/materials/models/RoF/planes/albatros_d_va/albatros_d_va_int.vmt
albatros_d_va/materials/models/RoF/planes/albatros_d_va/albatros_d_va.vtf
albatros_d_va/materials/models/RoF/planes/albatros_d_va/albatros_d_va.vmt
albatros_d_va/materials/models/RoF/planes/albatros_d_va/albatros_d_va_damaged.vmt