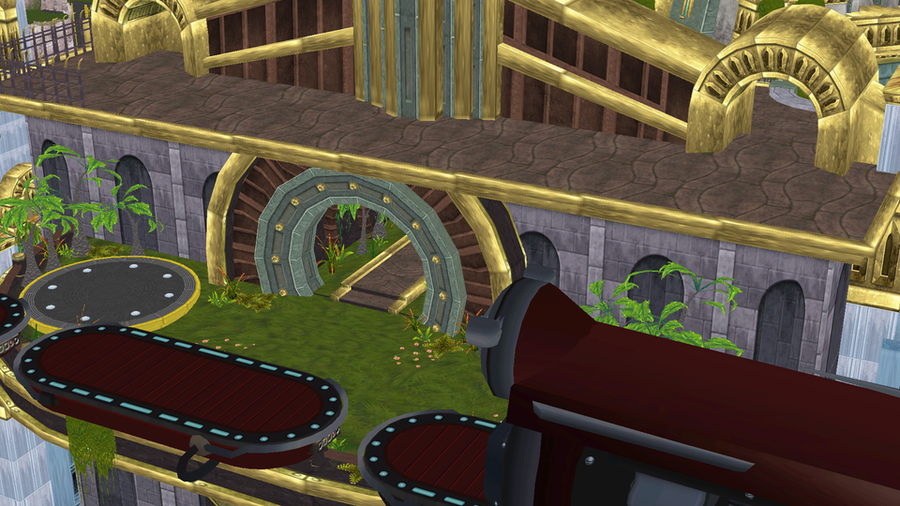 Description
Original rip: https://www.models-resource.com/playstation_3/ratchetclankhd/model/49167/
THIS IS NOT A MAP!
This is a series of models that you need to load in to make the entire map, and it is HUGE! I'm talking from as small as my own attention span to 500 in dimensions (Best to use a big sky map or something).
Unfortunately, the map is static and I had to remove a thing or two like the "Captain Quark Dummy" since I didn't feel like rigging it. There's also no cars.
All textures were at least resized and given normal maps. I tried to use AI upscaling software, but I didn't find anything free with pleasing results.
Please enjoy nontheless.
SFMLab is a free service. However, it costs about $0.03 to deliver you a 1GB file. With over 20TB of traffic every month and growing, SFMLab needs your help. If only 1% of our users each gave us $5 for a single month, we could keep the site running for several years.
Filename
Downloads
Created
Filesize
Files
Kerwan2002.zip
105
2023-01-09 23:05:39
199.02 MB
File contents:

Kerwan/usermod/models/gameman5804/Ratchet_and_Clank/1/Kerwan/kerwan_8.mdl
Kerwan/usermod/models/gameman5804/Ratchet_and_Clank/1/Kerwan/kerwan_7.vvd
Kerwan/usermod/models/gameman5804/Ratchet_and_Clank/1/Kerwan/kerwan_7-2.vvd
Kerwan/usermod/models/gameman5804/Ratchet_and_Clank/1/Kerwan/Kerwan_7.phy
Kerwan/usermod/models/gameman5804/Ratchet_and_Clank/1/Kerwan/Kerwan_2.dx90.vtx
Kerwan/usermod/models/gameman5804/Ratchet_and_Clank/1/Kerwan/kerwan_7-1.vvd
Kerwan/usermod/models/gameman5804/Ratchet_and_Clank/1/Kerwan/kerwan_4.mdl
Kerwan/usermod/models/gameman5804/Ratchet_and_Clank/1/Kerwan/kerwan_9.vvd
Kerwan/usermod/models/gameman5804/Ratchet_and_Clank/1/Kerwan/kerwan_4.vvd
Kerwan/usermod/models/gameman5804/Ratchet_and_Clank/1/Kerwan/kerwan_5.mdl
Kerwan/usermod/models/gameman5804/Ratchet_and_Clank/1/Kerwan/kerwan_8.vvd
Kerwan/usermod/models/gameman5804/Ratchet_and_Clank/1/Kerwan/Kerwan_7-1.phy
Kerwan/usermod/models/gameman5804/Ratchet_and_Clank/1/Kerwan/kerwan_7-1.mdl
Kerwan/usermod/models/gameman5804/Ratchet_and_Clank/1/Kerwan/Kerwan_9.dx90.vtx
Kerwan/usermod/models/gameman5804/Ratchet_and_Clank/1/Kerwan/kerwan_2.vvd
Kerwan/usermod/models/gameman5804/Ratchet_and_Clank/1/Kerwan/Kerwan_5.dx90.vtx
Kerwan/usermod/models/gameman5804/Ratchet_and_Clank/1/Kerwan/Kerwan_4.dx90.vtx
Kerwan/usermod/models/gameman5804/Ratchet_and_Clank/1/Kerwan/kerwan_3.mdl
Kerwan/usermod/models/gameman5804/Ratchet_and_Clank/1/Kerwan/kerwan_7.mdl
Kerwan/usermod/models/gameman5804/Ratchet_and_Clank/1/Kerwan/kerwan_3.vvd
Kerwan/usermod/models/gameman5804/Ratchet_and_Clank/1/Kerwan/kerwan_2.mdl
Kerwan/usermod/models/gameman5804/Ratchet_and_Clank/1/Kerwan/kerwan_1.vvd
Kerwan/usermod/models/gameman5804/Ratchet_and_Clank/1/Kerwan/kerwan_6.mdl
Kerwan/usermod/models/gameman5804/Ratchet_and_Clank/1/Kerwan/Kerwan_7.dx90.vtx
Kerwan/usermod/models/gameman5804/Ratchet_and_Clank/1/Kerwan/Kerwan_7-1.dx90.vtx
Kerwan/usermod/models/gameman5804/Ratchet_and_Clank/1/Kerwan/kerwan_7-2.mdl
Kerwan/usermod/models/gameman5804/Ratchet_and_Clank/1/Kerwan/kerwan_9.mdl
Kerwan/usermod/models/gameman5804/Ratchet_and_Clank/1/Kerwan/kerwan_5.vvd
Kerwan/usermod/models/gameman5804/Ratchet_and_Clank/1/Kerwan/Kerwan_7-2.dx90.vtx
Kerwan/usermod/models/gameman5804/Ratchet_and_Clank/1/Kerwan/Kerwan_6.dx90.vtx
Kerwan/usermod/models/gameman5804/Ratchet_and_Clank/1/Kerwan/Kerwan_8.dx90.vtx
Kerwan/usermod/models/gameman5804/Ratchet_and_Clank/1/Kerwan/Kerwan_1.dx90.vtx
Kerwan/usermod/models/gameman5804/Ratchet_and_Clank/1/Kerwan/kerwan_1.mdl
Kerwan/usermod/models/gameman5804/Ratchet_and_Clank/1/Kerwan/Kerwan_3.dx90.vtx
Kerwan/usermod/models/gameman5804/Ratchet_and_Clank/1/Kerwan/kerwan_6.vvd
Kerwan/usermod/materials/models/gameman5804/Ratchet_and_Clank/1/Kerwan/338.nrm.vtf
Kerwan/usermod/materials/models/gameman5804/Ratchet_and_Clank/1/Kerwan/751.vtf
Kerwan/usermod/materials/models/gameman5804/Ratchet_and_Clank/1/Kerwan/337.nrm.vtf
Kerwan/usermod/materials/models/gameman5804/Ratchet_and_Clank/1/Kerwan/678.vtf
Kerwan/usermod/materials/models/gameman5804/Ratchet_and_Clank/1/Kerwan/mtl_389.vmt
Kerwan/usermod/materials/models/gameman5804/Ratchet_and_Clank/1/Kerwan/355.vtf
Kerwan/usermod/materials/models/gameman5804/Ratchet_and_Clank/1/Kerwan/622.vtf
Kerwan/usermod/materials/models/gameman5804/Ratchet_and_Clank/1/Kerwan/647.vtf
Kerwan/usermod/materials/models/gameman5804/Ratchet_and_Clank/1/Kerwan/mtl_367.vmt
Kerwan/usermod/materials/models/gameman5804/Ratchet_and_Clank/1/Kerwan/405.vtf
Kerwan/usermod/materials/models/gameman5804/Ratchet_and_Clank/1/Kerwan/728.vtf
Kerwan/usermod/materials/models/gameman5804/Ratchet_and_Clank/1/Kerwan/403.nrm.vtf
Kerwan/usermod/materials/models/gameman5804/Ratchet_and_Clank/1/Kerwan/396.ems.vtf
Kerwan/usermod/materials/models/gameman5804/Ratchet_and_Clank/1/Kerwan/mtl_662.vmt
Kerwan/usermod/materials/models/gameman5804/Ratchet_and_Clank/1/Kerwan/371.vtf
Kerwan/usermod/materials/models/gameman5804/Ratchet_and_Clank/1/Kerwan/677.vtf
Kerwan/usermod/materials/models/gameman5804/Ratchet_and_Clank/1/Kerwan/mtl_664.vmt
Kerwan/usermod/materials/models/gameman5804/Ratchet_and_Clank/1/Kerwan/667.nrm.vtf
Kerwan/usermod/materials/models/gameman5804/Ratchet_and_Clank/1/Kerwan/644.vtf
Kerwan/usermod/materials/models/gameman5804/Ratchet_and_Clank/1/Kerwan/mtl_757.vmt
Kerwan/usermod/materials/models/gameman5804/Ratchet_and_Clank/1/Kerwan/712.vtf
Kerwan/usermod/materials/models/gameman5804/Ratchet_and_Clank/1/Kerwan/641.vtf
Kerwan/usermod/materials/models/gameman5804/Ratchet_and_Clank/1/Kerwan/mtl_631.vmt
Kerwan/usermod/materials/models/gameman5804/Ratchet_and_Clank/1/Kerwan/634.nrm.vtf
Kerwan/usermod/materials/models/gameman5804/Ratchet_and_Clank/1/Kerwan/mtl_381.vmt
Kerwan/usermod/materials/models/gameman5804/Ratchet_and_Clank/1/Kerwan/mtl_606.vmt
Kerwan/usermod/materials/models/gameman5804/Ratchet_and_Clank/1/Kerwan/652.nrm.vtf
Kerwan/usermod/materials/models/gameman5804/Ratchet_and_Clank/1/Kerwan/350.nrm.vtf
Kerwan/usermod/materials/models/gameman5804/Ratchet_and_Clank/1/Kerwan/407.vtf
Kerwan/usermod/materials/models/gameman5804/Ratchet_and_Clank/1/Kerwan/653.vtf
Kerwan/usermod/materials/models/gameman5804/Ratchet_and_Clank/1/Kerwan/mtl_514.vmt
Kerwan/usermod/materials/models/gameman5804/Ratchet_and_Clank/1/Kerwan/687.nrm.vtf
Kerwan/usermod/materials/models/gameman5804/Ratchet_and_Clank/1/Kerwan/605.vtf
Kerwan/usermod/materials/models/gameman5804/Ratchet_and_Clank/1/Kerwan/mtl_411.vmt
Kerwan/usermod/materials/models/gameman5804/Ratchet_and_Clank/1/Kerwan/670.nrm.vtf
Kerwan/usermod/materials/models/gameman5804/Ratchet_and_Clank/1/Kerwan/507.vtf
Kerwan/usermod/materials/models/gameman5804/Ratchet_and_Clank/1/Kerwan/732.vtf
Kerwan/usermod/materials/models/gameman5804/Ratchet_and_Clank/1/Kerwan/mtl_581.vmt
Kerwan/usermod/materials/models/gameman5804/Ratchet_and_Clank/1/Kerwan/mtl_594.vmt
Kerwan/usermod/materials/models/gameman5804/Ratchet_and_Clank/1/Kerwan/542.vtf
Kerwan/usermod/materials/models/gameman5804/Ratchet_and_Clank/1/Kerwan/721.nrm.vtf
Kerwan/usermod/materials/models/gameman5804/Ratchet_and_Clank/1/Kerwan/391.nrm.vtf
Kerwan/usermod/materials/models/gameman5804/Ratchet_and_Clank/1/Kerwan/577.vtf
Kerwan/usermod/materials/models/gameman5804/Ratchet_and_Clank/1/Kerwan/mtl_341.vmt
Kerwan/usermod/materials/models/gameman5804/Ratchet_and_Clank/1/Kerwan/587.nrm.vtf
Kerwan/usermod/materials/models/gameman5804/Ratchet_and_Clank/1/Kerwan/mtl_625.vmt
Kerwan/usermod/materials/models/gameman5804/Ratchet_and_Clank/1/Kerwan/mtl_733.vmt
Kerwan/usermod/materials/models/gameman5804/Ratchet_and_Clank/1/Kerwan/510.vtf
Kerwan/usermod/materials/models/gameman5804/Ratchet_and_Clank/1/Kerwan/mtl_693.vmt
Kerwan/usermod/materials/models/gameman5804/Ratchet_and_Clank/1/Kerwan/mtl_745.vmt
Kerwan/usermod/materials/models/gameman5804/Ratchet_and_Clank/1/Kerwan/672.nrm.vtf
Kerwan/usermod/materials/models/gameman5804/Ratchet_and_Clank/1/Kerwan/mtl_732.vmt
Kerwan/usermod/materials/models/gameman5804/Ratchet_and_Clank/1/Kerwan/mtl_673.vmt
Kerwan/usermod/materials/models/gameman5804/Ratchet_and_Clank/1/Kerwan/654.nrm.vtf
Kerwan/usermod/materials/models/gameman5804/Ratchet_and_Clank/1/Kerwan/mtl_713.vmt
Kerwan/usermod/materials/models/gameman5804/Ratchet_and_Clank/1/Kerwan/542.nrm.vtf
Kerwan/usermod/materials/models/gameman5804/Ratchet_and_Clank/1/Kerwan/378.nrm.vtf
Kerwan/usermod/materials/models/gameman5804/Ratchet_and_Clank/1/Kerwan/412.nrm.vtf
Kerwan/usermod/materials/models/gameman5804/Ratchet_and_Clank/1/Kerwan/mtl_680.vmt
Kerwan/usermod/materials/models/gameman5804/Ratchet_and_Clank/1/Kerwan/383.vtf
Kerwan/usermod/materials/models/gameman5804/Ratchet_and_Clank/1/Kerwan/mtl_516.vmt
Kerwan/usermod/materials/models/gameman5804/Ratchet_and_Clank/1/Kerwan/mtl_585.vmt
Kerwan/usermod/materials/models/gameman5804/Ratchet_and_Clank/1/Kerwan/733.vtf
Kerwan/usermod/materials/models/gameman5804/Ratchet_and_Clank/1/Kerwan/531.vtf
Kerwan/usermod/materials/models/gameman5804/Ratchet_and_Clank/1/Kerwan/739.nrm.vtf
Kerwan/usermod/materials/models/gameman5804/Ratchet_and_Clank/1/Kerwan/693.vtf
Kerwan/usermod/materials/models/gameman5804/Ratchet_and_Clank/1/Kerwan/614.vtf
Kerwan/usermod/materials/models/gameman5804/Ratchet_and_Clank/1/Kerwan/708.nrm.vtf
Kerwan/usermod/materials/models/gameman5804/Ratchet_and_Clank/1/Kerwan/375.nrm.vtf
Kerwan/usermod/materials/models/gameman5804/Ratchet_and_Clank/1/Kerwan/713.nrm.vtf
Kerwan/usermod/materials/models/gameman5804/Ratchet_and_Clank/1/Kerwan/578.nrm.vtf
Kerwan/usermod/materials/models/gameman5804/Ratchet_and_Clank/1/Kerwan/693.nrm.vtf
Kerwan/usermod/materials/models/gameman5804/Ratchet_and_Clank/1/Kerwan/mtl_756.vmt
Kerwan/usermod/materials/models/gameman5804/Ratchet_and_Clank/1/Kerwan/mtl_580.vmt
Kerwan/usermod/materials/models/gameman5804/Ratchet_and_Clank/1/Kerwan/mtl_393.vmt
Kerwan/usermod/materials/models/gameman5804/Ratchet_and_Clank/1/Kerwan/412.vtf
Kerwan/usermod/materials/models/gameman5804/Ratchet_and_Clank/1/Kerwan/595.vtf
Kerwan/usermod/materials/models/gameman5804/Ratchet_and_Clank/1/Kerwan/638.nrm.vtf
Kerwan/usermod/materials/models/gameman5804/Ratchet_and_Clank/1/Kerwan/515.vtf
Kerwan/usermod/materials/models/gameman5804/Ratchet_and_Clank/1/Kerwan/mtl_740.vmt
Kerwan/usermod/materials/models/gameman5804/Ratchet_and_Clank/1/Kerwan/701.nrm.vtf
Kerwan/usermod/materials/models/gameman5804/Ratchet_and_Clank/1/Kerwan/mtl_510.vmt
Kerwan/usermod/materials/models/gameman5804/Ratchet_and_Clank/1/Kerwan/598.nrm.vtf
Kerwan/usermod/materials/models/gameman5804/Ratchet_and_Clank/1/Kerwan/730.nrm.vtf
Kerwan/usermod/materials/models/gameman5804/Ratchet_and_Clank/1/Kerwan/mtl_410.vmt
Kerwan/usermod/materials/models/gameman5804/Ratchet_and_Clank/1/Kerwan/mtl_349.vmt
Kerwan/usermod/materials/models/gameman5804/Ratchet_and_Clank/1/Kerwan/511.nrm.vtf
Kerwan/usermod/materials/models/gameman5804/Ratchet_and_Clank/1/Kerwan/379.nrm.vtf
Kerwan/usermod/materials/models/gameman5804/Ratchet_and_Clank/1/Kerwan/362.nrm.vtf
Kerwan/usermod/materials/models/gameman5804/Ratchet_and_Clank/1/Kerwan/719.nrm.vtf
Kerwan/usermod/materials/models/gameman5804/Ratchet_and_Clank/1/Kerwan/710.nrm.vtf
Kerwan/usermod/materials/models/gameman5804/Ratchet_and_Clank/1/Kerwan/mtl_595.vmt
Kerwan/usermod/materials/models/gameman5804/Ratchet_and_Clank/1/Kerwan/mtl_396.vmt
Kerwan/usermod/materials/models/gameman5804/Ratchet_and_Clank/1/Kerwan/mtl_682.vmt
Kerwan/usermod/materials/models/gameman5804/Ratchet_and_Clank/1/Kerwan/723.vtf
Kerwan/usermod/materials/models/gameman5804/Ratchet_and_Clank/1/Kerwan/749.nrm.vtf
Kerwan/usermod/materials/models/gameman5804/Ratchet_and_Clank/1/Kerwan/668.nrm.vtf
Kerwan/usermod/materials/models/gameman5804/Ratchet_and_Clank/1/Kerwan/713.vtf
Kerwan/usermod/materials/models/gameman5804/Ratchet_and_Clank/1/Kerwan/mtl_408.vmt
Kerwan/usermod/materials/models/gameman5804/Ratchet_and_Clank/1/Kerwan/389.nrm.vtf
Kerwan/usermod/materials/models/gameman5804/Ratchet_and_Clank/1/Kerwan/mtl_512.vmt
Kerwan/usermod/materials/models/gameman5804/Ratchet_and_Clank/1/Kerwan/mtl_727.vmt
Kerwan/usermod/materials/models/gameman5804/Ratchet_and_Clank/1/Kerwan/353.nrm.vtf
Kerwan/usermod/materials/models/gameman5804/Ratchet_and_Clank/1/Kerwan/621.vtf
Kerwan/usermod/materials/models/gameman5804/Ratchet_and_Clank/1/Kerwan/mtl_760.vmt
Kerwan/usermod/materials/models/gameman5804/Ratchet_and_Clank/1/Kerwan/391.vtf
Kerwan/usermod/materials/models/gameman5804/Ratchet_and_Clank/1/Kerwan/mtl_409.vmt
Kerwan/usermod/materials/models/gameman5804/Ratchet_and_Clank/1/Kerwan/405.nrm.vtf
Kerwan/usermod/materials/models/gameman5804/Ratchet_and_Clank/1/Kerwan/698.vtf
Kerwan/usermod/materials/models/gameman5804/Ratchet_and_Clank/1/Kerwan/362.vtf
Kerwan/usermod/materials/models/gameman5804/Ratchet_and_Clank/1/Kerwan/mtl_648.vmt
Kerwan/usermod/materials/models/gameman5804/Ratchet_and_Clank/1/Kerwan/695.nrm.vtf
Kerwan/usermod/materials/models/gameman5804/Ratchet_and_Clank/1/Kerwan/740.vtf
Kerwan/usermod/materials/models/gameman5804/Ratchet_and_Clank/1/Kerwan/651.nrm.vtf
Kerwan/usermod/materials/models/gameman5804/Ratchet_and_Clank/1/Kerwan/757.nrm.vtf
Kerwan/usermod/materials/models/gameman5804/Ratchet_and_Clank/1/Kerwan/612.nrm.vtf
Kerwan/usermod/materials/models/gameman5804/Ratchet_and_Clank/1/Kerwan/756.nrm.vtf
Kerwan/usermod/materials/models/gameman5804/Ratchet_and_Clank/1/Kerwan/553.vtf
Kerwan/usermod/materials/models/gameman5804/Ratchet_and_Clank/1/Kerwan/mtl_380.vmt
Kerwan/usermod/materials/models/gameman5804/Ratchet_and_Clank/1/Kerwan/mtl_691.vmt
Kerwan/usermod/materials/models/gameman5804/Ratchet_and_Clank/1/Kerwan/mtl_407.vmt
Kerwan/usermod/materials/models/gameman5804/Ratchet_and_Clank/1/Kerwan/mtl_358.vmt
Kerwan/usermod/materials/models/gameman5804/Ratchet_and_Clank/1/Kerwan/610.vtf
Kerwan/usermod/materials/models/gameman5804/Ratchet_and_Clank/1/Kerwan/661.nrm.vtf
Kerwan/usermod/materials/models/gameman5804/Ratchet_and_Clank/1/Kerwan/733.nrm.vtf
Kerwan/usermod/materials/models/gameman5804/Ratchet_and_Clank/1/Kerwan/746.nrm.vtf
Kerwan/usermod/materials/models/gameman5804/Ratchet_and_Clank/1/Kerwan/682.nrm.vtf
Kerwan/usermod/materials/models/gameman5804/Ratchet_and_Clank/1/Kerwan/mtl_619.vmt
Kerwan/usermod/materials/models/gameman5804/Ratchet_and_Clank/1/Kerwan/689.nrm.vtf
Kerwan/usermod/materials/models/gameman5804/Ratchet_and_Clank/1/Kerwan/617.nrm.vtf
Kerwan/usermod/materials/models/gameman5804/Ratchet_and_Clank/1/Kerwan/344.vtf
Kerwan/usermod/materials/models/gameman5804/Ratchet_and_Clank/1/Kerwan/349.vtf
Kerwan/usermod/materials/models/gameman5804/Ratchet_and_Clank/1/Kerwan/628.nrm.vtf
Kerwan/usermod/materials/models/gameman5804/Ratchet_and_Clank/1/Kerwan/694.nrm.vtf
Kerwan/usermod/materials/models/gameman5804/Ratchet_and_Clank/1/Kerwan/692.nrm.vtf
Kerwan/usermod/materials/models/gameman5804/Ratchet_and_Clank/1/Kerwan/388.nrm.vtf
Kerwan/usermod/materials/models/gameman5804/Ratchet_and_Clank/1/Kerwan/mtl_624.vmt
Kerwan/usermod/materials/models/gameman5804/Ratchet_and_Clank/1/Kerwan/mtl_661.vmt
Kerwan/usermod/materials/models/gameman5804/Ratchet_and_Clank/1/Kerwan/639.nrm.vtf
Kerwan/usermod/materials/models/gameman5804/Ratchet_and_Clank/1/Kerwan/mtl_589.vmt
Kerwan/usermod/materials/models/gameman5804/Ratchet_and_Clank/1/Kerwan/666.nrm.vtf
Kerwan/usermod/materials/models/gameman5804/Ratchet_and_Clank/1/Kerwan/538.vtf
Kerwan/usermod/materials/models/gameman5804/Ratchet_and_Clank/1/Kerwan/612.vtf
Kerwan/usermod/materials/models/gameman5804/Ratchet_and_Clank/1/Kerwan/mtl_344.vmt
Kerwan/usermod/materials/models/gameman5804/Ratchet_and_Clank/1/Kerwan/mtl_650.vmt
Kerwan/usermod/materials/models/gameman5804/Ratchet_and_Clank/1/Kerwan/342.nrm.vtf
Kerwan/usermod/materials/models/gameman5804/Ratchet_and_Clank/1/Kerwan/755.vtf
Kerwan/usermod/materials/models/gameman5804/Ratchet_and_Clank/1/Kerwan/627.vtf
Kerwan/usermod/materials/models/gameman5804/Ratchet_and_Clank/1/Kerwan/380.vtf
Kerwan/usermod/materials/models/gameman5804/Ratchet_and_Clank/1/Kerwan/720.vtf
Kerwan/usermod/materials/models/gameman5804/Ratchet_and_Clank/1/Kerwan/mtl_368.vmt
Kerwan/usermod/materials/models/gameman5804/Ratchet_and_Clank/1/Kerwan/591.vtf
Kerwan/usermod/materials/models/gameman5804/Ratchet_and_Clank/1/Kerwan/338.vtf
Kerwan/usermod/materials/models/gameman5804/Ratchet_and_Clank/1/Kerwan/583.vtf
Kerwan/usermod/materials/models/gameman5804/Ratchet_and_Clank/1/Kerwan/mtl_655.vmt
Kerwan/usermod/materials/models/gameman5804/Ratchet_and_Clank/1/Kerwan/697.nrm.vtf
Kerwan/usermod/materials/models/gameman5804/Ratchet_and_Clank/1/Kerwan/756.vtf
Kerwan/usermod/materials/models/gameman5804/Ratchet_and_Clank/1/Kerwan/387.nrm.vtf
Kerwan/usermod/materials/models/gameman5804/Ratchet_and_Clank/1/Kerwan/690.nrm.vtf
Kerwan/usermod/materials/models/gameman5804/Ratchet_and_Clank/1/Kerwan/724.vtf
Kerwan/usermod/materials/models/gameman5804/Ratchet_and_Clank/1/Kerwan/736.nrm.vtf
Kerwan/usermod/materials/models/gameman5804/Ratchet_and_Clank/1/Kerwan/mtl_754.vmt
Kerwan/usermod/materials/models/gameman5804/Ratchet_and_Clank/1/Kerwan/745.vtf
Kerwan/usermod/materials/models/gameman5804/Ratchet_and_Clank/1/Kerwan/552.nrm.vtf
Kerwan/usermod/materials/models/gameman5804/Ratchet_and_Clank/1/Kerwan/361.nrm.vtf
Kerwan/usermod/materials/models/gameman5804/Ratchet_and_Clank/1/Kerwan/666.vtf
Kerwan/usermod/materials/models/gameman5804/Ratchet_and_Clank/1/Kerwan/mtl_582.vmt
Kerwan/usermod/materials/models/gameman5804/Ratchet_and_Clank/1/Kerwan/515.nrm.vtf
Kerwan/usermod/materials/models/gameman5804/Ratchet_and_Clank/1/Kerwan/mtl_735.vmt
Kerwan/usermod/materials/models/gameman5804/Ratchet_and_Clank/1/Kerwan/618.nrm.vtf
Kerwan/usermod/materials/models/gameman5804/Ratchet_and_Clank/1/Kerwan/579.nrm.vtf
Kerwan/usermod/materials/models/gameman5804/Ratchet_and_Clank/1/Kerwan/340.nrm.vtf
Kerwan/usermod/materials/models/gameman5804/Ratchet_and_Clank/1/Kerwan/611.vtf
Kerwan/usermod/materials/models/gameman5804/Ratchet_and_Clank/1/Kerwan/683.vtf
Kerwan/usermod/materials/models/gameman5804/Ratchet_and_Clank/1/Kerwan/mtl_375.vmt
Kerwan/usermod/materials/models/gameman5804/Ratchet_and_Clank/1/Kerwan/615.vtf
Kerwan/usermod/materials/models/gameman5804/Ratchet_and_Clank/1/Kerwan/581.vtf
Kerwan/usermod/materials/models/gameman5804/Ratchet_and_Clank/1/Kerwan/mtl_643.vmt
Kerwan/usermod/materials/models/gameman5804/Ratchet_and_Clank/1/Kerwan/mtl_657.vmt
Kerwan/usermod/materials/models/gameman5804/Ratchet_and_Clank/1/Kerwan/382.vtf
Kerwan/usermod/materials/models/gameman5804/Ratchet_and_Clank/1/Kerwan/mtl_621.vmt
Kerwan/usermod/materials/models/gameman5804/Ratchet_and_Clank/1/Kerwan/513.nrm.vtf
Kerwan/usermod/materials/models/gameman5804/Ratchet_and_Clank/1/Kerwan/mtl_672.vmt
Kerwan/usermod/materials/models/gameman5804/Ratchet_and_Clank/1/Kerwan/683.nrm.vtf
Kerwan/usermod/materials/models/gameman5804/Ratchet_and_Clank/1/Kerwan/mtl_718.vmt
Kerwan/usermod/materials/models/gameman5804/Ratchet_and_Clank/1/Kerwan/594.nrm.vtf
Kerwan/usermod/materials/models/gameman5804/Ratchet_and_Clank/1/Kerwan/mtl_630.vmt
Kerwan/usermod/materials/models/gameman5804/Ratchet_and_Clank/1/Kerwan/696.nrm.vtf
Kerwan/usermod/materials/models/gameman5804/Ratchet_and_Clank/1/Kerwan/604.vtf
Kerwan/usermod/materials/models/gameman5804/Ratchet_and_Clank/1/Kerwan/mtl_710.vmt
Kerwan/usermod/materials/models/gameman5804/Ratchet_and_Clank/1/Kerwan/530.vtf
Kerwan/usermod/materials/models/gameman5804/Ratchet_and_Clank/1/Kerwan/664.vtf
Kerwan/usermod/materials/models/gameman5804/Ratchet_and_Clank/1/Kerwan/702.nrm.vtf
Kerwan/usermod/materials/models/gameman5804/Ratchet_and_Clank/1/Kerwan/617.vtf
Kerwan/usermod/materials/models/gameman5804/Ratchet_and_Clank/1/Kerwan/648.vtf
Kerwan/usermod/materials/models/gameman5804/Ratchet_and_Clank/1/Kerwan/646.vtf
Kerwan/usermod/materials/models/gameman5804/Ratchet_and_Clank/1/Kerwan/mtl_654.vmt
Kerwan/usermod/materials/models/gameman5804/Ratchet_and_Clank/1/Kerwan/357.vtf
Kerwan/usermod/materials/models/gameman5804/Ratchet_and_Clank/1/Kerwan/358.nrm.vtf
Kerwan/usermod/materials/models/gameman5804/Ratchet_and_Clank/1/Kerwan/mtl_734.vmt
Kerwan/usermod/materials/models/gameman5804/Ratchet_and_Clank/1/Kerwan/726.vtf
Kerwan/usermod/materials/models/gameman5804/Ratchet_and_Clank/1/Kerwan/352.nrm.vtf
Kerwan/usermod/materials/models/gameman5804/Ratchet_and_Clank/1/Kerwan/715.nrm.vtf
Kerwan/usermod/materials/models/gameman5804/Ratchet_and_Clank/1/Kerwan/mtl_583.vmt
Kerwan/usermod/materials/models/gameman5804/Ratchet_and_Clank/1/Kerwan/380.nrm.vtf
Kerwan/usermod/materials/models/gameman5804/Ratchet_and_Clank/1/Kerwan/640.vtf
Kerwan/usermod/materials/models/gameman5804/Ratchet_and_Clank/1/Kerwan/602.nrm.vtf
Kerwan/usermod/materials/models/gameman5804/Ratchet_and_Clank/1/Kerwan/mtl_481.vmt
Kerwan/usermod/materials/models/gameman5804/Ratchet_and_Clank/1/Kerwan/619.nrm.vtf
Kerwan/usermod/materials/models/gameman5804/Ratchet_and_Clank/1/Kerwan/mtl_350.vmt
Kerwan/usermod/materials/models/gameman5804/Ratchet_and_Clank/1/Kerwan/392.vtf
Kerwan/usermod/materials/models/gameman5804/Ratchet_and_Clank/1/Kerwan/604.nrm.vtf
Kerwan/usermod/materials/models/gameman5804/Ratchet_and_Clank/1/Kerwan/mtl_371.vmt
Kerwan/usermod/materials/models/gameman5804/Ratchet_and_Clank/1/Kerwan/mtl_720.vmt
Kerwan/usermod/materials/models/gameman5804/Ratchet_and_Clank/1/Kerwan/411.vtf
Kerwan/usermod/materials/models/gameman5804/Ratchet_and_Clank/1/Kerwan/620.vtf
Kerwan/usermod/materials/models/gameman5804/Ratchet_and_Clank/1/Kerwan/581.nrm.vtf
Kerwan/usermod/materials/models/gameman5804/Ratchet_and_Clank/1/Kerwan/mtl_697.vmt
Kerwan/usermod/materials/models/gameman5804/Ratchet_and_Clank/1/Kerwan/665.nrm.vtf
Kerwan/usermod/materials/models/gameman5804/Ratchet_and_Clank/1/Kerwan/347.vtf
Kerwan/usermod/materials/models/gameman5804/Ratchet_and_Clank/1/Kerwan/340.vtf
Kerwan/usermod/materials/models/gameman5804/Ratchet_and_Clank/1/Kerwan/409.vtf
Kerwan/usermod/materials/models/gameman5804/Ratchet_and_Clank/1/Kerwan/393.vtf
Kerwan/usermod/materials/models/gameman5804/Ratchet_and_Clank/1/Kerwan/633.nrm.vtf
Kerwan/usermod/materials/models/gameman5804/Ratchet_and_Clank/1/Kerwan/339.vtf
Kerwan/usermod/materials/models/gameman5804/Ratchet_and_Clank/1/Kerwan/752.nrm.vtf
Kerwan/usermod/materials/models/gameman5804/Ratchet_and_Clank/1/Kerwan/704.nrm.vtf
Kerwan/usermod/materials/models/gameman5804/Ratchet_and_Clank/1/Kerwan/mtl_730.vmt
Kerwan/usermod/materials/models/gameman5804/Ratchet_and_Clank/1/Kerwan/707.nrm.vtf
Kerwan/usermod/materials/models/gameman5804/Ratchet_and_Clank/1/Kerwan/mtl_660.vmt
Kerwan/usermod/materials/models/gameman5804/Ratchet_and_Clank/1/Kerwan/664.nrm.vtf
Kerwan/usermod/materials/models/gameman5804/Ratchet_and_Clank/1/Kerwan/590.nrm.vtf
Kerwan/usermod/materials/models/gameman5804/Ratchet_and_Clank/1/Kerwan/643.vtf
Kerwan/usermod/materials/models/gameman5804/Ratchet_and_Clank/1/Kerwan/625.nrm.vtf
Kerwan/usermod/materials/models/gameman5804/Ratchet_and_Clank/1/Kerwan/688.nrm.vtf
Kerwan/usermod/materials/models/gameman5804/Ratchet_and_Clank/1/Kerwan/mtl_406.vmt
Kerwan/usermod/materials/models/gameman5804/Ratchet_and_Clank/1/Kerwan/601.vtf
Kerwan/usermod/materials/models/gameman5804/Ratchet_and_Clank/1/Kerwan/mtl_651.vmt
Kerwan/usermod/materials/models/gameman5804/Ratchet_and_Clank/1/Kerwan/mtl_646.vmt
Kerwan/usermod/materials/models/gameman5804/Ratchet_and_Clank/1/Kerwan/720.nrm.vtf
Kerwan/usermod/materials/models/gameman5804/Ratchet_and_Clank/1/Kerwan/408.nrm.vtf
Kerwan/usermod/materials/models/gameman5804/Ratchet_and_Clank/1/Kerwan/656.nrm.vtf
Kerwan/usermod/materials/models/gameman5804/Ratchet_and_Clank/1/Kerwan/753.nrm.vtf
Kerwan/usermod/materials/models/gameman5804/Ratchet_and_Clank/1/Kerwan/643.nrm.vtf
Kerwan/usermod/materials/models/gameman5804/Ratchet_and_Clank/1/Kerwan/629.nrm.vtf
Kerwan/usermod/materials/models/gameman5804/Ratchet_and_Clank/1/Kerwan/690.vtf
Kerwan/usermod/materials/models/gameman5804/Ratchet_and_Clank/1/Kerwan/mtl_704.vmt
Kerwan/usermod/materials/models/gameman5804/Ratchet_and_Clank/1/Kerwan/mtl_335.vmt
Kerwan/usermod/materials/models/gameman5804/Ratchet_and_Clank/1/Kerwan/632.nrm.vtf
Kerwan/usermod/materials/models/gameman5804/Ratchet_and_Clank/1/Kerwan/mtl_366.vmt
Kerwan/usermod/materials/models/gameman5804/Ratchet_and_Clank/1/Kerwan/742.vtf
Kerwan/usermod/materials/models/gameman5804/Ratchet_and_Clank/1/Kerwan/mtl_751.vmt
Kerwan/usermod/materials/models/gameman5804/Ratchet_and_Clank/1/Kerwan/675.nrm.vtf
Kerwan/usermod/materials/models/gameman5804/Ratchet_and_Clank/1/Kerwan/660.nrm.vtf
Kerwan/usermod/materials/models/gameman5804/Ratchet_and_Clank/1/Kerwan/385.nrm.vtf
Kerwan/usermod/materials/models/gameman5804/Ratchet_and_Clank/1/Kerwan/511.vtf
Kerwan/usermod/materials/models/gameman5804/Ratchet_and_Clank/1/Kerwan/663.vtf
Kerwan/usermod/materials/models/gameman5804/Ratchet_and_Clank/1/Kerwan/684.nrm.vtf
Kerwan/usermod/materials/models/gameman5804/Ratchet_and_Clank/1/Kerwan/623.vtf
Kerwan/usermod/materials/models/gameman5804/Ratchet_and_Clank/1/Kerwan/360.nrm.vtf
Kerwan/usermod/materials/models/gameman5804/Ratchet_and_Clank/1/Kerwan/589.vtf
Kerwan/usermod/materials/models/gameman5804/Ratchet_and_Clank/1/Kerwan/335.vtf
Kerwan/usermod/materials/models/gameman5804/Ratchet_and_Clank/1/Kerwan/594.vtf
Kerwan/usermod/materials/models/gameman5804/Ratchet_and_Clank/1/Kerwan/623.nrm.vtf
Kerwan/usermod/materials/models/gameman5804/Ratchet_and_Clank/1/Kerwan/760.nrm.vtf
Kerwan/usermod/materials/models/gameman5804/Ratchet_and_Clank/1/Kerwan/mtl_607.vmt
Kerwan/usermod/materials/models/gameman5804/Ratchet_and_Clank/1/Kerwan/508.nrm.vtf
Kerwan/usermod/materials/models/gameman5804/Ratchet_and_Clank/1/Kerwan/389.vtf
Kerwan/usermod/materials/models/gameman5804/Ratchet_and_Clank/1/Kerwan/718.nrm.vtf
Kerwan/usermod/materials/models/gameman5804/Ratchet_and_Clank/1/Kerwan/686.vtf
Kerwan/usermod/materials/models/gameman5804/Ratchet_and_Clank/1/Kerwan/607.nrm.vtf
Kerwan/usermod/materials/models/gameman5804/Ratchet_and_Clank/1/Kerwan/406.nrm.vtf
Kerwan/usermod/materials/models/gameman5804/Ratchet_and_Clank/1/Kerwan/591.nrm.vtf
Kerwan/usermod/materials/models/gameman5804/Ratchet_and_Clank/1/Kerwan/mtl_340.vmt
Kerwan/usermod/materials/models/gameman5804/Ratchet_and_Clank/1/Kerwan/mtl_612.vmt
Kerwan/usermod/materials/models/gameman5804/Ratchet_and_Clank/1/Kerwan/mtl_590.vmt
Kerwan/usermod/materials/models/gameman5804/Ratchet_and_Clank/1/Kerwan/363.vtf
Kerwan/usermod/materials/models/gameman5804/Ratchet_and_Clank/1/Kerwan/mtl_644.vmt
Kerwan/usermod/materials/models/gameman5804/Ratchet_and_Clank/1/Kerwan/648.nrm.vtf
Kerwan/usermod/materials/models/gameman5804/Ratchet_and_Clank/1/Kerwan/758.nrm.vtf
Kerwan/usermod/materials/models/gameman5804/Ratchet_and_Clank/1/Kerwan/747.vtf
Kerwan/usermod/materials/models/gameman5804/Ratchet_and_Clank/1/Kerwan/637.vtf
Kerwan/usermod/materials/models/gameman5804/Ratchet_and_Clank/1/Kerwan/644.nrm.vtf
Kerwan/usermod/materials/models/gameman5804/Ratchet_and_Clank/1/Kerwan/mtl_404.vmt
Kerwan/usermod/materials/models/gameman5804/Ratchet_and_Clank/1/Kerwan/mtl_632.vmt
Kerwan/usermod/materials/models/gameman5804/Ratchet_and_Clank/1/Kerwan/711.nrm.vtf
Kerwan/usermod/materials/models/gameman5804/Ratchet_and_Clank/1/Kerwan/mtl_394.vmt
Kerwan/usermod/materials/models/gameman5804/Ratchet_and_Clank/1/Kerwan/606.vtf
Kerwan/usermod/materials/models/gameman5804/Ratchet_and_Clank/1/Kerwan/mtl_731.vmt
Kerwan/usermod/materials/models/gameman5804/Ratchet_and_Clank/1/Kerwan/337.vtf
Kerwan/usermod/materials/models/gameman5804/Ratchet_and_Clank/1/Kerwan/374.nrm.vtf
Kerwan/usermod/materials/models/gameman5804/Ratchet_and_Clank/1/Kerwan/671.vtf
Kerwan/usermod/materials/models/gameman5804/Ratchet_and_Clank/1/Kerwan/mtl_755.vmt
Kerwan/usermod/materials/models/gameman5804/Ratchet_and_Clank/1/Kerwan/726.nrm.vtf
Kerwan/usermod/materials/models/gameman5804/Ratchet_and_Clank/1/Kerwan/396.nrm.vtf
Kerwan/usermod/materials/models/gameman5804/Ratchet_and_Clank/1/Kerwan/365.nrm.vtf
Kerwan/usermod/materials/models/gameman5804/Ratchet_and_Clank/1/Kerwan/687.vtf
Kerwan/usermod/materials/models/gameman5804/Ratchet_and_Clank/1/Kerwan/mtl_531.vmt
Kerwan/usermod/materials/models/gameman5804/Ratchet_and_Clank/1/Kerwan/640.nrm.vtf
Kerwan/usermod/materials/models/gameman5804/Ratchet_and_Clank/1/Kerwan/mtl_603.vmt
Kerwan/usermod/materials/models/gameman5804/Ratchet_and_Clank/1/Kerwan/694.vtf
Kerwan/usermod/materials/models/gameman5804/Ratchet_and_Clank/1/Kerwan/658.nrm.vtf
Kerwan/usermod/materials/models/gameman5804/Ratchet_and_Clank/1/Kerwan/589.nrm.vtf
Kerwan/usermod/materials/models/gameman5804/Ratchet_and_Clank/1/Kerwan/639.vtf
Kerwan/usermod/materials/models/gameman5804/Ratchet_and_Clank/1/Kerwan/514.vtf
Kerwan/usermod/materials/models/gameman5804/Ratchet_and_Clank/1/Kerwan/mtl_511.vmt
Kerwan/usermod/materials/models/gameman5804/Ratchet_and_Clank/1/Kerwan/735.nrm.vtf
Kerwan/usermod/materials/models/gameman5804/Ratchet_and_Clank/1/Kerwan/393.nrm.vtf
Kerwan/usermod/materials/models/gameman5804/Ratchet_and_Clank/1/Kerwan/mtl_362.vmt
Kerwan/usermod/materials/models/gameman5804/Ratchet_and_Clank/1/Kerwan/mtl_338.vmt
Kerwan/usermod/materials/models/gameman5804/Ratchet_and_Clank/1/Kerwan/586.vtf
Kerwan/usermod/materials/models/gameman5804/Ratchet_and_Clank/1/Kerwan/512.nrm.vtf
Kerwan/usermod/materials/models/gameman5804/Ratchet_and_Clank/1/Kerwan/748.vtf
Kerwan/usermod/materials/models/gameman5804/Ratchet_and_Clank/1/Kerwan/mtl_509.vmt
Kerwan/usermod/materials/models/gameman5804/Ratchet_and_Clank/1/Kerwan/649.nrm.vtf
Kerwan/usermod/materials/models/gameman5804/Ratchet_and_Clank/1/Kerwan/mtl_739.vmt
Kerwan/usermod/materials/models/gameman5804/Ratchet_and_Clank/1/Kerwan/650.nrm.vtf
Kerwan/usermod/materials/models/gameman5804/Ratchet_and_Clank/1/Kerwan/344.nrm.vtf
Kerwan/usermod/materials/models/gameman5804/Ratchet_and_Clank/1/Kerwan/mtl_391.vmt
Kerwan/usermod/materials/models/gameman5804/Ratchet_and_Clank/1/Kerwan/714.vtf
Kerwan/usermod/materials/models/gameman5804/Ratchet_and_Clank/1/Kerwan/mtl_348.vmt
Kerwan/usermod/materials/models/gameman5804/Ratchet_and_Clank/1/Kerwan/394.nrm.vtf
Kerwan/usermod/materials/models/gameman5804/Ratchet_and_Clank/1/Kerwan/mtl_363.vmt
Kerwan/usermod/materials/models/gameman5804/Ratchet_and_Clank/1/Kerwan/663.nrm.vtf
Kerwan/usermod/materials/models/gameman5804/Ratchet_and_Clank/1/Kerwan/618.vtf
Kerwan/usermod/materials/models/gameman5804/Ratchet_and_Clank/1/Kerwan/554.nrm.vtf
Kerwan/usermod/materials/models/gameman5804/Ratchet_and_Clank/1/Kerwan/625.vtf
Kerwan/usermod/materials/models/gameman5804/Ratchet_and_Clank/1/Kerwan/mtl_679.vmt
Kerwan/usermod/materials/models/gameman5804/Ratchet_and_Clank/1/Kerwan/703.nrm.vtf
Kerwan/usermod/materials/models/gameman5804/Ratchet_and_Clank/1/Kerwan/734.vtf
Kerwan/usermod/materials/models/gameman5804/Ratchet_and_Clank/1/Kerwan/mtl_364.vmt
Kerwan/usermod/materials/models/gameman5804/Ratchet_and_Clank/1/Kerwan/685.nrm.vtf
Kerwan/usermod/materials/models/gameman5804/Ratchet_and_Clank/1/Kerwan/652.vtf
Kerwan/usermod/materials/models/gameman5804/Ratchet_and_Clank/1/Kerwan/600.nrm.vtf
Kerwan/usermod/materials/models/gameman5804/Ratchet_and_Clank/1/Kerwan/370.nrm.vtf
Kerwan/usermod/materials/models/gameman5804/Ratchet_and_Clank/1/Kerwan/mtl_688.vmt
Kerwan/usermod/materials/models/gameman5804/Ratchet_and_Clank/1/Kerwan/mtl_357.vmt
Kerwan/usermod/materials/models/gameman5804/Ratchet_and_Clank/1/Kerwan/600.vtf
Kerwan/usermod/materials/models/gameman5804/Ratchet_and_Clank/1/Kerwan/mtl_608.vmt
Kerwan/usermod/materials/models/gameman5804/Ratchet_and_Clank/1/Kerwan/mtl_666.vmt
Kerwan/usermod/materials/models/gameman5804/Ratchet_and_Clank/1/Kerwan/343.vtf
Kerwan/usermod/materials/models/gameman5804/Ratchet_and_Clank/1/Kerwan/611.nrm.vtf
Kerwan/usermod/materials/models/gameman5804/Ratchet_and_Clank/1/Kerwan/mtl_656.vmt
Kerwan/usermod/materials/models/gameman5804/Ratchet_and_Clank/1/Kerwan/669.nrm.vtf
Kerwan/usermod/materials/models/gameman5804/Ratchet_and_Clank/1/Kerwan/363.nrm.vtf
Kerwan/usermod/materials/models/gameman5804/Ratchet_and_Clank/1/Kerwan/411.nrm.vtf
Kerwan/usermod/materials/models/gameman5804/Ratchet_and_Clank/1/Kerwan/390.vtf
Kerwan/usermod/materials/models/gameman5804/Ratchet_and_Clank/1/Kerwan/346.vtf
Kerwan/usermod/materials/models/gameman5804/Ratchet_and_Clank/1/Kerwan/630.nrm.vtf
Kerwan/usermod/materials/models/gameman5804/Ratchet_and_Clank/1/Kerwan/744.nrm.vtf
Kerwan/usermod/materials/models/gameman5804/Ratchet_and_Clank/1/Kerwan/596.nrm.vtf
Kerwan/usermod/materials/models/gameman5804/Ratchet_and_Clank/1/Kerwan/356.vtf
Kerwan/usermod/materials/models/gameman5804/Ratchet_and_Clank/1/Kerwan/mtl_747.vmt
Kerwan/usermod/materials/models/gameman5804/Ratchet_and_Clank/1/Kerwan/mtl_746.vmt
Kerwan/usermod/materials/models/gameman5804/Ratchet_and_Clank/1/Kerwan/552.vtf
Kerwan/usermod/materials/models/gameman5804/Ratchet_and_Clank/1/Kerwan/740.nrm.vtf
Kerwan/usermod/materials/models/gameman5804/Ratchet_and_Clank/1/Kerwan/mtl_345.vmt
Kerwan/usermod/materials/models/gameman5804/Ratchet_and_Clank/1/Kerwan/357.nrm.vtf
Kerwan/usermod/materials/models/gameman5804/Ratchet_and_Clank/1/Kerwan/mtl_412.vmt
Kerwan/usermod/materials/models/gameman5804/Ratchet_and_Clank/1/Kerwan/372.nrm.vtf
Kerwan/usermod/materials/models/gameman5804/Ratchet_and_Clank/1/Kerwan/mtl_658.vmt
Kerwan/usermod/materials/models/gameman5804/Ratchet_and_Clank/1/Kerwan/606.nrm.vtf
Kerwan/usermod/materials/models/gameman5804/Ratchet_and_Clank/1/Kerwan/721.vtf
Kerwan/usermod/materials/models/gameman5804/Ratchet_and_Clank/1/Kerwan/584.vtf
Kerwan/usermod/materials/models/gameman5804/Ratchet_and_Clank/1/Kerwan/719.vtf
Kerwan/usermod/materials/models/gameman5804/Ratchet_and_Clank/1/Kerwan/671.nrm.vtf
Kerwan/usermod/materials/models/gameman5804/Ratchet_and_Clank/1/Kerwan/404.nrm.vtf
Kerwan/usermod/materials/models/gameman5804/Ratchet_and_Clank/1/Kerwan/609.nrm.vtf
Kerwan/usermod/materials/models/gameman5804/Ratchet_and_Clank/1/Kerwan/650.vtf
Kerwan/usermod/materials/models/gameman5804/Ratchet_and_Clank/1/Kerwan/513.ems.vtf
Kerwan/usermod/materials/models/gameman5804/Ratchet_and_Clank/1/Kerwan/752.vtf
Kerwan/usermod/materials/models/gameman5804/Ratchet_and_Clank/1/Kerwan/587.vtf
Kerwan/usermod/materials/models/gameman5804/Ratchet_and_Clank/1/Kerwan/614.nrm.vtf
Kerwan/usermod/materials/models/gameman5804/Ratchet_and_Clank/1/Kerwan/661.vtf
Kerwan/usermod/materials/models/gameman5804/Ratchet_and_Clank/1/Kerwan/711.vtf
Kerwan/usermod/materials/models/gameman5804/Ratchet_and_Clank/1/Kerwan/580.vtf
Kerwan/usermod/materials/models/gameman5804/Ratchet_and_Clank/1/Kerwan/481.vtf
Kerwan/usermod/materials/models/gameman5804/Ratchet_and_Clank/1/Kerwan/402.nrm.vtf
Kerwan/usermod/materials/models/gameman5804/Ratchet_and_Clank/1/Kerwan/mtl_758.vmt
Kerwan/usermod/materials/models/gameman5804/Ratchet_and_Clank/1/Kerwan/mtl_530.vmt
Kerwan/usermod/materials/models/gameman5804/Ratchet_and_Clank/1/Kerwan/mtl_749.vmt
Kerwan/usermod/materials/models/gameman5804/Ratchet_and_Clank/1/Kerwan/710.vtf
Kerwan/usermod/materials/models/gameman5804/Ratchet_and_Clank/1/Kerwan/729.vtf
Kerwan/usermod/materials/models/gameman5804/Ratchet_and_Clank/1/Kerwan/588.vtf
Kerwan/usermod/materials/models/gameman5804/Ratchet_and_Clank/1/Kerwan/355.nrm.vtf
Kerwan/usermod/materials/models/gameman5804/Ratchet_and_Clank/1/Kerwan/387.vtf
Kerwan/usermod/materials/models/gameman5804/Ratchet_and_Clank/1/Kerwan/696.vtf
Kerwan/usermod/materials/models/gameman5804/Ratchet_and_Clank/1/Kerwan/728.nrm.vtf
Kerwan/usermod/materials/models/gameman5804/Ratchet_and_Clank/1/Kerwan/381.nrm.vtf
Kerwan/usermod/materials/models/gameman5804/Ratchet_and_Clank/1/Kerwan/mtl_336.vmt
Kerwan/usermod/materials/models/gameman5804/Ratchet_and_Clank/1/Kerwan/353.vtf
Kerwan/usermod/materials/models/gameman5804/Ratchet_and_Clank/1/Kerwan/754.nrm.vtf
Kerwan/usermod/materials/models/gameman5804/Ratchet_and_Clank/1/Kerwan/384.nrm.vtf
Kerwan/usermod/materials/models/gameman5804/Ratchet_and_Clank/1/Kerwan/mtl_600.vmt
Kerwan/usermod/materials/models/gameman5804/Ratchet_and_Clank/1/Kerwan/mtl_724.vmt
Kerwan/usermod/materials/models/gameman5804/Ratchet_and_Clank/1/Kerwan/mtl_618.vmt
Kerwan/usermod/materials/models/gameman5804/Ratchet_and_Clank/1/Kerwan/676.vtf
Kerwan/usermod/materials/models/gameman5804/Ratchet_and_Clank/1/Kerwan/mtl_729.vmt
Kerwan/usermod/materials/models/gameman5804/Ratchet_and_Clank/1/Kerwan/678.nrm.vtf
Kerwan/usermod/materials/models/gameman5804/Ratchet_and_Clank/1/Kerwan/595.nrm.vtf
Kerwan/usermod/materials/models/gameman5804/Ratchet_and_Clank/1/Kerwan/619.vtf
Kerwan/usermod/materials/models/gameman5804/Ratchet_and_Clank/1/Kerwan/554.vtf
Kerwan/usermod/materials/models/gameman5804/Ratchet_and_Clank/1/Kerwan/335.nrm.vtf
Kerwan/usermod/materials/models/gameman5804/Ratchet_and_Clank/1/Kerwan/mtl_678.vmt
Kerwan/usermod/materials/models/gameman5804/Ratchet_and_Clank/1/Kerwan/691.vtf
Kerwan/usermod/materials/models/gameman5804/Ratchet_and_Clank/1/Kerwan/698.nrm.vtf
Kerwan/usermod/materials/models/gameman5804/Ratchet_and_Clank/1/Kerwan/709.nrm.vtf
Kerwan/usermod/materials/models/gameman5804/Ratchet_and_Clank/1/Kerwan/657.vtf
Kerwan/usermod/materials/models/gameman5804/Ratchet_and_Clank/1/Kerwan/705.nrm.vtf
Kerwan/usermod/materials/models/gameman5804/Ratchet_and_Clank/1/Kerwan/mtl_715.vmt
Kerwan/usermod/materials/models/gameman5804/Ratchet_and_Clank/1/Kerwan/mtl_602.vmt
Kerwan/usermod/materials/models/gameman5804/Ratchet_and_Clank/1/Kerwan/732.nrm.vtf
Kerwan/usermod/materials/models/gameman5804/Ratchet_and_Clank/1/Kerwan/mtl_333.vmt
Kerwan/usermod/materials/models/gameman5804/Ratchet_and_Clank/1/Kerwan/mtl_709.vmt
Kerwan/usermod/materials/models/gameman5804/Ratchet_and_Clank/1/Kerwan/646.nrm.vtf
Kerwan/usermod/materials/models/gameman5804/Ratchet_and_Clank/1/Kerwan/603.vtf
Kerwan/usermod/materials/models/gameman5804/Ratchet_and_Clank/1/Kerwan/622.nrm.vtf
Kerwan/usermod/materials/models/gameman5804/Ratchet_and_Clank/1/Kerwan/mtl_553.vmt
Kerwan/usermod/materials/models/gameman5804/Ratchet_and_Clank/1/Kerwan/mtl_640.vmt
Kerwan/usermod/materials/models/gameman5804/Ratchet_and_Clank/1/Kerwan/540.vtf
Kerwan/usermod/materials/models/gameman5804/Ratchet_and_Clank/1/Kerwan/616.nrm.vtf
Kerwan/usermod/materials/models/gameman5804/Ratchet_and_Clank/1/Kerwan/349.nrm.vtf
Kerwan/usermod/materials/models/gameman5804/Ratchet_and_Clank/1/Kerwan/382.nrm.vtf
Kerwan/usermod/materials/models/gameman5804/Ratchet_and_Clank/1/Kerwan/341.vtf
Kerwan/usermod/materials/models/gameman5804/Ratchet_and_Clank/1/Kerwan/mtl_378.vmt
Kerwan/usermod/materials/models/gameman5804/Ratchet_and_Clank/1/Kerwan/mtl_689.vmt
Kerwan/usermod/materials/models/gameman5804/Ratchet_and_Clank/1/Kerwan/590.vtf
Kerwan/usermod/materials/models/gameman5804/Ratchet_and_Clank/1/Kerwan/731.vtf
Kerwan/usermod/materials/models/gameman5804/Ratchet_and_Clank/1/Kerwan/662.vtf
Kerwan/usermod/materials/models/gameman5804/Ratchet_and_Clank/1/Kerwan/394.vtf
Kerwan/usermod/materials/models/gameman5804/Ratchet_and_Clank/1/Kerwan/635.vtf
Kerwan/usermod/materials/models/gameman5804/Ratchet_and_Clank/1/Kerwan/mtl_653.vmt
Kerwan/usermod/materials/models/gameman5804/Ratchet_and_Clank/1/Kerwan/mtl_647.vmt
Kerwan/usermod/materials/models/gameman5804/Ratchet_and_Clank/1/Kerwan/mtl_728.vmt
Kerwan/usermod/materials/models/gameman5804/Ratchet_and_Clank/1/Kerwan/627.nrm.vtf
Kerwan/usermod/materials/models/gameman5804/Ratchet_and_Clank/1/Kerwan/356.nrm.vtf
Kerwan/usermod/materials/models/gameman5804/Ratchet_and_Clank/1/Kerwan/599.nrm.vtf
Kerwan/usermod/materials/models/gameman5804/Ratchet_and_Clank/1/Kerwan/585.vtf
Kerwan/usermod/materials/models/gameman5804/Ratchet_and_Clank/1/Kerwan/584.nrm.vtf
Kerwan/usermod/materials/models/gameman5804/Ratchet_and_Clank/1/Kerwan/607.vtf
Kerwan/usermod/materials/models/gameman5804/Ratchet_and_Clank/1/Kerwan/691.nrm.vtf
Kerwan/usermod/materials/models/gameman5804/Ratchet_and_Clank/1/Kerwan/mtl_379.vmt
Kerwan/usermod/materials/models/gameman5804/Ratchet_and_Clank/1/Kerwan/630.vtf
Kerwan/usermod/materials/models/gameman5804/Ratchet_and_Clank/1/Kerwan/580.nrm.vtf
Kerwan/usermod/materials/models/gameman5804/Ratchet_and_Clank/1/Kerwan/632.vtf
Kerwan/usermod/materials/models/gameman5804/Ratchet_and_Clank/1/Kerwan/615.nrm.vtf
Kerwan/usermod/materials/models/gameman5804/Ratchet_and_Clank/1/Kerwan/mtl_513.vmt
Kerwan/usermod/materials/models/gameman5804/Ratchet_and_Clank/1/Kerwan/mtl_670.vmt
Kerwan/usermod/materials/models/gameman5804/Ratchet_and_Clank/1/Kerwan/372.vtf
Kerwan/usermod/materials/models/gameman5804/Ratchet_and_Clank/1/Kerwan/336.vtf
Kerwan/usermod/materials/models/gameman5804/Ratchet_and_Clank/1/Kerwan/730.vtf
Kerwan/usermod/materials/models/gameman5804/Ratchet_and_Clank/1/Kerwan/624.nrm.vtf
Kerwan/usermod/materials/models/gameman5804/Ratchet_and_Clank/1/Kerwan/333.vtf
Kerwan/usermod/materials/models/gameman5804/Ratchet_and_Clank/1/Kerwan/656.vtf
Kerwan/usermod/materials/models/gameman5804/Ratchet_and_Clank/1/Kerwan/379.vtf
Kerwan/usermod/materials/models/gameman5804/Ratchet_and_Clank/1/Kerwan/mtl_604.vmt
Kerwan/usermod/materials/models/gameman5804/Ratchet_and_Clank/1/Kerwan/mtl_542.vmt
Kerwan/usermod/materials/models/gameman5804/Ratchet_and_Clank/1/Kerwan/680.vtf
Kerwan/usermod/materials/models/gameman5804/Ratchet_and_Clank/1/Kerwan/mtl_684.vmt
Kerwan/usermod/materials/models/gameman5804/Ratchet_and_Clank/1/Kerwan/514.nrm.vtf
Kerwan/usermod/materials/models/gameman5804/Ratchet_and_Clank/1/Kerwan/mtl_736.vmt
Kerwan/usermod/materials/models/gameman5804/Ratchet_and_Clank/1/Kerwan/mtl_343.vmt
Kerwan/usermod/materials/models/gameman5804/Ratchet_and_Clank/1/Kerwan/mtl_683.vmt
Kerwan/usermod/materials/models/gameman5804/Ratchet_and_Clank/1/Kerwan/513.vtf
Kerwan/usermod/materials/models/gameman5804/Ratchet_and_Clank/1/Kerwan/699.nrm.vtf
Kerwan/usermod/materials/models/gameman5804/Ratchet_and_Clank/1/Kerwan/354.nrm.vtf
Kerwan/usermod/materials/models/gameman5804/Ratchet_and_Clank/1/Kerwan/mtl_616.vmt
Kerwan/usermod/materials/models/gameman5804/Ratchet_and_Clank/1/Kerwan/359.nrm.vtf
Kerwan/usermod/materials/models/gameman5804/Ratchet_and_Clank/1/Kerwan/mtl_390.vmt
Kerwan/usermod/materials/models/gameman5804/Ratchet_and_Clank/1/Kerwan/621.nrm.vtf
Kerwan/usermod/materials/models/gameman5804/Ratchet_and_Clank/1/Kerwan/388.vtf
Kerwan/usermod/materials/models/gameman5804/Ratchet_and_Clank/1/Kerwan/369.nrm.vtf
Kerwan/usermod/materials/models/gameman5804/Ratchet_and_Clank/1/Kerwan/508.vtf
Kerwan/usermod/materials/models/gameman5804/Ratchet_and_Clank/1/Kerwan/mtl_588.vmt
Kerwan/usermod/materials/models/gameman5804/Ratchet_and_Clank/1/Kerwan/578.vtf
Kerwan/usermod/materials/models/gameman5804/Ratchet_and_Clank/1/Kerwan/651.vtf
Kerwan/usermod/materials/models/gameman5804/Ratchet_and_Clank/1/Kerwan/mtl_716.vmt
Kerwan/usermod/materials/models/gameman5804/Ratchet_and_Clank/1/Kerwan/mtl_584.vmt
Kerwan/usermod/materials/models/gameman5804/Ratchet_and_Clank/1/Kerwan/mtl_620.vmt
Kerwan/usermod/materials/models/gameman5804/Ratchet_and_Clank/1/Kerwan/699.vtf
Kerwan/usermod/materials/models/gameman5804/Ratchet_and_Clank/1/Kerwan/481.nrm.vtf
Kerwan/usermod/materials/models/gameman5804/Ratchet_and_Clank/1/Kerwan/mtl_507.vmt
Kerwan/usermod/materials/models/gameman5804/Ratchet_and_Clank/1/Kerwan/mtl_726.vmt
Kerwan/usermod/materials/models/gameman5804/Ratchet_and_Clank/1/Kerwan/mtl_601.vmt
Kerwan/usermod/materials/models/gameman5804/Ratchet_and_Clank/1/Kerwan/516.vtf
Kerwan/usermod/materials/models/gameman5804/Ratchet_and_Clank/1/Kerwan/596.vtf
Kerwan/usermod/materials/models/gameman5804/Ratchet_and_Clank/1/Kerwan/mtl_685.vmt
Kerwan/usermod/materials/models/gameman5804/Ratchet_and_Clank/1/Kerwan/583.nrm.vtf
Kerwan/usermod/materials/models/gameman5804/Ratchet_and_Clank/1/Kerwan/mtl_355.vmt
Kerwan/usermod/materials/models/gameman5804/Ratchet_and_Clank/1/Kerwan/mtl_629.vmt
Kerwan/usermod/materials/models/gameman5804/Ratchet_and_Clank/1/Kerwan/mtl_382.vmt
Kerwan/usermod/materials/models/gameman5804/Ratchet_and_Clank/1/Kerwan/675.vtf
Kerwan/usermod/materials/models/gameman5804/Ratchet_and_Clank/1/Kerwan/751.nrm.vtf
Kerwan/usermod/materials/models/gameman5804/Ratchet_and_Clank/1/Kerwan/731.nrm.vtf
Kerwan/usermod/materials/models/gameman5804/Ratchet_and_Clank/1/Kerwan/633.vtf
Kerwan/usermod/materials/models/gameman5804/Ratchet_and_Clank/1/Kerwan/mtl_622.vmt
Kerwan/usermod/materials/models/gameman5804/Ratchet_and_Clank/1/Kerwan/mtl_703.vmt
Kerwan/usermod/materials/models/gameman5804/Ratchet_and_Clank/1/Kerwan/700.nrm.vtf
Kerwan/usermod/materials/models/gameman5804/Ratchet_and_Clank/1/Kerwan/mtl_369.vmt
Kerwan/usermod/materials/models/gameman5804/Ratchet_and_Clank/1/Kerwan/665.vtf
Kerwan/usermod/materials/models/gameman5804/Ratchet_and_Clank/1/Kerwan/mtl_671.vmt
Kerwan/usermod/materials/models/gameman5804/Ratchet_and_Clank/1/Kerwan/723.nrm.vtf
Kerwan/usermod/materials/models/gameman5804/Ratchet_and_Clank/1/Kerwan/667.vtf
Kerwan/usermod/materials/models/gameman5804/Ratchet_and_Clank/1/Kerwan/392.nrm.vtf
Kerwan/usermod/materials/models/gameman5804/Ratchet_and_Clank/1/Kerwan/mtl_372.vmt
Kerwan/usermod/materials/models/gameman5804/Ratchet_and_Clank/1/Kerwan/mtl_377.vmt
Kerwan/usermod/materials/models/gameman5804/Ratchet_and_Clank/1/Kerwan/637.nrm.vtf
Kerwan/usermod/materials/models/gameman5804/Ratchet_and_Clank/1/Kerwan/334.nrm.vtf
Kerwan/usermod/materials/models/gameman5804/Ratchet_and_Clank/1/Kerwan/636.nrm.vtf
Kerwan/usermod/materials/models/gameman5804/Ratchet_and_Clank/1/Kerwan/384.vtf
Kerwan/usermod/materials/models/gameman5804/Ratchet_and_Clank/1/Kerwan/738.vtf
Kerwan/usermod/materials/models/gameman5804/Ratchet_and_Clank/1/Kerwan/386.vtf
Kerwan/usermod/materials/models/gameman5804/Ratchet_and_Clank/1/Kerwan/mtl_598.vmt
Kerwan/usermod/materials/models/gameman5804/Ratchet_and_Clank/1/Kerwan/738.nrm.vtf
Kerwan/usermod/materials/models/gameman5804/Ratchet_and_Clank/1/Kerwan/626.nrm.vtf
Kerwan/usermod/materials/models/gameman5804/Ratchet_and_Clank/1/Kerwan/680.nrm.vtf
Kerwan/usermod/materials/models/gameman5804/Ratchet_and_Clank/1/Kerwan/345.nrm.vtf
Kerwan/usermod/materials/models/gameman5804/Ratchet_and_Clank/1/Kerwan/613.nrm.vtf
Kerwan/usermod/materials/models/gameman5804/Ratchet_and_Clank/1/Kerwan/410.nrm.vtf
Kerwan/usermod/materials/models/gameman5804/Ratchet_and_Clank/1/Kerwan/mtl_392.vmt
Kerwan/usermod/materials/models/gameman5804/Ratchet_and_Clank/1/Kerwan/mtl_610.vmt
Kerwan/usermod/materials/models/gameman5804/Ratchet_and_Clank/1/Kerwan/737.nrm.vtf
Kerwan/usermod/materials/models/gameman5804/Ratchet_and_Clank/1/Kerwan/704.vtf
Kerwan/usermod/materials/models/gameman5804/Ratchet_and_Clank/1/Kerwan/368.nrm.vtf
Kerwan/usermod/materials/models/gameman5804/Ratchet_and_Clank/1/Kerwan/626.vtf
Kerwan/usermod/materials/models/gameman5804/Ratchet_and_Clank/1/Kerwan/692.vtf
Kerwan/usermod/materials/models/gameman5804/Ratchet_and_Clank/1/Kerwan/608.vtf
Kerwan/usermod/materials/models/gameman5804/Ratchet_and_Clank/1/Kerwan/743.nrm.vtf
Kerwan/usermod/materials/models/gameman5804/Ratchet_and_Clank/1/Kerwan/mtl_352.vmt
Kerwan/usermod/materials/models/gameman5804/Ratchet_and_Clank/1/Kerwan/716.nrm.vtf
Kerwan/usermod/materials/models/gameman5804/Ratchet_and_Clank/1/Kerwan/510.nrm.vtf
Kerwan/usermod/materials/models/gameman5804/Ratchet_and_Clank/1/Kerwan/638.vtf
Kerwan/usermod/materials/models/gameman5804/Ratchet_and_Clank/1/Kerwan/385.vtf
Kerwan/usermod/materials/models/gameman5804/Ratchet_and_Clank/1/Kerwan/631.vtf
Kerwan/usermod/materials/models/gameman5804/Ratchet_and_Clank/1/Kerwan/mtl_354.vmt
Kerwan/usermod/materials/models/gameman5804/Ratchet_and_Clank/1/Kerwan/333.nrm.vtf
Kerwan/usermod/materials/models/gameman5804/Ratchet_and_Clank/1/Kerwan/mtl_714.vmt
Kerwan/usermod/materials/models/gameman5804/Ratchet_and_Clank/1/Kerwan/659.vtf
Kerwan/usermod/materials/models/gameman5804/Ratchet_and_Clank/1/Kerwan/mtl_376.vmt
Kerwan/usermod/materials/models/gameman5804/Ratchet_and_Clank/1/Kerwan/mtl_395.vmt
Kerwan/usermod/materials/models/gameman5804/Ratchet_and_Clank/1/Kerwan/mtl_700.vmt
Kerwan/usermod/materials/models/gameman5804/Ratchet_and_Clank/1/Kerwan/mtl_696.vmt
Kerwan/usermod/materials/models/gameman5804/Ratchet_and_Clank/1/Kerwan/mtl_405.vmt
Kerwan/usermod/materials/models/gameman5804/Ratchet_and_Clank/1/Kerwan/368.vtf
Kerwan/usermod/materials/models/gameman5804/Ratchet_and_Clank/1/Kerwan/373.vtf
Kerwan/usermod/materials/models/gameman5804/Ratchet_and_Clank/1/Kerwan/mtl_634.vmt
Kerwan/usermod/materials/models/gameman5804/Ratchet_and_Clank/1/Kerwan/659.nrm.vtf
Kerwan/usermod/materials/models/gameman5804/Ratchet_and_Clank/1/Kerwan/mtl_677.vmt
Kerwan/usermod/materials/models/gameman5804/Ratchet_and_Clank/1/Kerwan/mtl_593.vmt
Kerwan/usermod/materials/models/gameman5804/Ratchet_and_Clank/1/Kerwan/512.vtf
Kerwan/usermod/materials/models/gameman5804/Ratchet_and_Clank/1/Kerwan/371.nrm.vtf
Kerwan/usermod/materials/models/gameman5804/Ratchet_and_Clank/1/Kerwan/714.nrm.vtf
Kerwan/usermod/materials/models/gameman5804/Ratchet_and_Clank/1/Kerwan/mtl_743.vmt
Kerwan/usermod/materials/models/gameman5804/Ratchet_and_Clank/1/Kerwan/mtl_702.vmt
Kerwan/usermod/materials/models/gameman5804/Ratchet_and_Clank/1/Kerwan/688.vtf
Kerwan/usermod/materials/models/gameman5804/Ratchet_and_Clank/1/Kerwan/609.vtf
Kerwan/usermod/materials/models/gameman5804/Ratchet_and_Clank/1/Kerwan/409.nrm.vtf
Kerwan/usermod/materials/models/gameman5804/Ratchet_and_Clank/1/Kerwan/754.vtf
Kerwan/usermod/materials/models/gameman5804/Ratchet_and_Clank/1/Kerwan/mtl_759.vmt
Kerwan/usermod/materials/models/gameman5804/Ratchet_and_Clank/1/Kerwan/332.nrm.vtf
Kerwan/usermod/materials/models/gameman5804/Ratchet_and_Clank/1/Kerwan/mtl_750.vmt
Kerwan/usermod/materials/models/gameman5804/Ratchet_and_Clank/1/Kerwan/390.nrm.vtf
Kerwan/usermod/materials/models/gameman5804/Ratchet_and_Clank/1/Kerwan/636.vtf
Kerwan/usermod/materials/models/gameman5804/Ratchet_and_Clank/1/Kerwan/mtl_676.vmt
Kerwan/usermod/materials/models/gameman5804/Ratchet_and_Clank/1/Kerwan/679.vtf
Kerwan/usermod/materials/models/gameman5804/Ratchet_and_Clank/1/Kerwan/645.vtf
Kerwan/usermod/materials/models/gameman5804/Ratchet_and_Clank/1/Kerwan/mtl_599.vmt
Kerwan/usermod/materials/models/gameman5804/Ratchet_and_Clank/1/Kerwan/410.vtf
Kerwan/usermod/materials/models/gameman5804/Ratchet_and_Clank/1/Kerwan/404.vtf
Kerwan/usermod/materials/models/gameman5804/Ratchet_and_Clank/1/Kerwan/705.vtf
Kerwan/usermod/materials/models/gameman5804/Ratchet_and_Clank/1/Kerwan/mtl_351.vmt
Kerwan/usermod/materials/models/gameman5804/Ratchet_and_Clank/1/Kerwan/635.nrm.vtf
Kerwan/usermod/materials/models/gameman5804/Ratchet_and_Clank/1/Kerwan/mtl_701.vmt
Kerwan/usermod/materials/models/gameman5804/Ratchet_and_Clank/1/Kerwan/347.nrm.vtf
Kerwan/usermod/materials/models/gameman5804/Ratchet_and_Clank/1/Kerwan/mtl_403.vmt
Kerwan/usermod/materials/models/gameman5804/Ratchet_and_Clank/1/Kerwan/737.vtf
Kerwan/usermod/materials/models/gameman5804/Ratchet_and_Clank/1/Kerwan/mtl_342.vmt
Kerwan/usermod/materials/models/gameman5804/Ratchet_and_Clank/1/Kerwan/mtl_587.vmt
Kerwan/usermod/materials/models/gameman5804/Ratchet_and_Clank/1/Kerwan/702.vtf
Kerwan/usermod/materials/models/gameman5804/Ratchet_and_Clank/1/Kerwan/725.vtf
Kerwan/usermod/materials/models/gameman5804/Ratchet_and_Clank/1/Kerwan/mtl_365.vmt
Kerwan/usermod/materials/models/gameman5804/Ratchet_and_Clank/1/Kerwan/631.ems.vtf
Kerwan/usermod/materials/models/gameman5804/Ratchet_and_Clank/1/Kerwan/655.vtf
Kerwan/usermod/materials/models/gameman5804/Ratchet_and_Clank/1/Kerwan/608.nrm.vtf
Kerwan/usermod/materials/models/gameman5804/Ratchet_and_Clank/1/Kerwan/mtl_614.vmt
Kerwan/usermod/materials/models/gameman5804/Ratchet_and_Clank/1/Kerwan/722.vtf
Kerwan/usermod/materials/models/gameman5804/Ratchet_and_Clank/1/Kerwan/mtl_639.vmt
Kerwan/usermod/materials/models/gameman5804/Ratchet_and_Clank/1/Kerwan/628.vtf
Kerwan/usermod/materials/models/gameman5804/Ratchet_and_Clank/1/Kerwan/686.nrm.vtf
Kerwan/usermod/materials/models/gameman5804/Ratchet_and_Clank/1/Kerwan/341.nrm.vtf
Kerwan/usermod/materials/models/gameman5804/Ratchet_and_Clank/1/Kerwan/588.nrm.vtf
Kerwan/usermod/materials/models/gameman5804/Ratchet_and_Clank/1/Kerwan/736.vtf
Kerwan/usermod/materials/models/gameman5804/Ratchet_and_Clank/1/Kerwan/mtl_626.vmt
Kerwan/usermod/materials/models/gameman5804/Ratchet_and_Clank/1/Kerwan/509.nrm.vtf
Kerwan/usermod/materials/models/gameman5804/Ratchet_and_Clank/1/Kerwan/352.vtf
Kerwan/usermod/materials/models/gameman5804/Ratchet_and_Clank/1/Kerwan/645.nrm.vtf
Kerwan/usermod/materials/models/gameman5804/Ratchet_and_Clank/1/Kerwan/516.nrm.vtf
Kerwan/usermod/materials/models/gameman5804/Ratchet_and_Clank/1/Kerwan/mtl_627.vmt
Kerwan/usermod/materials/models/gameman5804/Ratchet_and_Clank/1/Kerwan/701.vtf
Kerwan/usermod/materials/models/gameman5804/Ratchet_and_Clank/1/Kerwan/mtl_694.vmt
Kerwan/usermod/materials/models/gameman5804/Ratchet_and_Clank/1/Kerwan/681.vtf
Kerwan/usermod/materials/models/gameman5804/Ratchet_and_Clank/1/Kerwan/745.nrm.vtf
Kerwan/usermod/materials/models/gameman5804/Ratchet_and_Clank/1/Kerwan/mtl_617.vmt
Kerwan/usermod/materials/models/gameman5804/Ratchet_and_Clank/1/Kerwan/725.nrm.vtf
Kerwan/usermod/materials/models/gameman5804/Ratchet_and_Clank/1/Kerwan/750.vtf
Kerwan/usermod/materials/models/gameman5804/Ratchet_and_Clank/1/Kerwan/mtl_609.vmt
Kerwan/usermod/materials/models/gameman5804/Ratchet_and_Clank/1/Kerwan/577.nrm.vtf
Kerwan/usermod/materials/models/gameman5804/Ratchet_and_Clank/1/Kerwan/717.nrm.vtf
Kerwan/usermod/materials/models/gameman5804/Ratchet_and_Clank/1/Kerwan/mtl_539.vmt
Kerwan/usermod/materials/models/gameman5804/Ratchet_and_Clank/1/Kerwan/mtl_744.vmt
Kerwan/usermod/materials/models/gameman5804/Ratchet_and_Clank/1/Kerwan/586.nrm.vtf
Kerwan/usermod/materials/models/gameman5804/Ratchet_and_Clank/1/Kerwan/553.nrm.vtf
Kerwan/usermod/materials/models/gameman5804/Ratchet_and_Clank/1/Kerwan/662.nrm.vtf
Kerwan/usermod/materials/models/gameman5804/Ratchet_and_Clank/1/Kerwan/673.vtf
Kerwan/usermod/materials/models/gameman5804/Ratchet_and_Clank/1/Kerwan/402.vtf
Kerwan/usermod/materials/models/gameman5804/Ratchet_and_Clank/1/Kerwan/mtl_586.vmt
Kerwan/usermod/materials/models/gameman5804/Ratchet_and_Clank/1/Kerwan/mtl_540.vmt
Kerwan/usermod/materials/models/gameman5804/Ratchet_and_Clank/1/Kerwan/758.vtf
Kerwan/usermod/materials/models/gameman5804/Ratchet_and_Clank/1/Kerwan/727.nrm.vtf
Kerwan/usermod/materials/models/gameman5804/Ratchet_and_Clank/1/Kerwan/mtl_668.vmt
Kerwan/usermod/materials/models/gameman5804/Ratchet_and_Clank/1/Kerwan/mtl_515.vmt
Kerwan/usermod/materials/models/gameman5804/Ratchet_and_Clank/1/Kerwan/339.nrm.vtf
Kerwan/usermod/materials/models/gameman5804/Ratchet_and_Clank/1/Kerwan/mtl_642.vmt
Kerwan/usermod/materials/models/gameman5804/Ratchet_and_Clank/1/Kerwan/mtl_707.vmt
Kerwan/usermod/materials/models/gameman5804/Ratchet_and_Clank/1/Kerwan/334.vtf
Kerwan/usermod/materials/models/gameman5804/Ratchet_and_Clank/1/Kerwan/381.vtf
Kerwan/usermod/materials/models/gameman5804/Ratchet_and_Clank/1/Kerwan/mtl_591.vmt
Kerwan/usermod/materials/models/gameman5804/Ratchet_and_Clank/1/Kerwan/700.vtf
Kerwan/usermod/materials/models/gameman5804/Ratchet_and_Clank/1/Kerwan/mtl_623.vmt
Kerwan/usermod/materials/models/gameman5804/Ratchet_and_Clank/1/Kerwan/mtl_332.vmt
Kerwan/usermod/materials/models/gameman5804/Ratchet_and_Clank/1/Kerwan/592.nrm.vtf
Kerwan/usermod/materials/models/gameman5804/Ratchet_and_Clank/1/Kerwan/mtl_592.vmt
Kerwan/usermod/materials/models/gameman5804/Ratchet_and_Clank/1/Kerwan/mtl_699.vmt
Kerwan/usermod/materials/models/gameman5804/Ratchet_and_Clank/1/Kerwan/697.vtf
Kerwan/usermod/materials/models/gameman5804/Ratchet_and_Clank/1/Kerwan/509.vtf
Kerwan/usermod/materials/models/gameman5804/Ratchet_and_Clank/1/Kerwan/530.nrm.vtf
Kerwan/usermod/materials/models/gameman5804/Ratchet_and_Clank/1/Kerwan/658.vtf
Kerwan/usermod/materials/models/gameman5804/Ratchet_and_Clank/1/Kerwan/597.vtf
Kerwan/usermod/materials/models/gameman5804/Ratchet_and_Clank/1/Kerwan/mtl_633.vmt
Kerwan/usermod/materials/models/gameman5804/Ratchet_and_Clank/1/Kerwan/599.vtf
Kerwan/usermod/materials/models/gameman5804/Ratchet_and_Clank/1/Kerwan/395.vtf
Kerwan/usermod/materials/models/gameman5804/Ratchet_and_Clank/1/Kerwan/759.nrm.vtf
Kerwan/usermod/materials/models/gameman5804/Ratchet_and_Clank/1/Kerwan/mtl_385.vmt
Kerwan/usermod/materials/models/gameman5804/Ratchet_and_Clank/1/Kerwan/358.vtf
Kerwan/usermod/materials/models/gameman5804/Ratchet_and_Clank/1/Kerwan/mtl_652.vmt
Kerwan/usermod/materials/models/gameman5804/Ratchet_and_Clank/1/Kerwan/mtl_628.vmt
Kerwan/usermod/materials/models/gameman5804/Ratchet_and_Clank/1/Kerwan/mtl_554.vmt
Kerwan/usermod/materials/models/gameman5804/Ratchet_and_Clank/1/Kerwan/670.vtf
Kerwan/usermod/materials/models/gameman5804/Ratchet_and_Clank/1/Kerwan/mtl_717.vmt
Kerwan/usermod/materials/models/gameman5804/Ratchet_and_Clank/1/Kerwan/mtl_613.vmt
Kerwan/usermod/materials/models/gameman5804/Ratchet_and_Clank/1/Kerwan/685.vtf
Kerwan/usermod/materials/models/gameman5804/Ratchet_and_Clank/1/Kerwan/mtl_615.vmt
Kerwan/usermod/materials/models/gameman5804/Ratchet_and_Clank/1/Kerwan/mtl_373.vmt
Kerwan/usermod/materials/models/gameman5804/Ratchet_and_Clank/1/Kerwan/707.vtf
Kerwan/usermod/materials/models/gameman5804/Ratchet_and_Clank/1/Kerwan/374.vtf
Kerwan/usermod/materials/models/gameman5804/Ratchet_and_Clank/1/Kerwan/601.nrm.vtf
Kerwan/usermod/materials/models/gameman5804/Ratchet_and_Clank/1/Kerwan/709.vtf
Kerwan/usermod/materials/models/gameman5804/Ratchet_and_Clank/1/Kerwan/mtl_370.vmt
Kerwan/usermod/materials/models/gameman5804/Ratchet_and_Clank/1/Kerwan/mtl_675.vmt
Kerwan/usermod/materials/models/gameman5804/Ratchet_and_Clank/1/Kerwan/mtl_347.vmt
Kerwan/usermod/materials/models/gameman5804/Ratchet_and_Clank/1/Kerwan/mtl_384.vmt
Kerwan/usermod/materials/models/gameman5804/Ratchet_and_Clank/1/Kerwan/mtl_374.vmt
Kerwan/usermod/materials/models/gameman5804/Ratchet_and_Clank/1/Kerwan/mtl_706.vmt
Kerwan/usermod/materials/models/gameman5804/Ratchet_and_Clank/1/Kerwan/mtl_638.vmt
Kerwan/usermod/materials/models/gameman5804/Ratchet_and_Clank/1/Kerwan/386.nrm.vtf
Kerwan/usermod/materials/models/gameman5804/Ratchet_and_Clank/1/Kerwan/mtl_669.vmt
Kerwan/usermod/materials/models/gameman5804/Ratchet_and_Clank/1/Kerwan/mtl_690.vmt
Kerwan/usermod/materials/models/gameman5804/Ratchet_and_Clank/1/Kerwan/mtl_681.vmt
Kerwan/usermod/materials/models/gameman5804/Ratchet_and_Clank/1/Kerwan/605.nrm.vtf
Kerwan/usermod/materials/models/gameman5804/Ratchet_and_Clank/1/Kerwan/mtl_596.vmt
Kerwan/usermod/materials/models/gameman5804/Ratchet_and_Clank/1/Kerwan/mtl_692.vmt
Kerwan/usermod/materials/models/gameman5804/Ratchet_and_Clank/1/Kerwan/753.vtf
Kerwan/usermod/materials/models/gameman5804/Ratchet_and_Clank/1/Kerwan/748.nrm.vtf
Kerwan/usermod/materials/models/gameman5804/Ratchet_and_Clank/1/Kerwan/mtl_665.vmt
Kerwan/usermod/materials/models/gameman5804/Ratchet_and_Clank/1/Kerwan/mtl_579.vmt
Kerwan/usermod/materials/models/gameman5804/Ratchet_and_Clank/1/Kerwan/744.vtf
Kerwan/usermod/materials/models/gameman5804/Ratchet_and_Clank/1/Kerwan/706.vtf
Kerwan/usermod/materials/models/gameman5804/Ratchet_and_Clank/1/Kerwan/689.vtf
Kerwan/usermod/materials/models/gameman5804/Ratchet_and_Clank/1/Kerwan/610.nrm.vtf
Kerwan/usermod/materials/models/gameman5804/Ratchet_and_Clank/1/Kerwan/653.nrm.vtf
Kerwan/usermod/materials/models/gameman5804/Ratchet_and_Clank/1/Kerwan/634.vtf
Kerwan/usermod/materials/models/gameman5804/Ratchet_and_Clank/1/Kerwan/mtl_402.vmt
Kerwan/usermod/materials/models/gameman5804/Ratchet_and_Clank/1/Kerwan/741.vtf
Kerwan/usermod/materials/models/gameman5804/Ratchet_and_Clank/1/Kerwan/mtl_663.vmt
Kerwan/usermod/materials/models/gameman5804/Ratchet_and_Clank/1/Kerwan/mtl_737.vmt
Kerwan/usermod/materials/models/gameman5804/Ratchet_and_Clank/1/Kerwan/mtl_753.vmt
Kerwan/usermod/materials/models/gameman5804/Ratchet_and_Clank/1/Kerwan/377.nrm.vtf
Kerwan/usermod/materials/models/gameman5804/Ratchet_and_Clank/1/Kerwan/716.vtf
Kerwan/usermod/materials/models/gameman5804/Ratchet_and_Clank/1/Kerwan/684.vtf
Kerwan/usermod/materials/models/gameman5804/Ratchet_and_Clank/1/Kerwan/760.vtf
Kerwan/usermod/materials/models/gameman5804/Ratchet_and_Clank/1/Kerwan/681.nrm.vtf
Kerwan/usermod/materials/models/gameman5804/Ratchet_and_Clank/1/Kerwan/407.nrm.vtf
Kerwan/usermod/materials/models/gameman5804/Ratchet_and_Clank/1/Kerwan/376.vtf
Kerwan/usermod/materials/models/gameman5804/Ratchet_and_Clank/1/Kerwan/660.vtf
Kerwan/usermod/materials/models/gameman5804/Ratchet_and_Clank/1/Kerwan/743.vtf
Kerwan/usermod/materials/models/gameman5804/Ratchet_and_Clank/1/Kerwan/373.nrm.vtf
Kerwan/usermod/materials/models/gameman5804/Ratchet_and_Clank/1/Kerwan/655.nrm.vtf
Kerwan/usermod/materials/models/gameman5804/Ratchet_and_Clank/1/Kerwan/715.vtf
Kerwan/usermod/materials/models/gameman5804/Ratchet_and_Clank/1/Kerwan/741.nrm.vtf
Kerwan/usermod/materials/models/gameman5804/Ratchet_and_Clank/1/Kerwan/674.vtf
Kerwan/usermod/materials/models/gameman5804/Ratchet_and_Clank/1/Kerwan/538.nrm.vtf
Kerwan/usermod/materials/models/gameman5804/Ratchet_and_Clank/1/Kerwan/708.vtf
Kerwan/usermod/materials/models/gameman5804/Ratchet_and_Clank/1/Kerwan/603.nrm.vtf
Kerwan/usermod/materials/models/gameman5804/Ratchet_and_Clank/1/Kerwan/331.nrm.vtf
Kerwan/usermod/materials/models/gameman5804/Ratchet_and_Clank/1/Kerwan/mtl_738.vmt
Kerwan/usermod/materials/models/gameman5804/Ratchet_and_Clank/1/Kerwan/582.vtf
Kerwan/usermod/materials/models/gameman5804/Ratchet_and_Clank/1/Kerwan/757.vtf
Kerwan/usermod/materials/models/gameman5804/Ratchet_and_Clank/1/Kerwan/598.vtf
Kerwan/usermod/materials/models/gameman5804/Ratchet_and_Clank/1/Kerwan/629.vtf
Kerwan/usermod/materials/models/gameman5804/Ratchet_and_Clank/1/Kerwan/712.nrm.vtf
Kerwan/usermod/materials/models/gameman5804/Ratchet_and_Clank/1/Kerwan/364.nrm.vtf
Kerwan/usermod/materials/models/gameman5804/Ratchet_and_Clank/1/Kerwan/mtl_722.vmt
Kerwan/usermod/materials/models/gameman5804/Ratchet_and_Clank/1/Kerwan/507.nrm.vtf
Kerwan/usermod/materials/models/gameman5804/Ratchet_and_Clank/1/Kerwan/631.nrm.vtf
Kerwan/usermod/materials/models/gameman5804/Ratchet_and_Clank/1/Kerwan/mtl_387.vmt
Kerwan/usermod/materials/models/gameman5804/Ratchet_and_Clank/1/Kerwan/343.nrm.vtf
Kerwan/usermod/materials/models/gameman5804/Ratchet_and_Clank/1/Kerwan/365.vtf
Kerwan/usermod/materials/models/gameman5804/Ratchet_and_Clank/1/Kerwan/366.nrm.vtf
Kerwan/usermod/materials/models/gameman5804/Ratchet_and_Clank/1/Kerwan/579.vtf
Kerwan/usermod/materials/models/gameman5804/Ratchet_and_Clank/1/Kerwan/mtl_383.vmt
Kerwan/usermod/materials/models/gameman5804/Ratchet_and_Clank/1/Kerwan/395.nrm.vtf
Kerwan/usermod/materials/models/gameman5804/Ratchet_and_Clank/1/Kerwan/669.vtf
Kerwan/usermod/materials/models/gameman5804/Ratchet_and_Clank/1/Kerwan/597.nrm.vtf
Kerwan/usermod/materials/models/gameman5804/Ratchet_and_Clank/1/Kerwan/mtl_687.vmt
Kerwan/usermod/materials/models/gameman5804/Ratchet_and_Clank/1/Kerwan/746.vtf
Kerwan/usermod/materials/models/gameman5804/Ratchet_and_Clank/1/Kerwan/mtl_339.vmt
Kerwan/usermod/materials/models/gameman5804/Ratchet_and_Clank/1/Kerwan/370.vtf
Kerwan/usermod/materials/models/gameman5804/Ratchet_and_Clank/1/Kerwan/mtl_712.vmt
Kerwan/usermod/materials/models/gameman5804/Ratchet_and_Clank/1/Kerwan/364.vtf
Kerwan/usermod/materials/models/gameman5804/Ratchet_and_Clank/1/Kerwan/mtl_695.vmt
Kerwan/usermod/materials/models/gameman5804/Ratchet_and_Clank/1/Kerwan/592.vtf
Kerwan/usermod/materials/models/gameman5804/Ratchet_and_Clank/1/Kerwan/mtl_386.vmt
Kerwan/usermod/materials/models/gameman5804/Ratchet_and_Clank/1/Kerwan/624.vtf
Kerwan/usermod/materials/models/gameman5804/Ratchet_and_Clank/1/Kerwan/mtl_674.vmt
Kerwan/usermod/materials/models/gameman5804/Ratchet_and_Clank/1/Kerwan/616.vtf
Kerwan/usermod/materials/models/gameman5804/Ratchet_and_Clank/1/Kerwan/mtl_705.vmt
Kerwan/usermod/materials/models/gameman5804/Ratchet_and_Clank/1/Kerwan/512.ems.vtf
Kerwan/usermod/materials/models/gameman5804/Ratchet_and_Clank/1/Kerwan/mtl_708.vmt
Kerwan/usermod/materials/models/gameman5804/Ratchet_and_Clank/1/Kerwan/676.nrm.vtf
Kerwan/usermod/materials/models/gameman5804/Ratchet_and_Clank/1/Kerwan/mtl_649.vmt
Kerwan/usermod/materials/models/gameman5804/Ratchet_and_Clank/1/Kerwan/729.nrm.vtf
Kerwan/usermod/materials/models/gameman5804/Ratchet_and_Clank/1/Kerwan/408.vtf
Kerwan/usermod/materials/models/gameman5804/Ratchet_and_Clank/1/Kerwan/mtl_577.vmt
Kerwan/usermod/materials/models/gameman5804/Ratchet_and_Clank/1/Kerwan/346.nrm.vtf
Kerwan/usermod/materials/models/gameman5804/Ratchet_and_Clank/1/Kerwan/695.vtf
Kerwan/usermod/materials/models/gameman5804/Ratchet_and_Clank/1/Kerwan/722.nrm.vtf
Kerwan/usermod/materials/models/gameman5804/Ratchet_and_Clank/1/Kerwan/mtl_605.vmt
Kerwan/usermod/materials/models/gameman5804/Ratchet_and_Clank/1/Kerwan/668.vtf
Kerwan/usermod/materials/models/gameman5804/Ratchet_and_Clank/1/Kerwan/593.nrm.vtf
Kerwan/usermod/materials/models/gameman5804/Ratchet_and_Clank/1/Kerwan/727.vtf
Kerwan/usermod/materials/models/gameman5804/Ratchet_and_Clank/1/Kerwan/734.nrm.vtf
Kerwan/usermod/materials/models/gameman5804/Ratchet_and_Clank/1/Kerwan/mtl_721.vmt
Kerwan/usermod/materials/models/gameman5804/Ratchet_and_Clank/1/Kerwan/332.vtf
Kerwan/usermod/materials/models/gameman5804/Ratchet_and_Clank/1/Kerwan/582.nrm.vtf
Kerwan/usermod/materials/models/gameman5804/Ratchet_and_Clank/1/Kerwan/703.vtf
Kerwan/usermod/materials/models/gameman5804/Ratchet_and_Clank/1/Kerwan/mtl_725.vmt
Kerwan/usermod/materials/models/gameman5804/Ratchet_and_Clank/1/Kerwan/mtl_719.vmt
Kerwan/usermod/materials/models/gameman5804/Ratchet_and_Clank/1/Kerwan/354.vtf
Kerwan/usermod/materials/models/gameman5804/Ratchet_and_Clank/1/Kerwan/336.nrm.vtf
Kerwan/usermod/materials/models/gameman5804/Ratchet_and_Clank/1/Kerwan/348.nrm.vtf
Kerwan/usermod/materials/models/gameman5804/Ratchet_and_Clank/1/Kerwan/641.nrm.vtf
Kerwan/usermod/materials/models/gameman5804/Ratchet_and_Clank/1/Kerwan/351.vtf
Kerwan/usermod/materials/models/gameman5804/Ratchet_and_Clank/1/Kerwan/376.nrm.vtf
Kerwan/usermod/materials/models/gameman5804/Ratchet_and_Clank/1/Kerwan/649.vtf
Kerwan/usermod/materials/models/gameman5804/Ratchet_and_Clank/1/Kerwan/717.vtf
Kerwan/usermod/materials/models/gameman5804/Ratchet_and_Clank/1/Kerwan/747.nrm.vtf
Kerwan/usermod/materials/models/gameman5804/Ratchet_and_Clank/1/Kerwan/369.vtf
Kerwan/usermod/materials/models/gameman5804/Ratchet_and_Clank/1/Kerwan/mtl_361.vmt
Kerwan/usermod/materials/models/gameman5804/Ratchet_and_Clank/1/Kerwan/mtl_331.vmt
Kerwan/usermod/materials/models/gameman5804/Ratchet_and_Clank/1/Kerwan/674.nrm.vtf
Kerwan/usermod/materials/models/gameman5804/Ratchet_and_Clank/1/Kerwan/mtl_711.vmt
Kerwan/usermod/materials/models/gameman5804/Ratchet_and_Clank/1/Kerwan/677.nrm.vtf
Kerwan/usermod/materials/models/gameman5804/Ratchet_and_Clank/1/Kerwan/mtl_597.vmt
Kerwan/usermod/materials/models/gameman5804/Ratchet_and_Clank/1/Kerwan/mtl_346.vmt
Kerwan/usermod/materials/models/gameman5804/Ratchet_and_Clank/1/Kerwan/718.vtf
Kerwan/usermod/materials/models/gameman5804/Ratchet_and_Clank/1/Kerwan/mtl_741.vmt
Kerwan/usermod/materials/models/gameman5804/Ratchet_and_Clank/1/Kerwan/539.vtf
Kerwan/usermod/materials/models/gameman5804/Ratchet_and_Clank/1/Kerwan/mtl_635.vmt
Kerwan/usermod/materials/models/gameman5804/Ratchet_and_Clank/1/Kerwan/351.nrm.vtf
Kerwan/usermod/materials/models/gameman5804/Ratchet_and_Clank/1/Kerwan/378.vtf
Kerwan/usermod/materials/models/gameman5804/Ratchet_and_Clank/1/Kerwan/mtl_337.vmt
Kerwan/usermod/materials/models/gameman5804/Ratchet_and_Clank/1/Kerwan/657.nrm.vtf
Kerwan/usermod/materials/models/gameman5804/Ratchet_and_Clank/1/Kerwan/mtl_645.vmt
Kerwan/usermod/materials/models/gameman5804/Ratchet_and_Clank/1/Kerwan/396.vtf
Kerwan/usermod/materials/models/gameman5804/Ratchet_and_Clank/1/Kerwan/mtl_356.vmt
Kerwan/usermod/materials/models/gameman5804/Ratchet_and_Clank/1/Kerwan/mtl_538.vmt
Kerwan/usermod/materials/models/gameman5804/Ratchet_and_Clank/1/Kerwan/mtl_637.vmt
Kerwan/usermod/materials/models/gameman5804/Ratchet_and_Clank/1/Kerwan/mtl_641.vmt
Kerwan/usermod/materials/models/gameman5804/Ratchet_and_Clank/1/Kerwan/mtl_334.vmt
Kerwan/usermod/materials/models/gameman5804/Ratchet_and_Clank/1/Kerwan/mtl_723.vmt
Kerwan/usermod/materials/models/gameman5804/Ratchet_and_Clank/1/Kerwan/539.nrm.vtf
Kerwan/usermod/materials/models/gameman5804/Ratchet_and_Clank/1/Kerwan/620.nrm.vtf
Kerwan/usermod/materials/models/gameman5804/Ratchet_and_Clank/1/Kerwan/593.vtf
Kerwan/usermod/materials/models/gameman5804/Ratchet_and_Clank/1/Kerwan/348.vtf
Kerwan/usermod/materials/models/gameman5804/Ratchet_and_Clank/1/Kerwan/mtl_636.vmt
Kerwan/usermod/materials/models/gameman5804/Ratchet_and_Clank/1/Kerwan/540.nrm.vtf
Kerwan/usermod/materials/models/gameman5804/Ratchet_and_Clank/1/Kerwan/361.vtf
Kerwan/usermod/materials/models/gameman5804/Ratchet_and_Clank/1/Kerwan/613.vtf
Kerwan/usermod/materials/models/gameman5804/Ratchet_and_Clank/1/Kerwan/359.vtf
Kerwan/usermod/materials/models/gameman5804/Ratchet_and_Clank/1/Kerwan/706.nrm.vtf
Kerwan/usermod/materials/models/gameman5804/Ratchet_and_Clank/1/Kerwan/mtl_578.vmt
Kerwan/usermod/materials/models/gameman5804/Ratchet_and_Clank/1/Kerwan/642.nrm.vtf
Kerwan/usermod/materials/models/gameman5804/Ratchet_and_Clank/1/Kerwan/403.vtf
Kerwan/usermod/materials/models/gameman5804/Ratchet_and_Clank/1/Kerwan/mtl_552.vmt
Kerwan/usermod/materials/models/gameman5804/Ratchet_and_Clank/1/Kerwan/755.nrm.vtf
Kerwan/usermod/materials/models/gameman5804/Ratchet_and_Clank/1/Kerwan/377.vtf
Kerwan/usermod/materials/models/gameman5804/Ratchet_and_Clank/1/Kerwan/672.vtf
Kerwan/usermod/materials/models/gameman5804/Ratchet_and_Clank/1/Kerwan/585.nrm.vtf
Kerwan/usermod/materials/models/gameman5804/Ratchet_and_Clank/1/Kerwan/749.vtf
Kerwan/usermod/materials/models/gameman5804/Ratchet_and_Clank/1/Kerwan/383.nrm.vtf
Kerwan/usermod/materials/models/gameman5804/Ratchet_and_Clank/1/Kerwan/366.vtf
Kerwan/usermod/materials/models/gameman5804/Ratchet_and_Clank/1/Kerwan/mtl_359.vmt
Kerwan/usermod/materials/models/gameman5804/Ratchet_and_Clank/1/Kerwan/mtl_698.vmt
Kerwan/usermod/materials/models/gameman5804/Ratchet_and_Clank/1/Kerwan/602.vtf
Kerwan/usermod/materials/models/gameman5804/Ratchet_and_Clank/1/Kerwan/mtl_686.vmt
Kerwan/usermod/materials/models/gameman5804/Ratchet_and_Clank/1/Kerwan/mtl_360.vmt
Kerwan/usermod/materials/models/gameman5804/Ratchet_and_Clank/1/Kerwan/742.nrm.vtf
Kerwan/usermod/materials/models/gameman5804/Ratchet_and_Clank/1/Kerwan/647.nrm.vtf
Kerwan/usermod/materials/models/gameman5804/Ratchet_and_Clank/1/Kerwan/673.nrm.vtf
Kerwan/usermod/materials/models/gameman5804/Ratchet_and_Clank/1/Kerwan/345.vtf
Kerwan/usermod/materials/models/gameman5804/Ratchet_and_Clank/1/Kerwan/531.nrm.vtf
Kerwan/usermod/materials/models/gameman5804/Ratchet_and_Clank/1/Kerwan/mtl_611.vmt
Kerwan/usermod/materials/models/gameman5804/Ratchet_and_Clank/1/Kerwan/360.vtf
Kerwan/usermod/materials/models/gameman5804/Ratchet_and_Clank/1/Kerwan/682.vtf
Kerwan/usermod/materials/models/gameman5804/Ratchet_and_Clank/1/Kerwan/331.vtf
Kerwan/usermod/materials/models/gameman5804/Ratchet_and_Clank/1/Kerwan/mtl_752.vmt
Kerwan/usermod/materials/models/gameman5804/Ratchet_and_Clank/1/Kerwan/350.vtf
Kerwan/usermod/materials/models/gameman5804/Ratchet_and_Clank/1/Kerwan/mtl_353.vmt
Kerwan/usermod/materials/models/gameman5804/Ratchet_and_Clank/1/Kerwan/642.vtf
Kerwan/usermod/materials/models/gameman5804/Ratchet_and_Clank/1/Kerwan/mtl_748.vmt
Kerwan/usermod/materials/models/gameman5804/Ratchet_and_Clank/1/Kerwan/406.vtf
Kerwan/usermod/materials/models/gameman5804/Ratchet_and_Clank/1/Kerwan/mtl_508.vmt
Kerwan/usermod/materials/models/gameman5804/Ratchet_and_Clank/1/Kerwan/724.nrm.vtf
Kerwan/usermod/materials/models/gameman5804/Ratchet_and_Clank/1/Kerwan/739.vtf
Kerwan/usermod/materials/models/gameman5804/Ratchet_and_Clank/1/Kerwan/mtl_388.vmt
Kerwan/usermod/materials/models/gameman5804/Ratchet_and_Clank/1/Kerwan/679.nrm.vtf
Kerwan/usermod/materials/models/gameman5804/Ratchet_and_Clank/1/Kerwan/342.vtf
Kerwan/usermod/materials/models/gameman5804/Ratchet_and_Clank/1/Kerwan/mtl_659.vmt
Kerwan/usermod/materials/models/gameman5804/Ratchet_and_Clank/1/Kerwan/375.vtf
Kerwan/usermod/materials/models/gameman5804/Ratchet_and_Clank/1/Kerwan/367.vtf
Kerwan/usermod/materials/models/gameman5804/Ratchet_and_Clank/1/Kerwan/367.nrm.vtf
Kerwan/usermod/materials/models/gameman5804/Ratchet_and_Clank/1/Kerwan/750.nrm.vtf
Kerwan/usermod/materials/models/gameman5804/Ratchet_and_Clank/1/Kerwan/759.vtf
Kerwan/usermod/materials/models/gameman5804/Ratchet_and_Clank/1/Kerwan/mtl_667.vmt
Kerwan/usermod/materials/models/gameman5804/Ratchet_and_Clank/1/Kerwan/654.vtf
Kerwan/usermod/materials/models/gameman5804/Ratchet_and_Clank/1/Kerwan/735.vtf
Kerwan/usermod/materials/models/gameman5804/Ratchet_and_Clank/1/Kerwan/mtl_742.vmt