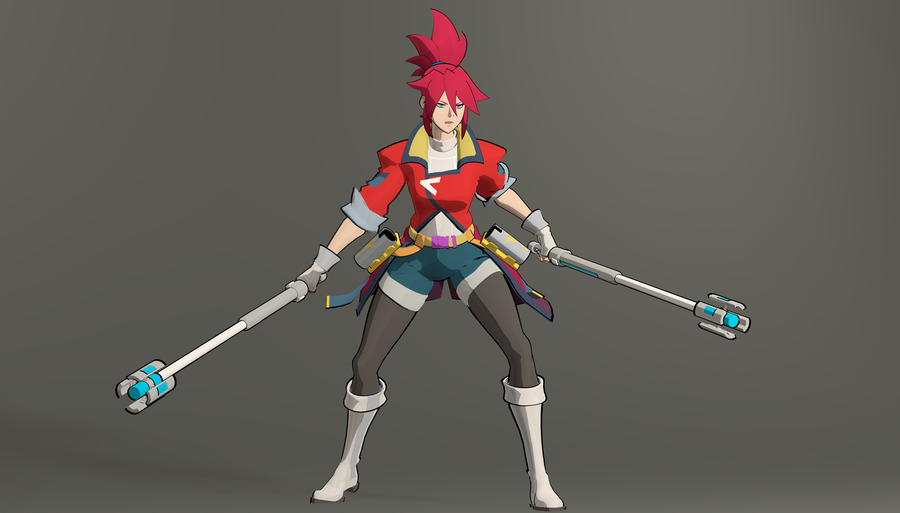 Show more
Description
--GET THE NEW FILE WITH THE OUTLINE FIX--
Here she is the head of Vandelay security Korsica.
very happy about this one as she is a personal fav of mine, and now she is ready for use in sfm
in this she a seperate model for her post fight look as well as 1 baton as they are the same so you can just duplacate it
again this was riped buy the awsome joshu76 you can find there rips here https://www.deviantart.com/joshu76 and if you aree having any problems let me know
SFMLab is a free service. However, it costs about $0.03 to deliver you a 1GB file. With over 20TB of traffic every month and growing, SFMLab needs your help. If only 1% of our users each gave us $5 for a single month, we could keep the site running for several years.
Filename
Downloads
Created
Filesize
Files
Hi-Fi_rush_Korsica_OUTLINE_FIX.zip
622
2023-02-06 04:52:11
4.92 MB
File contents:

Hi-fi rush Korsica/models/Hi-fi rush/korsica_team_member_body.vvd
Hi-fi rush Korsica/models/Hi-fi rush/korsica_team_member_body.mdl
Hi-fi rush Korsica/models/Hi-fi rush/korsica_baton.vvd
Hi-fi rush Korsica/models/Hi-fi rush/Korsica_team_Member_head.dx90.vtx
Hi-fi rush Korsica/models/Hi-fi rush/Korsica_boss_body.dx90.vtx
Hi-fi rush Korsica/models/Hi-fi rush/korsica_baton.mdl
Hi-fi rush Korsica/models/Hi-fi rush/korsica_boss_head.mdl
Hi-fi rush Korsica/models/Hi-fi rush/korsica_team_member_head.vvd
Hi-fi rush Korsica/models/Hi-fi rush/korsica_boss_head.vvd
Hi-fi rush Korsica/models/Hi-fi rush/korsica_boss_body.mdl
Hi-fi rush Korsica/models/Hi-fi rush/korsica_team_member_head.mdl
Hi-fi rush Korsica/models/Hi-fi rush/Korsica_boss_head.dx90.vtx
Hi-fi rush Korsica/models/Hi-fi rush/korsica_boss_body.vvd
Hi-fi rush Korsica/models/Hi-fi rush/Korsica_baton.dx90.vtx
Hi-fi rush Korsica/models/Hi-fi rush/Korsica_team_Member_body.dx90.vtx
Hi-fi rush Korsica/Materials/models/hi-fi rush/Korsica/flat blue.vtf
Hi-fi rush Korsica/Materials/models/hi-fi rush/Korsica/T_em4000_Face_c.vmt
Hi-fi rush Korsica/Materials/models/hi-fi rush/Korsica/T_em4000_base_c.vmt
Hi-fi rush Korsica/Materials/models/hi-fi rush/Korsica/T_ch4000_Skin.vmt
Hi-fi rush Korsica/Materials/models/hi-fi rush/Korsica/T_em4000_base_c.png
Hi-fi rush Korsica/Materials/models/hi-fi rush/Korsica/flat blue.vmt
Hi-fi rush Korsica/Materials/models/hi-fi rush/Korsica/T_ch4000_Face_c.png
Hi-fi rush Korsica/Materials/models/hi-fi rush/Korsica/T_em4000_base_c.vtf
Hi-fi rush Korsica/Materials/models/hi-fi rush/Korsica/T_wp4000_base_c.vmt
Hi-fi rush Korsica/Materials/models/hi-fi rush/Korsica/T_ch4000_Skin.vtf
Hi-fi rush Korsica/Materials/models/hi-fi rush/Korsica/T_ch4000_MetalArm_c.vmt
Hi-fi rush Korsica/Materials/models/hi-fi rush/Korsica/outline base.vtf
Hi-fi rush Korsica/Materials/models/hi-fi rush/Korsica/T_ch4000_Face_c.vtf
Hi-fi rush Korsica/Materials/models/hi-fi rush/Korsica/T_ch4000_base_c.vtf
Hi-fi rush Korsica/Materials/models/hi-fi rush/Korsica/T_wp4000_base_c.png
Hi-fi rush Korsica/Materials/models/hi-fi rush/Korsica/T_ch4000_Face_c.vmt
Hi-fi rush Korsica/Materials/models/hi-fi rush/Korsica/flat blue.png
Hi-fi rush Korsica/Materials/models/hi-fi rush/Korsica/T_ch4000_MetalArm_c.vtf
Hi-fi rush Korsica/Materials/models/hi-fi rush/Korsica/T_ch4000_base_c.png
Hi-fi rush Korsica/Materials/models/hi-fi rush/Korsica/T_wp4000_base_c.vtf
Hi-fi rush Korsica/Materials/models/hi-fi rush/Korsica/T_ch4000_MetalArm_c.png
Hi-fi rush Korsica/Materials/models/hi-fi rush/Korsica/T_em4000_Face_c.vtf
Hi-fi rush Korsica/Materials/models/hi-fi rush/Korsica/T_ch4000_base_c.vmt
Hi-fi rush Korsica/Materials/models/hi-fi rush/Korsica/lightwarptoon.vtf
Hi-fi rush Korsica/Materials/models/hi-fi rush/Korsica/T_em4000_Face_c.png
Hi-fi rush Korsica/Materials/models/hi-fi rush/Korsica/T_ch4000_Skin.png
Hi-fi rush Korsica/Materials/models/hi-fi rush/Korsica/outline base.vmt
Hi-fi rush Korsica/Materials/models/hi-fi rush/Korsica/T_em4000_hair_c.png
Hi-fi rush Korsica/Materials/models/hi-fi rush/Korsica/outline base.png
Hi-fi rush Korsica/Materials/models/hi-fi rush/Korsica/T_em4000_hair_c.vmt
Hi-fi rush Korsica/Materials/models/hi-fi rush/Korsica/normal.vtf
Hi-fi rush Korsica/Materials/models/hi-fi rush/Korsica/T_em4000_hair_c.vtf