Furry content
This content is marked as Furry/Anthro content. You can toggle your preferences regarding this content type in your account settings.
Adult content
This content is marked as Adult/NSFW content. You can toggle your preferences regarding this content type in your account settings.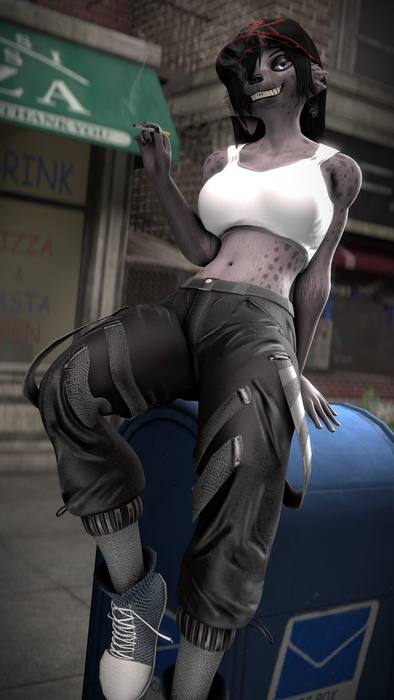 Show more
Description
The first character I've made that wasn't someone else's, and the last character I'll ever make for SFM. I packed as much detail and expressive potential as I could into this stoner wild child yeen, and the process has worn out my patience for SFM's limitations. There's a bit of jank here and there, and despite the mountain of corrective shapes, you'll need to be a bit careful when stacking too many expression flexes. All that said, she's a hell of a lot of fun to work with.
I've included the base body with built in piercing bodygroups, four different hair/hat arrangements (had to be separated to their own models due to complexity), some generic clothes that should also work with the Vega model (Props to Warfaremachine for letting me build on his clothing base), and some generic ears that should be useful for those of you who like to rebuild models into your own characters. I've also included a separate download with some texture packs you can use to re-paint Mia's body textures with your own markings designs without sacrificing the the baseline fur details. It's not quite a full blown Hyena base, but it's close enough for those of you that are resourceful about hacking together your own anthro characters.
---
Terms and conditions
Released under Creative Commons license CC-BY-NC-SA 4.0 with some commercial exceptions:
https://creativecommons.org/licenses/by-nc-sa/4.0/
Exceptions to Non-Commercial licensing: Model is only restricted from re-selling the model itself or any derivatives on storefronts (gumroad/booth.pm/etc) and subscription sites (patreon/subscribestar/etc). Render and animation commissions are allowed for commercial purposes. Commissioning an artist to re-model the geometry into a new character or convert the character to different applications (VRChat, gaming mods, etc) is also allowed, as long as the final result is not paywalled to the public. This means that the resulting model or conversion can be released for free or kept private, but cannot be sold commercially or permanently restricted to a subscription site.
I generally don't try to restrict the type of content people produce with my models when it comes to renders, animations, OC conversions, or ports. I do request that you credit me for creation of the model if you post something publicly, particularly on a conversion or port. But I'm not super strict about these kinds of things, so don't worry too much about it.
---
Credits
Character designed and modeled by AnnoAD:
https://www.furaffinity.net/user/annoad/
https://www.deviantart.com/annoad
Cargo set clothing geometry and textures created by Warfaremachine
https://www.furaffinity.net/user/mrwarfaremachine
https://twitter.com/WARFAREMCHINE
Hat geometry provided by honorboundnoob
https://www.furaffinity.net/user/honorboundnoob/
Thanks to AkikoSFM for helping out with preview posters. You can check out more of his stuff on twitter:
Finally, big shout outs to AkikoSFM, Kespr, and honorboundnoob for all of their help testing the model, making posters, and giving extensive feedback throughout the development process. Also want to shout out Kaitou and Warfaremachine for providing clutch modeling and porting advice across the many instances where SFM's arcane porting requirements started kicking me in the balls.
SFMLab is a free service. However, it costs about $0.03 to deliver you a 1GB file. With over 20TB of traffic every month and growing, SFMLab needs your help. If only 1% of our users each gave us $5 for a single month, we could keep the site running for several years.
Filename
Downloads
Created
Filesize
Files
Mia_for_SFM.zip
1603
2023-02-11 23:58:48
96.91 MB
File contents:

Readme.txt
models/AnnoAD/foxbase/genericClothes/cargopants.mdl
models/AnnoAD/foxbase/genericClothes/cargoShoes.dx90.vtx
models/AnnoAD/foxbase/genericClothes/cargoPants.dx90.vtx
models/AnnoAD/foxbase/genericClothes/cargoTop.dx90.vtx
models/AnnoAD/foxbase/genericClothes/cargotop.mdl
models/AnnoAD/foxbase/genericClothes/cargoshoes.vvd
models/AnnoAD/foxbase/genericClothes/cargoshoes.mdl
models/AnnoAD/foxbase/genericClothes/cargotop.vvd
models/AnnoAD/foxbase/genericClothes/cargopants.vvd
models/AnnoAD/foxbase/mia/mia_hairhatbangsshort.mdl
models/AnnoAD/foxbase/mia/mia_hairBangsShort.dx90.vtx
models/AnnoAD/foxbase/mia/mia.mdl
models/AnnoAD/foxbase/mia/mia.dx90.vtx
models/AnnoAD/foxbase/mia/mia_earsGeneric.dx90.vtx
models/AnnoAD/foxbase/mia/mia_hairbangslong.vvd
models/AnnoAD/foxbase/mia/mia_earsgeneric.mdl
models/AnnoAD/foxbase/mia/mia_hairhatbangslong.vvd
models/AnnoAD/foxbase/mia/mia_hairbangsshort.vvd
models/AnnoAD/foxbase/mia/mia_hairbangsshort.mdl
models/AnnoAD/foxbase/mia/mia_hairHatBangsShort.dx90.vtx
models/AnnoAD/foxbase/mia/mia_hairbangslong.mdl
models/AnnoAD/foxbase/mia/mia.vvd
models/AnnoAD/foxbase/mia/mia_earsgeneric.vvd
models/AnnoAD/foxbase/mia/mia_hairhatbangslong.mdl
models/AnnoAD/foxbase/mia/mia_hairhatbangsshort.vvd
models/AnnoAD/foxbase/mia/mia_hairHatBangsLong.dx90.vtx
models/AnnoAD/foxbase/mia/mia_hairBangsLong.dx90.vtx
scripts/sfm/animset/rig_AAD_body.py
materials/models/AnnoAD/foxbase/genericClothes/256.vtf
materials/models/AnnoAD/foxbase/genericClothes/Topper.vtf
materials/models/AnnoAD/foxbase/genericClothes/nainl.vtf
materials/models/AnnoAD/foxbase/genericClothes/cargoSet.vmt
materials/models/AnnoAD/foxbase/genericClothes/Ntopper.vtf
materials/models/AnnoAD/foxbase/genericClothes/cords.vmt
materials/models/AnnoAD/foxbase/mia/mia_internals_Albedo_1011.vtf
materials/models/AnnoAD/foxbase/mia/eyeSurface6.vmt
materials/models/AnnoAD/foxbase/mia/gold_sandwich_cubemap.vtf
materials/models/AnnoAD/foxbase/mia/gums.vmt
materials/models/AnnoAD/foxbase/mia/eyebrows.vmt
materials/models/AnnoAD/foxbase/mia/footClaws.vmt
materials/models/AnnoAD/foxbase/mia/mia_teeth_Normal_1031.vtf
materials/models/AnnoAD/foxbase/mia/black.vtf
materials/models/AnnoAD/foxbase/mia/earRings4.vmt
materials/models/AnnoAD/foxbase/mia/earRings5.vmt
materials/models/AnnoAD/foxbase/mia/instructions.vtf
materials/models/AnnoAD/foxbase/mia/tongue.vmt
materials/models/AnnoAD/foxbase/mia/earRings6.vmt
materials/models/AnnoAD/foxbase/mia/hair_Albedo_1001.vtf
materials/models/AnnoAD/foxbase/mia/Piercings2.vmt
materials/models/AnnoAD/foxbase/mia/hair.vmt
materials/models/AnnoAD/foxbase/mia/eyelidShroud.vmt
materials/models/AnnoAD/foxbase/mia/hair_Normal_1001.vtf
materials/models/AnnoAD/foxbase/mia/eyeTexture_diffuse.vtf
materials/models/AnnoAD/foxbase/mia/mia_tonguePiercingColor.vtf
materials/models/AnnoAD/foxbase/mia/eyeSurface2.vmt
materials/models/AnnoAD/foxbase/mia/hat.vmt
materials/models/AnnoAD/foxbase/mia/mia_Fur_Exponent_1002.vtf
materials/models/AnnoAD/foxbase/mia/hatOuter.vmt
materials/models/AnnoAD/foxbase/mia/mia_tonguePiercingColor_alt.vtf
materials/models/AnnoAD/foxbase/mia/phong.vtf
materials/models/AnnoAD/foxbase/mia/eyeballs.vmt
materials/models/AnnoAD/foxbase/mia/hatV2_Hat_Albedo_1001.vtf
materials/models/AnnoAD/foxbase/mia/hatnormal.vtf
materials/models/AnnoAD/foxbase/mia/eyeSurface5.vmt
materials/models/AnnoAD/foxbase/mia/mia_tail_Normal_1005.vtf
materials/models/AnnoAD/foxbase/mia/mia_Piercings_Albedo_1071_alt.vtf
materials/models/AnnoAD/foxbase/mia/pupils.vmt
materials/models/AnnoAD/foxbase/mia/mia_Fur_Albedo_1001.vtf
materials/models/AnnoAD/foxbase/mia/mia_earFluff_Albedo_1063.vtf
materials/models/AnnoAD/foxbase/mia/eyeTexture_normal.vtf
materials/models/AnnoAD/foxbase/mia/teeth.vmt
materials/models/AnnoAD/foxbase/mia/mia_teeth_Albedo_1031.vtf
materials/models/AnnoAD/foxbase/mia/mia_Fur_Normal_1001.vtf
materials/models/AnnoAD/foxbase/mia/phongwarp_silk.vtf
materials/models/AnnoAD/foxbase/mia/hatV2_Hat_Albedo_1002.vtf
materials/models/AnnoAD/foxbase/mia/mia_internals_Albedo_1013.vtf
materials/models/AnnoAD/foxbase/mia/mia_Fur_Albedo_1004.vtf
materials/models/AnnoAD/foxbase/mia/mia_Fur_Normal_1003.vtf
materials/models/AnnoAD/foxbase/mia/eyeSurface.vmt
materials/models/AnnoAD/foxbase/mia/Piercings6.vmt
materials/models/AnnoAD/foxbase/mia/eyeTestBlk.vmt
materials/models/AnnoAD/foxbase/mia/earRings.vmt
materials/models/AnnoAD/foxbase/mia/mia_tail_Exponent_1005.vtf
materials/models/AnnoAD/foxbase/mia/earRings3.vmt
materials/models/AnnoAD/foxbase/mia/Piercings5.vmt
materials/models/AnnoAD/foxbase/mia/mia_Fur_Albedo_1002.vtf
materials/models/AnnoAD/foxbase/mia/hatV2_Hat_Normal_1002.vtf
materials/models/AnnoAD/foxbase/mia/mia_Fur_Exponent_1004.vtf
materials/models/AnnoAD/foxbase/mia/tail.vmt
materials/models/AnnoAD/foxbase/mia/mia_lips_nose_Normal_1021.vtf
materials/models/AnnoAD/foxbase/mia/mia_internals_Normal_1011.vtf
materials/models/AnnoAD/foxbase/mia/mia_earFluff_Normal_1063.vtf
materials/models/AnnoAD/foxbase/mia/Piercings.vmt
materials/models/AnnoAD/foxbase/mia/lips_nose.vmt
materials/models/AnnoAD/foxbase/mia/instructions.vmt
materials/models/AnnoAD/foxbase/mia/white.vtf
materials/models/AnnoAD/foxbase/mia/head.vmt
materials/models/AnnoAD/foxbase/mia/Hat.vtf
materials/models/AnnoAD/foxbase/mia/mia_Fur_Albedo_1003.vtf
materials/models/AnnoAD/foxbase/mia/eyeSurface3.vmt
materials/models/AnnoAD/foxbase/mia/mia_Fur_Exponent_1003.vtf
materials/models/AnnoAD/foxbase/mia/mia_Fur_Exponent_1001.vtf
materials/models/AnnoAD/foxbase/mia/genitals.vmt
materials/models/AnnoAD/foxbase/mia/FLATNRM.vtf
materials/models/AnnoAD/foxbase/mia/mia_internals_Albedo_1012.vtf
materials/models/AnnoAD/foxbase/mia/hatInnerBill.vmt
materials/models/AnnoAD/foxbase/mia/Piercings4.vmt
materials/models/AnnoAD/foxbase/mia/mia_eyebrows_Normal_1022.vtf
materials/models/AnnoAD/foxbase/mia/nails.vmt
materials/models/AnnoAD/foxbase/mia/mia_Fur_Normal_1002.vtf
materials/models/AnnoAD/foxbase/mia/mia_internals_Normal_1013.vtf
materials/models/AnnoAD/foxbase/mia/torso.vmt
materials/models/AnnoAD/foxbase/mia/earFluff.vmt
materials/models/AnnoAD/foxbase/mia/eyeViolet.vtf
materials/models/AnnoAD/foxbase/mia/earOuter.vmt
materials/models/AnnoAD/foxbase/mia/mia_tail_Albedo_1005.vtf
materials/models/AnnoAD/foxbase/mia/mia_Fur_Normal_1004.vtf
materials/models/AnnoAD/foxbase/mia/eyeTestWht.vmt
materials/models/AnnoAD/foxbase/mia/eyeSurface4.vmt
materials/models/AnnoAD/foxbase/mia/mia_Piercings_Normal_1071.vtf
materials/models/AnnoAD/foxbase/mia/mia_earFluff_exponent_1063.vtf
materials/models/AnnoAD/foxbase/mia/mia_internals_Normal_1012.vtf
materials/models/AnnoAD/foxbase/mia/cubemap_silver.vtf
materials/models/AnnoAD/foxbase/mia/mouthInterior.vmt
materials/models/AnnoAD/foxbase/mia/mia_eyebrows_Albedo_1022.vtf
materials/models/AnnoAD/foxbase/mia/earInner.vmt
materials/models/AnnoAD/foxbase/mia/eyeTestVlt.vmt
materials/models/AnnoAD/foxbase/mia/mia_Piercings_Albedo_1071.vtf
materials/models/AnnoAD/foxbase/mia/earRings2.vmt
materials/models/AnnoAD/foxbase/mia/Piercings3.vmt
materials/models/AnnoAD/foxbase/mia/hair_exponent_1001.vtf
materials/models/AnnoAD/foxbase/mia/phongwarp_gold.vtf
materials/models/AnnoAD/foxbase/mia/hatV2_Hat_Normal_1001.vtf




Mia_to_Generic_Hyena_Recoloring_Kit.zip
574
2023-02-12 00:10:26
274.41 MB
File contents:

Recolor Assets Readme.txt
VTF(Blank With Green Markings)/mia_Fur_Albedo_1001.vtf
VTF(Blank With Green Markings)/mia_earFluff_Albedo_1063.vtf
VTF(Blank With Green Markings)/mia_Fur_Albedo_1004.vtf
VTF(Blank With Green Markings)/mia_Fur_Albedo_1002.vtf
VTF(Blank With Green Markings)/mia_Fur_Albedo_1003.vtf
VTF(Blank With Green Markings)/mia_tail_Albedo_1005.vtf
VTF(Original Textures)/mia_Fur_Albedo_1001.vtf
VTF(Original Textures)/mia_earFluff_Albedo_1063.vtf
VTF(Original Textures)/mia_Fur_Albedo_1004.vtf
VTF(Original Textures)/mia_Fur_Albedo_1002.vtf
VTF(Original Textures)/mia_Fur_Albedo_1003.vtf
VTF(Original Textures)/mia_tail_Albedo_1005.vtf
PNG(Blank White)/mia_tail_Albedo_1005.png
PNG(Blank White)/mia_Fur_Albedo_1004.png
PNG(Blank White)/mia_Fur_Albedo_1003.png
PNG(Blank White)/mia_Fur_Albedo_1002.png
PNG(Blank White)/mia_Fur_Albedo_1001.png
PNG(Blank White)/mia_earFluff_Albedo_1063.png
PNG(Original Textures)/mia_tail_Albedo_1005.png
PNG(Original Textures)/mia_Fur_Albedo_1004.png
PNG(Original Textures)/mia_Fur_Albedo_1003.png
PNG(Original Textures)/mia_Fur_Albedo_1002.png
PNG(Original Textures)/mia_Fur_Albedo_1001.png
PNG(Original Textures)/mia_earFluff_Albedo_1063.png
Eye Color Textures/eyeTexture_diffuse.psd
Eye Color Textures/pink/eyeTexture_diffuse.vtf
Eye Color Textures/pink/eyeTexture_diffuse.png
Eye Color Textures/green/eyeTexture_diffuse.vtf
Eye Color Textures/green/eyeTexture_diffuse.png
Eye Color Textures/red/eyeTexture_diffuse.vtf
Eye Color Textures/red/eyeTexture_diffuse.png
Eye Color Textures/yellow/eyeTexture_diffuse.vtf
Eye Color Textures/yellow/eyeTexture_diffuse.png
Eye Color Textures/violet (original)/eyeTexture_diffuse.png
Eye Color Textures/dark blue/eyeTexture_diffuse.vtf
Eye Color Textures/dark blue/eyeTexture_diffuse.png
Eye Color Textures/silver/eyeTexture_diffuse.vtf
Eye Color Textures/silver/eyeTexture_diffuse.png
Eye Color Textures/orange/eyeTexture_diffuse.vtf
Eye Color Textures/orange/eyeTexture_diffuse.png
Eye Color Textures/cyan/eyeTexture_diffuse.vtf
Eye Color Textures/cyan/eyeTexture_diffuse.png
Eye Color Textures/light blue/eyeTexture_diffuse.vtf
Eye Color Textures/light blue/eyeTexture_diffuse.png
VTF(Blank White)/mia_Fur_Albedo_1001.vtf
VTF(Blank White)/mia_earFluff_Albedo_1063.vtf
VTF(Blank White)/mia_Fur_Albedo_1004.vtf
VTF(Blank White)/mia_Fur_Albedo_1002.vtf
VTF(Blank White)/mia_Fur_Albedo_1003.vtf
VTF(Blank White)/mia_tail_Albedo_1005.vtf
PNG(Blank With Green Markings)/mia_tail_Albedo_1005.png
PNG(Blank With Green Markings)/mia_Fur_Albedo_1004.png
PNG(Blank With Green Markings)/mia_Fur_Albedo_1003.png
PNG(Blank With Green Markings)/mia_Fur_Albedo_1002.png
PNG(Blank With Green Markings)/mia_Fur_Albedo_1001.png
PNG(Blank With Green Markings)/mia_earFluff_Albedo_1063.png