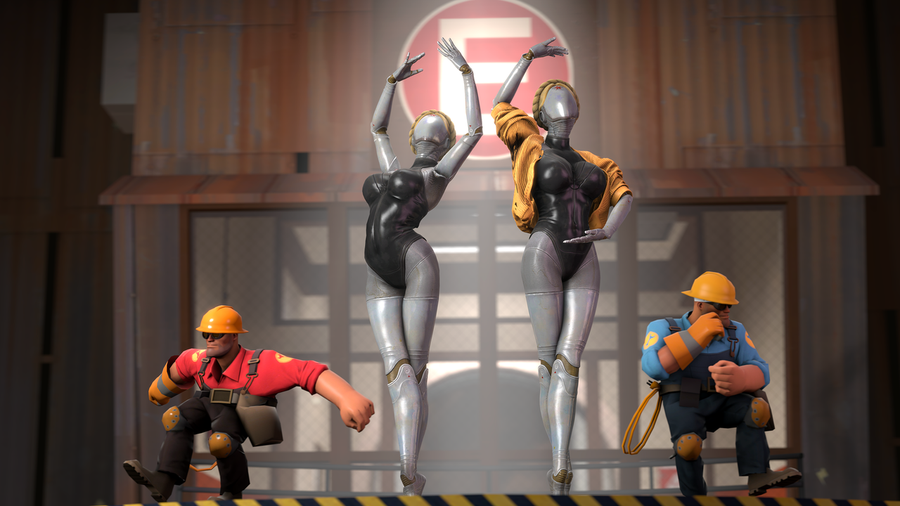 Show more
Description
This port wasn't the easiest, but in the end got everything that I wanted in. There's even the unused alternate robot parts available via bodygroups. Not even the blender release on smutba.se has those.
If she spawns out-of-bounds or inside objects, the cubemap reflections might bug out. Reposition model, then reload to fix this. Reflections will not work on maps without cubemaps, like stage.bsp. If there's still problems, try "mat_reloadallmaterials" in the console.
Features
works with rig_biped_simple
make sure to "show hidden controls" after applying rig
extend the horn hidden inside her forehead by using the two control bones
scale control on breasts will work up to values of around 0.15 max. Scale responsibly! :)
bodygrouped alternate parts
3 skins:
0 - static cubemap reflections (always available)
1 - uses the map's cubemap reflections
2 - cubemap reflections deactivated
Includes
jawsfm\Atomic Heart\Ballerina\Ballerina Twin.mdl
Changelog
V1.3
V1.2
removed ALL "zipper" bones, the zipper is now controlled by flexes only
slightly darkened metal textures
fixed old body left ear
V1.1
fix hair bodygroup swapping
add one missing "noenv" material
Credits
Atomic Heart - Mundfish
Ripping, Port - JawSFM
SFMLab is a free service. However, it costs about $0.03 to deliver you a 1GB file. With over 20TB of traffic every month and growing, SFMLab needs your help. If only 1% of our users each gave us $5 for a single month, we could keep the site running for several years.
Filename
Downloads
Created
Filesize
Files
Atomic_Heart_Ballerina_Twins_SFM_V1.3.7z
2319
2023-02-28 22:15:42
57.27 MB
File contents:

models/jawsfm/atomic heart/ballerina/ballerina twin.vvd
models/jawsfm/atomic heart/ballerina/ballerina twin.mdl
models/jawsfm/atomic heart/ballerina/Ballerina Twin.dx90.vtx
materials/jawsfm/Atomic Heart/Ballerina/StarMat.vmt
materials/jawsfm/Atomic Heart/Ballerina/Hair_Old_D.vtf
materials/jawsfm/Atomic Heart/Ballerina/BodyMat_mapenv.vmt
materials/jawsfm/Atomic Heart/Ballerina/Face_D.vtf
materials/jawsfm/Atomic Heart/Ballerina/Hair_Old_N.vtf
materials/jawsfm/Atomic Heart/Ballerina/Body_N.vtf
materials/jawsfm/Atomic Heart/Ballerina/Jacket_D.vtf
materials/jawsfm/Atomic Heart/Ballerina/Hair2_D.vtf
materials/jawsfm/Atomic Heart/Ballerina/ArmsLegsOld_D.vtf
materials/jawsfm/Atomic Heart/Ballerina/ArmsLegsOldMat.vmt
materials/jawsfm/Atomic Heart/Ballerina/Empty_nrm.vtf
materials/jawsfm/Atomic Heart/Ballerina/BodyOld_D.vtf
materials/jawsfm/Atomic Heart/Ballerina/Hair2Mat.vmt
materials/jawsfm/Atomic Heart/Ballerina/Shoes_D.vtf
materials/jawsfm/Atomic Heart/Ballerina/Mask_D.vtf
materials/jawsfm/Atomic Heart/Ballerina/ClothesMat.vmt
materials/jawsfm/Atomic Heart/Ballerina/BodyOld_Edit_D.vtf
materials/jawsfm/Atomic Heart/Ballerina/ShoesMat_mapenv.vmt
materials/jawsfm/Atomic Heart/Ballerina/MaskMat.vmt
materials/jawsfm/Atomic Heart/Ballerina/ArmsLegsOld_N.vtf
materials/jawsfm/Atomic Heart/Ballerina/ShoesOldMat.vmt
materials/jawsfm/Atomic Heart/Ballerina/Lashes_D.vtf
materials/jawsfm/Atomic Heart/Ballerina/ArmsLegsMat_mapenv.vmt
materials/jawsfm/Atomic Heart/Ballerina/ShoesMat.vmt
materials/jawsfm/Atomic Heart/Ballerina/NeckMat.vmt
materials/jawsfm/Atomic Heart/Ballerina/painted_silver.vtf
materials/jawsfm/Atomic Heart/Ballerina/Glove_D.vtf
materials/jawsfm/Atomic Heart/Ballerina/Clothes_N.vtf
materials/jawsfm/Atomic Heart/Ballerina/Horn_D.vtf
materials/jawsfm/Atomic Heart/Ballerina/MaskOldMat.vmt
materials/jawsfm/Atomic Heart/Ballerina/BodyOldMat.vmt
materials/jawsfm/Atomic Heart/Ballerina/MaskOld_D.vtf
materials/jawsfm/Atomic Heart/Ballerina/Eye_D.vtf
materials/jawsfm/Atomic Heart/Ballerina/HairOld_N.vtf
materials/jawsfm/Atomic Heart/Ballerina/MaskOld_N.vtf
materials/jawsfm/Atomic Heart/Ballerina/Hair_D.vtf
materials/jawsfm/Atomic Heart/Ballerina/Shoes_N.vtf
materials/jawsfm/Atomic Heart/Ballerina/ArmsLegsMat.vmt
materials/jawsfm/Atomic Heart/Ballerina/Hair_N.vtf
materials/jawsfm/Atomic Heart/Ballerina/Mask_N.vtf
materials/jawsfm/Atomic Heart/Ballerina/Neck_N.vtf
materials/jawsfm/Atomic Heart/Ballerina/Glove_N.vtf
materials/jawsfm/Atomic Heart/Ballerina/ShoesOld_D.vtf
materials/jawsfm/Atomic Heart/Ballerina/Hair2_N.vtf
materials/jawsfm/Atomic Heart/Ballerina/HornMat_noenv.vmt
materials/jawsfm/Atomic Heart/Ballerina/Lashes_N.vtf
materials/jawsfm/Atomic Heart/Ballerina/Star_D.vtf
materials/jawsfm/Atomic Heart/Ballerina/ArmsLegsMat_noenv.vmt
materials/jawsfm/Atomic Heart/Ballerina/Eye_N.vtf
materials/jawsfm/Atomic Heart/Ballerina/Clothes_D.vtf
materials/jawsfm/Atomic Heart/Ballerina/BodyOld_N.vtf
materials/jawsfm/Atomic Heart/Ballerina/MaskMat_mapenv.vmt
materials/jawsfm/Atomic Heart/Ballerina/NeckMat_noenv.vmt
materials/jawsfm/Atomic Heart/Ballerina/ClothesOld_N.vtf
materials/jawsfm/Atomic Heart/Ballerina/LashesMat.vmt
materials/jawsfm/Atomic Heart/Ballerina/BodyMat.vmt
materials/jawsfm/Atomic Heart/Ballerina/EyeMat.vmt
materials/jawsfm/Atomic Heart/Ballerina/ArmsLegs_D.vtf
materials/jawsfm/Atomic Heart/Ballerina/HairMat.vmt
materials/jawsfm/Atomic Heart/Ballerina/HornMat.vmt
materials/jawsfm/Atomic Heart/Ballerina/NeckMat_mapenv.vmt
materials/jawsfm/Atomic Heart/Ballerina/MaskMat_noenv.vmt
materials/jawsfm/Atomic Heart/Ballerina/ClothesOld_D.vtf
materials/jawsfm/Atomic Heart/Ballerina/Jacket_N.vtf
materials/jawsfm/Atomic Heart/Ballerina/ArmsLegs_N.vtf
materials/jawsfm/Atomic Heart/Ballerina/ShoesMat_noenv.vmt
materials/jawsfm/Atomic Heart/Ballerina/HairOld_D.vtf
materials/jawsfm/Atomic Heart/Ballerina/ShoesOld_N.vtf
materials/jawsfm/Atomic Heart/Ballerina/ClothesOldMat.vmt
materials/jawsfm/Atomic Heart/Ballerina/Star_N.vtf
materials/jawsfm/Atomic Heart/Ballerina/Neck_D.vtf
materials/jawsfm/Atomic Heart/Ballerina/JacketMat.vmt
materials/jawsfm/Atomic Heart/Ballerina/ClothesMat_noenv.vmt
materials/jawsfm/Atomic Heart/Ballerina/FaceMat.vmt
materials/jawsfm/Atomic Heart/Ballerina/Body_D.vtf
materials/jawsfm/Atomic Heart/Ballerina/Horn_N.vtf
materials/jawsfm/Atomic Heart/Ballerina/BodyMat_noenv.vmt
materials/jawsfm/Atomic Heart/Ballerina/HairOldMat.vmt




Atomic_Heart_Ballerina_Twins_SFM_V1.2.7z
719
2023-02-25 20:47:55
56.51 MB
File contents:

models/jawsfm/atomic heart/ballerina/ballerina twin.vvd
models/jawsfm/atomic heart/ballerina/ballerina twin.mdl
models/jawsfm/atomic heart/ballerina/Ballerina Twin.dx90.vtx
materials/jawsfm/Atomic Heart/Ballerina/StarMat.vmt
materials/jawsfm/Atomic Heart/Ballerina/Hair_Old_D.vtf
materials/jawsfm/Atomic Heart/Ballerina/Face_D.vtf
materials/jawsfm/Atomic Heart/Ballerina/Hair_Old_N.vtf
materials/jawsfm/Atomic Heart/Ballerina/Body_N.vtf
materials/jawsfm/Atomic Heart/Ballerina/Jacket_D.vtf
materials/jawsfm/Atomic Heart/Ballerina/Hair2_D.vtf
materials/jawsfm/Atomic Heart/Ballerina/ArmsLegsOld_D.vtf
materials/jawsfm/Atomic Heart/Ballerina/ArmsLegsOldMat.vmt
materials/jawsfm/Atomic Heart/Ballerina/Empty_nrm.vtf
materials/jawsfm/Atomic Heart/Ballerina/BodyOld_D.vtf
materials/jawsfm/Atomic Heart/Ballerina/Hair2Mat.vmt
materials/jawsfm/Atomic Heart/Ballerina/Shoes_D.vtf
materials/jawsfm/Atomic Heart/Ballerina/Mask_D.vtf
materials/jawsfm/Atomic Heart/Ballerina/ClothesMat.vmt
materials/jawsfm/Atomic Heart/Ballerina/BodyOld_Edit_D.vtf
materials/jawsfm/Atomic Heart/Ballerina/MaskMat.vmt
materials/jawsfm/Atomic Heart/Ballerina/ArmsLegsOld_N.vtf
materials/jawsfm/Atomic Heart/Ballerina/ShoesOldMat.vmt
materials/jawsfm/Atomic Heart/Ballerina/Lashes_D.vtf
materials/jawsfm/Atomic Heart/Ballerina/ShoesMat.vmt
materials/jawsfm/Atomic Heart/Ballerina/NeckMat.vmt
materials/jawsfm/Atomic Heart/Ballerina/Glove_D.vtf
materials/jawsfm/Atomic Heart/Ballerina/Clothes_N.vtf
materials/jawsfm/Atomic Heart/Ballerina/Horn_D.vtf
materials/jawsfm/Atomic Heart/Ballerina/MaskOldMat.vmt
materials/jawsfm/Atomic Heart/Ballerina/BodyOldMat.vmt
materials/jawsfm/Atomic Heart/Ballerina/MaskOld_D.vtf
materials/jawsfm/Atomic Heart/Ballerina/Eye_D.vtf
materials/jawsfm/Atomic Heart/Ballerina/HairOld_N.vtf
materials/jawsfm/Atomic Heart/Ballerina/MaskOld_N.vtf
materials/jawsfm/Atomic Heart/Ballerina/Hair_D.vtf
materials/jawsfm/Atomic Heart/Ballerina/Shoes_N.vtf
materials/jawsfm/Atomic Heart/Ballerina/ArmsLegsMat.vmt
materials/jawsfm/Atomic Heart/Ballerina/Hair_N.vtf
materials/jawsfm/Atomic Heart/Ballerina/Mask_N.vtf
materials/jawsfm/Atomic Heart/Ballerina/Neck_N.vtf
materials/jawsfm/Atomic Heart/Ballerina/Glove_N.vtf
materials/jawsfm/Atomic Heart/Ballerina/ShoesOld_D.vtf
materials/jawsfm/Atomic Heart/Ballerina/Hair2_N.vtf
materials/jawsfm/Atomic Heart/Ballerina/HornMat_noenv.vmt
materials/jawsfm/Atomic Heart/Ballerina/Lashes_N.vtf
materials/jawsfm/Atomic Heart/Ballerina/Star_D.vtf
materials/jawsfm/Atomic Heart/Ballerina/ArmsLegsMat_noenv.vmt
materials/jawsfm/Atomic Heart/Ballerina/Eye_N.vtf
materials/jawsfm/Atomic Heart/Ballerina/Clothes_D.vtf
materials/jawsfm/Atomic Heart/Ballerina/BodyOld_N.vtf
materials/jawsfm/Atomic Heart/Ballerina/NeckMat_noenv.vmt
materials/jawsfm/Atomic Heart/Ballerina/ClothesOld_N.vtf
materials/jawsfm/Atomic Heart/Ballerina/LashesMat.vmt
materials/jawsfm/Atomic Heart/Ballerina/BodyMat.vmt
materials/jawsfm/Atomic Heart/Ballerina/EyeMat.vmt
materials/jawsfm/Atomic Heart/Ballerina/ArmsLegs_D.vtf
materials/jawsfm/Atomic Heart/Ballerina/HairMat.vmt
materials/jawsfm/Atomic Heart/Ballerina/HornMat.vmt
materials/jawsfm/Atomic Heart/Ballerina/MaskMat_noenv.vmt
materials/jawsfm/Atomic Heart/Ballerina/ClothesOld_D.vtf
materials/jawsfm/Atomic Heart/Ballerina/Jacket_N.vtf
materials/jawsfm/Atomic Heart/Ballerina/ArmsLegs_N.vtf
materials/jawsfm/Atomic Heart/Ballerina/ShoesMat_noenv.vmt
materials/jawsfm/Atomic Heart/Ballerina/HairOld_D.vtf
materials/jawsfm/Atomic Heart/Ballerina/ShoesOld_N.vtf
materials/jawsfm/Atomic Heart/Ballerina/ClothesOldMat.vmt
materials/jawsfm/Atomic Heart/Ballerina/Star_N.vtf
materials/jawsfm/Atomic Heart/Ballerina/Neck_D.vtf
materials/jawsfm/Atomic Heart/Ballerina/JacketMat.vmt
materials/jawsfm/Atomic Heart/Ballerina/ClothesMat_noenv.vmt
materials/jawsfm/Atomic Heart/Ballerina/FaceMat.vmt
materials/jawsfm/Atomic Heart/Ballerina/Body_D.vtf
materials/jawsfm/Atomic Heart/Ballerina/Horn_N.vtf
materials/jawsfm/Atomic Heart/Ballerina/BodyMat_noenv.vmt
materials/jawsfm/Atomic Heart/Ballerina/HairOldMat.vmt