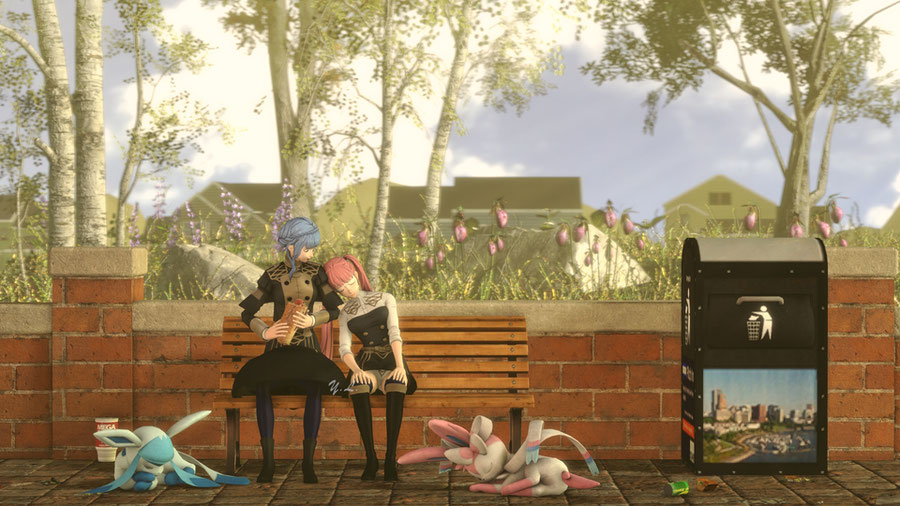 Show more
Description
Alternative Mirror: https://mega.nz/#F%21zbZCWSwQ%21pOQCmLhOEQH98k6dzR_EZA
---
To install this addon, extract the contents of this folder and drag them into "steamapps\common\SourceFilmmaker\game\usermod"
---
Source: Pokemon Scarlet and Violet
---
This model pack contains all Eeveelutions from Scarlet and Violet. See below for the full list.
---
This pack contains the following:
Eevee
Vaporeon
Jolteon
Flareon
Espeon
Umbreon
Leafeon
Glaceon
Sylveon
Features:
Animations
Shiny skingroups.
Faceposing
Eyeposing where applicable
---
FAQ:
Q: Can you port a model for me? A: Sorry, I don't take requests.
Q: Can I modify these models? A: You are allowed to modify these models in any way. However, please provide proper credits to me if you are modifying my ports.
Q: Can I port these models to other software like MMD? A: You are more than welcome to do so as long as you provide credits to me for using my port. However, be aware that these models have been modified to work in Source Engine and are specifically meant to used in Source Engine only.
---
Credits:
Yunpol - Ported the models into SFM.
Karasz, Mister Prawn - Testing - Model Testing
---
Disclaimer: All characters are from ©Nintendo and Game Freak.
SFMLab is a free service. However, it costs about $0.03 to deliver you a 1GB file. With over 20TB of traffic every month and growing, SFMLab needs your help. If only 1% of our users each gave us $5 for a single month, we could keep the site running for several years.
Filename
Downloads
Created
Filesize
Files
Yunpols_Pokemon_Eeveelutions_SV_Edition_05_21_23.zip
150
2023-05-22 06:35:49
31.31 MB
File contents:

Yunpol's Pokemon Eeveelutions (SV Edition)/models/yunpolmodels/pokemonng/eeveelutions/(0196) - Espeon.mdl
Yunpol's Pokemon Eeveelutions (SV Edition)/models/yunpolmodels/pokemonng/eeveelutions/(0197) - Umbreon.vvd
Yunpol's Pokemon Eeveelutions (SV Edition)/models/yunpolmodels/pokemonng/eeveelutions/(0470) - Leafeon.mdl
Yunpol's Pokemon Eeveelutions (SV Edition)/models/yunpolmodels/pokemonng/eeveelutions/(0471) - Glaceon.dx90.vtx
Yunpol's Pokemon Eeveelutions (SV Edition)/models/yunpolmodels/pokemonng/eeveelutions/(0133) - Eevee.mdl
Yunpol's Pokemon Eeveelutions (SV Edition)/models/yunpolmodels/pokemonng/eeveelutions/(0135) - Jolteon.dx90.vtx
Yunpol's Pokemon Eeveelutions (SV Edition)/models/yunpolmodels/pokemonng/eeveelutions/(0196) - Espeon.dx90.vtx
Yunpol's Pokemon Eeveelutions (SV Edition)/models/yunpolmodels/pokemonng/eeveelutions/(0135) - Jolteon.mdl
Yunpol's Pokemon Eeveelutions (SV Edition)/models/yunpolmodels/pokemonng/eeveelutions/(0471) - Glaceon.vvd
Yunpol's Pokemon Eeveelutions (SV Edition)/models/yunpolmodels/pokemonng/eeveelutions/(0136) - Flareon.vvd
Yunpol's Pokemon Eeveelutions (SV Edition)/models/yunpolmodels/pokemonng/eeveelutions/(0470) - Leafeon.vvd
Yunpol's Pokemon Eeveelutions (SV Edition)/models/yunpolmodels/pokemonng/eeveelutions/(0135) - Jolteon.vvd
Yunpol's Pokemon Eeveelutions (SV Edition)/models/yunpolmodels/pokemonng/eeveelutions/(0470) - Leafeon.dx90.vtx
Yunpol's Pokemon Eeveelutions (SV Edition)/models/yunpolmodels/pokemonng/eeveelutions/(0700) - Sylveon.vvd
Yunpol's Pokemon Eeveelutions (SV Edition)/models/yunpolmodels/pokemonng/eeveelutions/(0134) - Vaporeon.vvd
Yunpol's Pokemon Eeveelutions (SV Edition)/models/yunpolmodels/pokemonng/eeveelutions/(0136) - Flareon.mdl
Yunpol's Pokemon Eeveelutions (SV Edition)/models/yunpolmodels/pokemonng/eeveelutions/(0133) - Eevee.vvd
Yunpol's Pokemon Eeveelutions (SV Edition)/models/yunpolmodels/pokemonng/eeveelutions/(0134) - Vaporeon.mdl
Yunpol's Pokemon Eeveelutions (SV Edition)/models/yunpolmodels/pokemonng/eeveelutions/(0197) - Umbreon.dx90.vtx
Yunpol's Pokemon Eeveelutions (SV Edition)/models/yunpolmodels/pokemonng/eeveelutions/(0700) - Sylveon.dx90.vtx
Yunpol's Pokemon Eeveelutions (SV Edition)/models/yunpolmodels/pokemonng/eeveelutions/(0197) - Umbreon.mdl
Yunpol's Pokemon Eeveelutions (SV Edition)/models/yunpolmodels/pokemonng/eeveelutions/(0136) - Flareon.dx90.vtx
Yunpol's Pokemon Eeveelutions (SV Edition)/models/yunpolmodels/pokemonng/eeveelutions/(0196) - Espeon.vvd
Yunpol's Pokemon Eeveelutions (SV Edition)/models/yunpolmodels/pokemonng/eeveelutions/(0133) - Eevee.dx90.vtx
Yunpol's Pokemon Eeveelutions (SV Edition)/models/yunpolmodels/pokemonng/eeveelutions/(0700) - Sylveon.mdl
Yunpol's Pokemon Eeveelutions (SV Edition)/models/yunpolmodels/pokemonng/eeveelutions/(0471) - Glaceon.mdl
Yunpol's Pokemon Eeveelutions (SV Edition)/models/yunpolmodels/pokemonng/eeveelutions/(0134) - Vaporeon.dx90.vtx
Yunpol's Pokemon Eeveelutions (SV Edition)/materials/models/yunpolmodels/pokemonNG/shared/phong.vtf
Yunpol's Pokemon Eeveelutions (SV Edition)/materials/models/yunpolmodels/pokemonNG/shared/cartoon_chrome.vtf
Yunpol's Pokemon Eeveelutions (SV Edition)/materials/models/yunpolmodels/pokemonNG/shared/painted_silver.vtf
Yunpol's Pokemon Eeveelutions (SV Edition)/materials/models/yunpolmodels/pokemonNG/shared/albedotint.vtf
Yunpol's Pokemon Eeveelutions (SV Edition)/materials/models/yunpolmodels/pokemonNG/shared/eye/eye_lightwarp.vtf
Yunpol's Pokemon Eeveelutions (SV Edition)/materials/models/yunpolmodels/pokemonNG/shared/eye/eye_ao.vtf
Yunpol's Pokemon Eeveelutions (SV Edition)/materials/models/yunpolmodels/pokemonNG/shared/eye/eye_cubemap.vtf
Yunpol's Pokemon Eeveelutions (SV Edition)/materials/models/yunpolmodels/pokemonNG/shared/eye/eye_cornea.vtf
Yunpol's Pokemon Eeveelutions (SV Edition)/materials/models/yunpolmodels/pokemonNG/eeveelutions/(0134) - Vaporeon/pm0134_00_00_body_a_rare_alb.vtf
Yunpol's Pokemon Eeveelutions (SV Edition)/materials/models/yunpolmodels/pokemonNG/eeveelutions/(0134) - Vaporeon/pm0134_00_00_reye_alb.vmt
Yunpol's Pokemon Eeveelutions (SV Edition)/materials/models/yunpolmodels/pokemonNG/eeveelutions/(0134) - Vaporeon/pm0134_00_00_leye_alb.vmt
Yunpol's Pokemon Eeveelutions (SV Edition)/materials/models/yunpolmodels/pokemonNG/eeveelutions/(0134) - Vaporeon/pm0134_00_00_body_b_rare_alb.vtf
Yunpol's Pokemon Eeveelutions (SV Edition)/materials/models/yunpolmodels/pokemonNG/eeveelutions/(0134) - Vaporeon/pm0134_00_00_body_b_gls.vtf
Yunpol's Pokemon Eeveelutions (SV Edition)/materials/models/yunpolmodels/pokemonNG/eeveelutions/(0134) - Vaporeon/pm0134_00_00_body_b_alb.vtf
Yunpol's Pokemon Eeveelutions (SV Edition)/materials/models/yunpolmodels/pokemonNG/eeveelutions/(0134) - Vaporeon/pm0134_00_00_body_b_alb.vmt
Yunpol's Pokemon Eeveelutions (SV Edition)/materials/models/yunpolmodels/pokemonNG/eeveelutions/(0134) - Vaporeon/pm0134_00_00_eye_nrm.vtf
Yunpol's Pokemon Eeveelutions (SV Edition)/materials/models/yunpolmodels/pokemonNG/eeveelutions/(0134) - Vaporeon/pm0134_00_00_body_a_alb.vmt
Yunpol's Pokemon Eeveelutions (SV Edition)/materials/models/yunpolmodels/pokemonNG/eeveelutions/(0134) - Vaporeon/pm0134_00_00_body_b_nrm.vtf
Yunpol's Pokemon Eeveelutions (SV Edition)/materials/models/yunpolmodels/pokemonNG/eeveelutions/(0134) - Vaporeon/pm0134_00_00_body_b_rare_alb.vmt
Yunpol's Pokemon Eeveelutions (SV Edition)/materials/models/yunpolmodels/pokemonNG/eeveelutions/(0134) - Vaporeon/pm0134_00_00_body_a_rare_alb.vmt
Yunpol's Pokemon Eeveelutions (SV Edition)/materials/models/yunpolmodels/pokemonNG/eeveelutions/(0134) - Vaporeon/pm0134_00_00_eye_alb.vtf
Yunpol's Pokemon Eeveelutions (SV Edition)/materials/models/yunpolmodels/pokemonNG/eeveelutions/(0134) - Vaporeon/pm0134_00_00_body_a_nrm.vtf
Yunpol's Pokemon Eeveelutions (SV Edition)/materials/models/yunpolmodels/pokemonNG/eeveelutions/(0134) - Vaporeon/pm0134_00_00_body_a_gls.vtf
Yunpol's Pokemon Eeveelutions (SV Edition)/materials/models/yunpolmodels/pokemonNG/eeveelutions/(0134) - Vaporeon/pm0134_00_00_body_a_alb.vtf
Yunpol's Pokemon Eeveelutions (SV Edition)/materials/models/yunpolmodels/pokemonNG/eeveelutions/(0197) - Umbreon/pm0197_00_00_body_a_alb_glow.vtf
Yunpol's Pokemon Eeveelutions (SV Edition)/materials/models/yunpolmodels/pokemonNG/eeveelutions/(0197) - Umbreon/pm0197_00_00_reye_rare_alb.vtf
Yunpol's Pokemon Eeveelutions (SV Edition)/materials/models/yunpolmodels/pokemonNG/eeveelutions/(0197) - Umbreon/pm0197_00_00_leye_rare_alb.vtf
Yunpol's Pokemon Eeveelutions (SV Edition)/materials/models/yunpolmodels/pokemonNG/eeveelutions/(0197) - Umbreon/eyeball_l.vmt
Yunpol's Pokemon Eeveelutions (SV Edition)/materials/models/yunpolmodels/pokemonNG/eeveelutions/(0197) - Umbreon/pm0197_00_00_body_a_rare_alb_glow.vmt
Yunpol's Pokemon Eeveelutions (SV Edition)/materials/models/yunpolmodels/pokemonNG/eeveelutions/(0197) - Umbreon/pm0197_00_00_leye_alb.vtf
Yunpol's Pokemon Eeveelutions (SV Edition)/materials/models/yunpolmodels/pokemonNG/eeveelutions/(0197) - Umbreon/pm0197_00_00_body_b_nrm.vtf
Yunpol's Pokemon Eeveelutions (SV Edition)/materials/models/yunpolmodels/pokemonNG/eeveelutions/(0197) - Umbreon/pm0197_00_00_body_b_alb.vtf
Yunpol's Pokemon Eeveelutions (SV Edition)/materials/models/yunpolmodels/pokemonNG/eeveelutions/(0197) - Umbreon/pm0197_00_00_body_a_nrm.vtf
Yunpol's Pokemon Eeveelutions (SV Edition)/materials/models/yunpolmodels/pokemonNG/eeveelutions/(0197) - Umbreon/pm0197_00_00_body_a_rare_alb_glow.vtf
Yunpol's Pokemon Eeveelutions (SV Edition)/materials/models/yunpolmodels/pokemonNG/eeveelutions/(0197) - Umbreon/eyeball_ls.vmt
Yunpol's Pokemon Eeveelutions (SV Edition)/materials/models/yunpolmodels/pokemonNG/eeveelutions/(0197) - Umbreon/pm0197_00_00_body_b_rare_alb.vtf
Yunpol's Pokemon Eeveelutions (SV Edition)/materials/models/yunpolmodels/pokemonNG/eeveelutions/(0197) - Umbreon/pm0197_00_00_body_a_alb_glow.vmt
Yunpol's Pokemon Eeveelutions (SV Edition)/materials/models/yunpolmodels/pokemonNG/eeveelutions/(0197) - Umbreon/pm0197_00_00_body_a_alb.vmt
Yunpol's Pokemon Eeveelutions (SV Edition)/materials/models/yunpolmodels/pokemonNG/eeveelutions/(0197) - Umbreon/eyeball_rs.vmt
Yunpol's Pokemon Eeveelutions (SV Edition)/materials/models/yunpolmodels/pokemonNG/eeveelutions/(0197) - Umbreon/pm0197_00_00_body_b_alb.vmt
Yunpol's Pokemon Eeveelutions (SV Edition)/materials/models/yunpolmodels/pokemonNG/eeveelutions/(0197) - Umbreon/pm0197_00_00_body_a_rare_alb.vmt
Yunpol's Pokemon Eeveelutions (SV Edition)/materials/models/yunpolmodels/pokemonNG/eeveelutions/(0197) - Umbreon/pm0197_00_00_body_b_gls.vtf
Yunpol's Pokemon Eeveelutions (SV Edition)/materials/models/yunpolmodels/pokemonNG/eeveelutions/(0197) - Umbreon/pm0197_00_00_body_a_gls.vtf
Yunpol's Pokemon Eeveelutions (SV Edition)/materials/models/yunpolmodels/pokemonNG/eeveelutions/(0197) - Umbreon/pm0197_00_00_body_b_rare_alb.vmt
Yunpol's Pokemon Eeveelutions (SV Edition)/materials/models/yunpolmodels/pokemonNG/eeveelutions/(0197) - Umbreon/pm0197_00_00_body_a_alb.vtf
Yunpol's Pokemon Eeveelutions (SV Edition)/materials/models/yunpolmodels/pokemonNG/eeveelutions/(0197) - Umbreon/eyeball_r.vmt
Yunpol's Pokemon Eeveelutions (SV Edition)/materials/models/yunpolmodels/pokemonNG/eeveelutions/(0197) - Umbreon/pm0197_00_00_body_a_rare_alb.vtf
Yunpol's Pokemon Eeveelutions (SV Edition)/materials/models/yunpolmodels/pokemonNG/eeveelutions/(0197) - Umbreon/pm0197_00_00_reye_alb.vtf
Yunpol's Pokemon Eeveelutions (SV Edition)/materials/models/yunpolmodels/pokemonNG/eeveelutions/(0470) - Leafeon/pm0470_00_00_reye_rare_alb.vtf
Yunpol's Pokemon Eeveelutions (SV Edition)/materials/models/yunpolmodels/pokemonNG/eeveelutions/(0470) - Leafeon/pm0470_00_00_body_a_rare_alb.vtf
Yunpol's Pokemon Eeveelutions (SV Edition)/materials/models/yunpolmodels/pokemonNG/eeveelutions/(0470) - Leafeon/eyeball_l.vmt
Yunpol's Pokemon Eeveelutions (SV Edition)/materials/models/yunpolmodels/pokemonNG/eeveelutions/(0470) - Leafeon/eyeball_ls.vmt
Yunpol's Pokemon Eeveelutions (SV Edition)/materials/models/yunpolmodels/pokemonNG/eeveelutions/(0470) - Leafeon/pm0470_00_00_body_a_rare_alb.vmt
Yunpol's Pokemon Eeveelutions (SV Edition)/materials/models/yunpolmodels/pokemonNG/eeveelutions/(0470) - Leafeon/pm0470_00_00_body_b_alb.vmt
Yunpol's Pokemon Eeveelutions (SV Edition)/materials/models/yunpolmodels/pokemonNG/eeveelutions/(0470) - Leafeon/pm0470_00_00_reye_alb.vtf
Yunpol's Pokemon Eeveelutions (SV Edition)/materials/models/yunpolmodels/pokemonNG/eeveelutions/(0470) - Leafeon/pm0470_00_00_body_a_nrm.vtf
Yunpol's Pokemon Eeveelutions (SV Edition)/materials/models/yunpolmodels/pokemonNG/eeveelutions/(0470) - Leafeon/pm0470_00_00_leye_alb.vtf
Yunpol's Pokemon Eeveelutions (SV Edition)/materials/models/yunpolmodels/pokemonNG/eeveelutions/(0470) - Leafeon/pm0470_00_00_body_b_rare_alb.vmt
Yunpol's Pokemon Eeveelutions (SV Edition)/materials/models/yunpolmodels/pokemonNG/eeveelutions/(0470) - Leafeon/eyeball_rs.vmt
Yunpol's Pokemon Eeveelutions (SV Edition)/materials/models/yunpolmodels/pokemonNG/eeveelutions/(0470) - Leafeon/pm0470_00_00_body_a_alb.vmt
Yunpol's Pokemon Eeveelutions (SV Edition)/materials/models/yunpolmodels/pokemonNG/eeveelutions/(0470) - Leafeon/pm0470_00_00_body_b_alb.vtf
Yunpol's Pokemon Eeveelutions (SV Edition)/materials/models/yunpolmodels/pokemonNG/eeveelutions/(0470) - Leafeon/pm0470_00_00_body_b_rare_alb.vtf
Yunpol's Pokemon Eeveelutions (SV Edition)/materials/models/yunpolmodels/pokemonNG/eeveelutions/(0470) - Leafeon/pm0470_00_00_body_b_gls.vtf
Yunpol's Pokemon Eeveelutions (SV Edition)/materials/models/yunpolmodels/pokemonNG/eeveelutions/(0470) - Leafeon/pm0470_00_00_body_a_gls.vtf
Yunpol's Pokemon Eeveelutions (SV Edition)/materials/models/yunpolmodels/pokemonNG/eeveelutions/(0470) - Leafeon/pm0470_00_00_body_a_alb.vtf
Yunpol's Pokemon Eeveelutions (SV Edition)/materials/models/yunpolmodels/pokemonNG/eeveelutions/(0470) - Leafeon/eyeball_r.vmt
Yunpol's Pokemon Eeveelutions (SV Edition)/materials/models/yunpolmodels/pokemonNG/eeveelutions/(0470) - Leafeon/pm0470_00_00_leye_rare_alb.vtf
Yunpol's Pokemon Eeveelutions (SV Edition)/materials/models/yunpolmodels/pokemonNG/eeveelutions/(0470) - Leafeon/pm0470_00_00_body_b_nrm.vtf
Yunpol's Pokemon Eeveelutions (SV Edition)/materials/models/yunpolmodels/pokemonNG/eeveelutions/(0136) - Flareon/pm0136_00_00_body_a_alb.vmt
Yunpol's Pokemon Eeveelutions (SV Edition)/materials/models/yunpolmodels/pokemonNG/eeveelutions/(0136) - Flareon/pm0136_00_00_body_a_alb.vtf
Yunpol's Pokemon Eeveelutions (SV Edition)/materials/models/yunpolmodels/pokemonNG/eeveelutions/(0136) - Flareon/pm0136_00_00_body_a_rare_alb.vtf
Yunpol's Pokemon Eeveelutions (SV Edition)/materials/models/yunpolmodels/pokemonNG/eeveelutions/(0136) - Flareon/pm0136_00_00_body_b_gls.vtf
Yunpol's Pokemon Eeveelutions (SV Edition)/materials/models/yunpolmodels/pokemonNG/eeveelutions/(0136) - Flareon/pm0136_00_00_body_b_alb.vmt
Yunpol's Pokemon Eeveelutions (SV Edition)/materials/models/yunpolmodels/pokemonNG/eeveelutions/(0136) - Flareon/pm0136_00_00_body_a_gls.vtf
Yunpol's Pokemon Eeveelutions (SV Edition)/materials/models/yunpolmodels/pokemonNG/eeveelutions/(0136) - Flareon/pm0136_00_00_body_b_rare_alb.vmt
Yunpol's Pokemon Eeveelutions (SV Edition)/materials/models/yunpolmodels/pokemonNG/eeveelutions/(0136) - Flareon/pm0136_00_00_eye_alb.vtf
Yunpol's Pokemon Eeveelutions (SV Edition)/materials/models/yunpolmodels/pokemonNG/eeveelutions/(0136) - Flareon/pm0136_00_00_reye_alb.vmt
Yunpol's Pokemon Eeveelutions (SV Edition)/materials/models/yunpolmodels/pokemonNG/eeveelutions/(0136) - Flareon/pm0136_00_00_body_b_nrm.vtf
Yunpol's Pokemon Eeveelutions (SV Edition)/materials/models/yunpolmodels/pokemonNG/eeveelutions/(0136) - Flareon/pm0136_00_00_body_b_rare_alb.vtf
Yunpol's Pokemon Eeveelutions (SV Edition)/materials/models/yunpolmodels/pokemonNG/eeveelutions/(0136) - Flareon/pm0136_00_00_body_a_nrm.vtf
Yunpol's Pokemon Eeveelutions (SV Edition)/materials/models/yunpolmodels/pokemonNG/eeveelutions/(0136) - Flareon/pm0136_00_00_eye_nrm.vtf
Yunpol's Pokemon Eeveelutions (SV Edition)/materials/models/yunpolmodels/pokemonNG/eeveelutions/(0136) - Flareon/pm0136_00_00_leye_alb.vmt
Yunpol's Pokemon Eeveelutions (SV Edition)/materials/models/yunpolmodels/pokemonNG/eeveelutions/(0136) - Flareon/pm0136_00_00_body_b_alb.vtf
Yunpol's Pokemon Eeveelutions (SV Edition)/materials/models/yunpolmodels/pokemonNG/eeveelutions/(0136) - Flareon/pm0136_00_00_body_a_rare_alb.vmt
Yunpol's Pokemon Eeveelutions (SV Edition)/materials/models/yunpolmodels/pokemonNG/eeveelutions/(0135) - Jolteon/pm0135_00_00_body_b_rare_alb.vtf
Yunpol's Pokemon Eeveelutions (SV Edition)/materials/models/yunpolmodels/pokemonNG/eeveelutions/(0135) - Jolteon/pm0135_00_00_body_b_alb.vmt
Yunpol's Pokemon Eeveelutions (SV Edition)/materials/models/yunpolmodels/pokemonNG/eeveelutions/(0135) - Jolteon/pm0135_00_00_reye_alb.vmt
Yunpol's Pokemon Eeveelutions (SV Edition)/materials/models/yunpolmodels/pokemonNG/eeveelutions/(0135) - Jolteon/pm0135_00_00_body_b_gls.vtf
Yunpol's Pokemon Eeveelutions (SV Edition)/materials/models/yunpolmodels/pokemonNG/eeveelutions/(0135) - Jolteon/pm0135_00_00_body_a_rare_alb.vtf
Yunpol's Pokemon Eeveelutions (SV Edition)/materials/models/yunpolmodels/pokemonNG/eeveelutions/(0135) - Jolteon/pm0135_00_00_body_a_rare_alb.vmt
Yunpol's Pokemon Eeveelutions (SV Edition)/materials/models/yunpolmodels/pokemonNG/eeveelutions/(0135) - Jolteon/pm0135_00_00_leye_alb.vmt
Yunpol's Pokemon Eeveelutions (SV Edition)/materials/models/yunpolmodels/pokemonNG/eeveelutions/(0135) - Jolteon/pm0135_00_00_body_a_nrm.vtf
Yunpol's Pokemon Eeveelutions (SV Edition)/materials/models/yunpolmodels/pokemonNG/eeveelutions/(0135) - Jolteon/pm0135_00_00_eye_nrm.vtf
Yunpol's Pokemon Eeveelutions (SV Edition)/materials/models/yunpolmodels/pokemonNG/eeveelutions/(0135) - Jolteon/pm0135_00_00_body_b_rare_alb.vmt
Yunpol's Pokemon Eeveelutions (SV Edition)/materials/models/yunpolmodels/pokemonNG/eeveelutions/(0135) - Jolteon/pm0135_00_00_eye_alb.vtf
Yunpol's Pokemon Eeveelutions (SV Edition)/materials/models/yunpolmodels/pokemonNG/eeveelutions/(0135) - Jolteon/pm0135_00_00_body_a_alb.vtf
Yunpol's Pokemon Eeveelutions (SV Edition)/materials/models/yunpolmodels/pokemonNG/eeveelutions/(0135) - Jolteon/pm0135_00_00_body_b_nrm.vtf
Yunpol's Pokemon Eeveelutions (SV Edition)/materials/models/yunpolmodels/pokemonNG/eeveelutions/(0135) - Jolteon/pm0135_00_00_body_a_gls.vtf
Yunpol's Pokemon Eeveelutions (SV Edition)/materials/models/yunpolmodels/pokemonNG/eeveelutions/(0135) - Jolteon/pm0135_00_00_body_a_alb.vmt
Yunpol's Pokemon Eeveelutions (SV Edition)/materials/models/yunpolmodels/pokemonNG/eeveelutions/(0135) - Jolteon/pm0135_00_00_body_b_alb.vtf
Yunpol's Pokemon Eeveelutions (SV Edition)/materials/models/yunpolmodels/pokemonNG/eeveelutions/(0133) - Eevee/pm0133_00_00_body_a1_alb.vmt
Yunpol's Pokemon Eeveelutions (SV Edition)/materials/models/yunpolmodels/pokemonNG/eeveelutions/(0133) - Eevee/pm0133_00_00_body_b_rare_alb.vmt
Yunpol's Pokemon Eeveelutions (SV Edition)/materials/models/yunpolmodels/pokemonNG/eeveelutions/(0133) - Eevee/pm0133_00_00_body_b_alb.vtf
Yunpol's Pokemon Eeveelutions (SV Edition)/materials/models/yunpolmodels/pokemonNG/eeveelutions/(0133) - Eevee/pm0133_00_00_leye_rare_alb.vtf
Yunpol's Pokemon Eeveelutions (SV Edition)/materials/models/yunpolmodels/pokemonNG/eeveelutions/(0133) - Eevee/eyeball_l.vmt
Yunpol's Pokemon Eeveelutions (SV Edition)/materials/models/yunpolmodels/pokemonNG/eeveelutions/(0133) - Eevee/pm0133_00_00_body_b_alb.vmt
Yunpol's Pokemon Eeveelutions (SV Edition)/materials/models/yunpolmodels/pokemonNG/eeveelutions/(0133) - Eevee/pm0133_00_00_body_b_gls.vtf
Yunpol's Pokemon Eeveelutions (SV Edition)/materials/models/yunpolmodels/pokemonNG/eeveelutions/(0133) - Eevee/pm0133_00_00_body_a_alb.vmt
Yunpol's Pokemon Eeveelutions (SV Edition)/materials/models/yunpolmodels/pokemonNG/eeveelutions/(0133) - Eevee/eyeball_ls.vmt
Yunpol's Pokemon Eeveelutions (SV Edition)/materials/models/yunpolmodels/pokemonNG/eeveelutions/(0133) - Eevee/pm0133_00_00_body_a1_rare_alb.vmt
Yunpol's Pokemon Eeveelutions (SV Edition)/materials/models/yunpolmodels/pokemonNG/eeveelutions/(0133) - Eevee/pm0133_00_00_body_b_nrm.vtf
Yunpol's Pokemon Eeveelutions (SV Edition)/materials/models/yunpolmodels/pokemonNG/eeveelutions/(0133) - Eevee/pm0133_00_00_body_b_rare_alb.vtf
Yunpol's Pokemon Eeveelutions (SV Edition)/materials/models/yunpolmodels/pokemonNG/eeveelutions/(0133) - Eevee/pm0133_00_00_body_a_rare_alb.vmt
Yunpol's Pokemon Eeveelutions (SV Edition)/materials/models/yunpolmodels/pokemonNG/eeveelutions/(0133) - Eevee/pm0133_00_00_body_a_gls.vtf
Yunpol's Pokemon Eeveelutions (SV Edition)/materials/models/yunpolmodels/pokemonNG/eeveelutions/(0133) - Eevee/eyeball_rs.vmt
Yunpol's Pokemon Eeveelutions (SV Edition)/materials/models/yunpolmodels/pokemonNG/eeveelutions/(0133) - Eevee/pm0133_00_00_body_a_rare_alb.vtf
Yunpol's Pokemon Eeveelutions (SV Edition)/materials/models/yunpolmodels/pokemonNG/eeveelutions/(0133) - Eevee/pm0133_00_00_leye_alb.vtf
Yunpol's Pokemon Eeveelutions (SV Edition)/materials/models/yunpolmodels/pokemonNG/eeveelutions/(0133) - Eevee/pm0133_00_00_body_a_alb.vtf
Yunpol's Pokemon Eeveelutions (SV Edition)/materials/models/yunpolmodels/pokemonNG/eeveelutions/(0133) - Eevee/pm0133_00_00_body_a_nrm.vtf
Yunpol's Pokemon Eeveelutions (SV Edition)/materials/models/yunpolmodels/pokemonNG/eeveelutions/(0133) - Eevee/pm0133_00_00_reye_rare_alb.vtf
Yunpol's Pokemon Eeveelutions (SV Edition)/materials/models/yunpolmodels/pokemonNG/eeveelutions/(0133) - Eevee/pm0133_00_00_reye_alb.vtf
Yunpol's Pokemon Eeveelutions (SV Edition)/materials/models/yunpolmodels/pokemonNG/eeveelutions/(0133) - Eevee/eyeball_r.vmt
Yunpol's Pokemon Eeveelutions (SV Edition)/materials/models/yunpolmodels/pokemonNG/eeveelutions/(0196) - Espeon/pm0196_00_00_body_b_rare_alb.vtf
Yunpol's Pokemon Eeveelutions (SV Edition)/materials/models/yunpolmodels/pokemonNG/eeveelutions/(0196) - Espeon/pm0196_00_00_leye_alb_glow.vmt
Yunpol's Pokemon Eeveelutions (SV Edition)/materials/models/yunpolmodels/pokemonNG/eeveelutions/(0196) - Espeon/pm0196_00_00_body_b_alb.vmt
Yunpol's Pokemon Eeveelutions (SV Edition)/materials/models/yunpolmodels/pokemonNG/eeveelutions/(0196) - Espeon/pm0196_00_00_body_a_rare_alb.vtf
Yunpol's Pokemon Eeveelutions (SV Edition)/materials/models/yunpolmodels/pokemonNG/eeveelutions/(0196) - Espeon/pm0196_00_00_body_a_nrm.vtf
Yunpol's Pokemon Eeveelutions (SV Edition)/materials/models/yunpolmodels/pokemonNG/eeveelutions/(0196) - Espeon/pm0196_00_00_body_b_gls.vtf
Yunpol's Pokemon Eeveelutions (SV Edition)/materials/models/yunpolmodels/pokemonNG/eeveelutions/(0196) - Espeon/pm0196_00_00_body_a_gls.vtf
Yunpol's Pokemon Eeveelutions (SV Edition)/materials/models/yunpolmodels/pokemonNG/eeveelutions/(0196) - Espeon/pm0196_00_00_body_b_alb.vtf
Yunpol's Pokemon Eeveelutions (SV Edition)/materials/models/yunpolmodels/pokemonNG/eeveelutions/(0196) - Espeon/pm0196_00_00_reye_alb_glow.vmt
Yunpol's Pokemon Eeveelutions (SV Edition)/materials/models/yunpolmodels/pokemonNG/eeveelutions/(0196) - Espeon/pm0196_00_00_body_b_nrm.vtf
Yunpol's Pokemon Eeveelutions (SV Edition)/materials/models/yunpolmodels/pokemonNG/eeveelutions/(0196) - Espeon/pm0196_00_00_body_a_alb.vmt
Yunpol's Pokemon Eeveelutions (SV Edition)/materials/models/yunpolmodels/pokemonNG/eeveelutions/(0196) - Espeon/pm0196_00_00_eye_nrm.vtf
Yunpol's Pokemon Eeveelutions (SV Edition)/materials/models/yunpolmodels/pokemonNG/eeveelutions/(0196) - Espeon/pm0196_00_00_body_c_nrm.vtf
Yunpol's Pokemon Eeveelutions (SV Edition)/materials/models/yunpolmodels/pokemonNG/eeveelutions/(0196) - Espeon/pm0196_00_00_body_c_alb.vtf
Yunpol's Pokemon Eeveelutions (SV Edition)/materials/models/yunpolmodels/pokemonNG/eeveelutions/(0196) - Espeon/pm0196_00_00_body_a_rare_alb.vmt
Yunpol's Pokemon Eeveelutions (SV Edition)/materials/models/yunpolmodels/pokemonNG/eeveelutions/(0196) - Espeon/pm0196_00_00_body_a_alb.vtf
Yunpol's Pokemon Eeveelutions (SV Edition)/materials/models/yunpolmodels/pokemonNG/eeveelutions/(0196) - Espeon/pm0196_00_00_body_b_rare_alb.vmt
Yunpol's Pokemon Eeveelutions (SV Edition)/materials/models/yunpolmodels/pokemonNG/eeveelutions/(0196) - Espeon/pm0196_00_00_leye_alb.vmt
Yunpol's Pokemon Eeveelutions (SV Edition)/materials/models/yunpolmodels/pokemonNG/eeveelutions/(0196) - Espeon/pm0196_00_00_body_c_alb.vmt
Yunpol's Pokemon Eeveelutions (SV Edition)/materials/models/yunpolmodels/pokemonNG/eeveelutions/(0196) - Espeon/pm0196_00_00_body_c_alb_glow.vmt
Yunpol's Pokemon Eeveelutions (SV Edition)/materials/models/yunpolmodels/pokemonNG/eeveelutions/(0196) - Espeon/pm0196_00_00_reye_alb.vmt
Yunpol's Pokemon Eeveelutions (SV Edition)/materials/models/yunpolmodels/pokemonNG/eeveelutions/(0196) - Espeon/pm0196_00_00_eye_alb.vtf
Yunpol's Pokemon Eeveelutions (SV Edition)/materials/models/yunpolmodels/pokemonNG/eeveelutions/(0471) - Glaceon/pm0471_00_00_body_alb.vtf
Yunpol's Pokemon Eeveelutions (SV Edition)/materials/models/yunpolmodels/pokemonNG/eeveelutions/(0471) - Glaceon/pm0471_00_00_eye_rare_alb.vmt
Yunpol's Pokemon Eeveelutions (SV Edition)/materials/models/yunpolmodels/pokemonNG/eeveelutions/(0471) - Glaceon/pm0471_00_00_body_nrm.vtf
Yunpol's Pokemon Eeveelutions (SV Edition)/materials/models/yunpolmodels/pokemonNG/eeveelutions/(0471) - Glaceon/pm0471_00_00_body_rare_alb.vtf
Yunpol's Pokemon Eeveelutions (SV Edition)/materials/models/yunpolmodels/pokemonNG/eeveelutions/(0471) - Glaceon/pm0471_00_00_body_gls.vtf
Yunpol's Pokemon Eeveelutions (SV Edition)/materials/models/yunpolmodels/pokemonNG/eeveelutions/(0471) - Glaceon/pm0471_00_00_eye_rare_alb.vtf
Yunpol's Pokemon Eeveelutions (SV Edition)/materials/models/yunpolmodels/pokemonNG/eeveelutions/(0471) - Glaceon/pm0471_00_00_eye_alb.vtf
Yunpol's Pokemon Eeveelutions (SV Edition)/materials/models/yunpolmodels/pokemonNG/eeveelutions/(0471) - Glaceon/pm0471_00_00_eye2_nrm.vtf
Yunpol's Pokemon Eeveelutions (SV Edition)/materials/models/yunpolmodels/pokemonNG/eeveelutions/(0471) - Glaceon/pm0471_00_00_body_alb.vmt
Yunpol's Pokemon Eeveelutions (SV Edition)/materials/models/yunpolmodels/pokemonNG/eeveelutions/(0471) - Glaceon/pm0471_00_00_eye_alb.vmt
Yunpol's Pokemon Eeveelutions (SV Edition)/materials/models/yunpolmodels/pokemonNG/eeveelutions/(0471) - Glaceon/pm0471_00_00_body_rare_alb.vmt
Yunpol's Pokemon Eeveelutions (SV Edition)/materials/models/yunpolmodels/pokemonNG/eeveelutions/(0700) - Sylveon/pm0767_00_00_body_b_gls.vtf
Yunpol's Pokemon Eeveelutions (SV Edition)/materials/models/yunpolmodels/pokemonNG/eeveelutions/(0700) - Sylveon/pm0767_00_00_body_a_nrm.vtf
Yunpol's Pokemon Eeveelutions (SV Edition)/materials/models/yunpolmodels/pokemonNG/eeveelutions/(0700) - Sylveon/pm0767_00_00_body_b_alb.vmt
Yunpol's Pokemon Eeveelutions (SV Edition)/materials/models/yunpolmodels/pokemonNG/eeveelutions/(0700) - Sylveon/pm0767_00_00_body_b_alb.vtf
Yunpol's Pokemon Eeveelutions (SV Edition)/materials/models/yunpolmodels/pokemonNG/eeveelutions/(0700) - Sylveon/pm0767_00_00_body_a_rare_alb.vtf
Yunpol's Pokemon Eeveelutions (SV Edition)/materials/models/yunpolmodels/pokemonNG/eeveelutions/(0700) - Sylveon/pm0767_00_00_leye_rare_alb.vmt
Yunpol's Pokemon Eeveelutions (SV Edition)/materials/models/yunpolmodels/pokemonNG/eeveelutions/(0700) - Sylveon/pm0767_00_00_body_a_alb.vtf
Yunpol's Pokemon Eeveelutions (SV Edition)/materials/models/yunpolmodels/pokemonNG/eeveelutions/(0700) - Sylveon/pm0767_00_00_eye_rare_alb.vtf
Yunpol's Pokemon Eeveelutions (SV Edition)/materials/models/yunpolmodels/pokemonNG/eeveelutions/(0700) - Sylveon/pm0767_00_00_eye2_nrm.vtf
Yunpol's Pokemon Eeveelutions (SV Edition)/materials/models/yunpolmodels/pokemonNG/eeveelutions/(0700) - Sylveon/pm0767_00_00_body_a_alb.vmt
Yunpol's Pokemon Eeveelutions (SV Edition)/materials/models/yunpolmodels/pokemonNG/eeveelutions/(0700) - Sylveon/pm0767_00_00_body_b_rare_alb.vtf
Yunpol's Pokemon Eeveelutions (SV Edition)/materials/models/yunpolmodels/pokemonNG/eeveelutions/(0700) - Sylveon/pm0767_00_00_body_b_nrm.vtf
Yunpol's Pokemon Eeveelutions (SV Edition)/materials/models/yunpolmodels/pokemonNG/eeveelutions/(0700) - Sylveon/pm0767_00_00_body_b_rare_alb.vmt
Yunpol's Pokemon Eeveelutions (SV Edition)/materials/models/yunpolmodels/pokemonNG/eeveelutions/(0700) - Sylveon/pm0767_00_00_reye_alb.vmt
Yunpol's Pokemon Eeveelutions (SV Edition)/materials/models/yunpolmodels/pokemonNG/eeveelutions/(0700) - Sylveon/pm0767_00_00_reye_rare_alb.vmt
Yunpol's Pokemon Eeveelutions (SV Edition)/materials/models/yunpolmodels/pokemonNG/eeveelutions/(0700) - Sylveon/pm0767_00_00_leye_alb.vmt
Yunpol's Pokemon Eeveelutions (SV Edition)/materials/models/yunpolmodels/pokemonNG/eeveelutions/(0700) - Sylveon/pm0767_00_00_body_a_rare_alb.vmt
Yunpol's Pokemon Eeveelutions (SV Edition)/materials/models/yunpolmodels/pokemonNG/eeveelutions/(0700) - Sylveon/pm0767_00_00_eye_alb.vtf
Yunpol's Pokemon Eeveelutions (SV Edition)/materials/models/yunpolmodels/pokemonNG/eeveelutions/(0700) - Sylveon/pm0767_00_00_body_a_gls.vtf




Yunpols_Pokemon_Eeveelutions_SV_Edition.zip
358
2023-03-31 22:35:06
30.17 MB
File contents:

Yunpol's Pokemon Eeveelutions (SV Edition)/models/yunpolmodels/pokemonng/eeveelutions/(0196) - Espeon.mdl
Yunpol's Pokemon Eeveelutions (SV Edition)/models/yunpolmodels/pokemonng/eeveelutions/(0197) - Umbreon.vvd
Yunpol's Pokemon Eeveelutions (SV Edition)/models/yunpolmodels/pokemonng/eeveelutions/(0470) - Leafeon.mdl
Yunpol's Pokemon Eeveelutions (SV Edition)/models/yunpolmodels/pokemonng/eeveelutions/(0471) - Glaceon.dx90.vtx
Yunpol's Pokemon Eeveelutions (SV Edition)/models/yunpolmodels/pokemonng/eeveelutions/(0133) - Eevee.mdl
Yunpol's Pokemon Eeveelutions (SV Edition)/models/yunpolmodels/pokemonng/eeveelutions/(0135) - Jolteon.dx90.vtx
Yunpol's Pokemon Eeveelutions (SV Edition)/models/yunpolmodels/pokemonng/eeveelutions/(0196) - Espeon.dx90.vtx
Yunpol's Pokemon Eeveelutions (SV Edition)/models/yunpolmodels/pokemonng/eeveelutions/(0135) - Jolteon.mdl
Yunpol's Pokemon Eeveelutions (SV Edition)/models/yunpolmodels/pokemonng/eeveelutions/(0471) - Glaceon.vvd
Yunpol's Pokemon Eeveelutions (SV Edition)/models/yunpolmodels/pokemonng/eeveelutions/(0136) - Flareon.vvd
Yunpol's Pokemon Eeveelutions (SV Edition)/models/yunpolmodels/pokemonng/eeveelutions/(0470) - Leafeon.vvd
Yunpol's Pokemon Eeveelutions (SV Edition)/models/yunpolmodels/pokemonng/eeveelutions/(0135) - Jolteon.vvd
Yunpol's Pokemon Eeveelutions (SV Edition)/models/yunpolmodels/pokemonng/eeveelutions/(0470) - Leafeon.dx90.vtx
Yunpol's Pokemon Eeveelutions (SV Edition)/models/yunpolmodels/pokemonng/eeveelutions/(0700) - Sylveon.vvd
Yunpol's Pokemon Eeveelutions (SV Edition)/models/yunpolmodels/pokemonng/eeveelutions/(0134) - Vaporeon.vvd
Yunpol's Pokemon Eeveelutions (SV Edition)/models/yunpolmodels/pokemonng/eeveelutions/(0136) - Flareon.mdl
Yunpol's Pokemon Eeveelutions (SV Edition)/models/yunpolmodels/pokemonng/eeveelutions/(0133) - Eevee.vvd
Yunpol's Pokemon Eeveelutions (SV Edition)/models/yunpolmodels/pokemonng/eeveelutions/(0134) - Vaporeon.mdl
Yunpol's Pokemon Eeveelutions (SV Edition)/models/yunpolmodels/pokemonng/eeveelutions/(0197) - Umbreon.dx90.vtx
Yunpol's Pokemon Eeveelutions (SV Edition)/models/yunpolmodels/pokemonng/eeveelutions/(0700) - Sylveon.dx90.vtx
Yunpol's Pokemon Eeveelutions (SV Edition)/models/yunpolmodels/pokemonng/eeveelutions/(0197) - Umbreon.mdl
Yunpol's Pokemon Eeveelutions (SV Edition)/models/yunpolmodels/pokemonng/eeveelutions/(0136) - Flareon.dx90.vtx
Yunpol's Pokemon Eeveelutions (SV Edition)/models/yunpolmodels/pokemonng/eeveelutions/(0196) - Espeon.vvd
Yunpol's Pokemon Eeveelutions (SV Edition)/models/yunpolmodels/pokemonng/eeveelutions/(0133) - Eevee.dx90.vtx
Yunpol's Pokemon Eeveelutions (SV Edition)/models/yunpolmodels/pokemonng/eeveelutions/(0700) - Sylveon.mdl
Yunpol's Pokemon Eeveelutions (SV Edition)/models/yunpolmodels/pokemonng/eeveelutions/(0471) - Glaceon.mdl
Yunpol's Pokemon Eeveelutions (SV Edition)/models/yunpolmodels/pokemonng/eeveelutions/(0134) - Vaporeon.dx90.vtx
Yunpol's Pokemon Eeveelutions (SV Edition)/materials/models/yunpolmodels/pokemonNG/shared/phong.vtf
Yunpol's Pokemon Eeveelutions (SV Edition)/materials/models/yunpolmodels/pokemonNG/shared/painted_silver.vtf
Yunpol's Pokemon Eeveelutions (SV Edition)/materials/models/yunpolmodels/pokemonNG/shared/albedotint.vtf
Yunpol's Pokemon Eeveelutions (SV Edition)/materials/models/yunpolmodels/pokemonNG/shared/eye/eye_lightwarp.vtf
Yunpol's Pokemon Eeveelutions (SV Edition)/materials/models/yunpolmodels/pokemonNG/shared/eye/eye_ao.vtf
Yunpol's Pokemon Eeveelutions (SV Edition)/materials/models/yunpolmodels/pokemonNG/shared/eye/eye_cubemap.vtf
Yunpol's Pokemon Eeveelutions (SV Edition)/materials/models/yunpolmodels/pokemonNG/shared/eye/eye_cornea.vtf
Yunpol's Pokemon Eeveelutions (SV Edition)/materials/models/yunpolmodels/pokemonNG/eeveelutions/(0134) - Vaporeon/pm0134_00_00_body_a_rare_alb.vtf
Yunpol's Pokemon Eeveelutions (SV Edition)/materials/models/yunpolmodels/pokemonNG/eeveelutions/(0134) - Vaporeon/pm0134_00_00_reye_alb.vmt
Yunpol's Pokemon Eeveelutions (SV Edition)/materials/models/yunpolmodels/pokemonNG/eeveelutions/(0134) - Vaporeon/pm0134_00_00_leye_alb.vmt
Yunpol's Pokemon Eeveelutions (SV Edition)/materials/models/yunpolmodels/pokemonNG/eeveelutions/(0134) - Vaporeon/pm0134_00_00_body_b_rare_alb.vtf
Yunpol's Pokemon Eeveelutions (SV Edition)/materials/models/yunpolmodels/pokemonNG/eeveelutions/(0134) - Vaporeon/pm0134_00_00_body_b_gls.vtf
Yunpol's Pokemon Eeveelutions (SV Edition)/materials/models/yunpolmodels/pokemonNG/eeveelutions/(0134) - Vaporeon/pm0134_00_00_body_b_alb.vtf
Yunpol's Pokemon Eeveelutions (SV Edition)/materials/models/yunpolmodels/pokemonNG/eeveelutions/(0134) - Vaporeon/pm0134_00_00_body_b_alb.vmt
Yunpol's Pokemon Eeveelutions (SV Edition)/materials/models/yunpolmodels/pokemonNG/eeveelutions/(0134) - Vaporeon/pm0134_00_00_eye_nrm.vtf
Yunpol's Pokemon Eeveelutions (SV Edition)/materials/models/yunpolmodels/pokemonNG/eeveelutions/(0134) - Vaporeon/pm0134_00_00_body_a_alb.vmt
Yunpol's Pokemon Eeveelutions (SV Edition)/materials/models/yunpolmodels/pokemonNG/eeveelutions/(0134) - Vaporeon/pm0134_00_00_body_b_nrm.vtf
Yunpol's Pokemon Eeveelutions (SV Edition)/materials/models/yunpolmodels/pokemonNG/eeveelutions/(0134) - Vaporeon/pm0134_00_00_body_b_rare_alb.vmt
Yunpol's Pokemon Eeveelutions (SV Edition)/materials/models/yunpolmodels/pokemonNG/eeveelutions/(0134) - Vaporeon/pm0134_00_00_body_a_rare_alb.vmt
Yunpol's Pokemon Eeveelutions (SV Edition)/materials/models/yunpolmodels/pokemonNG/eeveelutions/(0134) - Vaporeon/pm0134_00_00_eye_alb.vtf
Yunpol's Pokemon Eeveelutions (SV Edition)/materials/models/yunpolmodels/pokemonNG/eeveelutions/(0134) - Vaporeon/pm0134_00_00_body_a_nrm.vtf
Yunpol's Pokemon Eeveelutions (SV Edition)/materials/models/yunpolmodels/pokemonNG/eeveelutions/(0134) - Vaporeon/pm0134_00_00_body_a_gls.vtf
Yunpol's Pokemon Eeveelutions (SV Edition)/materials/models/yunpolmodels/pokemonNG/eeveelutions/(0134) - Vaporeon/pm0134_00_00_body_a_alb.vtf
Yunpol's Pokemon Eeveelutions (SV Edition)/materials/models/yunpolmodels/pokemonNG/eeveelutions/(0197) - Umbreon/pm0197_00_00_body_a_alb_glow.vtf
Yunpol's Pokemon Eeveelutions (SV Edition)/materials/models/yunpolmodels/pokemonNG/eeveelutions/(0197) - Umbreon/pm0197_00_00_reye_rare_alb.vtf
Yunpol's Pokemon Eeveelutions (SV Edition)/materials/models/yunpolmodels/pokemonNG/eeveelutions/(0197) - Umbreon/pm0197_00_00_leye_rare_alb.vtf
Yunpol's Pokemon Eeveelutions (SV Edition)/materials/models/yunpolmodels/pokemonNG/eeveelutions/(0197) - Umbreon/eyeball_l.vmt
Yunpol's Pokemon Eeveelutions (SV Edition)/materials/models/yunpolmodels/pokemonNG/eeveelutions/(0197) - Umbreon/pm0197_00_00_body_a_rare_alb_glow.vmt
Yunpol's Pokemon Eeveelutions (SV Edition)/materials/models/yunpolmodels/pokemonNG/eeveelutions/(0197) - Umbreon/pm0197_00_00_leye_alb.vtf
Yunpol's Pokemon Eeveelutions (SV Edition)/materials/models/yunpolmodels/pokemonNG/eeveelutions/(0197) - Umbreon/pm0197_00_00_body_b_nrm.vtf
Yunpol's Pokemon Eeveelutions (SV Edition)/materials/models/yunpolmodels/pokemonNG/eeveelutions/(0197) - Umbreon/pm0197_00_00_body_b_alb.vtf
Yunpol's Pokemon Eeveelutions (SV Edition)/materials/models/yunpolmodels/pokemonNG/eeveelutions/(0197) - Umbreon/pm0197_00_00_body_a_nrm.vtf
Yunpol's Pokemon Eeveelutions (SV Edition)/materials/models/yunpolmodels/pokemonNG/eeveelutions/(0197) - Umbreon/pm0197_00_00_body_a_rare_alb_glow.vtf
Yunpol's Pokemon Eeveelutions (SV Edition)/materials/models/yunpolmodels/pokemonNG/eeveelutions/(0197) - Umbreon/eyeball_ls.vmt
Yunpol's Pokemon Eeveelutions (SV Edition)/materials/models/yunpolmodels/pokemonNG/eeveelutions/(0197) - Umbreon/pm0197_00_00_body_b_rare_alb.vtf
Yunpol's Pokemon Eeveelutions (SV Edition)/materials/models/yunpolmodels/pokemonNG/eeveelutions/(0197) - Umbreon/pm0197_00_00_body_a_alb_glow.vmt
Yunpol's Pokemon Eeveelutions (SV Edition)/materials/models/yunpolmodels/pokemonNG/eeveelutions/(0197) - Umbreon/pm0197_00_00_body_a_alb.vmt
Yunpol's Pokemon Eeveelutions (SV Edition)/materials/models/yunpolmodels/pokemonNG/eeveelutions/(0197) - Umbreon/eyeball_rs.vmt
Yunpol's Pokemon Eeveelutions (SV Edition)/materials/models/yunpolmodels/pokemonNG/eeveelutions/(0197) - Umbreon/pm0197_00_00_body_b_alb.vmt
Yunpol's Pokemon Eeveelutions (SV Edition)/materials/models/yunpolmodels/pokemonNG/eeveelutions/(0197) - Umbreon/pm0197_00_00_body_a_rare_alb.vmt
Yunpol's Pokemon Eeveelutions (SV Edition)/materials/models/yunpolmodels/pokemonNG/eeveelutions/(0197) - Umbreon/pm0197_00_00_body_b_gls.vtf
Yunpol's Pokemon Eeveelutions (SV Edition)/materials/models/yunpolmodels/pokemonNG/eeveelutions/(0197) - Umbreon/pm0197_00_00_body_a_gls.vtf
Yunpol's Pokemon Eeveelutions (SV Edition)/materials/models/yunpolmodels/pokemonNG/eeveelutions/(0197) - Umbreon/pm0197_00_00_body_b_rare_alb.vmt
Yunpol's Pokemon Eeveelutions (SV Edition)/materials/models/yunpolmodels/pokemonNG/eeveelutions/(0197) - Umbreon/pm0197_00_00_body_a_alb.vtf
Yunpol's Pokemon Eeveelutions (SV Edition)/materials/models/yunpolmodels/pokemonNG/eeveelutions/(0197) - Umbreon/eyeball_r.vmt
Yunpol's Pokemon Eeveelutions (SV Edition)/materials/models/yunpolmodels/pokemonNG/eeveelutions/(0197) - Umbreon/pm0197_00_00_body_a_rare_alb.vtf
Yunpol's Pokemon Eeveelutions (SV Edition)/materials/models/yunpolmodels/pokemonNG/eeveelutions/(0197) - Umbreon/pm0197_00_00_reye_alb.vtf
Yunpol's Pokemon Eeveelutions (SV Edition)/materials/models/yunpolmodels/pokemonNG/eeveelutions/(0470) - Leafeon/pm0470_00_00_reye_rare_alb.vtf
Yunpol's Pokemon Eeveelutions (SV Edition)/materials/models/yunpolmodels/pokemonNG/eeveelutions/(0470) - Leafeon/pm0470_00_00_body_a_rare_alb.vtf
Yunpol's Pokemon Eeveelutions (SV Edition)/materials/models/yunpolmodels/pokemonNG/eeveelutions/(0470) - Leafeon/eyeball_l.vmt
Yunpol's Pokemon Eeveelutions (SV Edition)/materials/models/yunpolmodels/pokemonNG/eeveelutions/(0470) - Leafeon/eyeball_ls.vmt
Yunpol's Pokemon Eeveelutions (SV Edition)/materials/models/yunpolmodels/pokemonNG/eeveelutions/(0470) - Leafeon/pm0470_00_00_body_a_rare_alb.vmt
Yunpol's Pokemon Eeveelutions (SV Edition)/materials/models/yunpolmodels/pokemonNG/eeveelutions/(0470) - Leafeon/pm0470_00_00_body_b_alb.vmt
Yunpol's Pokemon Eeveelutions (SV Edition)/materials/models/yunpolmodels/pokemonNG/eeveelutions/(0470) - Leafeon/pm0470_00_00_reye_alb.vtf
Yunpol's Pokemon Eeveelutions (SV Edition)/materials/models/yunpolmodels/pokemonNG/eeveelutions/(0470) - Leafeon/pm0470_00_00_body_a_nrm.vtf
Yunpol's Pokemon Eeveelutions (SV Edition)/materials/models/yunpolmodels/pokemonNG/eeveelutions/(0470) - Leafeon/pm0470_00_00_leye_alb.vtf
Yunpol's Pokemon Eeveelutions (SV Edition)/materials/models/yunpolmodels/pokemonNG/eeveelutions/(0470) - Leafeon/pm0470_00_00_body_b_rare_alb.vmt
Yunpol's Pokemon Eeveelutions (SV Edition)/materials/models/yunpolmodels/pokemonNG/eeveelutions/(0470) - Leafeon/eyeball_rs.vmt
Yunpol's Pokemon Eeveelutions (SV Edition)/materials/models/yunpolmodels/pokemonNG/eeveelutions/(0470) - Leafeon/pm0470_00_00_body_a_alb.vmt
Yunpol's Pokemon Eeveelutions (SV Edition)/materials/models/yunpolmodels/pokemonNG/eeveelutions/(0470) - Leafeon/pm0470_00_00_body_b_alb.vtf
Yunpol's Pokemon Eeveelutions (SV Edition)/materials/models/yunpolmodels/pokemonNG/eeveelutions/(0470) - Leafeon/pm0470_00_00_body_b_rare_alb.vtf
Yunpol's Pokemon Eeveelutions (SV Edition)/materials/models/yunpolmodels/pokemonNG/eeveelutions/(0470) - Leafeon/pm0470_00_00_body_b_gls.vtf
Yunpol's Pokemon Eeveelutions (SV Edition)/materials/models/yunpolmodels/pokemonNG/eeveelutions/(0470) - Leafeon/pm0470_00_00_body_a_gls.vtf
Yunpol's Pokemon Eeveelutions (SV Edition)/materials/models/yunpolmodels/pokemonNG/eeveelutions/(0470) - Leafeon/pm0470_00_00_body_a_alb.vtf
Yunpol's Pokemon Eeveelutions (SV Edition)/materials/models/yunpolmodels/pokemonNG/eeveelutions/(0470) - Leafeon/eyeball_r.vmt
Yunpol's Pokemon Eeveelutions (SV Edition)/materials/models/yunpolmodels/pokemonNG/eeveelutions/(0470) - Leafeon/pm0470_00_00_leye_rare_alb.vtf
Yunpol's Pokemon Eeveelutions (SV Edition)/materials/models/yunpolmodels/pokemonNG/eeveelutions/(0470) - Leafeon/pm0470_00_00_body_b_nrm.vtf
Yunpol's Pokemon Eeveelutions (SV Edition)/materials/models/yunpolmodels/pokemonNG/eeveelutions/(0136) - Flareon/pm0136_00_00_body_a_alb.vmt
Yunpol's Pokemon Eeveelutions (SV Edition)/materials/models/yunpolmodels/pokemonNG/eeveelutions/(0136) - Flareon/pm0136_00_00_body_a_alb.vtf
Yunpol's Pokemon Eeveelutions (SV Edition)/materials/models/yunpolmodels/pokemonNG/eeveelutions/(0136) - Flareon/pm0136_00_00_body_a_rare_alb.vtf
Yunpol's Pokemon Eeveelutions (SV Edition)/materials/models/yunpolmodels/pokemonNG/eeveelutions/(0136) - Flareon/pm0136_00_00_body_b_gls.vtf
Yunpol's Pokemon Eeveelutions (SV Edition)/materials/models/yunpolmodels/pokemonNG/eeveelutions/(0136) - Flareon/pm0136_00_00_body_b_alb.vmt
Yunpol's Pokemon Eeveelutions (SV Edition)/materials/models/yunpolmodels/pokemonNG/eeveelutions/(0136) - Flareon/pm0136_00_00_body_a_gls.vtf
Yunpol's Pokemon Eeveelutions (SV Edition)/materials/models/yunpolmodels/pokemonNG/eeveelutions/(0136) - Flareon/pm0136_00_00_body_b_rare_alb.vmt
Yunpol's Pokemon Eeveelutions (SV Edition)/materials/models/yunpolmodels/pokemonNG/eeveelutions/(0136) - Flareon/pm0136_00_00_eye_alb.vtf
Yunpol's Pokemon Eeveelutions (SV Edition)/materials/models/yunpolmodels/pokemonNG/eeveelutions/(0136) - Flareon/pm0136_00_00_reye_alb.vmt
Yunpol's Pokemon Eeveelutions (SV Edition)/materials/models/yunpolmodels/pokemonNG/eeveelutions/(0136) - Flareon/pm0136_00_00_body_b_nrm.vtf
Yunpol's Pokemon Eeveelutions (SV Edition)/materials/models/yunpolmodels/pokemonNG/eeveelutions/(0136) - Flareon/pm0136_00_00_body_b_rare_alb.vtf
Yunpol's Pokemon Eeveelutions (SV Edition)/materials/models/yunpolmodels/pokemonNG/eeveelutions/(0136) - Flareon/pm0136_00_00_body_a_nrm.vtf
Yunpol's Pokemon Eeveelutions (SV Edition)/materials/models/yunpolmodels/pokemonNG/eeveelutions/(0136) - Flareon/pm0136_00_00_eye_nrm.vtf
Yunpol's Pokemon Eeveelutions (SV Edition)/materials/models/yunpolmodels/pokemonNG/eeveelutions/(0136) - Flareon/pm0136_00_00_leye_alb.vmt
Yunpol's Pokemon Eeveelutions (SV Edition)/materials/models/yunpolmodels/pokemonNG/eeveelutions/(0136) - Flareon/pm0136_00_00_body_b_alb.vtf
Yunpol's Pokemon Eeveelutions (SV Edition)/materials/models/yunpolmodels/pokemonNG/eeveelutions/(0136) - Flareon/pm0136_00_00_body_a_rare_alb.vmt
Yunpol's Pokemon Eeveelutions (SV Edition)/materials/models/yunpolmodels/pokemonNG/eeveelutions/(0135) - Jolteon/pm0135_00_00_body_b_rare_alb.vtf
Yunpol's Pokemon Eeveelutions (SV Edition)/materials/models/yunpolmodels/pokemonNG/eeveelutions/(0135) - Jolteon/pm0135_00_00_body_b_alb.vmt
Yunpol's Pokemon Eeveelutions (SV Edition)/materials/models/yunpolmodels/pokemonNG/eeveelutions/(0135) - Jolteon/pm0135_00_00_reye_alb.vmt
Yunpol's Pokemon Eeveelutions (SV Edition)/materials/models/yunpolmodels/pokemonNG/eeveelutions/(0135) - Jolteon/pm0135_00_00_body_b_gls.vtf
Yunpol's Pokemon Eeveelutions (SV Edition)/materials/models/yunpolmodels/pokemonNG/eeveelutions/(0135) - Jolteon/pm0135_00_00_body_a_rare_alb.vtf
Yunpol's Pokemon Eeveelutions (SV Edition)/materials/models/yunpolmodels/pokemonNG/eeveelutions/(0135) - Jolteon/pm0135_00_00_body_a_rare_alb.vmt
Yunpol's Pokemon Eeveelutions (SV Edition)/materials/models/yunpolmodels/pokemonNG/eeveelutions/(0135) - Jolteon/pm0135_00_00_leye_alb.vmt
Yunpol's Pokemon Eeveelutions (SV Edition)/materials/models/yunpolmodels/pokemonNG/eeveelutions/(0135) - Jolteon/pm0135_00_00_body_a_nrm.vtf
Yunpol's Pokemon Eeveelutions (SV Edition)/materials/models/yunpolmodels/pokemonNG/eeveelutions/(0135) - Jolteon/pm0135_00_00_eye_nrm.vtf
Yunpol's Pokemon Eeveelutions (SV Edition)/materials/models/yunpolmodels/pokemonNG/eeveelutions/(0135) - Jolteon/pm0135_00_00_body_b_rare_alb.vmt
Yunpol's Pokemon Eeveelutions (SV Edition)/materials/models/yunpolmodels/pokemonNG/eeveelutions/(0135) - Jolteon/pm0135_00_00_eye_alb.vtf
Yunpol's Pokemon Eeveelutions (SV Edition)/materials/models/yunpolmodels/pokemonNG/eeveelutions/(0135) - Jolteon/pm0135_00_00_body_a_alb.vtf
Yunpol's Pokemon Eeveelutions (SV Edition)/materials/models/yunpolmodels/pokemonNG/eeveelutions/(0135) - Jolteon/pm0135_00_00_body_b_nrm.vtf
Yunpol's Pokemon Eeveelutions (SV Edition)/materials/models/yunpolmodels/pokemonNG/eeveelutions/(0135) - Jolteon/pm0135_00_00_body_a_gls.vtf
Yunpol's Pokemon Eeveelutions (SV Edition)/materials/models/yunpolmodels/pokemonNG/eeveelutions/(0135) - Jolteon/pm0135_00_00_body_a_alb.vmt
Yunpol's Pokemon Eeveelutions (SV Edition)/materials/models/yunpolmodels/pokemonNG/eeveelutions/(0135) - Jolteon/pm0135_00_00_body_b_alb.vtf
Yunpol's Pokemon Eeveelutions (SV Edition)/materials/models/yunpolmodels/pokemonNG/eeveelutions/(0133) - Eevee/pm0133_00_00_body_a1_alb.vmt
Yunpol's Pokemon Eeveelutions (SV Edition)/materials/models/yunpolmodels/pokemonNG/eeveelutions/(0133) - Eevee/pm0133_00_00_body_b_rare_alb.vmt
Yunpol's Pokemon Eeveelutions (SV Edition)/materials/models/yunpolmodels/pokemonNG/eeveelutions/(0133) - Eevee/pm0133_00_00_body_b_alb.vtf
Yunpol's Pokemon Eeveelutions (SV Edition)/materials/models/yunpolmodels/pokemonNG/eeveelutions/(0133) - Eevee/pm0133_00_00_leye_rare_alb.vtf
Yunpol's Pokemon Eeveelutions (SV Edition)/materials/models/yunpolmodels/pokemonNG/eeveelutions/(0133) - Eevee/eyeball_l.vmt
Yunpol's Pokemon Eeveelutions (SV Edition)/materials/models/yunpolmodels/pokemonNG/eeveelutions/(0133) - Eevee/pm0133_00_00_body_b_alb.vmt
Yunpol's Pokemon Eeveelutions (SV Edition)/materials/models/yunpolmodels/pokemonNG/eeveelutions/(0133) - Eevee/pm0133_00_00_body_b_gls.vtf
Yunpol's Pokemon Eeveelutions (SV Edition)/materials/models/yunpolmodels/pokemonNG/eeveelutions/(0133) - Eevee/pm0133_00_00_body_a_alb.vmt
Yunpol's Pokemon Eeveelutions (SV Edition)/materials/models/yunpolmodels/pokemonNG/eeveelutions/(0133) - Eevee/eyeball_ls.vmt
Yunpol's Pokemon Eeveelutions (SV Edition)/materials/models/yunpolmodels/pokemonNG/eeveelutions/(0133) - Eevee/pm0133_00_00_body_a1_rare_alb.vmt
Yunpol's Pokemon Eeveelutions (SV Edition)/materials/models/yunpolmodels/pokemonNG/eeveelutions/(0133) - Eevee/pm0133_00_00_body_b_nrm.vtf
Yunpol's Pokemon Eeveelutions (SV Edition)/materials/models/yunpolmodels/pokemonNG/eeveelutions/(0133) - Eevee/pm0133_00_00_body_b_rare_alb.vtf
Yunpol's Pokemon Eeveelutions (SV Edition)/materials/models/yunpolmodels/pokemonNG/eeveelutions/(0133) - Eevee/pm0133_00_00_body_a_rare_alb.vmt
Yunpol's Pokemon Eeveelutions (SV Edition)/materials/models/yunpolmodels/pokemonNG/eeveelutions/(0133) - Eevee/pm0133_00_00_body_a_gls.vtf
Yunpol's Pokemon Eeveelutions (SV Edition)/materials/models/yunpolmodels/pokemonNG/eeveelutions/(0133) - Eevee/eyeball_rs.vmt
Yunpol's Pokemon Eeveelutions (SV Edition)/materials/models/yunpolmodels/pokemonNG/eeveelutions/(0133) - Eevee/pm0133_00_00_body_a_rare_alb.vtf
Yunpol's Pokemon Eeveelutions (SV Edition)/materials/models/yunpolmodels/pokemonNG/eeveelutions/(0133) - Eevee/pm0133_00_00_leye_alb.vtf
Yunpol's Pokemon Eeveelutions (SV Edition)/materials/models/yunpolmodels/pokemonNG/eeveelutions/(0133) - Eevee/pm0133_00_00_body_a_alb.vtf
Yunpol's Pokemon Eeveelutions (SV Edition)/materials/models/yunpolmodels/pokemonNG/eeveelutions/(0133) - Eevee/pm0133_00_00_body_a_nrm.vtf
Yunpol's Pokemon Eeveelutions (SV Edition)/materials/models/yunpolmodels/pokemonNG/eeveelutions/(0133) - Eevee/pm0133_00_00_reye_rare_alb.vtf
Yunpol's Pokemon Eeveelutions (SV Edition)/materials/models/yunpolmodels/pokemonNG/eeveelutions/(0133) - Eevee/pm0133_00_00_reye_alb.vtf
Yunpol's Pokemon Eeveelutions (SV Edition)/materials/models/yunpolmodels/pokemonNG/eeveelutions/(0133) - Eevee/eyeball_r.vmt
Yunpol's Pokemon Eeveelutions (SV Edition)/materials/models/yunpolmodels/pokemonNG/eeveelutions/(0196) - Espeon/pm0196_00_00_body_b_rare_alb.vtf
Yunpol's Pokemon Eeveelutions (SV Edition)/materials/models/yunpolmodels/pokemonNG/eeveelutions/(0196) - Espeon/pm0196_00_00_leye_alb_glow.vmt
Yunpol's Pokemon Eeveelutions (SV Edition)/materials/models/yunpolmodels/pokemonNG/eeveelutions/(0196) - Espeon/pm0196_00_00_body_b_alb.vmt
Yunpol's Pokemon Eeveelutions (SV Edition)/materials/models/yunpolmodels/pokemonNG/eeveelutions/(0196) - Espeon/pm0196_00_00_body_a_rare_alb.vtf
Yunpol's Pokemon Eeveelutions (SV Edition)/materials/models/yunpolmodels/pokemonNG/eeveelutions/(0196) - Espeon/pm0196_00_00_body_a_nrm.vtf
Yunpol's Pokemon Eeveelutions (SV Edition)/materials/models/yunpolmodels/pokemonNG/eeveelutions/(0196) - Espeon/pm0196_00_00_body_b_gls.vtf
Yunpol's Pokemon Eeveelutions (SV Edition)/materials/models/yunpolmodels/pokemonNG/eeveelutions/(0196) - Espeon/pm0196_00_00_body_a_gls.vtf
Yunpol's Pokemon Eeveelutions (SV Edition)/materials/models/yunpolmodels/pokemonNG/eeveelutions/(0196) - Espeon/pm0196_00_00_body_b_alb.vtf
Yunpol's Pokemon Eeveelutions (SV Edition)/materials/models/yunpolmodels/pokemonNG/eeveelutions/(0196) - Espeon/pm0196_00_00_reye_alb_glow.vmt
Yunpol's Pokemon Eeveelutions (SV Edition)/materials/models/yunpolmodels/pokemonNG/eeveelutions/(0196) - Espeon/pm0196_00_00_body_b_nrm.vtf
Yunpol's Pokemon Eeveelutions (SV Edition)/materials/models/yunpolmodels/pokemonNG/eeveelutions/(0196) - Espeon/pm0196_00_00_body_a_alb.vmt
Yunpol's Pokemon Eeveelutions (SV Edition)/materials/models/yunpolmodels/pokemonNG/eeveelutions/(0196) - Espeon/pm0196_00_00_eye_nrm.vtf
Yunpol's Pokemon Eeveelutions (SV Edition)/materials/models/yunpolmodels/pokemonNG/eeveelutions/(0196) - Espeon/pm0196_00_00_body_c_nrm.vtf
Yunpol's Pokemon Eeveelutions (SV Edition)/materials/models/yunpolmodels/pokemonNG/eeveelutions/(0196) - Espeon/pm0196_00_00_body_c_alb.vtf
Yunpol's Pokemon Eeveelutions (SV Edition)/materials/models/yunpolmodels/pokemonNG/eeveelutions/(0196) - Espeon/pm0196_00_00_body_a_rare_alb.vmt
Yunpol's Pokemon Eeveelutions (SV Edition)/materials/models/yunpolmodels/pokemonNG/eeveelutions/(0196) - Espeon/pm0196_00_00_body_a_alb.vtf
Yunpol's Pokemon Eeveelutions (SV Edition)/materials/models/yunpolmodels/pokemonNG/eeveelutions/(0196) - Espeon/pm0196_00_00_body_b_rare_alb.vmt
Yunpol's Pokemon Eeveelutions (SV Edition)/materials/models/yunpolmodels/pokemonNG/eeveelutions/(0196) - Espeon/pm0196_00_00_leye_alb.vmt
Yunpol's Pokemon Eeveelutions (SV Edition)/materials/models/yunpolmodels/pokemonNG/eeveelutions/(0196) - Espeon/pm0196_00_00_body_c_alb.vmt
Yunpol's Pokemon Eeveelutions (SV Edition)/materials/models/yunpolmodels/pokemonNG/eeveelutions/(0196) - Espeon/pm0196_00_00_body_c_alb_glow.vmt
Yunpol's Pokemon Eeveelutions (SV Edition)/materials/models/yunpolmodels/pokemonNG/eeveelutions/(0196) - Espeon/pm0196_00_00_reye_alb.vmt
Yunpol's Pokemon Eeveelutions (SV Edition)/materials/models/yunpolmodels/pokemonNG/eeveelutions/(0196) - Espeon/pm0196_00_00_eye_alb.vtf
Yunpol's Pokemon Eeveelutions (SV Edition)/materials/models/yunpolmodels/pokemonNG/eeveelutions/(0471) - Glaceon/pm0471_00_00_body_alb.vtf
Yunpol's Pokemon Eeveelutions (SV Edition)/materials/models/yunpolmodels/pokemonNG/eeveelutions/(0471) - Glaceon/pm0471_00_00_eye_rare_alb.vmt
Yunpol's Pokemon Eeveelutions (SV Edition)/materials/models/yunpolmodels/pokemonNG/eeveelutions/(0471) - Glaceon/pm0471_00_00_body_nrm.vtf
Yunpol's Pokemon Eeveelutions (SV Edition)/materials/models/yunpolmodels/pokemonNG/eeveelutions/(0471) - Glaceon/pm0471_00_00_body_rare_alb.vtf
Yunpol's Pokemon Eeveelutions (SV Edition)/materials/models/yunpolmodels/pokemonNG/eeveelutions/(0471) - Glaceon/pm0471_00_00_body_gls.vtf
Yunpol's Pokemon Eeveelutions (SV Edition)/materials/models/yunpolmodels/pokemonNG/eeveelutions/(0471) - Glaceon/pm0471_00_00_eye_rare_alb.vtf
Yunpol's Pokemon Eeveelutions (SV Edition)/materials/models/yunpolmodels/pokemonNG/eeveelutions/(0471) - Glaceon/pm0471_00_00_eye_alb.vtf
Yunpol's Pokemon Eeveelutions (SV Edition)/materials/models/yunpolmodels/pokemonNG/eeveelutions/(0471) - Glaceon/pm0471_00_00_eye2_nrm.vtf
Yunpol's Pokemon Eeveelutions (SV Edition)/materials/models/yunpolmodels/pokemonNG/eeveelutions/(0471) - Glaceon/pm0471_00_00_body_alb.vmt
Yunpol's Pokemon Eeveelutions (SV Edition)/materials/models/yunpolmodels/pokemonNG/eeveelutions/(0471) - Glaceon/pm0471_00_00_eye_alb.vmt
Yunpol's Pokemon Eeveelutions (SV Edition)/materials/models/yunpolmodels/pokemonNG/eeveelutions/(0471) - Glaceon/pm0471_00_00_body_rare_alb.vmt
Yunpol's Pokemon Eeveelutions (SV Edition)/materials/models/yunpolmodels/pokemonNG/eeveelutions/(0700) - Sylveon/pm0767_00_00_body_b_gls.vtf
Yunpol's Pokemon Eeveelutions (SV Edition)/materials/models/yunpolmodels/pokemonNG/eeveelutions/(0700) - Sylveon/pm0767_00_00_body_a_nrm.vtf
Yunpol's Pokemon Eeveelutions (SV Edition)/materials/models/yunpolmodels/pokemonNG/eeveelutions/(0700) - Sylveon/pm0767_00_00_body_b_alb.vmt
Yunpol's Pokemon Eeveelutions (SV Edition)/materials/models/yunpolmodels/pokemonNG/eeveelutions/(0700) - Sylveon/pm0767_00_00_body_b_alb.vtf
Yunpol's Pokemon Eeveelutions (SV Edition)/materials/models/yunpolmodels/pokemonNG/eeveelutions/(0700) - Sylveon/pm0767_00_00_body_a_rare_alb.vtf
Yunpol's Pokemon Eeveelutions (SV Edition)/materials/models/yunpolmodels/pokemonNG/eeveelutions/(0700) - Sylveon/pm0767_00_00_leye_rare_alb.vmt
Yunpol's Pokemon Eeveelutions (SV Edition)/materials/models/yunpolmodels/pokemonNG/eeveelutions/(0700) - Sylveon/pm0767_00_00_body_a_alb.vtf
Yunpol's Pokemon Eeveelutions (SV Edition)/materials/models/yunpolmodels/pokemonNG/eeveelutions/(0700) - Sylveon/pm0767_00_00_eye_rare_alb.vtf
Yunpol's Pokemon Eeveelutions (SV Edition)/materials/models/yunpolmodels/pokemonNG/eeveelutions/(0700) - Sylveon/pm0767_00_00_eye2_nrm.vtf
Yunpol's Pokemon Eeveelutions (SV Edition)/materials/models/yunpolmodels/pokemonNG/eeveelutions/(0700) - Sylveon/pm0767_00_00_body_a_alb.vmt
Yunpol's Pokemon Eeveelutions (SV Edition)/materials/models/yunpolmodels/pokemonNG/eeveelutions/(0700) - Sylveon/pm0767_00_00_body_b_rare_alb.vtf
Yunpol's Pokemon Eeveelutions (SV Edition)/materials/models/yunpolmodels/pokemonNG/eeveelutions/(0700) - Sylveon/pm0767_00_00_body_b_nrm.vtf
Yunpol's Pokemon Eeveelutions (SV Edition)/materials/models/yunpolmodels/pokemonNG/eeveelutions/(0700) - Sylveon/pm0767_00_00_body_b_rare_alb.vmt
Yunpol's Pokemon Eeveelutions (SV Edition)/materials/models/yunpolmodels/pokemonNG/eeveelutions/(0700) - Sylveon/pm0767_00_00_reye_alb.vmt
Yunpol's Pokemon Eeveelutions (SV Edition)/materials/models/yunpolmodels/pokemonNG/eeveelutions/(0700) - Sylveon/pm0767_00_00_reye_rare_alb.vmt
Yunpol's Pokemon Eeveelutions (SV Edition)/materials/models/yunpolmodels/pokemonNG/eeveelutions/(0700) - Sylveon/pm0767_00_00_leye_alb.vmt
Yunpol's Pokemon Eeveelutions (SV Edition)/materials/models/yunpolmodels/pokemonNG/eeveelutions/(0700) - Sylveon/pm0767_00_00_body_a_rare_alb.vmt
Yunpol's Pokemon Eeveelutions (SV Edition)/materials/models/yunpolmodels/pokemonNG/eeveelutions/(0700) - Sylveon/pm0767_00_00_eye_alb.vtf
Yunpol's Pokemon Eeveelutions (SV Edition)/materials/models/yunpolmodels/pokemonNG/eeveelutions/(0700) - Sylveon/pm0767_00_00_body_a_gls.vtf