Adult content
This content is marked as Adult/NSFW content. You can toggle your preferences regarding this content type in your account settings.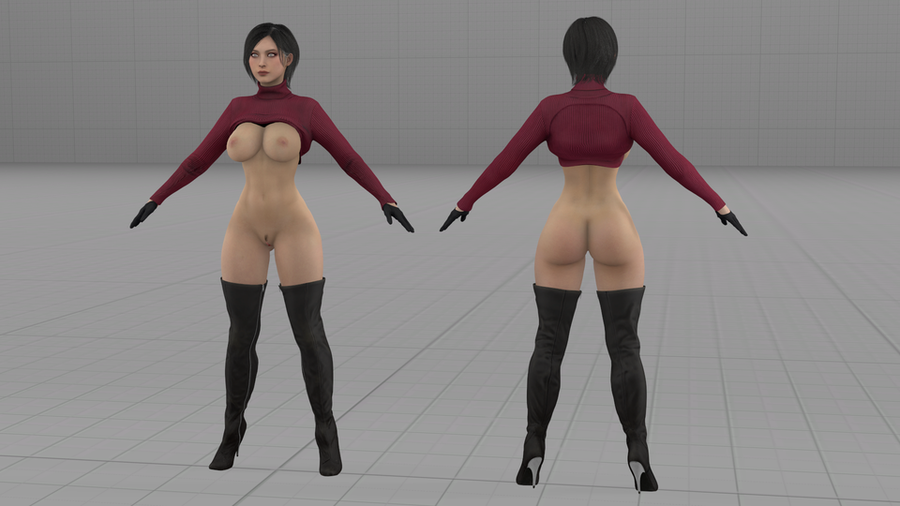 Show more
Description
Ada model made by @keyd10iori ported over to sfm by me!
If you wanna support more of my ports or wanna commission please check out my twitter and fanbox thank you!
twitter @theboobedone1 https://theboobedone.fanbox.cc/
update - fixed the cloudy glossy eyes please download update
SFMLab is a free service. However, it costs about $0.03 to deliver you a 1GB file. With over 20TB of traffic every month and growing, SFMLab needs your help. If only 1% of our users each gave us $5 for a single month, we could keep the site running for several years.
Filename
Downloads
Created
Filesize
Files
AdaThiccRE4R_SFM.zip
907
2023-04-09 00:35:31
95.23 MB
File contents:

AdaThiccRE4R SFM/models/boobedone/RE4R/adathiccpubes.dx90.vtx
AdaThiccRE4R SFM/models/boobedone/RE4R/adathiccboots.dx90.vtx
AdaThiccRE4R SFM/models/boobedone/RE4R/adathiccspats.mdl
AdaThiccRE4R SFM/models/boobedone/RE4R/adathiccgloves.vvd
AdaThiccRE4R SFM/models/boobedone/RE4R/adathiccpubes.mdl
AdaThiccRE4R SFM/models/boobedone/RE4R/adathicchair.vvd
AdaThiccRE4R SFM/models/boobedone/RE4R/adathiccpubes.vvd
AdaThiccRE4R SFM/models/boobedone/RE4R/adathiccsweater.mdl
AdaThiccRE4R SFM/models/boobedone/RE4R/adathiccsweater.vvd
AdaThiccRE4R SFM/models/boobedone/RE4R/adathiccspats.vvd
AdaThiccRE4R SFM/models/boobedone/RE4R/adathiccnude.vvd
AdaThiccRE4R SFM/models/boobedone/RE4R/adathicchair.mdl
AdaThiccRE4R SFM/models/boobedone/RE4R/adathiccsweater.dx90.vtx
AdaThiccRE4R SFM/models/boobedone/RE4R/adathiccnude.mdl
AdaThiccRE4R SFM/models/boobedone/RE4R/adathicchair.dx90.vtx
AdaThiccRE4R SFM/models/boobedone/RE4R/adathiccgloves.dx90.vtx
AdaThiccRE4R SFM/models/boobedone/RE4R/adathiccnude.dx90.vtx
AdaThiccRE4R SFM/models/boobedone/RE4R/adathiccboots.vvd
AdaThiccRE4R SFM/models/boobedone/RE4R/adathiccgloves.mdl
AdaThiccRE4R SFM/models/boobedone/RE4R/adathiccboots.mdl
AdaThiccRE4R SFM/models/boobedone/RE4R/adathiccspats.dx90.vtx
AdaThiccRE4R SFM/materials/models/boobedone/RE4R/adathicc/GoldenPalace_Specularity.vtf
AdaThiccRE4R SFM/materials/models/boobedone/RE4R/adathicc/iris.vtf
AdaThiccRE4R SFM/materials/models/boobedone/RE4R/adathicc/GPVagina.vmt
AdaThiccRE4R SFM/materials/models/boobedone/RE4R/adathicc/Ears.vmt
AdaThiccRE4R SFM/materials/models/boobedone/RE4R/adathicc/Arms.vmt
AdaThiccRE4R SFM/materials/models/boobedone/RE4R/adathicc/pusshair1.vmt
AdaThiccRE4R SFM/materials/models/boobedone/RE4R/adathicc/boots.vtf
AdaThiccRE4R SFM/materials/models/boobedone/RE4R/adathicc/sweater.vtf
AdaThiccRE4R SFM/materials/models/boobedone/RE4R/adathicc/GPTorso.vmt
AdaThiccRE4R SFM/materials/models/boobedone/RE4R/adathicc/spats.vtf
AdaThiccRE4R SFM/materials/models/boobedone/RE4R/adathicc/leg texture.vtf
AdaThiccRE4R SFM/materials/models/boobedone/RE4R/adathicc/GoldenPalace_NormalMap.vtf
AdaThiccRE4R SFM/materials/models/boobedone/RE4R/adathicc/Mouth.vmt
AdaThiccRE4R SFM/materials/models/boobedone/RE4R/adathicc/G8FBaseLegsMapS_1003.vtf
AdaThiccRE4R SFM/materials/models/boobedone/RE4R/adathicc/Face.vmt
AdaThiccRE4R SFM/materials/models/boobedone/RE4R/adathicc/cha200_20_Hair_NRMR.tex.vtf
AdaThiccRE4R SFM/materials/models/boobedone/RE4R/adathicc/hair.vtf
AdaThiccRE4R SFM/materials/models/boobedone/RE4R/adathicc/Torso.vmt
AdaThiccRE4R SFM/materials/models/boobedone/RE4R/adathicc/eyeL.vmt
AdaThiccRE4R SFM/materials/models/boobedone/RE4R/adathicc/face texture.vtf
AdaThiccRE4R SFM/materials/models/boobedone/RE4R/adathicc/normals.vtf
AdaThiccRE4R SFM/materials/models/boobedone/RE4R/adathicc/G8FBaseFaceMapS_1001.vtf
AdaThiccRE4R SFM/materials/models/boobedone/RE4R/adathicc/pusshair2.vmt
AdaThiccRE4R SFM/materials/models/boobedone/RE4R/adathicc/G8FBaseTorsoMapS_1002.vtf
AdaThiccRE4R SFM/materials/models/boobedone/RE4R/adathicc/sweater.vmt
AdaThiccRE4R SFM/materials/models/boobedone/RE4R/adathicc/Ara_Yeong_torso_nm.vtf
AdaThiccRE4R SFM/materials/models/boobedone/RE4R/adathicc/Fingernails.vmt
AdaThiccRE4R SFM/materials/models/boobedone/RE4R/adathicc/sweatern.vtf
AdaThiccRE4R SFM/materials/models/boobedone/RE4R/adathicc/G8FBaseArmsMapS_1004.vtf
AdaThiccRE4R SFM/materials/models/boobedone/RE4R/adathicc/Toenails.vmt
AdaThiccRE4R SFM/materials/models/boobedone/RE4R/adathicc/spats.vmt
AdaThiccRE4R SFM/materials/models/boobedone/RE4R/adathicc/hair.vmt
AdaThiccRE4R SFM/materials/models/boobedone/RE4R/adathicc/arms texture.vtf
AdaThiccRE4R SFM/materials/models/boobedone/RE4R/adathicc/cha200_00_Props_ALBD.tex.vtf
AdaThiccRE4R SFM/materials/models/boobedone/RE4R/adathicc/EyeSocket.vmt
AdaThiccRE4R SFM/materials/models/boobedone/RE4R/adathicc/Lips.vmt
AdaThiccRE4R SFM/materials/models/boobedone/RE4R/adathicc/AO.vtf
AdaThiccRE4R SFM/materials/models/boobedone/RE4R/adathicc/boots.vmt
AdaThiccRE4R SFM/materials/models/boobedone/RE4R/adathicc/Teeth.vmt
AdaThiccRE4R SFM/materials/models/boobedone/RE4R/adathicc/GPTorsoBack.vmt
AdaThiccRE4R SFM/materials/models/boobedone/RE4R/adathicc/GPLabia Minora.vmt
AdaThiccRE4R SFM/materials/models/boobedone/RE4R/adathicc/Ara_Yeong_face_nm.vtf
AdaThiccRE4R SFM/materials/models/boobedone/RE4R/adathicc/Ara_Yeong_arms_nm.vtf
AdaThiccRE4R SFM/materials/models/boobedone/RE4R/adathicc/hair2.vtf
AdaThiccRE4R SFM/materials/models/boobedone/RE4R/adathicc/pushair2.vtf
AdaThiccRE4R SFM/materials/models/boobedone/RE4R/adathicc/Legs.vmt
AdaThiccRE4R SFM/materials/models/boobedone/RE4R/adathicc/eyelashes.vtf
AdaThiccRE4R SFM/materials/models/boobedone/RE4R/adathicc/G8FBaseMouthMapD_1005.vtf
AdaThiccRE4R SFM/materials/models/boobedone/RE4R/adathicc/cha200_00_Props_NRMR.tex.vtf
AdaThiccRE4R SFM/materials/models/boobedone/RE4R/adathicc/GoldenPalace_Color.vtf
AdaThiccRE4R SFM/materials/models/boobedone/RE4R/adathicc/eyeR.vmt
AdaThiccRE4R SFM/materials/models/boobedone/RE4R/adathicc/Ara_Yeong_legs_nm.vtf
AdaThiccRE4R SFM/materials/models/boobedone/RE4R/adathicc/eyelashes.vmt
AdaThiccRE4R SFM/materials/models/boobedone/RE4R/adathicc/pushair1.vtf
AdaThiccRE4R SFM/materials/models/boobedone/RE4R/adathicc/bootsn.vtf
AdaThiccRE4R SFM/materials/models/boobedone/RE4R/adathicc/GPRectum.vmt
AdaThiccRE4R SFM/materials/models/boobedone/RE4R/adathicc/spatsn.vtf
AdaThiccRE4R SFM/materials/models/boobedone/RE4R/adathicc/torso texture.vtf




AdaThiccRE4R2_SFM.zip
500
2023-04-09 21:52:57
95.23 MB
File contents:

AdaThiccRE4R SFM/models/boobedone/RE4R/adathiccpubes.dx90.vtx
AdaThiccRE4R SFM/models/boobedone/RE4R/adathiccboots.dx90.vtx
AdaThiccRE4R SFM/models/boobedone/RE4R/adathiccspats.mdl
AdaThiccRE4R SFM/models/boobedone/RE4R/adathiccgloves.vvd
AdaThiccRE4R SFM/models/boobedone/RE4R/adathiccpubes.mdl
AdaThiccRE4R SFM/models/boobedone/RE4R/adathicchair.vvd
AdaThiccRE4R SFM/models/boobedone/RE4R/adathiccpubes.vvd
AdaThiccRE4R SFM/models/boobedone/RE4R/adathiccsweater.mdl
AdaThiccRE4R SFM/models/boobedone/RE4R/adathiccsweater.vvd
AdaThiccRE4R SFM/models/boobedone/RE4R/adathiccspats.vvd
AdaThiccRE4R SFM/models/boobedone/RE4R/adathiccnude.vvd
AdaThiccRE4R SFM/models/boobedone/RE4R/adathicchair.mdl
AdaThiccRE4R SFM/models/boobedone/RE4R/adathiccsweater.dx90.vtx
AdaThiccRE4R SFM/models/boobedone/RE4R/adathiccnude.mdl
AdaThiccRE4R SFM/models/boobedone/RE4R/adathicchair.dx90.vtx
AdaThiccRE4R SFM/models/boobedone/RE4R/adathiccgloves.dx90.vtx
AdaThiccRE4R SFM/models/boobedone/RE4R/adathiccnude.dx90.vtx
AdaThiccRE4R SFM/models/boobedone/RE4R/adathiccboots.vvd
AdaThiccRE4R SFM/models/boobedone/RE4R/adathiccgloves.mdl
AdaThiccRE4R SFM/models/boobedone/RE4R/adathiccboots.mdl
AdaThiccRE4R SFM/models/boobedone/RE4R/adathiccspats.dx90.vtx
AdaThiccRE4R SFM/materials/models/boobedone/RE4R/adathicc/GoldenPalace_Specularity.vtf
AdaThiccRE4R SFM/materials/models/boobedone/RE4R/adathicc/iris.vtf
AdaThiccRE4R SFM/materials/models/boobedone/RE4R/adathicc/GPVagina.vmt
AdaThiccRE4R SFM/materials/models/boobedone/RE4R/adathicc/Ears.vmt
AdaThiccRE4R SFM/materials/models/boobedone/RE4R/adathicc/Arms.vmt
AdaThiccRE4R SFM/materials/models/boobedone/RE4R/adathicc/pusshair1.vmt
AdaThiccRE4R SFM/materials/models/boobedone/RE4R/adathicc/boots.vtf
AdaThiccRE4R SFM/materials/models/boobedone/RE4R/adathicc/sweater.vtf
AdaThiccRE4R SFM/materials/models/boobedone/RE4R/adathicc/GPTorso.vmt
AdaThiccRE4R SFM/materials/models/boobedone/RE4R/adathicc/spats.vtf
AdaThiccRE4R SFM/materials/models/boobedone/RE4R/adathicc/leg texture.vtf
AdaThiccRE4R SFM/materials/models/boobedone/RE4R/adathicc/GoldenPalace_NormalMap.vtf
AdaThiccRE4R SFM/materials/models/boobedone/RE4R/adathicc/Mouth.vmt
AdaThiccRE4R SFM/materials/models/boobedone/RE4R/adathicc/G8FBaseLegsMapS_1003.vtf
AdaThiccRE4R SFM/materials/models/boobedone/RE4R/adathicc/Face.vmt
AdaThiccRE4R SFM/materials/models/boobedone/RE4R/adathicc/cha200_20_Hair_NRMR.tex.vtf
AdaThiccRE4R SFM/materials/models/boobedone/RE4R/adathicc/hair.vtf
AdaThiccRE4R SFM/materials/models/boobedone/RE4R/adathicc/Torso.vmt
AdaThiccRE4R SFM/materials/models/boobedone/RE4R/adathicc/eyeL.vmt
AdaThiccRE4R SFM/materials/models/boobedone/RE4R/adathicc/face texture.vtf
AdaThiccRE4R SFM/materials/models/boobedone/RE4R/adathicc/normals.vtf
AdaThiccRE4R SFM/materials/models/boobedone/RE4R/adathicc/G8FBaseFaceMapS_1001.vtf
AdaThiccRE4R SFM/materials/models/boobedone/RE4R/adathicc/pusshair2.vmt
AdaThiccRE4R SFM/materials/models/boobedone/RE4R/adathicc/G8FBaseTorsoMapS_1002.vtf
AdaThiccRE4R SFM/materials/models/boobedone/RE4R/adathicc/sweater.vmt
AdaThiccRE4R SFM/materials/models/boobedone/RE4R/adathicc/Ara_Yeong_torso_nm.vtf
AdaThiccRE4R SFM/materials/models/boobedone/RE4R/adathicc/Fingernails.vmt
AdaThiccRE4R SFM/materials/models/boobedone/RE4R/adathicc/sweatern.vtf
AdaThiccRE4R SFM/materials/models/boobedone/RE4R/adathicc/G8FBaseArmsMapS_1004.vtf
AdaThiccRE4R SFM/materials/models/boobedone/RE4R/adathicc/Toenails.vmt
AdaThiccRE4R SFM/materials/models/boobedone/RE4R/adathicc/spats.vmt
AdaThiccRE4R SFM/materials/models/boobedone/RE4R/adathicc/hair.vmt
AdaThiccRE4R SFM/materials/models/boobedone/RE4R/adathicc/arms texture.vtf
AdaThiccRE4R SFM/materials/models/boobedone/RE4R/adathicc/cha200_00_Props_ALBD.tex.vtf
AdaThiccRE4R SFM/materials/models/boobedone/RE4R/adathicc/EyeSocket.vmt
AdaThiccRE4R SFM/materials/models/boobedone/RE4R/adathicc/Lips.vmt
AdaThiccRE4R SFM/materials/models/boobedone/RE4R/adathicc/AO.vtf
AdaThiccRE4R SFM/materials/models/boobedone/RE4R/adathicc/boots.vmt
AdaThiccRE4R SFM/materials/models/boobedone/RE4R/adathicc/Teeth.vmt
AdaThiccRE4R SFM/materials/models/boobedone/RE4R/adathicc/GPTorsoBack.vmt
AdaThiccRE4R SFM/materials/models/boobedone/RE4R/adathicc/GPLabia Minora.vmt
AdaThiccRE4R SFM/materials/models/boobedone/RE4R/adathicc/Ara_Yeong_face_nm.vtf
AdaThiccRE4R SFM/materials/models/boobedone/RE4R/adathicc/Ara_Yeong_arms_nm.vtf
AdaThiccRE4R SFM/materials/models/boobedone/RE4R/adathicc/hair2.vtf
AdaThiccRE4R SFM/materials/models/boobedone/RE4R/adathicc/pushair2.vtf
AdaThiccRE4R SFM/materials/models/boobedone/RE4R/adathicc/Legs.vmt
AdaThiccRE4R SFM/materials/models/boobedone/RE4R/adathicc/eyelashes.vtf
AdaThiccRE4R SFM/materials/models/boobedone/RE4R/adathicc/G8FBaseMouthMapD_1005.vtf
AdaThiccRE4R SFM/materials/models/boobedone/RE4R/adathicc/cha200_00_Props_NRMR.tex.vtf
AdaThiccRE4R SFM/materials/models/boobedone/RE4R/adathicc/GoldenPalace_Color.vtf
AdaThiccRE4R SFM/materials/models/boobedone/RE4R/adathicc/eyeR.vmt
AdaThiccRE4R SFM/materials/models/boobedone/RE4R/adathicc/Ara_Yeong_legs_nm.vtf
AdaThiccRE4R SFM/materials/models/boobedone/RE4R/adathicc/eyelashes.vmt
AdaThiccRE4R SFM/materials/models/boobedone/RE4R/adathicc/pushair1.vtf
AdaThiccRE4R SFM/materials/models/boobedone/RE4R/adathicc/bootsn.vtf
AdaThiccRE4R SFM/materials/models/boobedone/RE4R/adathicc/GPRectum.vmt
AdaThiccRE4R SFM/materials/models/boobedone/RE4R/adathicc/spatsn.vtf
AdaThiccRE4R SFM/materials/models/boobedone/RE4R/adathicc/torso texture.vtf