Adult content
This content is marked as Adult/NSFW content. You can toggle your preferences regarding this content type in your account settings.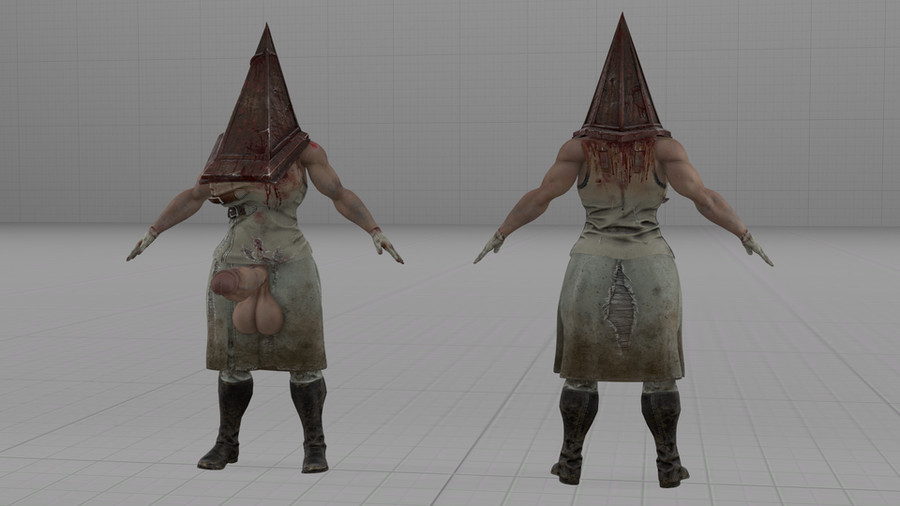 Show more
Description
Pyramid Head Fem model made by @GareanWrld ported over to sfm by me!
If you wanna support more of my ports or wanna commission please check out my twitter and fanbox thank you!
twitter @theboobedone1 https://theboobedone.fanbox.cc/
Update 1 / fixed the non futa pyramid head shapekeys not working. Should be good now, please redownload.
SFMLab is a free service. However, it costs about $0.03 to deliver you a 1GB file. With over 20TB of traffic every month and growing, SFMLab needs your help. If only 1% of our users each gave us $5 for a single month, we could keep the site running for several years.
Filename
Downloads
Created
Filesize
Files
PyramidHeadFem.zip
300
2023-04-10 03:47:36
52.71 MB
File contents:

PyramidHeadFem/models/boobedone/silenthill/pyramidhead.dx90.vtx
PyramidHeadFem/models/boobedone/silenthill/pyramidheadfuta.vvd
PyramidHeadFem/models/boobedone/silenthill/pyramidhead.mdl
PyramidHeadFem/models/boobedone/silenthill/pyramidheadfuta.mdl
PyramidHeadFem/models/boobedone/silenthill/pyramidhead.vvd
PyramidHeadFem/models/boobedone/silenthill/pyramidheadfuta.dx90.vtx
PyramidHeadFem/models/boobedone/silenthill/pyramidheadknife.dx90.vtx
PyramidHeadFem/models/boobedone/silenthill/pyramidheadknife.mdl
PyramidHeadFem/models/boobedone/silenthill/pyramidheadknife.vvd
PyramidHeadFem/materials/models/boobedone/silenthill/pyramidhead/iris.vtf
PyramidHeadFem/materials/models/boobedone/silenthill/pyramidhead/clothess.vtf
PyramidHeadFem/materials/models/boobedone/silenthill/pyramidhead/Pyramid.vmt
PyramidHeadFem/materials/models/boobedone/silenthill/pyramidhead/Mouth.vmt
PyramidHeadFem/materials/models/boobedone/silenthill/pyramidhead/Face.vmt
PyramidHeadFem/materials/models/boobedone/silenthill/pyramidhead/Torso.vmt
PyramidHeadFem/materials/models/boobedone/silenthill/pyramidhead/mouth.vtf
PyramidHeadFem/materials/models/boobedone/silenthill/pyramidhead/eyeL.vmt
PyramidHeadFem/materials/models/boobedone/silenthill/pyramidhead/torson.vtf
PyramidHeadFem/materials/models/boobedone/silenthill/pyramidhead/normals.vtf
PyramidHeadFem/materials/models/boobedone/silenthill/pyramidhead/pyramid.vtf
PyramidHeadFem/materials/models/boobedone/silenthill/pyramidhead/aprons.vtf
PyramidHeadFem/materials/models/boobedone/silenthill/pyramidhead/face.vtf
PyramidHeadFem/materials/models/boobedone/silenthill/pyramidhead/clothes2.vtf
PyramidHeadFem/materials/models/boobedone/silenthill/pyramidhead/facen.vtf
PyramidHeadFem/materials/models/boobedone/silenthill/pyramidhead/torso.vtf
PyramidHeadFem/materials/models/boobedone/silenthill/pyramidhead/TorsoFuta.vmt
PyramidHeadFem/materials/models/boobedone/silenthill/pyramidhead/knifen.vtf
PyramidHeadFem/materials/models/boobedone/silenthill/pyramidhead/torsofuta.vtf
PyramidHeadFem/materials/models/boobedone/silenthill/pyramidhead/AO.vtf
PyramidHeadFem/materials/models/boobedone/silenthill/pyramidhead/clothes2n.vtf
PyramidHeadFem/materials/models/boobedone/silenthill/pyramidhead/Apron.vmt
PyramidHeadFem/materials/models/boobedone/silenthill/pyramidhead/clothes2s.vtf
PyramidHeadFem/materials/models/boobedone/silenthill/pyramidhead/knife.vtf
PyramidHeadFem/materials/models/boobedone/silenthill/pyramidhead/cockn.vtf
PyramidHeadFem/materials/models/boobedone/silenthill/pyramidhead/apron.vtf
PyramidHeadFem/materials/models/boobedone/silenthill/pyramidhead/apronn.vtf
PyramidHeadFem/materials/models/boobedone/silenthill/pyramidhead/Clothes2.vmt
PyramidHeadFem/materials/models/boobedone/silenthill/pyramidhead/knife.vmt
PyramidHeadFem/materials/models/boobedone/silenthill/pyramidhead/Penis.vmt
PyramidHeadFem/materials/models/boobedone/silenthill/pyramidhead/pyramids.vtf
PyramidHeadFem/materials/models/boobedone/silenthill/pyramidhead/clothesn.vtf
PyramidHeadFem/materials/models/boobedone/silenthill/pyramidhead/torsos.vtf
PyramidHeadFem/materials/models/boobedone/silenthill/pyramidhead/clothes.vtf
PyramidHeadFem/materials/models/boobedone/silenthill/pyramidhead/eyeR.vmt
PyramidHeadFem/materials/models/boobedone/silenthill/pyramidhead/penis.vtf
PyramidHeadFem/materials/models/boobedone/silenthill/pyramidhead/knifes.vtf
PyramidHeadFem/materials/models/boobedone/silenthill/pyramidhead/Clothes.vmt
PyramidHeadFem/materials/models/boobedone/silenthill/pyramidhead/pyramidn.vtf




PyramidHeadFemv2.zip
275
2023-04-12 22:48:57
51.37 MB
File contents:

PyramidHeadFem/models/boobedone/silenthill/pyramidhead.dx90.vtx
PyramidHeadFem/models/boobedone/silenthill/pyramidheadfuta.vvd
PyramidHeadFem/models/boobedone/silenthill/pyramidhead.mdl
PyramidHeadFem/models/boobedone/silenthill/pyramidheadfuta.mdl
PyramidHeadFem/models/boobedone/silenthill/pyramidhead.vvd
PyramidHeadFem/models/boobedone/silenthill/pyramidheadfuta.dx90.vtx
PyramidHeadFem/models/boobedone/silenthill/pyramidheadknife.dx90.vtx
PyramidHeadFem/models/boobedone/silenthill/pyramidheadknife.mdl
PyramidHeadFem/models/boobedone/silenthill/pyramidheadknife.vvd
PyramidHeadFem/materials/models/boobedone/silenthill/pyramidhead/iris.vtf
PyramidHeadFem/materials/models/boobedone/silenthill/pyramidhead/clothess.vtf
PyramidHeadFem/materials/models/boobedone/silenthill/pyramidhead/Pyramid.vmt
PyramidHeadFem/materials/models/boobedone/silenthill/pyramidhead/Mouth.vmt
PyramidHeadFem/materials/models/boobedone/silenthill/pyramidhead/Face.vmt
PyramidHeadFem/materials/models/boobedone/silenthill/pyramidhead/Torso.vmt
PyramidHeadFem/materials/models/boobedone/silenthill/pyramidhead/mouth.vtf
PyramidHeadFem/materials/models/boobedone/silenthill/pyramidhead/eyeL.vmt
PyramidHeadFem/materials/models/boobedone/silenthill/pyramidhead/torson.vtf
PyramidHeadFem/materials/models/boobedone/silenthill/pyramidhead/normals.vtf
PyramidHeadFem/materials/models/boobedone/silenthill/pyramidhead/pyramid.vtf
PyramidHeadFem/materials/models/boobedone/silenthill/pyramidhead/aprons.vtf
PyramidHeadFem/materials/models/boobedone/silenthill/pyramidhead/face.vtf
PyramidHeadFem/materials/models/boobedone/silenthill/pyramidhead/clothes2.vtf
PyramidHeadFem/materials/models/boobedone/silenthill/pyramidhead/facen.vtf
PyramidHeadFem/materials/models/boobedone/silenthill/pyramidhead/torso.vtf
PyramidHeadFem/materials/models/boobedone/silenthill/pyramidhead/TorsoFuta.vmt
PyramidHeadFem/materials/models/boobedone/silenthill/pyramidhead/knifen.vtf
PyramidHeadFem/materials/models/boobedone/silenthill/pyramidhead/torsofuta.vtf
PyramidHeadFem/materials/models/boobedone/silenthill/pyramidhead/AO.vtf
PyramidHeadFem/materials/models/boobedone/silenthill/pyramidhead/clothes2n.vtf
PyramidHeadFem/materials/models/boobedone/silenthill/pyramidhead/Apron.vmt
PyramidHeadFem/materials/models/boobedone/silenthill/pyramidhead/clothes2s.vtf
PyramidHeadFem/materials/models/boobedone/silenthill/pyramidhead/knife.vtf
PyramidHeadFem/materials/models/boobedone/silenthill/pyramidhead/cockn.vtf
PyramidHeadFem/materials/models/boobedone/silenthill/pyramidhead/apron.vtf
PyramidHeadFem/materials/models/boobedone/silenthill/pyramidhead/apronn.vtf
PyramidHeadFem/materials/models/boobedone/silenthill/pyramidhead/Clothes2.vmt
PyramidHeadFem/materials/models/boobedone/silenthill/pyramidhead/knife.vmt
PyramidHeadFem/materials/models/boobedone/silenthill/pyramidhead/Penis.vmt
PyramidHeadFem/materials/models/boobedone/silenthill/pyramidhead/pyramids.vtf
PyramidHeadFem/materials/models/boobedone/silenthill/pyramidhead/clothesn.vtf
PyramidHeadFem/materials/models/boobedone/silenthill/pyramidhead/torsos.vtf
PyramidHeadFem/materials/models/boobedone/silenthill/pyramidhead/clothes.vtf
PyramidHeadFem/materials/models/boobedone/silenthill/pyramidhead/eyeR.vmt
PyramidHeadFem/materials/models/boobedone/silenthill/pyramidhead/penis.vtf
PyramidHeadFem/materials/models/boobedone/silenthill/pyramidhead/knifes.vtf
PyramidHeadFem/materials/models/boobedone/silenthill/pyramidhead/Clothes.vmt
PyramidHeadFem/materials/models/boobedone/silenthill/pyramidhead/pyramidn.vtf