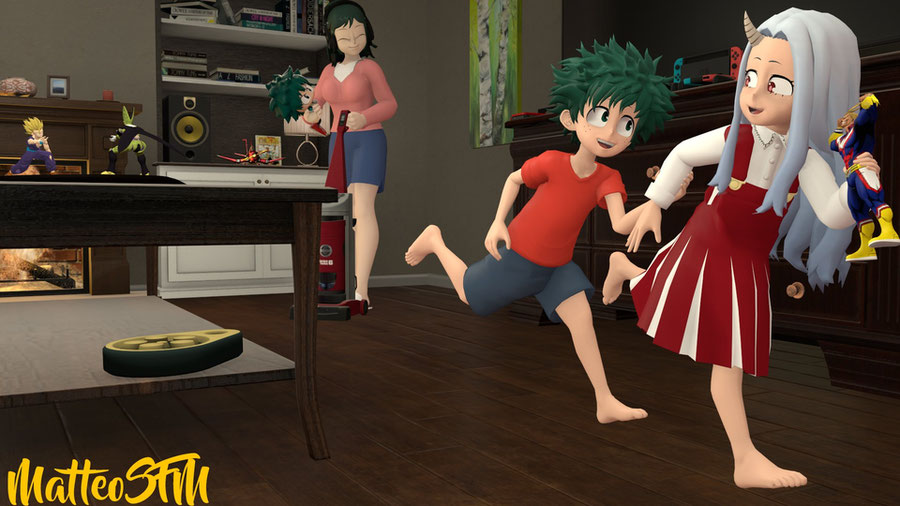 Show more
Description
Bonus model Kid Izuku!
Had to do this while I was updating Inko.
I used Eri model for the base and added Izuku's hair and casual clothes.
Same Ik rig as eri
specials thanks to Marcovee4, MatteoSFM, and TarroTheRambler for testing and for the bunch of preview pics
Check out my Patreon if you want to send some support, see wips or vote on which model I'll do next. https://www.patreon.com/Yinyama3D
or at subscribestar to see wips and vote on which model will be next
https://subscribestar.adult/yinyama3d
Have fun~
SFMLab is a free service. However, it costs about $0.03 to deliver you a 1GB file. With over 20TB of traffic every month and growing, SFMLab needs your help. If only 1% of our users each gave us $5 for a single month, we could keep the site running for several years.
Filename
Downloads
Created
Filesize
Files
Young_Izuku.zip
248
2023-04-10 06:37:47
6.74 MB
File contents:

usermod/scripts/sfm/animset/rig_MHA Young Izuku.py
usermod/models/My Hero Academia/Izuku Midoriya/young izuku unlit.mdl
usermod/models/My Hero Academia/Izuku Midoriya/Young Izuku.dx90.vtx
usermod/models/My Hero Academia/Izuku Midoriya/Young Izuku unlit.dx90.vtx
usermod/models/My Hero Academia/Izuku Midoriya/young izuku.vvd
usermod/models/My Hero Academia/Izuku Midoriya/young izuku unlit.vvd
usermod/models/My Hero Academia/Izuku Midoriya/young izuku.mdl
usermod/materials/models/My Hero Academia/Young Izuku Midoriya/cat_ears.vmt
usermod/materials/models/My Hero Academia/Young Izuku Midoriya/main.vmt
usermod/materials/models/My Hero Academia/Young Izuku Midoriya/swimsuit.vmt
usermod/materials/models/My Hero Academia/Young Izuku Midoriya/Face_Extras 2.vtf
usermod/materials/models/My Hero Academia/Young Izuku Midoriya/Fingernails.vtf
usermod/materials/models/My Hero Academia/Young Izuku Midoriya/white.vmt
usermod/materials/models/My Hero Academia/Young Izuku Midoriya/main.vtf
usermod/materials/models/My Hero Academia/Young Izuku Midoriya/hair.vtf
usermod/materials/models/My Hero Academia/Young Izuku Midoriya/swimsuit.vtf
usermod/materials/models/My Hero Academia/Young Izuku Midoriya/black.vtf
usermod/materials/models/My Hero Academia/Young Izuku Midoriya/shoes.vmt
usermod/materials/models/My Hero Academia/Young Izuku Midoriya/face.vtf
usermod/materials/models/My Hero Academia/Young Izuku Midoriya/shorts.vtf
usermod/materials/models/My Hero Academia/Young Izuku Midoriya/Fingernails.vmt
usermod/materials/models/My Hero Academia/Young Izuku Midoriya/shirt logo.vtf
usermod/materials/models/My Hero Academia/Young Izuku Midoriya/Shirt logo.vmt
usermod/materials/models/My Hero Academia/Young Izuku Midoriya/eyes.vtf
usermod/materials/models/My Hero Academia/Young Izuku Midoriya/hair.vmt
usermod/materials/models/My Hero Academia/Young Izuku Midoriya/Face_Extras.vtf
usermod/materials/models/My Hero Academia/Young Izuku Midoriya/Face_Extras.vmt
usermod/materials/models/My Hero Academia/Young Izuku Midoriya/White.vtf
usermod/materials/models/My Hero Academia/Young Izuku Midoriya/face_shader3.vtf
usermod/materials/models/My Hero Academia/Young Izuku Midoriya/body.vtf
usermod/materials/models/My Hero Academia/Young Izuku Midoriya/toenails.vmt
usermod/materials/models/My Hero Academia/Young Izuku Midoriya/eyes 2.vmt
usermod/materials/models/My Hero Academia/Young Izuku Midoriya/Face_Extras 2.vmt
usermod/materials/models/My Hero Academia/Young Izuku Midoriya/cat_ears.vtf
usermod/materials/models/My Hero Academia/Young Izuku Midoriya/Shorts.vmt
usermod/materials/models/My Hero Academia/Young Izuku Midoriya/map.vtf
usermod/materials/models/My Hero Academia/Young Izuku Midoriya/black.vmt
usermod/materials/models/My Hero Academia/Young Izuku Midoriya/toenails.vtf
usermod/materials/models/My Hero Academia/Young Izuku Midoriya/eyes 2.vtf
usermod/materials/models/My Hero Academia/Young Izuku Midoriya/face.vmt
usermod/materials/models/My Hero Academia/Young Izuku Midoriya/body.vmt
usermod/materials/models/My Hero Academia/Young Izuku Midoriya/shoes.vtf
usermod/materials/models/My Hero Academia/Young Izuku Midoriya/lightwarp.vtf
usermod/materials/models/My Hero Academia/Young Izuku Midoriya/eyes.vmt
usermod/materials/models/My Hero Academia/Young Izuku Midoriya/unlit/cat_ears.vmt
usermod/materials/models/My Hero Academia/Young Izuku Midoriya/unlit/main.vmt
usermod/materials/models/My Hero Academia/Young Izuku Midoriya/unlit/swimsuit.vmt
usermod/materials/models/My Hero Academia/Young Izuku Midoriya/unlit/white.vmt
usermod/materials/models/My Hero Academia/Young Izuku Midoriya/unlit/outline.vmt
usermod/materials/models/My Hero Academia/Young Izuku Midoriya/unlit/shoes.vmt
usermod/materials/models/My Hero Academia/Young Izuku Midoriya/unlit/Fingernails.vmt
usermod/materials/models/My Hero Academia/Young Izuku Midoriya/unlit/Shirt logo.vmt
usermod/materials/models/My Hero Academia/Young Izuku Midoriya/unlit/hair.vmt
usermod/materials/models/My Hero Academia/Young Izuku Midoriya/unlit/Face_Extras.vmt
usermod/materials/models/My Hero Academia/Young Izuku Midoriya/unlit/toenails.vmt
usermod/materials/models/My Hero Academia/Young Izuku Midoriya/unlit/eyes 2.vmt
usermod/materials/models/My Hero Academia/Young Izuku Midoriya/unlit/Face_Extras 2.vmt
usermod/materials/models/My Hero Academia/Young Izuku Midoriya/unlit/Shorts.vmt
usermod/materials/models/My Hero Academia/Young Izuku Midoriya/unlit/black.vmt
usermod/materials/models/My Hero Academia/Young Izuku Midoriya/unlit/face.vmt
usermod/materials/models/My Hero Academia/Young Izuku Midoriya/unlit/body.vmt
usermod/materials/models/My Hero Academia/Young Izuku Midoriya/unlit/eyes.vmt
usermod/materials/models/Shared/n_flat.vtf
usermod/materials/models/Shared/bumpmap_flat.vtf
usermod/materials/models/Shared/plain_color.vtf
usermod/materials/models/Shared/lightwarp.vtf