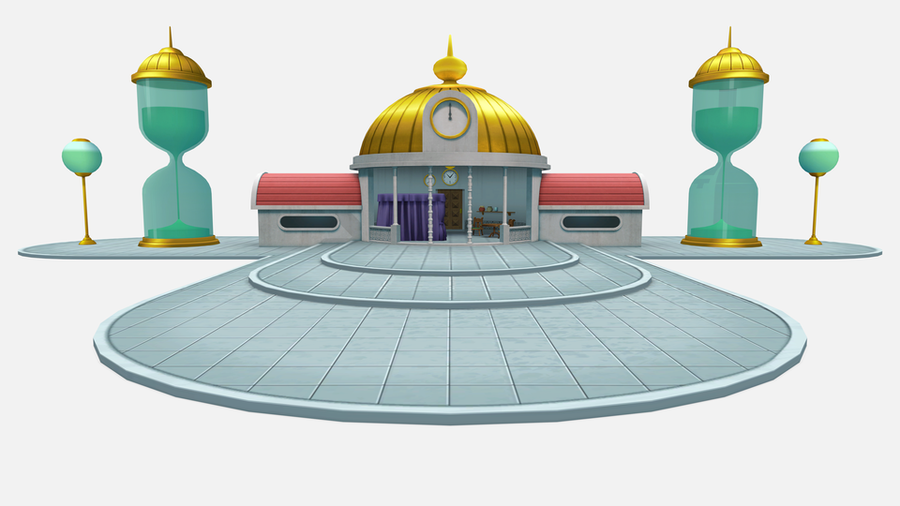 Description
"No books here or internet. Only this room and the (((void)))."
Here's the Hyperbolic Time Chamber from Dragon Ball FighterZ.
This is a model, not a map.
This model loads in with a very large dome that represents the (((void))), so you'll have to load in a map vast enough to properly view it. But, if you prefer, you can turn the dome off with the bodygroup labeled "The Void."
(((void)))
SFMLab is a free service. However, it costs about $0.03 to deliver you a 1GB file. With over 20TB of traffic every month and growing, SFMLab needs your help. If only 1% of our users each gave us $5 for a single month, we could keep the site running for several years.
Filename
Downloads
Created
Filesize
Files
Hyperbolic_Time_Chamber.7z
191
2023-04-11 06:00:03
5.83 MB
File contents:

usermod/models/Dragon Ball/Stage/Hyperbolic Time Chamber/hyperbolic time chamber.mdl
usermod/models/Dragon Ball/Stage/Hyperbolic Time Chamber/Hyperbolic Time Chamber.dx90.vtx
usermod/models/Dragon Ball/Stage/Hyperbolic Time Chamber/hyperbolic time chamber.vvd
usermod/materials/models/Dragon Ball/Stage/Hyperbolic Time Chamber/House Side.vtf
usermod/materials/models/Dragon Ball/Stage/Hyperbolic Time Chamber/Chair.vtf
usermod/materials/models/Dragon Ball/Stage/Hyperbolic Time Chamber/Ground_02.vmt
usermod/materials/models/Dragon Ball/Stage/Hyperbolic Time Chamber/Ground_01.vmt
usermod/materials/models/Dragon Ball/Stage/Hyperbolic Time Chamber/Ornament.vmt
usermod/materials/models/Dragon Ball/Stage/Hyperbolic Time Chamber/Chair.vmt
usermod/materials/models/Dragon Ball/Stage/Hyperbolic Time Chamber/Room Ceiling.vmt
usermod/materials/models/Dragon Ball/Stage/Hyperbolic Time Chamber/Hourglass.vmt
usermod/materials/models/Dragon Ball/Stage/Hyperbolic Time Chamber/Sand.vtf
usermod/materials/models/Dragon Ball/Stage/Hyperbolic Time Chamber/Hourglass Base_L.vmt
usermod/materials/models/Dragon Ball/Stage/Hyperbolic Time Chamber/Decoration_02.vmt
usermod/materials/models/Dragon Ball/Stage/Hyperbolic Time Chamber/House.vmt
usermod/materials/models/Dragon Ball/Stage/Hyperbolic Time Chamber/Basis.vmt
usermod/materials/models/Dragon Ball/Stage/Hyperbolic Time Chamber/Basis.vtf
usermod/materials/models/Dragon Ball/Stage/Hyperbolic Time Chamber/Table.vmt
usermod/materials/models/Dragon Ball/Stage/Hyperbolic Time Chamber/House.vtf
usermod/materials/models/Dragon Ball/Stage/Hyperbolic Time Chamber/Table.vtf
usermod/materials/models/Dragon Ball/Stage/Hyperbolic Time Chamber/Bed.vmt
usermod/materials/models/Dragon Ball/Stage/Hyperbolic Time Chamber/Hourglass Base_R.vmt
usermod/materials/models/Dragon Ball/Stage/Hyperbolic Time Chamber/Room Wall.vtf
usermod/materials/models/Dragon Ball/Stage/Hyperbolic Time Chamber/Room Ceiling.vtf
usermod/materials/models/Dragon Ball/Stage/Hyperbolic Time Chamber/Ornament.vtf
usermod/materials/models/Dragon Ball/Stage/Hyperbolic Time Chamber/Bed.vtf
usermod/materials/models/Dragon Ball/Stage/Hyperbolic Time Chamber/Ground.vtf
usermod/materials/models/Dragon Ball/Stage/Hyperbolic Time Chamber/Decoration_01.vmt
usermod/materials/models/Dragon Ball/Stage/Hyperbolic Time Chamber/Hourglass.vtf
usermod/materials/models/Dragon Ball/Stage/Hyperbolic Time Chamber/lightwrap.vtf
usermod/materials/models/Dragon Ball/Stage/Hyperbolic Time Chamber/Sand.vmt
usermod/materials/models/Dragon Ball/Stage/Hyperbolic Time Chamber/House Side.vmt
usermod/materials/models/Dragon Ball/Stage/Hyperbolic Time Chamber/Room Floor.vtf
usermod/materials/models/Dragon Ball/Stage/Hyperbolic Time Chamber/map.vtf
usermod/materials/models/Dragon Ball/Stage/Hyperbolic Time Chamber/Rack.vtf
usermod/materials/models/Dragon Ball/Stage/Hyperbolic Time Chamber/Room Wall.vmt
usermod/materials/models/Dragon Ball/Stage/Hyperbolic Time Chamber/Room Floor.vmt
usermod/materials/models/Dragon Ball/Stage/Hyperbolic Time Chamber/Decoration.vtf
usermod/materials/models/Dragon Ball/Stage/Hyperbolic Time Chamber/Rack.vmt