Adult content
This content is marked as Adult/NSFW content. You can toggle your preferences regarding this content type in your account settings.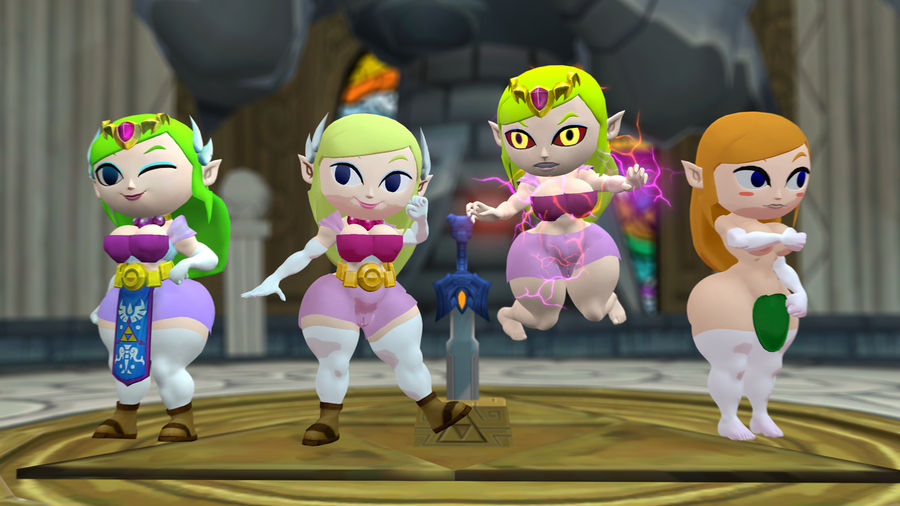 Show more
Description
Features:
Different textures and two eyelids like "Wind Waker", "Spirit Tracks" and "Four Swords"
Body Inflation
Face Flex
SFW textures (You have to change them yourself with the Materials tools.)
Cel Shader option
Body is created by the Kabalmystic
Toon Zelda / Princess Zelda and Tetra (The Wind Waker) is a model from the game Hyrule Warriors
SFMLab is a free service. However, it costs about $0.03 to deliver you a 1GB file. With over 20TB of traffic every month and growing, SFMLab needs your help. If only 1% of our users each gave us $5 for a single month, we could keep the site running for several years.
Filename
Downloads
Created
Filesize
Files
ToonZelda_Tetra_AllStars_GMOD_v15_Y097w2B.zip
155
2023-05-01 08:29:22
113.12 MB
File contents:

models/Kabalmystic/hyrulewarriors/QueenTetraHNCel.mdl
models/Kabalmystic/hyrulewarriors/QueenTetraNCel.dx80.vtx
models/Kabalmystic/hyrulewarriors/ToonZeldaNCel.dx80.vtx
models/Kabalmystic/hyrulewarriors/QueenTetraNCel.dx90.vtx
models/Kabalmystic/hyrulewarriors/QueenTetraHNCel.dx90.vtx
models/Kabalmystic/hyrulewarriors/ToonZeldaHNCel.dx90.vtx
models/Kabalmystic/hyrulewarriors/TetraNCel.dx80.vtx
models/Kabalmystic/hyrulewarriors/ToonZeldaNCel.mdl
models/Kabalmystic/hyrulewarriors/ToonZeldaHNCel.dx80.vtx
models/Kabalmystic/hyrulewarriors/QueenTetraN.mdl
models/Kabalmystic/hyrulewarriors/ToonZeldaN.sw.vtx
models/Kabalmystic/hyrulewarriors/ToonZeldaNCel.sw.vtx
models/Kabalmystic/hyrulewarriors/QueenTetraNCel.vvd
models/Kabalmystic/hyrulewarriors/ToonZeldaN.mdl
models/Kabalmystic/hyrulewarriors/TetraNCel.phy
models/Kabalmystic/hyrulewarriors/ToonZeldaHN.vvd
models/Kabalmystic/hyrulewarriors/TetraNCel.mdl
models/Kabalmystic/hyrulewarriors/ToonZeldaHNCel.mdl
models/Kabalmystic/hyrulewarriors/ToonZeldaHN.mdl
models/Kabalmystic/hyrulewarriors/QueenTetraN.phy
models/Kabalmystic/hyrulewarriors/QueenTetraHNCel.vvd
models/Kabalmystic/hyrulewarriors/QueenTetraNCel.mdl
models/Kabalmystic/hyrulewarriors/QueenTetraN.sw.vtx
models/Kabalmystic/hyrulewarriors/QueenTetraHN.dx90.vtx
models/Kabalmystic/hyrulewarriors/TetraN.sw.vtx
models/Kabalmystic/hyrulewarriors/TetraN.mdl
models/Kabalmystic/hyrulewarriors/ToonZeldaN.phy
models/Kabalmystic/hyrulewarriors/QueenTetraHN.phy
models/Kabalmystic/hyrulewarriors/QueenTetraN.vvd
models/Kabalmystic/hyrulewarriors/TetraNCel.dx90.vtx
models/Kabalmystic/hyrulewarriors/QueenTetraHNCel.phy
models/Kabalmystic/hyrulewarriors/QueenTetraNCel.phy
models/Kabalmystic/hyrulewarriors/ToonZeldaHN.phy
models/Kabalmystic/hyrulewarriors/ToonZeldaHNCel.sw.vtx
models/Kabalmystic/hyrulewarriors/ToonZeldaHN.dx80.vtx
models/Kabalmystic/hyrulewarriors/TetraN.dx80.vtx
models/Kabalmystic/hyrulewarriors/ToonZeldaHN.dx90.vtx
models/Kabalmystic/hyrulewarriors/TetraNCel.sw.vtx
models/Kabalmystic/hyrulewarriors/QueenTetraHN.mdl
models/Kabalmystic/hyrulewarriors/TetraNCel.vvd
models/Kabalmystic/hyrulewarriors/ToonZeldaN.dx80.vtx
models/Kabalmystic/hyrulewarriors/QueenTetraHN.vvd
models/Kabalmystic/hyrulewarriors/ToonZeldaHNCel.phy
models/Kabalmystic/hyrulewarriors/QueenTetraNCel.sw.vtx
models/Kabalmystic/hyrulewarriors/QueenTetraHN.dx80.vtx
models/Kabalmystic/hyrulewarriors/ToonZeldaN.dx90.vtx
models/Kabalmystic/hyrulewarriors/ToonZeldaNCel.vvd
models/Kabalmystic/hyrulewarriors/QueenTetraN.dx90.vtx
models/Kabalmystic/hyrulewarriors/ToonZeldaHNCel.vvd
models/Kabalmystic/hyrulewarriors/QueenTetraHNCel.sw.vtx
models/Kabalmystic/hyrulewarriors/TetraN.vvd
models/Kabalmystic/hyrulewarriors/QueenTetraHN.sw.vtx
models/Kabalmystic/hyrulewarriors/TetraN.dx90.vtx
models/Kabalmystic/hyrulewarriors/ToonZeldaNCel.phy
models/Kabalmystic/hyrulewarriors/ToonZeldaNCel.dx90.vtx
models/Kabalmystic/hyrulewarriors/QueenTetraHNCel.dx80.vtx
models/Kabalmystic/hyrulewarriors/TetraN.phy
models/Kabalmystic/hyrulewarriors/QueenTetraN.dx80.vtx
models/Kabalmystic/hyrulewarriors/ToonZeldaN.vvd
models/Kabalmystic/hyrulewarriors/ToonZeldaHN.sw.vtx
materials/models/KabalMystic/hyrulewarriors/princesstetra/Clothes4.vmt
materials/models/KabalMystic/hyrulewarriors/princesstetra/skin3P.vtf
materials/models/KabalMystic/hyrulewarriors/princesstetra/body1.vmt
materials/models/KabalMystic/hyrulewarriors/princesstetra/body2.vmt
materials/models/KabalMystic/hyrulewarriors/princesstetra/boots.vtf
materials/models/KabalMystic/hyrulewarriors/princesstetra/body_nrm.vtf
materials/models/KabalMystic/hyrulewarriors/princesstetra/skin0.vtf
materials/models/KabalMystic/hyrulewarriors/princesstetra/skin4P.vtf
materials/models/KabalMystic/hyrulewarriors/princesstetra/Head3.vmt
materials/models/KabalMystic/hyrulewarriors/princesstetra/Head3P.vmt
materials/models/KabalMystic/hyrulewarriors/princesstetra/Head0.vmt
materials/models/KabalMystic/hyrulewarriors/princesstetra/Head2.vmt
materials/models/KabalMystic/hyrulewarriors/princesstetra/skin.vtf
materials/models/KabalMystic/hyrulewarriors/princesstetra/body1.vtf
materials/models/KabalMystic/hyrulewarriors/princesstetra/NRM.vtf
materials/models/KabalMystic/hyrulewarriors/princesstetra/Head.vmt
materials/models/KabalMystic/hyrulewarriors/princesstetra/body2.vtf
materials/models/KabalMystic/hyrulewarriors/princesstetra/HeadP.vmt
materials/models/KabalMystic/hyrulewarriors/princesstetra/skin2.vtf
materials/models/KabalMystic/hyrulewarriors/princesstetra/boots.vmt
materials/models/KabalMystic/hyrulewarriors/princesstetra/Clothes3.vmt
materials/models/KabalMystic/hyrulewarriors/princesstetra/Clothes0.vmt
materials/models/KabalMystic/hyrulewarriors/princesstetra/ToonZelda_nrm.vtf
materials/models/KabalMystic/hyrulewarriors/princesstetra/Head2P.vmt
materials/models/KabalMystic/hyrulewarriors/princesstetra/body.vtf
materials/models/KabalMystic/hyrulewarriors/princesstetra/skinP.vtf
materials/models/KabalMystic/hyrulewarriors/princesstetra/skin0P.vtf
materials/models/KabalMystic/hyrulewarriors/princesstetra/skin3.vtf
materials/models/KabalMystic/hyrulewarriors/princesstetra/Head4.vmt
materials/models/KabalMystic/hyrulewarriors/princesstetra/Clothes2.vmt
materials/models/KabalMystic/hyrulewarriors/princesstetra/skin4.vtf
materials/models/KabalMystic/hyrulewarriors/princesstetra/Head0P.vmt
materials/models/KabalMystic/hyrulewarriors/princesstetra/Clothes1.vmt
materials/models/KabalMystic/hyrulewarriors/princesstetra/body.vmt
materials/models/KabalMystic/hyrulewarriors/princesstetra/Clothes.vmt
materials/models/KabalMystic/hyrulewarriors/princesstetra/skin2P.vtf
materials/models/KabalMystic/hyrulewarriors/princesstetra/Head4P.vmt
materials/models/KabalMystic/hyrulewarriors/princesstetra/SFW/body1.vmt
materials/models/KabalMystic/hyrulewarriors/princesstetra/SFW/body2.vmt
materials/models/KabalMystic/hyrulewarriors/princesstetra/SFW/body1.vtf
materials/models/KabalMystic/hyrulewarriors/princesstetra/SFW/body0.vtf
materials/models/KabalMystic/hyrulewarriors/princesstetra/SFW/body0.vmt
materials/models/KabalMystic/hyrulewarriors/princesstetra/SFW/body2.vtf
materials/models/KabalMystic/hyrulewarriors/princesstetra/SFW/body.vtf
materials/models/KabalMystic/hyrulewarriors/princesstetra/SFW/body.vmt
materials/models/KabalMystic/hyrulewarriors/princesstetra/SFW/cel/body1.vmt
materials/models/KabalMystic/hyrulewarriors/princesstetra/SFW/cel/body2.vmt
materials/models/KabalMystic/hyrulewarriors/princesstetra/SFW/cel/body0.vmt
materials/models/KabalMystic/hyrulewarriors/princesstetra/SFW/cel/body.vmt
materials/models/KabalMystic/hyrulewarriors/princesstetra/cel/Clothes4.vmt
materials/models/KabalMystic/hyrulewarriors/princesstetra/cel/head0.vtf
materials/models/KabalMystic/hyrulewarriors/princesstetra/cel/body1.vmt
materials/models/KabalMystic/hyrulewarriors/princesstetra/cel/body2.vmt
materials/models/KabalMystic/hyrulewarriors/princesstetra/cel/head4.vtf
materials/models/KabalMystic/hyrulewarriors/princesstetra/cel/Head3.vmt
materials/models/KabalMystic/hyrulewarriors/princesstetra/cel/Head3P.vmt
materials/models/KabalMystic/hyrulewarriors/princesstetra/cel/Head0.vmt
materials/models/KabalMystic/hyrulewarriors/princesstetra/cel/Head2.vmt
materials/models/KabalMystic/hyrulewarriors/princesstetra/cel/body0.vmt
materials/models/KabalMystic/hyrulewarriors/princesstetra/cel/Head.vmt
materials/models/KabalMystic/hyrulewarriors/princesstetra/cel/HeadP.vmt
materials/models/KabalMystic/hyrulewarriors/princesstetra/cel/head3.vtf
materials/models/KabalMystic/hyrulewarriors/princesstetra/cel/boots.vmt
materials/models/KabalMystic/hyrulewarriors/princesstetra/cel/Clothes3.vmt
materials/models/KabalMystic/hyrulewarriors/princesstetra/cel/head3P.vtf
materials/models/KabalMystic/hyrulewarriors/princesstetra/cel/Clothes0.vmt
materials/models/KabalMystic/hyrulewarriors/princesstetra/cel/Head2P.vmt
materials/models/KabalMystic/hyrulewarriors/princesstetra/cel/Head4.vmt
materials/models/KabalMystic/hyrulewarriors/princesstetra/cel/Clothes2.vmt
materials/models/KabalMystic/hyrulewarriors/princesstetra/cel/Head1P.vmt
materials/models/KabalMystic/hyrulewarriors/princesstetra/cel/head2P.vtf
materials/models/KabalMystic/hyrulewarriors/princesstetra/cel/head4P.vtf
materials/models/KabalMystic/hyrulewarriors/princesstetra/cel/head0P.vtf
materials/models/KabalMystic/hyrulewarriors/princesstetra/cel/head1.vtf
materials/models/KabalMystic/hyrulewarriors/princesstetra/cel/Head0P.vmt
materials/models/KabalMystic/hyrulewarriors/princesstetra/cel/Clothes1.vmt
materials/models/KabalMystic/hyrulewarriors/princesstetra/cel/head.vtf
materials/models/KabalMystic/hyrulewarriors/princesstetra/cel/Head1.vmt
materials/models/KabalMystic/hyrulewarriors/princesstetra/cel/body.vmt
materials/models/KabalMystic/hyrulewarriors/princesstetra/cel/Clothes.vmt
materials/models/KabalMystic/hyrulewarriors/princesstetra/cel/head2.vtf
materials/models/KabalMystic/hyrulewarriors/princesstetra/cel/head1P.vtf
materials/models/KabalMystic/hyrulewarriors/princesstetra/cel/Head4P.vmt
materials/models/KabalMystic/hyrulewarriors/shared/shared_Lightwarp.vtf
materials/models/KabalMystic/hyrulewarriors/shared/bluberryeye.vmt
materials/models/KabalMystic/hyrulewarriors/shared/exponent.vtf
materials/models/KabalMystic/hyrulewarriors/shared/facials.vtf
materials/models/KabalMystic/hyrulewarriors/shared/darkblueye.vmt
materials/models/KabalMystic/hyrulewarriors/shared/facials1.vtf
materials/models/KabalMystic/hyrulewarriors/shared/blueye.vtf
materials/models/KabalMystic/hyrulewarriors/shared/facials.vmt
materials/models/KabalMystic/hyrulewarriors/shared/toonshade.vtf
materials/models/KabalMystic/hyrulewarriors/shared/eyedemon.vtf
materials/models/KabalMystic/hyrulewarriors/shared/blueye.vmt
materials/models/KabalMystic/hyrulewarriors/shared/bluberryeye.vtf
materials/models/KabalMystic/hyrulewarriors/shared/shared_normal.vtf
materials/models/KabalMystic/hyrulewarriors/shared/eyedemon.vmt
materials/models/KabalMystic/hyrulewarriors/shared/toon_lightwarp.vtf
materials/models/KabalMystic/hyrulewarriors/shared/darkblueye.vtf
materials/models/KabalMystic/hyrulewarriors/shared/facials1.vmt
materials/models/KabalMystic/hyrulewarriors/shared/cel/bluberryeye.vmt
materials/models/KabalMystic/hyrulewarriors/shared/cel/darkblueye.vmt
materials/models/KabalMystic/hyrulewarriors/shared/cel/blueye.vtf
materials/models/KabalMystic/hyrulewarriors/shared/cel/facials.vmt
materials/models/KabalMystic/hyrulewarriors/shared/cel/eyedemon.vtf
materials/models/KabalMystic/hyrulewarriors/shared/cel/blueye.vmt
materials/models/KabalMystic/hyrulewarriors/shared/cel/bluberryeye.vtf
materials/models/KabalMystic/hyrulewarriors/shared/cel/eyedemon.vmt
materials/models/KabalMystic/hyrulewarriors/shared/cel/darkblueye.vtf
materials/models/KabalMystic/hyrulewarriors/shared/cel/facials1.vmt
materials/models/KabalMystic/hyrulewarriors/tetra/body1.vmt
materials/models/KabalMystic/hyrulewarriors/tetra/boots.vtf
materials/models/KabalMystic/hyrulewarriors/tetra/body_nrm.vtf
materials/models/KabalMystic/hyrulewarriors/tetra/skin0.vtf
materials/models/KabalMystic/hyrulewarriors/tetra/skin1.vtf
materials/models/KabalMystic/hyrulewarriors/tetra/hilt_nrm.vtf
materials/models/KabalMystic/hyrulewarriors/tetra/Head0.vmt
materials/models/KabalMystic/hyrulewarriors/tetra/skin.vtf
materials/models/KabalMystic/hyrulewarriors/tetra/body1.vtf
materials/models/KabalMystic/hyrulewarriors/tetra/NRM.vtf
materials/models/KabalMystic/hyrulewarriors/tetra/body0.vtf
materials/models/KabalMystic/hyrulewarriors/tetra/body0.vmt
materials/models/KabalMystic/hyrulewarriors/tetra/Tetra.vmt
materials/models/KabalMystic/hyrulewarriors/tetra/Head.vmt
materials/models/KabalMystic/hyrulewarriors/tetra/body2.vtf
materials/models/KabalMystic/hyrulewarriors/tetra/HeadP.vmt
materials/models/KabalMystic/hyrulewarriors/tetra/Tetra.vtf
materials/models/KabalMystic/hyrulewarriors/tetra/boots.vmt
materials/models/KabalMystic/hyrulewarriors/tetra/skin1P.vtf
materials/models/KabalMystic/hyrulewarriors/tetra/Clothes0.vmt
materials/models/KabalMystic/hyrulewarriors/tetra/body.vtf
materials/models/KabalMystic/hyrulewarriors/tetra/hilt.vtf
materials/models/KabalMystic/hyrulewarriors/tetra/skinP.vtf
materials/models/KabalMystic/hyrulewarriors/tetra/tetra_nrm.vtf
materials/models/KabalMystic/hyrulewarriors/tetra/skin0P.vtf
materials/models/KabalMystic/hyrulewarriors/tetra/Head1P.vmt
materials/models/KabalMystic/hyrulewarriors/tetra/Head0P.vmt
materials/models/KabalMystic/hyrulewarriors/tetra/Clothes1.vmt
materials/models/KabalMystic/hyrulewarriors/tetra/Head1.vmt
materials/models/KabalMystic/hyrulewarriors/tetra/hilt.vmt
materials/models/KabalMystic/hyrulewarriors/tetra/body.vmt
materials/models/KabalMystic/hyrulewarriors/tetra/Clothes.vmt
materials/models/KabalMystic/hyrulewarriors/tetra/SFW/body1.vmt
materials/models/KabalMystic/hyrulewarriors/tetra/SFW/body1.vtf
materials/models/KabalMystic/hyrulewarriors/tetra/SFW/body0.vtf
materials/models/KabalMystic/hyrulewarriors/tetra/SFW/body0.vmt
materials/models/KabalMystic/hyrulewarriors/tetra/SFW/body.vtf
materials/models/KabalMystic/hyrulewarriors/tetra/SFW/body.vmt
materials/models/KabalMystic/hyrulewarriors/tetra/SFW/cel/body1.vmt
materials/models/KabalMystic/hyrulewarriors/tetra/SFW/cel/body0.vmt
materials/models/KabalMystic/hyrulewarriors/tetra/SFW/cel/body.vmt
materials/models/KabalMystic/hyrulewarriors/tetra/cel/head0.vtf
materials/models/KabalMystic/hyrulewarriors/tetra/cel/body1.vmt
materials/models/KabalMystic/hyrulewarriors/tetra/cel/body2.vmt
materials/models/KabalMystic/hyrulewarriors/tetra/cel/headP.vtf
materials/models/KabalMystic/hyrulewarriors/tetra/cel/Head0.vmt
materials/models/KabalMystic/hyrulewarriors/tetra/cel/body0.vmt
materials/models/KabalMystic/hyrulewarriors/tetra/cel/Head.vmt
materials/models/KabalMystic/hyrulewarriors/tetra/cel/HeadP.vmt
materials/models/KabalMystic/hyrulewarriors/tetra/cel/boots.vmt
materials/models/KabalMystic/hyrulewarriors/tetra/cel/Clothes0.vmt
materials/models/KabalMystic/hyrulewarriors/tetra/cel/Clothes2.vmt
materials/models/KabalMystic/hyrulewarriors/tetra/cel/Head1P.vmt
materials/models/KabalMystic/hyrulewarriors/tetra/cel/head0P.vtf
materials/models/KabalMystic/hyrulewarriors/tetra/cel/head1.vtf
materials/models/KabalMystic/hyrulewarriors/tetra/cel/Head0P.vmt
materials/models/KabalMystic/hyrulewarriors/tetra/cel/Clothes1.vmt
materials/models/KabalMystic/hyrulewarriors/tetra/cel/head.vtf
materials/models/KabalMystic/hyrulewarriors/tetra/cel/Head1.vmt
materials/models/KabalMystic/hyrulewarriors/tetra/cel/body.vmt
materials/models/KabalMystic/hyrulewarriors/tetra/cel/Clothes.vmt
materials/models/KabalMystic/hyrulewarriors/tetra/cel/head1P.vtf
materials/models/KabalMystic/hyrulewarriors/toonzelda/body1.vmt
materials/models/KabalMystic/hyrulewarriors/toonzelda/body2.vmt
materials/models/KabalMystic/hyrulewarriors/toonzelda/boots.vtf
materials/models/KabalMystic/hyrulewarriors/toonzelda/FSZeldaP.vtf
materials/models/KabalMystic/hyrulewarriors/toonzelda/Head0.vmt
materials/models/KabalMystic/hyrulewarriors/toonzelda/Head2.vmt
materials/models/KabalMystic/hyrulewarriors/toonzelda/body1.vtf
materials/models/KabalMystic/hyrulewarriors/toonzelda/NRM.vtf
materials/models/KabalMystic/hyrulewarriors/toonzelda/body0.vtf
materials/models/KabalMystic/hyrulewarriors/toonzelda/body0.vmt
materials/models/KabalMystic/hyrulewarriors/toonzelda/WWZelda.vtf
materials/models/KabalMystic/hyrulewarriors/toonzelda/HWToonZeldaP.vtf
materials/models/KabalMystic/hyrulewarriors/toonzelda/Head.vmt
materials/models/KabalMystic/hyrulewarriors/toonzelda/ArtZeldaP.vtf
materials/models/KabalMystic/hyrulewarriors/toonzelda/body2.vtf
materials/models/KabalMystic/hyrulewarriors/toonzelda/HeadP.vmt
materials/models/KabalMystic/hyrulewarriors/toonzelda/bodyArtZeldaP.vtf
materials/models/KabalMystic/hyrulewarriors/toonzelda/boots.vmt
materials/models/KabalMystic/hyrulewarriors/toonzelda/ToonZelda.vtf
materials/models/KabalMystic/hyrulewarriors/toonzelda/Clothes0.vmt
materials/models/KabalMystic/hyrulewarriors/toonzelda/ToonZelda_nrm.vtf
materials/models/KabalMystic/hyrulewarriors/toonzelda/WWZeldaP.vtf
materials/models/KabalMystic/hyrulewarriors/toonzelda/Head2P.vmt
materials/models/KabalMystic/hyrulewarriors/toonzelda/body.vtf
materials/models/KabalMystic/hyrulewarriors/toonzelda/Clothes2.vmt
materials/models/KabalMystic/hyrulewarriors/toonzelda/Head1P.vmt
materials/models/KabalMystic/hyrulewarriors/toonzelda/bodyArtZelda.vtf
materials/models/KabalMystic/hyrulewarriors/toonzelda/Head0P.vmt
materials/models/KabalMystic/hyrulewarriors/toonzelda/Clothes1.vmt
materials/models/KabalMystic/hyrulewarriors/toonzelda/ArtZelda.vtf
materials/models/KabalMystic/hyrulewarriors/toonzelda/Head1.vmt
materials/models/KabalMystic/hyrulewarriors/toonzelda/body.vmt
materials/models/KabalMystic/hyrulewarriors/toonzelda/Clothes.vmt
materials/models/KabalMystic/hyrulewarriors/toonzelda/boots_nrm.vtf
materials/models/KabalMystic/hyrulewarriors/toonzelda/FSZelda.vtf
materials/models/KabalMystic/hyrulewarriors/toonzelda/SFW/body1.vmt
materials/models/KabalMystic/hyrulewarriors/toonzelda/SFW/body2.vmt
materials/models/KabalMystic/hyrulewarriors/toonzelda/SFW/body1.vtf
materials/models/KabalMystic/hyrulewarriors/toonzelda/SFW/body0.vtf
materials/models/KabalMystic/hyrulewarriors/toonzelda/SFW/body0.vmt
materials/models/KabalMystic/hyrulewarriors/toonzelda/SFW/body2.vtf
materials/models/KabalMystic/hyrulewarriors/toonzelda/SFW/body.vtf
materials/models/KabalMystic/hyrulewarriors/toonzelda/SFW/body.vmt
materials/models/KabalMystic/hyrulewarriors/toonzelda/SFW/cel/body1.vmt
materials/models/KabalMystic/hyrulewarriors/toonzelda/SFW/cel/body2.vmt
materials/models/KabalMystic/hyrulewarriors/toonzelda/SFW/cel/body0.vmt
materials/models/KabalMystic/hyrulewarriors/toonzelda/SFW/cel/body.vmt
materials/models/KabalMystic/hyrulewarriors/toonzelda/cel/head0.vtf
materials/models/KabalMystic/hyrulewarriors/toonzelda/cel/body1.vmt
materials/models/KabalMystic/hyrulewarriors/toonzelda/cel/body2.vmt
materials/models/KabalMystic/hyrulewarriors/toonzelda/cel/headP.vtf
materials/models/KabalMystic/hyrulewarriors/toonzelda/cel/Head1.vtf
materials/models/KabalMystic/hyrulewarriors/toonzelda/cel/Head0.vmt
materials/models/KabalMystic/hyrulewarriors/toonzelda/cel/Head2.vmt
materials/models/KabalMystic/hyrulewarriors/toonzelda/cel/Head2.vtf
materials/models/KabalMystic/hyrulewarriors/toonzelda/cel/body0.vmt
materials/models/KabalMystic/hyrulewarriors/toonzelda/cel/Head.vmt
materials/models/KabalMystic/hyrulewarriors/toonzelda/cel/HeadP.vmt
materials/models/KabalMystic/hyrulewarriors/toonzelda/cel/Head0P.vtf
materials/models/KabalMystic/hyrulewarriors/toonzelda/cel/boots.vmt
materials/models/KabalMystic/hyrulewarriors/toonzelda/cel/Clothes0.vmt
materials/models/KabalMystic/hyrulewarriors/toonzelda/cel/Head2P.vmt
materials/models/KabalMystic/hyrulewarriors/toonzelda/cel/Clothes2.vmt
materials/models/KabalMystic/hyrulewarriors/toonzelda/cel/Head1P.vmt
materials/models/KabalMystic/hyrulewarriors/toonzelda/cel/Head0P.vmt
materials/models/KabalMystic/hyrulewarriors/toonzelda/cel/Clothes1.vmt
materials/models/KabalMystic/hyrulewarriors/toonzelda/cel/head.vtf
materials/models/KabalMystic/hyrulewarriors/toonzelda/cel/Head1P.vtf
materials/models/KabalMystic/hyrulewarriors/toonzelda/cel/Head1.vmt
materials/models/KabalMystic/hyrulewarriors/toonzelda/cel/body.vmt
materials/models/KabalMystic/hyrulewarriors/toonzelda/cel/Clothes.vmt
materials/models/KabalMystic/hyrulewarriors/toonzelda/cel/Head2P.vtf




ToonZelda_Tetra_AllStars_SFM_v15_gVR3lIL.zip
320
2023-05-01 08:29:28
106.57 MB
File contents:

models/Kabalmystic/hyrulewarriors/toonzeldancel.mdl
models/Kabalmystic/hyrulewarriors/toonzeldahn.mdl
models/Kabalmystic/hyrulewarriors/queentetran.vvd
models/Kabalmystic/hyrulewarriors/queentetrahn.mdl
models/Kabalmystic/hyrulewarriors/QueenTetraNCel.dx90.vtx
models/Kabalmystic/hyrulewarriors/toonzeldan.vvd
models/Kabalmystic/hyrulewarriors/QueenTetraHNCel.dx90.vtx
models/Kabalmystic/hyrulewarriors/ToonZeldaHNCel.dx90.vtx
models/Kabalmystic/hyrulewarriors/queentetrahncel.mdl
models/Kabalmystic/hyrulewarriors/toonzeldancel.vvd
models/Kabalmystic/hyrulewarriors/tetran.vvd
models/Kabalmystic/hyrulewarriors/tetran.mdl
models/Kabalmystic/hyrulewarriors/toonzeldan.mdl
models/Kabalmystic/hyrulewarriors/QueenTetraHN.dx90.vtx
models/Kabalmystic/hyrulewarriors/toonzeldahn.vvd
models/Kabalmystic/hyrulewarriors/queentetrancel.mdl
models/Kabalmystic/hyrulewarriors/TetraNCel.dx90.vtx
models/Kabalmystic/hyrulewarriors/tetrancel.mdl
models/Kabalmystic/hyrulewarriors/toonzeldahncel.vvd
models/Kabalmystic/hyrulewarriors/ToonZeldaHN.dx90.vtx
models/Kabalmystic/hyrulewarriors/toonzeldahncel.mdl
models/Kabalmystic/hyrulewarriors/tetrancel.vvd
models/Kabalmystic/hyrulewarriors/ToonZeldaN.dx90.vtx
models/Kabalmystic/hyrulewarriors/queentetrahncel.vvd
models/Kabalmystic/hyrulewarriors/queentetran.mdl
models/Kabalmystic/hyrulewarriors/QueenTetraN.dx90.vtx
models/Kabalmystic/hyrulewarriors/queentetrahn.vvd
models/Kabalmystic/hyrulewarriors/TetraN.dx90.vtx
models/Kabalmystic/hyrulewarriors/ToonZeldaNCel.dx90.vtx
models/Kabalmystic/hyrulewarriors/queentetrancel.vvd
materials/models/KabalMystic/hyrulewarriors/princesstetra/Clothes4.vmt
materials/models/KabalMystic/hyrulewarriors/princesstetra/skin3P.vtf
materials/models/KabalMystic/hyrulewarriors/princesstetra/body1.vmt
materials/models/KabalMystic/hyrulewarriors/princesstetra/body2.vmt
materials/models/KabalMystic/hyrulewarriors/princesstetra/boots.vtf
materials/models/KabalMystic/hyrulewarriors/princesstetra/body_nrm.vtf
materials/models/KabalMystic/hyrulewarriors/princesstetra/skin0.vtf
materials/models/KabalMystic/hyrulewarriors/princesstetra/skin4P.vtf
materials/models/KabalMystic/hyrulewarriors/princesstetra/Head3.vmt
materials/models/KabalMystic/hyrulewarriors/princesstetra/Head3P.vmt
materials/models/KabalMystic/hyrulewarriors/princesstetra/Head0.vmt
materials/models/KabalMystic/hyrulewarriors/princesstetra/Head2.vmt
materials/models/KabalMystic/hyrulewarriors/princesstetra/skin.vtf
materials/models/KabalMystic/hyrulewarriors/princesstetra/body1.vtf
materials/models/KabalMystic/hyrulewarriors/princesstetra/NRM.vtf
materials/models/KabalMystic/hyrulewarriors/princesstetra/Head.vmt
materials/models/KabalMystic/hyrulewarriors/princesstetra/body2.vtf
materials/models/KabalMystic/hyrulewarriors/princesstetra/HeadP.vmt
materials/models/KabalMystic/hyrulewarriors/princesstetra/skin2.vtf
materials/models/KabalMystic/hyrulewarriors/princesstetra/boots.vmt
materials/models/KabalMystic/hyrulewarriors/princesstetra/Clothes3.vmt
materials/models/KabalMystic/hyrulewarriors/princesstetra/Clothes0.vmt
materials/models/KabalMystic/hyrulewarriors/princesstetra/ToonZelda_nrm.vtf
materials/models/KabalMystic/hyrulewarriors/princesstetra/Head2P.vmt
materials/models/KabalMystic/hyrulewarriors/princesstetra/body.vtf
materials/models/KabalMystic/hyrulewarriors/princesstetra/skinP.vtf
materials/models/KabalMystic/hyrulewarriors/princesstetra/skin0P.vtf
materials/models/KabalMystic/hyrulewarriors/princesstetra/skin3.vtf
materials/models/KabalMystic/hyrulewarriors/princesstetra/Head4.vmt
materials/models/KabalMystic/hyrulewarriors/princesstetra/Clothes2.vmt
materials/models/KabalMystic/hyrulewarriors/princesstetra/skin4.vtf
materials/models/KabalMystic/hyrulewarriors/princesstetra/Head0P.vmt
materials/models/KabalMystic/hyrulewarriors/princesstetra/Clothes1.vmt
materials/models/KabalMystic/hyrulewarriors/princesstetra/body.vmt
materials/models/KabalMystic/hyrulewarriors/princesstetra/Clothes.vmt
materials/models/KabalMystic/hyrulewarriors/princesstetra/skin2P.vtf
materials/models/KabalMystic/hyrulewarriors/princesstetra/Head4P.vmt
materials/models/KabalMystic/hyrulewarriors/princesstetra/SFW/body1.vmt
materials/models/KabalMystic/hyrulewarriors/princesstetra/SFW/body2.vmt
materials/models/KabalMystic/hyrulewarriors/princesstetra/SFW/body1.vtf
materials/models/KabalMystic/hyrulewarriors/princesstetra/SFW/body0.vtf
materials/models/KabalMystic/hyrulewarriors/princesstetra/SFW/body0.vmt
materials/models/KabalMystic/hyrulewarriors/princesstetra/SFW/body2.vtf
materials/models/KabalMystic/hyrulewarriors/princesstetra/SFW/body.vtf
materials/models/KabalMystic/hyrulewarriors/princesstetra/SFW/body.vmt
materials/models/KabalMystic/hyrulewarriors/princesstetra/SFW/cel/body1.vmt
materials/models/KabalMystic/hyrulewarriors/princesstetra/SFW/cel/body2.vmt
materials/models/KabalMystic/hyrulewarriors/princesstetra/SFW/cel/body0.vmt
materials/models/KabalMystic/hyrulewarriors/princesstetra/SFW/cel/body.vmt
materials/models/KabalMystic/hyrulewarriors/princesstetra/cel/Clothes4.vmt
materials/models/KabalMystic/hyrulewarriors/princesstetra/cel/head0.vtf
materials/models/KabalMystic/hyrulewarriors/princesstetra/cel/body1.vmt
materials/models/KabalMystic/hyrulewarriors/princesstetra/cel/body2.vmt
materials/models/KabalMystic/hyrulewarriors/princesstetra/cel/head4.vtf
materials/models/KabalMystic/hyrulewarriors/princesstetra/cel/Head3.vmt
materials/models/KabalMystic/hyrulewarriors/princesstetra/cel/Head3P.vmt
materials/models/KabalMystic/hyrulewarriors/princesstetra/cel/Head0.vmt
materials/models/KabalMystic/hyrulewarriors/princesstetra/cel/Head2.vmt
materials/models/KabalMystic/hyrulewarriors/princesstetra/cel/body0.vmt
materials/models/KabalMystic/hyrulewarriors/princesstetra/cel/Head.vmt
materials/models/KabalMystic/hyrulewarriors/princesstetra/cel/HeadP.vmt
materials/models/KabalMystic/hyrulewarriors/princesstetra/cel/head3.vtf
materials/models/KabalMystic/hyrulewarriors/princesstetra/cel/boots.vmt
materials/models/KabalMystic/hyrulewarriors/princesstetra/cel/Clothes3.vmt
materials/models/KabalMystic/hyrulewarriors/princesstetra/cel/head3P.vtf
materials/models/KabalMystic/hyrulewarriors/princesstetra/cel/Clothes0.vmt
materials/models/KabalMystic/hyrulewarriors/princesstetra/cel/Head2P.vmt
materials/models/KabalMystic/hyrulewarriors/princesstetra/cel/Head4.vmt
materials/models/KabalMystic/hyrulewarriors/princesstetra/cel/Clothes2.vmt
materials/models/KabalMystic/hyrulewarriors/princesstetra/cel/Head1P.vmt
materials/models/KabalMystic/hyrulewarriors/princesstetra/cel/head2P.vtf
materials/models/KabalMystic/hyrulewarriors/princesstetra/cel/head4P.vtf
materials/models/KabalMystic/hyrulewarriors/princesstetra/cel/head0P.vtf
materials/models/KabalMystic/hyrulewarriors/princesstetra/cel/head1.vtf
materials/models/KabalMystic/hyrulewarriors/princesstetra/cel/Head0P.vmt
materials/models/KabalMystic/hyrulewarriors/princesstetra/cel/Clothes1.vmt
materials/models/KabalMystic/hyrulewarriors/princesstetra/cel/head.vtf
materials/models/KabalMystic/hyrulewarriors/princesstetra/cel/Head1.vmt
materials/models/KabalMystic/hyrulewarriors/princesstetra/cel/body.vmt
materials/models/KabalMystic/hyrulewarriors/princesstetra/cel/Clothes.vmt
materials/models/KabalMystic/hyrulewarriors/princesstetra/cel/head2.vtf
materials/models/KabalMystic/hyrulewarriors/princesstetra/cel/head1P.vtf
materials/models/KabalMystic/hyrulewarriors/princesstetra/cel/Head4P.vmt
materials/models/KabalMystic/hyrulewarriors/shared/shared_Lightwarp.vtf
materials/models/KabalMystic/hyrulewarriors/shared/bluberryeye.vmt
materials/models/KabalMystic/hyrulewarriors/shared/exponent.vtf
materials/models/KabalMystic/hyrulewarriors/shared/facials.vtf
materials/models/KabalMystic/hyrulewarriors/shared/darkblueye.vmt
materials/models/KabalMystic/hyrulewarriors/shared/facials1.vtf
materials/models/KabalMystic/hyrulewarriors/shared/blueye.vtf
materials/models/KabalMystic/hyrulewarriors/shared/facials.vmt
materials/models/KabalMystic/hyrulewarriors/shared/toonshade.vtf
materials/models/KabalMystic/hyrulewarriors/shared/eyedemon.vtf
materials/models/KabalMystic/hyrulewarriors/shared/blueye.vmt
materials/models/KabalMystic/hyrulewarriors/shared/bluberryeye.vtf
materials/models/KabalMystic/hyrulewarriors/shared/shared_normal.vtf
materials/models/KabalMystic/hyrulewarriors/shared/eyedemon.vmt
materials/models/KabalMystic/hyrulewarriors/shared/toon_lightwarp.vtf
materials/models/KabalMystic/hyrulewarriors/shared/darkblueye.vtf
materials/models/KabalMystic/hyrulewarriors/shared/facials1.vmt
materials/models/KabalMystic/hyrulewarriors/shared/cel/bluberryeye.vmt
materials/models/KabalMystic/hyrulewarriors/shared/cel/darkblueye.vmt
materials/models/KabalMystic/hyrulewarriors/shared/cel/blueye.vtf
materials/models/KabalMystic/hyrulewarriors/shared/cel/facials.vmt
materials/models/KabalMystic/hyrulewarriors/shared/cel/eyedemon.vtf
materials/models/KabalMystic/hyrulewarriors/shared/cel/blueye.vmt
materials/models/KabalMystic/hyrulewarriors/shared/cel/bluberryeye.vtf
materials/models/KabalMystic/hyrulewarriors/shared/cel/eyedemon.vmt
materials/models/KabalMystic/hyrulewarriors/shared/cel/darkblueye.vtf
materials/models/KabalMystic/hyrulewarriors/shared/cel/facials1.vmt
materials/models/KabalMystic/hyrulewarriors/tetra/body1.vmt
materials/models/KabalMystic/hyrulewarriors/tetra/boots.vtf
materials/models/KabalMystic/hyrulewarriors/tetra/body_nrm.vtf
materials/models/KabalMystic/hyrulewarriors/tetra/skin0.vtf
materials/models/KabalMystic/hyrulewarriors/tetra/skin1.vtf
materials/models/KabalMystic/hyrulewarriors/tetra/hilt_nrm.vtf
materials/models/KabalMystic/hyrulewarriors/tetra/Head0.vmt
materials/models/KabalMystic/hyrulewarriors/tetra/skin.vtf
materials/models/KabalMystic/hyrulewarriors/tetra/body1.vtf
materials/models/KabalMystic/hyrulewarriors/tetra/NRM.vtf
materials/models/KabalMystic/hyrulewarriors/tetra/body0.vtf
materials/models/KabalMystic/hyrulewarriors/tetra/body0.vmt
materials/models/KabalMystic/hyrulewarriors/tetra/Tetra.vmt
materials/models/KabalMystic/hyrulewarriors/tetra/Head.vmt
materials/models/KabalMystic/hyrulewarriors/tetra/body2.vtf
materials/models/KabalMystic/hyrulewarriors/tetra/HeadP.vmt
materials/models/KabalMystic/hyrulewarriors/tetra/Tetra.vtf
materials/models/KabalMystic/hyrulewarriors/tetra/boots.vmt
materials/models/KabalMystic/hyrulewarriors/tetra/skin1P.vtf
materials/models/KabalMystic/hyrulewarriors/tetra/Clothes0.vmt
materials/models/KabalMystic/hyrulewarriors/tetra/body.vtf
materials/models/KabalMystic/hyrulewarriors/tetra/hilt.vtf
materials/models/KabalMystic/hyrulewarriors/tetra/skinP.vtf
materials/models/KabalMystic/hyrulewarriors/tetra/tetra_nrm.vtf
materials/models/KabalMystic/hyrulewarriors/tetra/skin0P.vtf
materials/models/KabalMystic/hyrulewarriors/tetra/Head1P.vmt
materials/models/KabalMystic/hyrulewarriors/tetra/Head0P.vmt
materials/models/KabalMystic/hyrulewarriors/tetra/Clothes1.vmt
materials/models/KabalMystic/hyrulewarriors/tetra/Head1.vmt
materials/models/KabalMystic/hyrulewarriors/tetra/hilt.vmt
materials/models/KabalMystic/hyrulewarriors/tetra/body.vmt
materials/models/KabalMystic/hyrulewarriors/tetra/Clothes.vmt
materials/models/KabalMystic/hyrulewarriors/tetra/SFW/body1.vmt
materials/models/KabalMystic/hyrulewarriors/tetra/SFW/body1.vtf
materials/models/KabalMystic/hyrulewarriors/tetra/SFW/body0.vtf
materials/models/KabalMystic/hyrulewarriors/tetra/SFW/body0.vmt
materials/models/KabalMystic/hyrulewarriors/tetra/SFW/body.vtf
materials/models/KabalMystic/hyrulewarriors/tetra/SFW/body.vmt
materials/models/KabalMystic/hyrulewarriors/tetra/SFW/cel/body1.vmt
materials/models/KabalMystic/hyrulewarriors/tetra/SFW/cel/body0.vmt
materials/models/KabalMystic/hyrulewarriors/tetra/SFW/cel/body.vmt
materials/models/KabalMystic/hyrulewarriors/tetra/cel/head0.vtf
materials/models/KabalMystic/hyrulewarriors/tetra/cel/body1.vmt
materials/models/KabalMystic/hyrulewarriors/tetra/cel/body2.vmt
materials/models/KabalMystic/hyrulewarriors/tetra/cel/headP.vtf
materials/models/KabalMystic/hyrulewarriors/tetra/cel/Head0.vmt
materials/models/KabalMystic/hyrulewarriors/tetra/cel/body0.vmt
materials/models/KabalMystic/hyrulewarriors/tetra/cel/Head.vmt
materials/models/KabalMystic/hyrulewarriors/tetra/cel/HeadP.vmt
materials/models/KabalMystic/hyrulewarriors/tetra/cel/boots.vmt
materials/models/KabalMystic/hyrulewarriors/tetra/cel/Clothes0.vmt
materials/models/KabalMystic/hyrulewarriors/tetra/cel/Clothes2.vmt
materials/models/KabalMystic/hyrulewarriors/tetra/cel/Head1P.vmt
materials/models/KabalMystic/hyrulewarriors/tetra/cel/head0P.vtf
materials/models/KabalMystic/hyrulewarriors/tetra/cel/head1.vtf
materials/models/KabalMystic/hyrulewarriors/tetra/cel/Head0P.vmt
materials/models/KabalMystic/hyrulewarriors/tetra/cel/Clothes1.vmt
materials/models/KabalMystic/hyrulewarriors/tetra/cel/head.vtf
materials/models/KabalMystic/hyrulewarriors/tetra/cel/Head1.vmt
materials/models/KabalMystic/hyrulewarriors/tetra/cel/body.vmt
materials/models/KabalMystic/hyrulewarriors/tetra/cel/Clothes.vmt
materials/models/KabalMystic/hyrulewarriors/tetra/cel/head1P.vtf
materials/models/KabalMystic/hyrulewarriors/toonzelda/body1.vmt
materials/models/KabalMystic/hyrulewarriors/toonzelda/body2.vmt
materials/models/KabalMystic/hyrulewarriors/toonzelda/boots.vtf
materials/models/KabalMystic/hyrulewarriors/toonzelda/FSZeldaP.vtf
materials/models/KabalMystic/hyrulewarriors/toonzelda/Head0.vmt
materials/models/KabalMystic/hyrulewarriors/toonzelda/Head2.vmt
materials/models/KabalMystic/hyrulewarriors/toonzelda/body1.vtf
materials/models/KabalMystic/hyrulewarriors/toonzelda/NRM.vtf
materials/models/KabalMystic/hyrulewarriors/toonzelda/body0.vtf
materials/models/KabalMystic/hyrulewarriors/toonzelda/body0.vmt
materials/models/KabalMystic/hyrulewarriors/toonzelda/WWZelda.vtf
materials/models/KabalMystic/hyrulewarriors/toonzelda/HWToonZeldaP.vtf
materials/models/KabalMystic/hyrulewarriors/toonzelda/Head.vmt
materials/models/KabalMystic/hyrulewarriors/toonzelda/ArtZeldaP.vtf
materials/models/KabalMystic/hyrulewarriors/toonzelda/body2.vtf
materials/models/KabalMystic/hyrulewarriors/toonzelda/HeadP.vmt
materials/models/KabalMystic/hyrulewarriors/toonzelda/bodyArtZeldaP.vtf
materials/models/KabalMystic/hyrulewarriors/toonzelda/boots.vmt
materials/models/KabalMystic/hyrulewarriors/toonzelda/ToonZelda.vtf
materials/models/KabalMystic/hyrulewarriors/toonzelda/Clothes0.vmt
materials/models/KabalMystic/hyrulewarriors/toonzelda/ToonZelda_nrm.vtf
materials/models/KabalMystic/hyrulewarriors/toonzelda/WWZeldaP.vtf
materials/models/KabalMystic/hyrulewarriors/toonzelda/Head2P.vmt
materials/models/KabalMystic/hyrulewarriors/toonzelda/body.vtf
materials/models/KabalMystic/hyrulewarriors/toonzelda/Clothes2.vmt
materials/models/KabalMystic/hyrulewarriors/toonzelda/Head1P.vmt
materials/models/KabalMystic/hyrulewarriors/toonzelda/bodyArtZelda.vtf
materials/models/KabalMystic/hyrulewarriors/toonzelda/Head0P.vmt
materials/models/KabalMystic/hyrulewarriors/toonzelda/Clothes1.vmt
materials/models/KabalMystic/hyrulewarriors/toonzelda/ArtZelda.vtf
materials/models/KabalMystic/hyrulewarriors/toonzelda/Head1.vmt
materials/models/KabalMystic/hyrulewarriors/toonzelda/body.vmt
materials/models/KabalMystic/hyrulewarriors/toonzelda/Clothes.vmt
materials/models/KabalMystic/hyrulewarriors/toonzelda/boots_nrm.vtf
materials/models/KabalMystic/hyrulewarriors/toonzelda/FSZelda.vtf
materials/models/KabalMystic/hyrulewarriors/toonzelda/SFW/body1.vmt
materials/models/KabalMystic/hyrulewarriors/toonzelda/SFW/body2.vmt
materials/models/KabalMystic/hyrulewarriors/toonzelda/SFW/body1.vtf
materials/models/KabalMystic/hyrulewarriors/toonzelda/SFW/body0.vtf
materials/models/KabalMystic/hyrulewarriors/toonzelda/SFW/body0.vmt
materials/models/KabalMystic/hyrulewarriors/toonzelda/SFW/body2.vtf
materials/models/KabalMystic/hyrulewarriors/toonzelda/SFW/body.vtf
materials/models/KabalMystic/hyrulewarriors/toonzelda/SFW/body.vmt
materials/models/KabalMystic/hyrulewarriors/toonzelda/SFW/cel/body1.vmt
materials/models/KabalMystic/hyrulewarriors/toonzelda/SFW/cel/body2.vmt
materials/models/KabalMystic/hyrulewarriors/toonzelda/SFW/cel/body0.vmt
materials/models/KabalMystic/hyrulewarriors/toonzelda/SFW/cel/body.vmt
materials/models/KabalMystic/hyrulewarriors/toonzelda/cel/head0.vtf
materials/models/KabalMystic/hyrulewarriors/toonzelda/cel/body1.vmt
materials/models/KabalMystic/hyrulewarriors/toonzelda/cel/body2.vmt
materials/models/KabalMystic/hyrulewarriors/toonzelda/cel/headP.vtf
materials/models/KabalMystic/hyrulewarriors/toonzelda/cel/Head1.vtf
materials/models/KabalMystic/hyrulewarriors/toonzelda/cel/Head0.vmt
materials/models/KabalMystic/hyrulewarriors/toonzelda/cel/Head2.vmt
materials/models/KabalMystic/hyrulewarriors/toonzelda/cel/Head2.vtf
materials/models/KabalMystic/hyrulewarriors/toonzelda/cel/body0.vmt
materials/models/KabalMystic/hyrulewarriors/toonzelda/cel/Head.vmt
materials/models/KabalMystic/hyrulewarriors/toonzelda/cel/HeadP.vmt
materials/models/KabalMystic/hyrulewarriors/toonzelda/cel/Head0P.vtf
materials/models/KabalMystic/hyrulewarriors/toonzelda/cel/boots.vmt
materials/models/KabalMystic/hyrulewarriors/toonzelda/cel/Clothes0.vmt
materials/models/KabalMystic/hyrulewarriors/toonzelda/cel/Head2P.vmt
materials/models/KabalMystic/hyrulewarriors/toonzelda/cel/Clothes2.vmt
materials/models/KabalMystic/hyrulewarriors/toonzelda/cel/Head1P.vmt
materials/models/KabalMystic/hyrulewarriors/toonzelda/cel/Head0P.vmt
materials/models/KabalMystic/hyrulewarriors/toonzelda/cel/Clothes1.vmt
materials/models/KabalMystic/hyrulewarriors/toonzelda/cel/head.vtf
materials/models/KabalMystic/hyrulewarriors/toonzelda/cel/Head1P.vtf
materials/models/KabalMystic/hyrulewarriors/toonzelda/cel/Head1.vmt
materials/models/KabalMystic/hyrulewarriors/toonzelda/cel/body.vmt
materials/models/KabalMystic/hyrulewarriors/toonzelda/cel/Clothes.vmt
materials/models/KabalMystic/hyrulewarriors/toonzelda/cel/Head2P.vtf