Adult content
This content is marked as Adult/NSFW content. You can toggle your preferences regarding this content type in your account settings.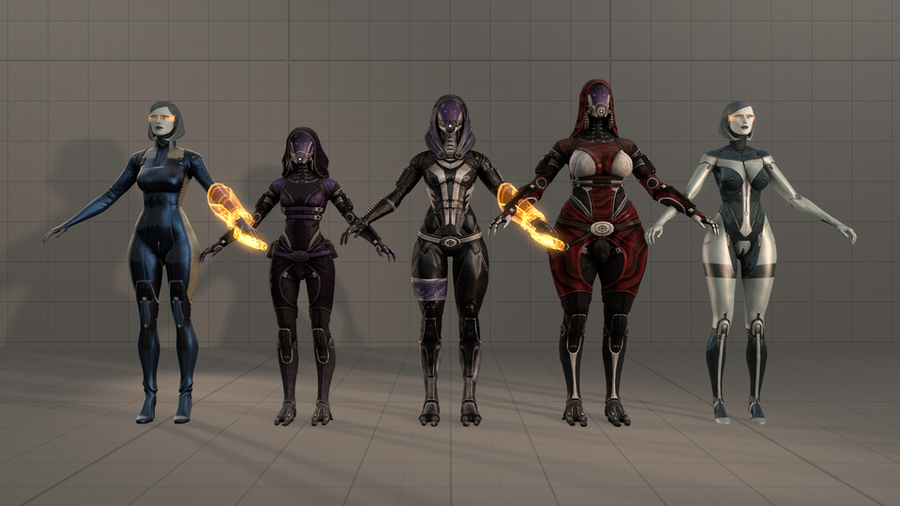 Show more
Description
Disclaimer: I have not created any of these models from scratch. I have only added flexes and adjusted the materials to suit my purposes. Credits for the original creators (that I could find) are down below.
---
Important notes:
This download includes my version of "sfm_defaultanimationgroups.txt" which groups certain bones and flexes. If you are using your own version of this file, go to "SourceFilmmaker/game/usermod/cfg" and make a backup of the "sfm_defaultanimationgroups.txt" before installing the models.

EDI's model doesn't have conventional eye-posing, but instead has eye-bones in the "unknown" tab. Best way to pose them is to select ONLY the rotations of both bones and move them at the same time. You can also lock the rotations in order to keep EDI's eyes pointed in the same direction while posing her.

In order to avoid problems with Nora's and Sani's mouth-lights, they should ONLY be locked in place on the "rig_head" bone that SFM generates AFTER applying the rig. This is due to model scaling not working well with lights.

For the same reason, make sure the mouth-light is NOT locked on the model BEFORE you detach their rig. Otherwise the light's position will be messed up.
---
How to install:
Simply cut and paste the "usermod" folder to your SFM folder in:
"Steam\steamapps\common\SourceFilmmaker\game"
---
About the download:
This pack includes the character models (apart from Shepard and Liara) plus a few other models that I have used in my Mass Effect porn parody series "AI-Curious".
Here is a list of all the models included:
models\AAA\Props\Vulva\vulva2.mdl
models\bge\ME3\EDI\hmf_proedic_mdl_likkez.mdl
models\BJ\nudebody_v3_1.mdl
models\BJ\omnitool.mdl
models\BJ\pnus_v2_3
models\BJ\quarian_female_new6
models\BJ\MassEffect3\Characters\taliarmor7.mdl
models\BJ\MassEffect3\Characters\EDI\edi_nude_subd_v2_body_5.mdl
models\BJ\MassEffect3\Characters\EDI\edi_nude_subd_v2_head.mdl
The EDI and Tali I use for AI-Curious are combinations of several models put together (some with override materials applied) in SFM itself. Therefore I have provided a session file with the models assembled and ready to go:
"elements\sessions\bj_models.dmx"
This file also includes my original quarian characters Nora and Sani in their canonical proportions for anyone interested in doing their own fanfics with them! For public releases, I simply ask that you credit me for the creation of the characters.
There are two rig files included in the download:
"scripts\sfm\animset\rig_masseffect_fixed_EDI.py" for clothed and nude EDI models.

"scripts\sfm\animset\rig_masseffect_fixed_quarians.py" for Tali and the female quarian models.

The "nudebody_v3_1" model uses SFM's default "rig_biped_simple.py".
---
Known bugs/features:
The omni-tool on EDI's clothed model has transparency issues. Use the separate omni-tool provided in the download and the session file instead.

The locations of materials for some of the models are a bit of a mess at the moment, for which I apologize.

Quality on some of the flexes isn't the best, mostly on Tali's model. They were created back when I started to learn sculpting for the first time ever.
---
Model credits:
EDI's nude body
Created by Bioware - Ported by Nate159 - Edited by Big Johnson
EDI's bodysuit
Created by Bioware - Ported by bge - Flexes by Likkez - Edited by Big Johnson
Tali's armored suit
Created by Bioware - Original porter unknown - Edited by Big Johnson
Quarian female
Created by Bioware - Original porter unknown - Edited by Big Johnson
Nude female body
Created by LordAardvark - Asari texture by sfmfuntime - Edited by Big Johnson
Penis model
Created by Gnin - Edited by Big Johnson
Vagina model
Omni-tool
Created by Bioware - Ported by bge
---
You can find me at:
Twitter: @YourBigJohnson
Pornhub: pornhub.com/model/yourbigjohnson
Newgrounds: yourbigjohnson.newgrounds.com
Patreon: patreon.com/bigjohnson
Enjoy! -BJ
SFMLab is a free service. However, it costs about $0.03 to deliver you a 1GB file. With over 20TB of traffic every month and growing, SFMLab needs your help. If only 1% of our users each gave us $5 for a single month, we could keep the site running for several years.
Filename
Downloads
Created
Filesize
Files
Big_Johnsons_Assorted_Models_Pack_AogBbgC.rar
998
2023-04-22 13:59:28
554.24 MB