Adult content
This content is marked as Adult/NSFW content. You can toggle your preferences regarding this content type in your account settings.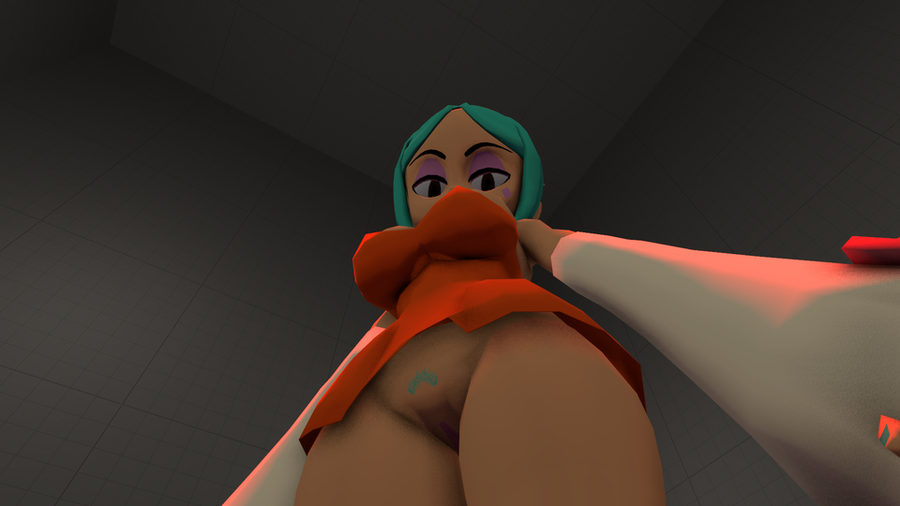 Show more
Description
Cerebella from Skullgirls
Version: 1.01
Updated: 5/3/2023
Add shape keys/updated
Credits:
Riloarts - For the model
Me - For Import, Editing, ETC - https://twitter.com/Sharkzero5
Face rigs.
Organized bones.
QC eyes.
3 skins (only casual outfit)
Bodygroup.
Jiggle bones.
Finger posing.
Riloarts/skullgirls/cerebella
SFMLab is a free service. However, it costs about $0.03 to deliver you a 1GB file. With over 20TB of traffic every month and growing, SFMLab needs your help. If only 1% of our users each gave us $5 for a single month, we could keep the site running for several years.
Filename
Downloads
Created
Filesize
Files
CerebellaNSFWV1.01.zip
157
2023-05-03 17:50:44
2.07 MB
File contents:

CerebellaNSFWV.00/models/riloarts/skullgirls/cerebella_bunny/bunny versa.mdl
CerebellaNSFWV.00/models/riloarts/skullgirls/cerebella_bunny/bunny outfit18.mdl
CerebellaNSFWV.00/models/riloarts/skullgirls/cerebella_bunny/bunny versa.vvd
CerebellaNSFWV.00/models/riloarts/skullgirls/cerebella_bunny/bunny outfit18.vvd
CerebellaNSFWV.00/models/riloarts/skullgirls/cerebella_bunny/bunny versa.dx90.vtx
CerebellaNSFWV.00/models/riloarts/skullgirls/cerebella_bunny/bunny outfit18.dx90.vtx
CerebellaNSFWV.00/models/riloarts/skullgirls/cerebella_clothes/pants18.vvd
CerebellaNSFWV.00/models/riloarts/skullgirls/cerebella_clothes/pants18.mdl
CerebellaNSFWV.00/models/riloarts/skullgirls/cerebella_clothes/sweat pants.vvd
CerebellaNSFWV.00/models/riloarts/skullgirls/cerebella_clothes/tank top.vvd
CerebellaNSFWV.00/models/riloarts/skullgirls/cerebella_clothes/sneaker18.mdl
CerebellaNSFWV.00/models/riloarts/skullgirls/cerebella_clothes/tank top.dx90.vtx
CerebellaNSFWV.00/models/riloarts/skullgirls/cerebella_clothes/sneaker18.dx90.vtx
CerebellaNSFWV.00/models/riloarts/skullgirls/cerebella_clothes/sweat pants.dx90.vtx
CerebellaNSFWV.00/models/riloarts/skullgirls/cerebella_clothes/tank top.mdl
CerebellaNSFWV.00/models/riloarts/skullgirls/cerebella_clothes/pants18.dx90.vtx
CerebellaNSFWV.00/models/riloarts/skullgirls/cerebella_clothes/sweat pants.mdl
CerebellaNSFWV.00/models/riloarts/skullgirls/cerebella_clothes/sneaker18.vvd
CerebellaNSFWV.00/models/riloarts/skullgirls/cerebella/cerebella sword.dx90.vtx
CerebellaNSFWV.00/models/riloarts/skullgirls/cerebella/cerebella sword.vvd
CerebellaNSFWV.00/models/riloarts/skullgirls/cerebella/cerebella18.dx90.vtx
CerebellaNSFWV.00/models/riloarts/skullgirls/cerebella/vice versa.mdl
CerebellaNSFWV.00/models/riloarts/skullgirls/cerebella/cerebella sword.mdl
CerebellaNSFWV.00/models/riloarts/skullgirls/cerebella/cerebella18.mdl
CerebellaNSFWV.00/models/riloarts/skullgirls/cerebella/cerebella outfit18.vvd
CerebellaNSFWV.00/models/riloarts/skullgirls/cerebella/cerebella outfit18.dx90.vtx
CerebellaNSFWV.00/models/riloarts/skullgirls/cerebella/cerebella outfit18.mdl
CerebellaNSFWV.00/models/riloarts/skullgirls/cerebella/vice versa.dx90.vtx
CerebellaNSFWV.00/models/riloarts/skullgirls/cerebella/vice versa.vvd
CerebellaNSFWV.00/models/riloarts/skullgirls/cerebella/cerebella18.vvd
CerebellaNSFWV.00/materials/models/riloarts/skullgirls/cerebella_clothes3/tank tops 3.vtf
CerebellaNSFWV.00/materials/models/riloarts/skullgirls/cerebella_clothes3/sweat pants 3.vtf
CerebellaNSFWV.00/materials/models/riloarts/skullgirls/cerebella_clothes3/tank tops 3.vmt
CerebellaNSFWV.00/materials/models/riloarts/skullgirls/cerebella_clothes3/sweat pants 3.vmt
CerebellaNSFWV.00/materials/models/riloarts/skullgirls/cerebella_bunny/bunny outfit.vtf
CerebellaNSFWV.00/materials/models/riloarts/skullgirls/cerebella_bunny/5_viceversa_1_0_0.vtf
CerebellaNSFWV.00/materials/models/riloarts/skullgirls/cerebella_bunny/bunny outfit.vmt
CerebellaNSFWV.00/materials/models/riloarts/skullgirls/cerebella_bunny/5_viceversa_1_0_0.vmt
CerebellaNSFWV.00/materials/models/riloarts/skullgirls/cerebella_clothes/sweat pants.vmt
CerebellaNSFWV.00/materials/models/riloarts/skullgirls/cerebella_clothes/tank tops.vmt
CerebellaNSFWV.00/materials/models/riloarts/skullgirls/cerebella_clothes/sneaker 1.vmt
CerebellaNSFWV.00/materials/models/riloarts/skullgirls/cerebella_clothes/sweat pants.vtf
CerebellaNSFWV.00/materials/models/riloarts/skullgirls/cerebella_clothes/tank tops.vtf
CerebellaNSFWV.00/materials/models/riloarts/skullgirls/cerebella_clothes/sneaker 1.vtf
CerebellaNSFWV.00/materials/models/riloarts/skullgirls/cerebella_clothes2/sweat pants 2.vmt
CerebellaNSFWV.00/materials/models/riloarts/skullgirls/cerebella_clothes2/sneaker 2.vmt
CerebellaNSFWV.00/materials/models/riloarts/skullgirls/cerebella_clothes2/tank tops 2.vtf
CerebellaNSFWV.00/materials/models/riloarts/skullgirls/cerebella_clothes2/tank tops 2.vmt
CerebellaNSFWV.00/materials/models/riloarts/skullgirls/cerebella_clothes2/sneaker 2.vtf
CerebellaNSFWV.00/materials/models/riloarts/skullgirls/cerebella_clothes2/sweat pants 2.vtf
CerebellaNSFWV.00/materials/models/riloarts/skullgirls/cerebella/body18.vtf
CerebellaNSFWV.00/materials/models/riloarts/skullgirls/cerebella/blade.vmt
CerebellaNSFWV.00/materials/models/riloarts/skullgirls/cerebella/body_n.vtf
CerebellaNSFWV.00/materials/models/riloarts/skullgirls/cerebella/brascarf.vmt
CerebellaNSFWV.00/materials/models/riloarts/skullgirls/cerebella/eye_R.vtf
CerebellaNSFWV.00/materials/models/riloarts/skullgirls/cerebella/pupil.vmt
CerebellaNSFWV.00/materials/models/riloarts/skullgirls/cerebella/blade.vtf
CerebellaNSFWV.00/materials/models/riloarts/skullgirls/cerebella/underwearhair.vtf
CerebellaNSFWV.00/materials/models/riloarts/skullgirls/cerebella/shoes.vmt
CerebellaNSFWV.00/materials/models/riloarts/skullgirls/cerebella/vice versa.vmt
CerebellaNSFWV.00/materials/models/riloarts/skullgirls/cerebella/turtleneck.vtf
CerebellaNSFWV.00/materials/models/riloarts/skullgirls/cerebella/pupil.vtf
CerebellaNSFWV.00/materials/models/riloarts/skullgirls/cerebella/body18.vmt
CerebellaNSFWV.00/materials/models/riloarts/skullgirls/cerebella/eye_L.vtf
CerebellaNSFWV.00/materials/models/riloarts/skullgirls/cerebella/pube.vtf
CerebellaNSFWV.00/materials/models/riloarts/skullgirls/cerebella/eye_L.vmt
CerebellaNSFWV.00/materials/models/riloarts/skullgirls/cerebella/eye_R.vmt
CerebellaNSFWV.00/materials/models/riloarts/skullgirls/cerebella/brascarf.vtf
CerebellaNSFWV.00/materials/models/riloarts/skullgirls/cerebella/sleeves.vmt
CerebellaNSFWV.00/materials/models/riloarts/skullgirls/cerebella/body.vtf
CerebellaNSFWV.00/materials/models/riloarts/skullgirls/cerebella/pube.vmt
CerebellaNSFWV.00/materials/models/riloarts/skullgirls/cerebella/underwearhair.vmt
CerebellaNSFWV.00/materials/models/riloarts/skullgirls/cerebella/vice versa.vtf
CerebellaNSFWV.00/materials/models/riloarts/skullgirls/cerebella/outfit.vmt
CerebellaNSFWV.00/materials/models/riloarts/skullgirls/cerebella/outfit.vtf
CerebellaNSFWV.00/materials/models/riloarts/skullgirls/cerebella/pyro_lightwarp.vtf
CerebellaNSFWV.00/materials/models/riloarts/skullgirls/cerebella/turtleneck.vmt
CerebellaNSFWV.00/materials/models/riloarts/skullgirls/cerebella/body.vmt
CerebellaNSFWV.00/materials/models/riloarts/skullgirls/cerebella/shoes.vtf
CerebellaNSFWV.00/materials/models/riloarts/skullgirls/cerebella/body_n.vmt
CerebellaNSFWV.00/materials/models/riloarts/skullgirls/cerebella/sleeves.vtf




Cerebella_NSFWV1.00.zip
201
2023-04-24 04:58:27
2.05 MB
File contents:

CerebellaNSFWV.00/models/riloarts/skullgirls/cerebella_bunny/bunny versa.mdl
CerebellaNSFWV.00/models/riloarts/skullgirls/cerebella_bunny/bunny versa.vvd
CerebellaNSFWV.00/models/riloarts/skullgirls/cerebella_bunny/bunny versa.dx90.vtx
CerebellaNSFWV.00/models/riloarts/skullgirls/cerebella_bunny/bunny outfit.dx90.vtx
CerebellaNSFWV.00/models/riloarts/skullgirls/cerebella_bunny/bunny outfit.mdl
CerebellaNSFWV.00/models/riloarts/skullgirls/cerebella_bunny/bunny outfit.vvd
CerebellaNSFWV.00/models/riloarts/skullgirls/cerebella_clothes/sneaker.dx90.vtx
CerebellaNSFWV.00/models/riloarts/skullgirls/cerebella_clothes/sweat pants.vvd
CerebellaNSFWV.00/models/riloarts/skullgirls/cerebella_clothes/pants.mdl
CerebellaNSFWV.00/models/riloarts/skullgirls/cerebella_clothes/tank top.vvd
CerebellaNSFWV.00/models/riloarts/skullgirls/cerebella_clothes/tank top.dx90.vtx
CerebellaNSFWV.00/models/riloarts/skullgirls/cerebella_clothes/sneaker.vvd
CerebellaNSFWV.00/models/riloarts/skullgirls/cerebella_clothes/sweat pants.dx90.vtx
CerebellaNSFWV.00/models/riloarts/skullgirls/cerebella_clothes/tank top.mdl
CerebellaNSFWV.00/models/riloarts/skullgirls/cerebella_clothes/sweat pants.mdl
CerebellaNSFWV.00/models/riloarts/skullgirls/cerebella_clothes/pants.dx90.vtx
CerebellaNSFWV.00/models/riloarts/skullgirls/cerebella_clothes/pants.vvd
CerebellaNSFWV.00/models/riloarts/skullgirls/cerebella_clothes/sneaker.mdl
CerebellaNSFWV.00/models/riloarts/skullgirls/cerebella/cerebella sword.dx90.vtx
CerebellaNSFWV.00/models/riloarts/skullgirls/cerebella/cerebella sword.vvd
CerebellaNSFWV.00/models/riloarts/skullgirls/cerebella/cerebella outfit.mdl
CerebellaNSFWV.00/models/riloarts/skullgirls/cerebella/cerebella18.dx90.vtx
CerebellaNSFWV.00/models/riloarts/skullgirls/cerebella/cerebella outfit.dx90.vtx
CerebellaNSFWV.00/models/riloarts/skullgirls/cerebella/vice versa.mdl
CerebellaNSFWV.00/models/riloarts/skullgirls/cerebella/cerebella sword.mdl
CerebellaNSFWV.00/models/riloarts/skullgirls/cerebella/cerebella18.mdl
CerebellaNSFWV.00/models/riloarts/skullgirls/cerebella/vice versa.dx90.vtx
CerebellaNSFWV.00/models/riloarts/skullgirls/cerebella/cerebella outfit.vvd
CerebellaNSFWV.00/models/riloarts/skullgirls/cerebella/vice versa.vvd
CerebellaNSFWV.00/models/riloarts/skullgirls/cerebella/cerebella18.vvd
CerebellaNSFWV.00/materials/models/riloarts/skullgirls/cerebella_clothes3/tank tops 3.vtf
CerebellaNSFWV.00/materials/models/riloarts/skullgirls/cerebella_clothes3/sweat pants 3.vtf
CerebellaNSFWV.00/materials/models/riloarts/skullgirls/cerebella_clothes3/tank tops 3.vmt
CerebellaNSFWV.00/materials/models/riloarts/skullgirls/cerebella_clothes3/sweat pants 3.vmt
CerebellaNSFWV.00/materials/models/riloarts/skullgirls/cerebella_bunny/bunny outfit.vtf
CerebellaNSFWV.00/materials/models/riloarts/skullgirls/cerebella_bunny/5_viceversa_1_0_0.vtf
CerebellaNSFWV.00/materials/models/riloarts/skullgirls/cerebella_bunny/bunny outfit.vmt
CerebellaNSFWV.00/materials/models/riloarts/skullgirls/cerebella_bunny/5_viceversa_1_0_0.vmt
CerebellaNSFWV.00/materials/models/riloarts/skullgirls/cerebella_clothes/sweat pants.vmt
CerebellaNSFWV.00/materials/models/riloarts/skullgirls/cerebella_clothes/tank tops.vmt
CerebellaNSFWV.00/materials/models/riloarts/skullgirls/cerebella_clothes/sneaker 1.vmt
CerebellaNSFWV.00/materials/models/riloarts/skullgirls/cerebella_clothes/sweat pants.vtf
CerebellaNSFWV.00/materials/models/riloarts/skullgirls/cerebella_clothes/tank tops.vtf
CerebellaNSFWV.00/materials/models/riloarts/skullgirls/cerebella_clothes/sneaker 1.vtf
CerebellaNSFWV.00/materials/models/riloarts/skullgirls/cerebella_clothes2/sweat pants 2.vmt
CerebellaNSFWV.00/materials/models/riloarts/skullgirls/cerebella_clothes2/sneaker 2.vmt
CerebellaNSFWV.00/materials/models/riloarts/skullgirls/cerebella_clothes2/tank tops 2.vtf
CerebellaNSFWV.00/materials/models/riloarts/skullgirls/cerebella_clothes2/tank tops 2.vmt
CerebellaNSFWV.00/materials/models/riloarts/skullgirls/cerebella_clothes2/sneaker 2.vtf
CerebellaNSFWV.00/materials/models/riloarts/skullgirls/cerebella_clothes2/sweat pants 2.vtf
CerebellaNSFWV.00/materials/models/riloarts/skullgirls/cerebella/body18.vtf
CerebellaNSFWV.00/materials/models/riloarts/skullgirls/cerebella/blade.vmt
CerebellaNSFWV.00/materials/models/riloarts/skullgirls/cerebella/body_n.vtf
CerebellaNSFWV.00/materials/models/riloarts/skullgirls/cerebella/brascarf.vmt
CerebellaNSFWV.00/materials/models/riloarts/skullgirls/cerebella/eye_R.vtf
CerebellaNSFWV.00/materials/models/riloarts/skullgirls/cerebella/pupil.vmt
CerebellaNSFWV.00/materials/models/riloarts/skullgirls/cerebella/blade.vtf
CerebellaNSFWV.00/materials/models/riloarts/skullgirls/cerebella/underwearhair.vtf
CerebellaNSFWV.00/materials/models/riloarts/skullgirls/cerebella/shoes.vmt
CerebellaNSFWV.00/materials/models/riloarts/skullgirls/cerebella/vice versa.vmt
CerebellaNSFWV.00/materials/models/riloarts/skullgirls/cerebella/turtleneck.vtf
CerebellaNSFWV.00/materials/models/riloarts/skullgirls/cerebella/pupil.vtf
CerebellaNSFWV.00/materials/models/riloarts/skullgirls/cerebella/body18.vmt
CerebellaNSFWV.00/materials/models/riloarts/skullgirls/cerebella/eye_L.vtf
CerebellaNSFWV.00/materials/models/riloarts/skullgirls/cerebella/pube.vtf
CerebellaNSFWV.00/materials/models/riloarts/skullgirls/cerebella/eye_L.vmt
CerebellaNSFWV.00/materials/models/riloarts/skullgirls/cerebella/eye_R.vmt
CerebellaNSFWV.00/materials/models/riloarts/skullgirls/cerebella/brascarf.vtf
CerebellaNSFWV.00/materials/models/riloarts/skullgirls/cerebella/sleeves.vmt
CerebellaNSFWV.00/materials/models/riloarts/skullgirls/cerebella/body.vtf
CerebellaNSFWV.00/materials/models/riloarts/skullgirls/cerebella/pube.vmt
CerebellaNSFWV.00/materials/models/riloarts/skullgirls/cerebella/underwearhair.vmt
CerebellaNSFWV.00/materials/models/riloarts/skullgirls/cerebella/vice versa.vtf
CerebellaNSFWV.00/materials/models/riloarts/skullgirls/cerebella/outfit.vmt
CerebellaNSFWV.00/materials/models/riloarts/skullgirls/cerebella/outfit.vtf
CerebellaNSFWV.00/materials/models/riloarts/skullgirls/cerebella/pyro_lightwarp.vtf
CerebellaNSFWV.00/materials/models/riloarts/skullgirls/cerebella/turtleneck.vmt
CerebellaNSFWV.00/materials/models/riloarts/skullgirls/cerebella/body.vmt
CerebellaNSFWV.00/materials/models/riloarts/skullgirls/cerebella/shoes.vtf
CerebellaNSFWV.00/materials/models/riloarts/skullgirls/cerebella/body_n.vmt
CerebellaNSFWV.00/materials/models/riloarts/skullgirls/cerebella/sleeves.vtf