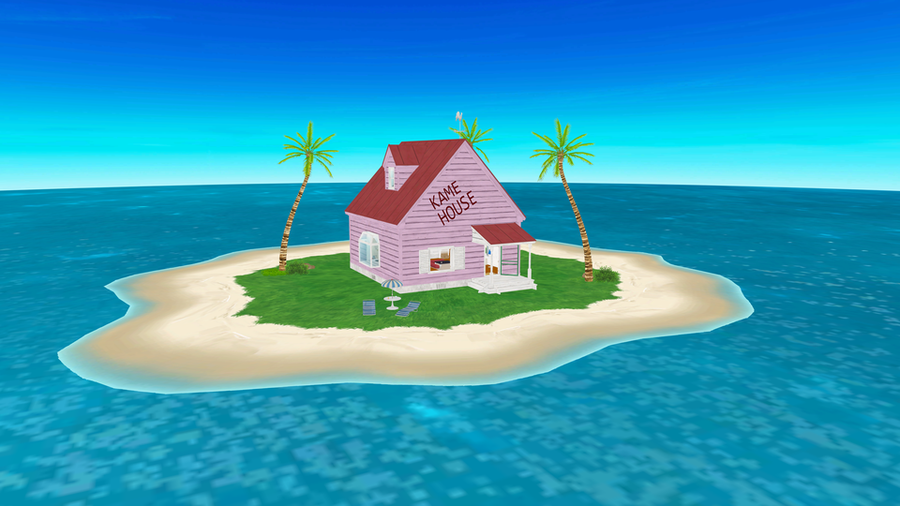 Show more
Description
Master Roshi's little island.
This is loaded in as models.
Due to SFM's material limits, this model had to be split into six parts:
Kame House
Island
Ocean Skydome
Furniture Set 1
Furniture Set 2
Furniture Set 3
To properly align these models, you'll have to select their "rootTransform" bone and zero them out.
SFMLab is a free service. However, it costs about $0.03 to deliver you a 1GB file. With over 20TB of traffic every month and growing, SFMLab needs your help. If only 1% of our users each gave us $5 for a single month, we could keep the site running for several years.
Filename
Downloads
Created
Filesize
Files
Kame_House.7z
1343
2023-04-27 03:02:03
8.11 MB
File contents:

usermod/models/Dragon Ball/Stage/Kame House/furniture set 1.vvd
usermod/models/Dragon Ball/Stage/Kame House/ocean skydome.vvd
usermod/models/Dragon Ball/Stage/Kame House/kame house.vvd
usermod/models/Dragon Ball/Stage/Kame House/kame house.mdl
usermod/models/Dragon Ball/Stage/Kame House/island.vvd
usermod/models/Dragon Ball/Stage/Kame House/Furniture Set 2.dx90.vtx
usermod/models/Dragon Ball/Stage/Kame House/Furniture Set 1.dx90.vtx
usermod/models/Dragon Ball/Stage/Kame House/furniture set 2.mdl
usermod/models/Dragon Ball/Stage/Kame House/Kame House.dx90.vtx
usermod/models/Dragon Ball/Stage/Kame House/Island.dx90.vtx
usermod/models/Dragon Ball/Stage/Kame House/Furniture Set 3.dx90.vtx
usermod/models/Dragon Ball/Stage/Kame House/furniture set 2.vvd
usermod/models/Dragon Ball/Stage/Kame House/island.mdl
usermod/models/Dragon Ball/Stage/Kame House/Ocean Skydome.dx90.vtx
usermod/models/Dragon Ball/Stage/Kame House/furniture set 3.mdl
usermod/models/Dragon Ball/Stage/Kame House/ocean skydome.mdl
usermod/models/Dragon Ball/Stage/Kame House/furniture set 3.vvd
usermod/models/Dragon Ball/Stage/Kame House/furniture set 1.mdl
usermod/materials/models/Dragon Ball/Stage/Kame House/Wood G.vmt
usermod/materials/models/Dragon Ball/Stage/Kame House/Furniture E.vmt
usermod/materials/models/Dragon Ball/Stage/Kame House/T_Plant_ShrubD_D.vtf
usermod/materials/models/Dragon Ball/Stage/Kame House/Kitchen Assets F.vmt
usermod/materials/models/Dragon Ball/Stage/Kame House/Wood D.vmt
usermod/materials/models/Dragon Ball/Stage/Kame House/Furniture D.vmt
usermod/materials/models/Dragon Ball/Stage/Kame House/Ground.vmt
usermod/materials/models/Dragon Ball/Stage/Kame House/Generic Carpet B.vmt
usermod/materials/models/Dragon Ball/Stage/Kame House/T_Tree_PalmA_03_D.vtf
usermod/materials/models/Dragon Ball/Stage/Kame House/Rocks Base A.vmt
usermod/materials/models/Dragon Ball/Stage/Kame House/T_Tree_PalmA_02_D.vtf
usermod/materials/models/Dragon Ball/Stage/Kame House/T_Area02_WallA_02GREEN.vtf
usermod/materials/models/Dragon Ball/Stage/Kame House/Wood C.vmt
usermod/materials/models/Dragon Ball/Stage/Kame House/Wall D.vmt
usermod/materials/models/Dragon Ball/Stage/Kame House/T_Area02_KH_FridgeDecalA_01_D.vtf
usermod/materials/models/Dragon Ball/Stage/Kame House/Furniture B.vmt
usermod/materials/models/Dragon Ball/Stage/Kame House/Bush B.vmt
usermod/materials/models/Dragon Ball/Stage/Kame House/T_Area02_KH_WindVaneA_01_D.vtf
usermod/materials/models/Dragon Ball/Stage/Kame House/Wall C.vmt
usermod/materials/models/Dragon Ball/Stage/Kame House/Wall A.vmt
usermod/materials/models/Dragon Ball/Stage/Kame House/Generic Carpet D.vmt
usermod/materials/models/Dragon Ball/Stage/Kame House/Palm B.vmt
usermod/materials/models/Dragon Ball/Stage/Kame House/Generic Carpet A.vmt
usermod/materials/models/Dragon Ball/Stage/Kame House/Kitchen Assets E.vmt
usermod/materials/models/Dragon Ball/Stage/Kame House/Kitchen Assets C.vmt
usermod/materials/models/Dragon Ball/Stage/Kame House/Palm G.vmt
usermod/materials/models/Dragon Ball/Stage/Kame House/T_Area02_KH_CarpetA_01_D.vtf
usermod/materials/models/Dragon Ball/Stage/Kame House/T_Area02_KH_ElectronicsA_01_D.vtf
usermod/materials/models/Dragon Ball/Stage/Kame House/Wood B.vmt
usermod/materials/models/Dragon Ball/Stage/Kame House/T_Area02_KH_GenericWood_01_DRED.vtf
usermod/materials/models/Dragon Ball/Stage/Kame House/Wood F.vmt
usermod/materials/models/Dragon Ball/Stage/Kame House/Shrub B.vmt
usermod/materials/models/Dragon Ball/Stage/Kame House/Fridge Decal.vmt
usermod/materials/models/Dragon Ball/Stage/Kame House/Palm M.vmt
usermod/materials/models/Dragon Ball/Stage/Kame House/T_Tree_CedarA_02_D.vtf
usermod/materials/models/Dragon Ball/Stage/Kame House/T_Area02_Rock_Base_D.vtf
usermod/materials/models/Dragon Ball/Stage/Kame House/Palm I.vmt
usermod/materials/models/Dragon Ball/Stage/Kame House/Generic Carpet E.vmt
usermod/materials/models/Dragon Ball/Stage/Kame House/Box C.vmt
usermod/materials/models/Dragon Ball/Stage/Kame House/Garden Furniture A.vmt
usermod/materials/models/Dragon Ball/Stage/Kame House/Rocks Base C.vmt
usermod/materials/models/Dragon Ball/Stage/Kame House/T_Area02_KH_GenericCarpetA_01_D.vtf
usermod/materials/models/Dragon Ball/Stage/Kame House/Carpet C.vmt
usermod/materials/models/Dragon Ball/Stage/Kame House/Wood E.vmt
usermod/materials/models/Dragon Ball/Stage/Kame House/Palm E.vmt
usermod/materials/models/Dragon Ball/Stage/Kame House/Furniture H.vmt
usermod/materials/models/Dragon Ball/Stage/Kame House/Palm C.vmt
usermod/materials/models/Dragon Ball/Stage/Kame House/Box A.vmt
usermod/materials/models/Dragon Ball/Stage/Kame House/T_Area02_KH_GenericWood_01_D2.vtf
usermod/materials/models/Dragon Ball/Stage/Kame House/Kitchen Assets G.vmt
usermod/materials/models/Dragon Ball/Stage/Kame House/Box B.vmt
usermod/materials/models/Dragon Ball/Stage/Kame House/Kitchen Assets D.vmt
usermod/materials/models/Dragon Ball/Stage/Kame House/T_Area02_KH_BasketWickerA_01_D.vtf
usermod/materials/models/Dragon Ball/Stage/Kame House/Basket A.vmt
usermod/materials/models/Dragon Ball/Stage/Kame House/Shrub A.vmt
usermod/materials/models/Dragon Ball/Stage/Kame House/Generic Carpet C.vmt
usermod/materials/models/Dragon Ball/Stage/Kame House/Furniture A.vmt
usermod/materials/models/Dragon Ball/Stage/Kame House/Generic Plastic C.vmt
usermod/materials/models/Dragon Ball/Stage/Kame House/T_Area02_WallA_03_D2.vtf
usermod/materials/models/Dragon Ball/Stage/Kame House/Window B.vmt
usermod/materials/models/Dragon Ball/Stage/Kame House/Wall F.vmt
usermod/materials/models/Dragon Ball/Stage/Kame House/Cedar A.vmt
usermod/materials/models/Dragon Ball/Stage/Kame House/lob_PGround.vtf
usermod/materials/models/Dragon Ball/Stage/Kame House/Int Wall A.vmt
usermod/materials/models/Dragon Ball/Stage/Kame House/Palm A.vmt
usermod/materials/models/Dragon Ball/Stage/Kame House/T_Grass_Bush_D.vtf
usermod/materials/models/Dragon Ball/Stage/Kame House/Kitchen B.vmt
usermod/materials/models/Dragon Ball/Stage/Kame House/Generic Plastic A.vmt
usermod/materials/models/Dragon Ball/Stage/Kame House/Carpet B.vmt
usermod/materials/models/Dragon Ball/Stage/Kame House/T_Area02_KH_GardenFurnitureA_01_D.vtf
usermod/materials/models/Dragon Ball/Stage/Kame House/Wood H.vmt
usermod/materials/models/Dragon Ball/Stage/Kame House/Palm D.vmt
usermod/materials/models/Dragon Ball/Stage/Kame House/Kitchen A.vmt
usermod/materials/models/Dragon Ball/Stage/Kame House/Wood Floor.vmt
usermod/materials/models/Dragon Ball/Stage/Kame House/T_Area02_KH_GenericWood_01_D.vtf
usermod/materials/models/Dragon Ball/Stage/Kame House/Electronics D.vmt
usermod/materials/models/Dragon Ball/Stage/Kame House/Door Mesh.vmt
usermod/materials/models/Dragon Ball/Stage/Kame House/Wood J.vmt
usermod/materials/models/Dragon Ball/Stage/Kame House/Roof.vmt
usermod/materials/models/Dragon Ball/Stage/Kame House/Metal Bars.vmt
usermod/materials/models/Dragon Ball/Stage/Kame House/T_Area02_KH_KitchenSet_01_D.vtf
usermod/materials/models/Dragon Ball/Stage/Kame House/T_Area02_RoofA_01_D.vtf
usermod/materials/models/Dragon Ball/Stage/Kame House/lightwrap.vtf
usermod/materials/models/Dragon Ball/Stage/Kame House/Electronics B.vmt
usermod/materials/models/Dragon Ball/Stage/Kame House/T_Area02_WoodFloorA_01_D.vtf
usermod/materials/models/Dragon Ball/Stage/Kame House/KameHouse_Panorama.vtf
usermod/materials/models/Dragon Ball/Stage/Kame House/Kitchen Assets B.vmt
usermod/materials/models/Dragon Ball/Stage/Kame House/Bush C.vmt
usermod/materials/models/Dragon Ball/Stage/Kame House/Furniture J.vmt
usermod/materials/models/Dragon Ball/Stage/Kame House/Furniture K.vmt
usermod/materials/models/Dragon Ball/Stage/Kame House/Cedar B.vmt
usermod/materials/models/Dragon Ball/Stage/Kame House/T_Area02_KH_GenericPlastic_01_D.vtf
usermod/materials/models/Dragon Ball/Stage/Kame House/T_Area02_KH_KitchenAssetsA_01_D.vtf
usermod/materials/models/Dragon Ball/Stage/Kame House/T_Area02_Window_01_D.vtf
usermod/materials/models/Dragon Ball/Stage/Kame House/Generic Plastic B.vmt
usermod/materials/models/Dragon Ball/Stage/Kame House/Box E.vmt
usermod/materials/models/Dragon Ball/Stage/Kame House/Electronics A.vmt
usermod/materials/models/Dragon Ball/Stage/Kame House/Kitchen Set.vmt
usermod/materials/models/Dragon Ball/Stage/Kame House/T_Area02_KH_GenericPlastic_01_D2.vtf
usermod/materials/models/Dragon Ball/Stage/Kame House/Int Wall B.vmt
usermod/materials/models/Dragon Ball/Stage/Kame House/T_Area02_KH_DoorMeshA_01_D.vtf
usermod/materials/models/Dragon Ball/Stage/Kame House/Panorama A.vmt
usermod/materials/models/Dragon Ball/Stage/Kame House/Wall E.vmt
usermod/materials/models/Dragon Ball/Stage/Kame House/Garden Furniture B.vmt
usermod/materials/models/Dragon Ball/Stage/Kame House/T_Area02_WallA_02_D.vtf
usermod/materials/models/Dragon Ball/Stage/Kame House/Furniture I.vmt
usermod/materials/models/Dragon Ball/Stage/Kame House/Wood A.vmt
usermod/materials/models/Dragon Ball/Stage/Kame House/Basket B.vmt
usermod/materials/models/Dragon Ball/Stage/Kame House/Wall B.vmt
usermod/materials/models/Dragon Ball/Stage/Kame House/map.vtf
usermod/materials/models/Dragon Ball/Stage/Kame House/Cushion.vmt
usermod/materials/models/Dragon Ball/Stage/Kame House/Furniture G.vmt
usermod/materials/models/Dragon Ball/Stage/Kame House/Int Wall C.vmt
usermod/materials/models/Dragon Ball/Stage/Kame House/Furniture C.vmt
usermod/materials/models/Dragon Ball/Stage/Kame House/Palm J.vmt
usermod/materials/models/Dragon Ball/Stage/Kame House/T_Area02_IntWallA_01_D.vtf
usermod/materials/models/Dragon Ball/Stage/Kame House/Palm K.vmt
usermod/materials/models/Dragon Ball/Stage/Kame House/T_Area02_KH_BoxA_01_D.vtf
usermod/materials/models/Dragon Ball/Stage/Kame House/Window C.vmt
usermod/materials/models/Dragon Ball/Stage/Kame House/T_Area02_KH_FurnitureA_01_D.vtf
usermod/materials/models/Dragon Ball/Stage/Kame House/Kitchen Assets A.vmt
usermod/materials/models/Dragon Ball/Stage/Kame House/Electronics C.vmt
usermod/materials/models/Dragon Ball/Stage/Kame House/Furniture F.vmt
usermod/materials/models/Dragon Ball/Stage/Kame House/T_Area02_WallA_02_D2.vtf
usermod/materials/models/Dragon Ball/Stage/Kame House/Wood L.vmt
usermod/materials/models/Dragon Ball/Stage/Kame House/Palm H.vmt
usermod/materials/models/Dragon Ball/Stage/Kame House/Palm L.vmt
usermod/materials/models/Dragon Ball/Stage/Kame House/Wood I.vmt
usermod/materials/models/Dragon Ball/Stage/Kame House/Carpet A.vmt
usermod/materials/models/Dragon Ball/Stage/Kame House/Garden Furniture C.vmt
usermod/materials/models/Dragon Ball/Stage/Kame House/T_Tree_PalmA_01_D.vtf
usermod/materials/models/Dragon Ball/Stage/Kame House/Rocks Base B.vmt
usermod/materials/models/Dragon Ball/Stage/Kame House/Palm F.vmt
usermod/materials/models/Dragon Ball/Stage/Kame House/Wood K.vmt
usermod/materials/models/Dragon Ball/Stage/Kame House/Panorama B.vmt
usermod/materials/models/Dragon Ball/Stage/Kame House/T_Area02_WallA_01_D.vtf
usermod/materials/models/Dragon Ball/Stage/Kame House/Box D.vmt
usermod/materials/models/Dragon Ball/Stage/Kame House/Bush A.vmt
usermod/materials/models/Dragon Ball/Stage/Kame House/Wall G.vmt
usermod/materials/models/Dragon Ball/Stage/Kame House/T_Area02_KH_CushionA_01_D.vtf
usermod/materials/models/Dragon Ball/Stage/Kame House/Window A.vmt