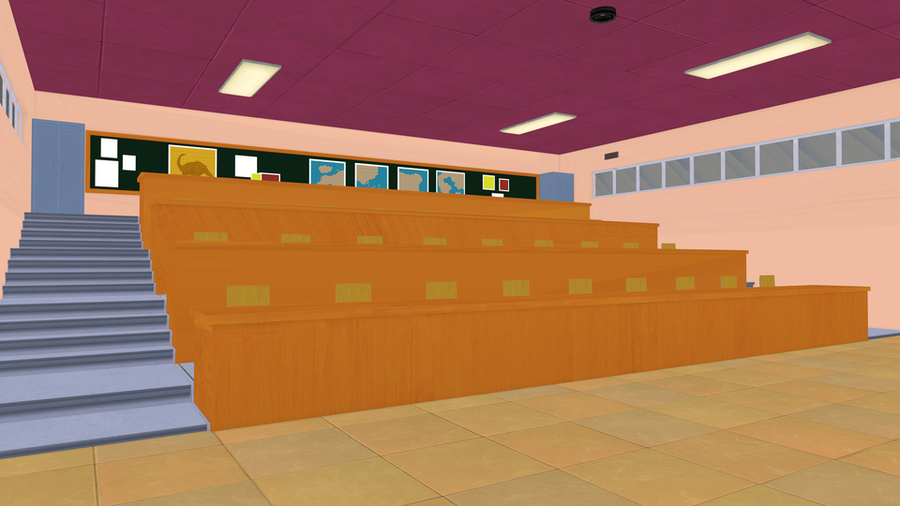 Show more
Description
Gohan's high school classroom from Dragon Ball - Xenoverse 2.
This is loaded in as a model, not a map.
SFMLab is a free service. However, it costs about $0.03 to deliver you a 1GB file. With over 20TB of traffic every month and growing, SFMLab needs your help. If only 1% of our users each gave us $5 for a single month, we could keep the site running for several years.
Filename
Downloads
Created
Filesize
Files
Orange_Star_Classroom.7z
135
2023-04-27 03:08:14
8.73 MB
File contents:

usermod/models/Dragon Ball/Stage/Orange Star Classroom/orange star classroom.vvd
usermod/models/Dragon Ball/Stage/Orange Star Classroom/orange star classroom.mdl
usermod/models/Dragon Ball/Stage/Orange Star Classroom/Orange Star Classroom.dx90.vtx
usermod/materials/models/Dragon Ball/Stage/Orange Star Classroom/Chair.vtf
usermod/materials/models/Dragon Ball/Stage/Orange Star Classroom/Flower Base 01.vmt
usermod/materials/models/Dragon Ball/Stage/Orange Star Classroom/Door.vtf
usermod/materials/models/Dragon Ball/Stage/Orange Star Classroom/Paster 02.vmt
usermod/materials/models/Dragon Ball/Stage/Orange Star Classroom/Steps 1.vmt
usermod/materials/models/Dragon Ball/Stage/Orange Star Classroom/Chair.vmt
usermod/materials/models/Dragon Ball/Stage/Orange Star Classroom/Table Side 2.vmt
usermod/materials/models/Dragon Ball/Stage/Orange Star Classroom/Locker.vtf
usermod/materials/models/Dragon Ball/Stage/Orange Star Classroom/Globe.vmt
usermod/materials/models/Dragon Ball/Stage/Orange Star Classroom/Locker 01.vtf
usermod/materials/models/Dragon Ball/Stage/Orange Star Classroom/Window Out 1.vmt
usermod/materials/models/Dragon Ball/Stage/Orange Star Classroom/Wall.vmt
usermod/materials/models/Dragon Ball/Stage/Orange Star Classroom/Locker 02.vmt
usermod/materials/models/Dragon Ball/Stage/Orange Star Classroom/Window 01.vtf
usermod/materials/models/Dragon Ball/Stage/Orange Star Classroom/Flower Base.vmt
usermod/materials/models/Dragon Ball/Stage/Orange Star Classroom/Road.vmt
usermod/materials/models/Dragon Ball/Stage/Orange Star Classroom/Globe.vtf
usermod/materials/models/Dragon Ball/Stage/Orange Star Classroom/Table Front.vtf
usermod/materials/models/Dragon Ball/Stage/Orange Star Classroom/Road.vtf
usermod/materials/models/Dragon Ball/Stage/Orange Star Classroom/Frame.vtf
usermod/materials/models/Dragon Ball/Stage/Orange Star Classroom/Table.vmt
usermod/materials/models/Dragon Ball/Stage/Orange Star Classroom/Paster 02.vtf
usermod/materials/models/Dragon Ball/Stage/Orange Star Classroom/Paster 01.vtf
usermod/materials/models/Dragon Ball/Stage/Orange Star Classroom/Black Board.vmt
usermod/materials/models/Dragon Ball/Stage/Orange Star Classroom/Locker 01.vmt
usermod/materials/models/Dragon Ball/Stage/Orange Star Classroom/Clock.vmt
usermod/materials/models/Dragon Ball/Stage/Orange Star Classroom/Flower Base - Copy.vmt
usermod/materials/models/Dragon Ball/Stage/Orange Star Classroom/Table.vtf
usermod/materials/models/Dragon Ball/Stage/Orange Star Classroom/Locker 2.vmt
usermod/materials/models/Dragon Ball/Stage/Orange Star Classroom/Paster 01.vmt
usermod/materials/models/Dragon Ball/Stage/Orange Star Classroom/Ten.vtf
usermod/materials/models/Dragon Ball/Stage/Orange Star Classroom/Steps 01.vmt
usermod/materials/models/Dragon Ball/Stage/Orange Star Classroom/Table Side 1.vmt
usermod/materials/models/Dragon Ball/Stage/Orange Star Classroom/Speaker.vmt
usermod/materials/models/Dragon Ball/Stage/Orange Star Classroom/Steps.vtf
usermod/materials/models/Dragon Ball/Stage/Orange Star Classroom/Window Out 3.vmt
usermod/materials/models/Dragon Ball/Stage/Orange Star Classroom/Sphere.vmt
usermod/materials/models/Dragon Ball/Stage/Orange Star Classroom/Table Front.vmt
usermod/materials/models/Dragon Ball/Stage/Orange Star Classroom/lightwrap.vtf
usermod/materials/models/Dragon Ball/Stage/Orange Star Classroom/Speaker.vtf
usermod/materials/models/Dragon Ball/Stage/Orange Star Classroom/Door.vmt
usermod/materials/models/Dragon Ball/Stage/Orange Star Classroom/Speaker 01.vmt
usermod/materials/models/Dragon Ball/Stage/Orange Star Classroom/Clock.vtf
usermod/materials/models/Dragon Ball/Stage/Orange Star Classroom/Steps 01.vtf
usermod/materials/models/Dragon Ball/Stage/Orange Star Classroom/Window Out 2.vmt
usermod/materials/models/Dragon Ball/Stage/Orange Star Classroom/Frame.vmt
usermod/materials/models/Dragon Ball/Stage/Orange Star Classroom/map.vtf
usermod/materials/models/Dragon Ball/Stage/Orange Star Classroom/Speaker 01.vtf
usermod/materials/models/Dragon Ball/Stage/Orange Star Classroom/Steps 2.vmt
usermod/materials/models/Dragon Ball/Stage/Orange Star Classroom/Table Side.vtf
usermod/materials/models/Dragon Ball/Stage/Orange Star Classroom/Locker.vmt
usermod/materials/models/Dragon Ball/Stage/Orange Star Classroom/Ten.vmt
usermod/materials/models/Dragon Ball/Stage/Orange Star Classroom/Flower Base 01.vtf
usermod/materials/models/Dragon Ball/Stage/Orange Star Classroom/Black Board.vtf
usermod/materials/models/Dragon Ball/Stage/Orange Star Classroom/Wall.vtf
usermod/materials/models/Dragon Ball/Stage/Orange Star Classroom/Flower Base.vtf
usermod/materials/models/Dragon Ball/Stage/Orange Star Classroom/Window 01.vmt
usermod/materials/models/Dragon Ball/Stage/Orange Star Classroom/Window Out.vtf