Adult content
This content is marked as Adult/NSFW content. You can toggle your preferences regarding this content type in your account settings.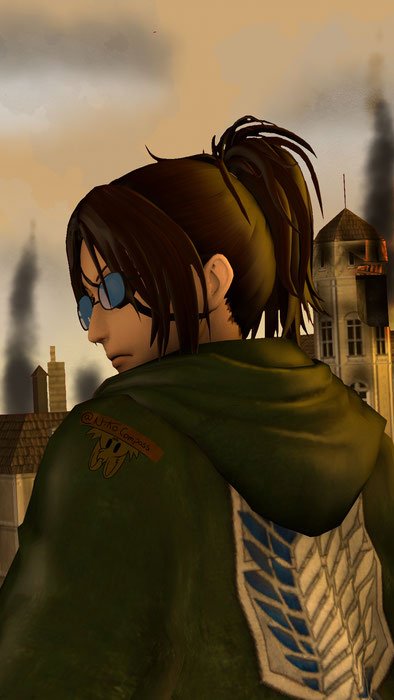 Show more
Description
Part on an animation project I commission for but here is the model!
There are two versions pre and post eyepatch. The eye patch version isn't as accurate to the show but I'll fix that later.
Like the Annie model there a just the straps on the nude body version so she can swing around nude lol
You still have to attach the Maneuver Gear though. If I added it would of passed the bone limit. 3D Maneuver Gear can be found here
https://steamcommunity.com/sharedfiles/filedetails/?id=173149997&searchtext=3d+maneuver+gear
IK rig is rig_Attack on Titan female.py
Thanks to NikoCompass for helping me out with the preview pic
Check out my Patreon if you want to send some support, see wips or vote on which model I'll do next. https://www.patreon.com/Yinyama3D
or at subscribestar to see wips and vote on which model will be next
https://subscribestar.adult/yinyama3d
Have fun~
SFMLab is a free service. However, it costs about $0.03 to deliver you a 1GB file. With over 20TB of traffic every month and growing, SFMLab needs your help. If only 1% of our users each gave us $5 for a single month, we could keep the site running for several years.
Filename
Downloads
Created
Filesize
Files
Hange_Zoe.zip
298
2023-05-05 17:23:37
21.54 MB
File contents:

usermod/models/Attack on Titan/Hange Zoe/hange fs.vvd
usermod/models/Attack on Titan/Hange Zoe/Hange.dx90.vtx
usermod/models/Attack on Titan/Hange Zoe/hange.vvd
usermod/models/Attack on Titan/Hange Zoe/Hange FS.dx90.vtx
usermod/models/Attack on Titan/Hange Zoe/hange fs.mdl
usermod/models/Attack on Titan/Hange Zoe/hange.mdl
usermod/materials/models/Attack on Titan/Hange Zoe/Hange Zoe/map clothes.vtf
usermod/materials/models/Attack on Titan/Hange Zoe/Hange Zoe/shirt Hange.vmt
usermod/materials/models/Attack on Titan/Hange Zoe/Hange Zoe/Torso.vmt
usermod/materials/models/Attack on Titan/Hange Zoe/Hange Zoe/clothes.vmt
usermod/materials/models/Attack on Titan/Hange Zoe/Hange Zoe/Glasses Hange.vmt
usermod/materials/models/Attack on Titan/Hange Zoe/Hange Zoe/cloak map.vtf
usermod/materials/models/Attack on Titan/Hange Zoe/Hange Zoe/map face.vtf
usermod/materials/models/Attack on Titan/Hange Zoe/Hange Zoe/arms.vtf
usermod/materials/models/Attack on Titan/Hange Zoe/Hange Zoe/gear 2.vtf
usermod/materials/models/Attack on Titan/Hange Zoe/Hange Zoe/face 2 Hange.vtf
usermod/materials/models/Attack on Titan/Hange Zoe/Hange Zoe/clothes FS.vmt
usermod/materials/models/Attack on Titan/Hange Zoe/Hange Zoe/torso.vtf
usermod/materials/models/Attack on Titan/Hange Zoe/Hange Zoe/cloak.vtf
usermod/materials/models/Attack on Titan/Hange Zoe/Hange Zoe/clothes 2 map.vtf
usermod/materials/models/Attack on Titan/Hange Zoe/Hange Zoe/clothes map.vtf
usermod/materials/models/Attack on Titan/Hange Zoe/Hange Zoe/Clothes FS.vtf
usermod/materials/models/Attack on Titan/Hange Zoe/Hange Zoe/legs.vmt
usermod/materials/models/Attack on Titan/Hange Zoe/Hange Zoe/Outfit.vtf
usermod/materials/models/Attack on Titan/Hange Zoe/Hange Zoe/Clothes 2.vtf
usermod/materials/models/Attack on Titan/Hange Zoe/Hange Zoe/White.vtf
usermod/materials/models/Attack on Titan/Hange Zoe/Hange Zoe/clothes Hange.vmt
usermod/materials/models/Attack on Titan/Hange Zoe/Hange Zoe/Cloak.vmt
usermod/materials/models/Attack on Titan/Hange Zoe/Hange Zoe/face_shader3.vtf
usermod/materials/models/Attack on Titan/Hange Zoe/Hange Zoe/logo map.vtf
usermod/materials/models/Attack on Titan/Hange Zoe/Hange Zoe/logo Hange.vtf
usermod/materials/models/Attack on Titan/Hange Zoe/Hange Zoe/fingernails.vmt
usermod/materials/models/Attack on Titan/Hange Zoe/Hange Zoe/sclera.vmt
usermod/materials/models/Attack on Titan/Hange Zoe/Hange Zoe/toenails.vmt
usermod/materials/models/Attack on Titan/Hange Zoe/Hange Zoe/Genitalia.vmt
usermod/materials/models/Attack on Titan/Hange Zoe/Hange Zoe/shirt Hange.vtf
usermod/materials/models/Attack on Titan/Hange Zoe/Hange Zoe/Genitalia.vtf
usermod/materials/models/Attack on Titan/Hange Zoe/Hange Zoe/outfit.vmt
usermod/materials/models/Attack on Titan/Hange Zoe/Hange Zoe/Vagina&Rectum.vtf
usermod/materials/models/Attack on Titan/Hange Zoe/Hange Zoe/legs.vtf
usermod/materials/models/Attack on Titan/Hange Zoe/Hange Zoe/Vagina&Rectum.vmt
usermod/materials/models/Attack on Titan/Hange Zoe/Hange Zoe/clothes 2.vmt
usermod/materials/models/Attack on Titan/Hange Zoe/Hange Zoe/face 2 Hange.vmt
usermod/materials/models/Attack on Titan/Hange Zoe/Hange Zoe/hair Hange.vmt
usermod/materials/models/Attack on Titan/Hange Zoe/Hange Zoe/shirt map.vtf
usermod/materials/models/Attack on Titan/Hange Zoe/Hange Zoe/map.vtf
usermod/materials/models/Attack on Titan/Hange Zoe/Hange Zoe/clothes Hange.vtf
usermod/materials/models/Attack on Titan/Hange Zoe/Hange Zoe/face Hange.vmt
usermod/materials/models/Attack on Titan/Hange Zoe/Hange Zoe/arms.vmt
usermod/materials/models/Attack on Titan/Hange Zoe/Hange Zoe/clothes.vtf
usermod/materials/models/Attack on Titan/Hange Zoe/Hange Zoe/map gear 2.vtf
usermod/materials/models/Attack on Titan/Hange Zoe/Hange Zoe/face Hange.vtf
usermod/materials/models/Attack on Titan/Hange Zoe/Hange Zoe/White.vmt
usermod/materials/models/Attack on Titan/Hange Zoe/Hange Zoe/logo Hange.vmt
usermod/materials/models/Attack on Titan/Hange Zoe/Hange Zoe/lightwarp.vtf
usermod/materials/models/Attack on Titan/Hange Zoe/Hange Zoe/gear 2.vmt
usermod/materials/models/Attack on Titan/Hange Zoe/Hange Zoe/glasses.vmt