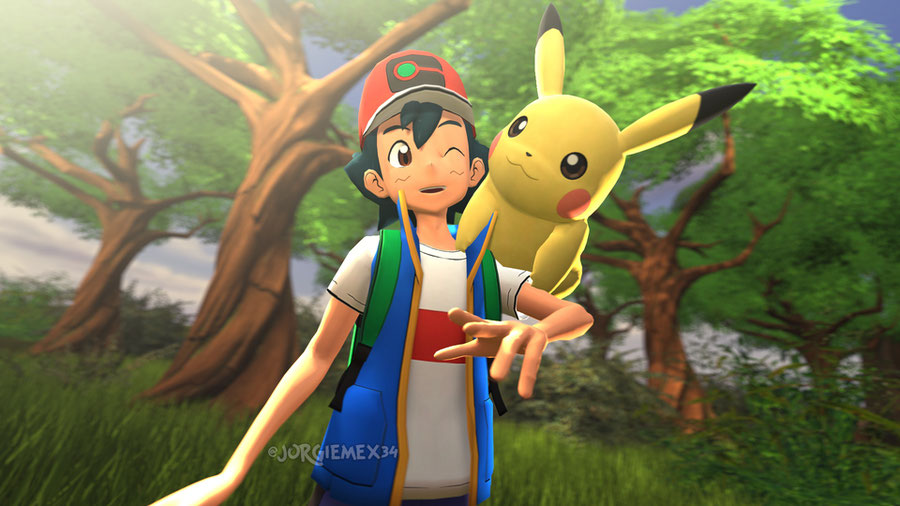 Show more
Description
The Pokémon Mater is here!
This has two versions default which hopefully goes well with the other Pokémon models and an outline version. That has cel shading but it only works with map lighting I think.
There is also hat bodygroups like hat backwards, and no hat. There two versions with no hat for the model if they are facing left or right.
Thanks to jorgie34 and ThatSFMGuy for helping me out with the preview pic
Check out my Patreon if you want to send some support, see wips or vote on which model I'll do next. https://www.patreon.com/Yinyama3D
or at subscribestar to see wips and vote on which model will be next
https://subscribestar.adult/yinyama3d
Have fun~
SFMLab is a free service. However, it costs about $0.03 to deliver you a 1GB file. With over 20TB of traffic every month and growing, SFMLab needs your help. If only 1% of our users each gave us $5 for a single month, we could keep the site running for several years.
Filename
Downloads
Created
Filesize
Files
Masters_EX_Ash.zip
109
2023-05-15 05:25:19
8.43 MB
File contents:

usermod/scripts/sfm/animset/rig_pokemon male.py
usermod/models/Pokemon/Masters EX/ash's hat.vvd
usermod/models/Pokemon/Masters EX/ash ketchum outline.mdl
usermod/models/Pokemon/Masters EX/Ash's hat.dx90.vtx
usermod/models/Pokemon/Masters EX/ash's hat.mdl
usermod/models/Pokemon/Masters EX/ash's hat outline.vvd
usermod/models/Pokemon/Masters EX/ash ketchum.vvd
usermod/models/Pokemon/Masters EX/ash's hat outline.mdl
usermod/models/Pokemon/Masters EX/Ash's hat outline.dx90.vtx
usermod/models/Pokemon/Masters EX/ash ketchum outline.vvd
usermod/models/Pokemon/Masters EX/ash ketchum.mdl
usermod/models/Pokemon/Masters EX/Ash Ketchum.dx90.vtx
usermod/models/Pokemon/Masters EX/Ash Ketchum outline.dx90.vtx
usermod/materials/models/Pokemon/Masters EX/Ash Ketchum/main.vmt
usermod/materials/models/Pokemon/Masters EX/Ash Ketchum/lightwarp 2.vtf
usermod/materials/models/Pokemon/Masters EX/Ash Ketchum/main.vtf
usermod/materials/models/Pokemon/Masters EX/Ash Ketchum/Face.vmt
usermod/materials/models/Pokemon/Masters EX/Ash Ketchum/black.vtf
usermod/materials/models/Pokemon/Masters EX/Ash Ketchum/face.vtf
usermod/materials/models/Pokemon/Masters EX/Ash Ketchum/shorts.vtf
usermod/materials/models/Pokemon/Masters EX/Ash Ketchum/main 2.vmt
usermod/materials/models/Pokemon/Masters EX/Ash Ketchum/main 2.vtf
usermod/materials/models/Pokemon/Masters EX/Ash Ketchum/body.vtf
usermod/materials/models/Pokemon/Masters EX/Ash Ketchum/Shorts.vmt
usermod/materials/models/Pokemon/Masters EX/Ash Ketchum/map.vtf
usermod/materials/models/Pokemon/Masters EX/Ash Ketchum/inner_male6_d.png
usermod/materials/models/Pokemon/Masters EX/Ash Ketchum/body.vmt
usermod/materials/models/Pokemon/Masters EX/Ash Ketchum/lightwarp.vtf
usermod/materials/models/Pokemon/Masters EX/Ash Ketchum/outline/main.vmt
usermod/materials/models/Pokemon/Masters EX/Ash Ketchum/outline/Face.vmt
usermod/materials/models/Pokemon/Masters EX/Ash Ketchum/outline/outline.vmt
usermod/materials/models/Pokemon/Masters EX/Ash Ketchum/outline/main 2.vmt
usermod/materials/models/Pokemon/Masters EX/Ash Ketchum/outline/Shorts.vmt
usermod/materials/models/Pokemon/Masters EX/Ash Ketchum/outline/body.vmt