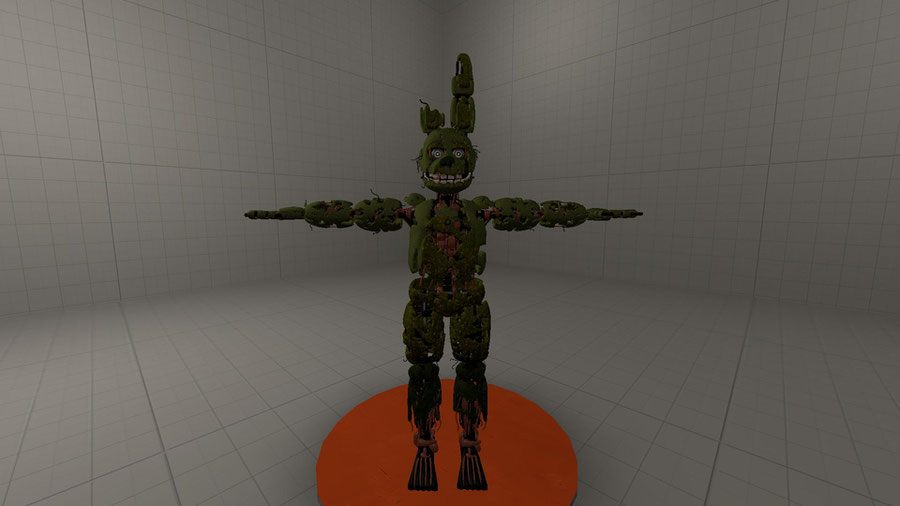 Show more
Description
THIS IS NOT MINE
just wanted to make that clear, It seems that the original model was removed from the workshop and I don't know why, that is why I upload it here, if the original creator appears and tells me to delete it, I will do it without problem, also say that it is the first time that I do this, so if there is any error or something just ask and I will try to help.
I'm Spanish by the way, all that text was translated by google
SFMLab is a free service. However, it costs about $0.03 to deliver you a 1GB file. With over 20TB of traffic every month and growing, SFMLab needs your help. If only 1% of our users each gave us $5 for a single month, we could keep the site running for several years.
Filename
Downloads
Created
Filesize
Files
springs.zip
247
2023-05-17 05:05:31
38.54 MB
File contents:

springs/models/springbonnie_v9.dx90.vtx
springs/models/springtrap_v9.vvd
springs/models/springtrap_v9.dx90.vtx
springs/models/springbonnie_v9.vvd
springs/models/springbonnie_v9.mdl
springs/models/springtrap_v9.mdl
springs/materials/springtrap_v9/springtrap1.vmt
springs/materials/springtrap_v9/suitteeth.vmt
springs/materials/springtrap_v9/purpl.vmt
springs/materials/springtrap_v9/button.vmt
springs/materials/springtrap_v9/springtrap3.vtf
springs/materials/springtrap_v9/strongbump.vtf
springs/materials/springtrap_v9/spec05.vtf
springs/materials/springtrap_v9/eye.vtf
springs/materials/springtrap_v9/pupil.vmt
springs/materials/springtrap_v9/suitteeth.vtf
springs/materials/springtrap_v9/purpl.vtf
springs/materials/springtrap_v9/endo2.vmt
springs/materials/springtrap_v9/eye.vmt
springs/materials/springtrap_v9/st_bump.vtf
springs/materials/springtrap_v9/endo_color.vtf
springs/materials/springtrap_v9/pupil.vtf
springs/materials/springtrap_v9/spec03.vtf
springs/materials/springtrap_v9/redwire.vtf
springs/materials/springtrap_v9/teethbump.vtf
springs/materials/springtrap_v9/spec01.vtf
springs/materials/springtrap_v9/springtrap1.vtf
springs/materials/springtrap_v9/purpl smooth.vmt
springs/materials/springtrap_v9/springtrap2.vmt
springs/materials/springtrap_v9/bump02.vtf
springs/materials/springtrap_v9/endo_color3.vtf
springs/materials/springtrap_v9/pgteethmat.vmt
springs/materials/springtrap_v9/brownwire.vmt
springs/materials/springtrap_v9/pgteethmat.vtf
springs/materials/springtrap_v9/springtrap3.vmt
springs/materials/springtrap_v9/endo_color2.vtf
springs/materials/springtrap_v9/eyecase.vtf
springs/materials/springtrap_v9/black.vmt
springs/materials/springtrap_v9/button.vtf
springs/materials/springtrap_v9/eyecase.vmt
springs/materials/springtrap_v9/springtrap2.vtf
springs/materials/springtrap_v9/bump03.vtf
springs/materials/springtrap_v9/blackwire.vmt
springs/materials/springtrap_v9/endo.vtf
springs/materials/springtrap_v9/redwire.vmt
springs/materials/springtrap_v9/endo.vmt
springs/materials/springbonnie_v9/bump_01.vtf
springs/materials/springbonnie_v9/springbonnie2.vmt
springs/materials/springbonnie_v9/button.vmt
springs/materials/springbonnie_v9/endo2.vmt
springs/materials/springbonnie_v9/springbonnie1.vmt
springs/materials/springbonnie_v9/springbonnie1.vtf
springs/materials/springbonnie_v9/spec06.vtf
springs/materials/springbonnie_v9/springbonnie2_color.vtf
springs/materials/springbonnie_v9/spec03.vtf
springs/materials/springbonnie_v9/bowtie_color.vtf
springs/materials/springbonnie_v9/springbonnieeye.vtf
springs/materials/springbonnie_v9/springbonnieeye.vmt
springs/materials/springbonnie_v9/bowtie.vtf
springs/materials/springbonnie_v9/springbonnie3.vmt
springs/materials/springbonnie_v9/springbonnie3.vtf
springs/materials/springbonnie_v9/eyecase.vtf
springs/materials/springbonnie_v9/springbonnie1_color.vtf
springs/materials/springbonnie_v9/bowtie.vmt
springs/materials/springbonnie_v9/black.vmt
springs/materials/springbonnie_v9/eyecase.vmt
springs/materials/springbonnie_v9/springbonnieteeth.vmt
springs/materials/springbonnie_v9/springbonnie2.vtf
springs/materials/springbonnie_v9/bump03.vtf
springs/materials/springbonnie_v9/blackwire.vmt
springs/materials/springbonnie_v9/redwire.vmt
springs/materials/springbonnie_v9/endo.vmt
springs/materials/springbonnie_v9/springbonnieteeth.vtf